Jim Weatherhead of Centerville, Minnesota, is the winner of the prize pack offered in Roadracing World Reader Survey, Part 10, which was brought to you by MV Agusta and Liqui Moly.
Survey participants had a chance to win an MV Agusta Reparto Corse Down Jacket plus four cases (6 bottles per case) of Liqui Moly motor oil additives!
The MV Agusta Reparto Corse Down Jacket is lightweight and down-filled, featuring mesh panel inserts with rubberized zipper pulls, and embroidered with the MV Agusta Reparto Corse logo on the front and back. This jacket has an MSRP of $232, and can be purchased via the MV Agusta Online Store by visiting https://mvagusta.store.
The Liqui Moly prize included one case (6 bottles per case) each of the following products:
Liqui Moly MoS2 Shooter, which reduces friction and wear inside engines and gearboxes, reduces oil and fuel consumption, is compatible with all powersports motor oils, and is wet clutch safe. MoS2 Shooter is available for $7 MSRP.
Liqui Moly Engine Flush Shooter, (4 stroke only), the easy-to-use, one-shot treatment for up to two quarts of oil, which helps restore engine performance, and will not harm seals, gaskets and clutch materials. Fresh oil develops its full performance immediately! Engine Flush Shooter is available for $6 MSRP.
Liqui Moly 4T Additive Shooter, (4 stroke only), for carburetor and fuel injection systems, removes deposits in fuel system and prevents renewed formation, and provides excellent corrosion protection. 4T Additive Shooter is available for $6 MSRP.
Liqui Moly Speed Additive, which optimizes fuel for better performance, improves bottom end throttle response, increases fuel economy, and keeps fuel system components clean. Speed Additive is available for $6 MSRP.
Liqui Moly products are distributed to Powersports Dealers nationwide through Parts Unlimited/Drag Specialties, and can also be purchased online through Cycle Gear.
Survey results are used to improve content for readers and marketing for our advertisers. Name and address required for prize drawing. Entrants will automatically receive a free three-issue trial subscription to Roadracing World magazine with no obligation. No mailing list or confidential individual information is shared with third parties. Roadracing World's privacy policy can be viewed here. To sign up to receive upcoming, short installments of future Roadracing World reader surveys and other promotional e-mails from Roadracing World, CLICK HERE.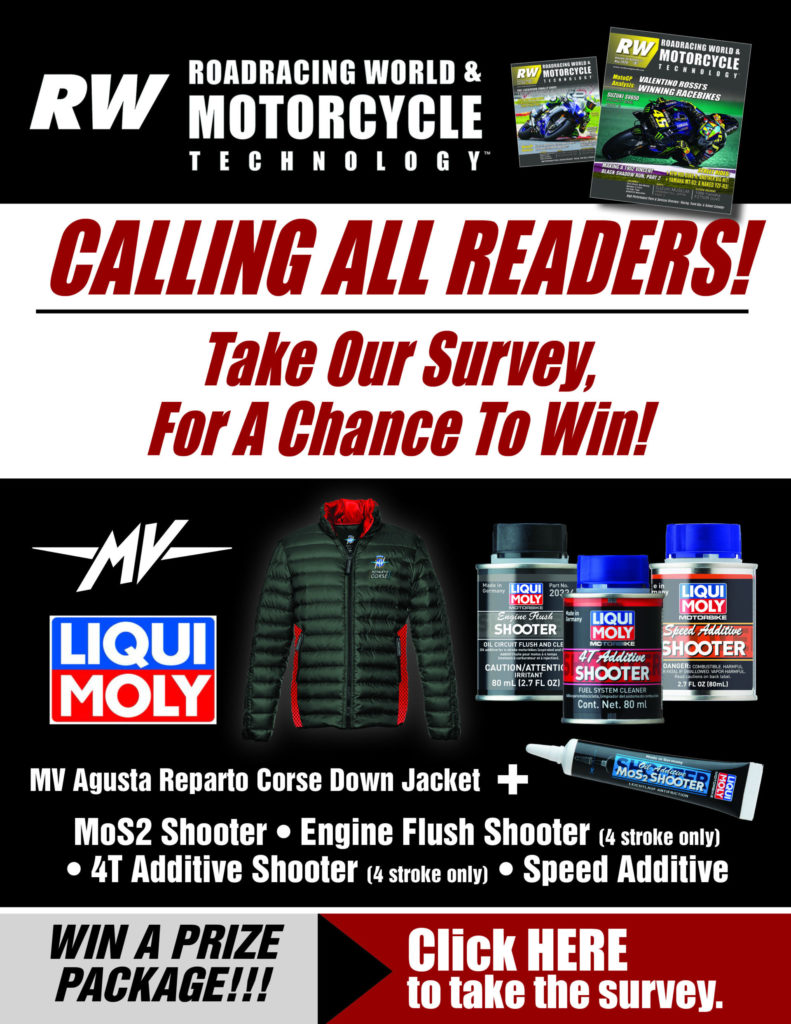 About MV Agusta Motor S.p.A.
MV Agusta is one of the world's leading premium motorcycles manufacturers. Based in Varese, in Northern Italy, it crafts legendary racetrack-derived bikes. Iconic design and class-leading performance through advanced technologies and materials make MV Agusta motorcycles admired the world over and celebrated as unique pieces of Motorcycle Art. Since 1945, the brand has evolved to become a point of reference in the industry, having won 37 World Championship titles. A record still undisputed. www.mvagusta.com
About Liqui Moly
Renowned in global auto and motorcycle racing circles, and increasingly popular in repair shops throughout the US and Canada, LIQUI MOLY has been voted the number one motor oil for ten consecutive years in Germany. Whether for a motorcycle, moped, scooter, trike, quad bike or go-cart; for the road, off-road or race circuit; for the engine, gears or suspension fork — LIQUI MOLY offers you motor oils, gear oils, fork oils and filter oils, as well as additives, perfectly tailored to the needs of two-wheeled vehicles, plus a range of care products including chain grease, leather balm and visor cleaner completing the full Motorbike selection. For more information go to https://www.liqui-moly.com/.
For more information on how your product can be the presenting sponsor of an upcoming Roadracing World Reader Survey, email Natalie Ulrich Heard, [email protected].