Progressive Insurance American Flat Track (AFT) Championship Series
Springfield Mile II
Springfield, Illinois
September 3, 2023
Provisional Mission SuperTwins Main Event Results (all on Dunlop tires):
1. Briar Bauman (KTM), 25 laps
2. Jared Mees (Ind), -0.075 second
3. Davis Fisher (Ind), -5.575 seconds
4. Dallas Daniels (Yam), -5.599
5. Brandon Robinson (Ind), -5.836
6. JD Beach (Yam), -6.132
7. Bronson Bauman (KTM), -15.726
8. Ben Lowe (Ind), -15.960
9. Henry Wiles (Ind), -15.973
10. Jarod Vanderkooi (KTM), -17.949
11. Johnny Lewis (Roy), -18.055
12. Kolby Carlile (Yam), -31.672
13. Jeffery Lowery (Yam), -33.460
14. Dan Bromley (Yam), -35.279
15. Kevin Stollings (Kaw), -1 lap
16. Kasey Sciscoe (Har), -13 laps, DNF
17. Brandon Price (Yam), -15 laps, DNF
18. Cody Johncox (Yam), -17 laps, DNF
19. Cameron Smith (Yam), -25 laps, DNS
Provisional Parts Unlimited AFT Singles Main Event Results (all on Dunlop tires):
1. Tom Drane (Yam), 18 laps
2. Chase Saathoff (Hon), -0.043 second
3. Kody Kopp (KTM), -0.159
4. Trevor Brunner (Yam), -0.203
5. Morgen Mischler (Hon), -0.325
6. Trent Lowe (Hon), -0.481
7. Declan Bender (KTM), -0.587
8. James Ott (Hus), -0.603
9. Max Whale (KTM), -0.637
10. Cole Zabala (Hon), -2.934 seconds
11. Tarren Santero (Hon), -4.637
12. Shayna Texter-Bauman (KTM), -10.671
13. Travis Petton (KTM), -10.751
14. Chad Cose (Hus), -14.048
15. Tyler Raggio (Hon), -14.272
16. Dalton Gauthier (KTM), -14.305
17. Hunter Bauer (Hon), -14.356
18. Jared Lowe (Hon), -15.864
19. Landen Smith (KTM), -24.075
More, from a press release issued by American Flat Track (AFT):
Bauman Wins Springfield Mile II, Mees Adds to His Legend with Ninth Grand National Championship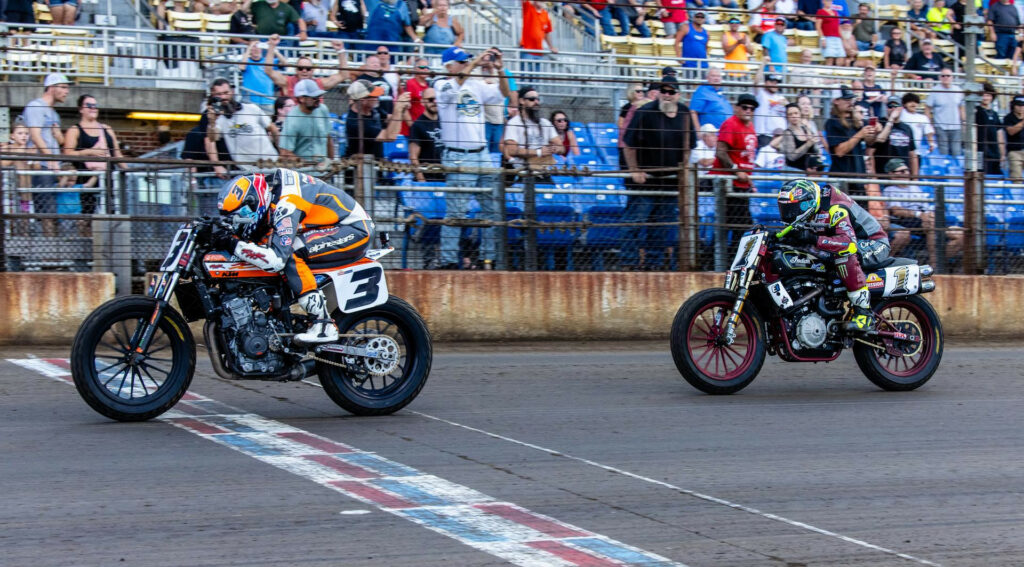 DAYTONA BEACH, Fla. (September 3, 2023) – Jared Mees (No. 1 Indian Motorcycle/Rogers Racing/SDI Racing FTR750) strengthened his case for consideration as the greatest rider in the history of Progressive American Flat Track, sanctioned by AMA Pro Racing, securing a third consecutive Grand National Championship in Sunday's season-ending Mission Springfield Mile II presented by Drag Specialties at the Illinois State Fairgrounds in Springfield, Illinois.
Mees' hopes of ending his spectacular 2023 atop the podium were foiled, however, by two-time Mission SuperTwins presented by S&S Cycle champ Briar Bauman (No. 3 Parts Plus/Jacob Companies KTM 790 Duke), who edged his great rival to the season's final checkered flag by 0.075 seconds.
Bauman and Mees slipped free first from title challenger Dallas Daniels (No. 32 Estenson Racing Yamaha MT-07 DT) and then Brandon Robinson (No. 44 Mission Roof Systems Indian FTR750) to settle into a two-rider duel for the contest's second half. The back-and-forth affair remained in question right up to that last charge to the stripe where Bauman earned his first-career Springfield Mile victory and Mees added to his legend. While the season belonged to Mees, Bauman's stunning finale served as an enticing sneak preview of what could be in store for the series in 2024.
Bauman said, "The team had a never-quit attitude. It's always different when you're in a position to wrap up a championship, which Jared was, so he might have been doing things a little bit different, but nonetheless, it's a win to me. Life has been a little bit different recently. We lost my mom eight months ago and she hasn't missed a race in five years. Lima kind of snuck up on me – I was surprised we won – but today when I came across the checkered flag, the emotions rolled out of me."
Despite having been pit up against multiple generations of dirt track titans over the past two decades – from Chris Carr to Kenny Coolbeth to Jake Johnson to Brad Baker to Bryan Smith to Bauman and now Daniels – Mees has stacked up a résumé that stands alongside any previously assembled in the 70-year history of the championship. The factory Indian superstar now boasts an incredible nine Grand National Championships (2009, 2012, 2014, 2015, 2017, 2018, 2021, 2022, and 2023), equaling the great Scott Parker for most all time.
Mees said, "It's what you wake up for every day. It's what you train for. Hats off to Scottie Parker – that's the guy that keeps me going. He kept me going year after year, race after race. He's still the best in my book, and it's an honor to match something that he did.
"So many people contributed to this. I'm a little lost for words for once. I had a really good feeling we were going to get it – we were really fast all weekend long. I wanted to try to win that last one. But I went into that last lap and when Briar ran up underneath me, I was like, 'Dude, I'm bringing it home.' I just followed him right off the corner and he brought me to the line, and that was good enough for me. We're going to let this one soak in."
Some five seconds back, Daniels tracked down Robinson while simultaneously being reeled in by JD Beach (No. 95 Estenson Racing Yamaha MT-07 DT) and Davis Fisher (No. 67 Rackley Racing/Bob Lanphere's BMC Racing Indian FTR750). From there a four-rider fight for third was waged to the end.
The same way a tenth victory would have been a fitting conclusion to Mees' season, a 16th podium would have been a natural way to end Daniels' remarkable sophomore campaign. Of course, the racing gods aren't often supporters of such contrivances, and thus Fisher earned the last step on the podium by 0.024 seconds ahead of Daniels with Robinson and Beach just behind in fifth and sixth, respectively.
Fisher's second top three of the season allowed him to secure a spot in the championship top five (257) behind Mees (388), Daniels (372), Beach (301), and Bauman (299), and end the year as the top independent Indian.
Daniels, meanwhile, completes 2023 with a five-win, 15-podium runner-up season and now armed with plenty of motivation and hard-earned experience heading into 2024.
Bronson Bauman (No. 37 Fastrack Racing/2 Wheelz KTM 790 Duke) finished seventh on Sunday, with Ben Lowe (No. 25 Rackley Racing/Mission Foods Indian FTR750), Henry Wiles (No. 17 BriggsAuto.com/Martin Trucking Indian FTR750), and Jarod Vanderkooi (No. 20 JMC Motorsports/Fairway Ford Indian FTR750) completing the finale top ten.
Parts Unlimited AFT Singles presented by KICKER
Even though Kody Kopp (No. 1 Red Bull KTM Factory Racing 450 SX-F) locked up a repeat Parts Unlimited AFT Singles presented by KICKER crown a day early, the class did not lack for drama in its final outing of the year.
Nine riders ran in contention for victory for the full ten laps and two minutes of the epic finale, running five wide and swapping positions all the while.
As unpredictable as it was, throughout it all the top three positions were dominated by the usual suspects: Kopp, Tom Drane (No. 59 Estenson Racing Yamaha YZ450F), and Chase Saathoff (No. 88 American Honda/Mission Foods CRF450R).
Drane took the white flag in the lead with Kopp on his rear wheel. But before any Saturday flashbacks could fully materialize, Saathoff blew past Kopp and dove under his Aussie rival entering Turn 3 for the final time.
The Honda ace leapt out of Turn 4 with his maiden victory in his sights, but his ascension to Progressive AFT winner status was cruelly delayed once again when Drane powered ahead to steal the win at the line by 0.043 seconds.
The victory was Drane's fourth of the season and more than enough to leapfrog his teammate and Sunday fourth-place finisher Trevor Brunner (No. 21 Estenson Racing Yamaha YZ450F) for second position in the final standings.
Drane said, "This means a lot to do it here, at Springfield, with some Aussie fans out there. My career pretty much started at this track. I can't thank my whole team enough for all their effort to get us here."
The near miss was Saathoff's ninth podium of the season and his sixth runner-up. Meanwhile, two-time champion Kopp finished third to round out his incredible eight-win season with an 11th podium.
Morgen Mischler (No. 13 American Honda/Mission Foods CRF450R), Trent Lowe (No. 48 American Honda/Mission Foods CRF450R), Declan Bender (No. 216 Killer Bee Racing/Luczak Racing KTM 450 SX-F), and James Ott (No. 19 1st Impressions Race Team/Husqvarna Racing FC450) finished fractions of a second back in fifth through eighth, respectively.
Kopp's teammate, Max Whale (No. 18 Red Bull KTM Factory Racing 450 SX-F), crossed the stripe as the final rider in the lead pack, registering a ninth-place result despite finishing only 0.637 seconds off the victory. The result was still stout enough to hold onto a championship top-five ranking, however, with an ultimate class order of Kopp (351), Drane (310), Brunner (305), Saathoff (291), and Whale (266).
Next Up:
For those that didn't catch the live action from the circuit, FansChoice.tv is the live streaming home of Progressive AFT. Sign up now and catch every second of on-track action from the entire season, which is available to watch on demand at https://www.fanschoice.tv.
FOX Sports coverage of Mission Springfield Mile I & II presented by Drag Specialties featuring in-depth features and thrilling onboard cameras, will premiere back-to-back on FS1 on Sunday, September 10, starting at 10:00 a.m. ET (7:00 a.m. PT).
For more information on Progressive AFT visit https://www.americanflattrack.com
More, from a press release issued by KTM Factory Racing:
TWO-TIME CHAMPION KODY KOPP FINISHES 2023 AFT SINGLES SEASON WITH SPRINGFIELD PODIUM
Round 18 – American Flat Track Championship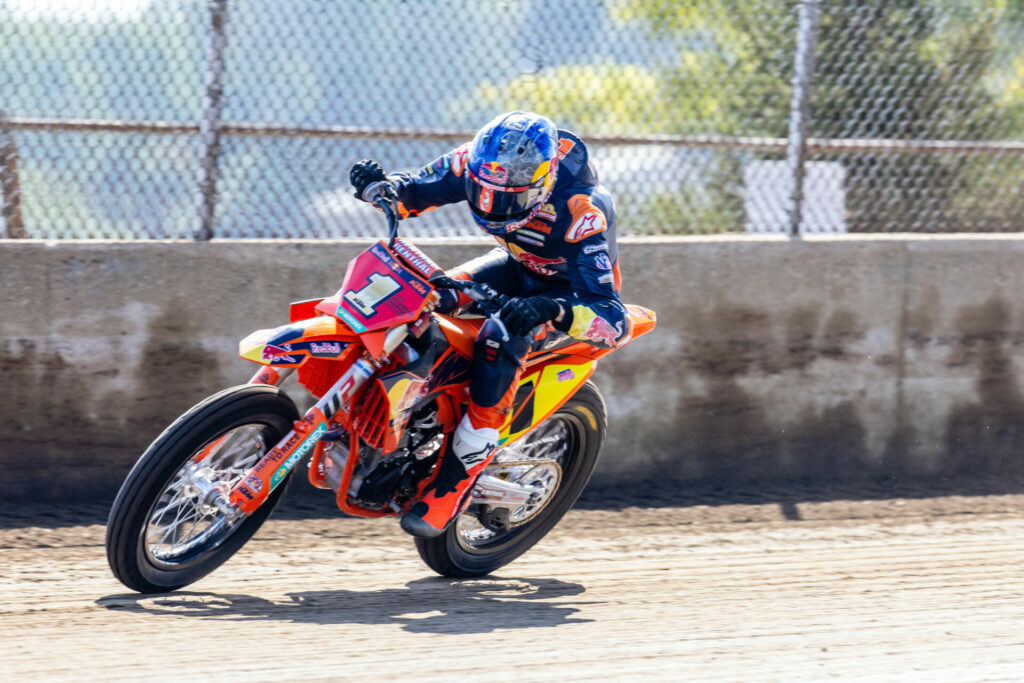 SPRINGFIELD, Ill. – Newly-crowned two-time champion Kody Kopp has concluded the 2023 American Flat Track Championship by securing a third-place result in the AFT Singles Class at the final round of the season at Springfield Mile II, just one day after clinching back-to-back titles in the penultimate round.
The championship pressure was lifted from Red Bull KTM Factory Racing's Kopp as he entered Round 18, going on to record the fifth-fastest qualifying time. Third place in his Heat Race earned him a transfer into the Main Event, where the number one would battle hard all race long, crossing the line in third position, just 0.159s outside of victory.
Kopp's 2023 campaign marked an ultra-successful outing onboard his KTM 450 SX-F, with the 18-year-old defending his AFT Singles Championship, while also racing to eight race wins across the season, marking one of the more dominant seasons in AFT Singles Class history.
Kody Kopp: "The season comes to an end here in Springfield! We pulled another podium finish, which is pretty crazy considering how we started the year with the Miles, so it's a testament to how hard the team has worked throughout the year to get us to where we are now. The pressure was lifted today after the championship was wrapped up yesterday, so it was a fun race to enjoy, and we ended up just a little short in third place. Stoked on the season though and already looking forward to defending this thing next year!"
Red Bull KTM Factory Racing teammate Max Whale sat one position ahead of Kopp in qualifying by posting the fourth-fastest time, before racing to third place in his Heat Race. A stacked Main Event with the top 10 fighting for position saw Whale conclude his 2023 season with a ninth-place ride in Springfield, completing the season P5 in the final AFT Singles Class standings.
Max Whale: "All in all things went fairly well this season, as it's the first time in a while I've made it through all rounds healthy. Lots of learnings and takeaways this year, but I feel like I have a lot more to give, so we'll come back next year stronger and faster. My race here was good, first through 10th were in a super-tight battle, we were all there at the front of the pack, and I ended up ninth. Congratulations to Kody and the whole team, job well done to those guys, and we'll be up for the fight again next year."
KTM-supported racer Briar Bauman finished the 2023 American Flat Track Championship by claiming an impressive SuperTwins Class victory at Springfield Mile II, which marks his second win of the season and ninth podium finish equipped with the KTM 790 DUKE. Bauman was ranked P4 in the final championship standings.
Round 18 Results
AFT Singles Main Event
1. Tom Drane, Yamaha
2. Chase Saathoff, Honda
3. Kody Kopp, Red Bull KTM Factory Racing
OTHER KTM
7. Declan Bender, KTM
9. Max Whale, Red Bull KTM Factory Racing
12. Shayna Texter-Bauman, KTM
13. Travis Petton IV, KTM
16. Dalton Gauthier, KTM
19. Landen Smith, KTM
2023 AFT Singles Point Standings
1. Kody Kopp, 351 points
2. Tom Drane, 310
3. Trevor Brunner, 305
OTHER KTM
5. Max Whale, 266
7. Dalton Gauthier, 247
11. Travis Petton IV, 113
14. Shayna Texter-Bauman, 84
17. Declan Bender, 65
20. Logan Eisenhard, 43
22. Tanner Dean, 27
26. Landen Smith, 16
27. Hayden Gillim, 14
28. Olin Kissler, 14
30. Clarke Morian V, 12