American Flat Track
Black Hills Half-Mile
Black Hills Speedway
Rapid City, South Dakota
August 6, 2023
Provisional Mission SuperTwins Main Event Results (all on Dunlop tires):
1. Jared Mees (Ind), 28 laps
2. Dallas Daniels (Yam), -1.377 seconds
3. JD Beach (Yam), -1.477
4. Davis Fisher (Ind), -9.773
5. Cameron Smith (Yam), -11.590
6. Brandon Robinson (Ind), -12.222
7. Kolby Carlile (Yam), -12.920
8. Johnny Lewis (Roy), -13.294
9. Jarod Vanderkooi (Ind), -14.601
10. Bronson Bauman (KTM), -15.792
11. Ben Lowe (Ind), -16.458
12. Briar Bauman (KTM), -18.993
13. Henry Wiles (Ind), -21.125
14. Kasey Sciscoe (Har), -21.634
15. Ryan Wells (Roy), -1 lap
16. Cody Johncox (Yam), -1 lap, 8.618
17. Scooter Vernon (Kaw), -1 lap, 9.687
18. Michael Hill (Yam), -1 lap, 10.760
19. Jimmy McAllister (KTM), -20 laps, DNF
Provisional Parts Unlimited AFT Singles Main Event Results (all on Dunlop tires):
1. Kody Kopp (KTM), 23 laps
2. Tom Drane (Yam), -0.227 second
3. Trent Lowe (Hon), -1.439 seconds
4. Max Whale (KTM), -1.535
5. Trevor Brunner (Yam), -2.788
6. Chase Saathoff (Hon), -2.793
7. Declan Bender (KTM), -7.433
8. Dalton Gauthier (KTM), -7.790
9. Travis Petton (KTM), -8.133
10. Tarren Santero (Hon), -8.371
11. James Ott (Hus), -8.937
12. Morgen Mischler (Hon), -9.414
13. Chad Cose (Hus), -9.439
14. Hunter Bauer (Hon), -9.657
15. Aidan RoosEvans (Hon), -9.672
16. Tyler Raggio (Yam), -13.821
17. Logan Eisenhard (KTM), -14.719
18. Landen Smith (KTM), -14.799
19. Aidan Brown (Hon), -15.866
Provisional Royal Enfield Build. Train. Race. Main Event Results (all on Dunlop tires):
1. Zaria Martens (Roy), 8 laps
2. Morgan Monroe (Roy), -0.047 second
3. Shasta L'Heureux (Roy), -0.744
4. Kenzie Luker (Roy), -1.281 seconds
5. Makenna Hiatt (Roy), -6.078
6. Erin Ferris (Roy), -11.389
7. Morgan Piller (Roy), -12.307
8. Anna Serena (Roy), -13.337
9. Moriah Hummer (Roy), -28.123
10. Mia Reese (Roy), -1 lap
More, from a press release issued by American Flat Track:
Mees Extends Title Lead with Dominant Black Hills Half-Mile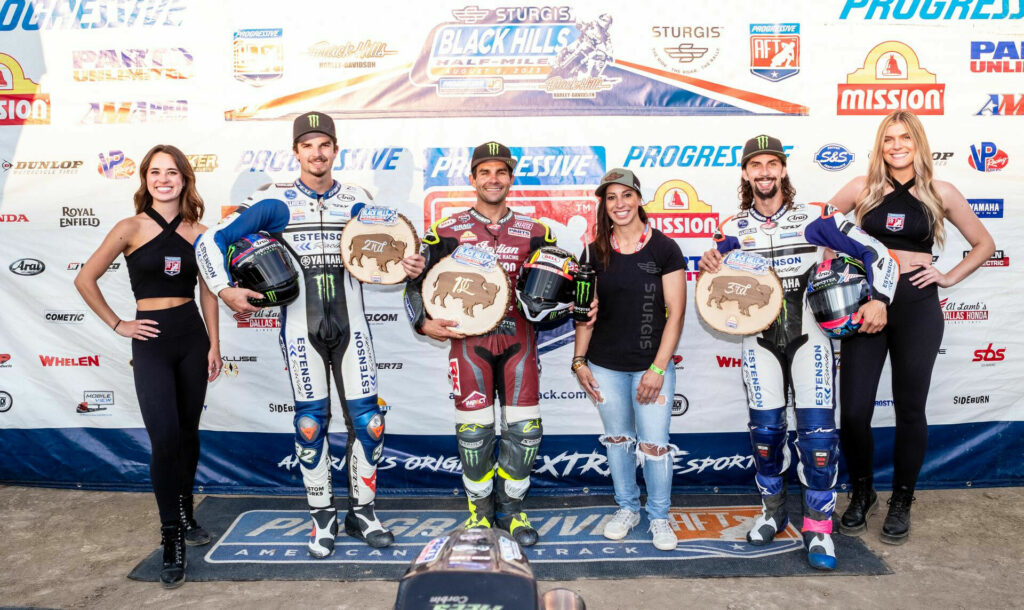 DAYTONA BEACH, Fla. (August 6, 2023) – Reigning champion Jared Mees (No. 1 Indian Motorcycle/Rogers Racing/SDI Racing FTR750) fortified his Grand National Championship advantage with a trademark performance in The City of Sturgis Black Hills Half-Mile presented by Black Hills Harley-Davidson at Black Hills Speedway in Rapid City, South Dakota
Progressive American Flat Track, sanctioned by AMA Pro Racing, took the spotlight at the 83rd Sturgis Motorcycle Rally on Sunday night, and all of its superstars, Mees again shone the brightest. He looked nearly unbeatable entering the Mission SuperTwins presented by S&S Cycle Main and then proved those fears well founded as soon as the race began. He shot out into the lead from pole and stretched out a sizable gap within a matter of laps, extinguishing any hopes of an upset as he did so.
Drama-free at the front, the Main Event was anything but from second place on down the order. Despite being in desperate need of a runner-up finish to minimize the damage to his championship chances, Dallas Daniels (No. 32 Estenson Racing Yamaha MT-07 DT) found himself in fourth behind JD Beach (No. 95 Estenson Racing Yamaha MT-07 DT) and Briar Bauman (No. 3 Parts Plus/Jacob Companies KTM 790 Duke) and in danger of being displaced to fifth by Brandon Robinson (No. 44 Mission Roof Systems Indian FTR750).
Fueled by that desperation, Daniels somehow thread the needle, splitting Beach and Bauman to emerge from fourth in second with eight minutes to go. He and Estenson Racing teammate Beach then separated from the fight for fourth and flew their Yamahas in formation from that point forward.
However, Beach didn't appear to be content to merely follow Daniels to the flag, instead showing his teammate a wheel more than once as the race neared its conclusion. While Beach may have had some pace on Daniels, he was wise enough to hold off on anything but the cleanest of passes – an opportunity for which never showed itself.
As a result of Mees' victory and Daniels' runner-up, Mees now leads by 5 points (321-316) and has locked up the tiebreaker with just three races left to determine this year's champion.
Mees said, "It was a good day for us. We knew we needed to come in and do exactly that. We were dominant all day long. Jimmy Wood had the Öhlins suspension so hooked up – the Indian was probably one of the most hooked up motorcycles on a Half-Mile that I've ever been on, honestly. And Kenny Tolbert had the thing tuned-up perfectly, obviously. We were solid right off the truck, and that was a big key to today – not having to search for the speed."
Meanwhile, nine riders were in contention for fourth place in a wild fracas just behind the podium positions. Fourth and fifth, ultimately went to Davis Fisher (No. 67 Rackley Racing/Bob Lanphere's BMC Racing Indian FTR750) and Cameron Smith (No. 34 Martin Trucking/Fredericktown Yamaha MT-07). Brandon Robinson (No. 44 Mission Roof Systems Indian FTR750) held on for sixth, while Bauman suffered the most in the fray, dropping all the way down to 12th by the time he took the checkered flag.
Seventh was taken by Kolby Carlile (No. 36 G&G Racing/Yamaha Racing Yamaha MT-07) while Johnny Lewis (No. 10 Moto Anatomy X Powered by Royal Enfield 650), Jarod Vanderkooi (No. 20 JMC Motorsports/Fairway Ford Indian FTR750), and Bronson Bauman (No. 37 Fastrack Racing/2 Wheelz KTM 790 Duke) completed the top ten.
Parts Unlimited AFT Singles presented by KICKER
Reigning Parts Unlimited AFT Singles presented by KICKER champ Kody Kopp (No. 1 Red Bull KTM Factory Racing 450 SX-F) pulled off perhaps the most impressive of his seven race wins this season on Sunday at Black Hills Speedway.
Kopp not only had to work up through a talented field on a slick track after running as low as seventh early, he also had to somehow find a way around the race's heavy pre-race favorite, Tom Drane (No. 59 Estenson Racing Yamaha YZ450F), to complete that epic charge to victory.
Kopp exploited a high line no one else could quite master to slash up from seventh to second. That strategy could take him only that far, however, as Drane was too fast and too smart to simply power around. Instead, the factory Red Bull KTM ace applied as much pressure as he possibly could and then pounced as soon as Drane made a slight mistake as the two leapt out of Turn 4 with just two laps remaining.
Once into first, Kopp kept it together and held on by 0.227 seconds at the checkered flag.
"That was probably the toughest race of my career," Kopp said. "I really dug myself out of a hole after a terrible heat, but I knew we had the speed… (But) Tom made it so hard to do. I would roll him – I had a lot of entry speed into (Turn) 1 – but he would see me and come up and block, which is what you have to do at a track like this, and it would cost me all of my momentum. But he just slipped up once coming off 4, and that's all it took."
"Last year around this time, when we started thinking about the championship, I feel like I was settling for like fifths and sevenths. This year, I want to get eight wins like Dallas (Daniels did in 2020). This is huge for me and my team."
The two were joined on the box by Trent Lowe (No. 48 American Honda/Mission Foods CRF450R), who held off second factory KTM ace Max Whale (No. 18 Red Bull KTM Factory Racing 450 SX-F), by 0.096 seconds for the spot.
Early frontrunner and '22 Black Hills HM winner Trevor Brunner (No. 21 Estenson Racing Yamaha YZ450F) finished in fifth, just 0.005 seconds ahead of Chase Saathoff (No. 88 American Honda/Mission Foods CRF450R).
Rookie Declan Bender (No. 216 Killer Bee Racing/Luczak Racing KTM 450 SX-F) earned the best finish of his Progressive AFT career in seventh. He was followed by Dalton Gauthier (No. 79 D&D Racing/Certified KTM 450 SX-F), Travis Petton IV (No. 82 ECG Racing/3 Bros KTM 450 SX-F) and Tarren Santero (No. 75 Vinson Construction/Eric Hoyt Honda CRF450R) to round out the top ten.
Kopp now leads the championship by 49 points over Drane (298-249). Should he build that advantage by just a single point next weekend at his home race in Castle Rock, Washington, he'll successfully complete his title defense a full two rounds early.
Next Up:
The battle for the 2023 Grand National Championship resumes in less than a week with the CertainTeed Castle Rock TT presented by Law Tigers at Castle Rock Race Park in Castle Rock, Washington, on Saturday, August 12. Visit https://www.tixr.com/groups/sdiracing/events/castle-rock-tt-59623 to reserve your tickets today.
For those that can't catch the live action from the circuit, FansChoice.tv is the live streaming home of Progressive AFT. Sign up now and catch every second of on-track action starting with Practice & Qualifying and ending with the Victory Podium at the end of the night at https://www.fanschoice.tv.
FOX Sports coverage of The City of Sturgis Black Hills Half-Mile presented by Black Hills Harley-Davidson, featuring in-depth features and thrilling onboard cameras, will premiere on FS1 on Sunday, August 13, at 11:00 a.m. ET (8:00 a.m. PT)
For more information on Progressive AFT visit https://www.americanflattrack.com
More, from a press release issued by KTM Factory Racing:
KODY KOPP RACES TO THE TOP STEP OF THE AFT SINGLES PODIUM AT BLACK HILLS HALF-MILE
Round 15 – American Flat Track Championship
RAPID CITY, S. Dak. – Red Bull KTM Factory Racing rider Kody Kopp has returned to the top step of the podium in Round 15 of the 2023 American Flat Track Championship at the Black Hills Half-Mile, where teammate Max Whale charged to a fourth-place result in the AFT Singles Main Event.
After piloting his 450 SX-F to the third-fastest qualifying time, Kopp took a P4 finish in the opening Heat of the round as he initially struggled to find comfort on the Rapid City layout. The defending champion flipped a switch as the Main Event arrived, however, with the number one racing to a hard-fought victory and securing his seventh AFT Singles win of the season.
With his Black Hills Half-Mile victory, Kopp extends his advantage in the AFT Singles Championship to 49 points with three rounds remaining.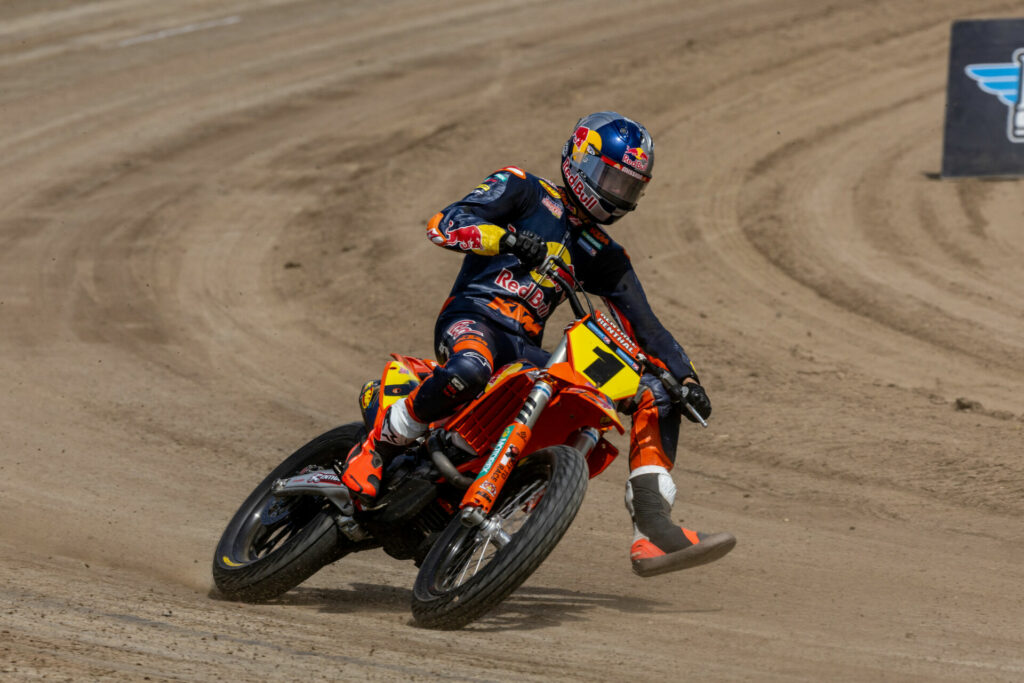 Kody Kopp: "This Black Hills Half-Mile was one of the toughest races of my career. Qualified on the front row for the Heat, but I really had to dig myself out of a hole – I was too nice, because I had the speed, but just rode around in fourth, and really needed to find that comfort and aggression. In the Main Event, I got myself really hyped up and that result was huge for my championship! I wanted to win today's race so bad after the difficulties of last weekend, so I'm ready to keep it rolling into the next race and finish strong."
Red Bull KTM Factory Racing teammate Whale opened his race day with a time that saw him qualify in second position. The momentum would continue for the determined Australian, as he notched another P2 result in his Heat, which earned him a spot into the Dash-For-Cash, where he claimed fourth.
In making improvements throughout the event, Whale entered the Main Event with confidence on his side, though a steady opening few laps placed him in the mid-field. Coming alive in the mid-part of the race, he began his charge to the front, running the pace of the leaders and managing to place his 450 SX-F into P4 by race's end. That result now sees him ranked fifth in the point-standings.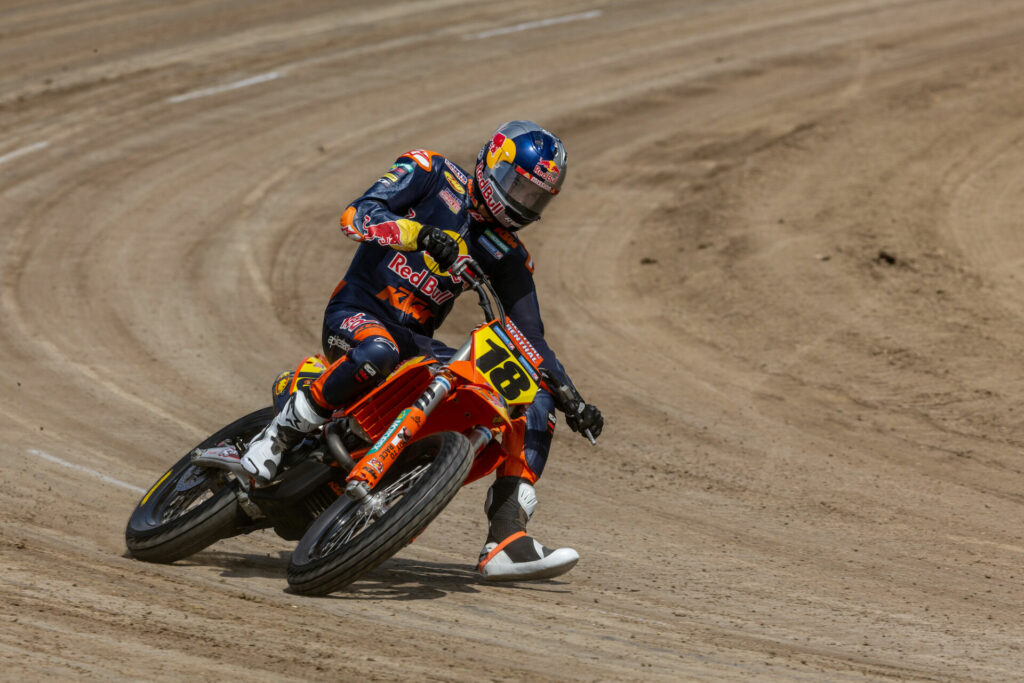 Max Whale: "It was a decent day here at Black Hills. I qualified second, which adds to my run of good qualifiers over the last few rounds, so had a front row start, made it into the Dash, though felt I was chasing something all day long. The team and I made great changes throughout the round and by the Main Event, I felt great, just a slow opening few laps put me back, unfortunately. I charged hard from there and by the mid-point I was running the times of the leaders, but I just gave up too much time to begin with. Overall, I'm stoked with how I feel on the bike, I just need to be better early on."
Next Race: Castle Rock TT – Castle Rock, WA – August 12, 2023
Round 15 Results
AFT Singles Main Event
1. Kody Kopp, Red Bull KTM Factory Racing
2. Tom Drane, Yamaha
3. Trent Lowe, Honda
4. Max Whale, Red Bull KTM Factory Racing
OTHER KTM
7. Declan Bender, KTM
8. Dalton Gauthier, KTM
9. Travis Petton IV, KTM
17. Logan Eisenhard, KTM
18. Landen Smith, KTM
2023 AFT Singles Point Standings
1. Kody Kopp, 298 points
2. Tom Drane, 249
3. Trevor Brunner, 248
OTHER KTM
5. Max Whale, 228
7. Dalton Gauthier, 214
11. Travis Petton IV, 97
14. Shayna Texter-Bauman, 69
19. Logan Eisenhard, 43
21. Declan Bender, 36
24. Landen Smith, 15
26. Hayden Gillim, 14
28. Clarke Morian V, 12
29. Olin Kissler, 10
30. Tanner Dean, 9
More, from a press release issued by Indian Motorcycle:
INDIAN MOTORCYCLE RACING AND JARED MEES DOMINATE BLACK HILLS HALF-MILE
Mees Inches Closer to Record-Tying Ninth-Career Grand National Championship as Eighth Victory of the Season Extends Overall Points Lead to Five with Three Races Remaining
MINNEAPOLIS – Chasing his ninth-career Grand National Championship, which would tie Scottie Parker's all-time record, reigning SuperTwins Champion and Indian Motorcycle Wrecking Crew rider Jared Mees is showing no signs of slowing down heading into the final stretch of the 2023 American Flat Track (AFT) season. Piloting his Indian FTR750, Mees rode to his eighth win of the season and extended his series points lead following a dominant performance at the Black Hills Half-Mile.
Starting the Main event from the pole position, Mees jumped on the throttle from the drop of the green flag – taking the hole shot and securing a sizable lead to complete a dominant wire-to-wire victory. The eighth win of the season not only gives Mees a five-point lead with three races remaining but secures the season's tiebreaker.
"Jared's a fierce competitor with incredibly high expectations and an unwavering drive to win," said Gary Gray, Vice President Racing, Service & Technology for Indian Motorcycle. "He's been scratching and clawing his way back to the top of the leaderboard all season, consistently stringing together wins and podium finishes. With only three races remaining in less than a month, the team has the FTR750 dialed in and ready to compete for another championship."
While Mees chases a record-tying ninth-career Grand National Championship, another title for the Indian FTR750 will mark seven-consecutive AFT SuperTwins championships for Indian Motorcycle Racing.
The 2023 AFT season continues next at Castle Rock TT on August 12. The season will conclude September 2-3 for a Springfield Mile doubleheader.
For more information on Indian Motorcycle Racing, visit IndianMotorcycle.com and follow along on Facebook, Twitter and Instagram.
ABOUT INDIAN MOTORCYCLE®
Indian Motorcycle Company is America's First Motorcycle Company®. Founded in 1901, Indian Motorcycle has won the hearts of motorcyclists around the world and earned distinction as one of America's most legendary and iconic brands through unrivaled racing dominance, engineering prowess and countless innovations and industry firsts. Today that heritage and passion is reignited under new brand stewardship. To learn more, please visit www.indianmotorcycle.com.
INDIAN and INDIAN MOTORCYCLE are registered trademarks of Indian Motorcycle International, LLC.  Always wear a helmet, protective clothing and eyewear and insist your passenger does the same.  Ride within the limits of the law and your own abilities.  Read, understand and follow your owner's manual. Never ride under the influence of drugs or alcohol.