Progressive American Flat Track (AFT) Castle Rock TT
Castle Rock Race Park
Castle Rock, Washington
August 12, 2023
Provisional Mission SuperTwins Main Event Results (all on Dunlop tires):
1. Dallas Daniels (Yam), 28 laps
2. Jared Mees (Ind), -2.685 second
3. JD Beach (Yam), -3.184
4. Henry Wiles (Ind), -11.113
5. Davis Fisher (Ind), -16.091
6. Sammy Halbert (Yam), -17.670
7. Brandon Robinson (Ind), -17.977
8. Johnny Lewis (Roy), -23.267
9. Ben Lowe (Ind), -23.440
10. Scooter Vernon (KTM), -23.945
11. Kolby Carlile (Yam), -1 lap
12. Jarod Vanderkooi (Ind), -1 lap, 1.268 seconds
13. Shelby Miller (KTM), -1 lap, 19.475
14. Ryan Wells (Roy), -2 laps
15. Kasey Sciscoe (Har), -3 laps
16. Bronson Bauman (KTM), -6 laps, DNF
17. Michael Hill (Yam), -14 laps, DNF
18. Briar Bauman (KTM), -23 laps, DNF
Provisional Parts Unlimited AFT Singles Main Event Results (all on Dunlop tires):
1. Trevor Brunner (Yam), 23 laps
2. Dalton Gauthier (KTM), -0.202 second
3. Tanner Dean (Hon), -0.350
4. Max Whale (KTM), -0.502
5. Tom Drane (Yam), -0.704
6. Chase Saathoff (Hon), -1.348 seconds
7. James Ott (Hus), -5.835
8. Chad Cose (Hus), -6.198
9. Aidan RoosEvans (Hon), -6.368
10. Kody Kopp (KTM), -6.599
11. Morgen Mischler (Hon), -8.023
12. Tarren Santero (Hon), -8.237
13. Trent Lowe (Hon), -10.301
14. Dominic Cameron (Yam), -11.737
15. Cole Frederickson (Hon), -11.983
16. Olin Kissler (KTM), -12.620
17. Cole Zabala (Hon), -13.193
18. Declan Bender (KTM), -13.296
19. Hunter Bauer (Hon), -17.785
More, from a press release issued by American Flat Track:
Daniels Wins Wild Castle Rock TT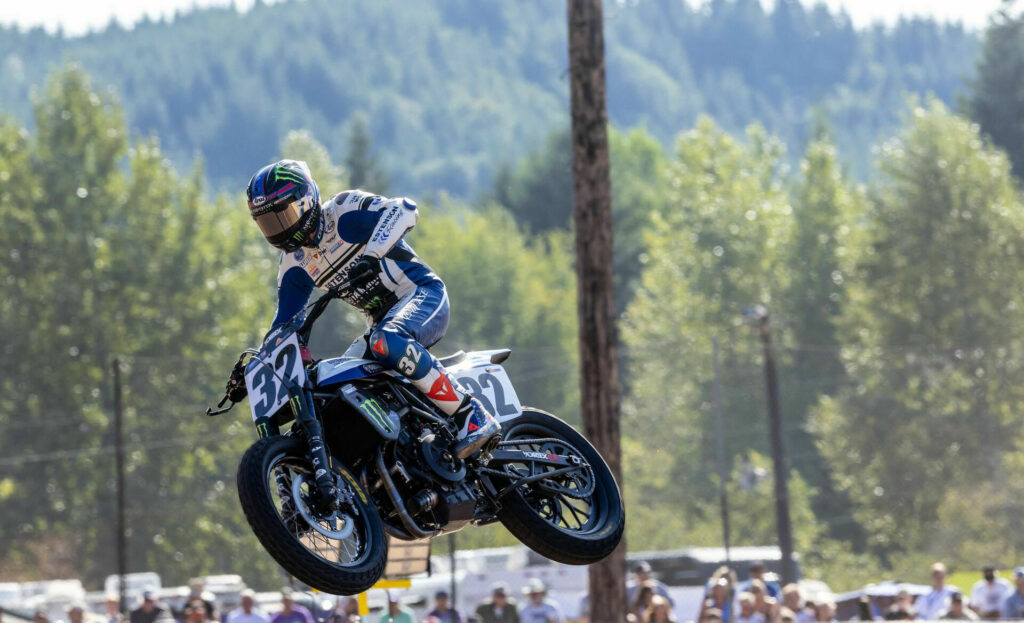 DAYTONA BEACH, Fla. (August 12, 2023) – Dallas Daniels (No. 32 Estenson Racing Yamaha MT-07 DT) closed the 2023 Grand National Championship battle to a single point with a clutch victory in Saturday's CertainTeed Castle Rock TT presented by Law Tigers as Progressive American Flat Track, sanctioned by AMA Pro Racing, put on a show before another massive crowd at Castle Rock Race Park in Castle Rock, Washington.
Mission SuperTwins presented by S&S Cycle title hopeful Daniels needed a win in the worst way and he got it the unexpected way. His Estenson Racing teammate, JD Beach (No. 95 Estenson Racing Yamaha MT-07 DT) – winner of eight of the series' previous nine TTs – took the holeshot and immediately checked out at the front. Daniels, meanwhile, was briefly shuffled back to fourth, running alongside Briar Bauman (No. 3 Parts Plus/Jacob Companies KTM 790 Duke) and, more crucially, reigning champion Jared Mees (No. 1 Indian Motorcycle/Rogers Racing/SDI Racing FTR750).
Daniels dove in front of Bauman almost immediately and then set his sights on Mees as Beach continued to disappear. The rising star didn't wait long to make his move, pouncing on his title rival with more than eight minutes remaining on the clock to take control of second position.
Moments later, Bauman crashed while disputing fourth. That shock twist was merely a teaser for the race-shaking drama set to come, however, as race leader Beach lost the front entering the switchback section approximately 30 seconds later.
Daniels inherited the lead and went about building his own insurmountable advantage at the front. The focus of the contest then shifted to Beach's comeback after picking up his fallen machine. Beach stormed around the outside of Johnny Lewis (No. 10 Moto Anatomy X Powered by Royal Enfield 650) with little delay to elevate himself back into a podium position. He then looked to reel in Mees, who was nearly four seconds in front of him.
The TT titan finally arrived on the rear wheel of Mees' factory Indian with just a minute remaining. However, what felt like an inevitable pass became an impossible one after Beach made a minor slip just as the clocks hit 0:00. That small miscue provided the defending champ with just enough breathing space to survive the final two laps and retain second to the stripe.
Mees' effort to hold on was every bit as critical as Daniels' to win – and arguably as critical as any of his eight wins this season. As a result, Mees goes into the Springfield doubleheader finale holding both a one-point lead (342-341) and the tiebreaker, shifting the lion's share of the pressure to his young adversary.
The victory saw Daniels complete the elusive Grand Slam in just his second premier-class season, adding a TT win to his prior Mile, Half-Mile, and Short Track triumphs. Afterward, he said, "As a little kid, I dreamed of being in this position. Just having a chance going into these last two (races) is amazing. I'm not like super excited because I didn't want to win my first TT that way; obviously I know you've got to get to the finish line first. If I was going to beat JD, I wanted to do it straight up. I was so bummed to see him go down just because I don't want to win that way.
"But I'm so pumped to get that win. It was a crazy Main Event… I was so nervous. I was looking back a whole lot. I know Earl Hayden is up there, reaming me right now. If he could call me after this, he'd be yelling at me. But it was good. The Estenson Racing Monster Energy Yamaha was working great. We knew what we had to do coming in here and we wanted to win."
The sport's all-time TT master, Henry Wiles (No. 17 BriggsAuto.com/Martin Trucking Indian FTR750), charged his way up to fourth with Oregonian Davis Fisher (No. 67 Rackley Racing/Bob Lanphere's BMC Racing Indian FTR750) coming home in fifth.
Three-time Castle Rock TT winner Sammy Halbert (No. 69 Martin Trucking/Castrol Yamaha MT-07) took sixth, followed by Brandon Robinson (No. 44 Mission Roof Systems Indian FTR750), Lewis, and Ben Lowe (No. 25 Rackley Racing/Mission Foods Indian FTR750), while local hero Scooter Vernon (No. 274 Hovey Racing/Stace Richmand KTM 790 Duke) rounded out the top ten.
Parts Unlimited AFT Singles presented by KICKER
Trevor Brunner (No. 21 Estenson Racing Yamaha YZ450F) earned his second win of the 2023 Parts Unlimited AFT Singles presented by KICKER season in a tense ride that saw him on the defensive from green light to checkered flag.
Brunner got the launch off the line to grab the lead entering the opening corner and then spent the next eight minutes and two laps doing everything possible to hold onto that position despite the application of relentless pressure from last year's Castle Rock TT winner, Dalton Gauthier (No. 79 D&D Racing/Certified KTM 450 SX-F).
But their duel was not theirs alone. At half-distance, what had been a four-rider stack at the front that also included Tanner Dean (No. 38 Walrath Racing/Hovey Racing Honda CRF450R) and Max Whale (No. 18 Red Bull KTM Factory Racing 450 SX-F) became a five-rider affair with the addition of Tom Drane (No. 59 Estenson Racing Yamaha YZ450F). And then with a minute remaining, Chase Saathoff (No. 88 American Honda/Mission Foods CRF450R) arrived to transform it to a tight six-rider fight for the victory.
With less than 30 seconds to go, Brunner finally made the mistake Gauthier was desperately attempting to force. But rather than pounce, he responded by nearly losing the front himself and was instead displaced to third by Dean.
However, Gauthier somehow willed a path right back past into second and did so in time to line up a last-corner overtaking attempt on Brunner – a bid that came up 0.202 seconds short.
Brunner, who also won the Peoria TT, said, "We just trusted the process. The lines we were doing all day were working really well. I heard (Gauthier) the entire race, just breathing down my neck. But I just remained consistent and held my lines. I had one bobble going into the tight left and just about lost it. But I gathered it back up real quick and put in some more smooth laps and got it done. It feels so good. This is probably my favorite track on the circuit so it really feels good to get a win here."
Home state hero Dean held on in third to go from retirement to the podium, while Whale, Drane, and Saathoff followed close behind in fourth, fifth, and sixth, respectively.
1st Impressions Husqvarna teammates James Ott (No. 19 1st Impressions Race Team/Husqvarna Racing FC450) and Chad Cose (No. 49 1st Impressions Race Team/Husqvarna Racing FC450) finished in seventh and eighth in that order, followed by Aiden RoosEvans (No. 26 A1R Racing/FRA Trust Honda CRF450R).
Meanwhile, defending Parts Unlimited AFT Singles champion Kody Kopp (No. 1 Red Bull KTM Factory Racing 450 SX-F) finished an uncharacteristic tenth in front of his home fans. While he came in with visions of locking up the championship, it was a fitting end to a difficult day that saw Kopp advance to the Main Event through the LCQ and then spend the bulk of the Main running just outside the top ten.
But despite matching his worst finish of the season, Kopp continues to dominate the points standings, now 35 points up on second-ranked Brunner (308-273) with just 50 points left in play.
Next Up:
The 2023 Progressive American Flat Track season will conclude with an epic Labor Day weekend double finale, the Mission Springfield Mile I & II presented by Drag Specialties, at the Illinois State Fairgrounds in Springfield, Illinois, on September 2-3. Visit https://www.tixr.com/groups/meespromotions/events/springfield-mile-i-61209 and https://www.tixr.com/groups/meespromotions/events/springfield-mile-ii-61313 to reserve your tickets today.
For those that can't catch the live action from the circuit, FansChoice.tv is the live streaming home of Progressive AFT. Sign up now and catch every second of on-track action starting with Practice & Qualifying and ending with the Victory Podium at the end of the night at https://www.fanschoice.tv.
FOX Sports coverage of CertainTeed Castle Rock TT presented by Law Tigers, featuring in-depth features and thrilling onboard cameras, will premiere on FS1 on Sunday, August 20, at 11:00 a.m. ET (8:00 a.m. PT).
For more information on Progressive AFT visit https://www.americanflattrack.com.
More, from a press release issued by KTM Factory Racing:
FOURTH-PLACE FINISH FOR RED BULL KTM'S MAX WHALE AT CASTLE ROCK TT
Round 16 – American Flat Track Championship
CASTLE ROCK, Wash. – Red Bull KTM Factory Racing rider Max Whale has raced to a fourth-place finish in Round 16 of the 2023 American Flat Track Championship at the Castle Rock TT, with teammate and current AFT Singles points-leader Kody Kopp riding to 10th position.
After piloting his 450 SX-F to the fourth-fastest qualifying time, Whale charged his way to finish third place in the second Heat of the round, earning a second row starting position for the Main Event. Engaged in a battle for the front-running positions all race long, Whale fought hard to P4, crossing the line a marginal 0.5s from the leader. He sits fifth in the standings.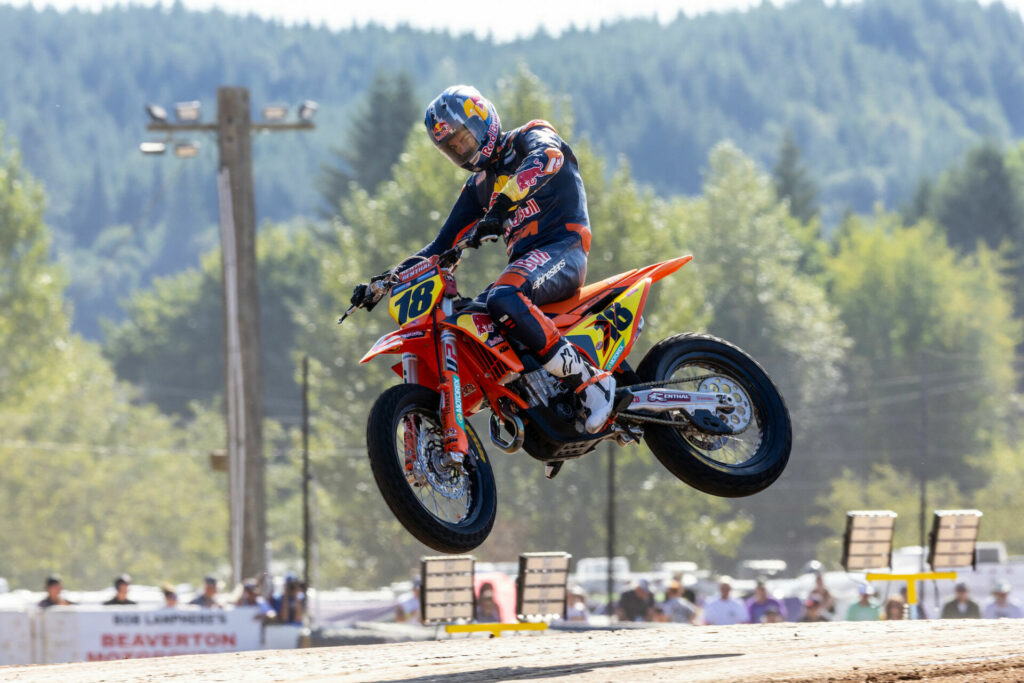 Max Whale: "Castle Rock TT, didn't feel overly special today, although as the day progressed I became increasingly comfortable on the track. Qualified in fourth, then finished up with third place in my Heat race, which put me on the second row for the Main Event. I got a good jump, moved my way into fourth, and that's where I stayed for the remainder as I was right on the front guys all race. This was a really difficult circuit to make passes on, but we'll shift our focus now to Springfield and finsh this championship out strong."
Defending champion Kopp experienced a difficult day in Castle Rock, as the Red Bull KTM Factory Racing rider struggled to achieve comfort on the Washington circuit. After qualifying in ninth place, Kopp raced to seventh in the second Heat race, before posting a quiet run in the Main Event to take P10.
With seven wins to date this season, Kopp continues to lead the 2023 AFT Singles Championship with a 35-point margin as just two rounds remain. He will have another opportunity to potentially clinch back-to-back crowns next time out.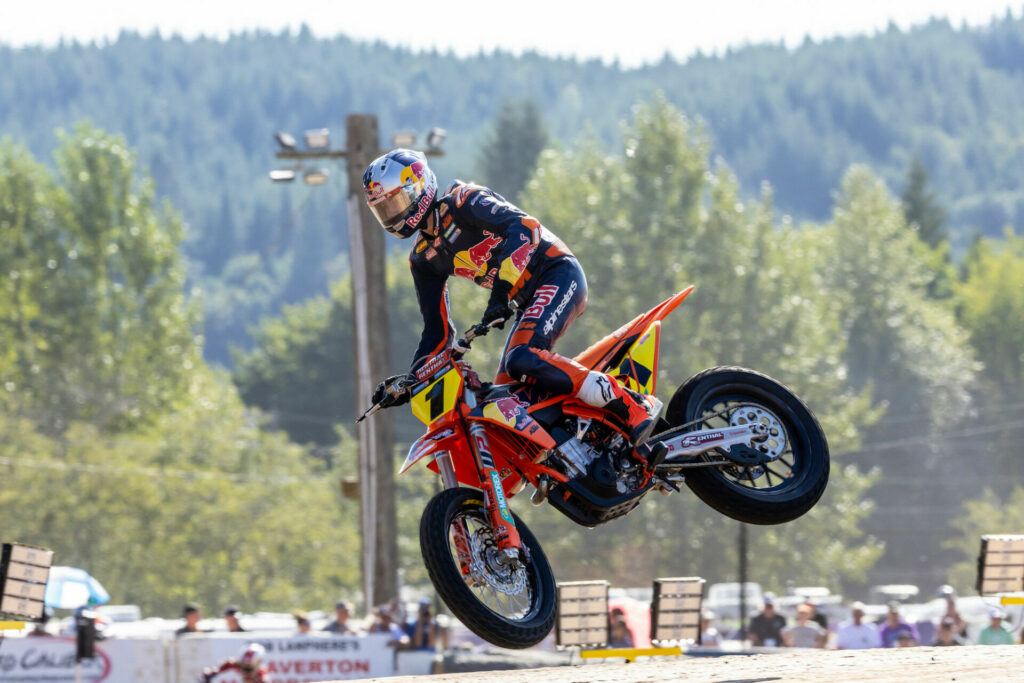 Kody Kopp: "The result from this round stings. We came into the day looking to wrap up the championship, although have now pushed it into Springfield. We came out of here healthy, at least, and that's a blessing in itself as this place can be chaotic. I notched the fastest lap-time in the Main Event, which was a positive, though the pressure mounted here today and we didn't execute. Huge shoutout to the team, we're off to Sprinfield now to chase down this championship!"
Next Race: Springfield Mile I – Springfield, IL – September 2, 2023
Round 16 Results
AFT Singles Main Event
1. Trevor Brunner, Yamaha
2. Dalton Gauthier, KTM
3. Tanner Dean, Honda
4. Max Whale, Red Bull KTM Factory Racing
OTHER KTM
10. Kody Kopp, Red Bull KTM Factory Racing
16. Olin Kissler, KTM
18. Declan Bender, KTM
2023 AFT Singles Point Standings
1. Kody Kopp, 308 points
2. Trevor Brunner, 273
3. Tom Drane, 264
OTHER KTM
5. Max Whale, 244
6. Dalton Gauthier, 235
11. Travis Petton IV, 97
16. Shayna Texter-Bauman, 69
19. Logan Eisenhard, 43
20. Declan Bender, 38
22. Tanner Dean, 27
25. Landen Smith, 15
27. Hayden Gillim, 14
28. Olin Kissler, 14
30. Clarke Morian V, 12