Progressive American Flat Track (AFT) Championship
Springfield Mile I
Springfield, Illinois
September 2, 2023
Provisional Mission SuperTwins Main Event Results (all on Dunlop tires):
1. Jared Mees (Ind), 25 laps
2. Briar Bauman (KTM), -0.340 second
3. Brandon Robinson (Ind), -4.348 seconds
4. JD Beach (Yam), -4.412
5. Dallas Daniels (Yam), -5.734
6. Davis Fisher (Ind), -5.992
7. Ben Lowe (Ind), -15.060
8. Jarod Vanderkooi (KTM), -15.371
9. Henry Wiles (Ind), -17.820
10. Johnny Lewis (Roy), -18.200
11. Bronson Bauman (KTM), -24.325
12. Kolby Carlile (Yam), -24.445
13. Brandon Price (Yam), -24.508
14. Dan Bromley (Yam), -35.357
15. Jeffery Lowery (Yam), -36.758
16. Jeremiah Duffy (Kaw), -9 laps, DNF
17. Cameron Smith (Yam), -10 laps, DNF
18. Ryan Wells (Roy), -12 laps, DNF
19. Nick Armstrong (Yam), -17 laps, DNF
Provisional Parts Unlimited AFT Singles Main Event Results (all on Dunlop tires):
1. Kody Kopp (KTM), 18 laps
2. Tom Drane (Yam), -0.010 second
3. Chase Saathoff (Hon), -0.092
4. Trevor Brunner (Yam), -0.486
5. Morgen Mischler (Hon), -0.638
6. Declan Bender (KTM), -0.676
7. James Ott (Hus), -5.500 seconds
8. Trent Lowe (Hon), -5.505
9. Max Whale (KTM), -5.609
10. Chad Cose (Hus), -5.742
11. Travis Petton (KTM), -7.605
12. Dalton Gauthier (KTM), -7.857
13. Shayna Texter-Bauman (KTM), -8.736
14. Tarren Santero (Hon), -8.947
15. Aidan RoosEvans (Hon), -14.359
16. Hunter Bauer (Hon), -14.571
17. Tyler Raggio (Yam), -14.692
18. Jared Lowe (Hon), -26.114
19. Jordan Jean (Hon), -8 laps, DNF
More, from a press release issued by AFT:
Mees Closes on Crown, Kopp Defends Title with Springfield Mile I Triumphs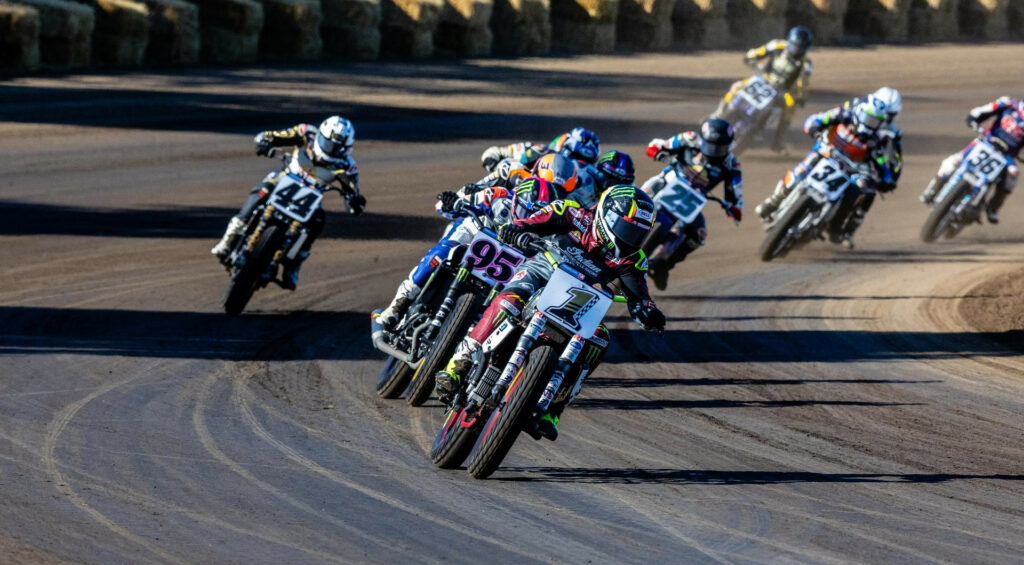 DAYTONA BEACH, Fla. (September 2, 2023) – Reigning Grand National Champion Jared Mees (No. 1 Indian Motorcycle/Rogers Racing/SDI Racing FTR750) took a huge step toward yet another premier-class crown with a triumphant performance in the Mission Springfield Mile I presented by Drag Specialties.
While fans of Progressive American Flat Track, sanctioned by AMA Pro Racing, flocked to the Illinois State Fairgrounds in Springfield, Illinois, in anticipation of a showdown for Mission SuperTwins presented by S&S Cycle supremacy featuring Mees and challenger Dallas Daniels (No. 32 Estenson Racing Yamaha MT-07 DT), Saturday's contest instead delivered a flashback to Grand National Championships past.
As it was, Mees was pushed to the checkered flag by long-time rival Briar Bauman (No. 3 Parts Plus/Jacob Companies KTM 790 Duke) after the two shook free from a six-rider pack to decide the race between them. The factory Indian star dug in with two laps remaining and ripped open a late 0.340-second margin as he moved that much closer to completing another successful title defense.
Brandon Robinson (No. 44 Mission Roof Systems Indian FTR750) finished third after coming on strong in the early going, running around the outside of Daniels, JD Beach (No. 95 Estenson Racing Yamaha MT-07 DT), Bauman, and Mees in quick succession to briefly claim the lead three minutes into the race.
Robinson then ran in close formation with Mees and Bauman before fading to a distant third over the final five minutes, ultimately surviving a last-gasp assault from Beach to claim final place on the podium.
Meanwhile, for the first – and least opportune – time this season, Daniels simply lacked podium pace. He did what he could to cling on to the lead group but was dropped from contention by the race's halfway point. From there forward, it became all about damage limitation, which he managed by fending off Davis Fisher (No. 67 Rackley Racing/Bob Lanphere's BMC Racing Indian FTR750) for fifth position.
Even so, what had been a one-point championship deficit is now 11 (367-356). As Mees holds the tiebreaker, that means even if Daniels turns his fortunes around overnight and wins on Sunday, Mees needs only finish sixth or better to add yet another championship trophy to his already expansive collection.
While nothing is guaranteed, that seems like a relatively modest task for the winner of six of the last Springfield Miles.
After claiming his ninth victory of the year, Mees said, "It was the most technical Springfield Mile I've ever raced. There wasn't much grip out there, and you really had to let the motorcycle hook up. If you got just a little bit excited you buzzed it up. Honestly, it's probably the very first Springfield Mile that you were better off leading the race because you could be timid, and if the guy behind you wanted to wick it up, it would spin up.
"I've got a phenomenal team, and we're working really hard to get this thing done… It feels really good, but there's one more tomorrow. Anything can happen, and we've got to bring it."
Ben Lowe (No. 25 Rackley Racing/Mission Foods Indian FTR750) finished seventh just ahead of KTM-mounted Jarod Vanderkooi (No. 20 Wally Brown Racing/JMC Motorsports KTM 790 Duke), while Henry Wiles (No. 17 BriggsAuto.com/Martin Trucking Indian FTR750) and Johnny Lewis (No. 10 Moto Anatomy X Powered by Royal Enfield 650) completed the top ten.
Parts Unlimited AFT Singles presented by KICKER
Kody Kopp (No. 1 Red Bull KTM Factory Racing 450 SX-F) had every opportunity to cruise around to a safe fifth, which is all he needed to do to successfully defend his Parts Unlimited AFT Singles presented by KICKER title. Instead, he orchestrated a breathtaking 0.010-second victory to lock down the #1 plate for the second consecutive year in supreme style.
Kopp ran third for much of the race, tucked in close behind a back-and-forth dogfight waged by fellow prodigies Tom Drane (No. 59 Estenson Racing Yamaha YZ450F) and Chase Saathoff (No. 88 American Honda/Mission Foods CRF450R).
The reigning champ began to slot into second here and there as the minutes ticked away. With two minutes to go, the race bunched up to a six-rider affair as second-ranked Trevor Brunner (No. 21 Estenson Racing Yamaha YZ450F), rookie ace Declan Bender (No. 216 Killer Bee Racing/Luczak Racing KTM 450 SX-F), and veteran pilot Morgen Mischler (No. 13 American Honda/Mission Foods CRF450R) all closed to within striking distance.
But even in close quarters, the battle for victory still looked to be decided between Drane and Saathoff. Drane led to open the final lap, Saathoff powered by as they navigated Turn 2, and Drane dove back into the lead entering 3. But right there was Kopp in the shadow of the Australian, perfectly positioned to pounce as they sprinted to the line.
Kopp pulled out of the draft and nudged ahead by inches at the last possible moment. The 0.01-second victory saw the factory Red Bull KTM star simultaneously become just the category's second two-time champion, earn his first-career Mile triumph, and match Dallas Daniels' class single-season victory record with his eighth win on the year.
"I don't even know what to say," said Kopp. "It's no secret that the KTM team was struggling on the Miles this year, but we've got some guys in our corner that don't give up. The guys on the team want to win as badly as I do, and they built us a heck of a runner this weekend. Second championship… I'm speechless. It's insane."
Drane came away with his ninth podium in his last 11 attempts in second, while Saathoff will carry his pursuit of a maiden victory over to Sunday after finishing third, just 0.092 seconds off the Saturday win.
Brunner and Mischler rounded out the top five, finishing just ahead of Bender, who made a huge push for Rookie of the Year honors by finishing sixth, less than seven-tenths back of Kopp in first.
While Kopp has now clinched the crown with 333 points, the fight for second is yet to be decided. Brunner stands a mere four points ahead of his Estenson Racing teammate Drane (289-285) for the honor, while Saathoff holds an outside shot himself at 270.
Next Up:
The 2023 Progressive American Flat Track season will conclude with Sunday's Mission Springfield Mile II presented by Drag Specialties at the Illinois State Fairgrounds in Springfield, Illinois. Visit https://www.tixr.com/groups/meespromotions/events/springfield-mile-ii-61313 to reserve your tickets now.
For those that can't catch the live action from the circuit, FansChoice.tv is the live streaming home of Progressive AFT. Sign up now and catch every second of on-track action starting with Practice & Qualifying and ending with the Victory Podium at the end of the night at https://www.fanschoice.tv.
FOX Sports coverage of Mission Springfield Mile I & II presented by Drag Specialties featuring in-depth features and thrilling onboard cameras, will premiere back-to-back on FS1 on Sunday, September 10, starting at 10:00 a.m. ET (7:00 a.m. PT).
For more information on Progressive AFT visit https://www.americanflattrack.com.
More, from a press release issued by KTM Factory Racing:
KODY KOPP AND RED BULL KTM CLINCH SECOND-STRAIGHT AFT SINGLES CHAMPIONSHIP WITH SPRINGFIELD MILE VICTORY
Round 17 – American Flat Track Championship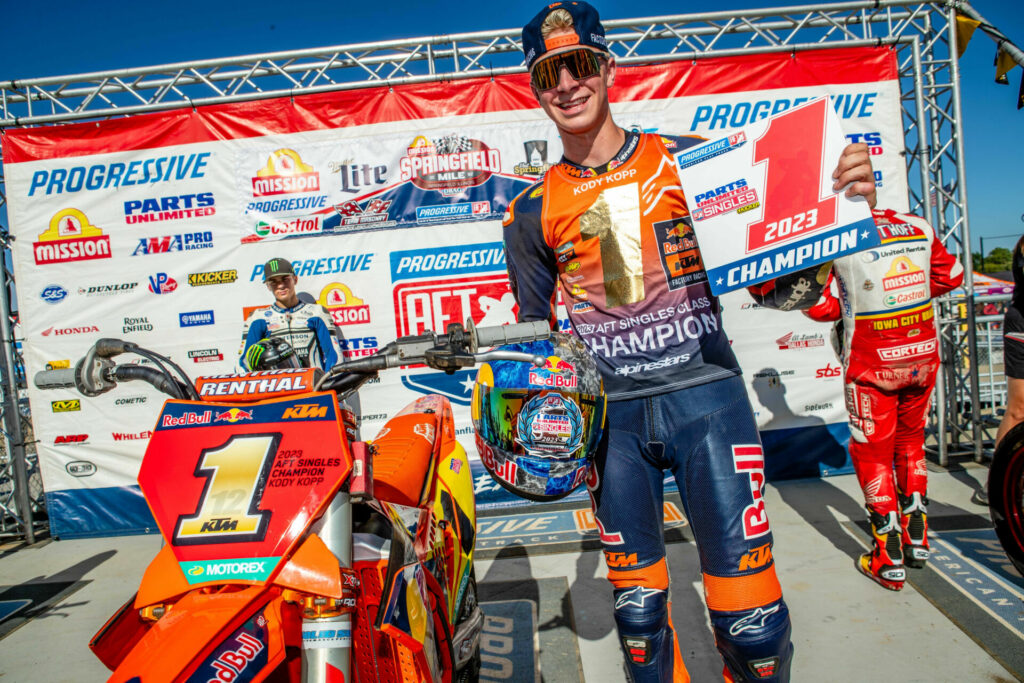 SPRINGFIELD, Ill. – Red Bull KTM Factory Racing's Kody Kopp has clinched a second-consecutive AFT Singles Championship with a round to spare, after charging to his eighth American Flat Track Main Event victory of the 2023 season on Saturday at the Springfield Mile double-header.
In what has been a dominant season onboard his KTM 450 SX-F, Kopp has raced to a total of eight race wins across the 17 rounds contested, with one more race to run in Springfield tomorrow. This year's title marks the Washington native's second crown in just three seasons since stepping up to the AFT Singles ranks, with the 18-year-old once again displaying his winning form by sealing the championship on top of the podium.
Requiring a 10th-place finish or better to secure the 2023 title, Kopp demonstrated true championship caliber as he posted the third-fastest qualifying time, before racing to P3 in his Heat Race. After starting the Main Event from the second row of the grid, the defending champion put any pressure of earning back-to-back titles out of his mind, slicing his way through the field and eventually edging his way into P1, which is where he would take the checkered flag by just 0.010s for his eighth win of the season and another AFT Singles Championship.
Kody Kopp: "We were in the hunt all day long here in Springfield! We entered with a new motor that the team back at the shop have been working on and I'd say that's the strongest Mile motor I've ever ridden with in my life. We put ourselves in a good position, I knew what was needed for the championship, although I wanted there to be no questions asked, so we ended up going out there and winning the thing. It feels amazing to match Dallas [Daniels] on total single season wins with eight, and then to also wrap up another championship. We'll charge for another win tomorrow, but we will soak this in first! A massive thank you to the team for giving me all the tools necessary all season long to get the job done."
Red Bull KTM Factory Racing teammate Max Whale endured a difficult day out in Springfield, with the Australian posting a P5 result in qualifying. After experiencing an unfortunate non-finish during his Heat Race, Whale qualified into the Main Event through the LCQ, which resulted in a poor starting position for the 18-lap affair.
Equipped with his KTM 450 SX-F, Whale put in an impressive charge through the pack, powering his way to ninth place by race's end, despite the one-lined nature of the circuit, and he maintains fifth-place in the 2023 season standings.
Max Whale: "I felt really good here in Springfield. The bike was awesome as soon as we hit the track and I was running up front in all sessions, before an issue in the Heat Race sent me to the LCQ. I fought from the back of the grid in the LCQ to second, and then in the Main Event I was way back with the grid position, but tried as hard as I could and managed to come back to ninth place. We've been trying all season long, so we'll line up and give it another shot tomorrow!"
Next Race: Springfield Mile II – Springfield, IL – September 3, 2023
Round 17 Results
AFT Singles Main Event
1. Kody Kopp, Red Bull KTM Factory Racing
2. Tom Drane, Yamaha
3. Chase Saathoff, Honda
OTHER KTM
6. Declan Bender, KTM
9. Max Whale, Red Bull KTM Factory Racing
11. Travis Petton IV, KTM
12. Dalton Gauthier, KTM
13. Shayna Texter-Bauman, KTM
2023 AFT Singles Point Standings
1. Kody Kopp, 333 points
2. Trevor Brunner, 289
3. Tom Drane, 285
OTHER KTM
5. Max Whale, 255
7. Dalton Gauthier, 243
11. Travis Petton IV, 106
15. Shayna Texter-Bauman, 76
19. Declan Bender, 52
20. Logan Eisenhard, 43
22. Tanner Dean, 27
26. Landen Smith, 15
27. Hayden Gillim, 14
28. Olin Kissler, 14
30. Clarke Morian V, 12