American Flat Track/Peoria TT
Peoria, Illinois
July 30, 2023
Provisional Parts Unlimited AFT Singles Al Lamb's Dallas Honda Challenge Results (all on Dunlop tires):
1. Max Whale (KTM), 4 laps
2. Kody Kopp (KTM), -0.336 second
3. Tom Drane (Yam), -0.348
4. Trevor Brunner (Yam), -0.850
Provisional Mission SuperTwins Mission #2Fast2Tasty Challenge Results (all on Dunlop tires):
1. Briar Bauman (KTM), 4 laps
2. Dallas Daniels (Yam), -0.561 second
3. JD Beach (Yam), -0.870
4. Jared Mees (Ind), -3.207 seconds
Provisional Parts Unlimited AFT Singles Main Event Results (all on Dunlop tires):
1. Trevor Brunner (Yam), 20 laps
2. Tom Drane (Yam), -0.230 second
3. Kody Kopp (KTM), -0.553
4. Max Whale (KTM), -1.402 seconds
5. Dalton Gauthier (KTM), -1.531
6. Chase Saathoff (Hon), -2.347
7. Trent Lowe (Hon), -2.480
8. Chad Cose (Hus), -3.264
9. Morgen Mischler (Hon), -3.400
10. Jared Lowe (Hon), -3.593
11. Aidan RoosEvans (Hon), -4.042
12. Travis Petton (KTM), -4.660
13. Justin Jones (Hus), -5.570
14. Olin Kissler (KTM), -5.898
15. Cole Zabala (Hon), -5.966
16. James Ott (Hus), -6.578
17. Blake Steinwagner (Hon), -6.964
18. Declan Bender (KTM), -4 laps, DNF
19. Ferran Cardus (Hon), -11 laps, DNF
Provisional Mission SuperTwins Main Event Results (all on Dunlop tires):
1. JD Beach (Yam), 27 laps
2. Briar Bauman (KTM), -0.679 second
3. Jared Mees (Ind), -1.904 seconds
4. Jarod Vanderkooi (Ind), -2.506
5. Dallas Daniels (Yam), -3.083
6. Henry Wiles (Ind), -6.142
7. Johnny Lewis (Roy), -1 lap
8. Davis Fisher (Ind), -1 lap, 5.503 seconds
9. Ben Lowe (Ind), -1 lap, 6.409
10. Brandon Robinson (Ind), -1 lap, 7.255
11. Bronson Bauman (KTM), -1 lap, 7.296
12. Kolby Carlile (Yam), -1 lap, 7.830
13. Ryan Wells (Roy), -3 laps
14. Billy Ross (Kaw), -7 laps, DNF
15. Kasey Sciscoe (Har), -22 laps, DNF
More, from a press release issued by American Flat Track:
Beach, Championship Chaos Reign in 76th Peoria TT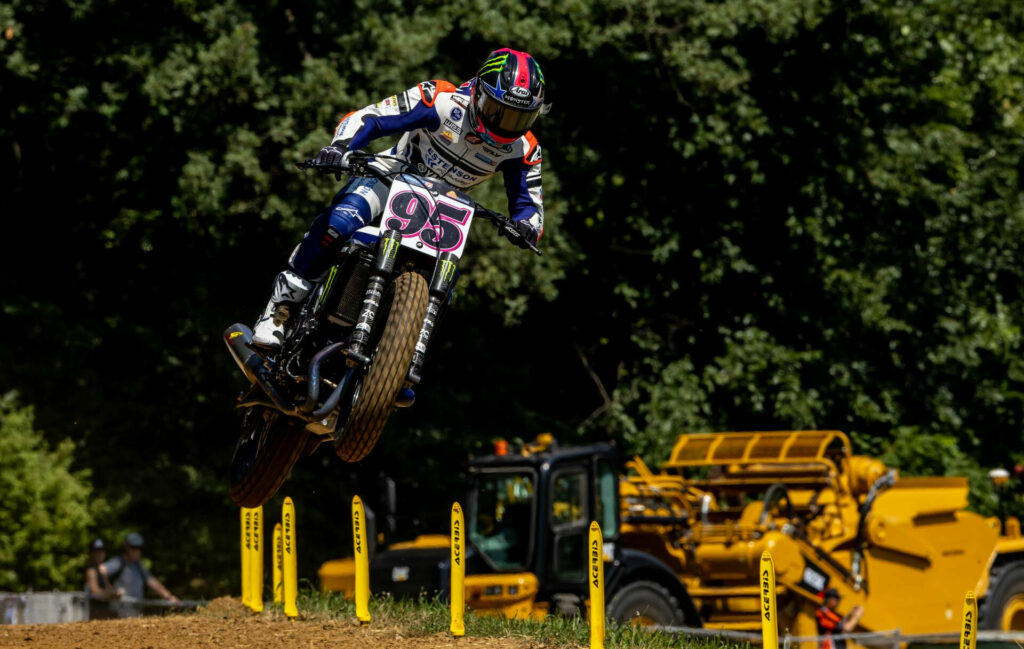 DAYTONA BEACH, Fla. (July 30, 2023) – JD Beach (No. 95 Estenson Racing Yamaha MT-07 DT) strengthened his claim as one of the greatest TT riders in the long history of Progressive American Flat Track, sanctioned by AMA Pro Racing on Sunday afternoon. The Estenson Racing hero was his spectacular self in the 76th running of the World Famous SC2 Peoria TT presented by Country Saloon, once again dominating at the Peoria Motorcycle Club in Peoria, Illinois.
While obvious in hindsight, that end result wasn't quite so easy to predict while the day unfolded. Reigning Mission SuperTwins presented by S&S Cycle king Jared Mees (No. 1 Indian Motorcycle/Rogers Racing/SDI Racing FTR750) was fastest in practice, Dallas Daniels (No. 32 Estenson Racing Yamaha MT-07 DT) took control during qualifying, and Briar Bauman (No. 3 Parts Plus/Jacob Companies KTM 790 Duke) won the four-lap Mission #2Fast2Tasty Challenge, but come the Main Event it was all Beach.
Beach then seemingly robbed the race of all drama from the start, slotting into the lead off the line and clearing off at the front.
Even the race behind Beach settled into a seemingly processional affair – emphasis on "seemingly" – as Daniels held down second, followed by Bauman and Mees. But with Beach several seconds out in front and just one lap and one corner to go, the championship chase was thrown with a wicked curveball.
Positioned to stretch out his points lead, Daniels lost the front and crashed from the race, bringing out a very late red flag. However, when presented with the threat of a title-sinking disaster, his crew rose to the occasion, repairing the #32 bike's broken shifter with just seconds to spare before the restart.
Having lapped all the way up to sixth, Daniels was gifted a most fortunate position on the staggered restart grid. Once back underway, race-long leader Beach survived the three-lap shootout to secure his eighth TT win in his last nine attempts, with Bauman collecting second and Mees taking third.
Beach said, "I've just got to thank my crew. This day was hard. I felt good all day but my times were only okay. I was sitting third or fourth pretty much all day. In the Main, I was just like, 'I've got to do my work.' I got a great start and I just kept doing my laps. I messed up once over the jump and I messed up once in Turn 3. I could hear my bike so I thought it was Dallas right on me. It's a bummer for him and the team for him to go down with two laps to go, but it was a great race."
Bummer, yes, but ultimately, Daniels didn't just salvage enough points to stay alive, he came home with a solid fifth-place result behind Jarod Vanderkooi (No. 20 JMC Motorsports/Fairway Ford Indian FTR750). Despite losing his title lead and seeing his season-long 13-race podium streak come to an end, the championship hopeful walked away from Peoria facing just a one-point deficit to Mees (296-295) even after the near catastrophe.
Peoria TT legend Henry Wiles (No. 17 BriggsAuto.com/Martin Trucking Indian FTR750) was the final rider remaining on the lead lap in sixth, while Johnny Lewis (No. 10 Moto Anatomy X Powered by Royal Enfield 650), Davis Fisher (No. 67 Rackley Racing/Bob Lanphere's BMC Racing Indian FTR750), Ben Lowe (No. 25 Rackley Racing/Mission Foods Indian FTR750), and Brandon Robinson (No. 44 Mission Roof Systems Indian FTR750) rounded out the top ten, respectively.
Parts Unlimited AFT Singles presented by KICKER
Trevor Brunner (No. 21 Estenson Racing Yamaha YZ450F) scored his first victory of '23 in a surprising conclusion to a topsy-turvy Parts Unlimited AFT Singles presented by KICKER Main Event.
Prior to a mid-race red flag, teammates Kody Kopp (No. 1 Red Bull KTM Factory Racing 450 SX-F) and Max Whale (No. 18 Red Bull KTM Factory Racing 450 SX-F) had put themselves in first and second.
Kopp took the lead after successive overtakes of Estenson Racing teammates Brunner and Tom Drane (No. 59 Estenson Racing Yamaha YZ450F), while, Whale had a bigger job for himself after slipping back to sixth early despite starting from the front row.
By the time Whale stormed around the outside of Drane to move into second, Kopp had opened up nearly a one-second-plus lead at the front. Whale's uphill climb was made substantially less steep due to the red flag, which resulted in a staggered restart with just over three minutes remaining on the clock.
With all of the focus on the reset Red Bull KTM brawl for the win, red-hot Drane had another idea. The up-and-coming Aussie jumped out into the lead and displayed renewed strength, actually pulling away from Kopp, Brunner, and Whale with relative ease.
But Drane's cruise to the checkered flag was interrupted, due to the appearance of a second red flag, which resulted in one final restart with just three laps to determine the winner.
This proved to be Brunner's golden opportunity, after previously looking to be out of victory contention. The Indiana native blasted off the line and won out in the opening-corner melee, seizing the lead ahead of Drane and Kopp.
He then held on in the brief showdown to claim the win before his rivals had a chance to mount an effective counter. Drane picked up his seventh podium in his last eight outings by finishing 0.230 seconds behind in second position while Kopp solidified his championship advantage in third.
"This is awesome," Brunner said. "We were pulling starts really well today, but we were having trouble getting out of the 'flat track' corners. We were kind of struggling with traction getting out of there, so each restart really benefited me a lot because I was able to come back. The last one, I got a great start and really pulled it out."
Two-time Peoria TT winner Whale came home fourth a little over a second off the win with Dalton Gauthier (No. 79 D&D Racing/Certified KTM 450 SX-F) nipping at his rear wheel in fifth.
Meanwhile, Chase Saathoff (No. 88 American Honda/Mission Foods CRF450R) finished sixth with Trent Lowe (No. 48 American Honda/Mission Foods CRF450R), Chad Cose (No. 49 1st Impressions Race Team/Husqvarna Racing FC450), Morgen Mischler (No. 13 American Honda/Mission Foods CRF450R), and Jared Lowe (No. 63 Mission Foods/Helmet House Honda CRF450R) completed the top ten.
Kopp still leads by a healthy 40 points over Brunner (273-233) as Drane continued his climb up the order, now ranked third at 228.
Next Up:
Progressive AFT will now play a starring role in the 83rd Sturgis Motorcycle Rally with The City of Sturgis Black Hills Half-Mile presented by Black Hills Harley-Davidson at Black Hills Speedway in Rapid City, South Dakota, on Sunday, August 6. Visit https://www.tixr.com/groups/americanflattrack/events/black-hills-half-mile-73564 to reserve your seats today.
For those that can't catch the live action from the circuit, FansChoice.tv is the live streaming home of Progressive AFT. Sign up now and catch every second of on-track action starting with Practice & Qualifying and ending with the Victory Podium at the end of the night at https://www.fanschoice.tv.
FOX Sports coverage of the World Famous SC2 Peoria TT presented by Country Saloon, featuring in-depth features and thrilling onboard cameras, will premiere on FS1 on Sunday, August 6, at 11:30 a.m. ET (8:30 a.m. PT).
For more information on Progressive AFT visit https://www.americanflattrack.com.
More, from a press release issued by KTM Factory Racing:
DEFENDING AFT SINGLES CHAMPION KODY KOPP RETURNS TO PODIUM AT PEORIA TT
Round 14 – American Flat Track Championship
PEORIA, Ill. – Red Bull KTM Factory Racing rider Kody Kopp returned to the podium in Round 14 of the 2023 American Flat Track Championship at the Peoria TT, where he secured a third-place finish in the AFT Singles Main Event, and teammate Max Whale took the checkered flag in fourth position.
The morning's qualifying sessions were marked by Red Bull KTM Factory Racing domination as both Kopp and Whale ranked 1-2 across both sessions, achieving comfort on the 450 SX-Fs from the moment their wheels were in motion.
After finishing second in the opening Heat of the weekend, Kopp earned his way into the Dash-for-Cash, where he would again notch a second-place result. For the 20-lap Main Event, Kopp raced to a hard-fought P3 finish, posting the fastest lap time of the race in the process.
Following his Peoria TT ride, Kopp sits 40 points clear on the AFT Singles Championship tally with four rounds remaining.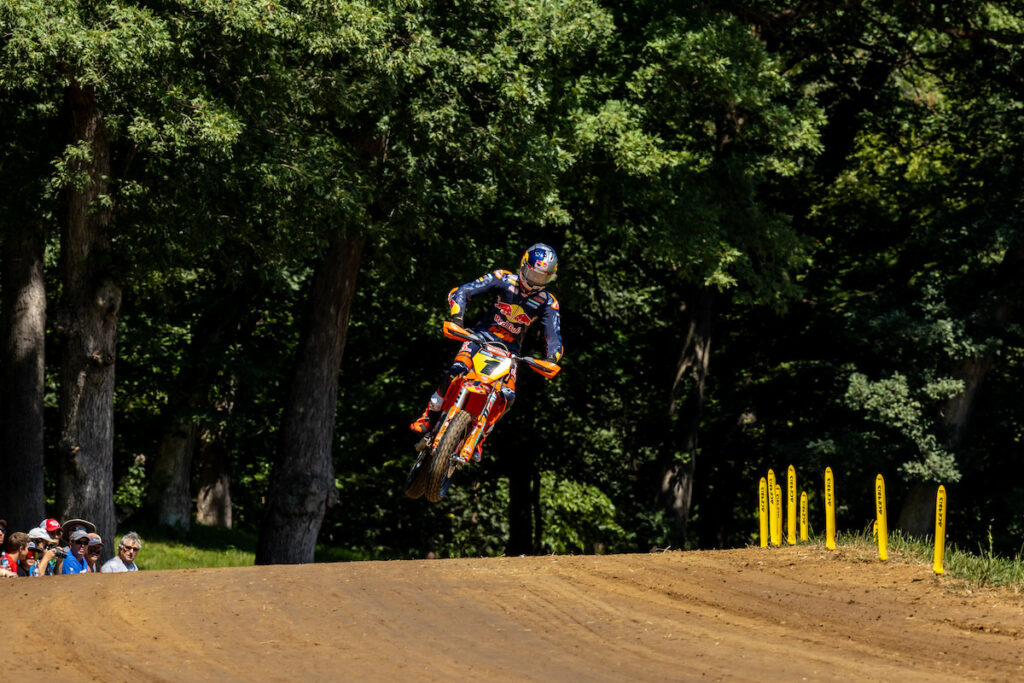 Kody Kopp: "The day started off really well with qualifying first, sat on pole for the Heat race, but just got a bad start there. I rode my way up to second for a front row start in the Main Event, and didn't get off to a great jump there, but moved my way up into the lead, then the red flag came out. We had a couple of those today, and they just didn't work out for me, but we salvaged a third place and are off to the next one!"
Australian charger Whale scored second in his Heat race following his strong showing in the qualifying sessions, and would race to victory in Dash-for-Cash. A consistent outing in the Main Event saw Whale cross the line in fourth place, climbing to P5 in the 2023 standings.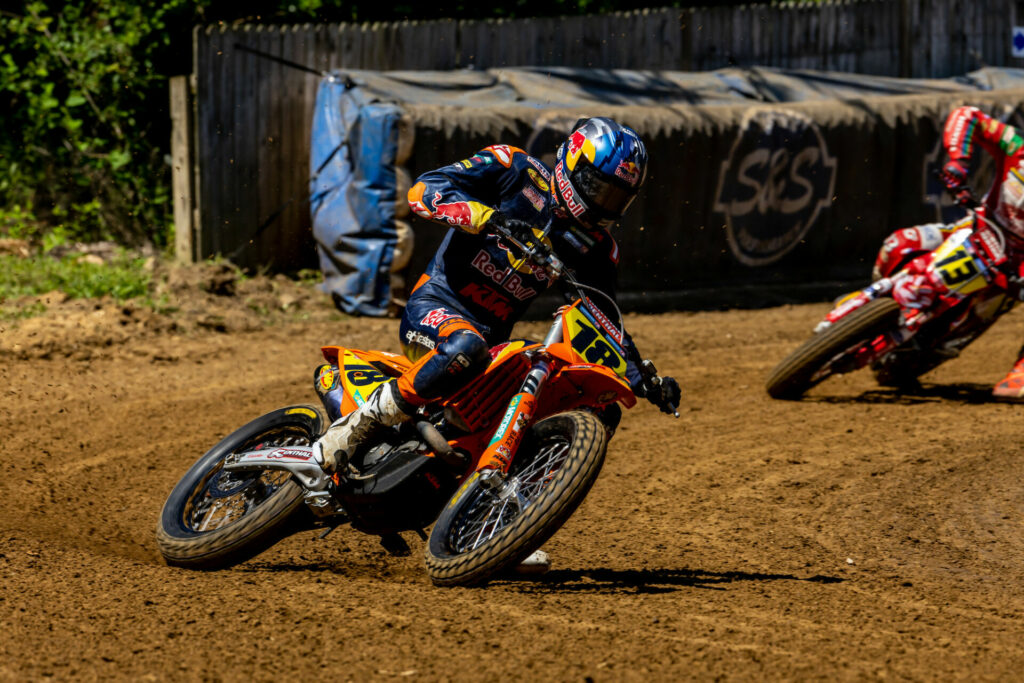 Max Whale: "This was a tough one for me! Felt really good early in the day, practice and qualifying went really well – qualified second to Kody by a tiny margin. Heat race, I finished second which was good, then won the Dash-for-Cash after I rode consistent in that and got the job done. Then in the Main Event, got off to an average start, but charged my way back into second place, then the red flag came out and that really disrupted my rhythm. My line was super dry by that point, which was tough to ride, and I think I over-rode the track a bit, but managed a fourth place. Excited for the next one and huge thanks to the team!"
Next Race: Black Hills Half-Mile – Rapid City, SD – August 6, 2023
Round 14 Results
AFT Singles Main Event
1. Trevor Brunner, Yamaha
2. Tom Drane, Yamaha
3. Kody Kopp, Red Bull KTM Factory Racing
4. Max Whale, Red Bull KTM Factory Racing
5. Dalton Gauthier, KTM
OTHER KTM
12. Travis Petton IV, KTM
14. Olin Kissler, KTM
18. Declan Bender, KTM
2023 AFT Singles Point Standings
1. Kody Kopp, 273 points
2. Trevor Brunner, 233
3. Tom Drane, 228
OTHER KTM
5. Max Whale, 212
7. Dalton Gauthier, 202
11. Travis Petton IV, 86
14. Shayna Texter-Bauman, 69
18. Hunter Bauer, 49
19. Logan Eisenhard, 40
21. Declan Bender, 23
24. Hayden Gillim, 14
25. Landen Smith, 13
27. Clarke Morian V, 12
29. Olin Kissler, 10
30. Tanner Dean, 9