Yamaha Announces the All-New Tracer 9 GT
Emotional Intelligence: The Ultimate Specification Comes Standard
MARIETTA, Ga. – November 17, 2020 – Yamaha Motor Corporation, USA, today announces the 2021 Tracer 9 GT as the newest model in the company's Sport Touring motorcycle segment. With more power and increased versatility, the 2021 Tracer 9 GT provides riders with an even more luxurious ride than ever before.
Roads of Life
As the core concept behind Yamaha's Sport Touring segment, "Roads of Life" gathers all types of riders who are looking for new roads to explore and new memories to create. Few other forms of personal transport can match the sense of total freedom experienced on every motorcycle journey, and no other vehicle comes close to matching the thrill and excitement on two wheels.
The Roads of Life are waiting to be explored, lifelong memories are ready to be created, and new friends are sure to be made along the way. With a wide variety of choices, Yamaha's dynamic Sport Touring segment has the power to change the way we live our lives by making faraway places a little closer to everyone.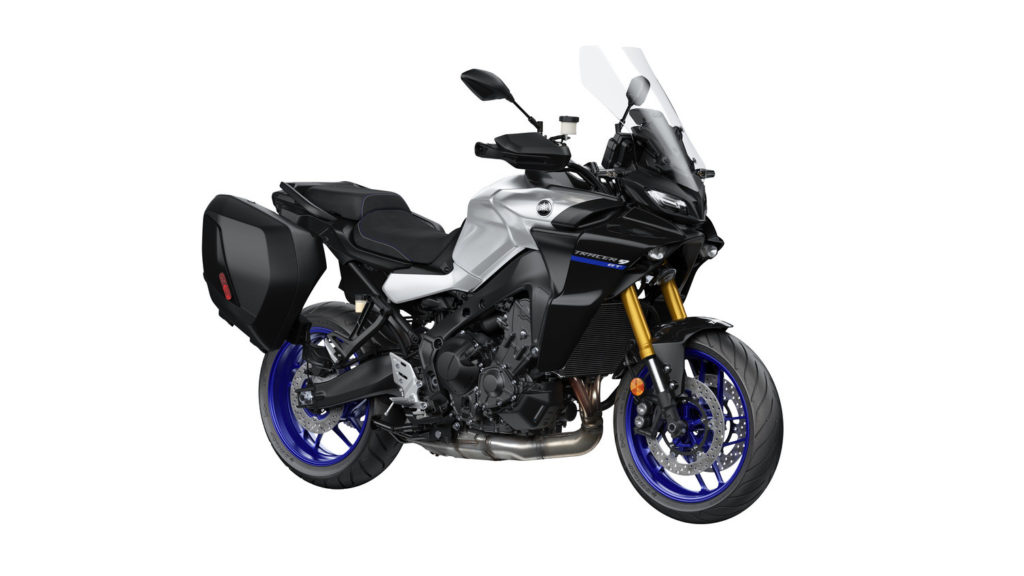 New Tracer 9 GT
The 2021 Tracer 9 GT features a range of advanced technology and standard equipment that provides an even more luxurious ride for those customers who are looking for a thrilling and premium Sport Touring experience.
New 890cc CP3 engine
Powering the 2021 Tracer 9 GT is a completely redesigned 890cc CP3 crossplane technology engine that is more powerful and more advanced than the original powerplant that forever changed the Sport Touring class. The sophisticated new inline 3-cylinder engine features an increased capacity of 890cc thanks to a 3mm increase in piston stroke. This significant boost in engine displacement contributes towards an increase in torque at lower rpm, providing outstanding acceleration and making this one of the most thrilling, capable and versatile motorcycles in its class.
New CF aluminum die-cast frame
More compact and better handling, the Tracer 9 GT's all-new CF die-cast Deltabox chassis has been designed for ultimate versatility with excellent comfort. The 2021 Tracer 9 GT's frame changes the engine mounting angle enabling a more compact body design, improving the overall balance of the all new chassis for a higher degree of surface feedback from the front end.
High-rigidity box-section long aluminum swingarm
The 2021 Tracer 9 GT features a new, longer swingarm. It has a boxed construction formed by welding together aluminum plates, and while it is similar in appearance to the MT-09's, it is 60mm longer. The new swingarm helps achieve high rigidity and conveys a feeling of drive force to the rider while providing excellent traction feeling. The rear suspension's linkage has also been changed for greater space efficiency and the settings optimized to suit the new configuration.
6-axis IMU
Originally developed for the R1, Yamaha's 6-axis IMU (Inertial Measurement Unit) constantly measures the Tracer 9 GT's acceleration in the forward-backward; up-down and left-right directions as well as the angular velocity in the machine's pitch, roll and yaw directions.
Since its introduction on the R1 in 2015, this 6-axis IMU has been further developed, and the unit featured on the 2021 Tracer 9 GT is now 50% smaller. This high-tech IMU device constantly sends data to the ECU which computes all the data in real time and effectively governs the machine's Traction Control System (TCS) as well as its Slide Control System (SCS), front wheel LIFt control system (LIF) and Brake Control system (BC).
KYB® electronically controlled suspension
Yamaha and KYB have jointly developed the Tracer 9 GT's electronically controlled semi-active suspension system that combines ultimate riding comfort with precise feeling of the road. Officially known as the KYB Actimatic Damper System (KADS), this highly advanced suspension generates a much wider range of damping force than a conventional suspension and responds instantly to varying riding conditions for optimum handling performance.
The semi-active suspension system has been made possible by the bike's new IMU which works together with the ECU as well as the Hydraulic Unit (HU) and Suspension Control Unit (SCU). Together, these units calculate the optimum suspension settings for any given riding situation: fast or slow, smooth or bumpy, solo or two-up. The damping adjustment mechanism is solenoid-driven which allows for extremely fast adjustments to damping settings while handling both minor and major changes. The system controls the rebound and compression damping for the front fork and rebound damping for the rear shock. By constantly analyzing and computing the 6-axis data, the IMU can signal the ECU to adjust damping settings in order to maintain chassis stability at all speeds. By doing so, the KADS supplements the rider's skills to ensure a more rewarding and enjoyable Sport Touring experience.
KADS can be used in two modes. A-1 is the sporting mode that is designed to deliver taut and responsive suspension action for fast riding on dry roads while also accommodating wet conditions. The system can be switched to A-2 mode that is designed to give a more supple and comfortable ride on rougher or uneven surfaces, making it the ideal choice on longer and more relaxed journeys.
Brake Control system (BC)
With the BC system, data for front/rear wheel speed and data from the IMU is compiled and calculated in real-time to individually control and modulate front and rear brake pressure. The rider can select between two intervention modes: BC1 and BC2. BC1 is a standard ABS-active mode to accommodate hard emergency braking in upright, straight-line braking conditions. BC2 controls the brake pressure in addition to ABS and operates in situations where machine behavior is likely to become unsettled, such as sudden and unavoidable braking mid-corner.
Up-and-down Quick Shift System (QSS)
For clutchless up and down shifting, the Tracer 9 GT is equipped with a new Quick Shift System (QSS). A sensor on the shift rod detects movement in the gearshift pedal, and then the ECU adjusts engine output to momentarily cut drive torque through the transmission to enable smooth and fast gear changes.
LED cornering lights
The 2021 Tracer 9 GT is equipped with a highly sophisticated intelligent cornering light system that is programmed to light up the road ahead when the IMU senses that the machine is leaning at more than 7 degrees with a speed of at least 3 mph. The IMU's high speed calculations and processing power enable the system to increase the brightness of the cornering lights as the banking angle increases, giving the rider a clear field of vision when riding at night. The Tracer 9 GT is only the second Yamaha to feature cornering lights after the FJR1300AE, and unlike the FJR's system which used a line of three LED lights on each side of the fairing, the Tracer 9 GT's design consists of a single LED situated above each of the two position lights for a high quality and highly functional design.
Adjustable riding position
The riding position on the new Tracer 9 GT was designed to accommodate a variety of rider preferences.  The handlebars and foot pegs can now be adjusted individually to two different positions, and the seat maintains its two levels of adjustment from the previous model allowing riders to set a riding position that gives them a feeling of comfort the moment they get on the bike.
Hard side cases
Fitted as standard equipment, the 2021 Tracer 9 GT is supplied with completely new hard cases fitted as standard equipment, readying it for the Roads of Life from day one. Each case can carry a full-face helmet and is attached to the bike's durable steel subframe via a fully floating carrier system that absorbs any wind or surface-induced chatter to give a natural riding feeling.
Grip warmers
Using a scroll wheel located on the right handlebar switch, the Tracer 9 GT's grip warmers can be precisely adjusted through a range of 10 settings. The newly shaped grips are easier to grasp and feature thinner rubber where the fingers touch for a more efficient transmission of heat resulting in improved rider comfort.
Yamaha D-Mode (running mode selection system)
The running modes available on the D-Mode system have been increased from the three on the previous model to four. Riders can select between Mode 1 for enjoying direct, sharper response, Mode 2 to accommodate a variety of conditions, Mode 3 for a gentler character and Mode 4 that moderates maximum power for a milder riding experience.
Yamaha Chip Controlled Throttle (YCC-T) with APSG
The Tracer 9 GT uses the Yamaha Chip Controlled Throttle (YCC-T®) to electronically govern the throttle valves, and now features the Accelerator Position Sensor with Grip (APSG).  It eliminates the need for traditional throttle cables by using a sensor and magnet within the throttle grip housing to communicate throttle position to the ECU.
The APSG also uses a spring, slider and gear to produce varying degrees of friction (resistance) to recreate a natural throttle feel during use. The construction of the APSG for the Tracer 9 GT is the same unit found on the 2020 YZF-R1/R1M, but has model-specific settings for the degree of friction and throttle opening.
Twin 3.5-inch TFT screens
The Tracer 9 GT features two 3.5-inch full-color TFT screens aligned side-by-side. The left-hand main display includes a bar-type tachometer that changes colors as rpm rises or falls, the fuel gauge, average mileage indicator, water temperature, air temperature and a gearshift indicator. The right-hand screen enables the selection of four different types of information or indicators, allowing more information to be displayed at once with greater readability.
Dedicated colors and graphics
The premium Tracer 9 GT is offered in an exclusive Yamaha Liquid Metal finish that has been inspired by the Yamaha R1M – the bike that pioneered much of the advanced electronic technology found on this high-end Sport Tourer, as well as a second color, Redline.
2021 Tracer 9 GT Key Features
New 890cc inline 3-cylinder 4-valve DOHC liquid-cooled engine
Increased torque at lower rpm
CF die-cast aluminum Deltabox chassis
New high-rigidity box-section long aluminum swingarm
New Compact 6-axis IMU
KYB electronically controlled front and rear suspension
Lean-sensitive rider aids: TCS, SCS and LIFt with three intervention modes
ABS with new Brake Control system (BC)
Up and Downshift capable Quick Shift System (QSS)
LED Cornering Lights
New ultra-light SpinForged 17-inch 10-spoke wheels
Adjustable ride position
Grip warmers
D-MODE switchable engine running modes
Yamaha Chip Controlled Throttle (YCC-T) with APSG
Twin 3.5-inch full-color TFT meters
Exclusive colors and graphics
Full LED lighting
Cruise Control
Adjustable windscreen
Radial front master cylinder, 298mm dual front discs
The 2021 Yamaha Tracer 9 GT will arrive at authorized Yamaha dealers beginning in March and will be available in the Liquid Metal and Redline color schemes for $14,899. To learn more about the 2021 Yamaha Tracer 9 GT visit https://www.yamahamotorsports.com/sport-touring/models/tracer-9-gt.
Find a range of Genuine Yamaha Accessories, apparel and more at https://www.shopyamaha.com.
For more information related to all Yamaha products, visit https://www.yamahamotorsports.com.
Follow Yamaha Motor Corporation, USA, through your favorite social media sites at www.facebook.com/yamahamotorusa, www.instagram.com/yamahamotorusa, www.twitter.com/yamahamotorusa. #Yamaha #YamahaMotor #YamahaMotorUSA
About Yamaha Motor Corporation, USA
Yamaha Motor Corporation, USA (YMUS), is a recognized leader in the outdoor recreation industry. The company's ever-expanding product offerings include Motorcycles and Scooters, ATV and Side-by-Side vehicles, Snowmobiles, WaveRunner Personal Watercraft, Boats, Outboard Motors, Outdoor Power Equipment, Power Assist Bicycles, Golf Cars, Power Assist Wheelchair Systems, Surface Mount Technology (SMT) and Robotic Machines, Unmanned Helicopters, Accessories, Apparel, Yamalube products, and much more. YMUS products are sold through a nationwide network of distributors and dealers in the United States.
YMUS has a corporate office in California, two corporate offices in Georgia, facilities in Wisconsin and Alabama, and factory operations in Tennessee and Georgia. Additional U.S.-based subsidiaries include Yamaha Marine Systems Company (YMSC) with divisions Bennett Marine (Florida) and Kracor Systems (Wisconsin), Skeeter Boats (Texas), with division G3 Boats (Missouri), and Yamaha Precision Propeller (Indiana).