Yamaha Continues to Support the USMCA in 2023
Temecula, California – Yamaha Motor Corporation recently committed to their continuation to the USMCA for 2023. This will mark the third consecutive year of support from Yamaha.
This past year, the highlight of the partnership included a fundraiser called Laps for Learning. Yamaha donated a bike for the cause, and throughout the summer months, we worked in collaboration with MX Sports and Loretta Lynn's Ranch to raise money for the schools devastated by the floods in Waverly, TN. Together, we raised just over $20,000. The USMCA provided a learn-to-ride coaching clinic for the top 11 people that raised the most money, and a brand new Yamaha YZ Motorcycle was awarded to one of the top participants at random.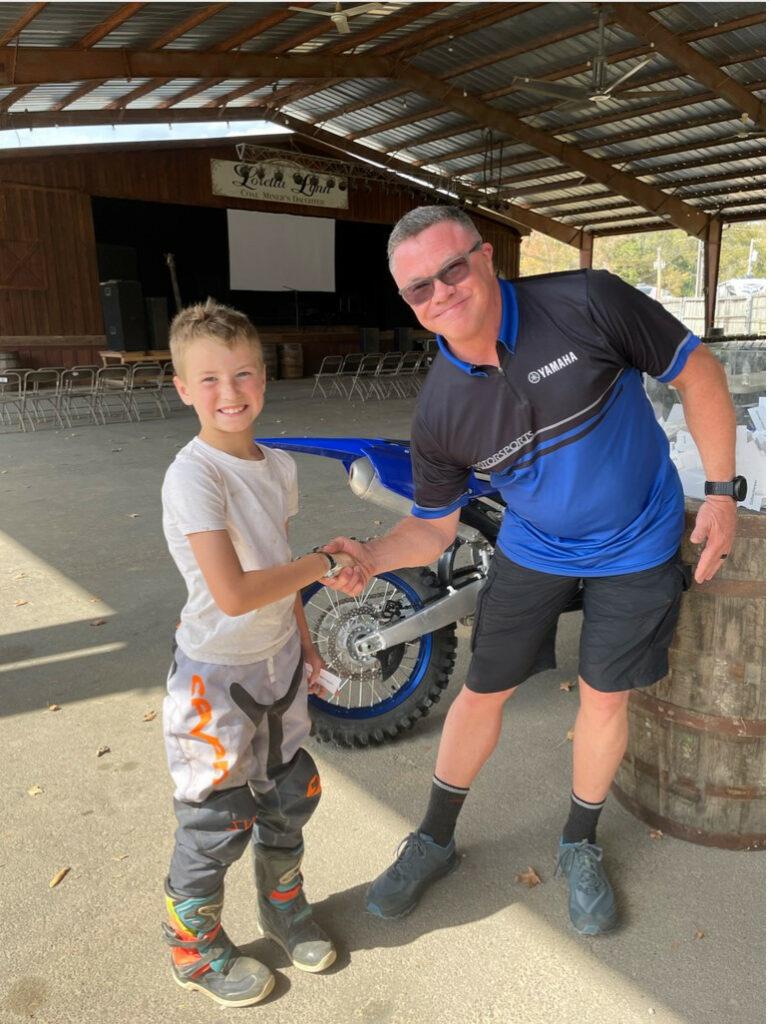 "We were excited to work with Yamaha on such a fun, give-back project this past year," said USMCA Executive Director Lindsey Scheltema. "We look forward to their continued partnership and have high hopes to execute more learn-to-ride days in 2023 and get more new riders on motorcycles."
"We're proud of the work we've done with USMCA," said Steve Nessl, Yamaha Motorsports USA marketing manager.  "To be able to give back to a community in need while still delivering on the goal of increased access to certified coaching nationwide was very rewarding, and we look forward to doing more good work in 2023."
About Yamaha Motor Corporation, USA
Yamaha Motor Corporation, USA (YMUS), is a recognized leader in the outdoor recreation industry. The company's ever-expanding product offerings include Motorcycles and Scooters, ATV and Side-by-Side vehicles, Snowmobiles, WaveRunner Personal Watercraft, Boats, Outboard Motors, Outdoor Power Equipment, Power Assist Bicycles, Golf Cars, Power Assist Wheelchair Systems, Surface Mount Technology (SMT) and Robotic Machines, Unmanned Helicopters, Accessories, Apparel, Yamalube products, and much more. YMUS products are sold through a nationwide network of distributors and dealers in the United States.
YMUS has a corporate office in California, two corporate offices in Georgia, facilities in Wisconsin and Alabama, and factory operations in Tennessee and Georgia. Additional U.S.-based subsidiaries include Yamaha Marine Systems Company (YMSC) with divisions Bennett Marine (Florida) and Kracor Systems (Wisconsin), Skeeter Boats (Texas), with division G3 Boats (Missouri), and Yamaha Precision Propeller (Indiana).
About the U.S. Motorcycle Coaching Association (USMCA)
USMCA is an association where riders and parents can connect to motorcycle coaches they can trust through the network, www.MotorcycleCoaching.org.
All USMCA Certified Coaches are required to adhere to a code of conduct, pass a background check and hold certifications in abuse prevention, CPR/First Aid, concussion protocol, heat illness & cardiac arrest training.
For more information on the USMCA or become a USMCA Certified Coach, visit www.USMCA.org.