Oli Bayliss will race with the Barni Racing Team in WorldSSP 2022
Calvenzano (BG) – The Barni Racing Team is pleased to announce that it will be on track in the 2022 FIM Supersport World Championship with the Ducati Panigale V2 which will be entrusted to Oliver Bayliss.
Oli, son of Ducati legend Troy Bayliss, was born on 20 September 2003 in the Principality of Monaco and, despite his young age, has already gained experience with the Ducati Panigale V4 R in the ASBK, the Australian Superbike championship. After making his debut in 2020 with a third place finish at Morgan Park, Oli Bayliss raced throughout the 2021 ASBK season with the DesmoSport Ducati Team four-cylinder from Borgo Panigale, also taking his first victory on the Hidden Valley track. With the support of Ducati, the Bayliss family has chosen the Barni Racing Team to take Oliver's career a step further and, at the age of 18, he will compete with international rivals. Oliver Bayliss's arrival in WorldSSP with the Ducati Panigale V2 comes exactly 20 years after Troy's first world title with another twin-cylinder Ducati in Superbike. With Oli the Barni Racing Team completes its line-up for 2022. A season that will see for the first time Marco Barnabò's team involved in two championships with two young talents: Oli Bayliss in WorldSSP with the Panigale V2 and the 20-year-old Luca Bernardi in WorldSBK with the Ducati Panigale V4 R.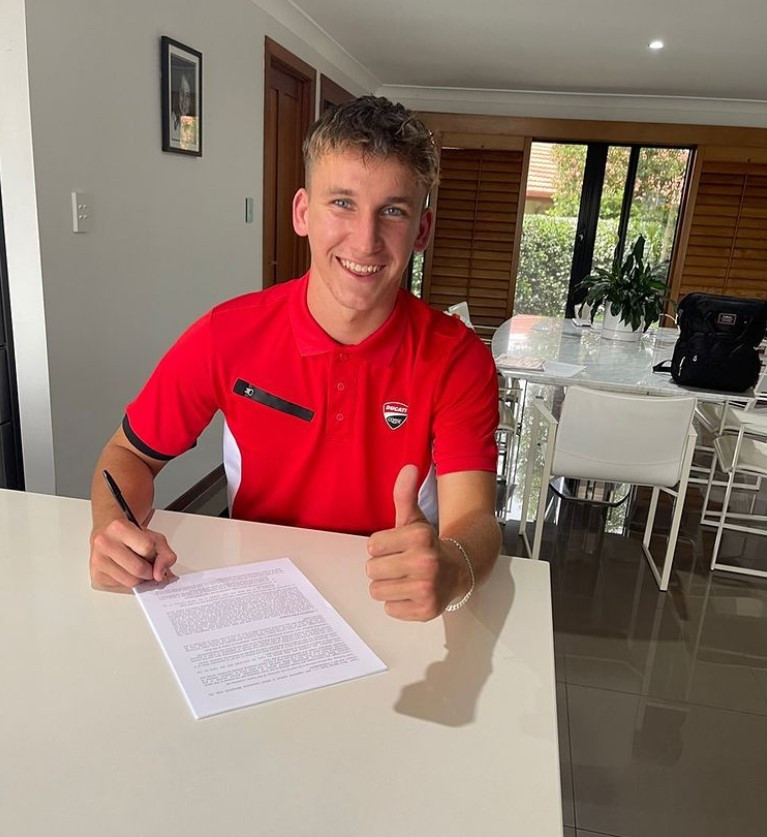 Oliver "Oli" Bayliss
"I am really happy to announce that I will race with the Barni Racing Team in the Supersport World Championship with a Ducati Panigale V2. I have completed my schooling, this means that I can fully concentrate on my career on the bike, on training and only on that."
Troy Bayliss
"Oliver grew up in the racing world, 2021 was his first year on a Ducati V4 R in ASBK and he immediately took a win in Darwin at the beginning of 2021. Success came sooner than we could wait and I think the move to the Barni Racing Team is a great opportunity. I hope he can have as much fun with the twin-cylinder Ducati as I enjoyed."
Marco Barnabò – Team Principal
"In 2022 we want to focus on young people and identify talents who can make a stretch of road with us to be, in the future, the new Supersport and Superbike champions. For this reason, when there was the possibility of letting Oliver race in Supersport, in agreement with Ducati, we decided to take the opportunity. Luca Bernardi is 20 years old, Oli 18, we have never had such a young team and I think this was the right time for such a choice. For the first time we will manage two bikes in two categories and at the beginning we will not have to think about the results, but only about the growth path of these two guys. We were the first team to believe in the project to bring Ducati back to Supersport with the Panigale V2 and to see all the interest that is now around this bike and this championship fills us with pride."
Paolo Ciabatti – Ducati Corse Sporting Director
"We are really happy that Oli can make his debut in the 2022 Supersport World Championship with the new Panigale V2 and the Barni Racing Team! The Bayliss family has always been very close to Ducati and, just in recent months, we presented the special V2 Bayliss Replica version to celebrate Troy's first world title won 20 years ago. Now the tradition continues with Oli, and we are very happy."