Editorial Note: Use the scroll and zoom tools in the bottom left corner of the PDF viewer to better see all of the results.
24-Heures-Motos-24-heures-Motos-Overall-Qualifying-Classification-Overall-Qualifying-Classification-Amended

More, from a press release issued by EWC Press Office:
Qualifying report: 24 Heures Motos pole hat-trick for top EWC team YART
April 15 2022
*YART – Yamaha Official Team EWC makes it three poles at Le Mans in succession
*Sensational lap from Hanika almost one second faster than previous pole record
*Team 18 Sapeurs Pompiers CMS Motostore quickest Dunlop Superstock Trophy team
YART – Yamaha Official Team EWC has claimed a sensational provisional pole position – its third in succession – for the 24 Heures Motos, round one of the 2022 FIM Endurance World Championship.
With qualifying results this season based on the average time of the fastest two riders from each team, rather than three previously, the laps of Karel Hanika (Czech Republic) and Marvin Fritz (Germany) were used to determine which team lines up at the front for the start of the big race, which is scheduled to begin at 15h00 CET tomorrow (Saturday).
Hanika's performance on the #7 Yamaha RZF-R1 stood out with the Czech the only rider to lap the 4.185-kilometre Circuit Bugatti in under 1m35s in a time of 1m34.878s. It also comfortably eclipsed Randy de Puniet's previous Le Mans' benchmark of 1m35.730s set on a Kawasaki in 2017. YART's pole at an average of 1m35.080s came despite Niccolò Canepa (Italy) suffering a low-speed fall during his in-lap in the Red Rider session.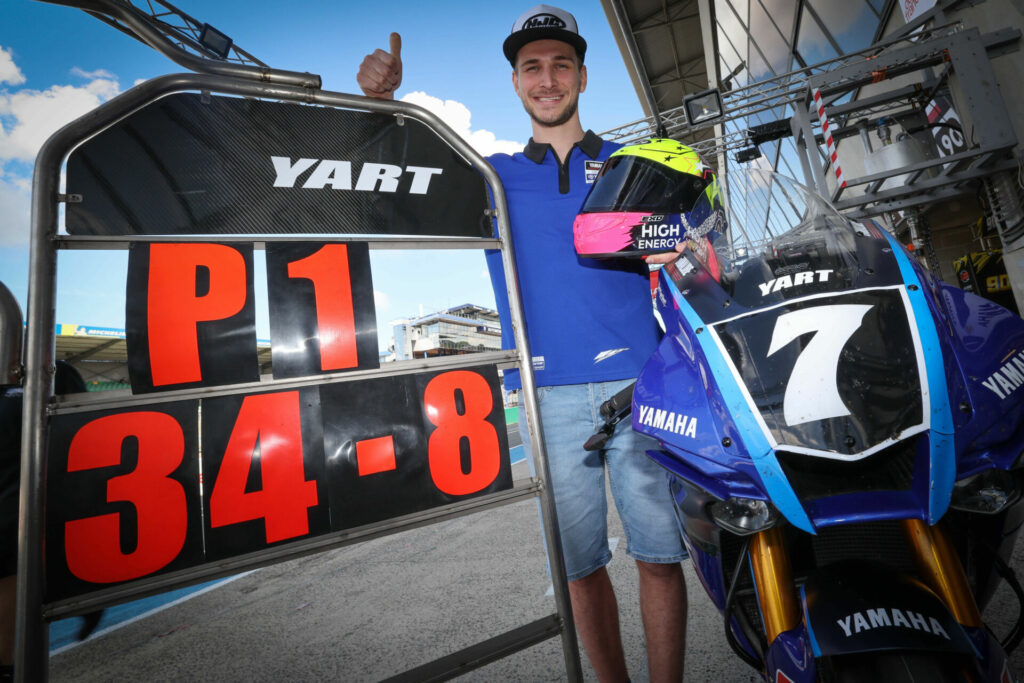 "I'm really proud of my team because they give me the perfect bike and I could really do the perfect lap so we happy to be on the pole again," said the 26-year-old Hanika. "It's the result of our hard work during the winter, we were practicing also very well here and our pace is really strong. For me it was a great lap, I had the perfect timing, the perfect bike, the perfect tyres and I'm really thankful to my team for that. We always say it's possible to do better and I am sure one of us next year is going to prove this. But now I'm really happy because my team-mates are doing a great job and I'm learning every day with them. It's amazing to be again on pole, we we are ready for tomorrow."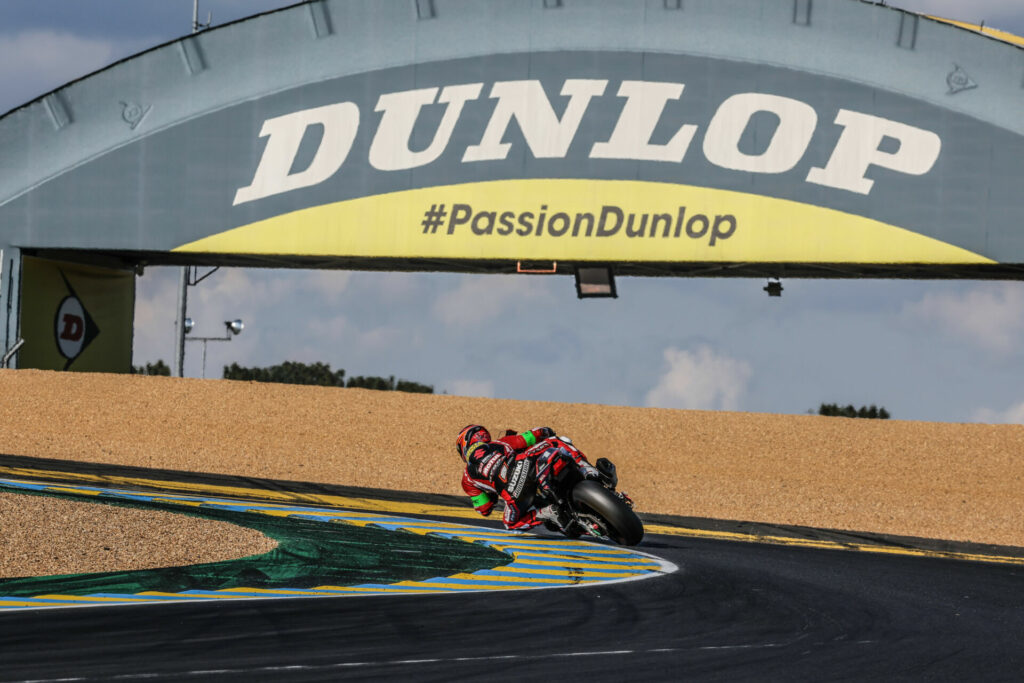 Yoshimura SERT Motul, the winner of the 24 Heures Motos last year and the defending EWC world champion team, qualified second ahead of F.C.C. TSR Honda France, BMW Motorrad World Endurance Team and ERC Endurance-Ducati. Wójcik Racing Team was the top Independent Trophy entrant in sixth followed by Team MOTO AIN, Webike SRC Kawasaki France, Viltaïs Racing Igol and Team 18 Sapeurs Pompiers CMS Motostore, which headed the Dunlop Superstock Trophy order ahead of National Motos in P12 behind Formula EWC squad Tati Team Beringer Racing.
How the chase for pole position unfolded
Following Thursday afternoon's First Qualifying, which ended with session bests for Karel Hanika (Blue Rider), Gino Rea (Yellow), Niccolò Canepa (Red) and Kenny Foray (Green), Second Qualifying took place in similarly dry and sunny, albeit cooler conditions this morning.  Hanika took full advantage to once again top the Blue Rider session, this time with a stunning 1m34.878s effort after Josh Hook held top spot for a period. Hook ended up third behind Gregg Black but ahead of Markus Reiterberger and Claudio Corti. Italian Corti was one of a handful of riders to crash during the session, with Christian Gamarino and Marek Szkopek also falling.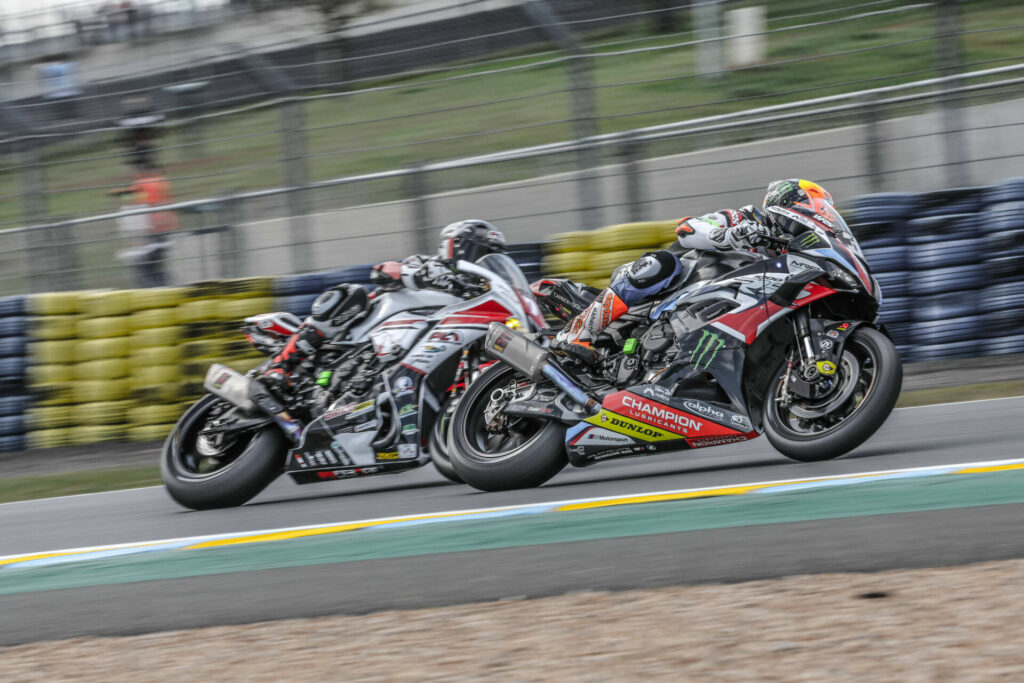 Illya Mykhalchyk initially headed the Yellow Rider order before Marvin Fritz and then Gino Rea demoted him in quick session, with Rea completing the 20-minute session in first place on a 1m35.186s. Fritz took second followed by Mykhalchyk, Xavier Siméon and Xavi Fores who, along with Kevin Manfredi, was among the notable fallers.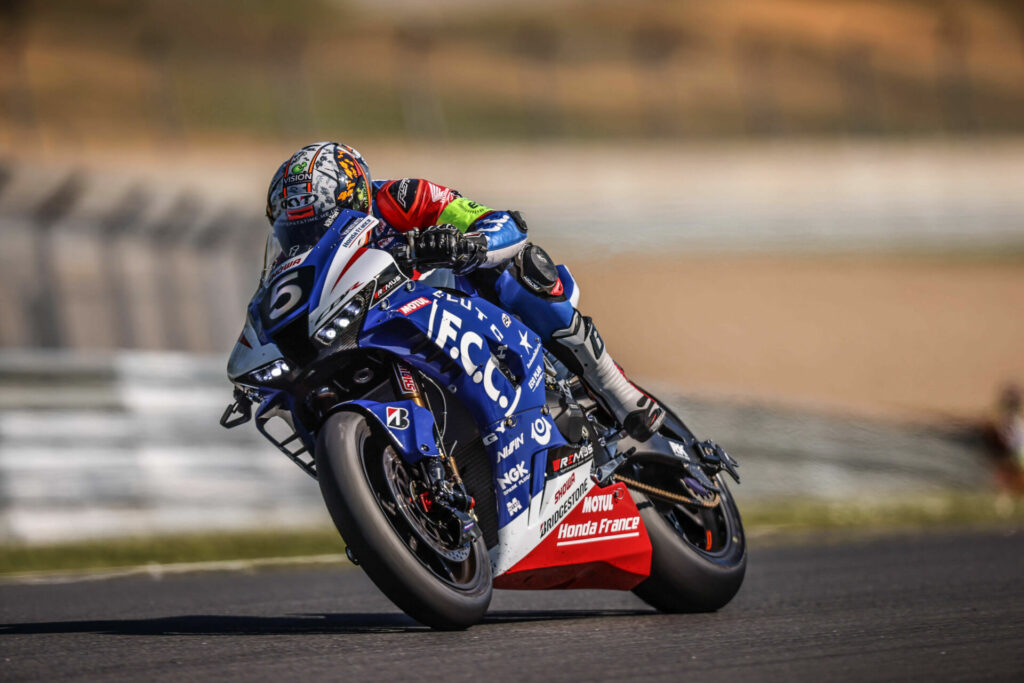 Mike Di Meglio was the early pacesetter in the Red Rider session until Niccolò Canepa moved ahead only to fall at Turn 7. Di Meglio retook top spot and headed the order until the final five minutes when Sylvain Guintoli grabbed the initiative. The session ended with Guintoli, part of the EWC world title-winning Yoshimura SERT Motul team from 2021, fastest in 1m35.535s. Canepà returned to the action and ended up second quickest ahead of Di Meglio, Jérémy Guarnoni and David Checa.
The Green reserve riders were the last to take to the track although their lap times are not used to determine the final Qualifying order. Kenny Foray was fastest ahead of Kazuki Watanabe, James Westmoreland, Marc Moser and Bálint Kovács.
RIDER QUOTES
Formula EWC, Niccolò Canepa (YART – Yamaha Official Team EWC): "I'm really happy and I'm really proud of my team and my team-mates. Karel did an amazing lap time that was really impressive. We are in pole position, we are here and we have to be happy. We feel really good for the race. During the whole winter in the winter testing we did really well as a team and we feel good with the bike, we have a good pace and our target is to finish the race but I am confident we can fight for the victory. We believe we have the strongest machine to win the race. When I crashed, we checked the data and we saw there was a small problem on the brakes. I knew I was coming back to the pits so I was not pushing. I was really surprised to be on the floor but when I came back in we didn't have any fresh tyres so I had to put on a rear tyre with more than 50 laps so it was impossible to improve my lap from yesterday and be in the 1m34s. But we are on pole, we are three riders and we did the pole and this is enough."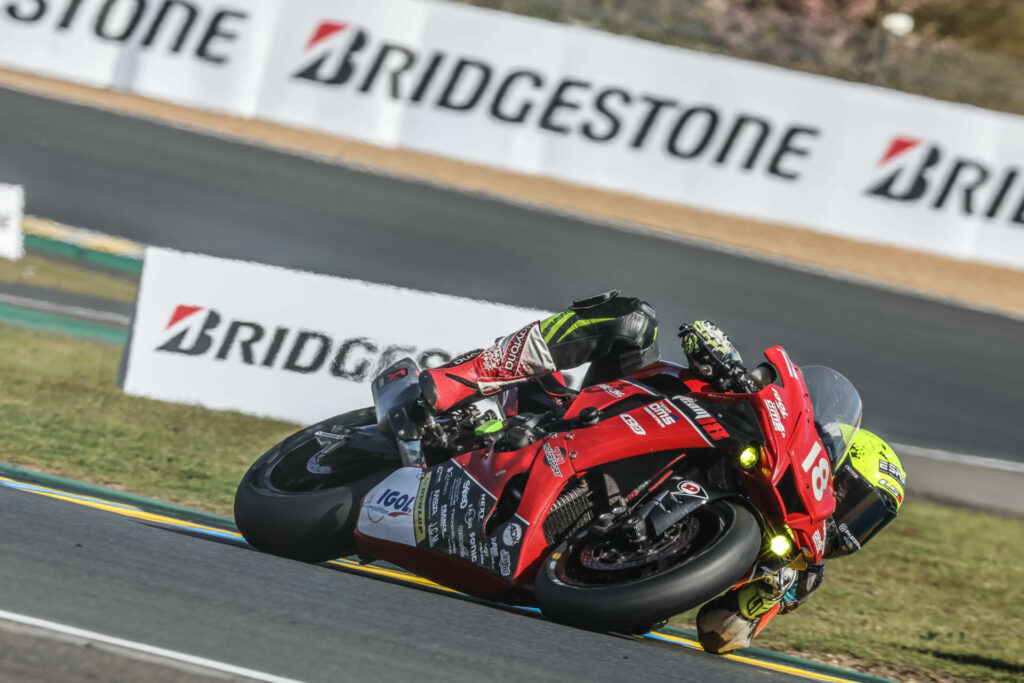 Dunlop Superstock Trophy, Hugo Clere (Team 18 Sapeurs Pompiers CMS Motostore): "We are satisfied because it's a pole position, we knew that we could do this performance this morning because of the cold temperatures, which was of course the best conditions for us. I am happy, we had some very good lap times, we did the job and myself too. The most important now is the race. We remember last year that the number 18 Yamaha had the pole position for the Superstock class but, unfortunately, we had a very unlucky beginning of the race and we stopped quite early in the race. We are back in pole position and we really hope we can finish the race and, of course, a podium is the target in the Superstock class."
More, from a press release issued by Yamaha:
YART Yamaha Secure Pole Position Hat-Trick at Le Mans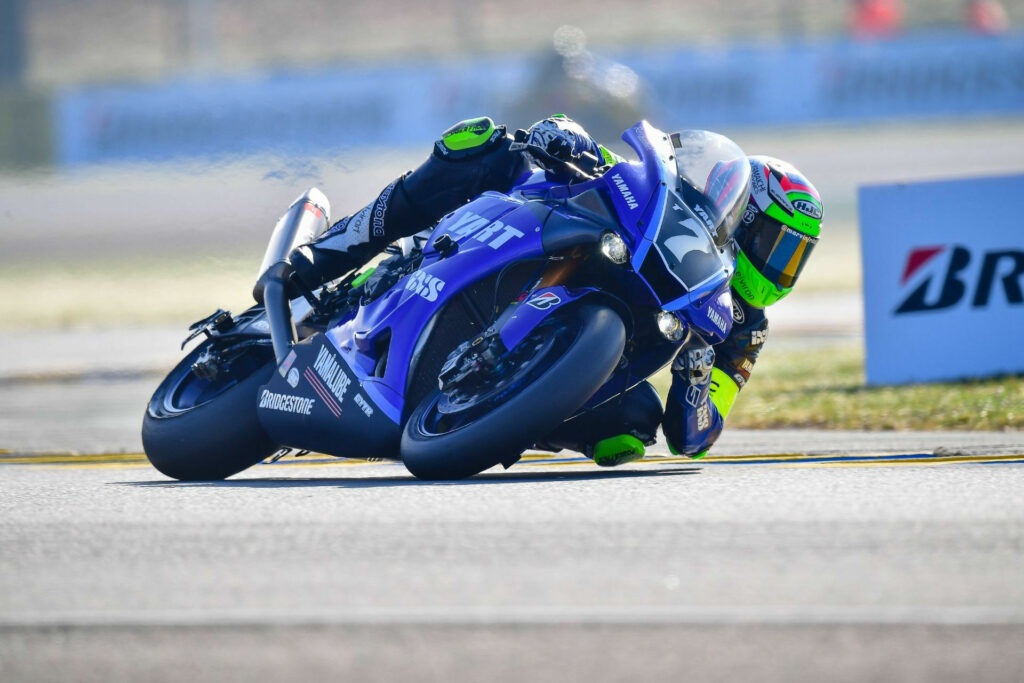 The Yamalube YART Yamaha EWC Official Team will start the 45th Le Mans 24 Heures Motos in France from pole position for the third consecutive year after smashing the FIM Endurance World Championship lap record at the circuit.
Riders Karel Hanika, Niccolo Canepa, and Marvin Fritz kicked their 2022 EWC campaign off in style by claiming a hat trick of pole positions at a sun-drenched Le Mans circuit on Friday, securing a crucial five championship points in the process. It all started during Thursday's two-hour Free Practice session when the team hinted at what was to come by setting a 1:35.782 to finish in second overall.
The First Qualifying sessions in the afternoon saw Hanika, who was celebrating his 26th birthday, wearing the Blue armband and setting the fastest time in his group with a 1:35.873. Fritz then went out in the Yellow session and set a 1:36.102, which was good enough to finish in P4, 0.496s off the top. The day's highlight was Canepa setting a new EWC lap record in the Red session with a 1:35.500, finishing 0.357s ahead of the rest and recording the fastest qualifying time at Le Mans since 2017.
The YART Yamaha team then switched their focus to Night Practice. All three riders and reserve rider Robin Mulhauser got time on the bike, with the team also practising the all-important pit stops during the 90-minute session and showing their pace in the dark by setting a 1:36.772 to finish in second.
When Friday rolled around, the team focused on securing pole position, with all three riders confident of being able to set a time in the 1:34s. Hanika was first out in the Yellow session, and the Czech rider pulled out all the stops. He put in a sensational lap to demolish his teammate's lap record from the day before and finish with a 1:34.878, the first EWC lap around the iconic Le Mans circuit to break the 1:35 barrier. Hanika's sensational pace highlighting the impressive work done by the team and riders to improve the YART Yamaha R1 during the winter and preseason.
Hanika's lap was hard to follow, but his teammate Fritz rose to the challenge, improving his best time from Thursday by almost a second to record a 1:35.282 and securing P2 in the process, just 0.096s off the leader. Canepa was determined to go even faster in response, but the 33-year-old got held up in the extensive traffic during his 20-minute session and had a slight brake issue that saw him run off track. He recovered superbly, setting a 1:35.679 to end the session in second place, with his time from First Qualifying good enough to secure first on the combined times for the Red riders.
A new EWC rule for 2022 sees the average time from only the fastest two riders, instead of three, count towards official qualification results. Therefore, Hanika's 1:34.878 combined with Fritz's 1:35.282 meant the YART Yamaha team qualified on pole with an average time of 1:35.080, 0.324s ahead of the rest of the field.
The team now head into the legendary 24-hour race on Saturday full of confidence and looking to claim their first victory at Le Mans since 2009, although with a further 55 points up for grabs over the weekend, they know the work is only just beginning.
It was also an excellent start to the weekend for the Wojcik Racing Team, with Mathieu Gines and Sheridan Morais combining to set an average time of 1:36.711 to start from sixth for the race. Team Moto Ain qualified just behind them in seventh, with hardly anything to separate its three riders. Claudio Corti and Corentin Perolari recorded an average time of 1:36.731, with teammate Bradley Smith impressing on his EWC debut by setting a 1:36.871.
The Viltais Racing Igol Team ended qualifying in seventh overall with a 1:37.121, thanks to the combined times of Florian Alt and Erwan Nigon, while teammate, South African EWC debutant Steven Odendall, was also on the pace with a 1:37.263. Maco Racing Team's Anthony West and Enzo Boulum secured 14th on the grid for the team with an average time of 1:37.737, while the 3ART Best of Bike team's Nicolas Escudier and Martin Renaudin combined for a 1:38.476, which was good enough to qualify in 18th.
The teams will take to the track at 9 am local time (UTC+2) on Saturday morning for the 40-minute Warm Up session before the Le Mans 24 Heures Motos kicks off at the new start time of 3 pm.
Karel Hanika – 1:34.878
Yamalube YART Yamaha EWC Official Team
"I am very happy about my lap time! All three of us could have set the time, but I managed to find the perfect spot on track without traffic to set the time. The YART R1 with the Bridgestone tyres worked perfectly, which is what allowed me to set such a fast time. It was down to all the hard work we did during the preseason, and we showed during Free Practice with the race tyres that we have a good pace and will be competitive during the race, which is the main thing. We need to use this advantage tomorrow during the race, try to be consistent, take it lap-by-lap and stay focused; then we can see where we are on Sunday morning."
Marvin Fritz – 1:35.282
Yamalube YART Yamaha EWC Official Team
"I am delighted with pole position. The whole team worked so hard during the winter and preseason, and all that work is reflected in this pole position, especially with the times we managed to set. The hard work starts tomorrow, but I think we are well prepared. Everyone has been working hard, and we know what mistakes we have made in the past and where we need to improve. I think we will start without any pressure because we know if we can keep to our lap times and don't make any mistakes, we will be in the fight for victory. The most important thing is to finish the race. There are sixty points available at a 24-hour race, and we have three on the calendar in 2022, so it will be vital to finish them all and collect as many points as possible if we want to win the title. We have got off to the perfect start with the five points we scored for pole position, we need to focus during the race, avoid any mistakes and if we are still in contention tomorrow morning, we will try and push for the win."
Niccolo Canepa – 1:35.500
Yamalube YART Yamaha EWC Official Team
"I am really pleased! All that matters is that the team is on pole position, and this time my teammates Karel and Marvin did the job today. I am so proud of them. I was the fastest rider yesterday, but today they were both quicker. That shows how fast we can be as a team, which is what counts. We are confident going into the race, all three of us have a good pace, and the bike feels great. We have everything we need to ensure that we can be on top come 3 pm on Sunday."
Andrew Pitt
Yamalube YART Yamaha EWC Official Team – Crew Chief
"This is a special pole position! All of our riders were capable of doing a 1:34 lap time today, with the cooler conditions and new tyres, especially when you look at the times they set in practice and preseason. It is never that easy in endurance racing, and with the traffic on track and some other issues, they didn't get to show their true potential, but Karel showed what we are capable of. The real action starts with the race tomorrow at 3 pm. Our focus is to ensure that we finish, and we know with our pace that if we can avoid trouble, we will be in a solid position to fight for the victory. We have done all the hard work and tested all the different tyre compounds to work out what is best depending on the temperature range, so we know what we need to use at what time, whether day or night. The whole team has been working so hard together; it has been great. Now we just need to get through the race cleanly and without any drama, and we can be fighting for victory at the end."
More, from a press release issued by Team Suzuki Press Office:
YOSHIMURA SERT MOTUL 2ND IN FINAL QUALIFYING
Yoshimura SERT Motul: Suzuki GSX-R1000R – 2nd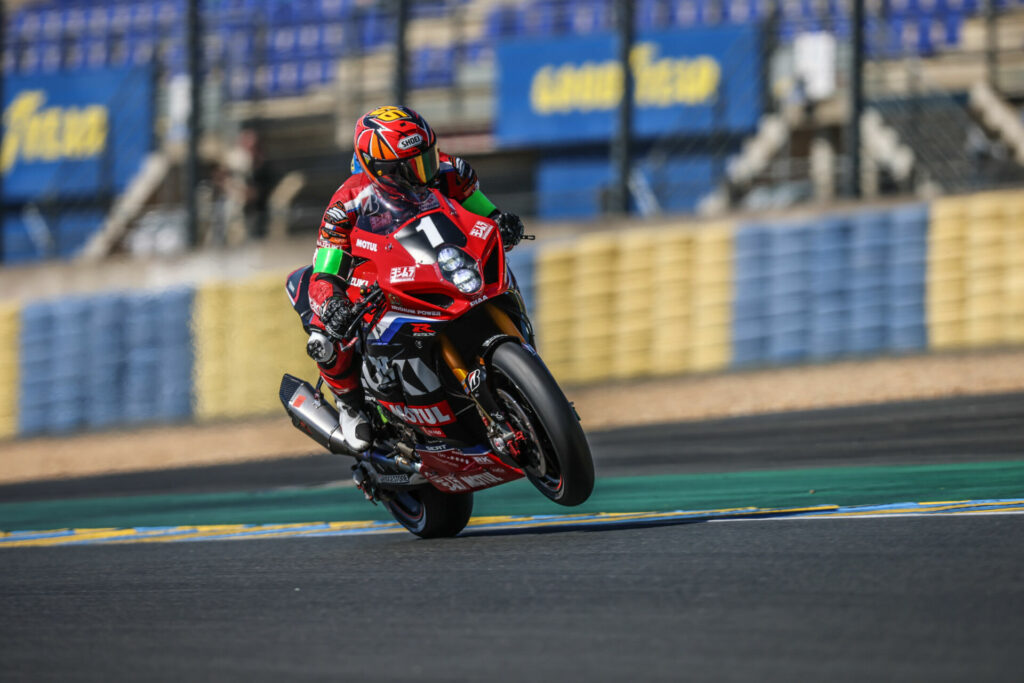 After a hard-fought qualifying session at the Bugatti circuit in Le Mans, the Yoshimura Suzuki Endurance Racing Team Motul confirmed its status as a serious contender for victory by setting the second fastest qualifying time.
Faced with strong competition that has intensified over the winter, the reigning World Champions made good progress in today's qualifying session which bodes well for the race itself. Likewise, the championship-winning Suzuki GSX-R1000R was able to demonstrate that it had also evolved.
After setting the third fastest time in yesterday's initial qualifying session, the team took advantage of more favorable weather conditions to further improve their performance.
Despite difficulties at the beginning of the session, marked by two small mistakes that were without consequences, Gregg Black knew how to react and to give the best of himself. The Anglo-Frenchman posted a very fast lap of 1.35.272 at the end of the session and took the second best time.
Xavier Siméon's session was marked by several crashes, forcing the race direction to put out a red flag. This interruption disrupted the Belgian rider's pace, but he recovered at the end of the session with a 1.35.583 lap.
Third rider to take to the track with the Factory Suzuki was Sylvain Guintoli He distinguished himself with several very fast laps and continued his efforts until the end to finish with an excellent time of 1.35.535, which put him at the top of the timesheet in his session.
Qualifying concluded with the reserve riders' session in which Japanese rider Kazuki Watanabe also set the second fastest time in his class with a 1.37.690.
With these positive results, the Yoshimura SERT Motul team will line up second on the grid for the 45th edition of the 24 Heures Motos in Le Mans, which will start tomorrow, Saturday, April 16th at 3pm (local time).
Damien SAULNIER – Team Manager:
"You always want to do better, but I'm very satisfied with this great start to the week, and we'll continue like this. It was a great qualifying with very good lap times in the 1'35s, riders feeling good on the bike and Bridgestone tyres working perfectly. I know we can do even better, pole was not out of reach. But we know how hard YART is fighting for it. Our aim is to last until 3pm on Sunday, so it's good to see our bike in the top two at the start."
Yohei KATO – Team Director:
"I am very happy with this second place. We also qualified in second position last year, so it's a good sign! We have prepared well for the race, but we will do some more testing tomorrow morning during the warm-up. We always perform better during the race, so we are confident for tomorrow."
Gregg Black:
"We have incredible conditions here in Le Mans, it feels like June. We were able to work well to achieve some really exceptional times, like all the official teams. Before, 1'35 was very fast, and now it's ordinary. We are very satisfied with the work done by the team and we have a very good race pace, which is our strong point. We are confident for this first race, our objective is really to be regular and to repeat the good performance of last year."
Xavier Siméon:
"It was really fast this morning. My qualifying session was disrupted by a lot of crashes and I couldn't really take advantage of my new tyre, but I improved my time, just like my teammates. We finish second; it's a very good result for us. The team did a great job to make the bike perform well over 24 hours. With Gregg and Sylvain we are a very consistent team. It's a new year, we start from scratch, and we have to concentrate as we always do."
Sylvain Guintoli:
"We all managed to improve our times today, which is very positive. The conditions were very good, with little wind and maximum grip on the track. We all had a very good feeling on the bike, which allowed us to attack with confidence. For the race, things will of course be different. But one thing is sure, we are ready. Personally, I now have a bit more experience in endurance racing. In 2021, we won both 24-hour races. And things come in threes!"
More, from a press release issued by Honda Racing:
Honda's endurance teams qualify strongly for the 24 Heures Motos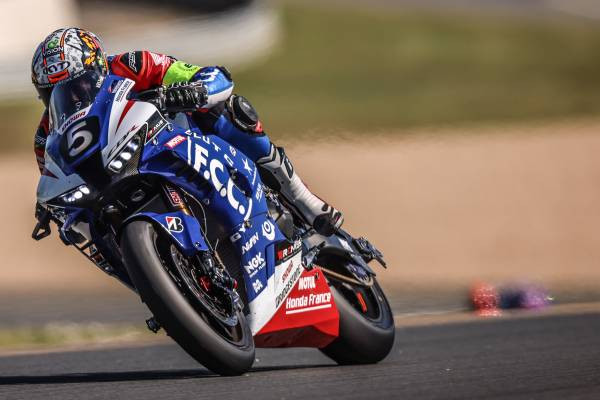 After a long break of 6-month, the 2022 FIM Endurance World Championship finally kicks off this weekend at the legendary Bugatti circuit, Le Mans for the 24 Heures Motos.
F.C.C. TSR Honda France will compete this season aboard Honda CBR1000RR-R Fireblade SP with a newcomer rider, the British Gino Rea, who joins the Frenchman Mike Di Meglio and the Australian rider Josh Hook. The team's target is the upper step of the podium to claim the 24 Heures Motos victory again as they did in 2018 and 2020.
After the two-qualifying session on dry and warm temperatures, the Honda team placed their Honda #5 third on the grid ahead of tomorrow's 24-hour race with a lap time of 1:35.435. The lap time of the three riders was very competitive and consistent on Friday, andthe Honda squad improved their timings, obtaining an excellent result for tomorrow's starting grid.
National Motos, last year's winners of the event in Superstock category, set the second-best lap time in their category, 1:37.449. The #55 Honda team is very confident of achieving another podium with a renewed three-rider line up, Swiss brothers Sebastien and Valentin Suchet and Frenchman Guillaume Raymond. On Thursday, the team's objective was to get a good result, while on Friday, the team tested some issues with the fuel tank already solved.
Privateers RAC 41 Chromeburner signed the fifth fastest lap in the SST category, 1:38.419. On Thursday, during the Free practice session, Grégory Fasté had a crash and was declared unfit to participate in the 24 Heures Motos and the team is looking for a replacement rider for tomorrow's start.  Despite this situation, the team is convinced to get a good result with a great performance of the Fireblade that has the potential to go faster during the race and do 1:38 lap times consistently.
The 24 Heures Motos will be flagged off at 3pm (CEST) on Saturday 16th April and finished at 3pm (CEST) on Sunday 17th April.
Josh Hook 5
F.C.C. TSR Honda France
'We made a good step with the bike over the pre-season tests, struggling in the past with the qualifying but now we more or less there. This makes our job easier for the race because we know that we can do a good lap time when we have the grip. We are in a better position than last year, and we are looking forward to the race. It is a long race, and anything can happen, but I think that our pace is very consistent, and we can get a good result here if all goes smoothly.'
Gino Rea 5
F.C.C. TSR Honda France
'All sessions have been actually better than expected, the team did a really good over the winter to improve the bike in one lap pace for the qualifying, and the package improved a lot. Our race pace is really good. When we put the soft qualifying tyres yesterday, we all felt really strong, with lap times very competitive. Today, the plan changed slightly with the red flag, and I was able to use a new tyre in the last part of the session, doing my best lap. We are very pleased with the qualifying, and I think we have a really good pace for the race.'
Mike Di Meglio 5
F.C.C. TSR Honda France
'I think we have a very good pace for the race. My teammates and the team did an excellent job. Yesterday we used too many tyres as today we had only two rear and one front. The three of us improved yesterday's lap times, and this third place is perfect for the qualifying points. The bike is performing great, with a very good base, but it is 24 hours, so we need to stay concentrated, be fast with many riders on track, and get a good pace and good result.'