Editorial Note: Red Bull Honda recorded a lap time of 2:06.670 during Test Session One on Wednesday.
Yamaha Factory Racing Team stepped up the pace to top the times in the third and final session of private tests, ahead of F.C.C. TSR Honda France and Red Bull Honda.
Lap times are getting faster in the run-up to qualifying.
Yamaha Factory Racing Team took over control of events at Suzuka today as the only team to post a lap under 2:06. The factory Yamaha team, who have scored back-to-back race wins in the past four years, wrapped up the third session of unofficial tests with a 2:06.798 lap by Katsuyuki Nakasuga. The Japanese rider is partnering Alex Lowes and Michael van der Mark for the third year in a row.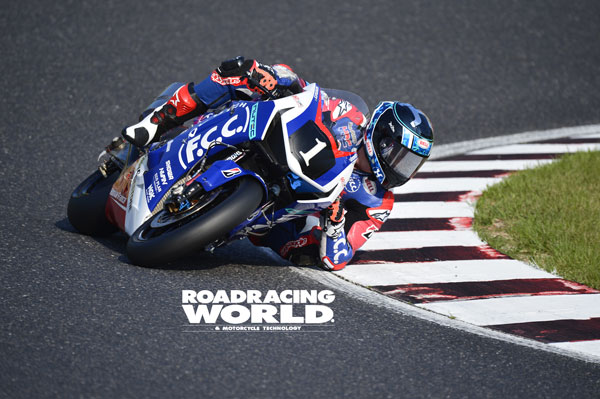 (Above) Josh Hook (1) on the F.C.C. TSR Honda CBR1000RR SP2. Photo Kohei Hirota.
F.C.C. TSR Honda France continued to improve their lap time with a 2:07.178. Josh Hook, Freddy Foray and Mike Di Meglio looked to be very strong candidates for the podium, proving quicker than Red Bull Honda's Takumi Takahashi, Ryuichi Kiyonari and Stefan Bradl, who posted a 2:07.230 lap.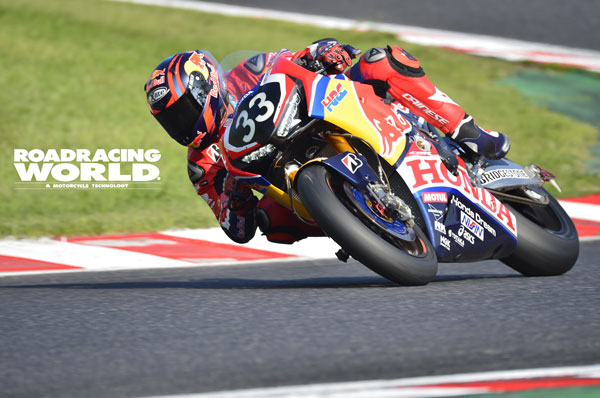 (Above) Stefan Bradl (33) on the Red Bull Honda CBR1000RR SP2.
YART Yamaha (Broc Parkes, Marvin Fritz and Niccolò Canepa) reiterated a 4th-fastest lap (a 2:07.233) ahead of Leon Haslam, Toprak Razgatlioglu and Jonathan Rea for Kawasaki Racing Team (2:07.827).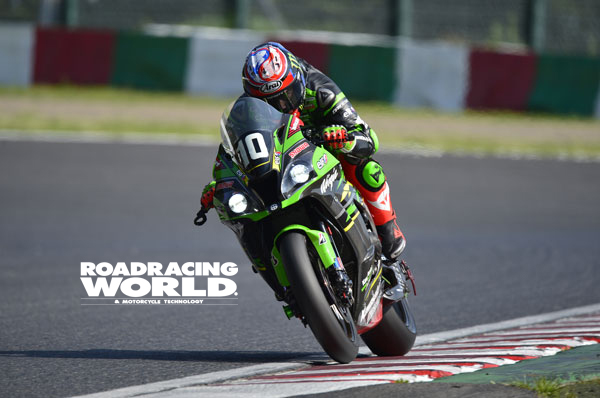 (Above) Leon Haslam (10) on the Kawasaki Racing Team ZX-10RR.
VRD Igol Pierret Expériences pulled off another astonishing feat, taking 8th place behind Musashi RT Harc-Pro Honda and Yoshimura Suzuki Motul Racing. VRD Igol Pierret Expériences are making their Suzuka debut with riders Florian Alt, Florian Marino and Xavier Siméon.
The two teams leading the provisional championship standings kept up their progress. Suzuki Endurance Racing Team posted the day's 10th-fastest lap (a 2:09.518) despite a minor crash involving Gregg Black. Team SRC Kawasaki France were 15th with a time of 2:10.099.
The quicker lap times came at the price of a couple of crashes. Yesterday (Wednesday), Bram Lambrechts, the stand-in for Brandon Cretu on the Monaco-based team GSM Racing's Suzuki, had to withdraw after sustaining a broken collarbone. During the 3rd session of private tests today, Christoffer Bergman crashed spectacularly. He got away unharmed, but one of the Yamaha-mounted Wocjcik Racing Team's bikes is a write-off.
A final test session is slated for Friday morning at Suzuka – official free practice from 8.30am to 10.30am local time – before qualifying gets underway.
Saturday will be given over to the Top 10 Trial, the Superpole unique to the Suzuka 8 Hours, where the top 10 places on the grid are redistributed on the basis of the best performances on a flying lap.
The 42nd edition of the Suzuka 8 Hours will be flagged off at 11.30am local time on Sunday 28 July.
More, from a press release issued by Kawasaki:
POSITIVE FINISH TO SUZUKA 8 HOURS TESTING PROGRAMME
WorldSBK regulars Jonathan Rea, Leon Haslam and Toprak Razgatlioglu have now finished their pre-race test programme as the Kawasaki Racing Team Suzuka 8 Hours official entry now looks forward to Qualifying Practice on Friday 26 July. The team placed fifth-fastest on the final day timesheets.
In the final test session today the number 10 Ninja ZX-10RR was ranked fifth overall, with concentration on race preparations taking precedent over any desire to set super-fast lap times. The best KRT lap across the two days of the test was a 2.07.614, set in the second session of day one.
All three riders, more used to the Pirelli control tyres used in WorldSBK than the Bridgestone tyres they are using this weekend, gave their feedback on machine set-up after gaining a greater understanding of both bike and tyres at these tests.
Now the important job of qualifying will take place tomorrow, on Friday 26 July, with each rider having two opportunities to ensure that team remains inside the top few places on the first official day of action.
After the Friday qualifying sessions the top ten teams can utilise special qualifying tyres in the 'Top Ten Trial' on Saturday, which will be the final significant action before the race takes place on Sunday 28 July, at 11.30am local time in Japan.
Jonathan Rea, stated: "We have had a positive two days of testing in preparation for race weekend. We feel quite good with the bike and yesterday we confirmed the base setting. Then we changed something today that slightly changed that feeling. This is probably the best I have felt with the bike but you can always improve. All three riders are working together to give us a good bike for the race, making step-by-step changes. I am excited about the race because there is a lot of support here for the team and riders. We have a day of official practice tomorrow and we intend to take a good result from it."
Leon Haslam, stated: "We have finished our second day of testing and it stayed dry again, which was quite positive. We have been working on our rhythm and we also got to do some simulations with the fuelling procedure. Overall it has been a good test. There are a lot of other riders on track to overtake, which you have to get used to for raceday. It was all pretty consistent and our team is looking strong. There are some little areas we want to improve in but so far, so good. Let's see what the weather does for tomorrow."
Toprak Razgatlioglu, stated: "I felt good about this test because at the previous Suzuka test in June I experienced some chattering, but not this time. The Bridgestone tyres feel different, a bit harder, than the Pirelli tyres we use in WorldSBK and now I have a better feeling with them. The lap times are coming good and we always ride with worn tyres because the last few laps of each session are very important. We are fast and now I feel some stress because I cannot wait for the race! It has been my dream to ride in the Suzuka 8 Hours and I feel like I am in a dream team with Johnny and Leon. It has been an incredible few days here and I am more than ready for the race weekend."
More, from a press release issued by Team Suzuki Press Office:
SUZUKI READY FOR SUZUKA 8 HOURS ENDURANCE FINALE
The Suzuki Endurance Racing Team is at the Suzuka Circuit in Japan for what could be the most exciting showdown for the Endurance World Championship.
The 15-times World Champions arrive at the 42nd Suzuka 8 Hours just five points from the series lead with the Suzuki GSX-R1000. And following the official tests last week at the circuit, riders Vincent Philippe, Etienne Masson and Gregg Black had the opportunity to dial-in the machine and get ready for the main qualifying, that starts tomorrow ahead of Sunday's race.
For SERT's Team Manager Dominique Méliand, this final race of EWC 2018-2019 will also be special as the highly respected founder behind the team, will step-down and hand the reigns to a new successor.
Alongside SERT will be several GSX-R1000 mounted teams, including Yoshimura Suzuki Motul Racing, the S-Pulse Dream Racing-IAI and the TK Suzuki Blue Max teams.
Qualifying for the 42nd Suzuka 8 Hours begins on Friday July 26th from 11:50am to 01:20pm and then from 03:40pm to 05:10pm on Saturday, to determine the starting grid.