David "Aussie Dave" Anthony, on a new Suzuki GSX-R1000, was the class of the open-bike field in WERA West Presented by Lucas Oil Products competition this February 28-March 1, taking four wins and smashing the longstanding track record for motorcycles at the circuit.
Anthony, who has switched to a Suzuki Superbike he bought from Team Hammer for 2020, ripped his Fly Racing-backed, Pirelli-shod GSX-R1000 around the 1.8-mile Classic Circuit in 1:16.009 to win the Formula One race on Saturday, then dropped his best time to a 1:15.049 in winning the A Superbike race later that day. That time was quicker than the 1:15.210 set by Jeremy Toye back in 2013.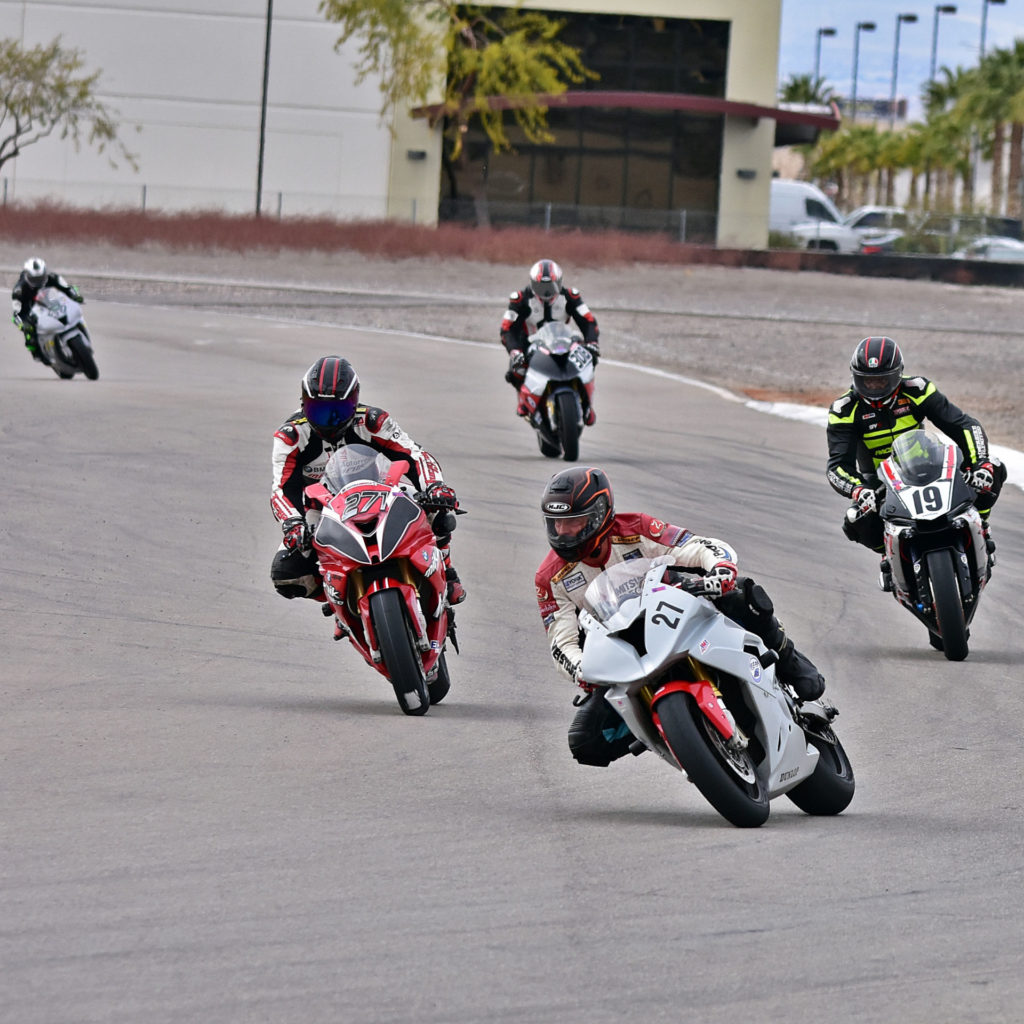 Even though Sunday's racers were greeted by steady 25-30 mph winds, chilly temperatures in the 50s and overcast skies, Anthony was right back on lap record pace, winning the A Superbike race with a best lap of 1:15.068. Then, as the skies cleared over the circuit, Anthony punched out a 1:15.000 on the second lap of the A Superstock race, then cracked off a 1:14.348 lap the next time around and backed it up with a 1:14.757 en route to the win.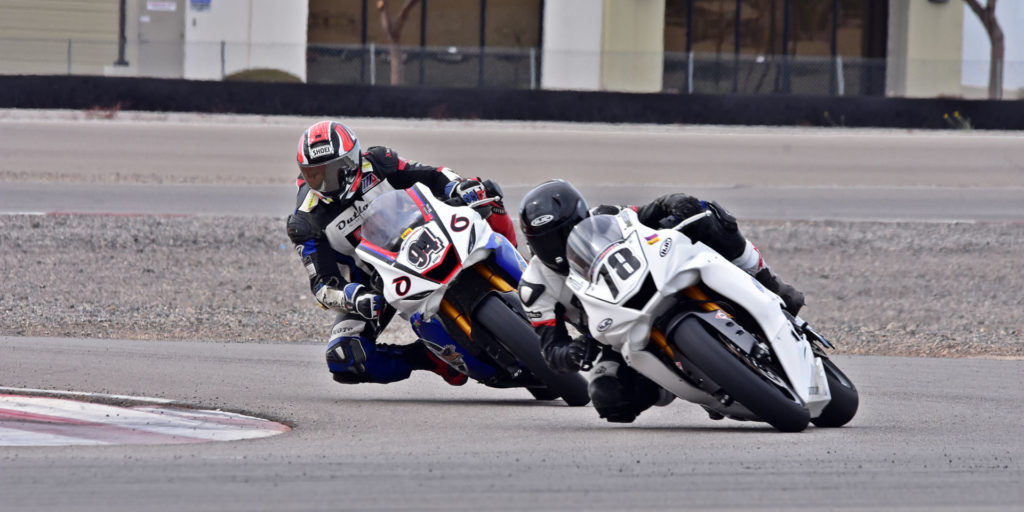 Fly Racing teammate Bradley Ward won Sunday's Formula One race on a Dunlop-shod Kawasaki ZX-10R, and Sahar Zvik was victorious in Saturday's A Superstock race on his Pirelli-shod Kawasaki ZX-10R. Zvik also jumped on one of his former ZX-6R racebikes that he had not had at the track in years and won C Superbike on Sunday.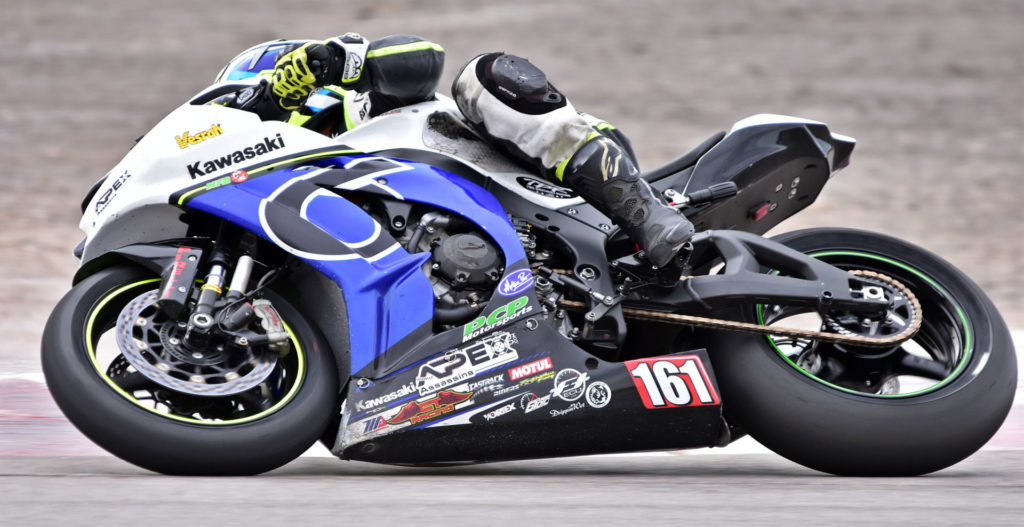 RESULTS:
SATURDAY:
GROM CUP:
Selin Buyuksonmez (Hon Grom)
MINI 50:
Kensei Matsudaira (OHV 110)
Roni Schuetrum (Hon 50)
Evan Lamb (Metrakit 50)
MINI 80:
Alex Enriquez (OHV 160)
Jayden Fernandez (OHV 160)
Juliana Fernandez (OHV 160)
Parker Miller (Buc 150)
Chris Sarbora (YCF 150)
FORMULA ONE EXPERT:
David Anthony (Suz GSX-R1000)
Sahar Zvik (Kaw ZX-10R)
Matt Tisdale (Kaw ZX-10R)
Anthony Norton (Kaw ZX-10R)
Chris Sarbora (Yam YZF-R1)
Brian Evans (Kaw ZX-10R)
Thomas Asseo (Yam YZF-R1)
Tyler Bengford (Yam YZF-R1)
Fatih Buyuksonmez (BMW S1000RR)
Greg Arnold (BMW S1000RR)
FORMULA ONE NOVICE:
Jay Libby (Kaw ZX-10R)
Dexter Stuart (Apr RSV4)
V8 HEAVYWEIGHT:
Wayne Gann (Yam YZF-R6)
Nick Zaan (Suz GSX-R600)
C SUPERBIKE EXPERT:
Mookie Wilkerson (Yam YZF-R6)
Alejandro Thermiotis (Yam YZF-R6)
Terry Heard (Kaw ZX-6R)
Edgar Zaragoza (Yam YZF-R6)
Chris Sarbora (Yam YZF-R6)
Gilbert Silva (Kaw ZX-6R)
C SUPERBIKE NOVICE:
Orel Madar (Yam YZF-R6)
John Butler (Yam YZF-R6)
Robert Linneman (Kaw ZX-6R)
Joe Bastin (Kaw ZX-6R)
Edgar Dominguez (Yam YZF-R6)
John Gilley (Yam YZF-R6)
D SUPERBIKE EXPERT:
Argee Cardenas (Hon RS125)
John Knowles (Kaw Ninja 400R)
Laura Orozco (Mor 250)
Ron Gentile (KTM 390)
D SUPERBIKE NOVICE:
Jayden Fernandez (Hon 250)
Alex Enriquez (TIA 279)
E SUPERSTOCK EXPERT:
Liam Grant (Kaw Ninja 400R)
Aden Thao (Kaw Ninja 400R)
Brian Bartlow (Kaw Ninja 400R)
Owen Williams (Kaw Ninja 400R)
John Sosebee (Yam YZF-R3)
Roni Schuetrum (Kaw Ninja 300R)
LIGHTWEIGHT TWINS SUPERSTOCK EXPERT:
Ed Guzman (Suz SV650)
Eric Stahl (H-D 1200)
David Anderson (Kaw Ninja 650)
A SUPERBIKE EXPERT:
David Anthony (Suz GSX-R1000)
Sahar Zvik (Kaw ZX-10R)
Terry Heard (Kaw ZX-10R)
Edgar Zaragoza (Yam YZF-R1)
Matt Tisdale (Kaw ZX-10R)
Anthony Norton (Kaw ZX-10R)
A SUPERBIKE NOVICE:
Jay Libby (Kaw ZX-10R)
Nicole Merriman (BMW S1000RR)
D SUPERSTOCK EXPERT:
Liam Grant (Kaw Ninja 400R)
John Knowles (Kaw Ninja 400R)
Brian Bartlow (Kaw Ninja 400R)
Roni Schuetrum (Kaw Ninja 300R)
Andrew Kenefick (Kaw Ninja 250)
LIGHTWEIGHT TWINS SUPERBIKE EXPERT:
Ryan Fritz (Suz SV650)
Paul Geldziler (Yam 700)
Aden Thao (Kaw Ninja 400R)
Lance Lewman (Suz SV650)
Anthony Morrison (Suz SV650)
Owen Williams (Kaw Ninja 400R)
LIGHTWEIGHT TWINS SUPERBIKE NOVICE:
James Snow (Suz SV650)
B SUPERBIKE EXPERT:
Mookie Wilkerson (Yam YZF-R6)
Edgar Zaragoza (Yam YZF-R6)
Alejandro Thermiotis (Yam YZF-R6)
Chris Sarbora (Yam YZF-R6)
Gilbert Silva (Kaw ZX-6R)
Anibal Ivan Arias (Kaw ZX-6R)
B SUPERBIKE NOVICE:
Orel Madar (Yam YZF-R6)
John Butler (Yam YZF-R6)
Edgar Dominguez (Yam YZF-R6)
Arnold Munoz (Suz GSX-R600)
CLUBMAN EXPERT:
Liam Grant (Kaw Ninja 400R)
Argee Cardenas (Hon RS125)
Brian Bartlow (Kaw Ninja 400R)
Laura Orozco (Mor 250)
Ron Gentile (KTM 390)
CLUBMAN EXPERT:
Alex Enriquez (Hon 250)
F SUPERSTOCK EXPERT:
John Sosebee (Yam YZF-R3)
F SUPERSTOCK NOVICE:
Selin Buyuksonmez (Kaw Ninja 250)
A SUPERSTOCK EXPERT:
Sahar Zvik (Kaw ZX-10R)
Chris Sarbora (Yam YZF-R1)
Brian Evans (Kaw ZX-10R)
Edgar Zaragoza (Yam YZF-R1)
Chad Tieszen (Yam YZF-R1)
Anthony Norton (Kaw ZX-10R)
A SUPERSTOCK NOVICE:
Jay Libby (Kaw ZX-10R)
Cliff Coglietti (BMW S1000RR)
Nicole Merriman (BMW S1000RR)
Alden Brubaker (Suz GSX-R1000)
SRA SIDECARS:
Randall Weller
Steven Stull
William Becker
Larry Coleman
Gary McEwen
HEAVYWEIGHT TWINS SUPERBIKE EXPERT:
Ruben Soto (KTM 1190)
Michael Gougis (Suz SV650)
Johnny Edwards (Duc 748)
HEAVYWEIGHT TWINS SUPERBIKE NOVICE:
Lucas Gebco (H-D)
C SUPERSTOCK EXPERT:
Alejandro Thermiotis (Yam YZF-R6)
Edgar Zaragoza (Yam YZF-R6)
Chris Sarbora (Yam YZF-R6)
Jimmy McAllister (Kaw ZX-6R)
David Anderson (Suz GSX-R600)
Edward Hearn (Kaw ZX-6R)
C SUPERSTOCK NOVICE:
John Butler (Yam YZF-R6)
Orel Madar (Yam YZF-R6)
Chris King (Suz GSX-R600)
Robert Linneman (Kaw ZX-6R)
Edgar Dominguez (Yam YZF-R6)
Joe Bastin (Kaw ZX-6R)
FORMULA TWO EXPERT:
Liam Grant (Kaw Ninja 400R)
Argee Cardenas (Hon RS125)
Ryan Fritz (Suz SV650)
Lance Lewman (Suz SV650)
Aden Thao (Kaw Ninja 400R)
Anthony Morrison (Suz SV650)
FORMULA TWO NOVICE:
Jayden Fernandez (Hon 250)
James Snow (Suz SV650)
SENIOR SUPERBIKE HEAVYWEIGHT EXPERT:
Chad Tieszen (Yam YZF-R1)
Don McClary (BMW S1000RR)
Ed Guzman (Suz GSX-R1000)
Fatih Buyuksonmez (BMW S1000RR)
Ruben Soto (KTM 1190)
Greg Arnold (BMW S1000RR)
SENIOR SUPERBIKE HEAVYWEIGHT NOVICE:
Cliff Coglietti (BMW S1000RR)
Eric Gray (Kaw ZX-10R)
Dexter Stuart (Apr RSV4)
SENIOR SUPERBIKE MEDIUMWEIGHT EXPERT:
Mookie Wilkerson (Yam YZF-R6)
Eric Anderson (Yam YZF-R6)
Moises Castaneda (Hon CBR600RR)
B SUPERSTOCK EXPERT:
Alejandro Thermiotis (Yam YZF-R6)
Edgar Zaragoza (Yam YZF-R6)
Chris Sarbora (Yam YZF-R6)
Jimmy McAllister (Kaw ZX-6R)
B SUPERSTOCK NOVICE:
Edgar Dominguez (Yam YZF-R6)
John Gilley (Yam YZF-R6)
Orel Madar (Yam YZF-R6)
V8 MEDIUMWEIGHT:
Moises Castaneda (Hon CBR600RR)
Wayne Gann (Yam YZF-R6)
Nick Zaan (Suz GSX-R600)
Chris King (Suz GSX-R600)
David Anderson (Suz GSX-R600)
Edward B. Hearn (Kaw ZX-6R)
SUNDAY:
GROM CUP:
Selin Buyuksonmez
MINI 50:
Kensei Matsudaira (OHV 110)
Evan Lamb (Metrakit 50)
Roni Schuetrum (Hon 50)
MINI 80:
Alex Enriquez (OHV 160)
Jesse James Shedden (OHV 160)
Juliana Fernandez (OHV 160)
FORMULA ONE EXPERT:
Bradley Ward (Kaw ZX-10R)
David Anthony (Suz GSX-R1000)
Sahar Zvik (Kaw ZX-10R)
Anthony Norton (Kaw ZX-10R)
Matt Tisdale (Kaw ZX-10R)
Thomas Asseo (Yam YZF-R1)
Chris Sarbora (Yam YZF-R1)
Brian Evans (Kaw ZX-10R)
Fatih Buyuksonmez (BMW S1000RR)
Tyler Bengford (Yam YZF-R1)
FORMULA ONE NOVICE:
Omar Carillo (Yam YZF-R1)
V8 HEAVYWEIGHT:
John James (Hon CBR600RR)
C SUPERBIKE EXPERT:
Sahar Zvik (Kaw ZX-6R)
Mookie Wilkerson (Yam YZF-R6)
Alejandro Thermiotis (Yam YZF-R6)
Edgar Zaragoza (Yam YZF-R6)
Terry Heard (Kaw ZX-6R)
Daniel Riser (Kaw ZX-6R)
C SUPERBIKE NOVICE:
John Butler (Yam YZF-R6)
Orel Madar (Yam YZF-R6)
Edgar Dominguez (Yam YZF-R6)
Robert Linneman (Yam YZF-R6)
D SUPERBIKE EXPERT:
Argee Cardenas (Hon RS125)
John Knowles (Kaw Ninja 400R)
Laura Orozco (Mor 250)
E SUPERSTOCK EXPERT:
Liam Grant (Kaw Ninja 400R)
Aden Thao (Kaw Ninja 400R)
Brian Bartlow (Kaw Ninja 400R)
Owen Williams (Kaw Ninja 400R)
John Sosebee (Yam YZF-R3)
Roni Schuetrum (Kaw Ninja 300R)
LIGHTWEIGHT TWINS SUPERSTOCK EXPERT:
Ed Guzman (Suz SV650)
David Anderson (Kaw Ninja 650)
A SUPERBIKE EXPERT:
David Anthony (Suz GSX-R1000)
Bradley Ward (Kaw ZX-10R)
Sahar Zvik (Kaw ZX-10R)
Terry Heard (Kaw ZX-10R)
Anthony Norton (Kaw ZX-10R)
Edgar Zaragoza (Yam YZF-R1)
A SUPERBIKE NOVICE:
Nicole Merriman (BMW S1000RR)
D SUPERSTOCK EXPERT:
Liam Grant (Kaw Ninja 400R)
John Knowles (Kaw Ninja 400R)
Aden Thao (Kaw Ninja 400R)
Brian Bartlow (Kaw Ninja 400R)
Owen Williams (Kaw Ninja 400R)
Roni Schuetrum (Kaw Ninja 300R)
LIGHTWEIGHT TWINS SUPERBIKE EXPERT:
Ryan Fritz (Suz SV650)
Paul Geldziler (Yam 700)
Lance Lewman (Suz SV650)
Anthony Morrison (Suz SV650)
Ed Guzman (Suz SV650)
David Anderson (Suz SV650)
LIGHTWEIGHT TWINS SUPERBIKE NOVICE:
James Snow (Suz SV650)
B SUPERBIKE EXPERT:
Alejandro Thermiotis (Yam YZF-R6)
Edgar Zaragoza (Yam YZF-R6)
Mookie Wilkerson (Yam YZF-R6)
Chris Sarbora (Yam YZF-R6)
Anibal Ivan Arias (Kaw ZX-6R)
Moises Castaneda (Hon CBR600RR)
B SUPERBIKE NOVICE:
John Butler (Yam YZF-R6)
Orel Madar (Yam YZF-R6)
SRA SIDECARS:
Randall Weller
Steven Stull
Larry Coleman
William Becker
Gary McEwen
CLUBMAN EXPERT:
Argee Cardenas (Hon RS125)
Liam Grant (Kaw Ninja 400R)
Aden Thao (Kaw Ninja 400R)
Owen Williams (Kaw Ninja 400R)
Brian Bartlow (Kaw Ninja 400R)
Laura Orozco (Mor 250)
F SUPERSTOCK EXPERT:
John Sosebee (Yam YZF-R3)
F SUPERSTOCK NOVICE:
Selin Buyuksonmez (Kaw Ninja 250R)
A SUPERSTOCK EXPERT:
David Anthony (Suz GSX-R1000)
Bradley Ward (Kaw ZX-10R)
Sahar Zvik (Kaw ZX-10R)
Edgar Zaragoza (Yam YZF-R1)
Matt Tisdale (Kaw ZX-10R)
Chris Sarbora (Yam YZF-R1)
A SUPERSTOCK NOVICE:
Cliff Coglietti (BMW S1000RR)
Omar Carrillo (Yam YZF-R1)
Nicole Merriman (BMW S1000RR)
C SUPERSTOCK EXPERT:
Alejandro Thermiotis (Yam YZF-R6)
Daniel Riser (Kaw ZX-6R)
Edgar Zaragoza (Yam YZF-R6)
David Guerrero (Yam YZF-R6)
David Anderson (Suz GSX-R600)
C SUPERSTOCK NOVICE:
Orel Madar (Yam YZF-R6)
Chris King (Suz GSX-R600)
Edgar Dominguez (Yam YZF-R6)
Robert Linneman (Kaw ZX-6R)
Joe Bastin (Kaw ZX-6R)
FORMULA TWO EXPERT:
Ryan Fritz (Suz SV650)
Liam Grant (Kaw Ninja 400R)
Argee Cardenas (Hon RS125)
Lance Lewman (Suz SV650)
Paul Geldziler (Yam 700)
Anthony Morrison (Suz SV650)
FORMULA TWO NOVICE:
1. James Snow (Suz SV650)
HEAVYWEIGHT TWINS EXPERT:
Ruben Soto (KTM 1190)
Michael Gougis (Suz SV650)
V8 MEDIUMWEIGHT:
Johnny Edwards (Duc 748)
SENIOR SUPERBIKE HEAVYWEIGHT EXPERT:
Fatih Buyuksonmez (BMW S1000RR)
Don McClary (BMW S1000RR)
Ed Guzman (Suz GSX-R1000)
Donald Martins (BMW S1000RR)
SENIOR SUPERBIKE HEAVYWEIGHT NOVICE:
Cliff Cogletti (BMW S1000RR)
Eric Gray (Kaw ZX-10R)
SENIOR SUPERBIKE MEDIUMWEIGHT EXPERT:
Mookie Wilkerson (Yam YZF-R6)
David Guerrero (Yam YZF-R6)
Moises Castaneda (Hon CBR600RR)
B SUPERSTOCK EXPERT:
Alejandro Thermiotis (Yam YZF-R6)
Edgar Zaragoza (Yam YZF-R6)
Jimmy McAllister (Kaw ZX-6R)
B SUPERSTOCK NOVICE:
Orel Madar (Yam YZF-R6)
Edgar Dominguez (Yam YZF-R6)
V8 MEDIUMWEIGHT:
Moises Castaneda (Hon CBR600RR)
David Anderson (Suz GSX-R600)
Nick Zaan (Suz GSX-R600)
Chris King (Hon CBR600RR)
John James (Hon CBR600RR)
Edward Hearn (Kaw ZX-6R)