Over 26 years after suffering a crash that paralyzed him from the chest down and ended his legendary motorcycle racing career, three-time 500cc Grand Prix World Champion Wayne Rainey rode a motorcycle again Wednesday, November 6 at Buttonwillow Raceway Park, in California.
This video was produced and shared by MotoAmerica.
Update:
Exclusive Interview With Wayne Rainey
By David Swarts
Copyright 2019, Roadracing World Publishing, Inc.
Wayne Rainey was one of the greatest motorcycle road racers the world has ever seen. In just five short years and 83 race starts in the FIM 500cc Grand Prix World Championship, the dirt tracker from Southern California won 24 races and finished on the podium 64 times, earning three consecutive 500cc Grand Prix World Championships (1990, 1991, 1992), with  runner-up finishes in the two other years (1989, 1993).
Rainey's career, however, came to a premature end on September 5, 1993, when he crashed out of the lead during a race at Misano and suffered a fractured vertebra and spinal cord injuries that left him permanently paralyzed from the chest down.
Rather than fade off into the distance and live out the rest of his life in private, Rainey returned to the only world he had ever known, as a race team manager and later as President of MotoAmerica, now the premier motorcycle road racing series in the U.S.A.
But there's something that Rainey never did again, and that was ride a motorcycle–until now.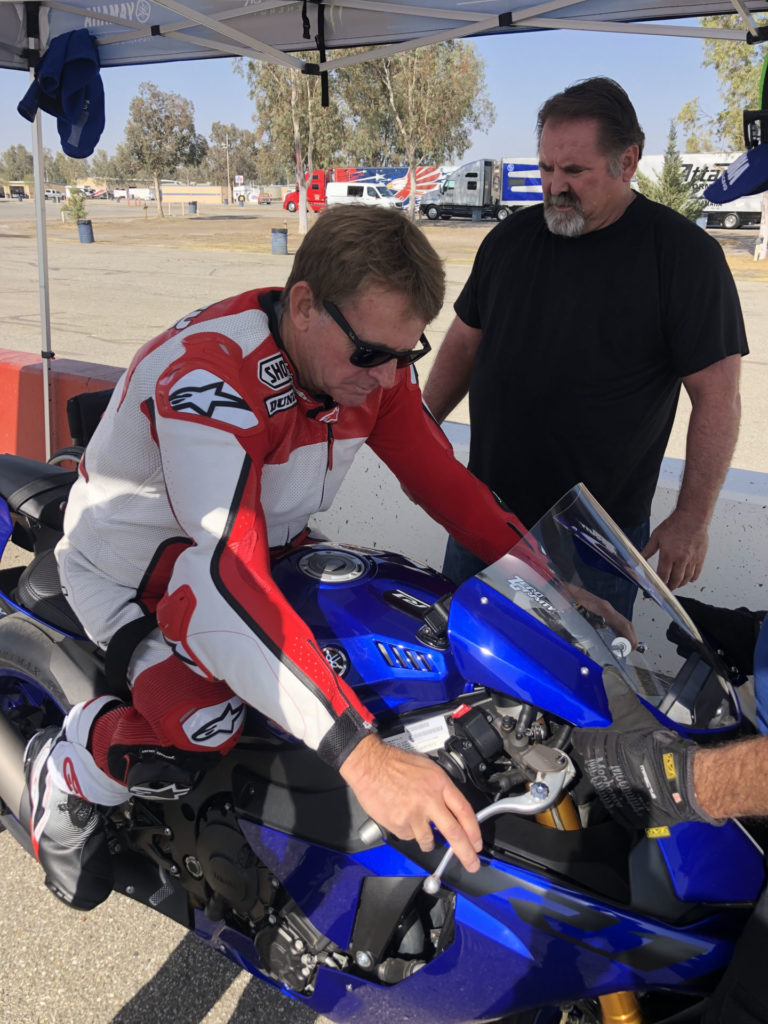 "Back in March or April of this year," Rainey exclusively told Roadracingworld.com on Friday, November 8th, "representatives from an event called the Sound of Engines that takes place at Suzuka Circuit contacted me and wanted to know if I would be interested in coming over and doing some autographs and some media interviews. That's kind of how it started.
"Then they said there was also the opportunity to ride a motorcycle.
"Six months ago, like I have been for the last 26 years, I just was not interested at all.
"I said. 'Thanks for asking, but no thanks. I'm not interested.' Then Kenny Roberts and Eddie Lawson nudged me a little bit a couple of months later. The organizers had contacted them and asked if I would be more interested if they asked me. I said, 'I'm just not interested.'
"Then a couple of good friends said, 'We need to get you back on a bike so when we're in town we can go ride in the canyons.'
"I was like, 'Wow, I've been asked so much about riding a motorcycle in the last five months.' Then I decided to look at the video the Sound of Engines guys sent me. I looked at it, and it was [paralyzed former Grand Prix racer Takuma] Aoki riding a Superbike. He looked much different than I thought he would.
"I thought about it a little bit longer and I finally told the organizers if they wanted to take the expense of shipping everything over here to the States and letting me try it here, that would probably be the best way to start."
Rainey said during the MotoAmerica/World Superbike event at WeatherTech Raceway Laguna Seca he asked Alpinestars about getting a set of leathers made, just in case he decided to go do the rider. Be said he didn't actually decide to go through with testing a bike on track until the end of September.
"When I started thinking of the reasons I didn't want to do it I noticed that I was softening up on it," said Rainey. "So I thought maybe I should just look at it like, why not? Maybe just try it to see what it feels like.
"I knew I could do it. I just didn't know what the experience would be like. Maybe that was the reason I didn't do it in the past because I knew that you don't just jump on these things, start it up, and go. There has to be a big team here to make it work. But mentally, I just thought maybe I should try it to see if I could do it.
"So they [the event organizers] sent the whole package to Keith McCarty at Yamaha, and Steve Rounds at Yamaha put the bike [a track day-prepped YZF-R1] together for me. The Yamaha race team had a test for their guys [Wednesday, November 6] up at Buttonwillow, and we decided to do it then.
"As the days were clicking down and I was actually driving to the track to ride the bike I was very anxious about it. I wouldn't say I was excited. I was more curious to know how all of this was going to happen. What was it going to be like when it was all said and done?
"That was the part that excited me a bit, the challenge and this adventure. I hadn't ridden a bike in 26 years and certainly the way I was going to ride was a way I had never done it before."
Rainey was correct in that it was no small effort to make the ride happen.
"My brother Rodney was there, and they lifted me onto the bike," said Rainey. "My boots, they used SPD bicycle pedal clips on the pegs so my boots could clip in. Alpinestars had attached the clips to the heels of my boots, and that required shipping them back and forth to Japan to make sure it was right. So it was a big effort.
"The Alpinestars suit was actually a two-piece suit with an air bag system in it, which I guess was new for them. So there was a big effort to make sure this was all right.
"I got everything on. My feet were clipped in, so they weren't going anywhere. Saddleman made a special gel-padded seat with some non-skid material, and Alpinestars also put some non-skid material on my bum. So there was no movement there. Then my legs were up against the fuel tank, and there was a strap that wrapped under the seat and locked my knees against the fuel tank.
"So then I was on the bike. I'm what they call a T6-7, so basically my feeling starts where my chest is. So the first point of contact on the bike I could feel were the handlebars. So that's what was going to be telling me everything about what I was doing. Normally, you can feel it through your feet and your whole body, but this was not going to be that way.
"I went through the gears [on the stand]. The organizers had shipped over the Klicktronic gearshift system that Aoki used, and Keith [McCarty] said it went on very easily and worked right from the start. It had button shifters on the left bar.
"When it was time to go, I put it in gear. They were holding me up and kind of pushed me off. Just like like any rider you kind of idle out, but the idle turned into me feeling like a kid and you just took the training wheels off and they kind of wobble. That was me. So I had to give it some throttle to make it straighten up.
"Out on the track, you can imagine riding a bike that you can only feel through your hands. So all my leverage was through my arms and my hands. I think I did three or four laps and came in. I wasn't real fast or anything.
"I wasn't really sure I was going to go back out the second time. I thought about for about an hour and a half. I thought about the track. I thought about the sensations of what I could feel and what was going on. I was riding an R1 track day bike, and it had crazy acceleration. Feeling that after 26 years was definitely a thrill.
"So the second time I bolted right out of the pits. It was easy to take off. I knew how the bike shifted. I knew my way around the track. I knew what the sensation was going to be like through the bars when I was leaning it into the corners. I knew about the acceleration. I knew I could let it go a little bit more rather than holding it back. I was giving input to the bike and it was responding to me, whereas in the first session I was responding to the bike because everything was so new.
"When I pulled in at the end of the second session I think everyone was surprised because I went a heck of a lot faster down the main straight. I got it into fifth gear. So we were well over 100 mph.
"So in the end I just did those two sessions of three or four laps each, and it was the second session that pretty much convinced me that I will do this in Japan.
"Now I go there next week, November 16-17 at Suzuka Circuit. Eddie and Kenny will be there riding with me. I think it will be fun. Suzuka Circuit, the race that I won there in 1993 was one of my favorites. I love that racetrack and the Japanese fans are very special.
"Putting my leathers back on and being on the track again I think is going to be a thrilling experience for me, one that I never thought I would do again, to tell you the truth."