MotoAmerica Honors Its Champions
The Big Five Get Their Dues In Gala Event
COSTA MESA, CA (September 25, 2019) – MotoAmerica honored its five 2019 MotoAmerica Champions and those who pushed them the hardest on Monday night, September 23, at a gala event in downtown Birmingham, Alabama, a day after the battles had been won and lost at Barber Motorsports Park.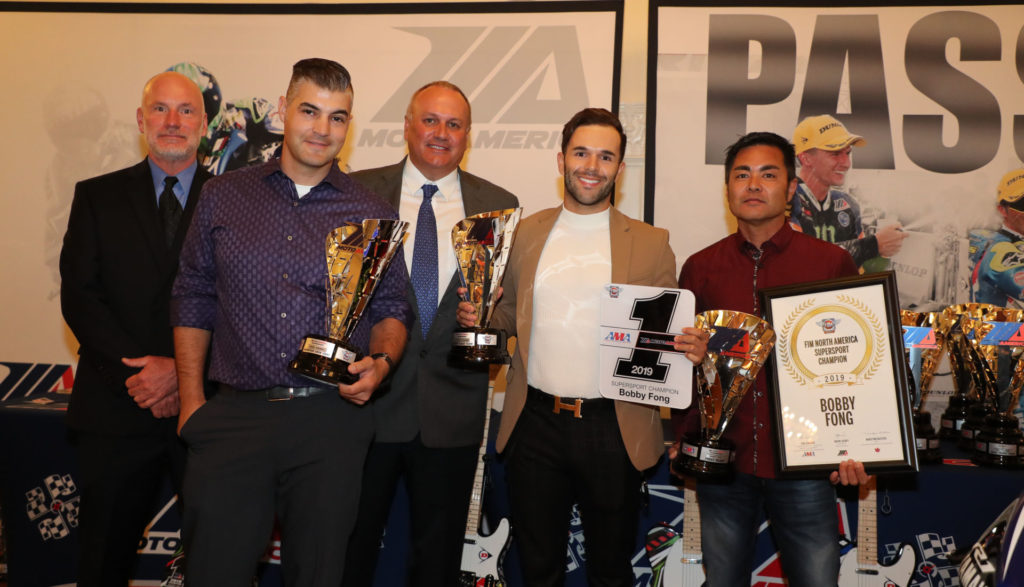 The list of champions from 2019 is impressive: Twins Cup Champion Alex Dumas, Stock 1000 Champion Andrew Lee, Liqui Moly Junior Cup Champion Rocco Landers, Supersport Champion Bobby Fong and EBC Brakes Superbike Champion Cameron Beaubier, who won the premier title on his Monster Energy/Yamalube/Yamaha Factory Racing YZF-R1 and helped Yamaha take home the Manufacturers Crown.
But this isn't just about the champions. It's also about the riders who pushed those champions the hardest – the top three in each title chase. Additionally, JD Beach won the Superbike Rookie of the Year award for riding to fourth in the EBC Brakes Superbike Championship and earning his first class win along the way.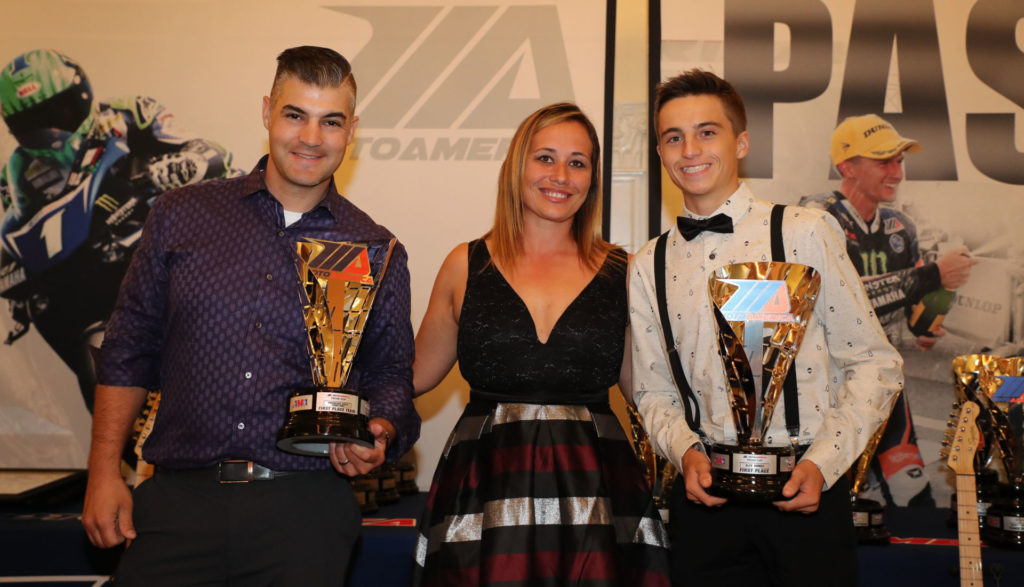 Beaubier was the man of the night, the Californian never giving up the fight as he climbed his way back into the Superbike Championship fight when the title seemed all but lost just a few rounds before. Beaubier won both races at Barber Motorsports Park and walked away with the title – his fourth in the past five years – by just five points over Yoshimura Suzuki's Toni Elias.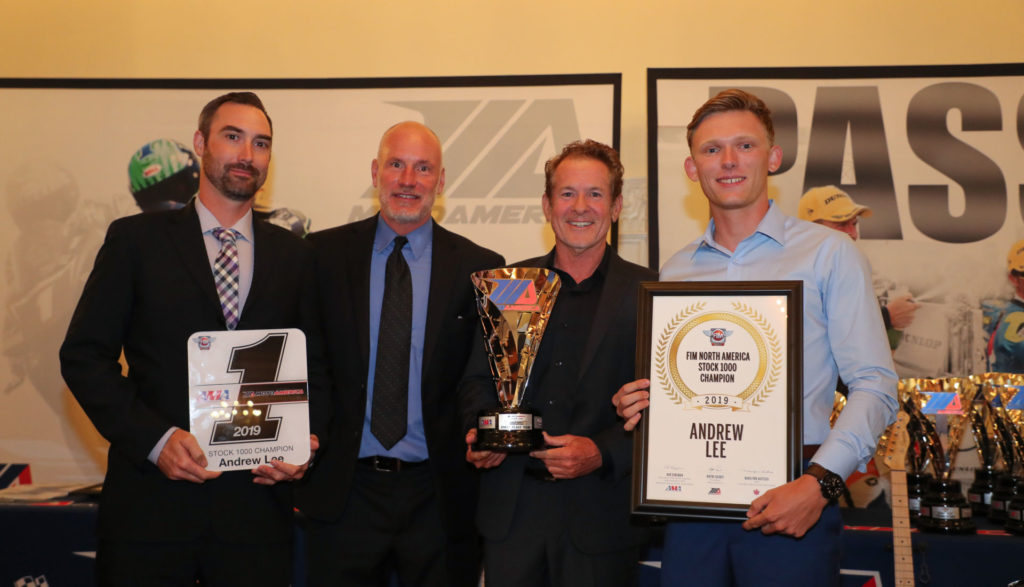 "It was a rollercoaster of a season," Beaubier said. "It actually started out pretty good at the first round compared to the last few years. I was on two wheels at the end of the weekend which wasn't the case the last few years. I was super thankful for that and we came out with the points lead and I was like, 'Man this is going to be a really good season after the really good season we had last year, but that wasn't the case. I was getting smoked by the Yosh (Yoshimura Suzuki) guys. Then Garrett (Gerloff) and I started to find our feet a little bit and Garrett was crushing it there in the middle of the season. Honestly, it took a hit on my confidence to have such a fast teammate and then getting beat by the Yosh guys as well. I owe a lot to my mentor Jake Zemke, who is always behind me and always building me up when I was a little down. We fought back and never quit and I think if it wasn't for Garrett finding his edge and showing his true ability this year, I don't think we would have wrapped up this title so I owe a big thanks to him and Keith (McCarty) and Tom (Halverson)… I just appreciate from the bottom of my heart you guys giving me this opportunity. I get to do what I love for a living and I'll never take it for granted."
The night was bittersweet for Beaubier as he paid homage to his longtime crew chief Rick Hobbs, who had announced his retirement from racing.
"Rick (Hobbs), it's been so great working for you for these past six years," Beaubier said. "You've taught me so much on and off the track. You're just an all-around great human and one of everyone's favorite guys in the pits so I'm really going to miss you and I'm glad we sent you out on top. Man, I was sitting on the grid yesterday and I was just ready to go with the last race of the season and everything is on the line. I was ready to go and Rick gives me a fist pump and I see his bottom lip quivering and I was like, 'Are you about to cry? Don't do this to me right now.' My heart just sank… and then I blew turn one (laughs). Seriously, a big thanks to all my guys and everyone at Yamaha, my girlfriend who doesn't get too much credit, but she's a big support to me; and to my family who are always behind me."
MotoAmerica President Wayne Rainey closed the night's festivities.
"This morning I was able to go to a roundtable with all the MotoAmerica Champions and we got to sit around and talk about the championship and how it went for each one of the racers," Rainey said. "It was interesting for me to see how much a championship means to them and what all they went through to get it. And, tonight, to see all the top three in each class come up and talk about their season… it really struck me as pretty incredible because being a racer and now helping put together MotoAmerica, it's really strange that I can be a part of this. There was a lot of controversy this year, a lot of hard riding – because it means a lot. And, quite frankly, I was all for it. If the riders don't give all to achieve what they can to be champions, what is all this worth? Tonight, everyone talked about that. What it's like to not win, what it meant to achieve. That's what it's all about and I'm really proud of what my partners and I have put together in the last five years. Everybody in here has a story. Everybody in here has a rider that they root for, a team they work for. There are so many people on those teams that need to do their jobs so their guy can get the job done. This is great. I'm very fortunate to come back and be a part of racing in this way. The best part for me is being at the racetrack. I love watching the races, the emotions. I feel for each and every guy when they fall down, I feel for the teams when they win and lose. It's incredible."
The 2020 MotoAmerica Series kicks off in 191 days at Circuit of The Americas in Austin, Texas.
The provisional 2020 MotoAmerica Series schedule is as follows:
March 10-11   Barber Motorsports Park, Birmingham, Alabama (Preseason Test)
April 3-5          Circuit of The Americas, Austin, Texas
April 17-19      Michelin Raceway Road Atlanta, Braselton, Georgia
May 1-3           Virginia International Raceway, Alton, Virginia
May 29-31       Road America, Elkhart Lake, Wisconsin
June 26-28      The Ridge Motorsports Park, Shelton, Washington
July 10-12        WeatherTech Raceway Laguna Seca, Monterey, California (TBC)
August 7-9      Pittsburgh International Race Complex, Wampum, Pennsylvania
August 21-23  Indianapolis Motor Speedway, Indianapolis, Indiana
Sept. 11-13      New Jersey Motorsports Park, Millville, New Jersey
Sept.18-20       Barber Motorsports Park, Birmingham, Alabama
MotoAmerica is the new North American road racing series created in 2014. MotoAmerica is an affiliate of KRAVE Group LLC, a partnership that includes three-time 500cc World Champion, two-time AMA Superbike Champion, and AMA Hall of Famer Wayne Rainey, ex-racer and former manager of Team Roberts Chuck Aksland, motorsports marketing executive Terry Karges, and businessman Richard Varner. For more information on MotoAmerica, visit www.MotoAmerica.com. Also make sure to follow MotoAmerica on Twitter, Facebook and Instagram.