SUPER73 LAUNCHES K1D, BEST-IN-CLASS CHILDREN'S ELECTRIC BALANCE BIKE WITH STATE-OF-THE-ART TECHNOLOGICAL ADVANCEMENTS
SUPER73's K1D Becomes First-In-Class To Offer Regenerative Braking To Unlock Confidence and Freedom For Kids, While Making Riding Safe and Fun
IRVINE, CA (April 3, 2023) – SUPER73, the American lifestyle adventure brand specializing in electric motorbikes, today announced the launch of its first youth series vehicle, the K1D. Developed with a perfectly complemented blend of fun and safety, the SUPER73 K1D offers a best-in-class electric balance bike option for kids ages four to eight years old.
Available in four colorways, the K1D's design was influenced by 80's BMX and Motocross culture to create a neo-retro balance bike with a 60-minute play time. Further separating itself from the competition, SUPER73 emphasized a technology-focused theme throughout the kid's electric balance bike, including innovative technology such as regenerative braking and the safest battery in any kid's balance bike.
"The technological advancements in the K1D youth series balance bike is groundbreaking from a safety, performance, and durability standpoint. We're excited to announce the highly anticipated product has officially arrived," said LeGrand Crewse, SUPER73 CEO. "At SUPER73, we're focused on driving the technology of our products forward, while making it fun and safe for our customers. The launch of K1D provides us with an entirely new customer base of young, aspiring riders and we're thrilled to be leading the charge in our industry."
A critical feature of the SUPER73 K1D is the first-in-class, innovative regenerative braking, which is only available in this model and the soon-to-be-launched C1X. The basic idea of regenerative braking is when a rider releases the throttle, the vehicle will use the electric motor to flow current back into the battery, slowing down the vehicle and charging the battery. This feature means longer lasting brakes, more range on the battery and an inherent safety measure put in place to further protect the youth who can modulate speed with the throttle alone.
Furthering the safety protocols and technological innovation implemented in the K1D, the electric balance bike features a Lithium Iron Phosphate battery (LiFe PO4) battery that is resistant to thermal events, which essentially allows riders to continue charging the battery in all weather conditions. The K1D's battery charges in 45 minutes, which is exponentially faster than the typical four-hour charge time of its competitors. Additionally, the Lithium Iron Phosphate Batteries have two times the battery life than that of existing competitors batteries.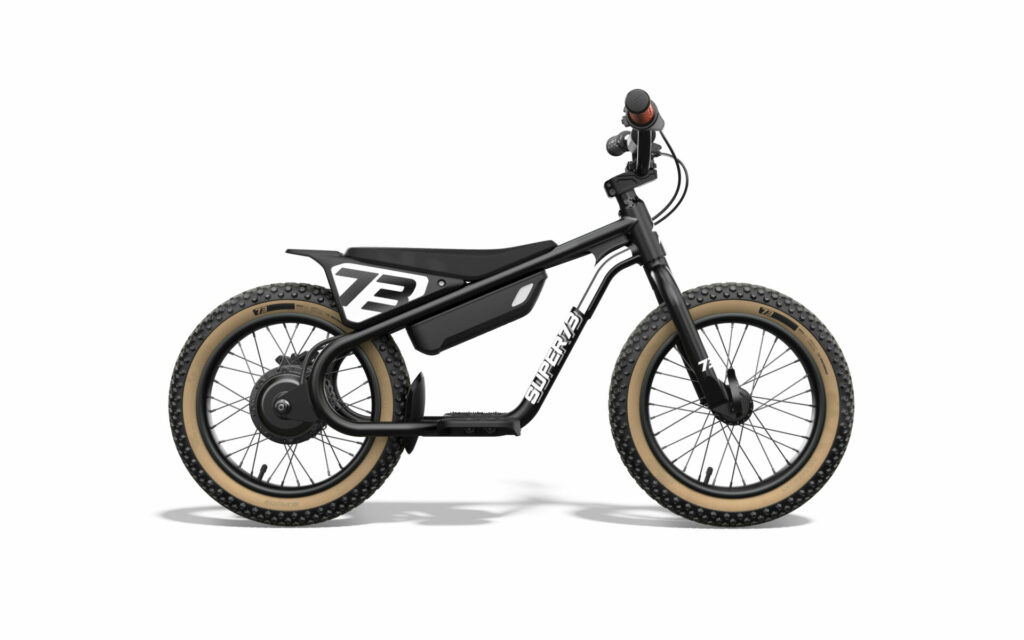 In addition to the technological and safety advancements, below are several features found in SUPER73's K1D:
●       Get Comfortable – K1D comes equipped with a motorcycle- and motocross-inspired seat style.
●       Ride in Your Own Style – Living up to SUPER73's standard of high-end finish and design, the K1D features an exclusive hexagon pattern on the gum wall tires and the handlebar grips, making the throttle highly visible, while riders can choose between Blu-Tang, Sriracha Red, Obsidian, and Prickly Pink color options.
●       Grow With The Bike – The K1D offers removable hexagon patterned foot platforms, removable and adjustable oversized pegs for two different positions, and multiple handlebar options to fit the height of riders.
●       Class Modes For Speed Modulation – Three different class modes allow riders to learn the fundamentals of an electric balance bike at a lower speed, then boost performance as comfort and experience increase. Similar to our current offerings, two standard modes will be easily accessible by the rider, with a locked and secured third "Track Mode" mode for the more advanced competitors on closed courses.
Through the launch of K1D, SUPER73 wants to help educate kids on appropriate rider safety at an early age by teaching them the proper way to ride, along with other safety measures from the start. As riders grow, they will graduate from the K1D to other SUPER73 models targeted at an older age demographic armed with the experience, knowledge, and education to ride properly and safely.
The K1D is available to pre-order on the SUPER73 website for $1,295 (MSRP) and will begin shipping to customers in early June. For more information on SUPER73, visit SUPER73.com and follow along on Facebook®, YouTube® and Instagram®.
ABOUT SUPER73®
SUPER73® is an American lifestyle adventure brand based in Orange County, CA that develops products to help fuse motorcycle heritage with youth culture. Founded in 2016, SUPER73 has quickly grown into one of the most recognizable electric vehicle brands in the world with a passionate customer base including A-list celebrities, professional athletes, and many more. For more information, visit super73.com or @super73 on social media.