Piqueras robs Salmela in Le Mans Rookies Cup Race 1
Rising Finnish star Rico Salmela rode a perfect race ahead of the KTM pack and so nearly scored his 2nd Red Bull MotoGP Rookies Cup victory. But the 15-year-old was passed at the penultimate corner complex by Angel Piqueras.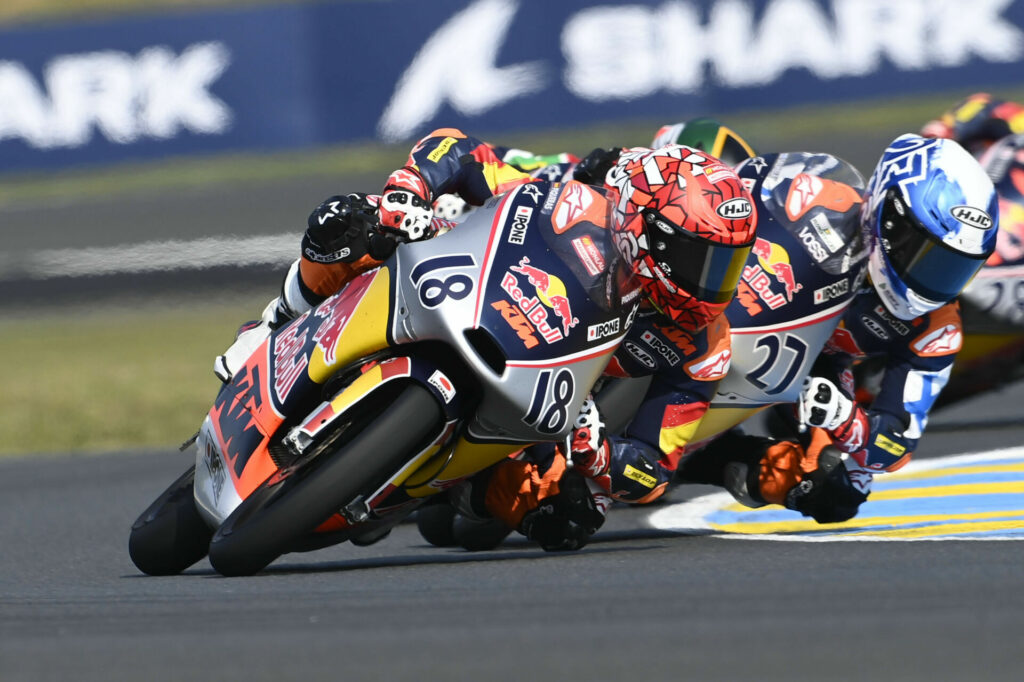 So the 16-year-old points leader stood for the Spanish National Anthem for the 4th time this season with Ruche Moodley, the 16-year-old South African, joining them on the podium.
It was yet another fabulous race and while Salmela looked cool and confident in front the battle behind was incredibly intense, anyone of 8 or 10 riders could have made the podium and even the win as Piqueras demonstrated.
Piqueras sent it
"It's true, I didn't know how I managed to win. I just pushed very hard at the end, the last two laps, pushed at every corner."
"I felt good at the end of the race, I was confident and I decided to take a chance. I pushed very hard, right on the limit and I almost crashed, I could have crashed, that was a real possibility but I didn't. Maybe I will crash tomorrow, we'll see."
"It was a really hard race all the way, we were all pushing hard and it was only at the end that I felt that I could go and try and win, I felt really strong and felt I could try to catch Rico."
"I won't change anything on the bike for tomorrow, It is great. I felt I lacked a bit on the straight but maybe just because I am a bit bigger."
Salmela so smooth
"Yes, It was a really good race, I was having some fun in the front. I think that I was doing quite a good pace in the lead."
"In the last lap, I left a little gap and Piqueras took it. I tried to close it a bit but went too late on the brakes and went a little bit wide and Piqueras got the inside line."
"I'm still quite happy with the work that I did today but I know that there are still some places that I can improve on for tomorrow. I like the bike, no need to change it at all but I think that one of the things I can do is probably push harder from the beginning and maybe make the last laps a bit better."
Moodley made up places
"It was a really good race, quite difficult coming from 13th. I pushed really hard from the start and I knew I could get a good position. In the end, it was a podium so I am so happy."
"Brad (Binder) was a big help, on Thursday he was showing me some lines. In practice though I still wasn't feeling that confident until the end of Qualifying. Then today, I don't know what happened," he laughed.
"The bike felt good so I am not going to change anything, I hope for another good race tomorrow."
Quiles 4th and cries foul 
"It's not fair," stated the 15-year-old Spaniard after the race, visibly distressed. "Other riders in Jerez touch the green in Jerez many times and me, I touch it 3 and they give me a long lap and again here. It's not correct but I am happy with the bike and the way I rode the race."
Guido Pini not thrilled with 5th 
"I'm not really happy because I was all the race in the lead group, 3rd or 4th position," explained the 15-year-old Italian. "On the last lap I tried to do my best, but Piqueras passed me, I didn't crash but almost high sided and Moodley passed me. Also, Maximo, I passed him but he passed me again so 5th position, I'm not really happy but tomorrow I think I can do better."
Hakim Danish lost out after charge to the front
"I'm not happy because I made a lot of mistakes," explained the 15-year-old Malaysian frankly after finishing 9th. "I slid off in the warm-up lap, luckily I could get up and still get in the race."
"I had a good start in the race, I tried to follow the front group, I managed to do that. Then in the middle of the race I tried to pass one rider but I made a little mistake in Turn 7 and I almost hit the rider in front because I braked so late."
"So then I had to catch the group again and I made another mistake in Turn 9, I braked too late and went straight. So a difficult race but I will improve for tomorrow."
Marco Morelli frustrated with 13th from Pole
"A little bit of a bad race, I think." said the 15-year-old Argentine. "I don't know what to say but I am disappointed, I started from the pole and I finish 13, that's not a great result."
"But, I will learn from that, I need to close the door more, today I let too many riders through, gave them too much room."
"I have one more opportunity to start from Pole and this is great. I am happy with the bike so it is just up to me."
Session for FRA RookiesCup RAC1