Spaniard Jorge Martin won the MotoGP Sprint Race Saturday afternoon on the Bugatti Circuit, in Le Mans, France. Riding his Prima Pramac Ducati Desmosedici, Martin won the 13-lap race by 1.840 seconds over Red Bull KTM Brad Binder. Defending World Champion Francesco Bagnaia was a close third on his Lenovo Ducati.
MotoGP points after Sprint race

More, from a press release issued by Dorna:
Absolute showstopper: Martin takes the spoils as Champions clash
The Spaniard stormed to his debut Tissot Sprint victory from Binder, ahead of a breathtaking battle between Bagnaia and Marquez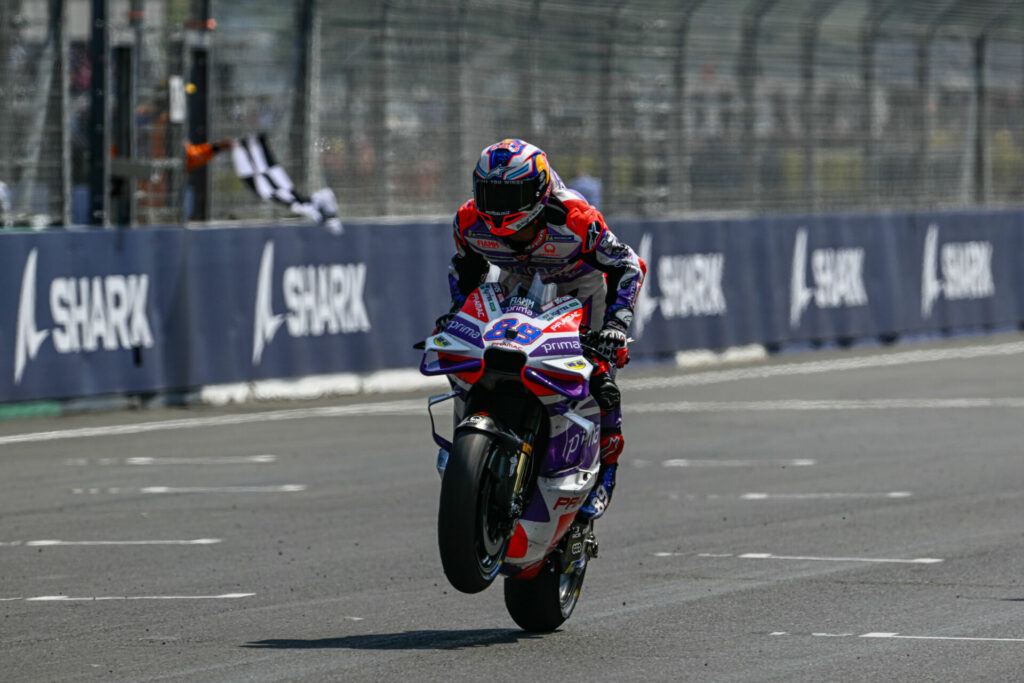 Saturday, 13 May 2023
We billed it as super Saturday and once again, we meant it. The Tissot Sprint at Le Mans was another jaw dropper throughout the field, and we have a new name in the history books as Jorge Martin (Prima Pramac Racing) put in an inch-perfect ride to take his first Sprint win in MotoGP™. Just behind him, Brad Binder (Red Bull KTM Factory Racing) fought his way through the pack to storm to another podium in second, and Francesco Bagnaia (Ducati Lenovo Team) completed the podium.
'Completed the podium' isn't quite the correct product description, however, as the #1 actually had a gloves-off melee with Marc Marquez (Repsol Honda Team) that was intense, spectacular, and left both giving some fantastic reviews of the sport they compete in.
Let's rewind first. It was Bagnaia who stormed off the line to take the holeshot as the lights went out, whilst Jack Miller (Red Bull KTM Factory Racing) shot into P2. Turn 2 came and Martin made an incredible around-the-outside move to take 2nd place from Miller though, and as the riders crossed the line for the first time it remained Bagnaia, Martin, Miller, shadowed by Luca Marini (Mooney VR46 Racing Team) and Marquez in hot pursuit. Sector two came around and it was disappointment in the KTM camp though as Miller crashed out at Museum corner, by then promoting Marquez to P3. Some spirits were lifted for the Austrian manufacturer as Binder was on the move though, pushing his way past Marini to set the fastest lap and latch himself onto the back of the top 3.
With 11 laps to go, and it was a four-rider scrap for Tissot Sprint glory as Bagnaia led Martin, Marquez, and Binder respectively with Marini in a distant 5th. That didn't last long, however, as Martin lunged up the inside of Bagnaia to take the lead away from the Ducati Lenovo rider. The number 89 then began to put the hammer down and pulled out 0.7s in just one lap. From there on out, he was untouchable. For the fight behind, a different word should be sought.
Marquez and Binder were queuing up behind Pecco, and a big reshuffle at the Dunlop chicane saw Binder take full advantage to go into P2, demoting Bagnaia to P3 and Marquez to P4. Marini then caught the battle as Bagnaia was struggling to hold onto the pace of the leaders, and it became a four-rider scrap. But Binder decided he was out, and the KTM started to edge away.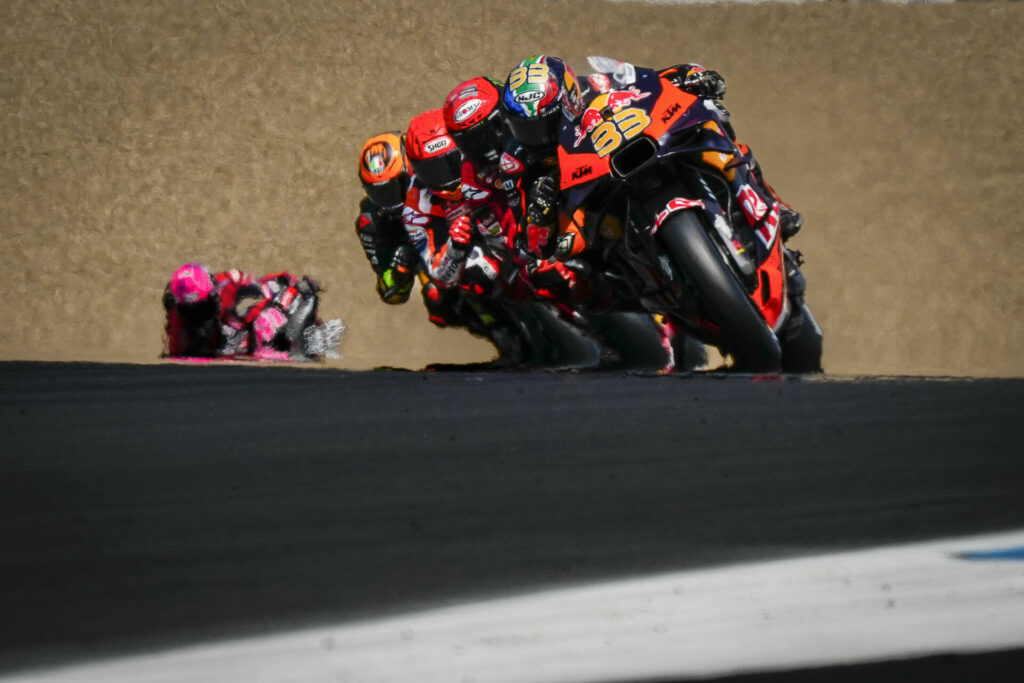 Marquez pushed his way through at the Dunlop chicane with 8 laps to go, seeing Bagnaia drop to 5th behind Marquez and Marini. With the Italian clearly struggling he did his best to cling on, and snapped straight back at Marini. Next target: Marquez. Bagnaia was coming back at it, and made a move on the eight-time World Champion at the 200mph Turn 1 with 4 laps of racing still remaining.
The Italian then put the hammer down, and Marquez was unable to hang onto the coattails of the factory Ducati as the Spaniard faded slightly into the clutches of Marini. Martin crossed the line to take his first Sprint win as well as his first Grand Prix points at Le Mans, bouncing back in style as Binder took second to gain in the title fight, ahead of Bagnaia completing the podium.
After Bagnaia pulled away from the pack to defend his top 3, Marini got the better of Marquez to take 4th place. Johann Zarco (Prima Pramac Racing) was all over the rear of the battle for 4th in the last couple of laps, but lost ground after a crucial mistake in the closing stages halted his progress and saw the Frenchman settle for 6th.
Meanwhile, further back there was a gaggle of riders swapping paintwork as Marco Bezzecchi (Mooney VR46 Racing Team) got the better of the chasing Aprilia Racing riders of Aleix Espargaro and Maverick Viñales to take 7th place with the Aprilias 8th and 9th respectively. Takaaki Nakagami (LCR Honda Idemitsu) completed the top ten.
The tough home Grand Prix for Fabio Quartararo (Monster Energy Yamaha MotoGP™) continued as the Frenchman crashed out of the Sprint to the dismay of the home crowd. Rider perfectly ok. He'd made an absolutely charge up from 13th on the grid, but lost the chance to move forward to the podium battle.
If Saturday's action at the SHARK Grand Prix de France is anything to go by, you do not want to miss any of the action on Sunday's billing as the race gets underway at 14:00 local time (GMT +2)! Join us for more tomorrow!
QUOTES
JORGE MARTIN: "I finally made it. I'm super proud of my team, and proud of myself because I've finally come back to the first position. It's been a long time. it's only a Sprint race but at least I got that feeling of the leading of not making mistakes and keeping the hammer down. Making that gap with Brad wasn't easy but finally, I could make those two laps a bit more relaxed and yeah, I enjoyed a lot those last corners to finish in first position!"
BRAD BINDER: "I knew this start was everything. If I could get a decent launch off the line, cut my way through, and just hang with the boys at the beginning I knew I could probably bring it home in a decent spot. So I gave my best out there today, I need to say thank you to my team they did an incredible job again. It's clear what we can improve for tomorrow, so I'm really looking forward to it. I think we can do a much better job in the long race."
QUOTES: BAGNAIA & MARQUEZ WEIGH IN
PECCO BAGNAIA: "The battle was fun, I was enjoying it, it was quite aggressive but it's the way I like to race. So I don't understand the way they judged it because two weeks ago I got a penalty. And I'm NOT asking for a penalty for Marc, I'm just asking why I got one, it was normal like mine was. I think it's correct to follow this line! It was aggressive but I like it. Battles have to be aggressive, for me. I'd like to continue like this.
"When there's contact you're upset in that moment, with the adrenaline and tension. But for me the battles like this is normal and we have to keep it like this."
MARC MARQUEZ: "For me we must stop speaking about these small things and overtakes. I spoke with Pecco and he wasn't angry at me. More upset because he was penalised in Jerez and I wasn't here. They're different actions but… guys, this is MotoGP. It's my 11th year in the category, I think. If you want to overtake it'll always be a close overtake and I think it's what the fans enjoy.
"Yesterday the Stewards were in the Safety Commission and I gave my opinion. My opinion on this year is that everything that's happened in the races has been a racing incident – the only one that should be penalised was my one in Portimao, because it was a big mistake! That one must be penalised. The rest were racing incidents and what happened today at Turn 3 was completely normal."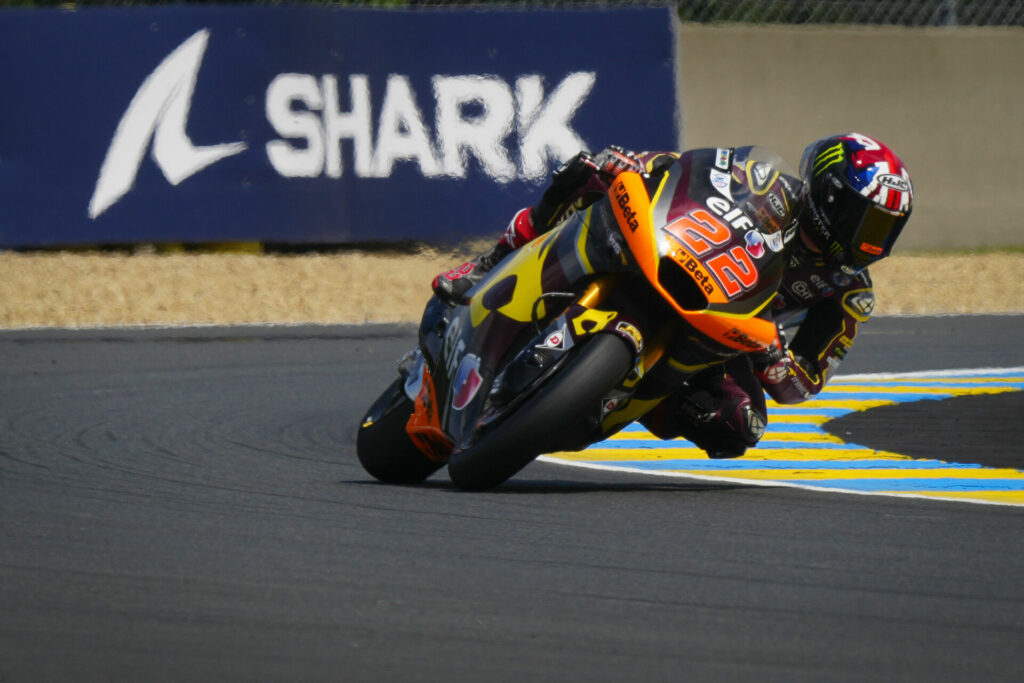 Lowes doubles down with second pole in two races, ahead of  Lopez and Arbolino
Another race weekend, another record for Sam Lowes (Elf MarcVDS Racing Team)! The Brit followed up his demolition of the opposition in Jerez to take pole position at Le Mans, a couple of tenths clear. Alonso Lopez (Lightech SpeedUp) put in a strong effort to take P2 whilst the Marc VDS squad put both their riders on the front row with Tony Arbolino (Elf MarcVDS Racing Team) snatching P3.
Lowes' lap record came in with a few minutes left on the clock, but neither Lopez nor Arbolino could topple it.
Where's Pedro?
Now the Championship leader by virtue of his two wins to Arbolino's one, and the two equal on points, Pedro Acosta (Red Bull KTM Ajo) starts off the front row in France… but not by too much. He's just behind another impressive performance from Filip Salač (QJMOTOR Gresini Moto2™), with Celestino Vietti (Fantic Racing) sixth but stealing some limelight with a stunning save.
Somkiat Chantra (IDEMISTU Honda Team Asia) fronts the 3rd row of the grid ahead of Jake Dixon (Inde GASGAS Aspar M2) who crashed out of Q2 to finish in P8 ahead of Manuel Gonzalez (Correos Prepago Yamaha VR46 Mastercamp), with Barry Baltus (Fieten Olie Racing GP) rounding out the top 10.
The Moto2™ riders' attention now turns to the race on Sunday, make sure not to miss any of the action as it commences at 12:15 local time (GMT +2)!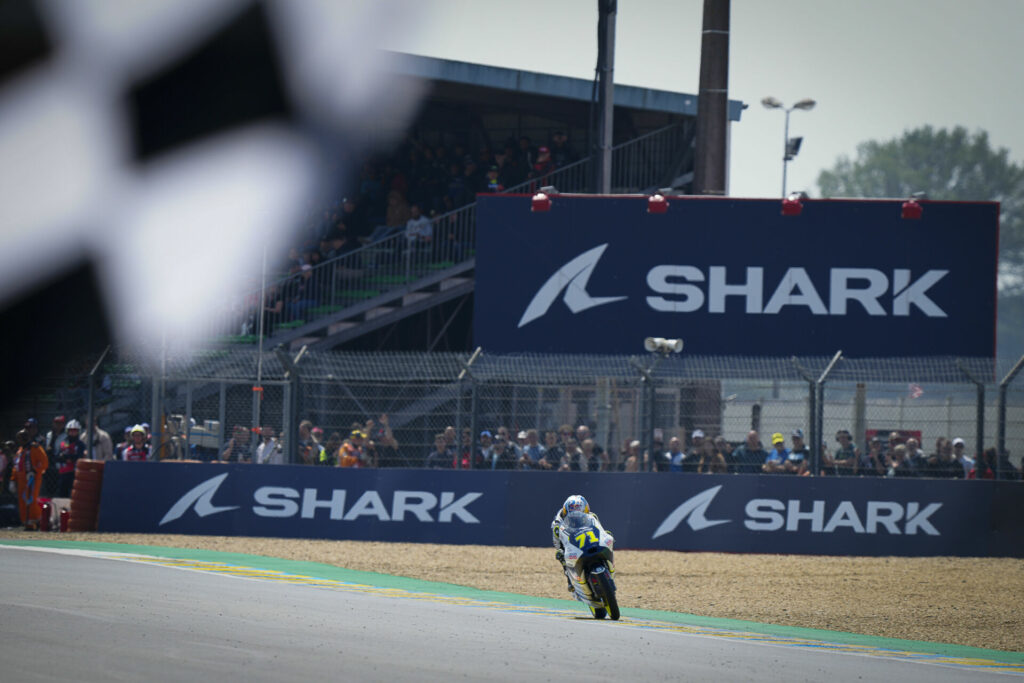 Sasaki snatches pole from Moreira and Holgado
Ayumu Sasaki (Liqui Moly Husqvarna Intact GP) is back on top! After early season speed halted by some Sunday misfortunes, the Japanese rider put big points on the board in Jerez and backed it up with another pole position. He heads the field by three tenths, with Championship rivals Diogo Moreira (MT Helmets – MSI) and Daniel Holgado (Red Bull KTM Tech3) alongside.
Sasaki led the way as the riders came back to the pits for their final runs for a chance at pole, and the fast laps came flying in as the clock ran down. Andrea Migno (CIP Green Power), Holgado, and Moreira tried to threaten Sasaki's time at the top but the Japanese rider held strong as he moved the goalposts by 0.4s on his final flying lap.
Moreira had a charge for pole at the end of the session but the young Brazilian fell short, still starting just ahead of Holgado, who's in third. Deniz Öncü (Red Bull KTM Ajo) snatched 4th place on the grid and despite a crash for the Migno at the end of the session, the Italian's lap time was enough for him to bag him a spot on the 2nd row as he finished 5th.
COTA and Jerez winner Ivan Ortola (Angeluss MTA Team) put himself on the 2nd row in 6th, ad the third row is made up by Jaume Masia (Leopard Racing), Xavier Artigas (CFMOTO Racing PruestelGP), and Romano Fenati (Rivcold Snipers Team), as the rookie Syarifuddin Azman (MT Helmets – MSI) rounds out the top 10.
Make sure not to miss any of the Moto3™ action set to commence on Sunday at 11:00 local time (GMT  +2)!