FIRST PERSON/OPINION:
By Nick Ienatsch
Despite racing motorcycles since 1989, I never possessed my racebike. Sure, I owned a few of my TZ250s but they never lived at my house, always staying with my tuner Steve Biganski or at Zero Gravity. We'd meet at the track, race, and then go our separate ways. The other bikes I raced in Willow Springs, WERA and AMA Pro competition belonged to the shops that built them.
Lately I've raced Rusty Bigley's Spondon TZ750, Chris Carr's GPz550 built by Hypercycle's Carry Andrew, Carry's Z1, and most notably a trick Honda NSR250 built by Speedwerks's Steve Long and crew.
I write "notably" because Steve Long and I have enjoyed amazingly similar motorcycle lives even though we live almost a continent apart; we grew up in motorcycling together but separately. Steve places "consistently fast lap times while looking pretty" as the top priority of his builds and loaned me his NSR250 for the AHRMA finals at Barber a few years ago; since he wasn't there, I tuned and rode it. It was a blast.
On the phone from Barber I told Steve about my desire to "have my very own racebike" someday. "What would you want?" Steve asked.
Great question, so I made a list:
–Something I could maintain myself
–Something that started with the push of a button
–Something that fit into an AHRMA (ahrma.org) class
–Something on 17-inch wheels for good tire selection
–A balance of entry speed and exit horsepower
–Something I could afford…and afford to crash
–Something reliable so I could actually ride, not constantly repair
During discussions the choice became clear: A 1989-1993 Yamaha FZR600. I'd successfully raced one at Willow and in AMA Pro. They were tough, fairly well-balanced, affordable, are now AHRMA legal…and Speedwerks had "a pile of that crap sitting around," according to Steve.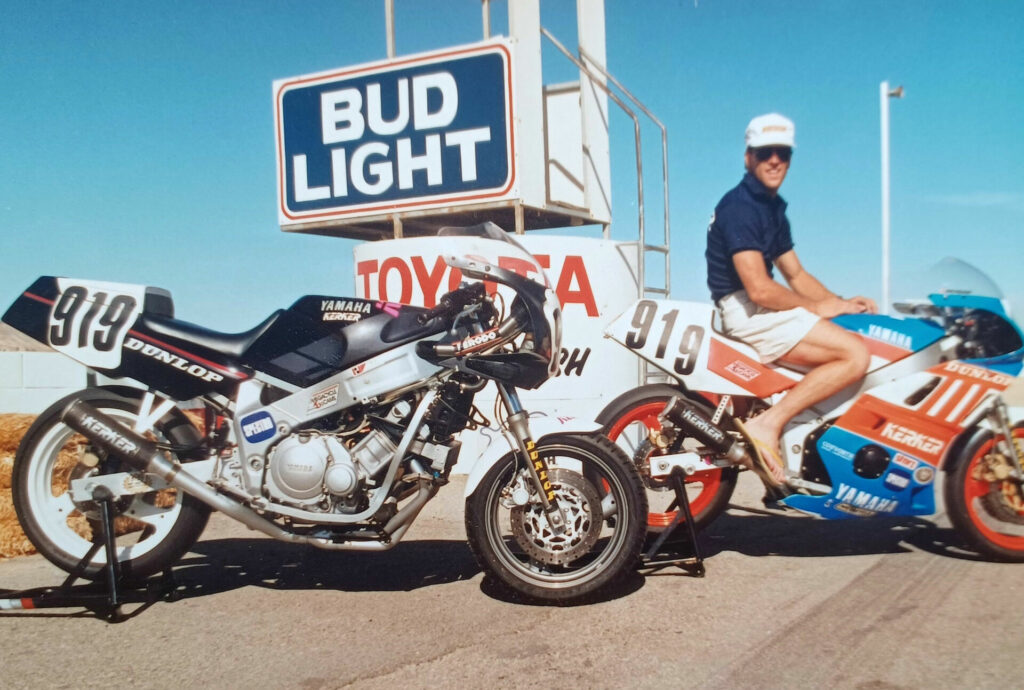 A Plan
A simple plan was devised. Speedwerks would get me started on the FZR600 and I would finish it in my very own garage.
Steve had questions about what prep Speedwerks should do and what I could do.
"Can you assemble a stock engine?" he asked.
"No."
"Can you do the transmission?"
"No."
"Can you modify the stock forks?"
"No."
"Can you install aftermarket bodywork."
"Good Lord, no."
Fairly quickly Steve realized the direction of the build and asked, "Well…what can you do?"
Another good question. Truthfully, there's nothing I can do in my garage better than the Speedwerks crew. However, I can clean parts, paint with a spray can, safety-wire stuff despite constant drill-bit breaking, change tires and oil, adjust valves unless the cams need to come out, bleed brakes, unbolt and bolt stuff, install chains, lubricate and maintain pieces and parts. I had to admit that my main mechanical strong point is enthusiasm.
It was a pretty short answer. "Not much" is how Steve summed it up. We laughed. We laugh about a lot of things.
"OK," Steve sighed. "We'll get you started with something."
"I Threw Together a Bunch of Crap"
Steve's friend Josh Deery knew of a worn and inexpensive FZR600 racebike in Pennsylvania so Speedwerks's shipper Simon Tack grabbed it. It was a great find, but the crew soon discovered the engine was "beyond tired." Steve, with a few phone calls, found another FZR in North Carolina and that bike's stock engine had good compression and the stock carbs and airbox were intact and functional. We decided not to mod anything, just run it stock for reliability.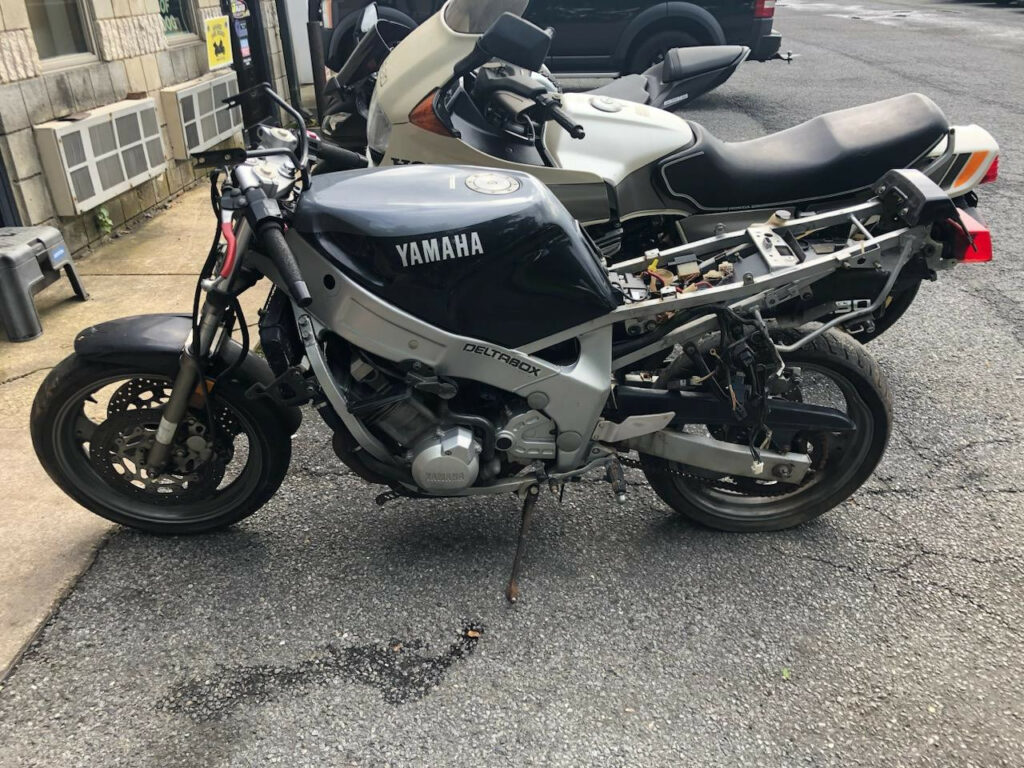 Then Steve's crew of son Seth and Super Dave Trotter pulled the tired parts off, bolting on brand-new Beasley Composites fiberglass http://beasleycomposites.com , an old Vance & Hines header pipe matched to an Scorpion muffler that "was hanging on the wall," spliced together with extensive handywork by Super Dave.
The team swapped out the stock rear-suspension linkage dogbones for GSX-R SRAD aluminum pieces so an SV650 17-inch rear wheel would work with an Öhlins shock. Yes, an Öhlins! Gave a whole new meaning to the term "Öhlins shock" when I heard about it.
"Yeah," Steve said, "it's a GSX-R1000 shock we had here. Dave modified and resprung it to get it set-up with the right swingarm angle and ride height. What color wheels do you want? I've got about a dozen SV wheels in various colors.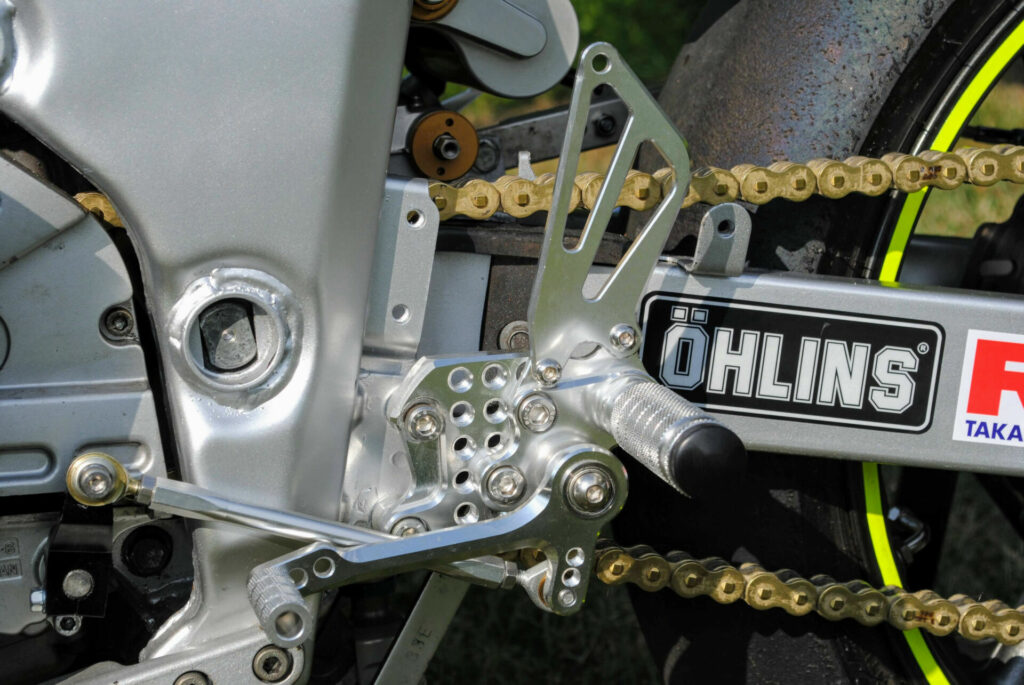 "We're using the stock forks due to budget, but Super Dave added Race Tech Emulators https://racetech.com and massaged the bottoms and rebound damping holes. We threw some 9.25 springs in.
"Had a set of early-R6 calipers out in the dumpster, so they're on the FZR now. Seth dug around in another pile of trash and found some good pads."
Those were the messages, delivered with Steve's understated sarcasm, and each of them came with a picture or two of the bike in various states of disarray. My excitement was at a fever pitch.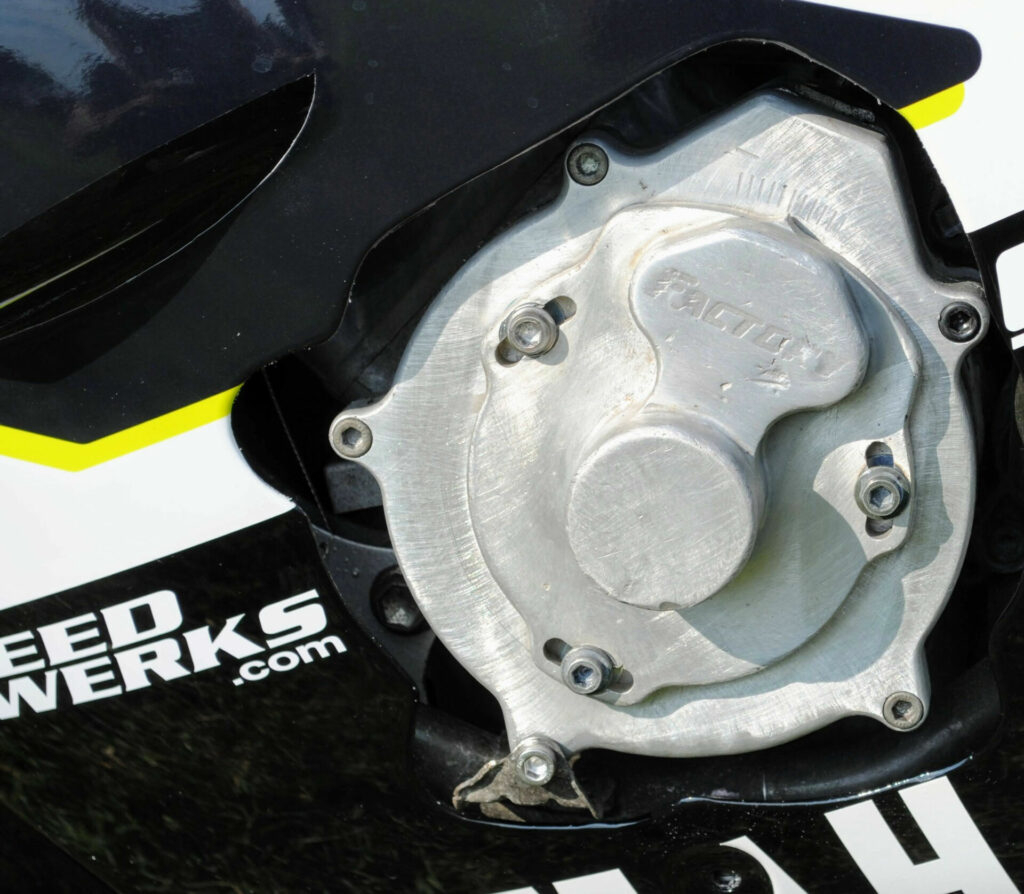 If pressed, I couldn't truthfully answer the question: "Are you more excited to work on it or ride it?" I prepared a parts list, maintenance log, and started studying videos on "how to paint bikes in your garage." The bike was still in Delaware, but I was beyond ready in Colorado.
Steve Long's Main Flaw
On a Tuesday morning I got a text from Speedwerks, "Got some pics, want to see?"
"Send them!"
Two minutes later Steve sent me a link to a photo portfolio labeled "Nick's Racebike." I literally couldn't believe it. The FZR looked stunning! Done. Ready to race. Beyond anything I ever expected and far beyond anything I had imagined or hoped for. Remember, I raced these things back in the day and they never looked this good. I couldn't stop smiling.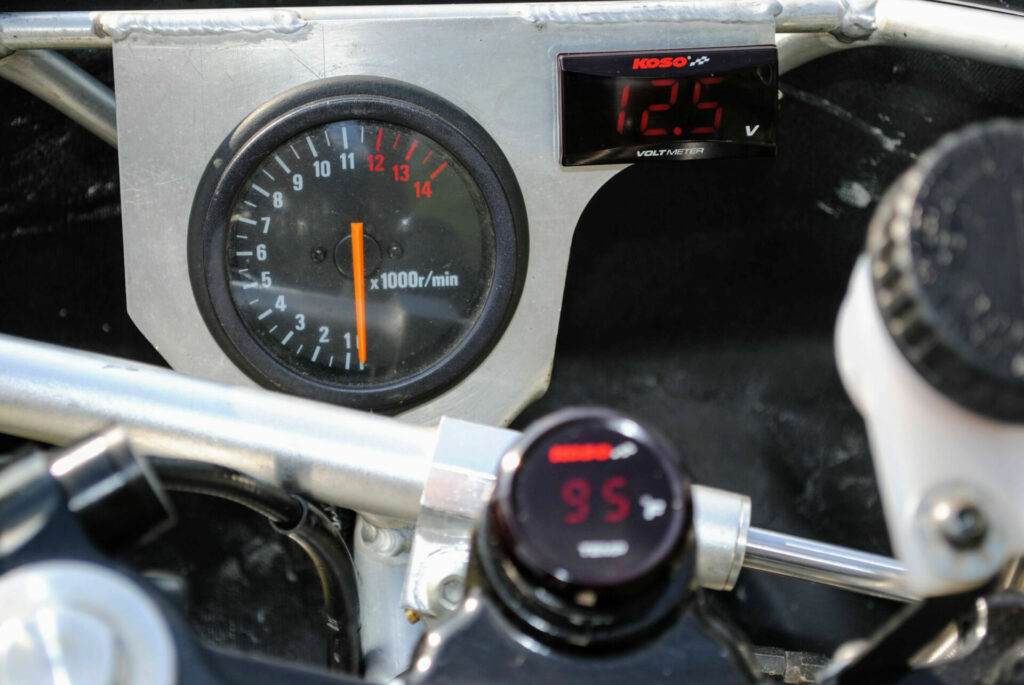 I immediately called and after stammering over the appearance of the bike, my first question was, "What happened to our plan of you starting it and me finishing it?"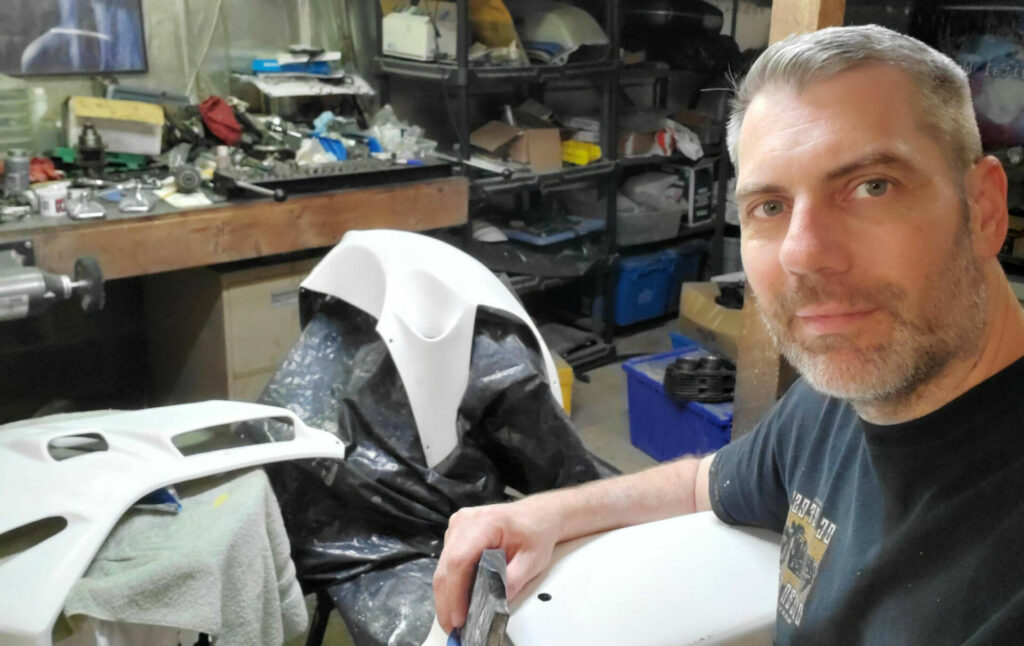 "Yeah," Steve answered, "we just got rolling on it and Dave Arnold, our painter, sprayed it grey and then I got Jeff at Inline4Designs and Print  https://www.inline4designs.xyz/ to do the graphics. You said you liked grey with a yellow highlight, so there it is."
I was speechless. My "starter kit" had turned into one of the neatest racebikes I'd ever seen. In 20 years I could not have reached this level, not only in quality but the inventiveness of the paint and graphics, the correctness of the rear suspension geometry, the overall sanitary appearance of the bike. "Yeah," said Steve with a laugh, "we can't really turn out anything half-assed around here."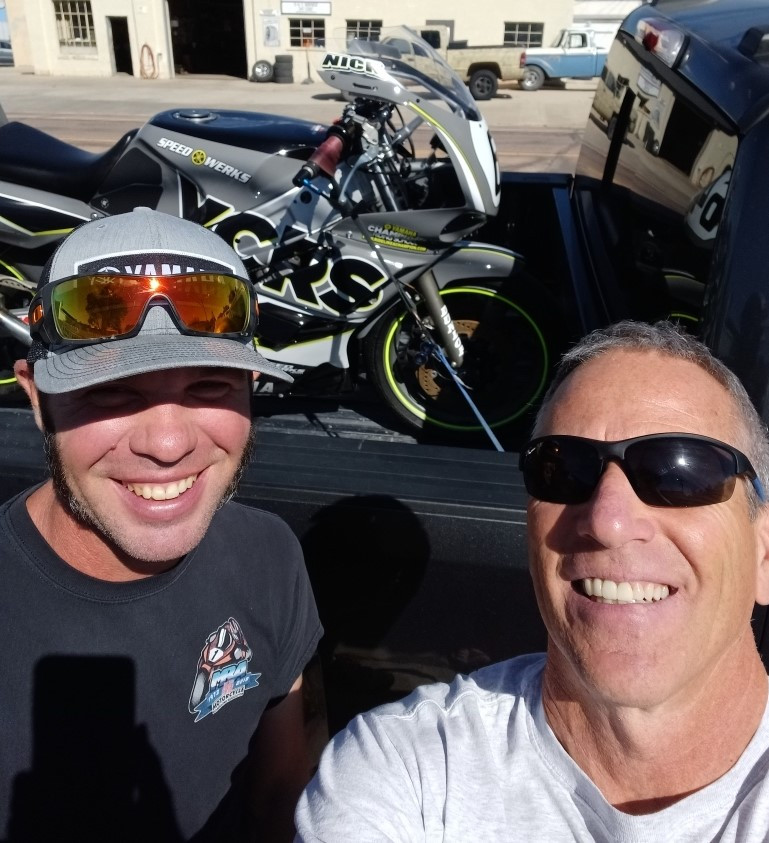 Nice to Meet You
The bike arrived in Colorado just as autumn began to turn cold. Like many of you, I have a habit of tearing down every "new-to-me" bike so the FZR came apart for the few things I could do…simple stuff but so very joyful.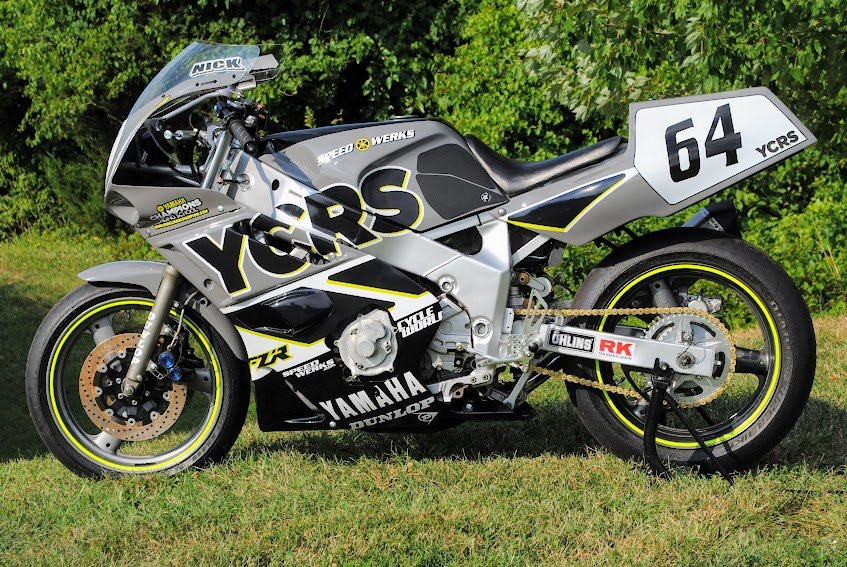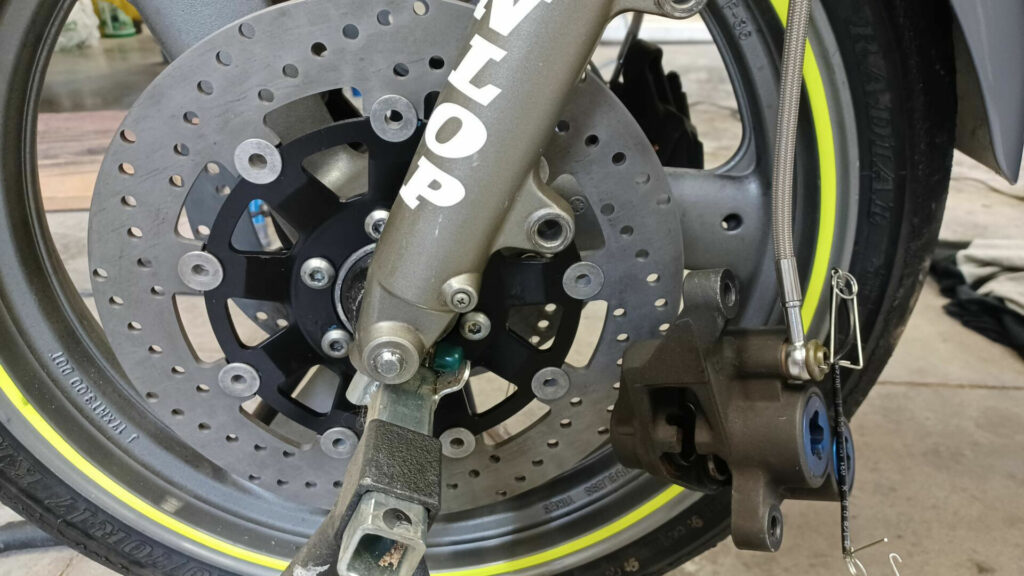 Yes, I've ridden it. Sans bodywork and on the ratty old slicks Speedwerks installed to roll it around the shop, I rode it down my gravel driveway, then two miles on a dirt road to the paved freeway frontage road for a few blasts up and down…and then up and down and up and down a few more times! It ran nicely despite the 5,000 feet of elevation. And when the Bridgestone slicks arrive and are installed, I'll sneak in a winter track day at Pueblo Motorsports Park or Pikes Peak International Raceway.
Not sure when I'll race it, but who cares? It's a treat just to be able to work on.
Skipping the Hard Part
I've written this FZR saga because this "starter kit" idea may make sense for you, too. Rather than buy a stock bike and make it a racer or buy an old racer to refurbish, have a proven shop like Speedwerks get you started.
Why? Because there are basics and details that builders like Steve Long know in their sleep; their connections are deep and proven, their decisions forged in the unambiguous world of racing. In this case, Steve cut months if not years off my dream to have my own racer in my own garage.
I'll get back to you after our first track day together…just me and my very own racebike, finally.