Army Of Darkness Ends Victory Drought With Win at Pitt Race WERA/N2 4-hour on Michelin 24s
After a devastating second place finish at Nelson Ledge, AOD rallied to take their Michelin-shod Yamaha R1 to the top of the podium two weeks later by qualifying on pole, taking the lead on the first lap, turning the fastest lap of the race (1:42.9), and finishing 3 laps ahead of second.
Lead Mechanic Melissa Berkoff explained "We had three strikes of bad luck at Nelson Ledges and lost by 8.5 seconds. So after a lot of soul searching, analysis, and team meetings, we decided to not have any bad luck at Pitt Race. That seemed to work well for us."
AOD's regular rider roster of Chris Peris, Ben Walters, and Sam Fleming was bolstered by the welcome addition of multi-time national champion Andrew Lee. Walters explained: "I had an old neck injury act up at Nelson Ledges and my right arm went numb during my stint so I couldn't open the throttle or feel the brake. The AOD physiotherapist is making big progress in getting that sorted out but I was concerned that it would act up at Pitt. Fortunately my old WERA racing buddy Derek Keyes is Andrew Lee's crew chief and Andrew came out to help us out. He fit in with the team immediately, rode great and is welcome back anytime!"
Lee, Peris and Walters had a practice pace that was over two seconds a lap faster than the
endurance pace from 2019. Crew chief Tim Gooding offered: "The new Michelin 24 rear slicks (named for 24 hour races ) are really fast but with the increased drive off the turns I knew we'd be carrying more speed up to the next turn. We decided at the start of the race, in an abundance of caution, to change our front Power Performance Soft tire mid-race to ensure that we'd be the fastest bike on the track for the whole race. Dual tire changes are tricky with the crew limit (4 people) as we have to fuel as well but we nailed the stop and Peris and Lee were both faster in their second stints than they were in their first stints!"
AOD had stretched the lead to 55 seconds with seven minutes left in the four-hour race when the chasing second place bike ridden by Taylor Knapp suffered a total brake failure, sending Knapp crashing off the track at high speed. That unfortunate accident yielded a three lap margin of victory for AOD at the checkered flag.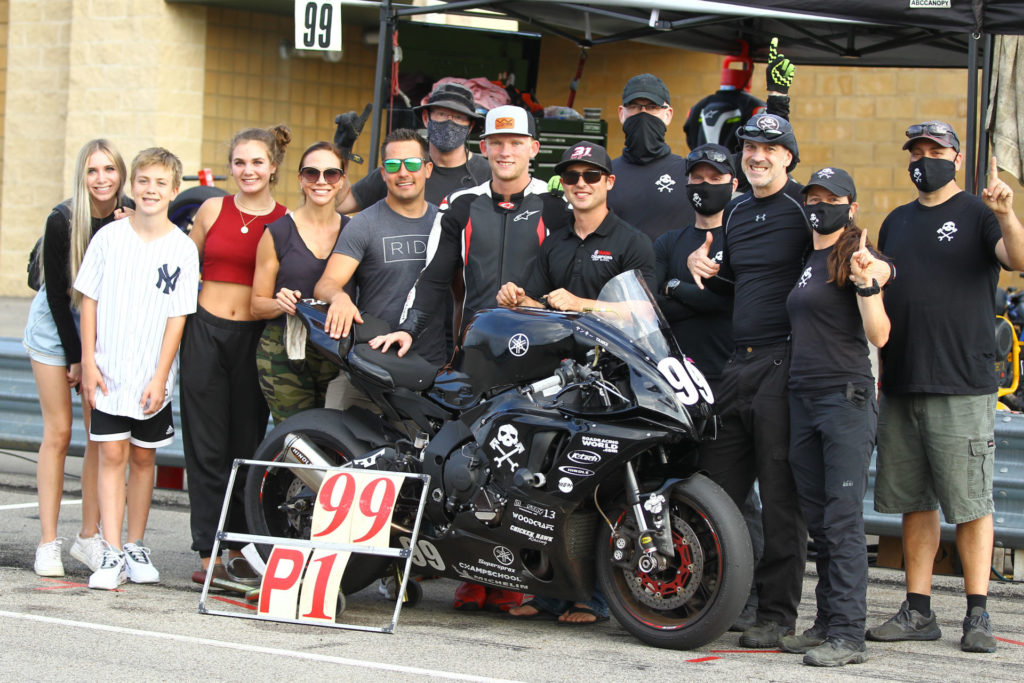 AOD is sponsored by: Army of Darkness, Yamaha Champions Riding School, Yamaha,
Michelin, Chicken Hawk, Wood Craft, Hindle, K-Tech, Fast Frank Racing, Supersprox,
Thermosman, N2, Industry13, WERA, Roadracing World.
More, from a press release issued by N2 Racing:
Army of Darkness Wins Overall at N2/WERA National Endurance at Pitt Race.
Media PA, – September 2020 – Army of Darkness returned to their winning ways at Pitt Race with riders Chris Peris, Andrew Lee and Ben Walters during the 4-Hour N2/WERA National Endurance Race. Mi Scusi SDK won the middleweight class and Team Meat came out on top in lightweight. The 2-hour Ultralight Endurance was won by Chasing Shade Racing.
Army of Darkness does not like to lose. After finishing second to Twisted Speed at Nelson Ledges, the team analyzed their performance of their Yamaha YZF-R1 and made appropriate changes to insure victory. Ben Walters had issues at Nelson with an old injury that caused arm pump. The team decided to bring in multi-time MotoAmerica National Champion, Andrew Lee to help with riding duties and take some of the load off Walters. The trio was obviously effective, winning by more than three laps over Twisted Speed riders Taylor Knapp and Hayden Gillim.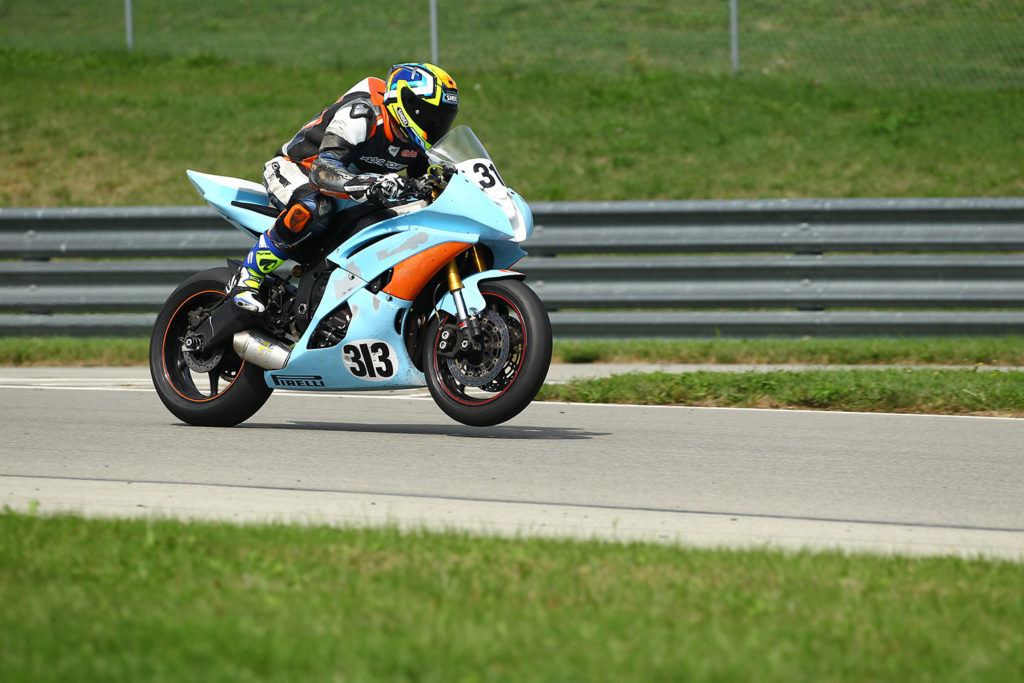 Mi Scusi SDK had a race long battle with Topbox Road Racing in the middle weight class and won by only 2 seconds on their Yamaha YZF-R6. Team Meat on a Suzuki SV650, finished the lightweight class more than 2 laps ahead of 419 Racing.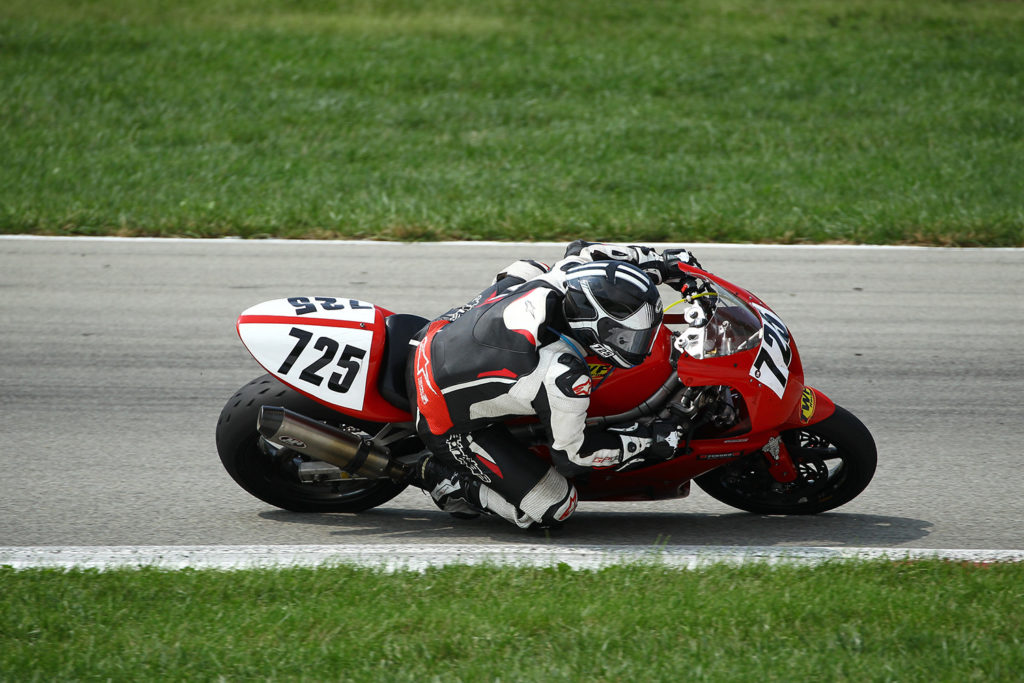 In the 2-Hour Ultralight Endurance race, Chasing Shade Racing used their Nitron sponsored Kawasaki Ninja 400 to pull out a lead of over a lap on Sizzle Maniac Racing to cruise home to an easy victory.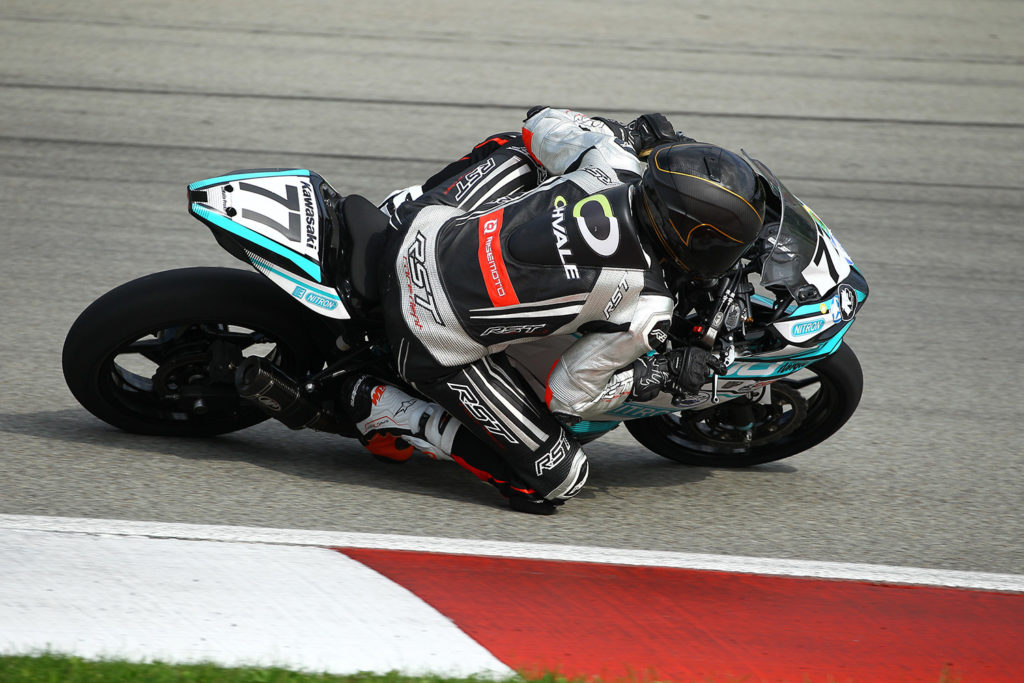 In all, more than 30 teams competed in Round 4 of the N2/WERA National Endurance Series. The final round will be held at Barber Motorsports Park on Oct 22nd during the WERA Grand National Finals.
About N2 Track Days:
N2 provides a structured riding environment for sport-bike riders of all levels promoting motorcycle safety through instruction on a closed course racetrack. Our instructors and coaching staff are comprised of club-racers, pro racers, and experienced track day riders who are articulate and passionate about all aspects of this sport. N2 strives to provide an enjoyable riding experience in an environment where members can hone their skills and inspire confidence in their riding ability. Riding with N2 means you and your sportbike gain access to a structured environment without the hazards, limitations, distractions and obstacles that you'll find on the street.
N2 Track Days is proudly sponsored by:
Yamaha Motor Corporation USA,  AGV / Dainese, Armour Bodies, Chicken Hawk Racing, Impact SafeT Armor, Pirelli Moto Tires, Renthal, Trackside Tires, Woodcraft, Ohlins and Yamaha Champions Riding School.
For Information: N2 Track Days – www.N2td.org
More, from a press release issued by Mi Scusi SDK:
WERA/N2 Endurance: Mi Scusi SDK Takes 1st in Class in Nail-Biter at Pitt Race 4-Hour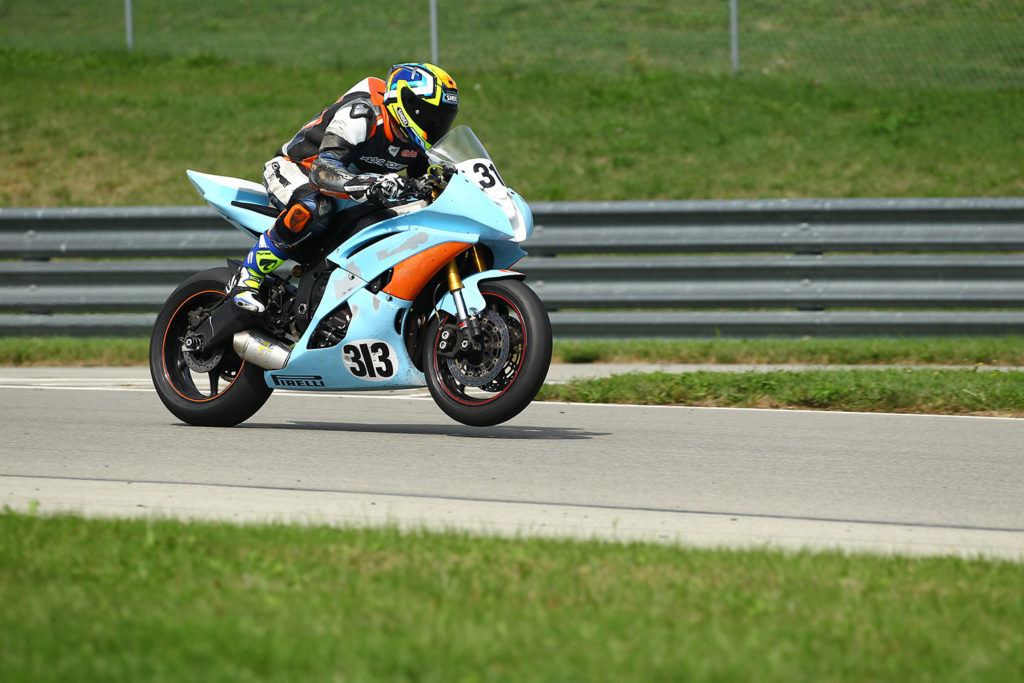 The weather cooperated beautifully for racing on Saturday for Round 4 of the WERA/N2 Endurance Challenge at Pitt Race.  Starting on the front row of the grid, Mi Scusi lead-off man, Sloan West, had another outstanding start, beating the 1000s into Turn 1.  At the end of the first hour, Mi Scusi held 4th position overall and top middleweight.
West was joined by Chris Kubricky, Thomas McQuigg and Scott Covington with John Hvizdak providing crucial help in the pits (cheesecake bribes once again, turtle this time).
While West pitted for fuel at the one hour mark, fellow championship contender Topbox Road Racing erased the deficit utilizing their larger tank and gained their own. Chris Kubricky rode smart, keeping the gap stable in the second hour and Topbox's first pit narrowed things yet again. Mi Scusi went back into the lead when Thomas McQuigg made good use of a new, super sticky Pirelli rear tire, but lost it at the end of the third hour with a third pit stop while to that point Topbox had only made two.
The final hour saw a return to race action for Scott Covington, who exited hot pit separated only by armco from the Topbox machine coming through Turn 1. The scene was set for a final sprint to the finish in the last hour.  Over the next 45 minutes, Covington rode through lingering back pain and rust, but was unable to prevent Topbox from opening up what looked like an insurmountable 20 second advantage. Mi Scusi team captain, Melissa Emory, remained unfazed and pointed out the gas math for Topbox equaled a likely last second splash and go. Sure enough, Topbox was forced to come in and the final two frenzied laps ended with Covington holding on to take the win by just 2.095 seconds after four hours of continuous racing!
The finish marked the second victory and the fourth podium of the year for Mi Scusi (but don't tell Scottie, because) SDK.
Mi Scusi would like to congratulate Topbox on a heck of a race that was a lot of fun.  Chris Kubricky may have commented that he was "too old for this kind of excitement."  Mi Scusi would also like to thank the fueling duo of Melissa Emory and Amanda McGlone and mea culpa for neglecting to mention it in the post-race podium remarks.
Additional thanks go to WERA and N2 for putting on a great event, Alex at Trackside Tires for providing the Pirellis, Marty Matuszak for his support of the series with a fastest lap award (and amazing photos as always), corner workers, EMTs, fellow competitors and our 2008 Yamaha R6 that was sporting shiny new welds on the tank.