More, from a press release issued by Dorna:
#PerfectComb1nation: Pecco Bagnaia is the 2022 MotoGP™ World Champion!
The Italian takes the premier class crown after a tense race in Valencia, becoming the first Ducati rider to win the title for 15 years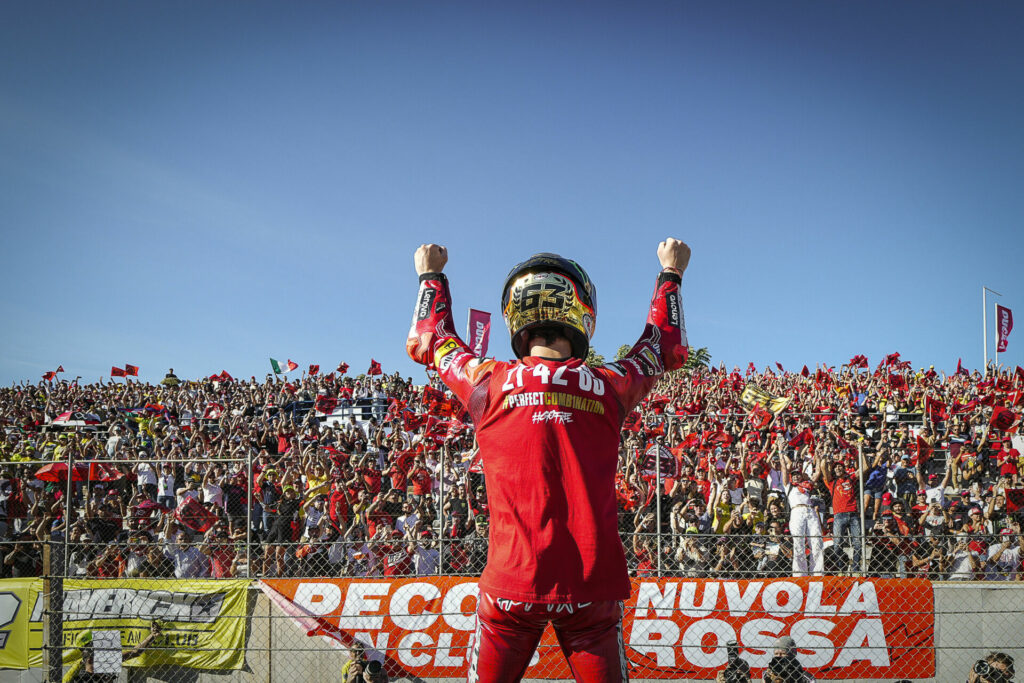 Sunday, 06 November 2022
Francesco Bagnaia (Ducati Lenovo Team) is the 2022 MotoGP™ World Champion! The incredible rollercoaster comeback is complete as the Italian came home in the top ten in Valencia to secure the crown, having overcome a deficit of 91 points back before summer break. Bagnaia is the first Ducati rider to take the crown since Casey Stoner in 2007, the first Italian to achieve the feat since Valentino Rossi in 2009, and first Italian on an Italian bike since Giacomo Agostini in 1972.
Born in Turin, Bagnaia enjoyed MiniMoto success before going international onto bigger machinery in the then-CEV in 2011 on a 125, learning his craft before moving up to the Moto3™ World Championship for 2013. Joining the VR46 Riders Academy and then moving to SKY VR46 for 2014, the pieces were in motion before a statement season. On Mahindra at Aspar for 2015, he was the lead rider for the squad and only confirmed that in 2016 as he took the bike's first ever win – and second. The first was at Assen and the second Sepang, earning him a special treat from the team: the chance to try the MotoGP™ bike in the post-season Valencia test.
Bagnaia moved up to Moto2™ in 2017 with the new Sky Racing Team VR46 intermediate class effort and was Rookie of the Year, taking several podiums. In 2018 he then hit the ground running and was a contender for the crown from the off, with imperious form and some incredible wins seeing him take the title in Malaysia. Next stop: MotoGP™.
Despite showing impressive speed in his first outings in the premier class in testing, it was a difficult rookie year for Bagnaia at Pramac Racing. Still, a fantastic fourth place in at Phillip Island showed plenty signs of promise. 2020 proved a mixed year for the Italian, but he earned an impressive second place in the San Marino GP and a week later at the same track, he was on the verge of a maiden premier class victory until a heartbreaking crash ended his hopes. He never quite got going again in the remaining races that year, but 2021 saw him move to the factory squad and signalled the start of a whole new chapter.
Three podiums and a pole in the opening four rounds signalled the Italian as a title contender and, despite a blip in the middle of the season, he was the last remaining challenger to eventual Champion Fabio Quartararo (Monster Energy Yamaha MotoGP™) – and finished the year as the rider with the momentum. From a debut MotoGP™ win at Aragon after an incredible head-to-head with Marc Marquez to an amazing victory in Misano a week after, Bagnaia had arrived and he signed off the season with a win in Valencia, too.
2022, however, began on the back foot. A crash in Qatar, a tough race in Lombok, two fifths and an eighth signalled an unexpected start to the season, but Jerez saw the number 63 back on top in a race-long chess match with Quartararo. Then came another crash, at Le Mans, and then another win at Mugello as the Italian took the spoils on home turf. But the rollercoaster went down again as bad luck saw him take home a zero in Barcelona and a mistake caused the same at the Sachsenring. Then, Bagnaia was 91 points behind points leader Quartararo, the biggest deficit overcome to date.
The best way to stage a comeback is to start winning, and Bagnaia did just that as he took an awesome four victories in a row in Assen, Silverstone, Austria and Misano. In Aragon it was second place one year on from his first win, but it was hundredths in it as he duelled it out against 2023 teammate Enea Bastianini. Again. But the rollercoaster was in motion once more at Motegi as Bagnaia slid out on the very last lap – and from right behind key rival Quartararo, losing some ground hard-gained since summer break.
Thailand marked a huge challenge as a rainy race day gave many flashbacks of Lombok, where Quartararo has taken a podium and Bagnaia only one single point, but fortunes were reversed at Buriram as Pecco podiumed and El Diablo failed to score. Then came Australia and a crash for Quartararo as Bagnaia once again got back on the box, before a tense, tense first match point at Sepang.
There, it was once again Bagnaia vs Bastianini. All race long the two went toe-to-toe, with all eyes on the duo who will share the factory garage next season. But this time it was the number 63 who kept the nerves under control and the upper hand on track, taking his seventh win of the season to pull out a 23-point lead as Quartararo put in an impressive stand with a podium.
And so, #TheDecider had arrived. Two riders, 23 points, and one crown. It was a nervy weekend for Bagnaia at times but once the lights went out, the track lit up with an incredible race to sign off an era of Grand Prix racing. Quartararo was pushing to get to the front and it got heated for a few tense, gloves-off laps between the Frenchman and the Ducatis – and a few more – but as the race went on the result seemed set: Quartararo had to win to retain the crown, and win he would not. Bagnaia, having lost some aero in a tangle with the Frenchman, kept it calm but slipped back in the top ten once that became clear – and crossed the line in ninth to crown himself 2022 MotoGP™ World Champion.
Complimenti, Pecco! #GoFree and fiesta!
#PerfectComb1nation IN STATS
Francesco Bagnaia is the first Italian rider to clinch a premier class world title since Valentino Rossi in 2009. Overall, he is the seventh different Italian rider to do so along with Giacomo Agostini (8), Valentino Rossi (7), Umberto Masetti (2), Libero Liberati (1), Marco Lucchinelli (1) and Franco Uncini (1).
Bagnaia's title is the 21st in the premier class for Italy and the 80th overall in Grand Prix racing.
Bagnaia became the second Ducati rider to take the premier class world title along with Casey Stoner in 2007.
Aged 25 years and 296 days old, Bagnaia is the oldest rider to clinch his maiden MotoGP™ world title since the introduction of the class in 2002. Nicky Hayden in 2006 is next: 25 years and 91 days old.
Bagnaia is the first Italian rider on an Italian bike to win the premier class title since MotoGP™ Legend Giacomo Agostini in 1972 with MV Agusta.
At the 2022 San Marino GP, Bagnaia took a fourth win in four successive GP races, becoming the first ever Ducati rider to do so in any class of GP racing. Since the introduction of MotoGP™ in 2002, Bagnaia became the fourth different rider to take four (or more) wins in four (or more) successive races in the class along with Valentino Rossi, Jorge Lorenzo and Marc Marquez.
With 11 premier class wins, all with Ducati, Bagnaia sits in third place on the list of Ducati riders with most wins in the class behind Casey Stoner (23 wins) and Andrea Dovizioso (14).
With 20 premier class podiums so far, Bagnaia is the fifth Ducati rider with most podiums in the class, behind Jack Miller (21 podiums). Casey Stoner leads the way with 42 podiums.
This season Bagnaia has stood on the MotoGP™ podium more than any other rider (10 times), including seven wins. Only two Ducati riders have scored seven (or more) wins in a single season: Casey Stoner (10 in 2007) and Bagnaia (2022).
After the German GP, Bagnaia was sixth in the Championship, 91 points off the leader Fabio Quartararo, meaning this is the best point recovery to take the crown since the introduction of the point scoring system in 1993.
Since 2001, there have been only two occasions on which the rider who clinched the title at the end of the year didn't finish within the top five in the opening race of season: Joan Mir (2020) and Francesco Bagnaia (2022); they both crashed out.
Bagnaia also became the first rider to clinch the premier class title despite five DNFs throughout the season.
Bagnaia is only the second rider to clinch the premier class world title having previously clinched the Moto2™ title, along with Marc Marquez.
QUOTES
PECCO BAGNAIA
How does it feel?
"I'm very, very happy because on the day of the worst race of the calendar I've had a special sweet taste When I crossed the finish line and saw my pit board with writing saying I was the World Champion everything was brighter and nicer. My emotion is incredible in this moment. It wasn't easy because after the fight with Fabio I lost a winglet and from that moment everything was a nightmare. I've done lap by lap trying ride defensive lines, but it was very difficult, and it took so long to finish the race. I'm very proud of my team, myself and of what we did because it's incredible."
Did you think it was going to be difficult after Germany?
"Yeah, like I said one or two races ago, I lost the faith in the championship for one hour after the Sachsenring race but then after that I knew there was still a chance to be World Champion. Sincerely, the work we did this year was incredible. We performed in an incredible way in the second part of the year. We tried to analyze everything, at home also, to see what to improve, why I was crashing and I was making so many mistakes, and from that moment we've just done some incredible. I'm very happy for that because we really deserve this title."
Most difficult moment + best moment?
"The most difficult was Sachsenring, because I was very competitive like in Le Mans. I was there with a possibility to win the race, but I crashed and in that moment I realised my weak point was that. I was a rider with a lot of ups and downs, with good speed but no consistency. To accept that was not easy. From that moment I recognised I had a problem and I tried to improve myself, also thanks to the people at home that worked with me everything day and helped me a lot. I think I improved myself a lot this season."
On Ducati's long wait:
"I saw many faces crying, and it was incredible. I was crying too. It was an amazing victory because I was feeling the weight on my shoulders to give back this title to my team, to Ducati, and to Italy. When I spoke to Vale, he said to me yesterday that you have you be proud to have this possibility, not everyone can have the same feeling. It's true that you feel the pressure, you feel anxiety, you feel fear, but you have to be proud of it, be happy to have it, and try to enjoy it. I tried to do it, and today in fact it didn't work but sincerely I'm very happy to think who we have as a mentor and leader.
BIOGRAPHY
First Grand Prix: Qatar 2013, Moto3™
First pole position: Silverstone 2016, Moto3™
First podium: Le Mans 2015, Moto3™
First victory: Assen 2016, Moto3™
Grands Prix: 172
Victories: 21
Podiums: 43
Pole positions: 18
Fastest laps: 14
World Championships: Moto2™ (2018), MotoGP™ (2022)
More, from a press release issued by Dorna:
That's a wrap: history made & Champions crowned in a dramatic decider in Valencia
Rins wins in an emotional farewell for Suzuki, Binder storms to second, Martin completes the podium… and the tense finale to the Championship sees Bagnaia secure the crown and Quartararo go out swinging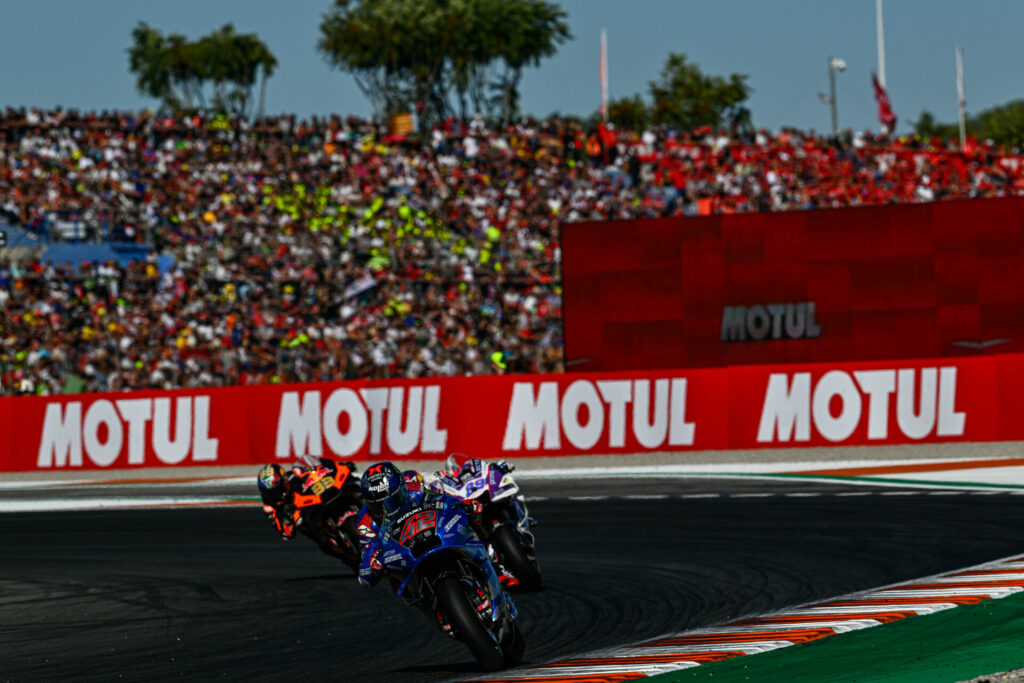 Sunday, 06 November 2022
It was tense, it was close, it was emotional and it was a stunning finale for the 2022 season. As Ducati Lenovo Team's Francesco Bagnaia took the crown with ninth place and Fabio Quartararo (Monster Energy Yamaha MotoGP™) came home fourth, it was Alex Rins (Team Suzuki Ecstar) who gave the Hamamatsu factory an emotional send off with a stunning final victory in blue. Brad Binder (Red Bull KTM Factory Racing) came to within one single point of the top five overall as he absolutely stormed to second, with Jorge Martin (Prima Pramac Racing) completing the podium from pole.
Rins qualified on the middle of Row 2 but made a brilliant start and led the field to the first corner, ahead of pole-sitter Martin and Jack Miller (Ducati Lenovo Team). Quartararo took a wide berth at the Turn 2 braking zone, emerging behind Marc Marquez (Repsol Honda Team) and in a battle for fifth with none other than Bagnaia. When Marquez attacked Miller for third on the opening lap, Quartararo squeezed his Yamaha down the inside of the Australian's Ducati at Turn 8 as well, and he was up to fourth.
Miller hit back at the start of Lap 2, forcing Quartararo to pick up his YZR-M1 at Turn 2 with a pass which incentivised Bagnaia to also have a look. The title contenders made contact which pulled a wing off the factory Ducati in a sudden pulse of adrenaline, but Bagnaia was ahead of his key rival. It stayed that way until Lap 4, when Quartararo was down the inside at Turn 6 and back into fifth – but facing a task to catch the top four.
In said top four, Miller moved back into the podium positions when he passed Marquez on Lap 6 at Turn 1, before the eight-time World Champion crashed out altogether four laps later at Turn 8. In the meantime, Quartararo had shaken Bagnaia, who, due to some combination of caution and the damage from his contact with 'El Diablo', was on the fade. He had already been overtaken for sixth by Brad Binder when he gave Joan Mir (Team Suzuki Ecstar) an easy position on Lap 13 at Turn 14.
Up the road, Rins was trying to break away but the rest of the top five was compressing, which was both good and bad news for Quartararo given he was running fourth with a KTM ridden by Binder catching up. The Frenchman braked as deep as he dared at Turn 1 at the start of Lap 18 to try and keep the South African behind, but ran wide and was picked off by Binder at Turn 2.
Meanwhile, Miguel Oliveira (Red Bull KTM Factory Racing) was also through on Bagnaia, and soon Luca Marini (Mooney VR46 Racing Team) was as well. Enea Bastianini (Gresini Racing MotoGP™) then caught up to his future teammate too, and while there was plenty said ahead of the weekend, Pecco left a humongous gap at Turn 2 on Lap 22 to give it to 'La Bestia' and save himself any possible trouble.
It was more dramatic in the battle for the podium places, with Binder going past his own future teammate, Miller, on Lap 23 at Turn 2, then setting after Martin. Halfway around the lap at Turn 11, Miller's last race with Ducati came to a premature end when he crashed out, handing over fourth spot to Quartararo again.
Rins had not quite been able to drop the field like he might have hoped, but was still nine tenths of a second to the good when Binder overtook Martin for second at Turn 4 on the penultimate lap. The South African threw a few more kitchen sinks at it but they would take the chequered flag 0.396 seconds apart as Rins delivered the final win for Suzuki in its current stint in MotoGP™, with Binder P2 and Martin getting home just over a second from victory. Quartararo was nine tenths further back after a valiant fight to the flag.
Oliveira would pass Mir for fifth, with the 2020 World Champion therefore classified sixth, ahead of Marini and Bastianini. Bagnaia found himself under pressure from Quartararo's Monster Energy Yamaha MotoGP™ teammate Franco Morbidelli in the final laps but beat him to ninth position. Marco Bezzecchi (Mooney VR46 Racing Team) finished 11th, ahead of Tech3 KTM Factory Racing duo Raul Fernandez and Remy Gardner, then Takaaki Nakagami (LCR Honda Idemitsu) in 14th and Fabio Di Giannantonio (Gresini Racing MotoGP™) in the last points-paying position. Joining Miller on the list of retirements was Johann Zarco (Prima Pramac Racing) after a crash on Lap 16, plus both the Aprilia Racing entries of Aleix Espargaro and Maverick Viñales, both the Repsol Honda Team entries of Marquez and Pol Espargaro, and Darryn Binder (WithU Yamaha RNF MotoGP™ Team).
Bagnaia can now celebrate his first MotoGP™ Championship crown, and Ducati's first riders' title in 15 long years, but before the off-season, we have the Valencia Test back at the Circuit Ricardo Tormo on Tuesday. Farewell to those off to pastures new, those retiring for a third time, those heading for the intermediate class… and good luck to everyone taking on new challenges next season. First, the Awards. Then, the tests. And then? Sprint races are GO. Join us in March as Portugal hosts the first Grand Prix of a new era… we can't wait!
MotoGP™ PODIUM
1 Alex Rins (Team Suzuki Ecstar) – Suzuki – 41'22.250
2 Brad Binder (Red Bull KTM Factory Racing) – KTM – +0.396
3 Jorge Martin (Prima Pramac Racing) – Ducati – +1.059
ALEX RINS
"Amazing amazing. You know, to finish the season with Suzuki leaving, we cannot finish better. I mean, P1, I'm so, so proud. I've learnt a lot with Suzuki in these years. Starting a new chapter in my life now but thank you guys. I'm so happy!"
FABIO QUARTARARO
Describe to us your emotions today:
"Yeah it was a tough race, especially on the left side of the tyre. I did my 100% but it was not enough today to fight for the podium or even the victory. A bit disappointed but congratulations to Pecco for his title."
Was it all decided on the opening laps?
"Especially today it was hotter, and the front tyre on the left side was completely soft so that was part of the reason we lost the race."
How has it been battling over the last few GPs?
"Pecco made an amazing second part of the season. We knew that the Ducati was the fastest bike on the second half of the season, well also during the first one, but he was the fastest of them so congratulations to him and I can't wait until Tuesday to try our new bike."
Acosta seals Rookie of the Year with victory as Fernandez follows him home to secure the crown
A Red Bull KTM Ajo 1-2 ensures the two riders take their spoils this season as Ogura and Lopez crash out and Arbolino completes the podium
In a tense Moto2™ showdown in Valencia, Red Bull KTM Ajo ruled. Pedro Acosta came out on top to win the final race of the season and secure himself the title of Rookie of the Year, and teammate Augusto Fernandez shadowed him home to become the 2022 Moto2™ World Champion. Ai Ogura (Idemitsu Honda Team Asia) crashed out of second place on Lap 8, after which Fernandez went full gas for an attack on the win but couldn't quite overhaul Acosta. Tony Arbolino (Elf Marc VDS Racing Team) led for much of the 25-lap race but would eventually complete the podium at the Circuit Ricardo Tormo.
Alonso Lopez (Beta Tools Speed Up) took the early lead from pole position, ahead of Acosta, Arbolino, and Ogura, who started the weekend trying to overhaul a 9.5-point deficit in the Championship. Fernandez took up fifth initially but lost the spot when Fermin Aldeguer (Beta Tools Speed Up) made an aggressive move at Turn 5, and that was certainly not the only aggression in the opening stages.
Acosta passed Lopez as they started the second lap, but the pole-sitter dived straight back at him at Turn 2, making contact as he took both well wide. Lopez would be handed a conduct warning for that but the bigger implications were Arbolino assuming the lead and Ogura second place as Fernandez was fifth – meaning the latter led the Championship, as live, by just half a point.
The battle between Lopez and Acosta continued until the former ran well wide on Lap 4 at Turn 8 and dropped to fifth. He had no chance to recover when he ran wide again just three corners later and then crashed out of the race, putting Fernandez's live lead over Ogura up to 2.5 points. But then Cameron Beaubier (American Racing) passed the Spaniard into Turn 1 on Lap 6.
At the end of that lap, however, Ogura barely stopped himself from clattering into leader Arbolino at Turn 14, and Beaubier was then on the floor and out of the race, giving Fernandez some breathing space again. The Championship leader trailed third-placed Acosta by about one full second on the road, and the 2021 Moto3™ Champ looked to do his teammate a favour as he tried to pass Ogura on Lap 8.
The Japanese rider was either able to re-pass immediately if not resist Acosta completely, until the knockout blow came moments later at Turn 8. Ogura suddenly crashed out and his hopes were dashed, meaning Fernandez was able to cruise to the chequered flag if he wanted to. But he didn't, and neither did teammate Acosta. The number 51 overtook Arbolino for the lead into Turn 1 on Lap 12, and Fernandez followed not long after.
The new Champion pushed him to the flag but Acosta scored the third victory of his rookie intermediate class season, with Fernandez taking second and the crown. Arbolino completed the podium for some more good form after his Sepang win.
Aldeguer was next up, ahead of Albert Arenas (Inde GASGAS Aspar Team), Manuel Gonzalez (Yamaha VR46 Master Camp Team), Jake Dixon (Inde GASGAS Aspar Team), and Jeremy Alcoba (Liqui Moly Intact GP), despite the latter having to serve a Long Lap Penalty late on for a clash with Mattia Pasini (RW Racing GP).
Senna Agius (Elf Marc VDS Racing Team) finished an impressive ninth as injury replacement for Sam Lowes and Marcel Schrötter (Liqui Moly Intact GP) took a top 10 in his final Moto2™ race.
For Fernandez, the celebrations continue, but not for too long – he starts his new life as a MotoGP™ rider on Tuesday with the Valencia Test! For many it was a farewell and others a springboard, but now it's on to winter testing and new adventures. Join us again for more next year at the season opener… in Portugal!
Moto2™ PODIUM
1 Pedro Acosta (Red Bull KTM Ajo) – Kalex – 39'52.413
2 Augusto Fernandez (Red Bull KTM Ajo) – Kalex – +1.232
3 Tony Arbolino (Elf Marc VDS Racing Team) – Kalex – +10.163
PEDRO ACOSTA
"Good stuff! I just saw on the board, 0.2, 0.4, 0.6, 0.6… I thought f***, when is this guy going to stop pushing?! But it makes me happy to finish the season with a win, since Mugello we haven't made many mistakes except Thailand, but we have to be happy. We are fifth in the Championship after eight 0s, not bad! So we have to be happy.
"I just want to say as well, I'm going to miss Augusto in the box. He's one of the best teammates I've ever had. I'm very happy for him, but I did want to beat him!"
AI OGURA
"Firstly, it's a shame how I finished the season. It's not the way we wanted. In the situation I had, victory was the only way to get the title. I went for it and unfortunately I crashed. I was trying, we were trying until the end. It was a nice season. Some victories and a lot of podiums and we are proud of ourselves and next season we will try again!"
Duel to the finish: Guevara gets the gloves off to defeat Öncü
The two escape in the lead for a spectacular last lap showdown, with Garcia completing the podium and taking second overall
The final Moto3™ race of the season was a spectacular farewell, with a duel for the win going right to the wire. The battle saw reigning Champion Izan Guevara (Valresa GASGAS Aspar Team) go toe-to-toe with Deniz Öncü (Red Bull KTM Tech3) throughout the final lap, with the Turkish rider ahead into the final corner and Guevara going wide to gas it to the line – and come out on top to sign off from the lightweight class in some style. Gloves off, and show spectacular to the flag.
Sergio Garcia (Valresa GASGAS Aspar Team) completed the podium after escaping from a bigger fight for fourth, ensuring the number 11 takes the silver medal this season. The three contenders for it ultimately crossed the line in order, with Dennis Foggia (Leopard Racing) taking fourth and just pipping Ayumu Sasaki (Sterilgarda Husqvarna Max).
Adrian Fernandez (Red Bull KTM Tech3) took an impressive sixth, ahead of David Muñoz (BOE Motorsports) and next rookie home Diogo Moreira (MT Helmets – MSI), with the Brazilian securing Rookie of the Year with the result despite a Long Lap on race day.
Ryusei Yamanaka (MT Helmets – MSI) and Daniel Holgado (Red Bull KTM Ajo) complete the top ten, with Sepang winner John McPhee (Sterilgarda Husqvarna Max) signing off from Grand Prix racing in P11 for a few more points.
Now it's time for a new chapter for many. A new class for the reigning Champion, runner up and third overall, and new colours and teams for many more too. Make sure to tune in for 2023 and another season of incredible action… and chapeau to the class of 2022!
Moto3™ PODIUM
1 Izan Guevara (Valresa GASGAS Aspar Team) – GASGAS – 38:10.406
2 Deniz Öncü (Red Bull KTM Tech3) – KTM – +0.062
3 Sergio Garcia (Valresa GASGAS Aspar Team) – GASGAS – +6.557
IZAN GUEVARA 
"Amazing feeling, incredible pace, I was really fast…sublime. Thanks to my team for the work during all the season. A great race, I won the four races in Spain, just phenomenal. It is my last race in the Moto3 class, next year I go to Moto2. Perfect race today. Time to enjoy with my family, team and fans!"