#TheDecider: Quartararo & Bagnaia split by just 0.005 on Day 1
The contenders start the weekend in reverse order in P8 and P9, but Ducati lock out the top three
Friday, 04 November 2022
Friday Free Practice at the Gran Premio Motul de la Comunitat Valenciana saw almost nothing split the two MotoGP™ World Championship contenders. Fabio Quartararo (Monster Energy Yamaha MotoGP™) secured P8 for the day, but that was just one position and 0.005 seconds ahead of the rider he is trying to overhaul in the Championship standings: Francesco Bagnaia (Ducati Lenovo Team). Quartararo must win to give himself a chance at the crown, and despite the position on the timesheets he sounded optimistic about the possibility given race pace.
It was a Ducati lockout at the top though as Luca Marini (Mooney VR46 Racing Team) set the pace in FP2 with a 1:30.217, with Jorge Martin (Prima Pramac Racing) a tenth further back and Jack Miller (Ducati Lenovo Team) only a smidge in further arrears in third.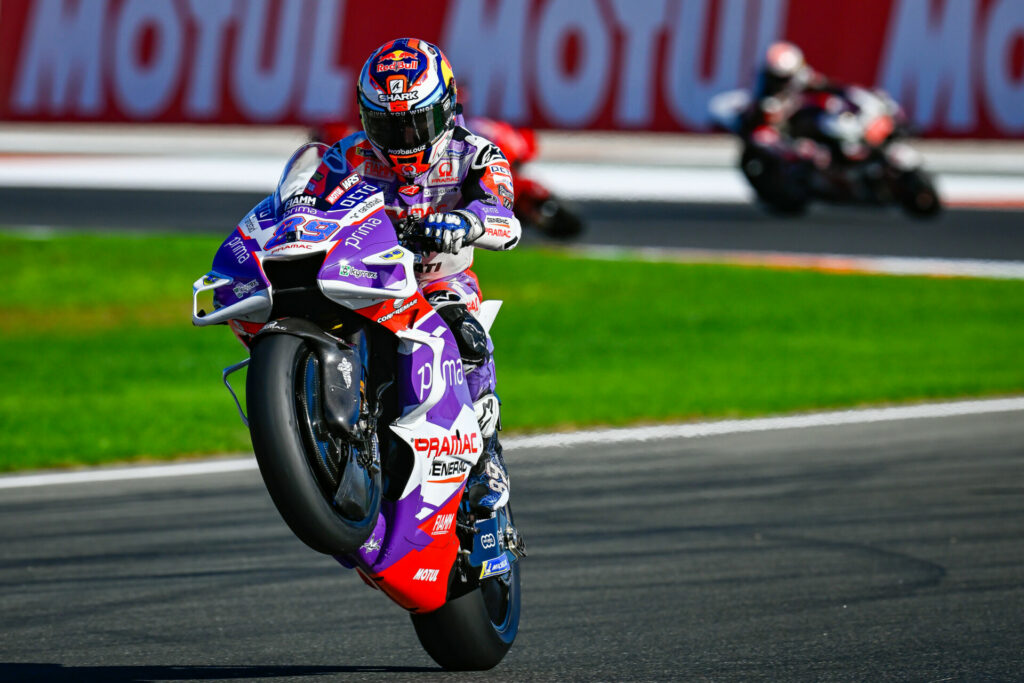 Quartararo was fastest in FP1 but it took only minutes into FP2 before Alex Rins (Team Suzuki Ecstar) bettered it with a 1:31.238 and then Quartararo himself moved the marker even further to a 1:31.149. The opening 10 minutes of FP2 also saw a spate of crashes, first Franco Moribdelli (Monster Energy Yamaha MotoGP™) at Turn 5 then Fabio Di Giannantonio (Gresini Racing MotoGP™) at Turn 2, before Marc Marquez (Repsol Honda Team) went down at Turn 1 – his second tumble of the day after going down at Turn 2 in FP1. Finally, it was Aleix Espargaro (Aprilia Racing) at Turn 5. Riders all ok.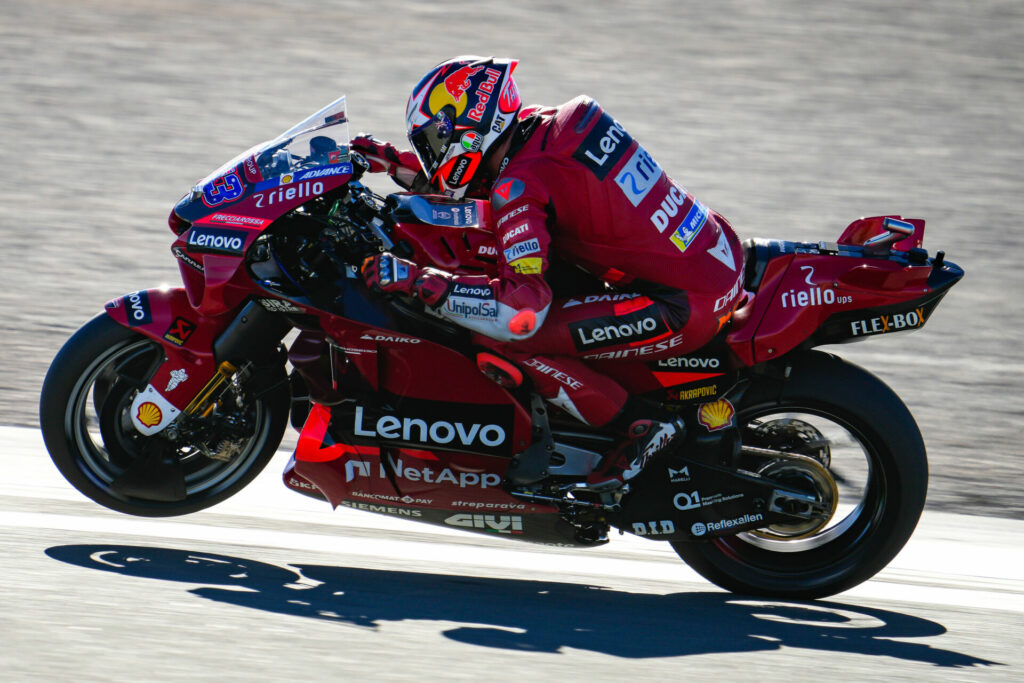 Marini was next to take over P1 when he set a 1:31.110 in the 27th minute of the session – but, on used tyres, he was only warming up. Still, he remained the fastest at the beginning of the final runs, by which time Bagnaia had crept up to seventh despite a couple of detours into run-off areas, and Quartararo had emerged unscathed from a close call going past Darryn Binder (WithU Yamaha RNF MotoGP™ Team) at Turn 13 on the half-hour mark.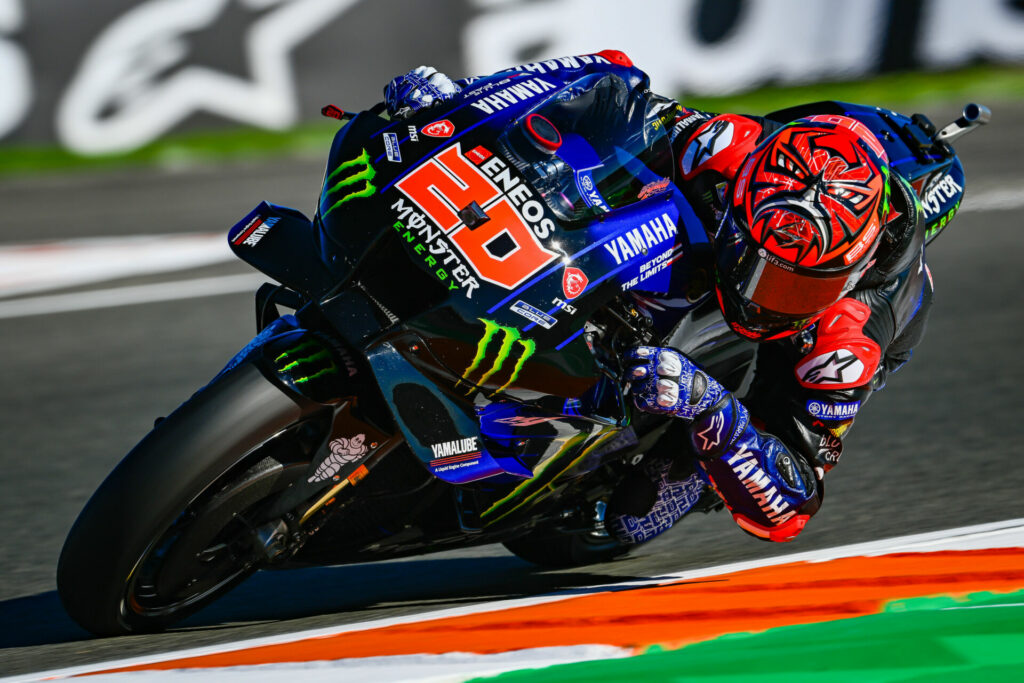 One the fresh rubber was in and the hammer down for time attacks, Miller clocked a 1:30.608 to go P1 inside the final five minutes before Marini fired in his 1:30.217. Bagnaia got as high as P2 when he set a 1:30.447 with less than two minutes to go but was shuffled back several positions by the time the music stopped.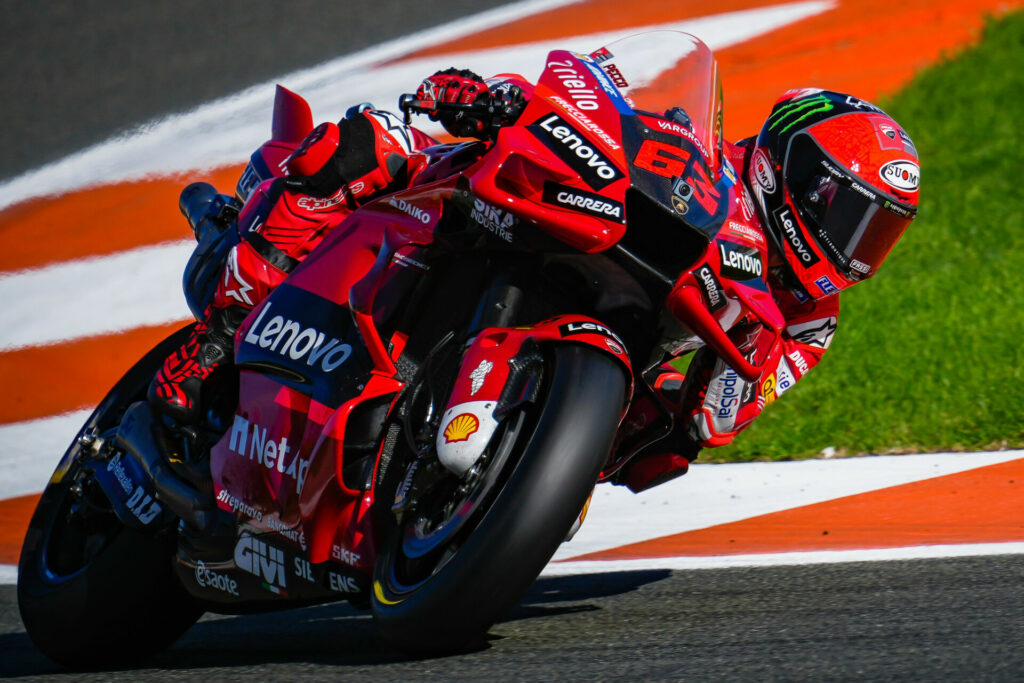 Martin struck late to claim second on a 1:30.322 and Miller made it an all-Ducati top three when he improved to a 1:30.345, ahead of Marc Marquez on a 1:30.390 and Enea Bastianini (Gresini Racing MotoGP™) in fifth on a 1:30.394. Miguel Oliveira (Red Bull KTM Factory Racing) took sixth on a 1:30.422, ahead of Johann Zarco (Prima Pramac Racing) on a final-lap of 1:30.424.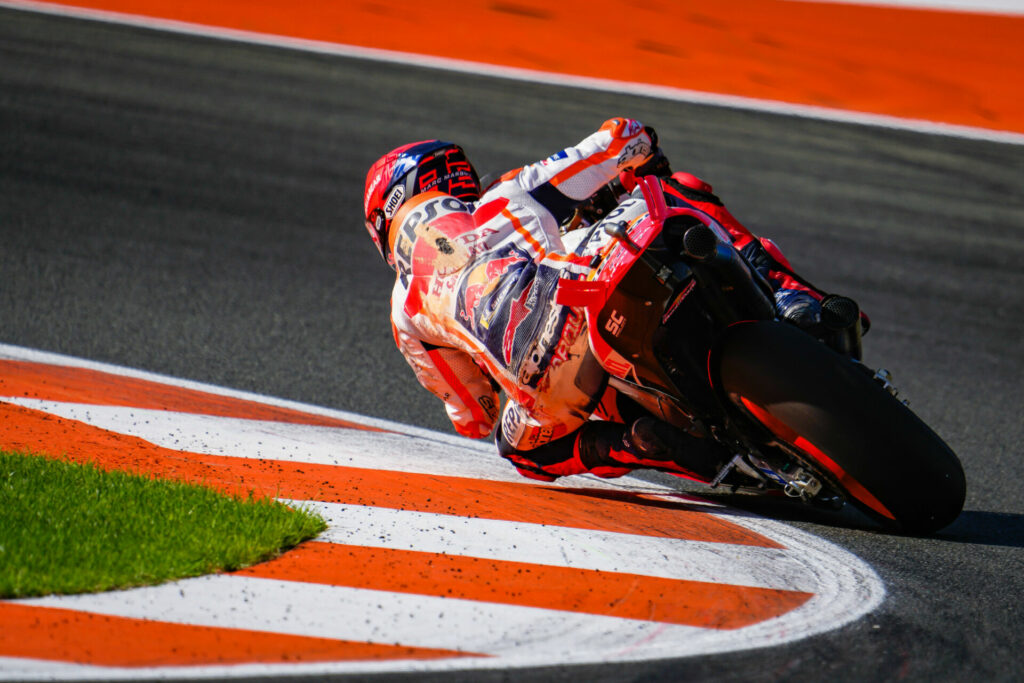 Quartararo got down to a 1:30.442 on his time attack but it's P8, and Bagnaia finished ninth on that 1:30.447.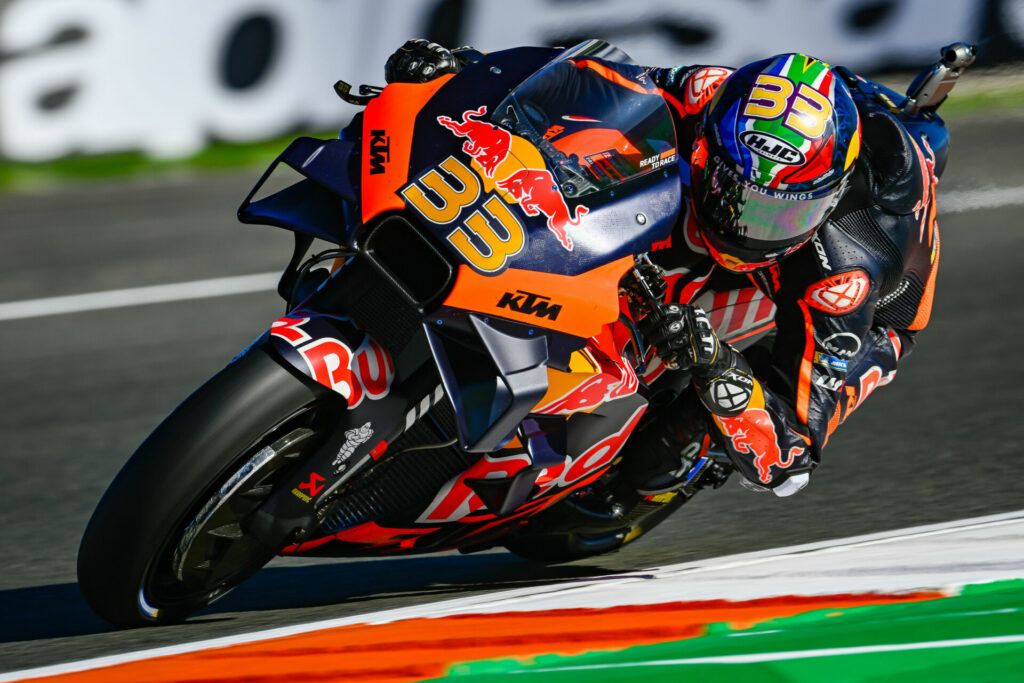 Brad Binder (Red Bull KTM Factory Racing), who had been sampling a radical new chassis spec on Friday, rounded out the top 10 on a 1:30.519 – only 0.302 off the top. That means that the likes of Rins, Joan Mir (Team Suzuki Ecstar) and Aprilia Racing duo Maverick Viñales and Aleix Espargaro will certainly need to find more time if they are going to go straight into Q2, given they currently occupy 11th through 13th respectively.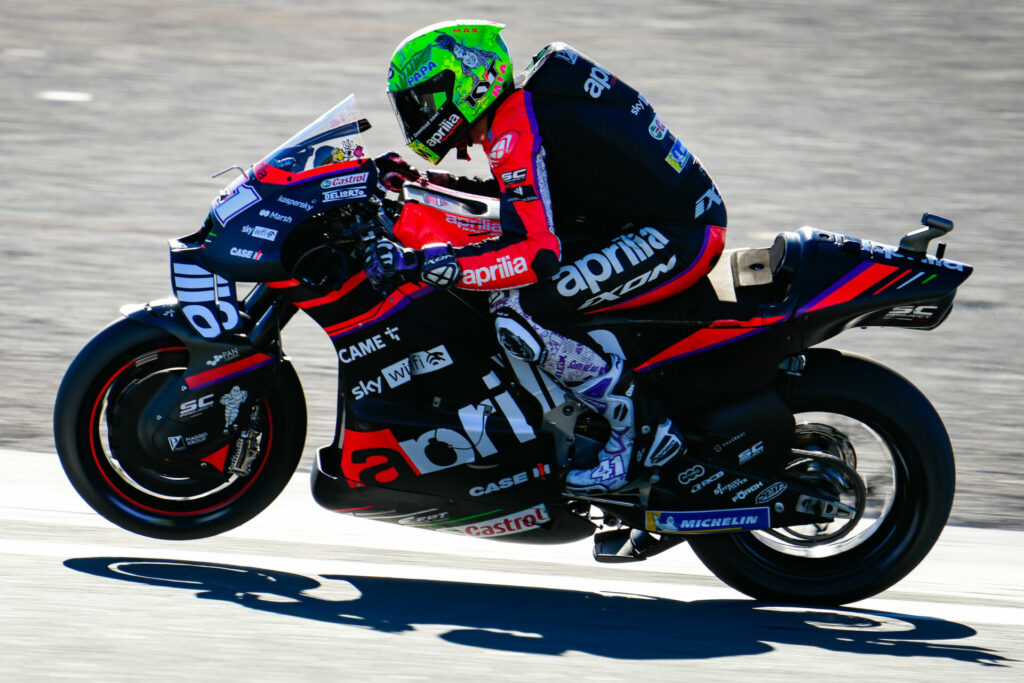 One more Free Practice session remains before the first 10 Q2 riders are locked in, and neither of the Championship contenders are safe yet. Tune in for a crucial FP3 session on Saturday from 09:55 (GMT +1), before qualifying for the Decider reveals one piece of the puzzle as the grid is set from 14:10!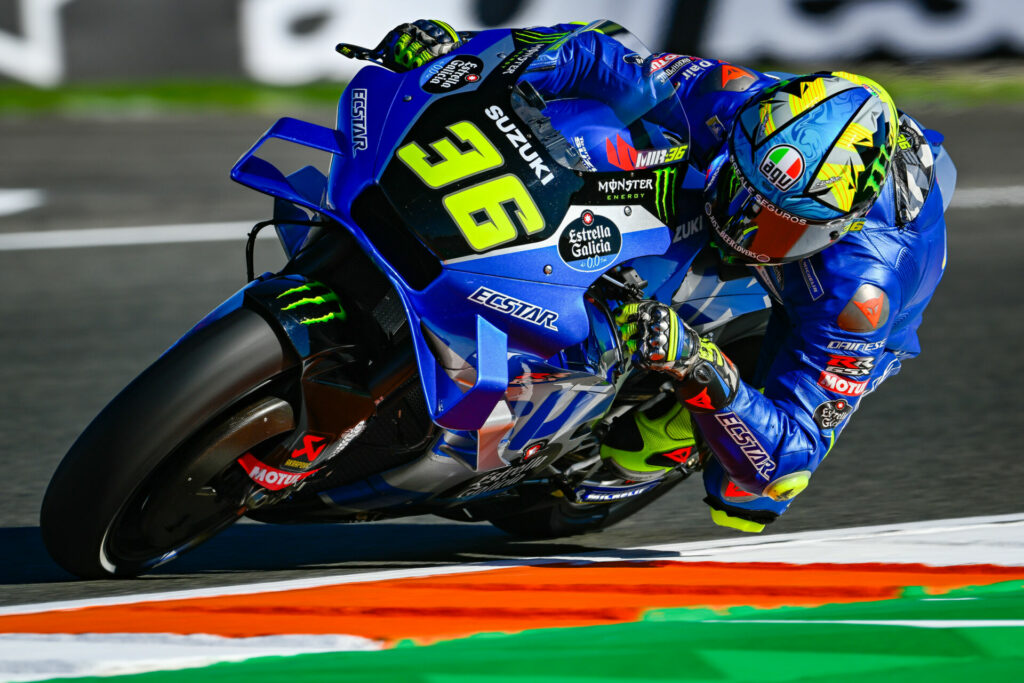 FRIDAY
1 Luca Marini (Mooney VR46 Racing Team) – Ducati – 1'59.479
2 Jorge Martin (Prima Pramac Racing) – Ducati – +0.105
3 Jack Miller (Ducati Lenovo Team) – Ducati – +0.128
8 Fabio Quartararo (Monster Energy Yamaha MotoGP) – Yamaha – +0.225
9 Francesco Bagnaia (Ducati Lenovo Team) – Ducati – +0.005 (to Quartararo)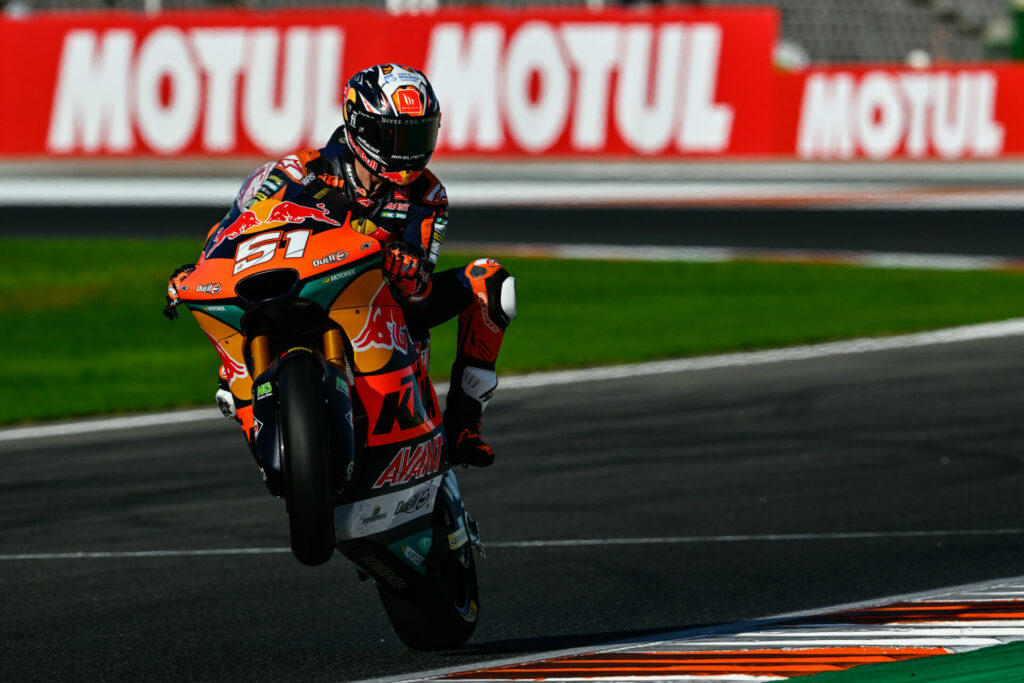 Acosta pips Fernandez in Red Bull KTM Ajo 1-2, Ogura P11 on Friday
It's advantage Fernandez on Friday in the title fight – and advantage Acosta on the timesheets
Pedro Acosta might have upstaged Red Bull KTM Ajo teammate Augusto Fernandez in FP2 at the Gran Premio Motul de la Comunitat Valenciana but the Moto2™ Championship leader should be feeling quietly confident with his performance. Fernandez's fastest lap of the day was only 0.031 seconds off Acosta's 1:34.948 around the Circuit Ricardo Tormo in the afternoon session, and he was once again significantly quicker than his only remaining rival for the title, Idemitsu Honda Team Asia's Ai Ogura, who was P11.
The opening day belonged to Red Bull KTM Ajo who dominated FP1 as Fernandez set his 1:34.979 and the only rider within eight tenths of a second of the Spaniard was teammate and compatriot Acosta on a 1:35.206. Acosta got the upper hand in FP2, clocking the fastest lap of the day just under a dozen minutes into proceedings, but Fernandez was still second-quickest for the session on a 1:35.069. He also added to the highlights reel with a big save exiting Turn 4.
Best of the rest would be Beta Tools Speed Up's Alonso Lopez, who leads the fight for Rookie of the Year ahead of Acosta, and the Boscoscuro rider well and truly showed that he is a threat for a third victory this season by closing to 0.180 seconds off the pace with a 1:35.128 halfway into FP2.
Fourth for the day went to Jake Dixon (Inde GASGAS Aspar Team) on a 1:35.554 and fifth to Somkiat Chantra (Idemitsu Honda Team Asia) on a 1:35.571. Mattia Pasini, who is riding this weekend as an injury replacement for Barry Baltus at RW Racing GP, is sixth on the timesheets despite a spill in FP2, having already laid down a 1:35.623 in that session.
Seventh currently belongs to last-start winner Tony Arbolino (Elf Marc VDS Racing Team), from Cameron Beaubier (American Racing), another injury replacement rider in Borja Gomez (Flexbox HP40), and Albert Arenas (Inde GASGAS Aspar Team) in 10th. Ogura enters the weekend 9.5 points behind Fernandez in the Championship and right now, coincidentally, he is 0.905 seconds off the pace set by Acosta as he holds 11th.
Check out the full results below ahead of FP3 on Saturday, before tuning in for qualifying from 15:10 (GMT +1)!
FRIDAY
1 Pedro Acosta (Red Bull KTM Ajo) – Kalex –  1'34.948
2 Augusto Fernandez (Red Bull KTM Ajo) – Kalex – +0.031
11 Ai Ogura (Idemitsu Honda Team Asia) – Kalex – +0.905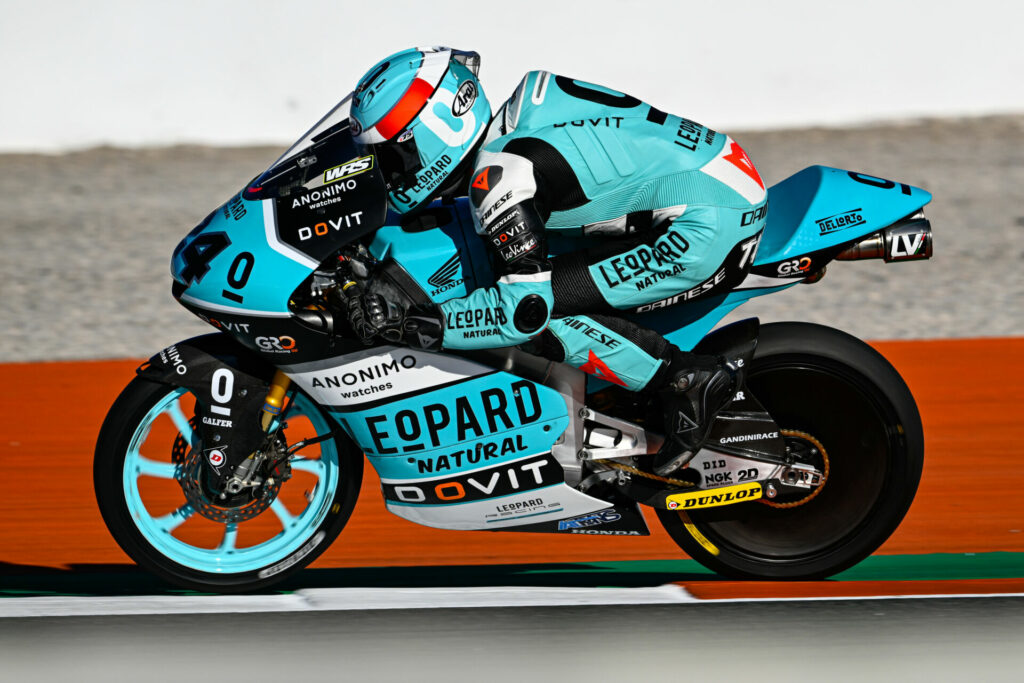 Five riders within a tenth on Friday
Leopard lead the way, but the top five are covered by just 0.076 on Day 1 for the lightweight class
Tatsuki Suzuki claimed Friday Free Practice honours in the Moto3™ class at the Gran Premio Motul de la Comunitat Valenciana in a Leopard Racing 1-2. Suzuki clocked a 1:39.467 late in FP2 before teammate Dennis Foggia moved into P2 with a 1:39.488 as he took the chequered flag.
'The Rocket' is still a good chance of taking second in the World Championship, needing to overcome an eight-point deficit to Sergio Garcia (Valresa GASGAS Aspar Team), who is in sixth. Foggia is looking quick this weekend given he was fastest for much of FP2 after being among the pace-setters in FP1.
Izan Guevara (Valresa GASGAS Aspar Team), who was already crowned World Champion, finished third-fastest on the day thanks to the 1:39.533 which he set right at the end of FP1, while Carlos Tatay (CFMoto Racing PruestelGP) is provisionally into Q2 after jumping from outside the top 14 to fourth on combined times with a 1:39.537 on his penultimate lap of FP2.
Diogo Moreira (MT Helmets – MSI) holds fifth courtesy of the 1:39.543 which he set in the morning session, and will be especially keen to maximise his qualifying position on Saturday afternoon given he will have to serve a Long Lap Penalty for crashing under a yellow flag in FP1.
Garcia sits sixth on a 1:39.586 – just 0.119 seconds slower than Suzuki's benchmark – ahead of David Salvador (Angeluss MTA Team), Xavier Artigas (CFMoto Racing PruestelGP), Daniel Holgado (Red Bull KTM Ajo), and the other chance for P2 in the Championship, Ayumu Sasaki (Sterilgarda Husqvarna Max) in 10th. The latter holds that position by virtue of a 1:39.715 in FP1, before a minor crash at Turn 6 in FP2.
Check out full results below and come back for FP3 from 9:00 (GMT +1), before qualifying from 12:35!
FRIDAY: TOP 3
1 Tatsuki Suzuki (Leopard Racing) – Honda – 2'12.226
2 Dennis Foggia (Leopard Racing) – Honda – +0.021
3 Izan Guevara (Valresa GASGAS Aspar Team) – GASGAS – +0.066
More, from a press release issued by Tech3 KTM Factory Racing:
Fernandez and Gardner Complete Day 1 of Valencia GP in 20th and 21st
The final round of the season is officially on after both Raul Fernandez and Remy Gardner completed the first day of action at the Ricardo Tormo circuit for the Gran Premio de la Comunitat Valenciana. The sun was out all day, but the wind made the conditions tricky for the Tech3 KTM Factory Racing riders. Despite both knowing this track very well, it was still a first on a MotoGP machine, and corners suddenly became much faster, for their own enjoyment of course.
Both looking to finish their 2022 campaign on a high note, they set off in FP1 this morning in a really good form. Raul Fernandez was twelfth this morning with a personal best of 1'31.881 and teammate Remy Gardner was not far in P15 with a best lap in 1'31.977. In the afternoon, the wind continued to be part of the Spanish party, but it did not stop the Tech3 KTM Factory Racing riders from improving their lap times. Fernandez completed the day in P20 and Gardner in P21, but both are confident that there will be margin to improve when the action resumes on Saturday morning, at 9:55 (GMT+1).
Raul Fernandez
Position: 20th
Time: 1'31.598
Laps: 38
"FP1 was a nice surprise this morning as we finished in P12. This track in Valencia really looks like a karting track: very small, fast and enjoyable. All the riders are quite close here so we can follow the Ducati bikes, the Yamaha bikes, and it is a very positive point for me. We did not get a good position in FP2, but we have margin to improve, especially in the fast corners, and we will try closing the gap in the morning tomorrow. It is important for the team and for myself to try finishing 2022 in the best way possible."
Remy Gardner
Position: 21st
Time: 1'31.621
Laps: 39
"We did a good FP1 in the morning and we were able to do a good lap with a new medium tyre towards the end of the session. In the afternoon, we worked with used mediums, before putting a hard front toward the end, but I did not feel comfortable with it and the set up I had. It was also quite windy, but with a MotoGP bike you don't feel it that much because it has so many wings, so it was manageable. We will look to improve tomorrow for qualifying day."
More, from a press release issued by Mooney VR43 Racing Team:
LUCA MARINI IS THE FASTEST IN THE DAY1 AT VALENCIA
The rider of the Mooney VR46 Racing Team approaches the wall of 1.30 and the Cheste track record. P15 for Bezzecchi
Valencia (Spain), November 4th 2022 – Luca Marini is the real protagonist of the free practices at Valencia GP, which takes place on Sunday at the Ricardo Tormo Circuit (02.00 pm CET). Riding the Ducati Desmosedici GP of the Mooney VR46 Racing Team, he approaches the wall of 1.30 and the track record. Marco Bezzecchi is only five tenths from the Top10, finishing in 15th place.
Significant step forward for Luca, 11th in FP1 (1'31.874), and capable of an excellent pace in the afternoon session (1'30.217) where he leaves the first of the opponents a tenth of a gap (Martin, 1'30.322). Momentarily qualified for the Q2, he will return to the data for a further step forward.
Top15 instead for Marco, not far from the access to the second qualifying session. He stops the clock at 1'32.159 in FP1 and then improves to 1'31.014 in FP2.
Luca Marini 10
I immediately had good sensations: I enjoyed every lap since the FP1. This morning I struggled a bit in terms of electronics then we were able to improve on several aspects. Traction, engine braking and also we have changed the front livery to better manage the wind. The bike was easier to ride and we were really competitive in the afternoon. We continue to work because the gaps are minimal and tomorrow many riders will improve. Achieving the direct access to the Q2 will be crucial.
Marco Bezzecchi 72
Not a bad day, even if I was hoping for something better. In FP1 I struggled a lot, while in the FP2 it went better. On the time attack I was not effective and I have to make a step forward on the bike and riding style to be really competitive. The pace is not bad, but we have a margin.
Pablo Nieto, Team Manager
A very very positive start with Luca immediately in front and Marco in the slip stream of the Top10. Luca is in good shape, he has made a good step from the FP1 and will only have to improve a bit his race pace to be competitive on Sunday. Marco has margin, he will have to improve by a few more tenths on the flying lap, but he can do really well.
More, from a press release issued by Gresini Racing:
COMPETITIVE START FOR BASTIANINI AT VALENCIA
#ValenciaGP Free Practice. Enea Bastianini and Team Gresini Racing MotoGP had a good start to the final event of the season, with the #23 fifth-quickest in today's combined free practice times. The Italian rider, who is still in the battle for a top-three overall finish, is only 0.177seconds in arrears of fellow Ducati rider Marini, and he still has some fine tuning to do.
Fabio Di Giannantonio's day was not a positive one, as the Italian tucked the front at turn two in the second FP session – but was fortunately unscathed after the tumble. The series rookie finished the day second-last with slightly more than a one and a half seconds of gap. He and his crew will need to roll up their sleeves and try to bounce back tomorrow, starting from the morning's Free Practice 3.
5th – ENEA BASTIANINI #23 (1'30.394s)
"It was a good day. We struggled a little in FP1, but we were in a good place already in the afternoon. The FP2 time attack gave us a good feeling, even though I know I can improve a little in the third split and at the last corner. We're OK in the rest of the track. Our pace is consistently quick despite some tiny little mistakes here and there. We still need a small extra step forward for the race, but we're in line for a good weekend."
23rd – FABIO DI GIANNANTONIO #49 (1'31.762s)
"We surely didn't get off to a good start. We tried to improve in FP2, and we did it, but the crash at turn two slowed us down and there will be a lot to catch up with tomorrow in order to have a good Saturday."
More, from a press release issued by WithU Yamaha RNF MotoGP Team:
WithU Yamaha RNF MotoGP Team opens final round of 2022 in Valencia
Cal Crutchlow and Darryn Binder faced a difficult Friday at the ultimate Grand Prix of the season.
The final two practice sessions of the year took place today at the Circuit Ricardo Tormo today in sunny but windy weather conditions. Thereby, the WithU Yamaha RNF MotoGP Team experienced a challenging Friday with super close lap times of the entire MotoGP World Championship field. Yet they still managed to improve significantly from FP1 to FP2.
Cal Crutchlow had a decent start into round 20 of the season. He missed out on the top by just 0.875 seconds at the end of Free Practice one, but still ended up in P21. In the second session this afternoon, he went nearly one second faster than in FP1 and made up two positions in the combined standings. The Brit concluded day one in P19 overall, although he went down around halfway through FP2.
On the other side of the WithU Yamaha RNF MotoGP garage, Darryn Binder had to learn a new venue aboard his Yamaha YZR-M1. A technical issue and a crash in FP1 didn't really boost his confidence. Nevertheless, the South African premier class rookie improved by 1.549 seconds from FP1 to FP2, getting closer to the top and finished Friday in P24.
Tomorrow's action starts with Free Practice three at 09:55 local time, followed by FP4 at 13:30 and the all-important final Qualifying session from 14:10 local time.
CAL CRUTCHLOW
"Today was a difficult day. We've been trying to adjust settings with the bike and had a different program to the guys in the Factory, which we normally do throughout the weekend to help them out. I felt quite good, unfortunately, I had a small crash in turn two. I went out and the front tyre was cold and I didn't heat it enough on the out lap, so it was completely my own fault. I should know better with my experience and my age. I still managed to go out in the end and tried a fast lap time. Unfortunately, we had a medium front tyre, which didn't work that well at this track in these conditions. But we are positive for tomorrow. We need to make the bike a lot more calm at the moment as it seems we are having to fight quite a lot here in Valencia. Let's see how it's going to work out tomorrow in Qualifying."
DARRYN BINDER
"It's not been an easy start to the final GP of the season. Unfortunately, I didn't manage many laps in FP1, as we had some small troubles with one bike. I got out on the second bike, but unluckily I had a crash in turn one, which ended my FP1 early. In FP2 I made some steady progress slowly, but surely and made some improvements compared to this morning. I'm still looking to get comfortable and figure my way out around the circuit of Valencia."
More, from a press release issued by Aprilia:
FIRST DAY OF PRACTICE IN VALENCIA
IN EXTREMELY TIGHT STANDINGS ESPARGARÓ AND VIÑALES FINISH JUST OUTSIDE THE TOP TEN
On the first day of practice in Valencia ahead of the final race in the MotoGP World Championship this Sunday, Espargaró and Viñales finished outside the provisional top ten.
Despite both riders improving clearly compared to the morning session, in the faster FP2 session, they finished twelfth (Maverick) and thirteenth (Aleix).
In the second session, Aleix, who is currently third in the overall championship standings, fell victim to a crash that forced him to change bikes, hindering his efforts to take a spot among the top ten.
Now everything has been postponed until the FP3 session on Saturday morning which will decide the top ten who go straight through to the Q2 qualifying session. The standings, as is tradition on the Valencia track, are extremely close with the top fifteen riders all within eight tenths of one another and that leave the door of opportunity open for the Aprilia riders to come back.
Aleix Espargaró
"To be honest, I think our level is better than the standings demonstrate. In any case, we aren't super fast but we'll be able to improve tomorrow, enough to be in the top ten. The crash with my first bike certainly slowed me down and it was the last thing I needed, partly because we are moving forward with assessments on two rather different RS-GP units. There are positive and negative sides in both configurations, so the goal is to put together the good things we found today and to try and set up the best possible package."
Maverick Viñales
"Overall it was a positive day. We've improved compared to last year and the feeling of the ride is significantly better. I lapped faster and I'm able to hold good lines. However, we are struggling with a lack of grip which particularly involves how we are able to manage the rear tyre, especially on left-handers – turn two, turn three, turn six… But that's part of the work we need to do to grow. We're working to resolve it and I think that we have margins for improvement."
More, from a press release issued by Prima Pramac Racing:
VALENCIA GP – JORGE MARTIN P2,JOHANN ZARCO P7
The first day of the last round of the season ends, which saw both Prima Pramac Racing riders in the Top Ten. Jorge Martin immediately found himself comfortable with his Desmosedici, placing the second best time at the end of FP2. A very positive day also for Johann Zarco who hits the Top Ten on his last attempt with a time of 1:30.424.
Jorge Martín
"I feel in good shape and in excellent harmony with the bike since few races now. Today I felt good on both the flying lap and in the race pace and I can't wait to fight tomorrow for the front row "
Johann Zarco
"I'm happy with this first day, I was fighting in the fast group right from the start. The work with the team has been very good, improving lap by lap and pushing to the maximum, we are ready for tomorrow "
More, from a press release issued by Monster Energy Yamaha:
MONSTER ENERGY YAMAHA MOTOGP FLASH STRONG RACE PACE ON VALENCIA GP FRIDAY
Valencia (Spain), 4th November 2022
GRAND PRIX OF VALENCIA
FREE PRACTICE
Monster Energy Yamaha MotoGP's Fabio Quartararo topped FP1 and most of the FP2 session, showing he is ready for battle at this weekend's Gran Premio de la Comunitat Valenciana. Apart from a crash in FP2, Franco Morbidelli had a constructive first day showing solid race pace. The duo ended the Friday in 8th and 16th place respectively in the combined FP results.
8th FABIO QUARTARARO 1'30.442 (FP2) / 23+21 LAPS
16th FRANCO MORBIDELLI 1'31.016 (FP2) / 20+15 LAPS
Monster Energy Yamaha MotoGP's Fabio Quartararo and Franco Morbidelli kicked off the final Grand Prix weekend of the 2022 MotoGP season today at the Circuito de la Comunitat Valenciana – Ricardo Tormo. The teammates had a positive first day overall under the Spanish sunshine and secured 8th and 16th place in the combined FP timesheets.
Quartararo had a dream start to the Valencia GP weekend. Knowing the task ahead, he lost no time and hit the ground running. The title defender let his intentions be known early on, setting multiple fastest laps of the session, and never ranked lower than third place. His 1'31.999s, set on lap 14/23, earned him first place and kept him in the FP1 top spot with a 0.035s margin over his closest rival.
After the confident morning performance, the Frenchman duplicated his efforts in the afternoon. El Diablo tried to pile on the pressure by topping the FP2 session for the majority of the session, showing supreme race pace. He held the number one spot until the time attack started with ten minutes to go. The Frenchman responded with a 1'30.442s set on lap 20/21 to take eighth place, 0.225s off the fastest time.
Morbidelli kept his Sepang speed going in the morning session in Valencia. Only focusing on race pace, the Italian clocked a 1'31.915s on lap 8/20 that held him inside the top 7 for most of FP1. However, as the times dropped in the final minutes, he was pushed down to 13th place, 0.516s from the top.
The afternoon session didn't start as planned for the Italian. He suffered a crash in the first five minutes but was quickly back on his feet. Though he lost some track time, he was fighting for a top-10 position again once the time attack started. His best lap, a 1'31.016s, ultimately had him close the first day in 16th place, 0.799s from first.
MASSIMO MEREGALLI
TEAM DIRECTOR
Fabio had the best start to the weekend we could have asked for. He was feeling good with the bike from the beginning of FP1. His race pace and speed were also really good in FP2. We need to be a bit stronger with the soft tyre, and together with him we will try to understand where there's still room to improve the package. Franky also had a good morning session but suffered a small crash at the start of FP2. This for sure didn't help him achieve his goal of getting into the top 10. But his feeling on the bike is also good in general, so he'll be pushing hard in FP3 to get directly into Q2. It looks like we will have nice weather all weekend, so the whole team is feeling positive and is looking forward to closing the championship with good results.
FABIO QUARTARARO
It's a good day, especially my pace was very good. We know that we struggle on the time attack. Last year we had some difficulties, but I think we are working really well. We need to see where we can make another step for tomorrow's time attack. We have to make a big step, especially for the afternoon. Qualifying will be the most important thing. As for race pace, we have it! If I have a good start, I think we can fight for the victory. We're working well as a team to make it happen, but we have to work step by step. We need a good qualifying first, and then we'll see.
FRANCO MORBIDELLI
It was a tricky day. We started the day well, but then we wanted to improve the package and instead the feeling and speed got worse. I had a crash at the start of FP2, and the programme changed a little bit after that. We did the time attack with a medium front and some more laps on the rear tyre. I did a bit of a longer time attack. We didn't extract our real potential today. I think the feeling from Sepang is still there. We will try again tomorrow.
More, from a press release issued by LCR Honda Castrol:
ÁLEX MÁRQUEZ SATISFIED WITH START AT VALENCIA GP
Álex Márquez ended the opening day of free practice for the Valencia Grand Prix in 17th position as the MotoGP class began preparations for the final race of the 2022 World Championship season. Back in front of his home fans, the Spaniard made solid improvement during Friday's two sessions as he looks sign off his time with the LCR Honda CASTROL team in style this weekend.
In bright, blustery conditions in the morning, Álex finished just two tenths outside the top 10 in a tight FP1 session, a place behind World Championship leader Pecco Bagnaia. He improved by almost a second in FP2 to move up into 17th spot and is hopeful of pushing on again tomorrow in qualifying at a venue he knows well.
Álex Márquez – 17th
(1'31.148)
"First day here in Valencia and it was quite positive, I enjoyed it quite a lot with the bike. It's true we're missing some rear grip, but overall not bad, we still have our problems, but this weekend I want to forget about our problems, I don't want to speak about our problems. I just want to enjoy being on the bike, being with the team, give our maximum as always and enjoy the weekend. I enjoyed the first day here in front of all the fans and we'll keep pushing like this tomorrow to improve a little bit more and be ready for the race, that's the main target."
More, from a press release issued by LCR Honda Idemitsu:
TAKA PLEASED WITH SOLID RETURN AT VALENCIA GP
Takaaki Nakagami made an encouraging return to MotoGP action as free practice for the season-ending Valencia Grand Prix got underway on Friday. Back in the saddle after sitting out the past three rounds through injury, the LCR Honda IDEMITSU rider got faster throughout the day as he grew in confidence with each lap of the Circuit Ricardo Tormo.
The Japanese star was still troubled by his hand injury as he reacquainted himself with the premier class in the morning's FP1 session, finishing down in 23rd position. But he looked much more comfortable in FP2, shaving nearly a second and a half off his lap-time and ending only four tenths behind team-mate Álex Márquez.
Takaaki Nakagami – 22nd
(1'31.672)
"First of all, I'm really happy about the performance today. After FP1 I didn't have the best feeling in my right hand, but this afternoon in FP2 I was much better and I tried to adapt. Hopefully, we will continue to do that tomorrow.  The lap time was getting better and better, so I'm really happy with today. I'm looking forward to tomorrow and making another step with our pace."
More, from a press release issued by Team Suzuki ECSTAR:
DAY ONE STANDINGS BELIE POTENTIAL OF SUZUKI PAIR
Alex Rins: 11th – 1'30.707 (+ 0.490)
Joan Mir: 14th – 1'31.004 (+ 0.787)
The riders were greeted with November sunshine at the Ricardo Tormo circuit on Friday, although a stiff breeze was keeping the Valencian track from absolutely optimum conditions.
FP1 ran smoothly for Suzuki's Alex Rins and Joan Mir, with the former getting up to speed quickly, slotting into the Top 3 in the opening minutes of the session. The Spanish rider felt comfortable on track and closed the morning session in fifth place.
Mir also built up his pace, taking time to find settings and putting in the laps. At the flag he was 10th.
In the afternoon, conditions were a bit trickier despite the increase in temperature. Several crashes were seen in the first half of the session, and Rins and Mir didn't manage to find quite the same feelings as the morning. Despite being close to the top in terms of time, at only around half a second off, they finished 11th and 14th respectively.
Alex Rins:
"It was very windy today, which is actually quite annoying when you're trying to ride. Our aerodynamic packages are very advanced, but in the wind it's a strange feeling. But I managed to build a good pace and rhythm today, so I'm quite pleased with this progress for Friday and let's continue like this."
Joan Mir:
"Today was more difficult than I expected, quite a tricky one. I struggled a bit to stop the bike, which is a problem I've had before, but here it felt worse. In general I didn't feel that comfortable, and we found that was the case especially with the medium compound tyres. But we started to find solutions in FP2, and I was able to improve my lap time by half a second. So, anyway, we're staying optimistic, and we'll work tonight and tomorrow to find the best settings. The pace is fast out there for the first day, so let's improve."
More, from a press release issued by Ducati:
Jack Miller third after the first day of free practices for the Valencia GP. Bagnaia closes Friday in ninth position
Three Ducatis head the field at the end of Day 1 of the Valencia GP, with Marini (VR46 Racing Team) first, Martin (Pramac Racing) second and Miller third
Jack Miller finished with the third fastest time on the first day of free practice of the Valencia GP, the last round of the 2022 MotoGP season, which will be held this weekend at the Circuit Ricardo Tormo in Cheste. Fast from the first session this morning, the Australian rider set the third fastest time in 1:30.345 in the final minutes of FP2.
Championship leader Pecco Bagnaia ended the first day in ninth place, just 5 thousandths behind Fabio Quartararo. Seventeenth after FP1, the Italian rider improved his feeling with his bike in FP2, despite the stronger wind compared to the morning session. He is confident of being more competitive tomorrow for the last qualifying session of the 2022 season.
Friday of the Valencia GP ended with three Desmosedici GPs ahead of everyone. Luca Marini, rider of the VR46 Racing Team, was the fastest ahead of the Desmosedici GP of Jorge Martin (Pramac Racing).
Jack Miller (#43 Ducati Lenovo Team) – 3rd (1:30.345)
"I am quite satisfied with the work done on this first day. The track conditions today were tricky because of the wind, but the bike is working well, and we still managed to improve steadily with every exit from the pit. I'm enjoying my last weekend with the Ducati Lenovo Team. I'm just thinking about having fun without pressure and living in the moment. I am satisfied with my race pace and the time I set today. I would like to be able to say goodbye to my team with one last win. It won't be easy, as there are many competitive riders, but we will keep working on trying to achieve this goal on Sunday."
Francesco Bagnaia (#63 Ducati Lenovo Team) – 9th (1:30.447)
"I'm happy with how this first day went. We managed to make big steps forward compared to the morning, especially in the second part of FP2, where we got very close to the leaders' pace. Tomorrow it will be crucial to confirm in the top ten, but I am convinced that we will be even more competitive tomorrow morning, thanks to the improvements this afternoon."
The Ducati Lenovo Team riders will be back on track tomorrow at 9:55am for FP3, while the last qualifying session of the 2022 season will be held from 2:10pm local time at the end of FP4.