Marco Bezzecchi won the MotoGP race at Termas de Rio Honda on his Mooney VR46 Ducati, leading a podium sweep in wet conditions for the Italian brand. Johann Zarco was second on a Prima Pramac Ducati with Alex Marquez finishing third on a Gresini Racing Ducati.
Franco Morbidelli finished fourth on a Yamaha, followed by Jorge Martin on a Ducati, Jack Miller on a KTM, Fabio Quartararo on a Yamaha (after he was forced off track by Takaaki Nakagami), Luca Marini on a Ducati, Alex Rins on a Honda (with a helmet visor fogging problem), and Fabio Di Giannantonio 10th on a Ducati.
KTM's Augusto Fernandez finished 11th, followed by Aprilia's Maverick Vinales in 12th, Honda's Nakagami in 13th, Aprilia's Raul Fernandez in 14th, and Aleix Espargaro in 15th.
Ducati's Francesco Bagnaia and KTM's Brad Binder both crashed, picked up their bikes, and continued. Bagnaia finished 16th with Binder 17th, both on the lead lap.
More, from a press release issued by Dorna:
#SimplyTheBez! A sublime Sunday sees Bezzecchi take his maiden MotoGP™ win in style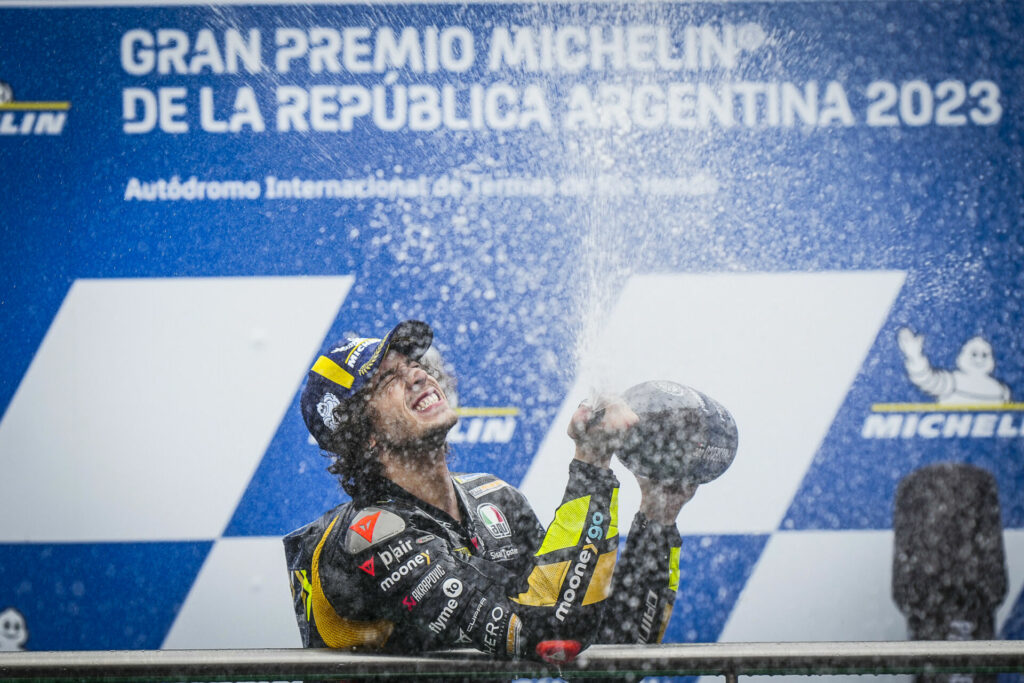 Bezzecchi takes centre stage, Bagnaia crashes, Quartararo slices back through the pack and Zarco pips Alex Marquez to second in an action-packed wet weather showdown in Argentina
Sunday, 02 April 2023
Take a bow, Marco Bezzecchi (Mooney VR46 Racing Team)! From start to finish, the Italian MotoGP™ sophomore was untouchable as he produced a wet weather masterclass to claim a debut premier class victory – and with it, the World Championship lead. There were plenty of storylines as a charging Johann Zarco (Prima Pramac Racing) grabbed a late P2 to beat Alex Marquez (Gresini Racing MotoGP™) to the rostrum, and reigning World Champion Francesco Bagnaia (Ducati Lenovo Team) crashed unhurt from P2, ultimately crossing the line in P16.
The threat of a flag-to-flag race loomed but more rain fell after the Moto2™ race as the premier class revved up for a 25-lap fully wet encounter. After an atmospheric national anthem through the rain, Bezzecchi grabbed the holeshot from polesitter Alex Marquez, with Bagnaia third and Franco Morbidelli (Monster Energy Yamaha MotoGP™) slotting into P4. Maverick Viñales (Aprilia Racing) didn't get away well, and Tissot Sprint hero Brad Binder (Red Bull KTM Factory Racing) crashed at Turn 5 after contact with the Aprilia rider too.
Fabio Quartararo (Monster Energy Yamaha MotoGP™) then lost out at Turn 7 to Takaaki Nakagami (LCR Honda Idemitsu) as the two almost came together, and the Frenchman dropped to P16 in the early exchanges. But as the race settled down, Bezzecchi was able to stretch out a second lead over Alex Marquez, with Bagnaia and Morbidelli keeping in touch. Fabio Di Giannantonio (Gresini Racing MotoGP™) was a winner in the early stages as well, up to P5 but with the gap to Morbidelli hovering around 2.7s.
With 17 laps left on the clock, Bezzecchi's lead was up to two seconds. A lap later it was 2.6s. The Italian was a class apart from the chasing pack in the early stages, and as the Grand Prix approached race distance, his lead kept on creeping up. Bagnaia was keeping second-placed Alex Marquez on his toes too as just 0.9s split the duo, with Morbidelli sitting 1.5s back from Pecco in a comfortable P4.
On Lap 15 of 25, Alex Marquez and Bagnaia engaged in battle. After a couple of attempts, the reigning Champion finally got the better of Marquez, and Morbidelli closed in too. But then, drama. At the penultimate corner at the end of Lap 17, Bagnaia tucked the front. The former World Championship leader was down, not out, but he re-joined in P16. That promoted Alex Marquez into P2 and Morbidelli into P3, with the two then looking over their shoulders for Zarco. The Frenchman was setting a blistering pace and a podium wasn't out of reach, the number 5 3.7s back from Morbidelli's Yamaha.
With five to go, Zarco kept gobbling up the metres. The deficit was now 2.1s, as countryman Quartararo also made good late race progress. The #20 was up to P7 from the very back of the pack. With four to go, it was down to 1.4s on Zarco watch. Morbidelli was coming under pressure first, but so was Marquez if the latter wanted to keep his P2 intact.
At Turn 7 with two and a half laps to go, Zarco was through on Morbidelli for P3. Now, the Frenchman locked his radar on Marquez' GP22. And on the last lap at Turn 5, Marquez could do nothing but watch Zarco stick his GP23 up the inside and slice on through. The Frenchman was on a roll.
A few seconds up the road, Bezzecchi was on even more of a roll. The Italian rounded the final corner to cross the line as a MotoGP™ race winner and World Championship leader after a flawless race, a class apart on Sunday. Zarco beat Marquez by half a second in what was another stunning comeback ride, getting back on the podium for the first time since the Sachsenring last year. For his part, Alex Marquez makes it podiums on two different machines in the premier class.
Despite narrowly missing out on a return to the podium, a resurgent Morbidelli will be very pleased with a P4 after a very difficult run of form. P5 went the way of Jorge Martin (Prima Pramac Racing), Jack Miller (Red Bull KTM Factory Racing) came from P16 on the grid to finish P6, and Quartararo climbs from P16 to P7 in what was a great recovery ride from the 2021 World Champion.
Luca Marini (Mooney VR46 Racing Team), Alex Rins (LCR Honda Castrol) and Di Giannantonio rounded out the top 10, with rookie Augusto Fernandez (GASGAS Factory Racing Tech3) going very well in P11. It was a disappointing day for Viñales and Aprilia Racing, however, with the Spaniard in P12 ahead of Nakagami, Raul Fernandez (CryptoDATA RNF MotoGP™ Team) and a lowly 15th-placed Aleix Espargaro. Not the weekend the Noale factory were looking for. Bagnaia and Binder, the two crashers, crossed the line together in P16 and P17 – also a frustrating Sunday for both.
And so we roll on to Texas, with a new winner in the field. Simply the Bez! Bezzecchi heads to the Americas GP as the World Championship leader by nine points over Bagnaia, so all we can say is… bring on the horsepower rodeo!
MARCO BEZZECCHI: "It was an unbelievable weekend for me, honestly, I didn't expect this when I started from home. As soon as I started riding here I felt very well and really I was… I don't know how to describe but I was at one with my bike. I felt incredibly good since the first moment. Yesterday was also very nice for me so this morning when I saw the rain I was really sad because I said 'no, I was so good in the dry for sure now it will be difficult in the wet'. But then in the warm-up as soon as I jumped on the bike it was amazing so I started to believe again and I said 'Well, I can do this' and as soon I started I enjoyed riding a lot, I was really focused. Yeah everything went well and it was an amazing day also you know, it was a long journey but finally, it has come."
How difficult was it to keep concentration?
"Yeah, it was very tough but honestly, the first half was a little bit easier because I was really pushing to escape. When you push you are more focused. The first time I saw laps remaining there were 14, so the first 11 were really quick I said 'wow it's good'. But then from that moment to the end I was really desperate to finish the race, and it was really tough but in the end it was OK."
A few words on this great day for your team and family:
"Yeah you know, for my family it was really difficult, as it is for every rider knows everyone has to make sacrifices and it was very long but it was fantastic because at the end when you get these nice moments then you also remember the difficult ones and you feel like it's all paid off from this. Yeah my father, but also my mum, my sisters, all my family were supporting me since the first day and I really can't thank them enough. And for Vale the same, you know without him probably even with the support of my family it was really almost impossible because Vale gave me the opportunity to grow as a person and as a rider to step up in the world championship and to continue to grow and also to step up to MotoGP so thank you to him."
Finally… how cool is the shirt?
"Yeah, it was incredible, as soon as I got the shirt it was unbelievable because you know Messi is the GOAT you know. As Vale is for motorbikes, Messi is the GOAT for football and also he's a sportsman that this year did something incredible so it was fantastic. Also as soon as I got the t-shirt I said to Migno who was under the podium 'Migno it's signed!'"
JOHANN ZARCO: "I was pretty focused even at the beginning I believed that in these conditions I could have a chance to be on the podium, or maybe even think about the victory. And the start was good, the first corner was also quite good for me but then the first eight laps, nine laps, the others had a better pace than me. I tried to fight but it was hard to keep the position, sometimes a few mistakes.
"So then the first seven riders really went away quite fast and then maybe halfway I began to have a difference to the others and I could see they had more rear grip problems and I could get a better pace, so I began to come back. All the control was good, I tried not to make any mistakes, but thinking about the podium was tough because even with 11 laps to the end I couldn't see the podium and I was still in 7th position. Then I stayed focused and fortunately we didn't have any laps cut because it was perfect to get Morbidelli I think 2 laps to the end and then Alex on this last straight before Turn 5. So yeah, very happy.
"It has been a long time since I've tasted the podium. It's a good second place, and we know how we should improve to think about the victory. It's even the same problem in the dry, but then in the wet, I can make a bit more of a difference in the end. So I hope I will have this improvement already for the next race, we will work on it and as soon as I master this I think I will have the chance to enjoy other podiums."
ALEX MARQUEZ: "We need to be really satisfied about this weekend. If you told me before coming here that I would get pole, P5 and I would sign it in paper. Yeah, I'm super happy. It's true that we are in constant progression and this is something that is really really nice. The race was a little bit tough and difficult for us because in the warm up we had a tyre puncture and I wasn't able to make a lot of laps and try electronic things and also set up things, so we went to the race a little bit like 'OK we go and will see how we can do this.' In the end, for this reason, I was struggling a little bit too much but anyway, we need to be happy. Marco today was on another level, from the first lap when I saw him I said 'OK Ciao'. It was impossible for me. Then I kept on trying to have Johann but he had a one second advantage one lap to the end, and when he attacked me in the last lap I said 'OK I cannot try he will be much faster than me' so we need to be happy, we've achieved a lot of points for the championship that is so long and this year, this will be the key. We need to keep going and keep being consistent until the end. Like I said, we are in constant progression but we are only in the second round."
You're already exceeding expectations, and what did you see when Pecco crashed?
"Yeah well, today we only had two overtakes, it was not a battle. But I was just trying to not lose a lot of time at that point, he was pushing a lot at that moment when he crashed. In the last corner, he was super fast under braking, but then he lost it in the middle point like I crashed yesterday in Q1. Yeah I mean later on the last laps it was difficult to keep also Morbidelli behind, I was pushing a lot and trying to not make mistakes. As I said, it was a race to survive, we survived it well and we achieved something that since 2020 was a long wait until here."
You must be loving life with the team and bike.
"Yeah, I couldn't imagine a start like this with Gresini and with Ducati. I felt really good on the bike, I felt really good with the bike and team. I'm still not riding in the best way for the Ducati, this is where I need to work a little bit more. Day by day we are doing better things. Every GP, there will be 37 points to achieve, so it will be a long way and the championship will change a lot, so we need to just keep at it and try to get our opportunities."
Arbolino holds off Lopez and Dixon in a damp 14-lap dash for glory
The Italian is inch perfect to take his first win of the year and the Championship lead – with Lopez and Dixon completing the rostrum
Tony Arbolino (Elf Marc VDS Racing Team) was our last wet weather winner in the intermediate class, and the Italian did it again at Termas de Rio Hondo to take his first victory of the season. After a podium to begin the year in Portimao, the number 14 now leads the Championship to boot! Polesitter Alonso Lopez (Beta Tools Speed Up) was forced to settle for second after getting passed late on, with Jake Dixon (GASGAS Aspar Team) completing the podium and making his first visit to parc ferme this season.
There was immediate drama for Aron Canet (Pons Wegow Los40) as he jumped the start, gaining a double Long Lap for the trouble. Lopez' start was the opposite and a little late, so it was Dixon into the lead early on. Soon enough, however, a breakaway group of Dixon, Lopez and Arbolino started to disappear into the distance.
After leading the way for much of the shortened 14-lap dash – due to weather conditions after Moto2™ had no wet practice time – Lopez lost the lead in the final few laps with a small mistake, and then just couldn't get back on terms with Arbolino. It remained close but not close enough, with the Italian taking victory by 0.663. Dixon, after that early lead, faded slightly but took home his first trophy of the season for third.
Canet stormed to an impressive recovery of fourth place, but he was somewhat upstaged by his teammate in those stakes. Via a Long Lap given after he caused contact with another rider in Q2, rookie Sergio Garcia still stormed from P28 on the grid all the way into the top five after a seriously impressive Sunday.
The rider in sixth also impressed: Darryn Binder (Liqui Moly Husqvarna Intact GP). The South African showed some chops as he settles into the intermediate class, with Filip Salač (QJMotor Gresini Moto2™) next up. Somkiat Chantra (Idemitsu Honda Team Asia) was classified eighth after being demoted a position for last lap track limits, with Albert Arenas (Red Bull KTM Ajo) and Sam Lowes (Elf Marc VDS Racing Team) completing the top ten.
So where was Pedro Acosta (Red Bull KTM Ajo)? It was a tougher Sunday for the star of the season opener, coming home in P12 and losing that points lead.
That's all Termas de Rio Hondo wrote, now it's time for the Circuit of the Americas. Where Arbolino took his first Moto2™ win, Dixon his first Moto2™ podium, and where Lopez has never raced in the class… but he hadn't here either! Can Acosta bounce back? See you there!
Suzuki puts in wet weather masterclass at Termas for first victory since 2020
The Japanese rider pulls away from a close finish deciding second, with Moreira and Migno completing the podium after late drama
Tatsuki Suzuki (Leopard Racing) got back on the top step in stunning style at Termas de Rio Hondo, taking a Grand Prix win for the first time since 2020. The Japanese rider put in a wet weather masterclass to finish nearly five seconds clear of the chasing pack, with Diogo Moreira (MT Helmets – MSI) and replacement rider Andrea Migno (CIP Green Power) completing the podium after a close fight to the flag.
Suzuki shot off into the lead early doors, and two of the first on the chase were Ayumu Sasaki (Liqui Moly Husqvarna Intact GP) and Jaume Masia (Leopard Racing). But bad luck hit for both, Sasaki after contact with replacement rider David Almansa (CFMoto Racing PrüstelGP) saw him get a +1 position penalty before he crashed out, and Masia once he'd started to reel in his teammate. The number 5 also slid out.
Heading into the latter stages, the fight behind Suzuki saw Moreira, an impressive Almansa, Migno, Scott Ogden (VisionTrack Racing Team) and Riccardo Rossi (SIC58 Squadra Corse) locked close together. Some drama hit as Ogden had a moment and then made contact with Almansa, the Spaniard crashing out and receiving no reward for a truly impressive performance replacing Joel Kelso, before more not too long after as Rossi slid out.
That left Moreira vs Migno and the Brazilian stayed ahead, claiming second in very different conditions to his first GP podium in Portugal. Migno was happy with third, however, showing his pace when called on as a replacement this weekend.
Ogden crossed the line fourth but was given a time penalty for the contact that saw Almansa crash out – the equivalent of two Long Laps – and the Brit is therefore classified fifth, behind Portuguese GP winner Daniel Holgado (Red Bull KTM Tech3), who retains the Championship lead. Stefano Nepa (Angeluss MTA Team), Kaito Toba (SIC58 Squadra Corse), Xavi Artigas (CFMoto Racing PrüstelGP) despite a crash, Ryusei Yamanaka (Autosolar GASGAS Moto3™) and David Salvador (CIP Green Power).
That's a wrap on Termas, next up it's… Texas! Join is again in a couple of weeks for more!