More, from a press release issued by Dorna:
15th to 1st?! Binder sends it on Saturday to take stunning Tissot Sprint win
The KTM rider wins an true epic, holding off Bezzecchi by hundredths as Marini completes the podium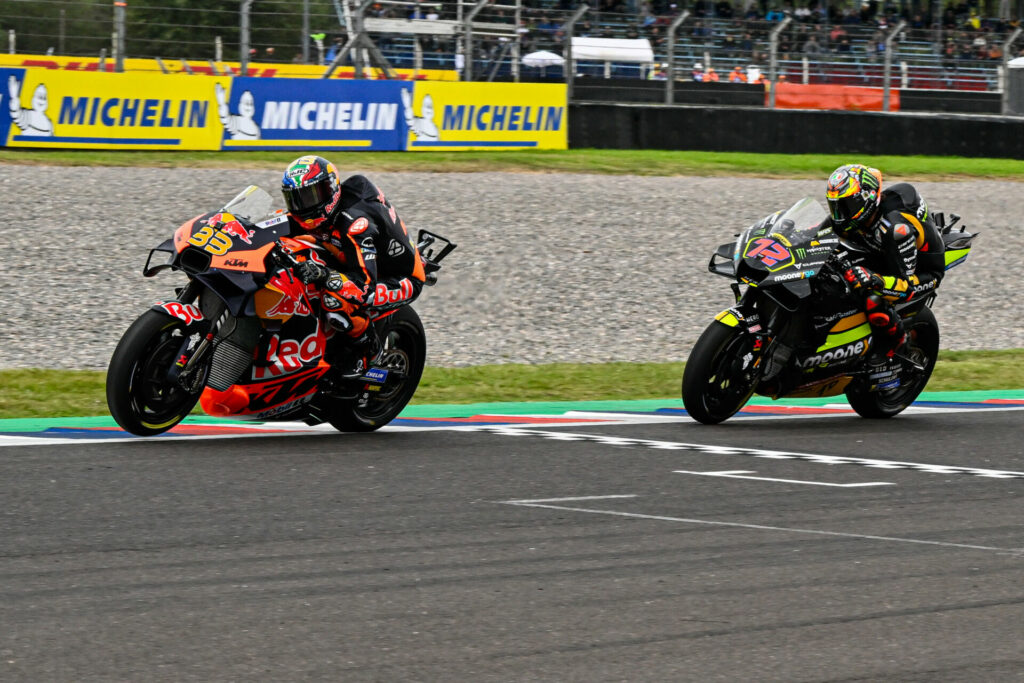 Sunday, 02 April 2023
Brad Binder (Red Bull KTM Factory Racing). That's it, that's the sentence. The South African produced a stunning performance to win the Gran Premio Michelin® de la República Argentina Tissot Sprint from P15 on the grid, slicing through early on and then hanging on ahead of a charging Marco Bezzecchi (Mooney VR46 Racing Team) on the final lap… by just 0.072s. Luca Marini made it a Mooney VR46 Racing Team double podium with a hard-fought P3.
It was a fast and ferocious start as Franco Morbidelli (Monster Energy Yamaha MotoGP™) got a phenomenal launch to briefly lead into the first corner, but it was polesitter Alex Marquez (Gresini Racing MotoGP™) who grabbed P1 early doors as the Italian ran wide. Francesco Bagnaia (Ducati Lenovo Team) got shuffled down the pack on Lap 1, the Championship leader in P7 from the front row as Binder picked his way through the pack like a knife through butter – the South African was P4 on Lap 1 from 15th on the grid!
It was breathless. Morbidelli was the new leader halfway around Lap 1 and led until Binder got the better of him on Lap 3. The top nine raced line astern: Binder, Morbidelli, Marini, Alex Marquez, Bagnaia, Bezzecchi, Aleix Espargaro, Aprilia Racing teammate Maverick Viñales and Jorge Martin (Prima Pramac Racing) were split by 1.6s with seven laps to go.
Where do you look? Passes galore! Binder, Morbidelli and Marini became a stable top three for a few laps as a fierce battle raged 0.5s behind. Fabio Quartararo (Monster Energy Yamaha MotoGP™) was getting into the mix too, clinging onto the back of Martin to make it a 10-rider lead group as we entered the final five laps.
With four to go, Binder's lead was up to 0.5s as Marini swarmed all over the back of second-placed Morbidelli. The former made a move stick at Turn 9 before we saw a little drama and Aleix Espargaro slid out unhurt, the 2022 winner looking for more on Sunday. Bezzecchi then followed teammate Marini through on Morbidelli. Moments later, the number 72 also dispatched Marini and then locked his radar on Binder, who was now 0.7s up the road.
Last lap time. The gap was down to 0.4s between Binder and Bezzecchi, with Marini 0.3s shy of his teammate's rear wheel in P3. Binder held firm through sectors 1, 2 and 3, but Bezzecchi was eyeing up a final complex move – and he was closing. Binder defended well though and there was no way through at Termas' famous penultimate corner for Bezzecchi, who was forced to follow the KTM home as Binder won the second-ever Tissot Sprint. From 15th on the grid! It was an unreal effort from the KTM stalwart as the Mooney VR46 duo finish a brilliant P2 and P3.
Morbidelli held onto P4 and one of his best results for some time, fending off Alex Marquez, Bagnaia and Viñales. Martin pipped Quartararo for P8 as the latter picked up the final Sprint point in P9. The points scorers were split by just 3.8s in a truly epic 12-lap dash.
After a Lap 1 crash, Joan Mir (Repsol Honda Team) is to be reviewed tomorrow morning before Warm Up.
The Sprint delivered. Binder delivered. Now the Grand Prix race awaits at 14:00 local time (GMT-3) on Sunday afternoon. Needless to say: don't miss it!
QUOTES: TOP 3
BRAD BINDER: "Yeah today was a bit of a surprise for sure, not only for me but also for my team. I knew my starts have been really good from Portimao already. I got a great launch of the line, and yeah. I pushed really hard in the first three corners to try and make up as much time as possible, and when I saw I was in 3rd or 4th place I kind of had to shake my head a bit and make sure it was real. Super happy with the way things went, my team completely turned my bike around for today. I felt so much more comfortable, I had way more grip so I cannot thank my guys enough for the effort they've put in. Tomorrow we're going to keep fighting and try to do the same again. Anyway, I'm super happy to have won again, it's been a while. It was a bit unexpected for me I suppose!"
How about that last lap?
"I saw +0.5 on my board, so I was pretty chill going into the last lap. But at the end of the back straight I heard a bike right next to me, so I was like shit I'm going to have to block. I just tried to do the shortest way around the whole last lap so then if they had to get past it would have to be a big move. But yeah when I crossed the line I was stoked. Like I said, I definitely couldn't imagine it happening today, not from 15h for sure. Unreal, thanks so much to my team."
MARCO BEZZECCHI: "It was a fantastic sprint for me! The start wasn't the best, but anyway I was managing to stay in the top positions. I was behind Luca (Marini), and in turn 5 everyone braked so deep and I also braked deep but a little bit less compared to the others so as soon I got into the corner my head was already down, this is why I touched a little bit with Luca. Fortunately, everything went well because if not Uccio and Vale would probably kill me. Then I could recover many places because also in the battle with Maverick, we lost a bit of time, but anyway I was fast so I managed to come back. Yeah, it was very fun!"
Did you think you'd pass Brad and does this give you confidence going forward?
"Well, Brad was very good on the last lap, he's a hard braker everyone knows this. I caught him very closely in Turn 7 but you know I was missing half a lap and he protected very well so for me it was difficult to make more than this. Anyway, I am happy because I tried to stay as close as I could. But yeah it was important the pace for today. For tomorrow, it will be different because the tyre consumption will be more. Anyway, for the moment I enjoyed it and that's it."
LUCA MARINI: "It was an especially great start, I think. Now in this MotoGP, especially in the Sprint, you must start in front and start well, so I was fully focused on that side because then it's very difficult to overtake and everybody has a fantastic pace. So I'm satisfied and really happy about this result because after Portimao weekend it was not easy, it was a nightmare and to be here now with this great result is fantastic. But it will be even more difficult for tomorrow because I don't think I have the pace to fight for the podium tomorrow. It will be difficult, but I will try to make another good start and we will see."