Aleix Espargaro leads Aprilia 1-2, Bezzecchi heads the chasing pack
It's advantage Aprilia on Day 1 in Argentina, with Bezzecchi and Marini on the chase, Bagnaia sixth and Quartararo in P14 on the way to Q1
Friday, 31 March 2023
1st and 2nd in Practice 1, 1st and 2nd in Practice 2 – it doesn't get any better than that for Aprilia Racing as Day 1 at the Gran Premio Michelin® de la República Argentina belonged to the Noale factory. Ending Friday on top was Aleix Espargaro after the 2022 Termas race winner got the better of teammate and P1 pacesetter Maverick Viñales in the afternoon, while Portuguese GP podium finisher Marco Bezzecchi (Mooney VR46 Racing Team) claimed P3 just ahead of teammate Luca Marini.
Reigning Champion Francesco Bagnaia (Ducati Lenovo Team) ended the day in sixth and may be glad the fight for an automatic place in Q2 is already over, but his predecessor Fabio Quartararo (Monster Energy Yamaha MotoGP™) likely wished for another shot at it. El Diablo ends Day 1 in P14, with teammate Franco Morbidelli up in ninth and moving through.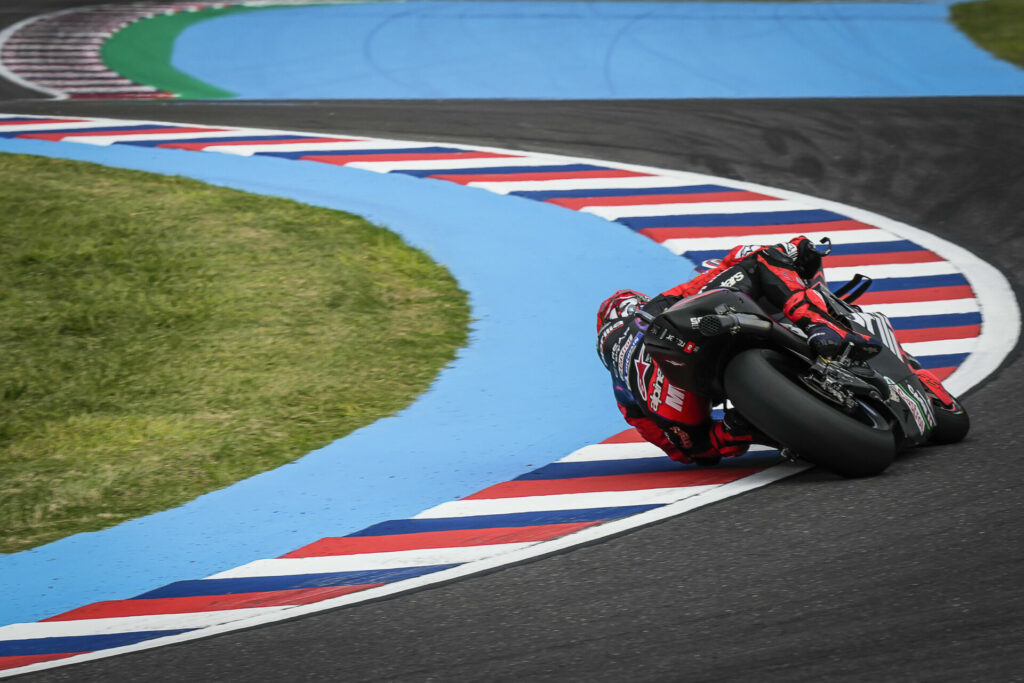 P1
With rain threatening to disrupt proceedings in Termas de Rio Hondo, the final 10 minutes of P1 were hectic as riders chased that all-important top 10. A late lap from Takaaki Nakagami (LCR Honda Idemitsu) placed the Japanese star in 4th, with Alex Marquez (Gresini Racing MotoGP™) going well again in 5th.
World Championship leader Bagnaia squeezed into the top 10 in P10, but Quartararo was already struggling even more ahead of the afternoon final shootout.
There was one crash to report – Alex Rins (LCR Honda Castrol) tucked the front of his RC213V at Turn 1. The Spaniard was perfectly ok.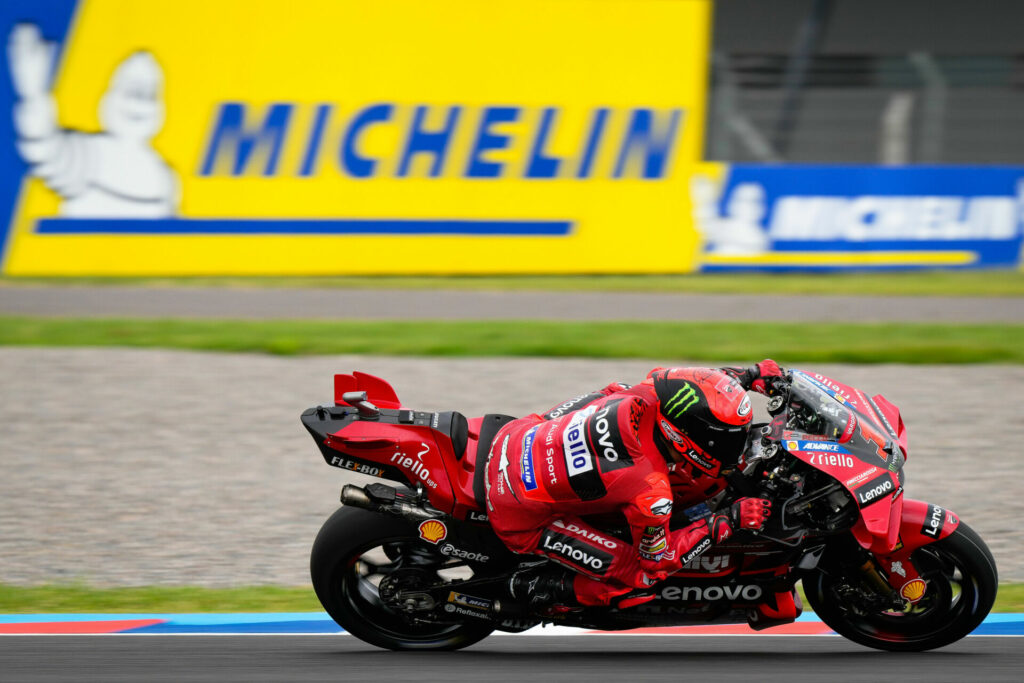 The rush for Q2
It wasn't until the final 20 minutes that plenty of movement lit up the timesheets in Practice 2, as Jorge Martin (Prima Pramac Racing) pounced to demote Viñales to second after the latter produced a dominant performance in Practice 1. On his second flying lap, Martin moved the goalposts further as his 1:39.092 became the time to beat, and Nakagami climbed to P3.
With all eyes focused on grabbing a top 10 spot ahead of Saturday morning's qualifying, Practice 2 lit up. Aleix Espargaro set a new benchmark as Viñales slotted into P2, 0.009s off his teammate, before Bagnaia then went top of the pile with a 1:38.969. Then, Viñales was back at the summit – but not for long. Bezzecchi was now the pacesetter, with teammate Marini taking over as third fastest.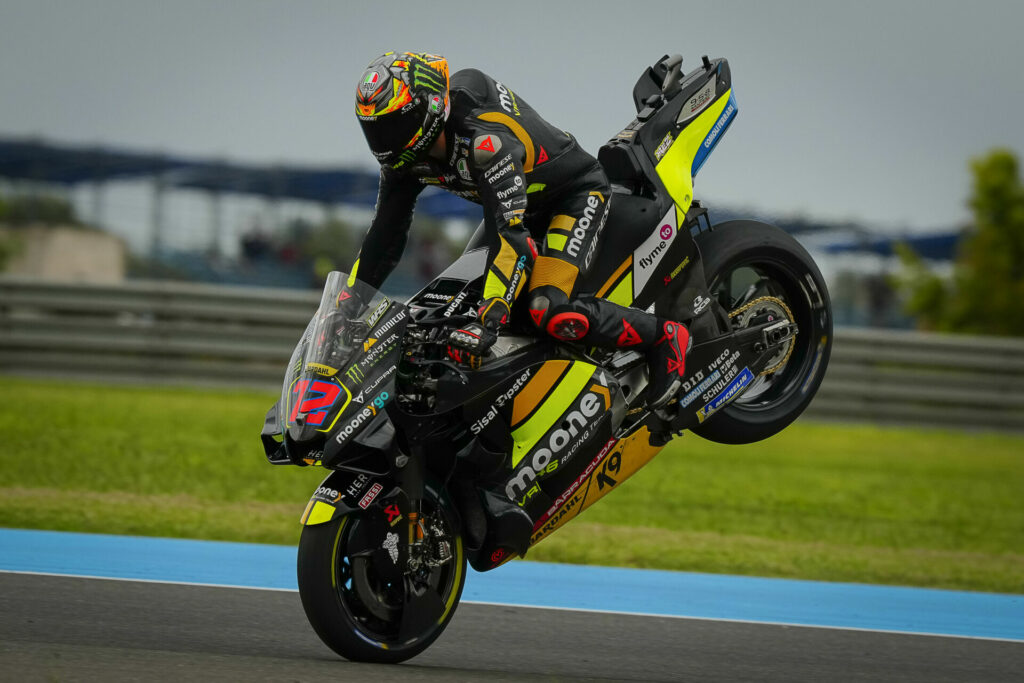 With 10 minutes to go, Quartararo was in P13 and 0.9s off the top. By three minutes to go, he was still outside the cut off. In contrast, Viñales found an extra dose of pace and went back to the top, but his stablemate made sure that didn't last long. Aleix Espargaro set a 1:38.518 to beat Viñales by 0.162s. Quartararo still remained outside the top 10 with seconds to go, and that's where he stayed.
Behind the top three, Marini bounced back from a difficult opening weekend with a solid Friday P4 in Termas de Rio Hondo, with Johann Zarco (Prima Pramac Racing) rounding out the top five. Reigning World Champion Bagnaia settled for P6, 0.4s off Espargaro, with Martin, Nakagami, an upbeat Morbidelli and Rins acting as the final automatic entrants to Q2 on Saturday morning in P7, P8, P9 and P10 respectively.
Alongside Rins' Turn 1 crash in Practice 1, reigning Moto2™ World Champion Augusto Fernandez (GASGAS Factory Racing Tech3) was unhurt in a Practice 2 Turn 1 crash.
Some big hitters will be battling it out in Q1, including 2020 World Champion Joan Mir (Repsol Honda Team), Red Bull KTM Factory Racing duo Brad Binder and Jack Miller, Alex Marquez, and Quartararo. Don't miss qualifying on Saturday morning, it's going to be a barnstormer.
Saturdays = qualifying & Tissot Sprint
So that's it from Friday in Argentina. An intriguing day to say the least as the second installment of the Tissot Sprint fast approaches. Can Quartararo bounce back from a difficult day? Who will get themselves into the pole position shootout? Free Practice starts at 10:10 local time (GMT-3), before qualifying from 10:50. Then, it's lights out and away we Sprint at 15:00!
Just 0.080 splits Arbolino, Salač and Acosta on Friday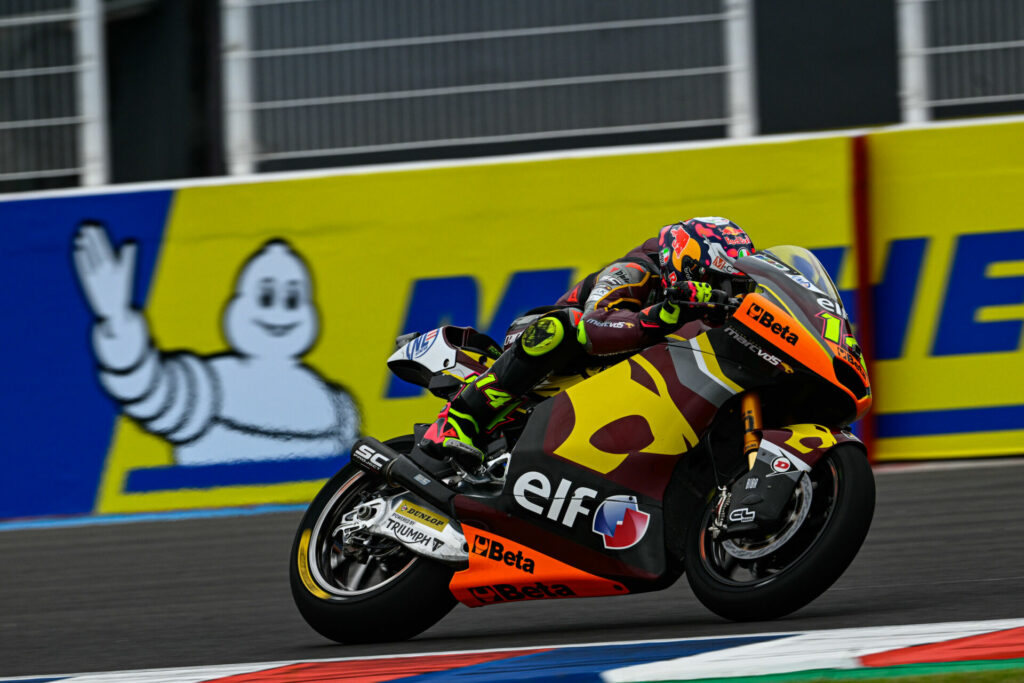 It's tight at the top after Day 1 for Moto2™, with Tony Arbolino (Elf Marc VDS Racing Team) quickest off the mark but the Italian enjoying close company from both Filip Salač (QJMOTOR Gresini Moto2™), 0.066 in arrears, and Portuguese GP winner Pedro Acosta (Red Bull KTM Ajo) at a deficit of just 0.080.
It stayed close from there on out, too. Jake Dixon (GASGAS Aspar Moto2™) was 0.121 off the top, and Somkiat Chantra (Idemitsu Honda Team Asia) just 0.005 off the Brit. Aron Canet (Pons Wegow Los40), Sam Lowes (Elf Marc VDS Racing Team) and Fermin Aldeguer (Beta Tools Speed Up) are tightly packed just behind them, with Bo Bendsneyder (Pertamina Mandalika SAG Team) and Alonso Lopez (Beta Tools Speed Up) completing the top ten.
The top 14 head through to Q2 directly, check out the combined timesheets and then come back for P3 before qualifying on Saturday from 13:45 (GMT-3).
Sasaki holds early advantage in Argentina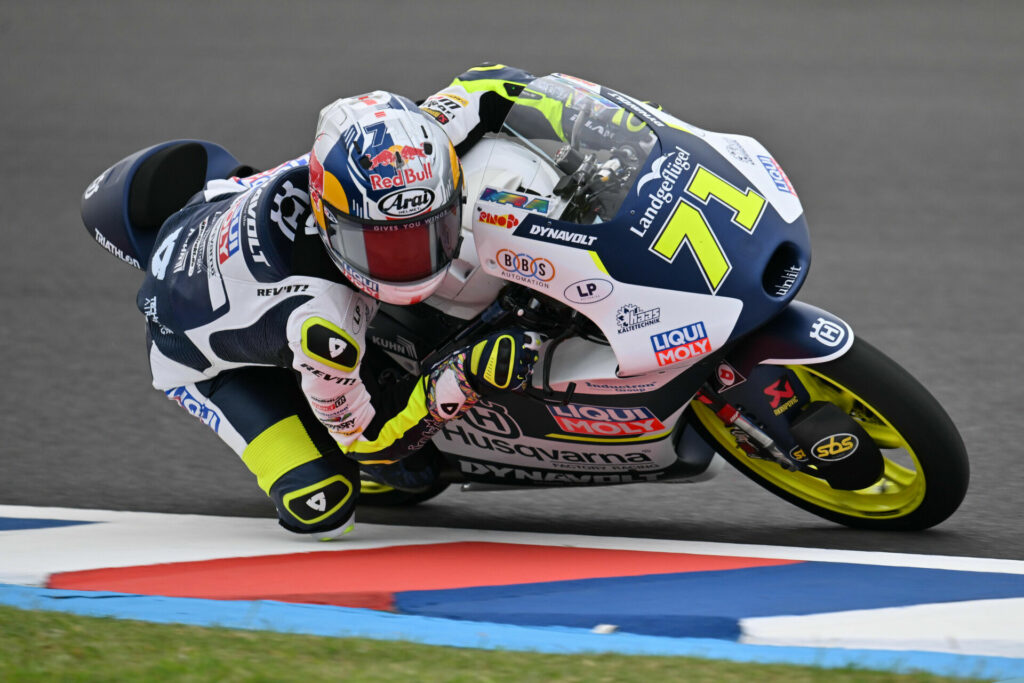 Ayumu Sasaki (Liqui Moly Husqvarna Intact GP) topped the timesheets on Friday in Moto3™, the Japanese rider 0.186 clear of Diogo Moreira (MT Helmets – MSI). Moreira, fresh from taking his first Grand Prix podium and the first for Brazil in the lightweight class, was less than half a tenth clear of veteran campaigner Jaume Masia (Leopard Racing) in third.
The top three had a small advantage by the end of play, with Tatsuki Suzuki (Leopard Racing) in fourth but three and a half tenths off his teammate. Suzuki also had a couple of tenths in hand over Stefano Nepa (Angeluss MTA Team) as the Italian headed a closer gaggle completing the top ten: Matteo Bertelle (Rivacold Snipers Team), Kaito Toba (SIC58 Squadra Corse), David Alonso (Autosolar GASGAS Aspar Moto3™), Scott Ogden (VisionTrack Racing Team) and Portuguese GP winner Daniel Holgado (Red Bull KTM Tech3). So close that Dutch rookie Collin Veijer (Liqui Moly Husqvarna Intact GP) missed out on that top ten by just 0.002.
One rider currently set to miss out on Q2 is Deniz Öncü (Red Bull KTM Ajo), something he'll be keen to rectify on Saturday morning! Come back for more then, before qualifying for the lightweight class from 12:50 (GMT -3).
More, from a press release issued by GASGAS Factory RAcing Tech3:
ENCOURAGING OPENING DAY IN TERMAS DE RIO HONDO FOR ROOKIE AUGUSTO FERNANDEZ
Sole GASGAS Factory Racing Tech3 representative at the Gran Premio Michelin® de la República Argentina, rookie Augusto Fernandez started his Argentinian campaign on Friday with the learnings from his positive opening round in Portimao last week, eager to continue his progress in the MotoGP™ class. Dry track conditions were declared at the start of the day, but that did not mean it was not tricky for rider and technical crew, with small drops of rain playing around all day in Termas de Río Hondo.
In Practice 1, the rookie delivered an impressive performance this morning, with encouraging lap times on a circuit he was just discovering with his RC16. Halfway through the practice, he saw a great lap getting cancelled for exceeding track limits, but that did not prevent him from continuing to push, until he registered a lap in 1'39.994, placing him thirteenth of the morning session, just 0.787 seconds from the fastest man.
In the afternoon, the sky continued to threaten the action, but Practice 2 continued to roll on in dry track conditions. His progress was stopped after a couple of laps into the session when he lost the front of his bike at Turn 1, and thrumbled through the gravel. Luckily, he came back to his pit box feeling ok, and was back on track after a quick change of leathers, with a bit less than thirty minutes to refocus. Quickly he seemed to settle back in his pace, before trying to get a fast lap in the final five minutes of the session with a new set of tyres. 1'39.561, his personal best so far in Termas, places him seventeenth in the combined standings. Just 1.043 seconds away from the top, Fernandez has a good margin to improve and will work hard for a good grid position tomorrow morning in qualifying, before lining up for his second sprint. The MotoGP™ action will return on Saturday at 10:10 (GMT+3).
Augusto Fernandez 
Position: 17th
Time: 1'39.561
Laps: 40
"We are learning a new track with a MotoGP bike, so I tried to take it easy, but I am quite happy about my fast adaptation. In the afternoon, I lost a bit of confidence after my crash at Turn 1 when I lost the front. It was not ideal, but I recovered pretty well into the session. I got back the confidence in the braking points and the time attacks were not too bad. We are not very far from the fastest riders, but we are still missing a little something to grab a few hundredths. We will continue working hard for tomorrow."
More, from a press release issued by Gresini Racing:
TEAM GRESINI ONE TENTH AWAY FROM ARGENTINE Q2
The racing weekend at Termas de Rio Hondo began with good feelings for Alex Marquez and Fabio Di Giannantonio, both close to each other lap-time wise and only a few thousandths of a second away from the top ten. 0.096secs separate the Spanish rider from the Italian one, with the #73 who missed the chance to get into Q2 due to some traffic encountered in the third split (after potentially improving in the first two) whole the other worked more on the feeling with the bike – which he fully recovered.
On-track action will resume tomorrow morning at 10:50 local time for a Q1 who could see both Gresini standard bearers as protagonist. A spot in the first four rows will be crucial for aiming at something important in the sprint race (scheduled at 15:00) as well as in Sunday's encounter.
11th – ALEX MARQUEZ #73 (1'39.184s)
"It was a very positive Friday. We worked well with both the new and the used tyres. Shame that I encountered some traffic om my good lap: we had a big chance to get into Q2 today but somehow we seem not to like the easy way. We have everything in order to get into Q2 tomorrow and we'll be ready for the sprint race. Tyres and track are very different here, but I expect a very similar sprint race to the one we had in Portimao."
15th – FABIO DI GIANNANTONIO #49 (1'39.288s)
"Things are a bit better than what they look like… We're all very close and the feeling with the bike is now similar to the one we had in the tests. We made a plan with tyres a little different to everybody else's and we didn't have two sets to use in the afternoon, but we were still one tenth or so away from the Q2 lot. We're working well and trying to improve in all areas; here the grip is very low, but we're getting there."
More, from a press release issued by RNF MotoGP Team:
Learning day for Raul Fernandez in Argentina
Mixed weather conditions accompanied the opening day of the Gran Premio Michelin de la República Argentina. Following some hot and humid days, there have been some drops of rain this morning, yet both Friday's sessions for MotoGP stayed mainly dry.
Raul Fernandez, the sole rider of the CryptoDATA RNF MotoGP Team this weekend, started to develop a feeling with his Aprilia RS-GP at the Termas de Rio Hondo circuit. Riding on the track for the first time on his new machine, Fernandez was fortunate to not be bothered by the numbness he experienced in his arm during the race in Portugal less than a week ago. He made significant progress throughout the day, improving his lap time by 0.761 seconds from Practice one to the end of Practice two. Although he finished in P18, he was just a bit over a second behind the fastest rider of the day and missed out on the top 10 by only 0.458 seconds.
Meanwhile, encouraging signs were also seen from Aprilia Racing next door with Aleix Espargaro and Maverick Viñales covering the first and second positions.
Saturday promises to be another action-packed day, with Free Practice starting at 10:10 local time (15:10 CET), giving Raul a final chance to fine-tune his race settings ahead of the Qualifying itself, which begins at 10:50 local time (15:50 CET). The Sprint race, with a distance of 12 laps, will begin at 15:00 local time (20:00 CET).
RAUL FERNANDEZ
"I feel good and I am lucky with my arm. The track doesn't have a lot of grip and there are quite many bumps. I don't know why, but always when the grip level is low, I do struggle. Especially here, I lost a lot of time. We need to work on that and analyze it. It's just about small details, mainly on corner exit. We saw the data and we have an idea on what we need to work on and we think it's just some minor changes, we need to do. Overall, I am happy about today. We are not far from the front, but obviously the position doesn't look very nice."
More, from a press release issued by Repsol Honda:
Mir finds a second in Argentina
Big improvements for Joan Mir saw the #36 narrowly miss out on the top ten in Argentina, Saturday set to be a day of comebacks for the double World Champion.
It was a lone Joan Mir left to face the changeable conditions of the two Friday practice sessions inside the Repsol Honda Team garage as Marc Marquez continued his recovery at home in Spain. Morning showers threatened a wet start to the day for the MotoGP field at the 4.8-kilometer long Termas de Rio Hondo circuit, but the track dried quickly. Rain would threaten most of the day, but it would ultimately remain dry.
Mir avoided fitting a soft rear slick and pushing for a fast lap in the morning session as he worked on improving the feeling of his Honda RC213V in Argentina. Down the timesheets, Mir and the Repsol Honda Team worked solidly throughout the lunch break to find solutions to the situation for the crucial afternoon session. Improving to a best time of 1'39.257, almost 1.5 seconds faster than his FP1 time, Mir ended the day in 13th. 0.120s shy of a spot in the combined top ten, the #36 was left disappointed with the day and is already plotting his comeback on Saturday.
Saturday will see the second MotoGP Sprint race take place; 12 laps of all-out action scheduled to start at 15:00 Local Time.
Joan Mir
13TH  1'39.257
"It was a pretty tough day. We started with a base setting which was not the best for this track, and we spent a lot of time working on it to improve. There is clearly a lot of potential there with the bike, Taka and Rins were strong, but I am just missing the final few tenths. We made a lot of progress and finally our pace at the end, especially with used tyres, was quite close to the top five. We just need more time now to work on the fine details, it's still just our second race so this is part of the process. Even like this we were able to make some big improvements today and we aim to continue it tomorrow."
More, from a press release issued by Monster Energy Yamaha:
LOW GRIP IN ARGENTINA MEANS MIXED FRIDAY RESULTS FOR MONSTER ENERGY YAMAHA MOTOGP
Termas de Río Hondo (Argentina), 31st March 2023
GRAND PRIX OF ARGENTINA
PRACTICE
Monster Energy Yamaha MotoGP's Franco Morbidelli found the improvement he was looking for just a week ago at the Portuguese GP. He started the Gran Premio de la República Argentina with a strong pace, 9th in the combined P1+P2 results, and a place in tomorrow's Q2. It was an overcast day for Fabio Quartararo in more ways than one. Ranking 14th in today's overall results, he will have to take part in Q1.
LOCAL TIME: 15:00 GMT-3
AIR TEMPERATURE: 24°C
TRACK TEMPERATURE: 31°C
WEATHER: CLOUDY / HUMIDITY 66%
MORE CIRCUIT INFO
9th FRANCO MORBIDELLI 1'39.080 / 16 + 23 LAPS
14th FABIO QUARTARARO 1'39.264 / 19 + 27 LAPS
Monster Energy Yamaha MotoGP's Franco Morbidelli showed strong performance in the two Friday MotoGP sessions at the Autódromo Internacional de Termas de Río Hondo, securing 9th place in the combined standings and a place in Q2. It was a difficult day at the office for Fabio Quartararo. He ended the Friday in Argentina in 14th position and will have to take part in tomorrow's Q1.
Morbidelli showed brilliant pace throughout P1. The Italian featured inside the top 3 for most of the 45-minute session and set the provisional fastest lap multiple times. Though he finished in eighth place and 0.489s off the top time in the end, with a 1'39.696s set on lap 15/16, his improved performance gave him a confidence boost for the remainder of the weekend.
The Italian kept the momentum going in the overcast but perfectly dry P2, underlining that his solid pace from the morning session was here to stay. Morbido worked diligently and managed to shave an extra 0.6s off his P1 best lap, posting a 1'39.080s on lap 21/23. It earned him ninth place in the P2 and the combined rankings, 0.562s off the fastest time, and a place in Saturday's Q2.
Things didn't go to plan in the morning session for Quartararo. His strategy was to work on his bike's settings for most of the session and then push for a hot lap in the final stages. However, he didn't have the perfect lap on his first and second try during his time attack, and he thought he had taken the chequered flag before his third lap and rolled out. He ended the session in 15th place, with a 1'40.116s set on lap 17/19, 0.909s from first.
The Frenchman was thankful that the 1-hour long P2 session was dry, so he could use the time to work on his bike's set-up. He put in a total of 27 laps and improved on his best morning time by almost a second, with a 1'39.264s set on lap 25/27. However, it was not enough to get him into the top 10. He finished 14th in the P2 and combined results, 0.746s from the top, and will have to take part in tomorrow's Q1.
MASSIMO MEREGALLI
TEAM DIRECTOR
The Argentina GP weekend has not started the way we expected. There are positives and negatives. Starting with the positives: Franky has found something here this weekend. His pace is good, as he showed in both sessions, and he is inside the top 10 and in Q2 where he belongs. Fabio, on the other hand, seems to be struggling much more from the lack of grip at the circuit. He made an improvement in P2, but he is not at the level where he should be. Tomorrow, he will have to take part in Q1. It will be a tough day, so we have to work hard to find a solution overnight to help him get into Q2 – because we have seen from last weekend how vital qualifying is for the outcome of Saturday's Sprint and Sunday's Race.
FRANCO MORBIDELLI
It was a positive Friday for us. We started already with a good feeling, and we went ahead with the weekend and started improving the bike little by little. I feel that we have improved today, that's positive. There are some areas to work on, for sure. But, so far, it's been a positive start to the GP weekend. Tomorrow, it would be very nice for me to be somewhere on the front two rows. Let's see if it's possible.
FABIO QUARTARARO
It was a bad day for us. The feeling is not so bad, but there are many things to work on. We lack corner speed and drive. But the corner speed is the thing I'm missing the most. We have to understand why this is happening, because we haven't changed that much on the bike compared to before. I hope that later today I will understand why. I was expecting to do better, considering that we had a strong pace last year.
More, from a press release issued by Lenovo Ducati:
Bagnaia sets the sixth fastest time at the end of Day 1 of the Michelin Grand Prix of Argentina at Termas de Rio Hondo
Francesco Bagnaia was the sixth fastest at the end of Day 1 of the Michelin Grand Prix of Argentina, the second round of the 2023 MotoGP season, held this weekend at the Termas de Río Hondo circuit.
Tenth after the first session, the Ducati Lenovo Team rider lowered his time by more than half a second in the afternoon session. With a fastest lap time in 1:38.944, Bagnaia ended the day in sixth, thus gaining direct access to tomorrow morning's Q2.
In addition to the official qualifying, scheduled at 10:50am local time, the MotoGP riders will also face the first race of the weekend at the Argentine track tomorrow. The Sprint Race will start at 3:00pm local time (CEST -5:00) on a 12-lap distance.
Francesco Bagnaia (#1, Ducati Lenovo Team) – 6th (1:38.944)
"It was a positive day all in all, and I am satisfied with our work. Compared to Portimão, where we had two days of testing before the race weekend, we were not starting in the best conditions. The time available to fine-tune the bike is not much, but we still did a good job. On used tires, my pace is competitive, and we are not far from the frontrunners. Tomorrow morning it will be very important to keep riding on used tyres again to try to make an additional step forward, and in qualifying, it will be crucial to secure a spot in the first two rows of the starting grid."
More, from a press release issued by LCR Honda Castrol:
ALEX RINS SECURES Q2 SPOT IN ARGENTINA
LCR Honda CASTROL rider Alex Rins has completed the first practice sessions of the Grand Prix of Argentina. The Spaniard has classified 10th after a very intense day.
At the Circuit of Termas de Rio Hondo, Alex has tested new items brought by HRC and has been able to decide and compare which ones are more performing. Considering some strong wind and track conditions, Rins and the crew have carried out a solid Friday that has secured a Q2 spot. The job at the box never finishes, however, these small steps mean extra motivation to embrace the rest of the weekend.
Alex Rins 10th
(1'39.117)
"I'm quite satisfied after today's performance, it's true that there's still work to do because we haven't had time to find the best setup, but being able to test different parts has given us important information to keep pushing; I've had better feelings and step by step we are getting closer to our rivals."
More, from a press release issued by LCR Honda Idemitsu:
TAKAAKI NAKAGAMI SECURES Q2 SPOT IN ARGENTINA
LCR Honda IDEMITSU rider Takaaki Nakagami has completed the first practice sessions of the Grand Prix of Argentina. The Japanese rider and the crew have accomplished a performing Friday, classifying 8th on the general standings, and securing a Q2 spot.
Nakagami has been one of the most consistent riders of the day, as at the end of the first session he had set the 4th fastest lap time. Considering strong wind and track conditions, the rider admits having found better feelings on the bike that have allowed him to be smoother. Things this way, finishing the first day of track activity with a positive result means the extra motivation to embrace the rest of the weekend.
Takaaki Nakagami 8th
(1'39.071)
"I've always liked this track and I've felt good on the bike today. We are always working hard to improve because we still miss a bit compared to our rivals. Today I've enjoyed the sessions and I believe we are always closer, as session after session we are confirming our progression".
More, from a press release issued by Moony VR46 Racing Team:
GOOD START FOR THE MOONEY VR46 RACING TEAM IN ARGENTINA
Marco Bezzecchi and Luca Marini gain the direct access into the Q2 in P3 and P4 respectively at the end of the Day1
Termas de Rio Hondo (Argentina), March 31st 2023 – Marco Bezzecchi and Luca Marini immediately among the fastest guys at Argentina GP which takes place on Sunday at Termas de Rio Hondo (Sprint tomorrow at 03:00 pm local time) . At ease on the Ducati Desmosedici GP bikes of the Mooney VR46 Racing Team, both have set the direct access to tomorrow's Q2 (11:15 am) respectively in third and fourth place in the combined standings.
Only two tenths behind the poleman of the day (Espargaro, 1'38.518) for Marco who signs a superb 1'38.767, excellent time and feeling on the flying lap and also a decent pace on the long run.
Very positive sensations also for Luca, consistent in both sessions and looking for redemption on the Argentine track. He sets a good 1'38.833 right at the end of the session.
LUCA MARINI – 10
A positive day: I'm satisfied with the work done and the changes brought to the track, especially in terms of settings. I have to say that the asphalt conditions, especially this morning, were particularly difficult to manage even in terms of grip. We have to keep working: I need a step forward on the engine braking and rear tire management, at least for the long race. We changed bike 1 a lot, I didn't feel at ease even if the lap time is very similar to the one I set with the bike 2. I'm not confident on the front and the rear moves a lot. It is normal that the two bikes are not identical, it is, at the same time, strange that they are so different.
MARCO BEZZECCHI – 72
The aim of the weekend is, as always, to work as hard as possible but, immediately, I managed to be very fast. Here in Argentina I've always had a good feelings, but the conditions are tough, even with the grip, and the level is very high. We haven't made any radical changes compared to Portimao, the first bike was identical, while in the second we made some small changes that worked right away. Friday is crucial: we need to start immediately strong. I took great care with my riding style today, in order not to overload the tires, and I'm happy both in terms of the Sprint and the race. We are all there.
More, from a press release issued by Aprilia:
APRILIA SWEEPS FRIDAY AT THE GP OF ARGENTINA
MAVERICK FIRST AND ALEIX SECOND IN THE FIRST QUALIFYING SESSION, ALEIX FIRST AND MAVERICK SECOND AT THE END OF THE DAY
EVEN SWAPPING THE ORDER, THE RESULT IS THE SAME: TWO APRILIAS ARE AHEAD OF THE REST
Aprilia kicks off the second round of the World Championship season, the Argentine weekend, in the best possible way. In the first session of the morning, Maverick Viñales was fastest ahead of Aleix Espargaró and in the second (faster) practice session, it was Aleix who came away with the upper hand over Maverick.
In short, a double one-two which is a first for the Italian team and demonstrates the good progress the RS-GP machines and all of Aprilia Racing are achieving.
Naturally, these are only the results of the first day of practice and the riders and the team are well aware of the improvements that must be made in order to stay at the top end of the standings, but it was unquestionably a good day that boosts confidence in view of the rest of the season.
Aleix
"Even though, before arriving here, everyone said we'd be fast like we were last year, I was still convinced that we'd have to demonstrate that on the track. The risk was that we might have gotten ahead of ourselves and that has happened to me in the past, so I tried to find my pace little by little today. Evidently it worked. I lapped at a good pace and, when it came time to find the speed for a flying lap, I did it."
Maverick
"A decidedly positive day. We still need to improve our pace a bit, but overall I'm satisfied. I'm confident because our pace already seems to be good and knowing that we still have margin for improvement is a good feeling. Now we need sit down and calmly analyse all the data we gathered today. I can't wait to get back out on the track to see what we'll be able to accomplish tomorrow."