Technical Managers talk 2022 so far
The Technical Managers for each of the six MotoGP™ factories sat down on Thursday to give their thoughts on the season so far, too, as well as look ahead to the future after a fruitful Misano Test. Davide Barana; Ducati Corse Technical Director, Kazutoshi Seki; 2022 Yamaha YZR-M1 Project Leader, Romano Albesiano; Aprilia Racing Technical Director, Sebastian Risse; Technical Manager KTM MotoGP, Ken Kawauchi; Technical Manager of Team Suzuki Ecstar and Takeo Yokoyama; HRC Technical Manager, had plenty to say.
Here are some key quotes!
QUOTES
DAVIDE BARANA – Ducati Corse Technical Director
How do you analyse 2022?
"To now, the season seems to demonstrate that our technical and sporting management style is paying back. On track, eight different riders with very competitive skill has allowed us to collect a lot of data that also is useful for each rider. It has been always our policy to share completely information between our teams and also it helps a lot in terms of developing the bike for sure, because we are not relating to only one fast rider, we have a lot of them, and each has his own character and his own skills and abilities. Compounding this different input, we are sure is one of the key factors to developing out best bike, so very satisfying to now."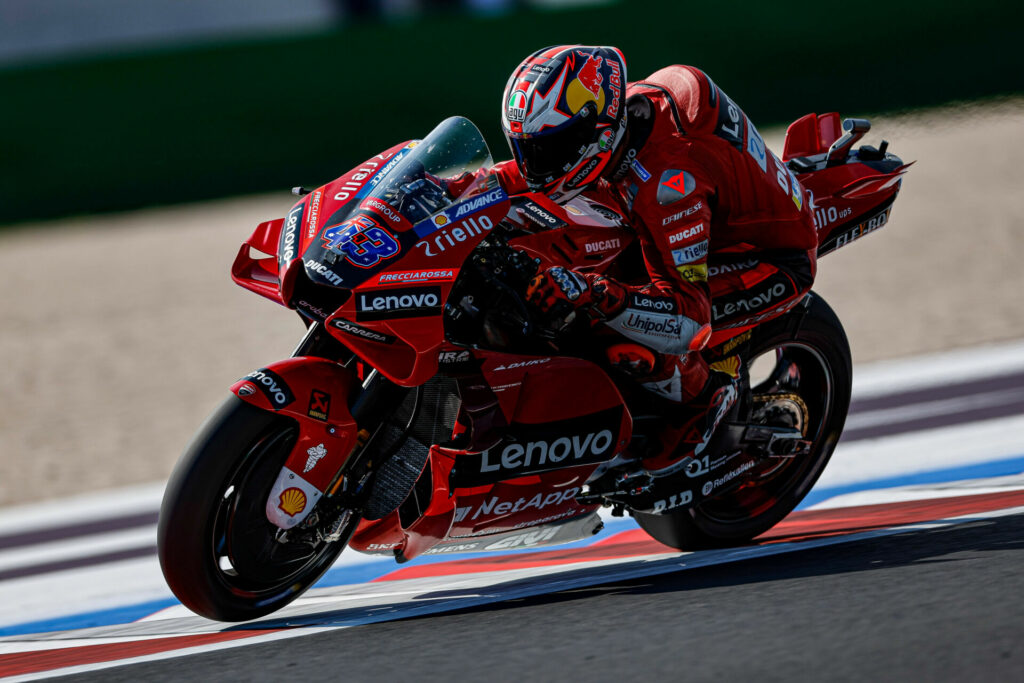 It took six races for the GP22 to win; how did you solve the problems, and were you concerned?
"From a racing management and also technical and sporting point of view, it is not an easy job. We always struggle with the need to develop the bike and also to keep confidence in our riders; confidence on the bike and also confidence on the technician to manage the bike properly. So, in particular, once you reach a certain level of performance, sometimes you are scared to change something. This is always a risk but it is a risk that we have to take because once you stop, when you believe you have arrived, you are in a good position, is the same point where you start to lose. So, at the beginning of the season, we continued to be aggressive on the development of the bike despite it already being a good bike, and this is the reason it took a while for us and for our riders to get the same confidence as with the previous bike and to achieve the best results. But now, I think we have found a way, the results demonstrate this, and as always, the others don't stop working, as we have seen this year. Every year is different, there are new competitors – obviously, Aprilia is doing very well this year – so it's important for us to never stop developing."
What are the key areas you are looking to improve next season?
"Being honest, I don't see a weakest point against the other right now. Now, I believe our bike is quite well-balanced in terms of performance and it does mean we have to work on every single aspect of the bike, trying to prioritise where we believe we have more to gain. As I said before, we collect so much input from different riders is helping a lot in defining where already the bike is stronger and where we have to work more, so I think we have to work on every aspect also. For example, engine, we have always been very good, but we see in recent years that the others are recovering, so for sure, we would like next year to regain the advantage we used to have, but also for sure, aerodynamics, driveability are important things we are working on."
KAZUTOSHI SEKI – 2022 Yamaha YZR-M1 Project Leader
Your assessment of the YZR-M1 this year?
"The combination of our bike and our rider is competitive. At the beginning of the season, we struggled a little bit, but then we understand our bike, and after that, I think it's competitive. Still, we miss something, but overall, I'm happy."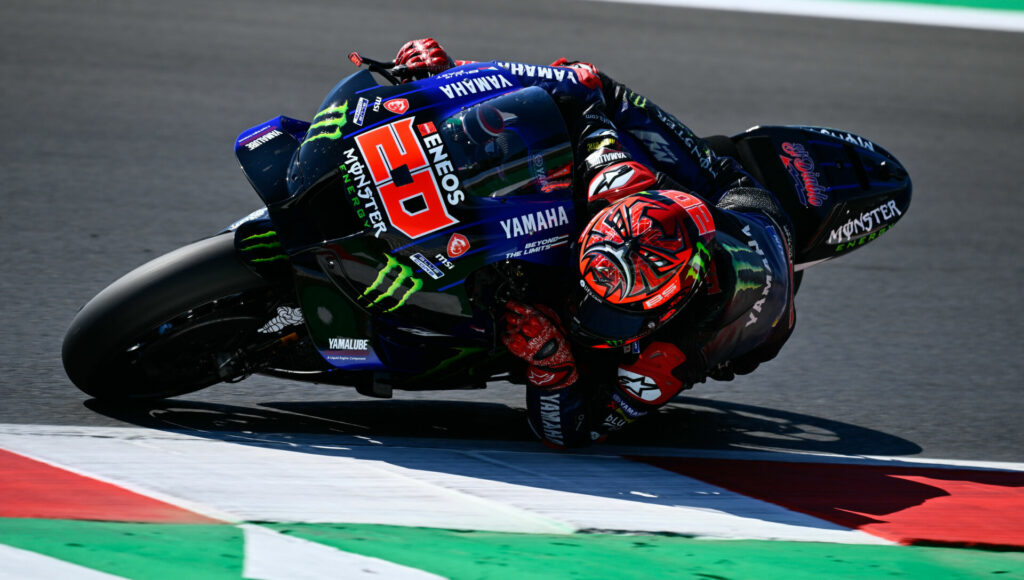 How encouraged were you by Quartararo's Misano test comments about the engine and when will the next evolution be ready?
"As Fabio said, the Misano test was very, very positive for us. Both riders – Franco and Fabio – gave us very interesting feedback and I believe it will help us for faster development. About development, we keep developing all the time and I hope we can bring something new for the test, not only for Valencia but also Sepang and Portimao. We can try to improve our bike until the last moment."
How important has Luca Marmorini been in developing the new engine?
"Yes, this collaboration is very important. So, we tried to match the good points of the Japanese team with the local team, and I believe that we can achieve a synergy effect."
ROMANO ALBESIANO – Aprilia Racing Technical Director
What has helped Aprilia become title contenders from a technical point of view?
"We have been improving for the last three years, continuously. The company has made some changes in the approach to the category, putting more resources and people into it, and there has been a continuous increase in performance, and we reached a good level. What I'm more happy about is the quantity of ideas and proposals that we produce inside the company and that makes me very optimistic, especially about the future."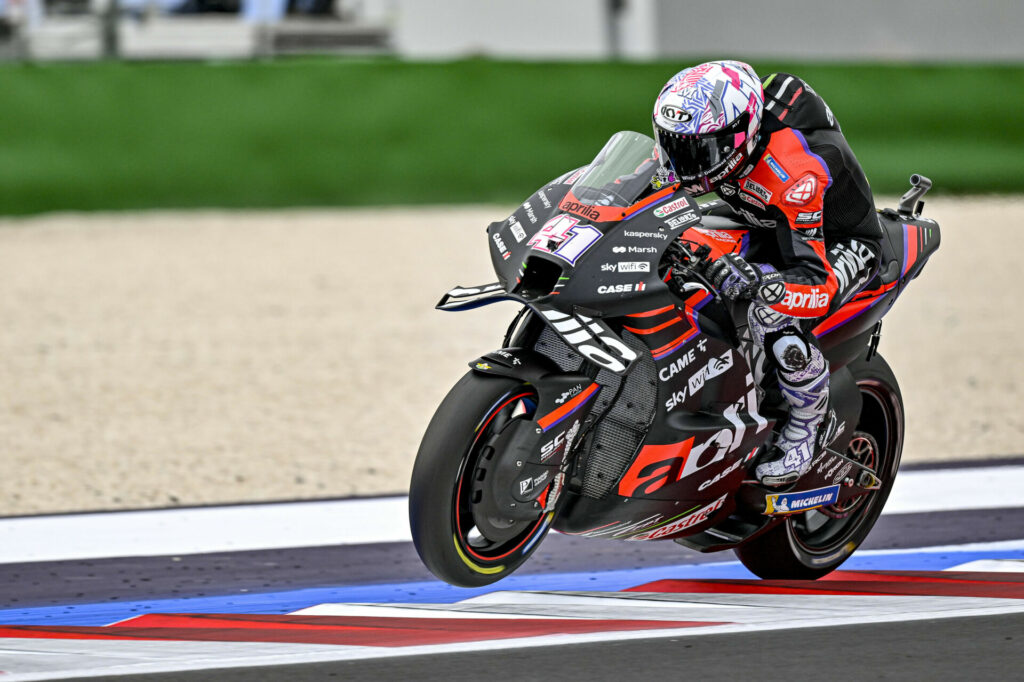 What areas are you looking to improve on?
"I think all the performance parameters can be improved, from engine side, from aerodynamics side, and also the quality of the performance analysis we do – the knowledge of the tyres, for example – we know we still have a lot to understand about these points. So, I feel we still have quite a big margin to improve in all these areas that are mentioned, so there is not one specific point but many, and as I said before, I feel we have the potential to do it."
How challenging and how interesting to do in two development directions for two riders?
"Our job is basically to increase our understanding of the motorcycle, and having different riders – and next year, we'll have four riders, which will make us even more rich in terms of data – with different styles, different approaches just gives us more information and to follow a different way of riding is not difficult, honestly. Okay, you cannot get confused, but if you have clear ideas in mind, you can do it easily because these bikes have such wide adjustment ranges and producing special parts for each rider is honestly not a big problem."
SEBASTIAN RISSE – Technical Manager KTM MotoGP™
How do you reflect on KTM's performance so far this season?
"We had an incredibly good start. Of course, what goes up can also come down at some point, and afterwards we had some races with difficulties. We had changed some things over the winter that we still had to understand and learn how to really exploit, how to get the best out of it. The biggest change was on the aerodynamics side and the rest of the bike was kind of following, trying to adapt to this, and finally I think we fixed on most tracks out weak point from last year which was acceleration out of the corners, and we identified other weak points that we have to work on, so at the moment we are working mainly with the turning of the bike. At the moment, the level of the bike is at a point that where we can put everything together, we can do something good already. But, we have a lot of ideas coming for this season, also for the coming season, to make the next step and I think this will bring us into the range to fight for the podium and further."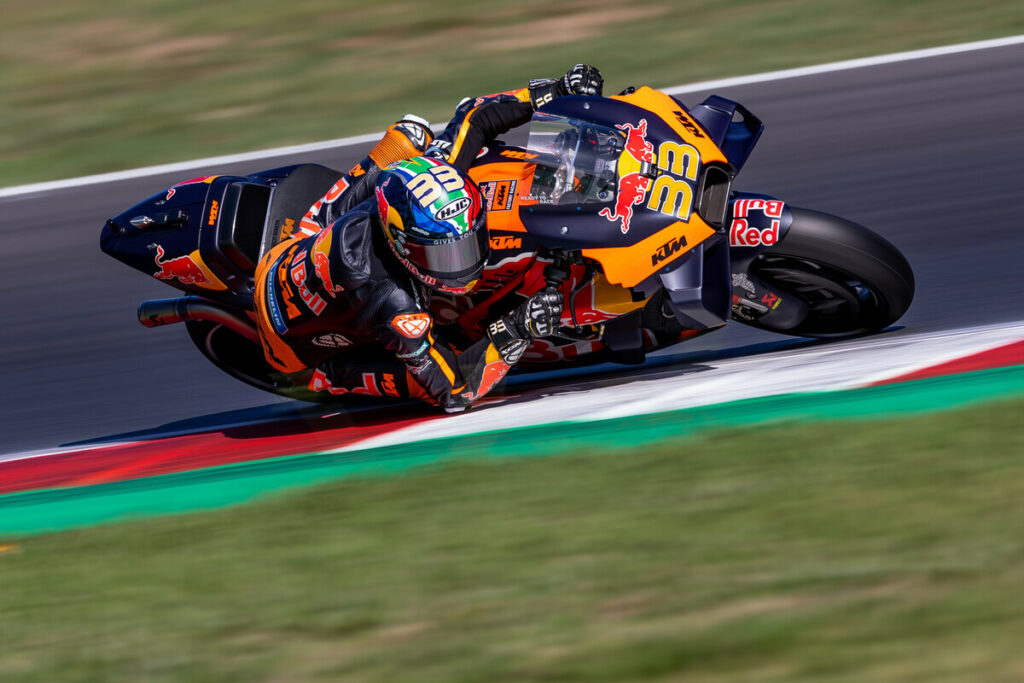 Did KTM adopt of a new strategy of fewer new parts, was it a success, and will it continue in 2023?
"Basically, I think in the first years of the project, we have shown very quick reaction time and very short development time for changes. We were also proud of this. But then, looking for the last tenths, and then losing the concessions, it puts it into a different context. When you just keep following this same philosophy, you run out of time, you run out of chances, and because you run short on time, it's easy to lose the way in this situation. So, it was clear for us that something had to change and it's a continuous process that we have started. It's for sure not about developing slower, it's about building up a structure in the background, working more analytically, having a process of how to run things through the test team and being sure that something is good, so that then you can implement it in a race weekend without having too many question marks about it. And we are still developing this process. In the beginning, of course, when you make this step, you come to a phase when there's not so much coming, because the next projects take a little bit longer time, but you have more projects in the background, and they are coming, step-by-step. So, I think we will come soon to the point where we have a similar amount of new components, but better proved components, and I believe that we have seen something already in the last Misano test that we will see now on-track in the next races and then hopefully we'll make another step for next year."
What has B. Binder been requesting you improve for 2023?
"For us, it is clear that the key thing we have to work on is the turning of the bike. Depending on the track layout, depending on the tyre allocation, sometimes you see us suffering more on the entry or suffering more on the exit, but the real reason is that we have to spend too much time and too much lean angle, we have to take a wider line on the entry than we want, and if we can improve this key point, I think everything around it will come."
KEN KAWAUCHI – Team SUZUKI ECSTAR MotoGP™ Technical Manager
What did you change last winter to be so strong, especially in the opening races?
"Compared to last year, a big difference is of course the engine. The engine difference is more than usual, and that's one point. The other point is the rear device. In the middle of last season, we started to use that. We still had some improvements to make last season and we could improve it a step; this is also a point. Other than these two points, we tried to improve many small areas and then we achieved such a good result."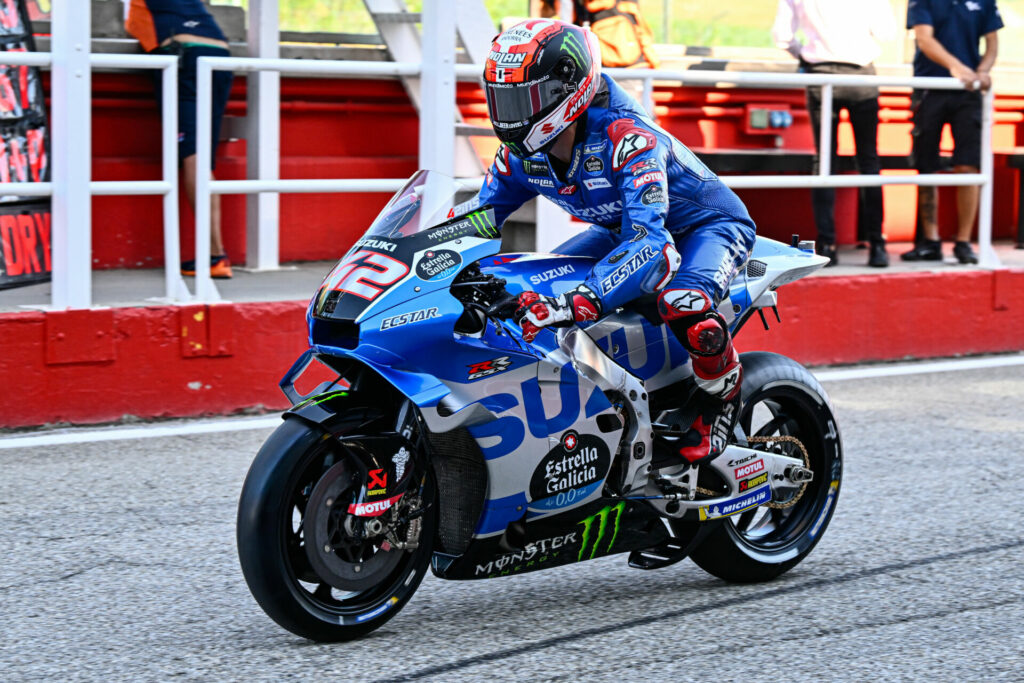 Are there any parts that were in development for next year that you can use in these final six races?
"Yes, we already had some items for 2023 that were already complete, so we brought some items to the last Misano test and we confirmed they were better, so for the last six races we will use it, and I hope this works."
What are the targets for these last six races?
"Including Aragon, the remaining six tracks are not bad for us, so our target is clear; try to go back to the podium as soon as possible and try to win."
TAKEO YOKOYAMA –  HRC Technical Manager
Reflections on how season has been for Honda so far:
"In the winter time, we believed that we were doing more or less okay, we were ready to start the season, and the first race in Qatar with Pol was going alright. But then, you can see on the results, things started to go down. There are several reasons and we are still in the middle of investigating, analysing and coming back to where we want to be. For example, in Misano test, we were trying something very interesting, especially with Pol Espargaro, who did really well at the start of the season but not doing well in Misano race week. So in the test, we decided to do something interesting to compare what has been changed, and we believe that we have found something. So, I think now we are on the way to go back to where we want to be."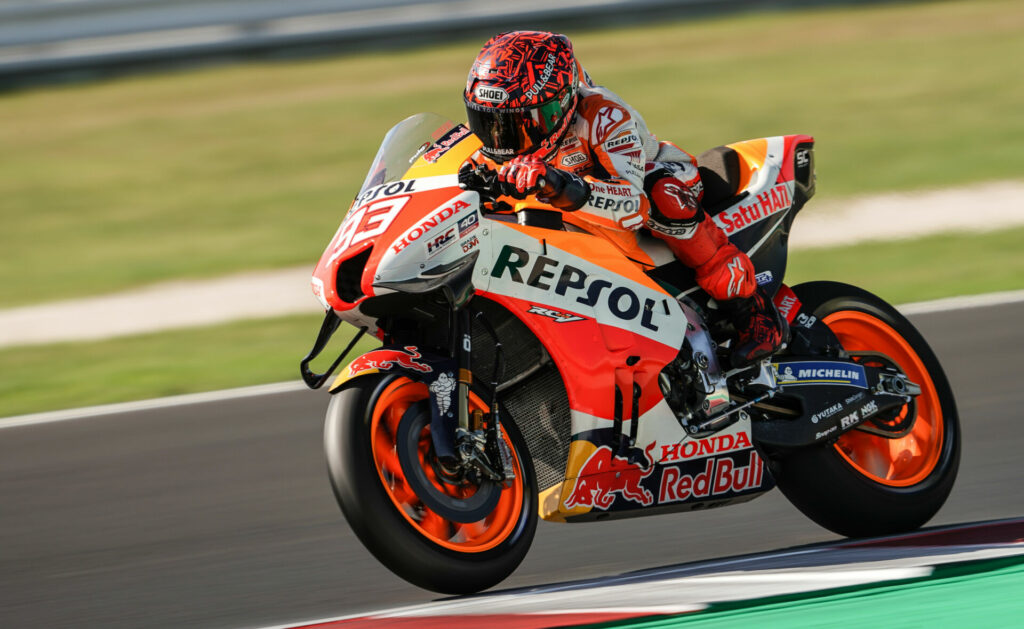 How important M. Marquez back to help with development of 2023 bike?
"I mean, Marc has been on a Honda for many years and he has been winning many races and many titles with us. Let's say, he is the guy who understand the most about the Honda MotoGP™ bike. I mean, although things have changed on the bike – this year, you can see we have changed many things on the bike – but anyway, his understanding of what is happening on the bike is so good and so deep, so we are very happy to have Marc back on the bike and the last part of the season is going to be our testing period to be ready for next season. So, that's the situation where we are and we need to work a lot with Marc."
Can you tell us about using the Kalex swingarm, and will you use more outside expertise in future?
"For us, it doesn't really matter what is outside and what is inside. You can see that we are in a position where we have to do everything to improve or to come back to the position. So, no matter how, we have to do everything we can do and trying a Kalex swingarm was just one of those things that we had to do, and we will continue doing everything we have to do."