"A lot of riders can fight for victory": MotorLand stages another showdown
Thursday, 15 September 2022
It's time for the Gran Premio Animoca Brands de Aragon and it's a headline maker already. For the pre-event Press Conference on Thursday, Championship leader Fabio Quartararo (Monster Energy Yamaha MotoGP™) was joined by Francesco Bagnaia (Ducati Lenovo Team), now only 30 points back, as well as home hero Aleix Espargaro (Aprilia Racing), Misano dueller Enea Bastianini (Gresini Racing MotoGP™) and two high profile returners: 2020 Champion Joan Mir (Team Suzuki Ecstar) and eight-time World Champion Marc Marquez (Repsol Honda Team).
Here are some key quotes!
QUOTES
FABIO QUARTARARO
Coming to Aragon as a bit of an underdog at this particular track, is it time to engage lion mode again? 
"Yeah it's a tough track but we've been pretty fast every time here in practice and qualifying, but in the race we've never had a good result. We know what the problem is, especially in the last two years, so we will try to figure out how to not have it this year. Sector 4 will be a tough one for us but I'm feeling confident so let's see how it's going."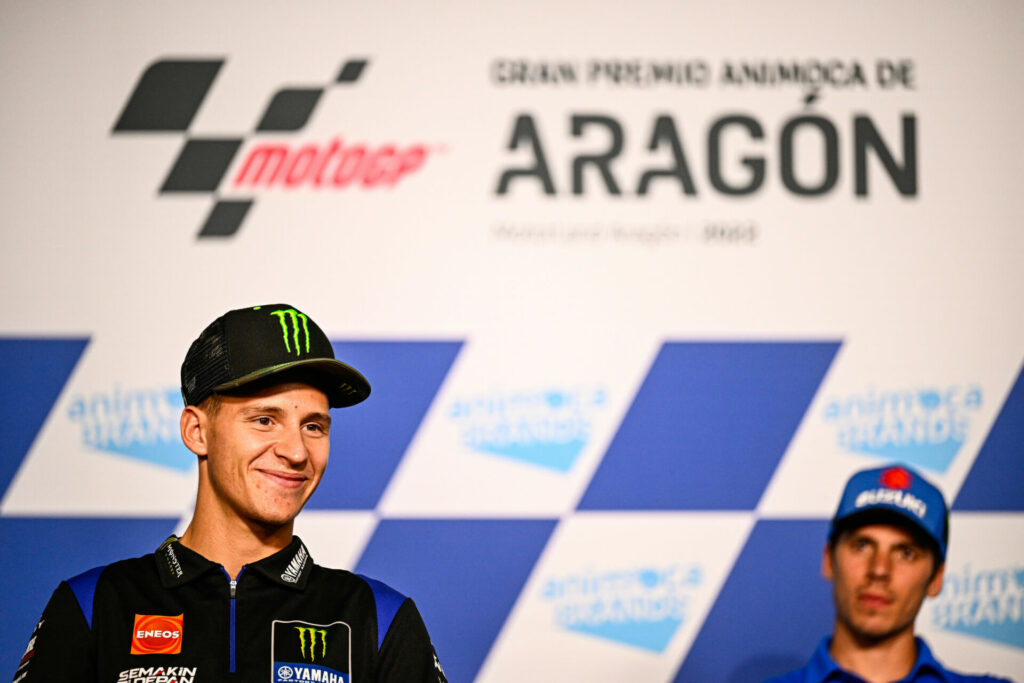 Happy with a new chassis, will some new parts help for final six races? 
"Yeah we will have the chassis from the Misano test, let's see when we can use it. I think the Misano test was important, not for what we tested but after the Misano race everybody was a little bit down but I think the test brought a lot of smiles to everybody and a lot of confidence. So it was a really good test and a really good moment to bring everyone up."
Are you calm or more worried about Pecco's form? 
"Calm or worried, it's the same situation. It's still 30 points. What I need to do is do my best which is what I'm doing, put myself on the limit and see how the next ones go."
FRANCESCO BAGNAIA
Describe your wave of confidence, happiness with bike?
"For sure, for me, this moment is quite great, because I feel incredible with my bike and also with the work we are doing in the box. Because, every time we start the weekend maybe in the not the best way possible – apart from Assen; that was incredible from the start – then Silverstone and Austria, we were struggling a bit but we found the way to prepare for the race. in Misano, it's my home Grand Prix, it's a magic place for me because I feel great there. We are working so well, considering that the start of the year wasn't the best because I was struggling a lot to find a good setting, a good feeling with the new bike. We started in Jerez finding a really great pace again, but I committed too many mistakes. Le Mans and Sachsenring was a big problem for me – I lost a lot of confidence and lot of points – but I think we have done a really great job. Also in the summer break, with my trainer and with my team, we found the mistakes and where the problem was, and I think we learnt a big lesson and maybe also from that, we found the best consistency."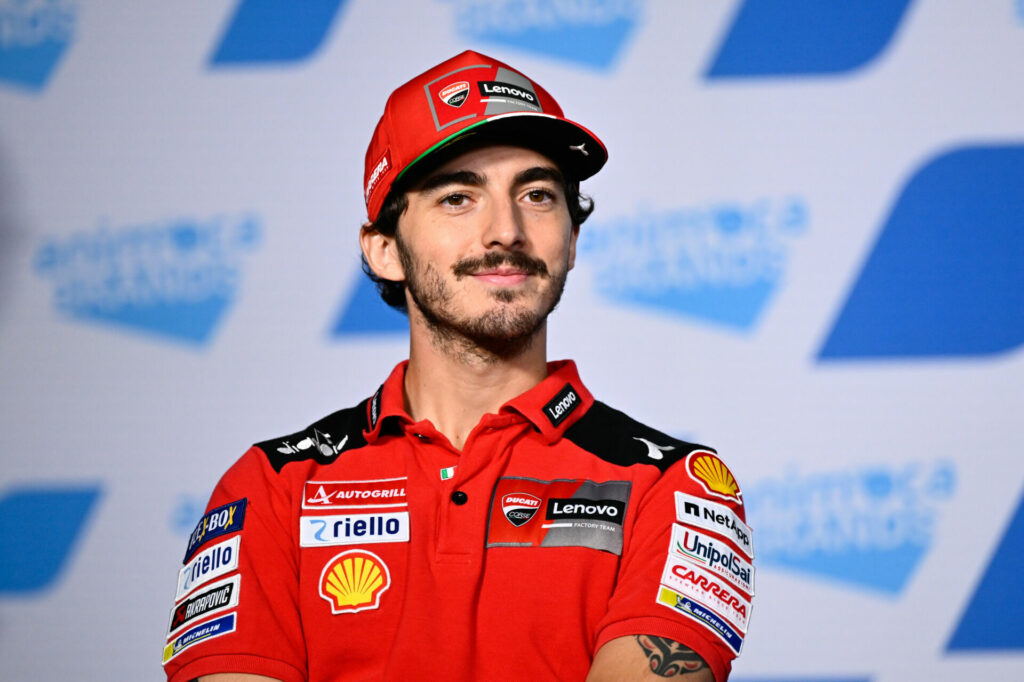 Is there pressure on you given the 2021 Aragon result and four wins in a row? 
"I think also in Austria, the people were saying that I had to win because I was with Ducati; in Misano, because it was my home Grand Prix. So, it doesn't mean too much to me. I just want to try to work well like we have been doing in recent races, and try to be in front, because I think that a lot of riders this year can be fighting for the victory. The biggest key will be to be constant like we have been in recent races."
How important was the first win, over M. Marquez, at Aragon in 2021 for your belief and confidence? 
"It was arriving after a difficult period because I was always competitive with the pace to win races, but every time, something happened. So, the race here last year with Marc was, for sure, something that helped me to understand that I was able to win races. I wasn't thinking that anything was changing after this win, that the world was always the same, but finally if we look at the results, it has given me the motivation and the power to be able to win the races. So, for sure, this race helped me to be more competitive."
ALEIX ESPARGARO
Are you a lot more optimistic about podium chances this weekend? 
"Yes fully agreed. It's clear that two six places are not the best for the points and for the championship but as you mentioned they're very difficult tracks and I'm proud because I did a very big effort. Now we're at tracks that I really like and really enjoy, Aragon is one of my best tracks on the calendar so I can't wait!"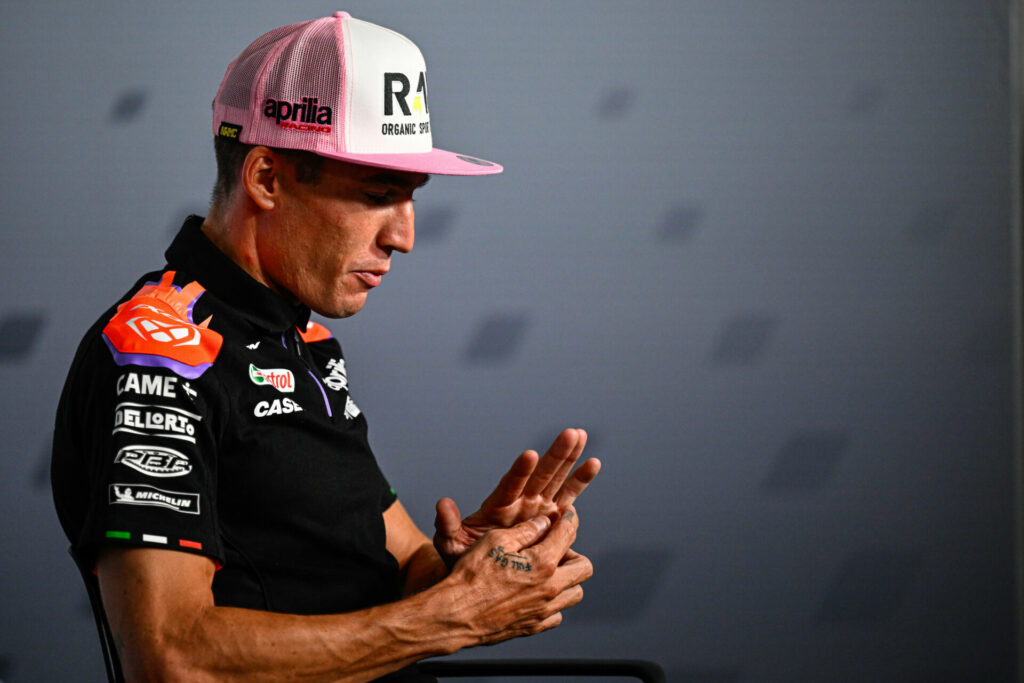 Why does Aragon suit you and Aprilia? 
"There is a lot of lean angle corners, we are struggling, especially me, on the hard brakes with the bike completely straight, I can't stop the bike. But as soon as I'm able to lean and brake and in these types of accelerations the bike has a lot of stability and performance. So this is the reason why Aragon has been a good track for us so far and the 2022 spec-bike is the best Aprilia so far so I can't wait to try it."
How important is it to be back on the podium? 
"The Championship is arriving at the last part, five races in six weeks is crazy. It's going to be very fun, very demanding, so we can't lose or concede more points. We have to be more competitive again like we were in the first part of the season, Aragon is a track I love and I hope we can start to be back on the podium here."
ENEA BASTIANINI
How confident are you of fighting for the win again here? 
"We come here from a really good race at Misano. We are starting on the right foot on Friday and this is important for us because, after the summer break, we are back stronger from the start, and I like this, and I think this can help me for the future. Aragon is one of my favourite tracks, I like it a lot, and I remember last year that I was fast in the race. For the future, we have three consecutive races and it will be hard to stay concentrated to the end of the championship but I'm motivated to do a great job."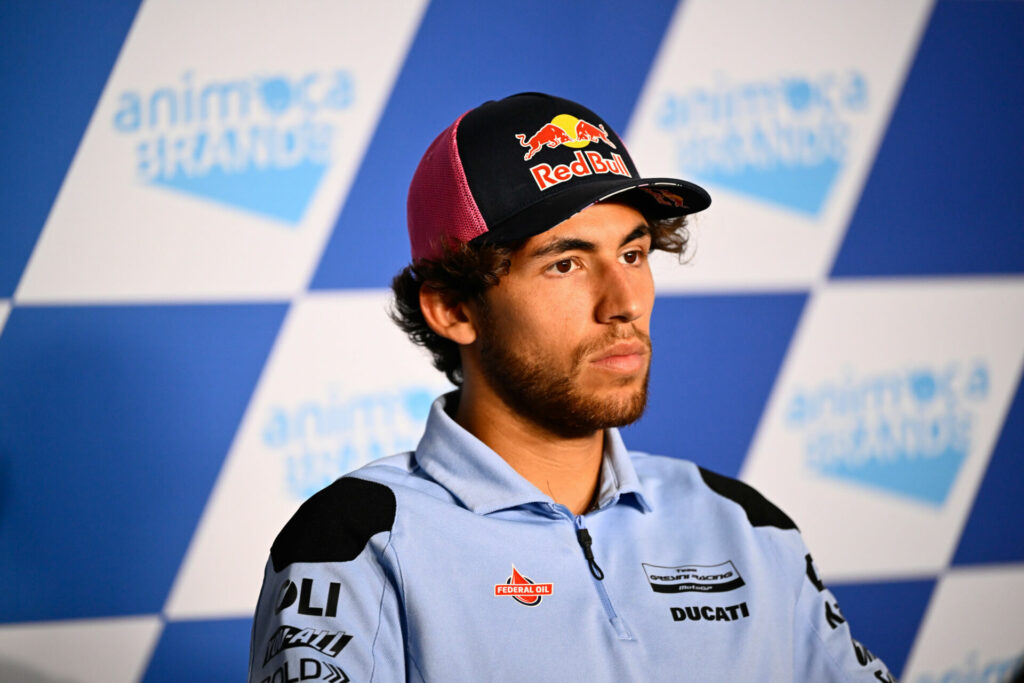 Are you aiming to find the missing consistency in the final six races of the season? 
"Yeah, I felt this a little bit in the middle of the Championship this year. I have made a lot of errors since Mugello and this is not good for the Championship – we know this – but I think, for the rest of the Championship, I can be competitive in every race. Sometimes it will be harder to be part of the front group in the race, but I have a good package, the bike is very nice, and also because we have eight Ducatis, we can compare the data every time."
Have there been any further discussions with Ducati about helping Bagnaia? 
"The relationship also with the other guys at Ducati is very nice and I think we can be competitive, all the Ducati riders, for the future. We talk a lot together every time and I think it can be a key to get a great result in the future."
JOAN MIR
How much you looking forward to being back? 
"Yes very happy to be back here. It's been a difficult two weeks trying to recover the ankle as much as I could, trying to be here in Aragon is the main goal. I know in these days I'll have some pain because I'm not fully recovered but it won't be a problem in terms of speed I guess, so I'm happy to be back."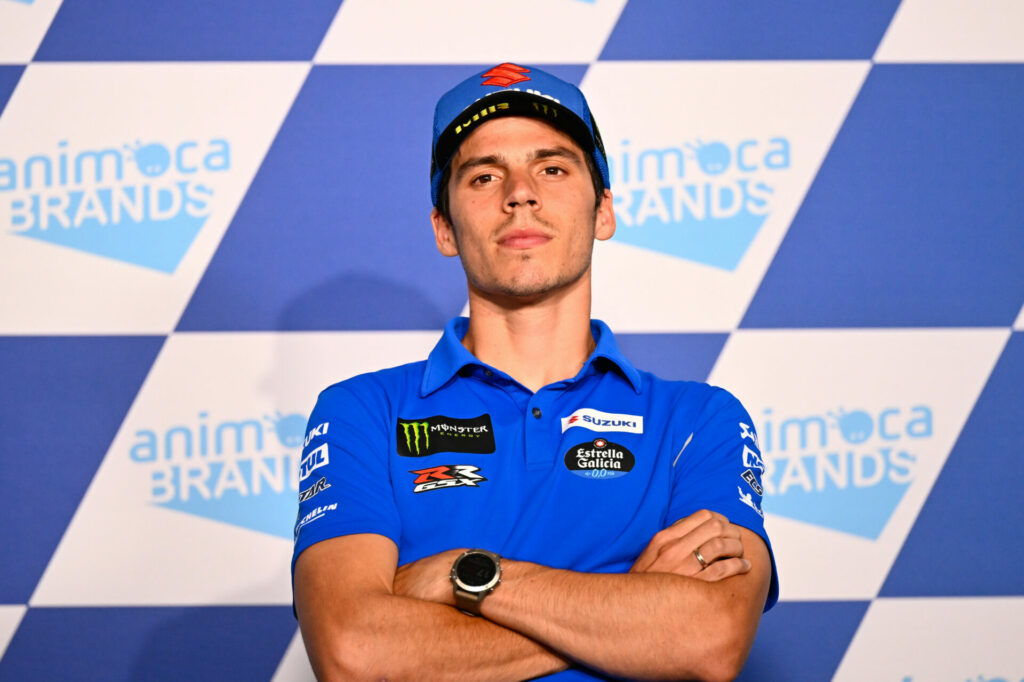 Any specific targets before the end of the season? 
"Missing one race isn't that much but if we couldn't come to Aragon then two races you start to lose a bit of form and everything and it's something I didn't want. For me the main goal is to try and enjoy, in Austria I think we made a small improvement in terms of speed and we have to continue on that way and we have to see if we can fight in the top positions again, that will make me and the team very happy."
Thoughts on 2023 Repsol Honda news:
"I'm very happy to finally announce that, it's like a relief for me after many races you asking me this question and I couldn't answer. So yeah it's a big challenge, I have a big challenge in front of me. I know that I arrive to Honda in not the best moment for them and that makes the challenge a bit more intense, but the important thing is apart from that I need to finish the season as best as I can with Suzuki, then we will have time to think about Honda and everything. The goal for me is to finish the season as best as I can and to see if we can fight for a podium or victory, who knows."
MARC MARQUEZ
What are your emotions coming into this weekend? 
"First of all, hello everybody. Of course, I'm really happy to come back. It's something that, even in Mugello, I didn't expect to be here at Aragon to race this year, but things have been in a good way from the beginning, from the surgery, and step-by-step, I feel better. Of course, it's a long way to go. The target I want to achieve, I still need to do a lot of work. But, after the Misano test, it has been very positive, the feeling. The way that I finished the test in terms of physical condition was good. We analysed my recovery with the arm during the following days and we understood that there may be some possibility to be in Aragon and we discussed it with the doctors, with the team, and with everybody, and we decided to be here because one of the most important things is to be on the bike, for myself but also to prepare the 2023, and now it's important to combine and to have a good strategy and combine well the gym and the bike, and let's see what I can do."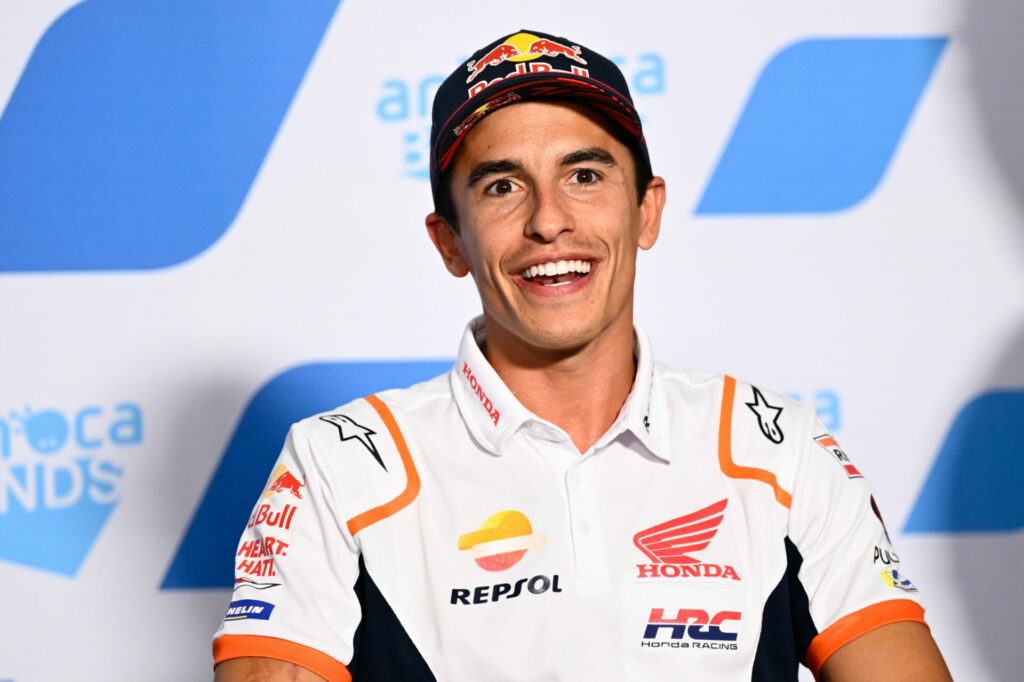 Some riders expect you to fight for the podium here; what are your aims for the rest of the season?
"About the podium, my possibilities are one percent; I mean, really, really low. One thing is that I'm really far from my best physical condition, especially always talking about arm condition about the muscles. The bone is fixed – that is most important – but the muscle conditions still are very far from what I want. The second thing is that, as Mir mentioned, Honda is in a very difficult moment – we saw that from the other riders – and we are far from the other manufacturers, so let's see. My target, my goal is to try to finish all weekends from now on. It's true that the possibility's on the table, because three races in a row are coming up, that maybe in Japan, maybe in Thailand, I need to stop in the middle of the weekend – we don't know – but my intention and my goal is to try and finish all these weekends, try to prepare the 2023 well, try to give my precise comments to Honda, and let's see. Try to be better and better, and next winter is when I need to understand where the level is or where is the top level of my right arm."
Is the Kalex swingarm the new direction you wanted to see? Is Honda moving in the direction you want to see it going?
"I mean, Honda is Honda, and I'm not the guy, I'm not the person to organise a company. Just sometimes, it's true that we share our comments and we try to give some ideas. In Misano, we tried a Kalex swingarm. If we tried it in Misano, it's not that they started to speak in Austria – they started to speak before – so they are working really hard, they understand the situation, and they understand that we are far from especially Ducati and Aprilia, and we need to keep working. They are involved in the project, next year I will have a strong team-mate too, so the riders will be there. Now we need to the tools to work and to fight for a World Championship."