Brad Binder, riding his Red Bull KTM RC16, won the MotoGP Sprint Race Saturday afternoon at Circuito de Jerez – Angel Nieto, in Spain.
Binder won the 11-lap race by 0.4 second over Ducati's defending World Champion Francesco Bagnaia.
Binder's teammate Jack Miller was a very close third on his Red Bull KTM.
MotoGP Points after Sprint Race

GP3_SPA_23_Morbidelli_MotoGP_21_Causing_a_crash

GP4_SPA_23__21_MORBIDELLI_MotoGP_FIM_Appeal_Decision

More, from a press release issued by Dorna:
Pure gold! Binder vs Miller vs Bagnaia lights up the Tissot Sprint in Spain
KTM put on a true showstopper as Bagnaia picks a late race pocket to complete his Saturday turnaround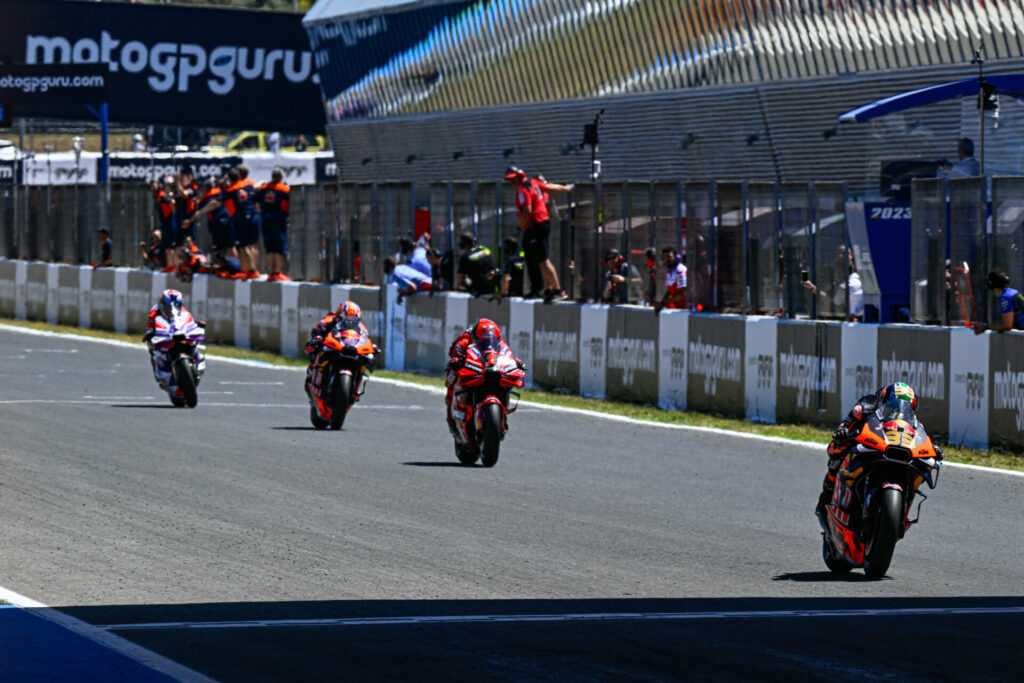 Saturday, 29 April 2023
There's racing, and there's racing. MotoGP™ is in the business of the latter, and the Tissot Sprint at Jerez was another sublime showdown as 2023 continues to deliver. The same can be said of Brad Binder (Red Bull KTM Factory Racing) as with the South African went toe-to-toe with teammate Jack Miller over the slightly shortened 11-lap dash, just able to edge clear on the final lap to his second Sprint win in four. Miller certainly made it a Thriller at the front, but the Australian was ultimately pipped to second by reigning Champion Francesco Bagnaia (Ducati Lenovo Team) on the final lap, heading ever-so-slightly wide and Pecco needing no second invitation.
The first start saw a crash bring out the red flag as Championship leader Marco Bezzecchi was caught out by an incident between Franco Morbidelli (Monster Energy Yamaha MotoGP™) and Alex Marquez (Gresini Racing MotoGP™), with Augusto Fernandez (GASGAS Factory Racing Tech3) also unable to avoid it. The riders were all ok and able to head back for the restart, but damaged bikes needed moving. Morbidelli was also then given a Long Lap for the contact, to be served on Sunday.
LIGHTS OUT = ELBOWS OUT
Ready to race? You bet. The KTMs attacked straight away on take two, with Binder grabbing the lead from Miller and both Jorge Martin (Prima Pramac Racing) and Bagnaia also slicing past polesitter Aleix Espargaro (Aprilia Racing). Martin then went for Miller, but it wasn't long before the Aussie struck back, and the squabble offered Bagnaia his first pickpocketing opportunity of the afternoon as he slotted into third: Binder, Miller, Bagnaia and Martin were locked together.
Drama hit then for Alex Marquez as hit the gravel trap, and just one lap later and disaster struck for another Spaniard as Aleix Espargaro crashed out of a point-scoring position for the 3rd time in 2023. The polesitter was out of it, and both will try and reset for Sunday.
Miller took to the front by eight to go, however, and the duel was on. The KTMs still began to pull away from the two Ducatis though, and by four laps to go the gap was half a second. Meanwhile, Martin was riding all over the rear wheel of Bagnaia's factory Ducati, as the reigning Champion seemed to struggle to hold onto the leading duo. Martin was desperate to find a way past the Italian as the number #1 was proving a tricky hurdle.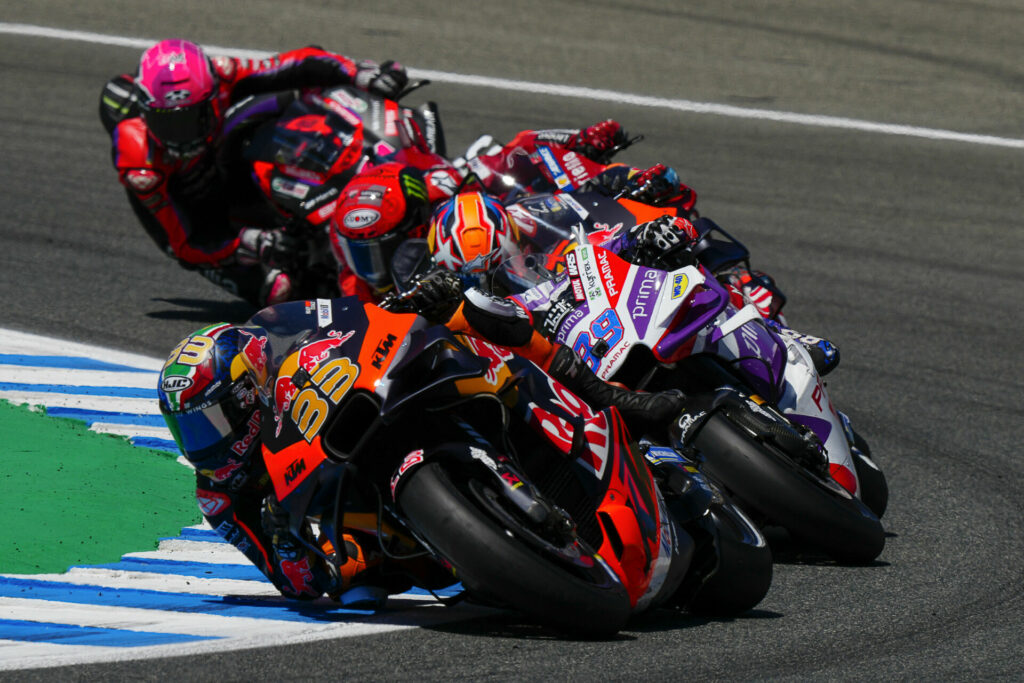 Miller and Binder were ragged perfection in the lead though, sliding their way around Jerez circuit in a two-man show for a few laps. Binder looked ready to pounce, Miller held him off, the two blasted round in tandem and then the South African tried it once, denied, but twice, absolutely not shy. It looked like a lot to ask as the number 33 machine squirreled and headed in a little deep, but on the exit Binder sealed the deal, back into the lead with a lap and half to go.
From there, Binder had it pinned. There was no catching the South African this time, and instead the duel was now for second. The Ducatis had gained ground and Bagnaia lined up a move on Miller into the Pedrosa corner, with the Australian trying to resist on the brakes but overshooting it, giving the reigning Champion an opportunity he wouldn't turn down.
Miller gathered it back up to avoid another duel with earlier sparring partner Martin, and the Australian didn't quite get that win or make it a 1-2, but he definitely still stormed Jerez. Bagnaia's second is an impressive turnaround from where his Saturday started in Q1 too.
DUELS, DUELS, DUELS
Fifth was also an incredibly close finish. Miguel Oliveira (CryptoDATA RNF MotoGP™ Team) and Dani Pedrosa (Red Bull KTM Racing Team) also had viewers glued to their screens as the Portuguese rider fended off the MotoGP™ Legend for 5th place… just.
Just 1.5 seconds further back Maverick Viñales (Aprilia Racing) had his hands full trying to defend his 7th place from Johann Zarco (Prima Pramac Racing Ducati), but the Spaniard came out on top in that scrap leaving the Frenchman to settle for P8. The Mooney VR46 Racing riders were involved in an intense fight for the final point-scoring position in the Sprint too, in the end it was Bezzecchi who won the battle against Luca Marini to bag 9th place. Bezzecchi is now only three points clear of Pecco in the title fight…
After an incredible day of action at the Gran Premio MotoGP™ Guru by Gryfyn de España, MotoGP™ fans now have the opportunity to digest all of Saturday's action before it all kicks off again on Sunday. If Saturday is anything to go by, you do not want to miss any on Sunday's billing as the race gets underway at 15:00 local time (GMT +2)!
QUOTES: TOP 3
BRAD BINDER: "Today was a tough one,  made sure I had a better start the second time around, went straight to the front but had to take it a bit easy to bring the tyres up, they felt a bit sketchy! As I started to get comfortable, I tried to stay super close to Jack 'cause he had great pace. To be able to fight to the end, push through and come home with the win is incredible.  I need to say a massive thank you to my team, it's fantastic to have both of us up on the podium. They've been working so incredibly hard and it's paying off. I can't tell them how much I appreciate it."
PECCO BAGNAIA: "I'm very happy, this morning I was improving my feeling but it wasn't enough. I was a bit behind and my team worked a lot to give me the maximum. I was losing a lot of time in Sector 3 but we managed to be competitive. It wasn't easy for the hot conditions and the front tyre. But I'm really happy, to get more than this would have been difficult!"
JACK MILLER: "Mega race from Brad, we were having a good dice there! I murdered the drive part of the tyre and started suffering on the back straight, and I was just a sitting duck! Then I made a mistake on the last lap, went extra deep and had a couple of locks and let Pecco through, made it easy for him! So a bit disappointed but nah, stoked. I mean it's the fourth race, we've been challenging but to be up here on the podium in the Sprint is nice, it's my first experience of it. Awesome to see both the bikes up there! And Dani! It's not only me, as we can see, we've got one of the best test riders in the world. He's doing a fantastic job and the whole project's really just taken a step this year and it's awesome."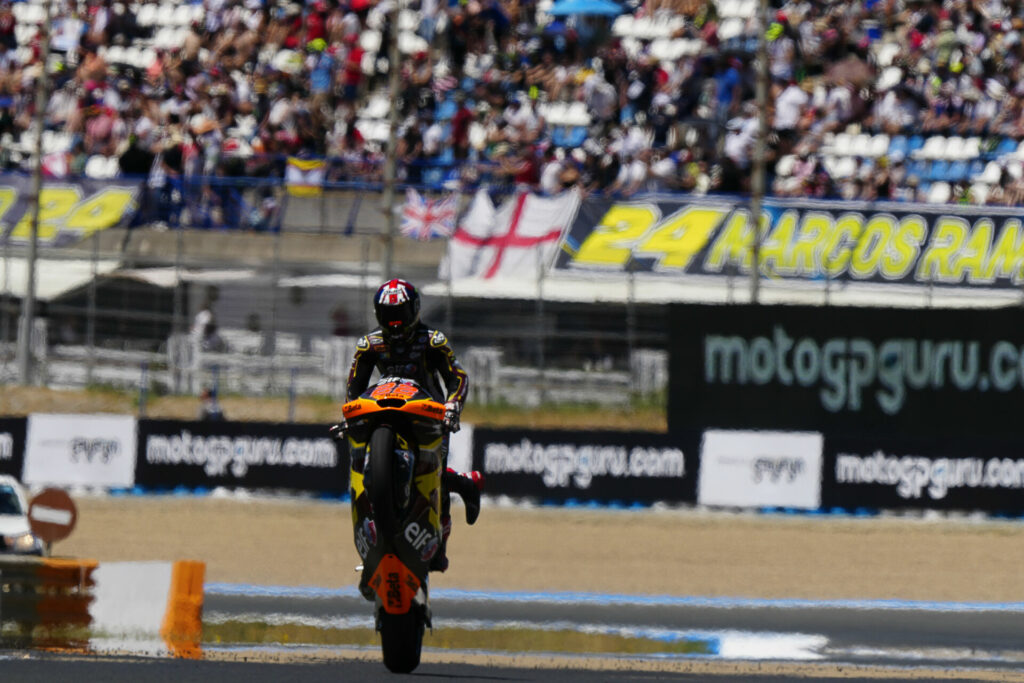 Lowes on a high in Jerez! The Brit takes dominant pole ahead of Acosta and Dixon
It's not often we see a dominant performance in the tightly contested Moto2™ category, but this time it was Sam Lowes (Elf MarcVDS Racing Team) who blew away the field with an incredible 1:40.750 taking pole position by 0.578s. 2nd and 3rd place were decided in typical Moto2™ fashion, however, with just 0.002s between Pedro Acosta (Red Bull KTM Ajo) in 2nd place and Jake Dixon (Autosolar GASGAS Aspar Team) completing the front row.
As always it was a hard-fought battle in Q1 as the Moto2™ riders toughed it for a chance at Q2 promotion. It was Ai Ogura (Idemitsu Honda Team Asia) who took top spot, dominating the session to take the first Q2 place. Fast laps came flying in at the end of the session and it was Joe Roberts (Italtrans Racing Team), Zonta Van Den Goorbergh (Fieten Olie Racing GP), and Manuel Gonzalez (Correos Prepago Yamaha VR46 MasterCamp) who joined the Japanese rider in securing Q2 promotion.
As the green flag dropped and Q2 got underway and it was Dixon who set the benchmark, leading the way from Alonso Lopez (Beta Tools SpeedUp) and Lowes. It wasn't long before Ogura put himself in the mix, slotting into 3rd place and demoting Lowes just before the final runs.
With four minutes to go the red sectors were coming in from Acosta, who then took over the top spot. The Spaniard's time at the top didn't last long however, as straight after Sam Lowes made some magic happen, pulling out a scintillating lap time to move the goalposts by over half a second. Despite efforts from the competition, Lowes' lap stood and he will start the Spanish Grand Prix from pole!
Lopez bagged the first spot on the 2nd row in 4th, as he'll line up ahead of Ogura. Barry Baltus (Fieten Olie Racing GP) who bagged the final spot on the 2nd row in 6th.
The Moto2™ riders' attention now turns to the race on Sunday, make sure not to miss any of the action as it commences at 13:15 local time (GMT +2)!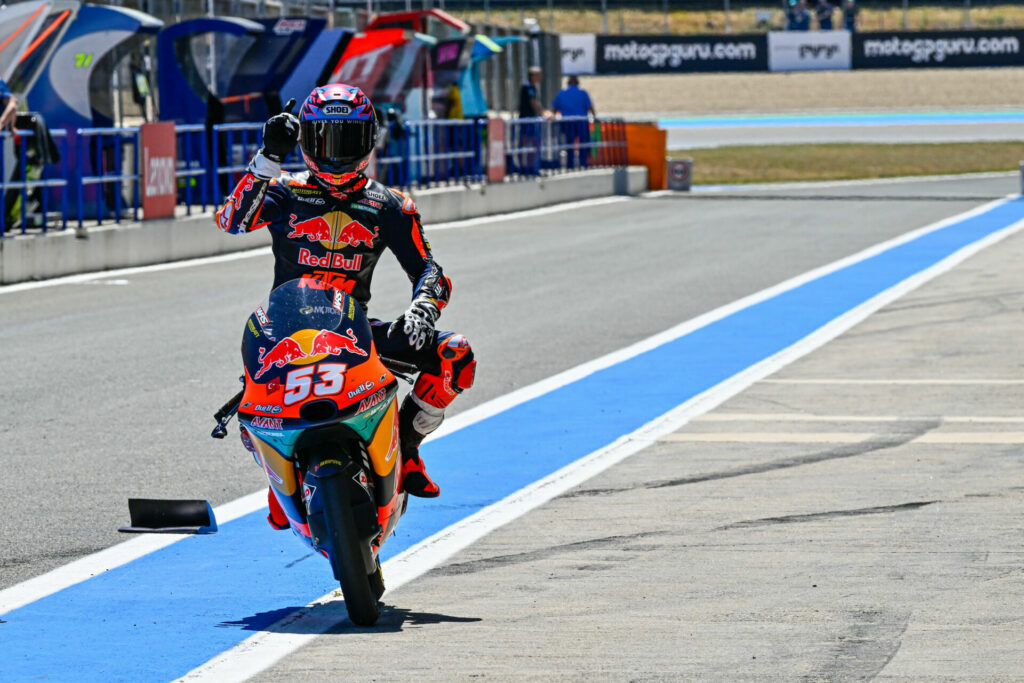 Öncü unstoppable to pip Ortola by a tenth
Deniz Öncü (Red Bull KTM Ajo) was able to convert his superior Practice pace into pole position at the Gran Premio MotoGP™ Guru by Gryfyn de España, as 0.115s splits the Turk from second place Ivan Ortola (Angeluss MTA Team) in Moto3™ qualifying. David Muñoz (BOE Motorsports) claimed P3, but the Spaniard suffered a Turn 13 crash at the end of the session. After going to the medical centre for a check-up, Muñoz was taken to the hospital for further examination and unfortunately later declared unfit after sustaining a left heel fracture, so he won't be taking that third place on the grid.
After Q1 graduate Romano Fenati (Rivacold Snipers Team) sat top of the pile for the first 10 minutes of the session, Öncü struck with just under four minutes to go. On his next flying lap, he moved the goalposts further, with that 1:45.668 too much for anyone else to beat. Öncü starts on pole for the first time since the 2022 San Marino GP, as Americas GP winner Ortola comes through Q1 to claim P2 having ended the second part of qualifying very strongly.
Qualifying in P3, Muñoz finished in front of Fenati, Jaume Masia (Leopard Racing) and Ryusei Yamanaka (Gaviota GASGAS Aspar) as half a second covers the top six in Jerez. Grid positions will move up as Muñoz sits it out though, putting World Championship leader Daniel Holgado (Red Bull KTM Tech3) onto the second row.
Ayumu Sasaki (Liqui Moly Husqvarna Intact GP) and Xavier Artigas (CFMOTO Racing PrüstelGP) are next up, ahead of rookie Jose Antonio Rueda (Red Bull KTM Ajo) completes the third row.
Second in the World Championship, Diogo Moreira (MT Helmets – MSI) starts P13 as he aims to make progress in Sunday's race in order to not lose ground in the title chase…
Make sure you tune into the Moto3™ Spanish GP race at 12:00 local time (GMT+2)!