MONSTER ENERGY YAMAHA MOTOGP UNVEIL NEW 2023 YAMAHA YZR-M1 LIVERY
Jakarta (Indonesia), 17th January 2023
Today, the Monster Energy Yamaha MotoGP team unveiled their brand-new colour scheme at Yamaha Indonesia Motor Manufacturing's 2023 '3S Dealer Meeting', the largest dealer meeting in the world within Yamaha's network. Yamaha Motor Co., Ltd. President Yoshihiro Hidaka, General Manager Motorsports Development Division of Yamaha Motor Co., Ltd. and President of Yamaha Motor Racing Takahiro Sumi, Yamaha Motor Racing Managing Director and Monster Energy Yamaha MotoGP Team Principal Lin Jarvis, Yamaha Indonesia Motor Manufacturing President Dyonisius Beti, Monster Energy Yamaha MotoGP Team Director Massimo Meregalli, and riders Fabio Quartararo and Franco Morbidelli took to the stage to share their excitement ahead of the 2023 MotoGP World Championship kick-off in Portugal in March
All eyes were on the Monster Energy Yamaha MotoGP team today as they showed off their new 2023 livery in Jakarta, Indonesia, at Yamaha Indonesia Motor Manufacturing's 2023 '3S Dealer Meeting'. This being the largest dealer meeting in the world within Yamaha's network, it made the perfect occasion for the premiere of the brand-new 2023 Factory Yamaha colour scheme – an event motorsports fans had been highly anticipating.
Yamaha Motor Co., Ltd. President Yoshihiro Hidaka, General Manager Motorsports Development Division of Yamaha Motor Co., Ltd. & President of Yamaha Motor Racing Takahiro Sumi, Monster Energy Yamaha MotoGP Team Principal & Yamaha Motor Racing Managing Director Lin Jarvis, Yamaha Indonesia Motor Manufacturing President Dyonisius Beti, Monster Energy Yamaha MotoGP Team Director Massimo Meregalli, and Factory Yamaha riders Fabio Quartararo and Franco Morbidelli took to the stage at the 2023 '3S Dealer Meeting' to share their thoughts on 'a new era' for the Yamaha and Monster Energy Company partnership.
Yamaha has a long-term global alliance with the team's title sponsor, Monster Energy Company, based on their mutual passion for racing. A first multiple-year title sponsorship agreement with the Yamaha Factory Racing MotoGP team was signed in the summer of 2018 and came naturally, as Monster Energy Company sponsors multiple Yamaha teams (among them the Yamaha Factory Racing MotoGP team since 2013) and riders (including Quartararo and Morbidelli) in various racing classes. The multiple-year title sponsorship agreement with the Monster Energy Yamaha MotoGP team was extended at the Catalan GP last year, and fittingly celebrated when Fabio Quartararo went on to win the race that same weekend.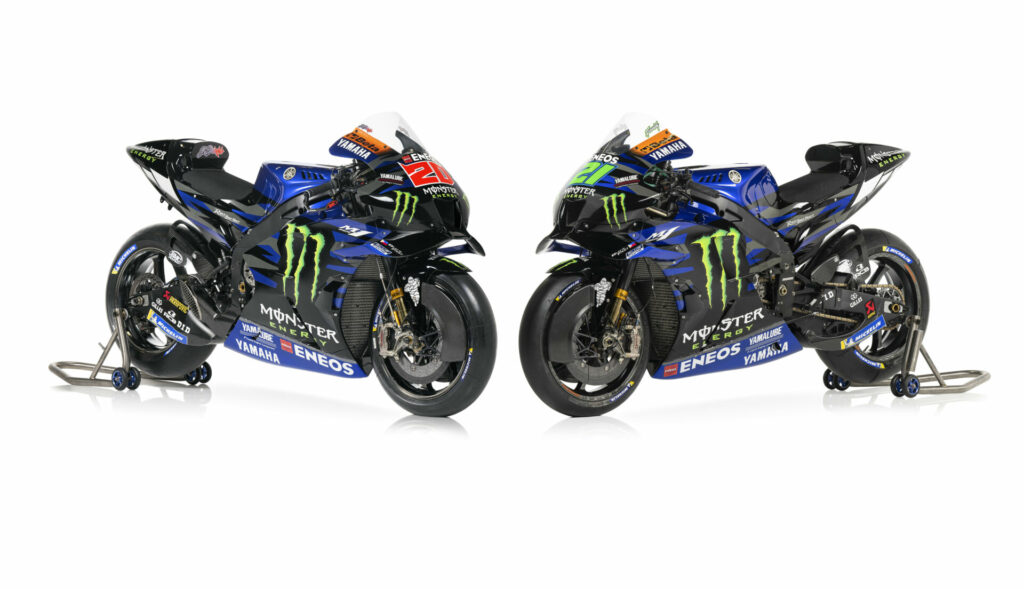 With the colour scheme of the Monster Energy Yamaha MotoGP YZR-M1 updated for 2023, the pit box, the riders' leathers, and the team clothing couldn't stay behind. The new camouflage look blends Yamaha's colours (with a new addition of grey) with the adventurous lifestyle colour scheme of Monster Energy. Their iconic Monster claw branding remains instantly recognisable on the bikes, in the Monster Energy Yamaha MotoGP team logo, and on the team uniforms.
Monster Energy Yamaha MotoGP are also pleased to announce that throughout the 2023 racing season the bike will continue to feature the slogans of Yamaha Motor Philippines and PT Yamaha Indonesia Motor Manufacturing, starting from the IRTA MotoGP Official Pre-Season Tests held from 5-7 February and 10-12 February in Sepang, Malaysia, and on 11-12 March in Portimão, Portugal.
Moreover, the Monster Energy Yamaha MotoGP team is delighted to confirm the continuation of their relationship with numerous Official Sponsors and Official Partners, including the new prominent placement of Beta Tools as they have expanded their longstanding involvement with the MotoGP team.
OFFICIAL SPONSORS
– Monster Energy Company
– Eneos
– Blue Core
– Yamalube
– Akrapovic
– Yamaha Indonesia Motor Manufacturing/Semakin Di Depan
– Yamaha Motor Philippines/MIO
– BETA Tools
– Alpinestars
– VR46
– bLU cRU
– Gilles Tooling
– RCB
– Furukawa Electrics
– Debem
– DID
– NGK Spark Plugs
– BMC Air Filters
– Pont Grup
– Capit
– 2D
– Axalta
– Yamaha Corporation (Yamaha Music)
– Michelin
OFFICIAL PARTNERS
– Alpinestars
– Siemens-LMS
– BLS
– BETA Tools
– GOM
– RCM
– Toyota Material Handling
– Hygenia
– Camaleonic Analytics
– 3M Peltor
– Namedsport
– ParkingGO
– Flex
– Airbank
HOSPITALITY PARTNERS
– Mokador
– Ca' dei Frati
– Pastificio Artigiano Fabbri
– Azienda Olearia del Chianti
The upcoming MotoGP season is shaping up nicely, currently projected to count 21 GP rounds and 42 races (due to the new MotoGP race weekend format that includes a MotoGP sprint race on the Saturdays). Yamaha Factory Racing MotoGP Test Team rider Cal Crutchlow will be joining Quartararo and Morbidelli at the Official MotoGP Sepang Test, as Yamaha intends to deploy all forces to make their 2023 campaign a success.
TAKAHIRO SUMI
GM, MOTORSPORTS DEVELOPMENT DIV., YAMAHA MOTOR CO., LTD
Since the Valencia Test, YMC's Motorsports Development Division worked tirelessly to make further steps. Using the feedback of riders and the team, we have made improvements with the aim to contend for the MotoGP World Title again this year. We thank our loyal supporters as well as all Yamaha employees for their Kando* spirit. We are starting this season with a blank slate and a positive mindset. We know that the level of MotoGP is higher than ever, and with 42 races the demands on the riders and the bikes reach new levels, but we are ready for the challenge. Fabio Quartararo, Franco Morbidelli, and their Factory Team crews are fully motivated, so we are expecting lots of exciting racing to delight MotoGP fans around the world.
*Kando: A Japanese word for the simultaneous feelings of deep satisfaction and intense excitement that we experience when we encounter something of exceptional value.
LIN JARVIS
MANAGING DIRECTOR, YAMAHA MOTOR RACING
Last year our team achieved numerous successes whilst facing high-level competition and challenges. One of the highs that stood out, however, was the extension of our partnership with Monster Energy Company at the Catalan GP, which Fabio went on to win. In that moment, we were not only delighted to express our thanks for Monster Energy's continuous support and their faith in our team, but we also felt excited to look to a future exploring new opportunities to make the bond between Yamaha and Monster Energy even stronger. This year, we are entering our eleventh year with Monster Energy as our sponsor and our fifth season with them as our title sponsor. This occasion deserved a new livery and a fresh start that matches our military-like focus as we fight for the 2023 MotoGP title. As a part of the strong global alliance between Yamaha and Monster Energy, the new look-and-feel will also be adopted by Yamaha's factory teams in MX and Supercross, showing our unity. We are also thankful to our official team sponsors, partners, and suppliers, many of whom we have had long-term partnerships with. Competing at the top-tier of motorcycle racing has never been more challenging than the coming year, and it's thanks to the commitment and enthusiasm of our sponsors that we can concentrate on bringing the trophy home again. A full-on race calendar and additional sprint races mean we need to be focused, adaptable, and efficient right from the start of 2023 MotoGP testing.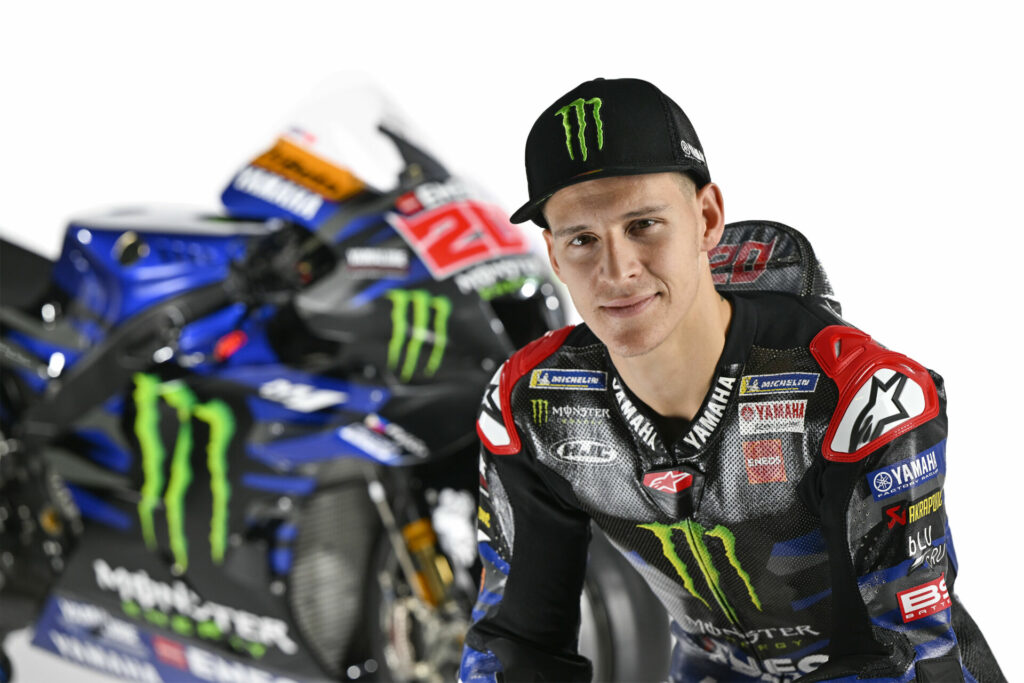 FABIO QUARTARARO
My winter break didn't fully go as planned because I injured my hand during motocross training. But I've kept working non-stop. I've done a lot of cardio to make sure I'm 100% fit for the 2023 season. My hand injury is fully recovered now too, so I feel ready to fight for the title again. We have the new camouflage livery, which is a nice change. I like the new look, and it's good to switch it up a bit. But more importantly, I am looking forward to start riding again. I am very curious to test the 2023 YZR-M1 in Sepang. We will work hard this season, as we always do. We have learned a lot in 2022, and now I just want to fight for the title again. My fans have been very supportive, sending me lots of messages over the winter. I'm excited to see them at the tracks again this season. We will have some fun!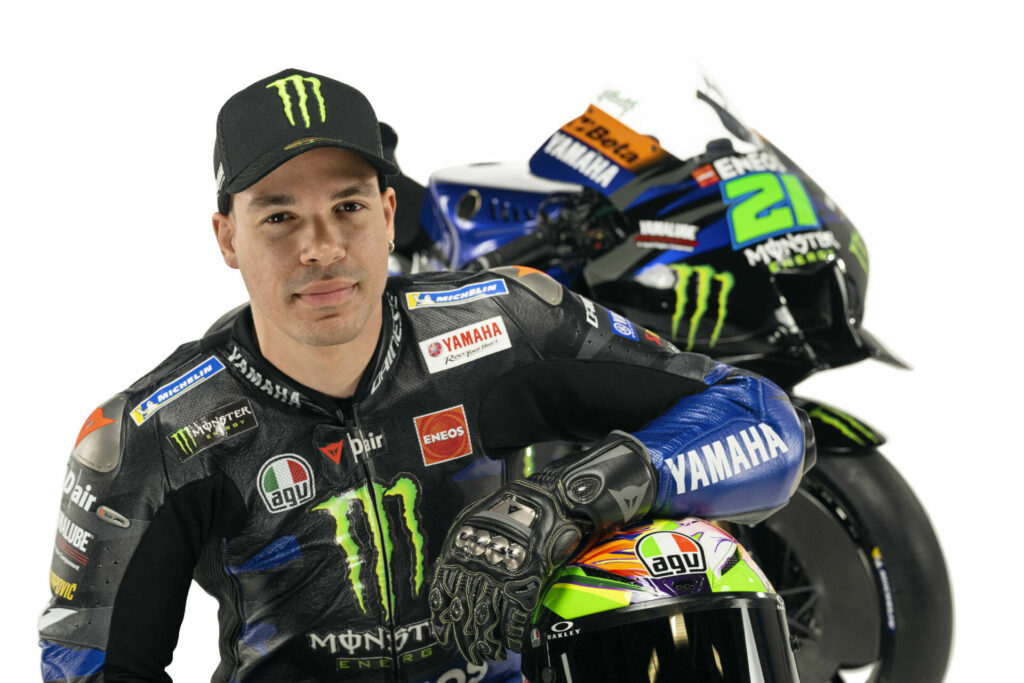 FRANCO MORBIDELLI
We are making a fresh start today, with a new look. Everything has gone back to zero and anything is possible this season, so that is an exciting prospect. We've ended 2022 with an improved feeling. Now it's important that we do a good job at the upcoming winter tests, so we will be ready to start the season in March with the first race in Portugal. There's a new race format, which will take some getting used to for the riders and the teams, but I see it as a positive change because it's something that the fans will enjoy. I want to thank the Indonesian fans who we saw at today's dealer meeting for their support. Their enthusiasm has given us a boost, and I can't wait to start the 2023 season in the best way possible.