Best Race Lap Record: 1:38.051, Marc Marquez, 2019
All-Time Lap Record: 1:36.880, Fabio Quartararo, 2019
FIM MotoGP World Championship
Circuito De Jerez
Jerez de la Frontera, Spain
November 25, 2019
Day One Test Results (all on Michelin tires):
Maverick Vinales, Spain (Yamaha), 1:37.131
Fabio Quartararo, France (Yamaha), 1:37.885
Joan Mir, Spain (Suzuki), 1:38.012
Alex Rins, Spain (Suzuki), 1:38.089
Franco Morbidelli, Italy (Yamaha), 1:38.117
Marc Marquez, Spain (Honda), 1:38.227
Cal Crutchlow, UK (Honda), 1:38.253
Pol Espargaro, Spain (KTM), 1:38.348
Danilo Petrucci, Italy (Ducati), 1:38.358
Andrea Dovizioso, Italy (Ducati), 1:38.474
Jack Miller, Australia (Ducati), 1:38.492
Aleix Espargaro, Spain (Aprilia), 1:38.500
Andrea Iannone, Italy (Aprilia), 1:38.751
Valentino Rossi, Italy (Yamaha), 1:38.759
Tito Rabat, Spain (Ducati), 1:39.103
Sylvain Guintoli, France (Suzuki), 1:39.148*
Alex Marquez, Spain (Honda), 1:39.412
Bradley Smith, UK (Aprilia), 1:39.588*
Michele Pirro, Italy (Ducati), 1:39.652*
Iker Lecuona, Spain (KTM), 1:39.933
Brad Binder, South Africa (KTM), 1:39.980
Eric Granado, Brazil (Ducati), 1:43.056*
*test rider
More, from a press release issued by Reale Avintia Racing:
Eric Granado will ride a Ducati GP18 in the Jerez Test
After a great season finale with two excellent victories in the MotoE category, the Reale Avintia Racing Team will reward the Brazilian rider Eric Granado by giving him the opportunity to ride the Ducati GP18 during the test that will take place this week at the Jerez circuit .
It must be remembered that, despite a challenging start to the year, Granado concluded the first MotoE season in a meritorious third position overall, overcoming the adversities that had to face throughout the year.
Our desire as a team is to offer the riders of our structure what they deserve and this is a great opportunity to see the potential and feelings of this young pilot in MotoGP.
More, from a press release issued by Dorna:
Viñales picks up where he left off at Jerez
The Spaniard leads Quartararo once again, but this time it's Mir and Rins on the chase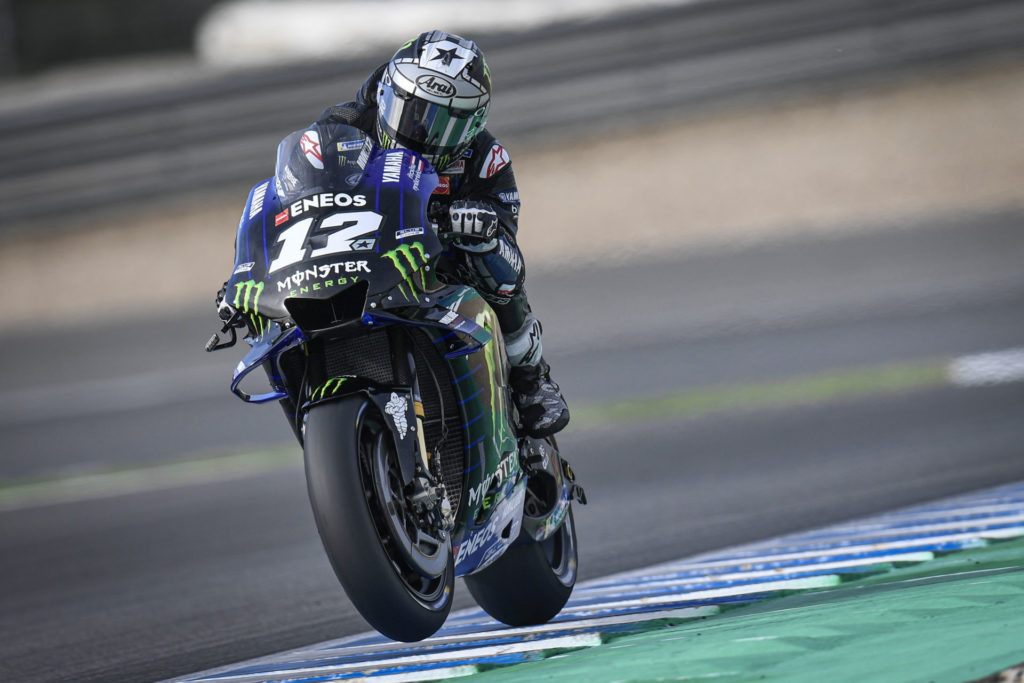 Monday, 25 November 2019
Maverick Viñales (Monster Energy Yamaha MotoGP) topped Day 1 of the Jerez Test by quite a margin on Monday, the Spaniard ending the session over seven tenths clear of the next fastest: Fabio Quartararo (Petronas Yamaha SRT). Joan Mir (Team Suzuki Ecstar) was third and continued his impressive run on the testing timesheets, pipping teammate Alex Rins as the Hamamatsu factory locked out third and fourth. The day was punctuated by some drizzle and Red Flags, although the majority managed nearly or over 50 laps.
Yamaha have now topped all three days of '2020' so far, once with Quartararo and twice with Viñales. At Jerez, both the former and latter did 68 laps, with Franco Morbidelli (Petronas Yamaha SRT) in fifth adding another 75. Valentino Rossi (Monster Energy Yamaha MotoGP), meanwhile, did 64 laps and was 14th. He and teammate Viñales had one 'new' and one 'old' Yamaha in the garage to compare, with Rossi's 2020 machine fitted with the carbon swingarm but Viñales content without it, working on the engine. Neither Petronas Yamaha SRT rider had the carbon swingarm on Monday, although they had "some new things" to test.
At Suzuki, meanwhile, work continued on the new engine. Mir had the upper hand on the timsheets in third after 56 laps, with teammate Rins putting in 69 in fourth. Test rider Sylvain Guintoli was also on track for the Hamamatsu factory, and he put 63 laps to pip his fellow test riders and end the day in 16th. It wasn't all engine for Suzuki, but that was the key focus.
Honda were the next factory up, with reigning Champion Marc Marquez (Repsol Honda Team) in sixth despite a crash at Turn 13. It was a slow lowside but in the gravel trap he hit his shoulder, heading to the Medical Centre for a check up. He'd suffered a partially dislocated right shoulder – not the one on which he had surgery this time last year – and did get back out on track but said he slowed up slightly. He had three bikes in the garage. And where Marquez was focusing on 2020 comparisons, Cal Crutchlow (LCR Honda Castrol) was more on 2019 machinery on Monday. He was just 0.026 behind Marquez and put in 66 laps.
Rookie Alex Marquez (Repsol Honda Team), meanwhile, was out in HRC and Repsol colours, and he seemed to take a step forward. The number 73 was 17th and did 70 laps, saying he found Jerez a bigger step on a MotoGP™ bike – but also an easier one.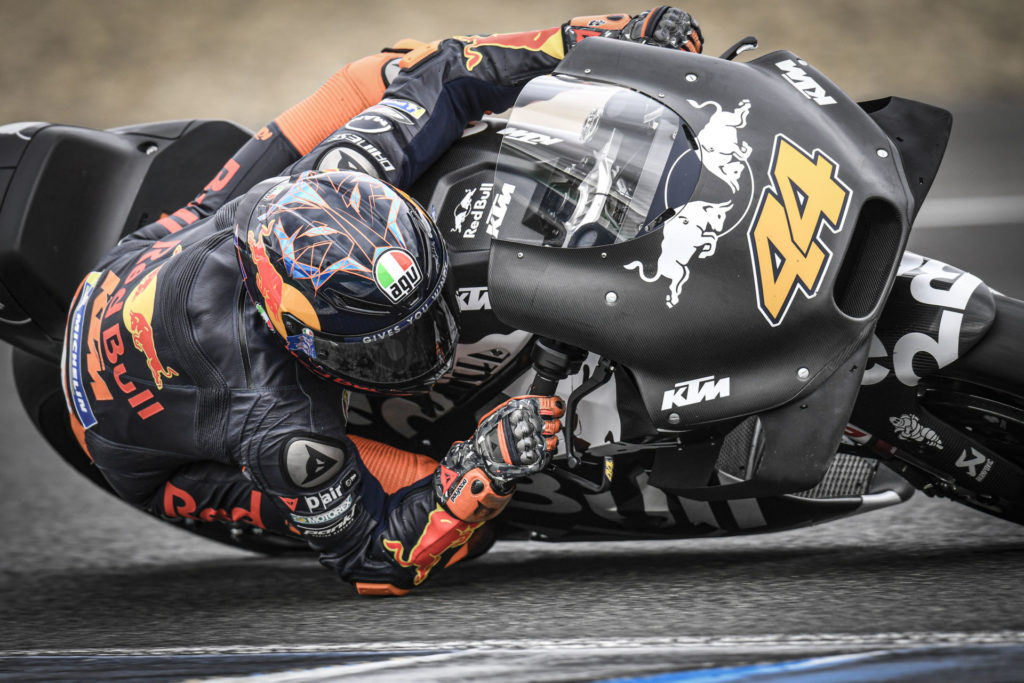 KTM were the fourth fastest factory on Monday with Pol Espargaro (Red Bull KTM Factory Racing), the number 44 slotting in behind Marquez and Crutchlow on the timesheets. He did 56 laps and although he took a tumble – rider ok. He had three bikes in the garage, one 'old' and two 'new', although he spent his time out on the new. He did 56 laps and was within a tenth of Crutchlow. Rookie teammate Brad Binder, meanwhile, remained on 2019 machinery and did 67 laps. Red Bull KTM Tech 3 rookie Iker Lecuona had a huge crash on Monday, but rider ok, and he did 38 laps. Test rider Dani Pedrosa was absent due to illness.
Ducati's onslaught on the timesheets was led by Danilo Petrucci (Ducati Team), back n action after missing some of Valencia due to shoulder pain, who narrowly headed teammate Andrea Dovizioso as they took P9 and P10. The former did 48 laps and the latter 45. Dovizioso had the new, bigger 'salad box' and work continued on what the duo had worked on at Valencia. Jack Miller (Pramac Racing) was only 0.018 off 'Dovi' in 11th. Test rider Michele Pirro had a technical issue and that caused a Red Flag, and a sensor was spotted on top of the tail unit on his machine.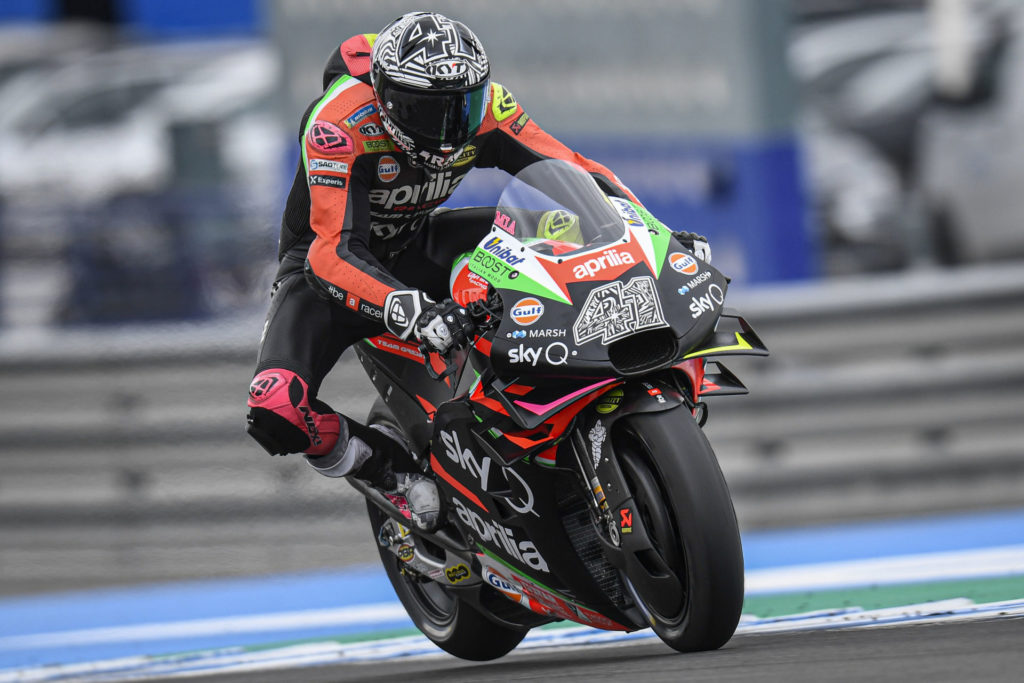 Aprilia Racing Team Gresini were 12th and 13th, and nothing big was seen from the Noale factory although both Aleix Espargaro and Andrea Iannone had the swingarm with a hole in it fitted. Espargaro did 53 laps and Iannone 49. Test rider Bradley Smith had the 'solid' version of the swingarm and did 67 laps.
What will we see on Day 2? Check out motogp.com for coverage, interviews and more – and catch up on everything from Monday with After the Flag.
More, from a press release issued by Red Bull KTM Tech3:
Lecuona continues MotoGP learning curve in Jerez
This week Red Bull KTM Tech3 is back on track at the Circuito de Jerez with Iker Lecuona further testing the KTM RC16, after he made a successful debut at the finale Grand Prix of the season 2019, plus showed some more progress during the official Valencia test last week. The Spaniard completed another solid day, being at this venue for the first time in the premier class, lapping the track 38 times with a fastest lap of 1:39.933 minutes.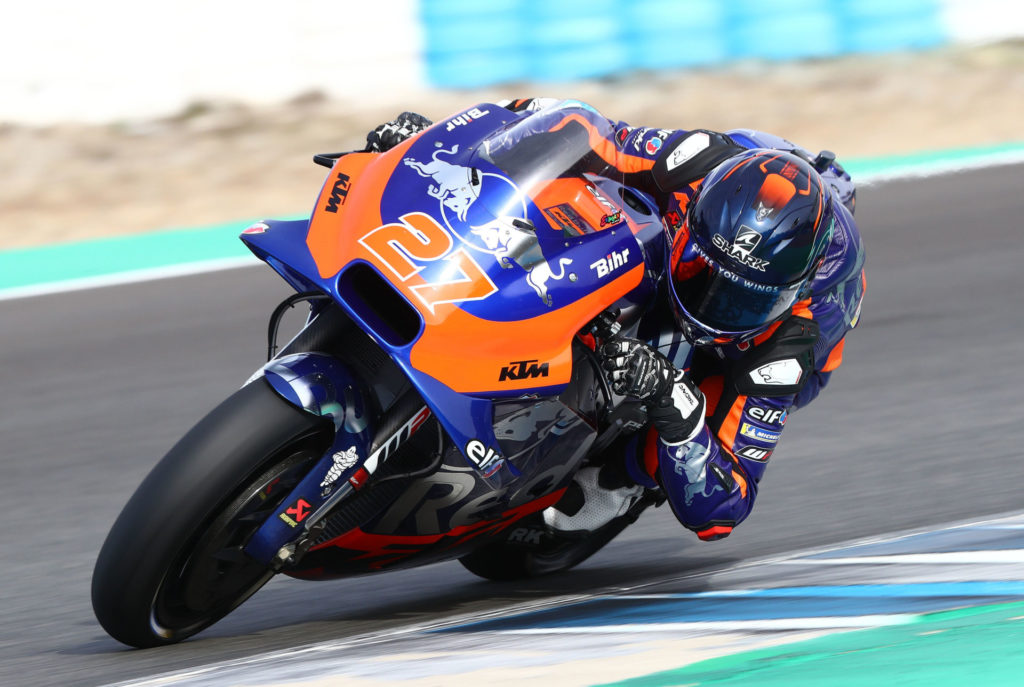 Iker Lecuona
Position: 20th
Time: 1:39.933
Laps: 38 
"Jerez is a very difficult track on the MotoGP bike, it's not easy to go fast here and have a good feeling on the bike. For sure, I need more laps tomorrow in order to get more kilometers in. At the moment, I finished 2.802 seconds from the top, which is obviously too much. After the crash, I feel a bit bruised, but overall, I'm ok. This circuit is definitely completely different to what we had in Valencia, so I need to further adapt myself and I can't wait to be back on the bike tomorrow."
Hervé Poncharal
Team Manager
"This was an early end of day one in Jerez for the Red Bull KTM Tech3 team. Already this morning, we understood that Dani Pedrosa was not at his best, was feeling quite sick and said that he will try to stay calm in the morning and eventually come back in the afternoon, but it looks like that didn't work and he is still trying to recover, so hopefully he'll be testing tomorrow, although the weather forecast is not very positive for Tuesday. On Iker's side, everything started quite well. The weather was cold without any rain, but quite a lot humidity in the air and we started with the soft option tyres, just slowly to try to understand the Jerez circuit, which is very demanding, very tough to learn and to go fast with the MotoGP bike, plus quite different to Valencia. Until the lunch break, everything went very well, each single run was quicker than the one before and we ended up breaking the 1:40 barrier, which was good. Unfortunately, straight after the lunch break, Iker was on his third lap, I believe, and did a very slow lap and then followed another rider the lap after. But when it's like this, the tyre temperature drops quite a lot in this weather condition and on the first left corner, which is turn four, he crashed. He is a bit bruised everywhere, but nothing is broken, so he came back without any physical consequences, the bike is not too damaged, but all together we decided to put an end to the day. It's always a pity to do not as many laps as you could have done, because we know it's the last test of the year and Iker is a rookie. But anyway, we did a few interesting laps and hopefully tomorrow we can stay away from the rain and have two riders on track, enjoying their very last 2019 day of testing before going for a well-deserved break. So, let's wait and see tomorrow."
More, from a press release issued by PETRONAS Yamaha SRT:
Productive day at Jerez test for Quartararo and Morbidelli
Second and fifth for PETRONAS Yamaha SRT duo Fabio Quartararo and Franco Morbidelli after opening day of action at Circuito de Jerez Ángel Nieto
Jerez test – 25 November 2019
Fabio Quartararo and Franco Morbidelli made a productive start to their final test of the 2019 season for PETRONAS Yamaha Sepang Racing Team, finishing the day's action at the Circuito de Jerez Ángel Nieto second and fifth despite a late start and early bath this evening as weather conditions worked against them.
Taking to the track at 1130 despite the circuit opening at 1000 thanks to the cool conditions this morning, Quartararo was quick to move to the upper end of the timing sheets and spent the rest of the day there. Just losing out to fellow Yamaha rider Maverick Viñales in the afternoon, Quartararo finished up with strong pace testing a prototype version of the Yamaha YZR-M1 engine for next year. Completing 68 laps of the Spanish track, Fabio's best time was a 1min 37.885secs, 0.754secs down on Viñales.
After concentrating on chassis development at last week's Valencia test, Morbidelli also got the day underway using an updated version of the engine that the team used during the 2019 season – and finding improvements with it from the off this morning. Despite a crash towards the end of the day that left him unhurt, the fastest of Morbidelli's 75 laps left him fifth overall, 0.986secs down on the leader, with a time of 1min 38.117secs.
Testing action continues tomorrow at the Circuito de Jerez Ángel Nieto, with the green flag being shown at 1000 local time (1700 Malaysian time) and the chequered flag bringing 2019's action to an end eight hours later at 1800 (0100 Malaysian time).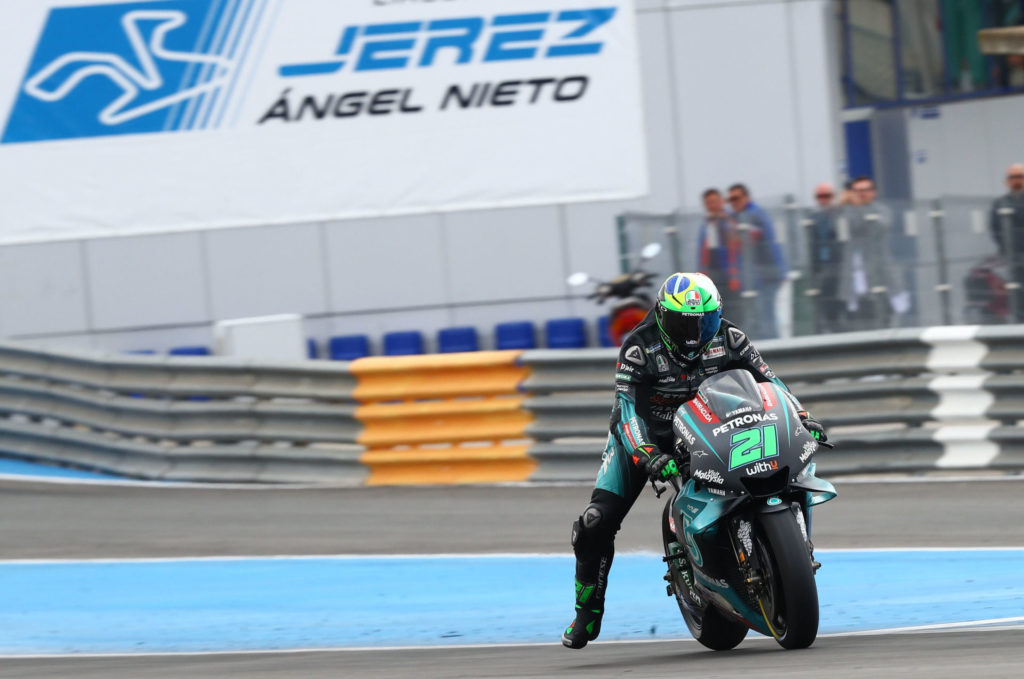 Franco Morbidelli:
"I tried a new prototype engine specification today, and we were up to speed quite quickly with it. I had a good feeling from the bike straight away, which is very positive. We've still got to collect data and work on our settings, but as a first impression, it was pretty great! The plan for tomorrow is to maintain the working routine from today and aim to reconfirm the items we tried in Valencia with the new engine, but for that to happen we need the weather to play ball!"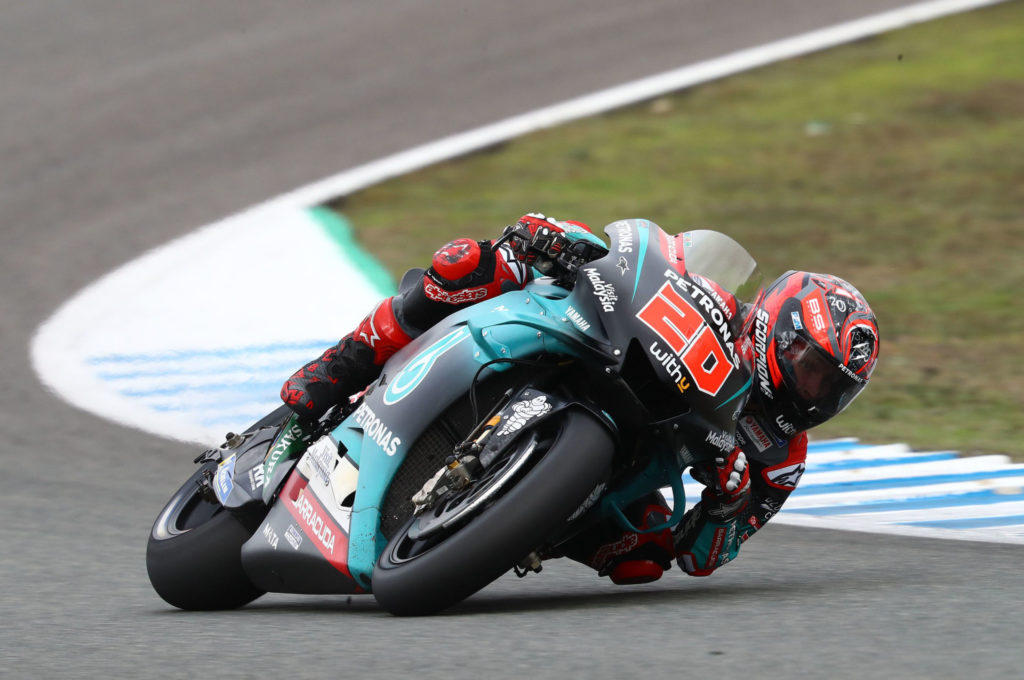 Fabio Quartararo:
"It was a long day despite having great pace on the bike and we were able to try new things. The tyres were working really well, but unfortunately, it seems like every time we put a new set on the bike there was a red flag or it started to rain a little! Maverick Viñales is really fast, but we're not far behind him and I'm feeling really good. We used a new prototype engine from Yamaha for most of the day, but it was difficult to understand all the benefits from just one day, so there's plenty to continue with tomorrow."
More, from a press release issued by Repsol Honda:
Testing continues in Jerez for the Repsol Honda Team
With another 139 laps completed; the Repsol Honda Team made the most of valuable track time as the final test session of 2019 commences.
Joining the on-track action shortly after 11am Local Time, Marc Marquez and Alex Marquez began the final test of 2019 in Jerez. The goal for this last test is to gather the final bits of data ahead of the winter testing ban in order for the 2020 RC213V to be well prepared for the Sepang test in early February 2020.
Marc Marquez continued to work on the various new components of the Repsol Honda Team RC213V and completed 69 laps around the 4.4km long Circuito de Jerez – Angel Nieto. As in Valencia, lap times were not the focus for the eight-time World Champion as he worked towards defending his premier class crown. A best time of 1'38.227 saw Marc end the first day in sixth position. The reigning champion suffered a crash at Turn 13 but was able to return to track.
The Jerez test allowed rookie Alex Marquez to try the RC213V on a new circuit as he continued to learn the intricacies of a MotoGP machine. With the second test so close to the end of the Valencia test, there was little time to make major changes in his preparation, but Alex was again happy with what he was able to learn about the bike. 70 laps later, Alex ended the day with a best time of 1'39.413 – just over a second back on his teammate. The time saw him finish the day as the leading rookie.
Both Repsol Honda Team riders will be back out Tuesday, November 26 for one final day of running.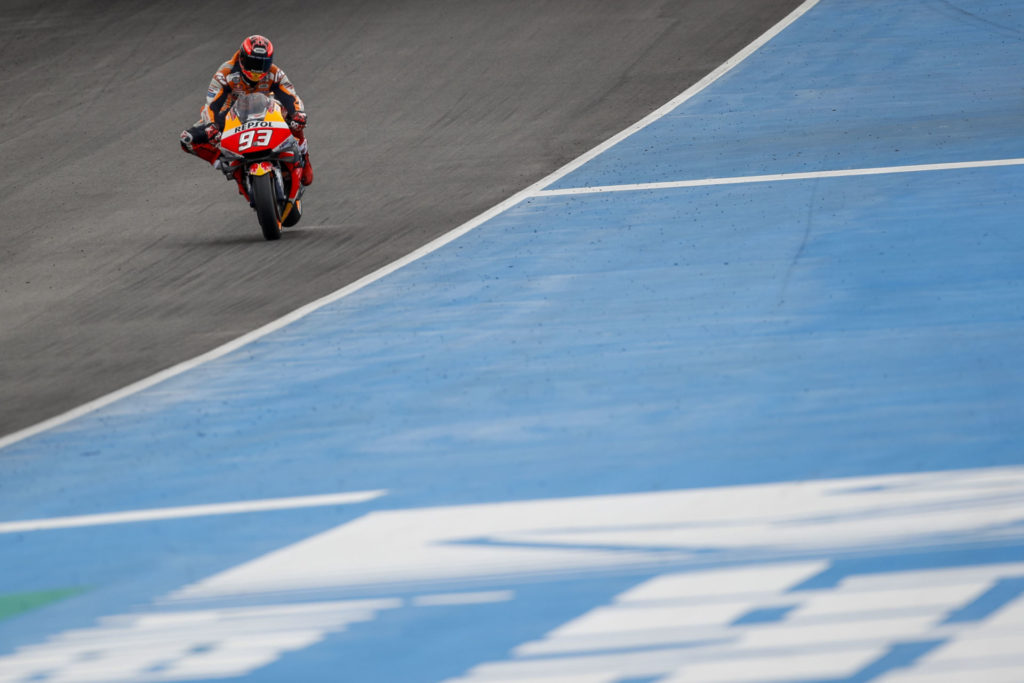 Marc Marquez
SIXTH  1'38.227
"Again today we tried some different things for 2020, assessing two different directions. It looks like tomorrow the weather could be a little bit tricky, so we had to alter our plan a little bit to make sure we got the most out of today. This part of the season is very important, so we have to stay very focused here and keep working. The crash today was my mistake, I ran wide and at that time the outside of the track was a little damp so I lost the front. Fortunately I am OK, I just went to the medical centre for a precautionary check."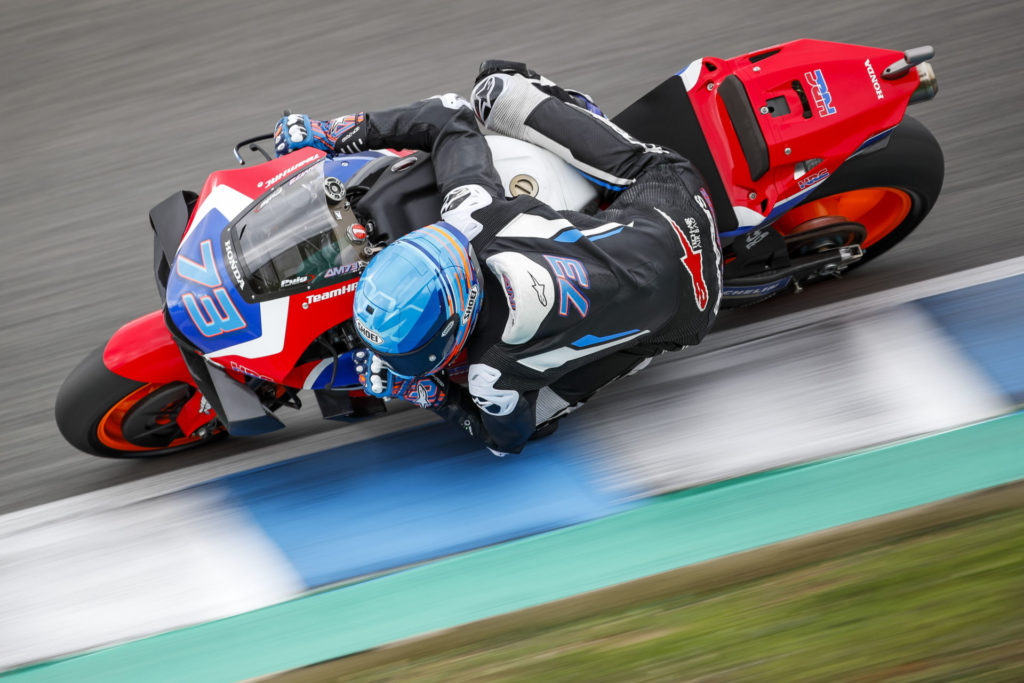 Alex Marquez
17TH  1'39.413
"Today we tried to improve and close the distance to the front while learning how to work with my team for next year. Throughout the day we were able to make steady improvements and I was able to work a lot with used tyres, to understand how I need to change my riding to make the most out of them. We didn't fit any new tyres at the end as it started raining a little bit, but I am happy. I think today went better than both days in Valencia as I was more comfortable right away."
More, from a press release issued by Monster Energy Yamaha:
MONSTER ENERGY YAMAHA CONTINUE POSITIVE PROGRESS ON JEREZ TEST DAY 1
Monster Energy Yamaha MotoGP's Maverick Viñales and Valentino Rossi were back in action today, this time at the Circuito de Jerez – Ángel Nieto track, to take their 2020 pre-season testing programme another step further. The team-mates secured 1st and 14th place respectively in the Day-1 timesheets whilst confirming the positive outcome of the Valencia Test one week earlier.
1st MAVERICK VIÑALES 1'37.131s / 68 LAPS
14th VALENTINO ROSSI 1'38.759s / 64 LAPS
Monster Energy Yamaha MotoGP's Maverick Viñales and Valentino Rossi travelled from the Circuito de la Comunitat Valenciana – Ricardo Tormo to the Circuito de Jerez – Ángel Nieto to commence the next stage in their 2020 pre-season testing program. Following last week's IRTA test, the team-mates were keen on trying the protype and new items once more at the Jerez MotoGP Official Test. Their findings confirmed the improvements made, and they completed the first day in 1st and 14th place respectively in the rankings.
The riders were kept on their toes during the eight-hour session. Occasional rain meant they had to make the most of the dry track time to work on their YZR-M1s.
Viñales swung his leg over the bike for the first time in Jerez at 11 o'clock to complete yet more kilometres in preparation for the 2020 season. The Spaniard found a good rhythm again and began chipping away at his time whilst comparing various testing items. He completed 68 laps in total familiarising himself with the new engine and showed no signs of slowing down. He posted a best time of 1'37.131s on lap 60, consolidating his place at the top of the standings with a convincing 0.754s-margin over his closest rival.
Rossi took to the Jerez track half an hour after his team-mate, eager to further improve the prototype while concentrating on the setting and overall performance of his Yamaha. The Doctor's first impressions are positive, though he is still working on the bike's stability in fast corners. He completed 64 laps in total. His best time was a 1'38.759s, set on lap 59 at the end of his penultimate run. This time put him in 14th place in today's standings, 1.628s from first.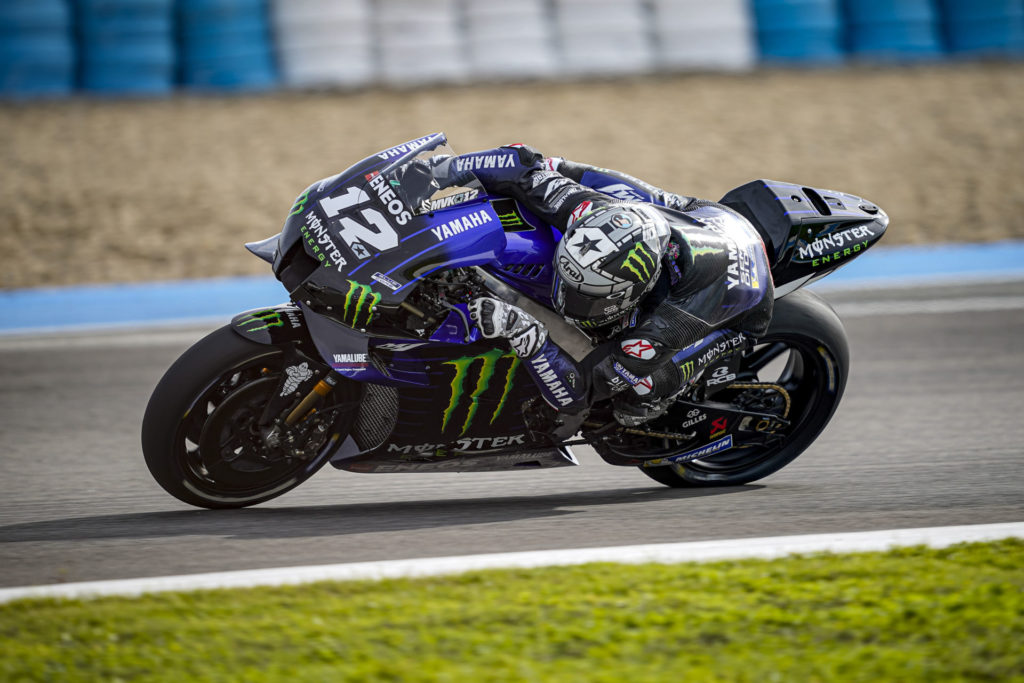 MAVERICK VIÑALES
"We are working a lot on the new engine trying to understand the positives and negative points of the new bike. This test is quite important for us to decide on the engines and take the right approach to further improve the engine on the track, which is our focus here. We are trying to understand the best way to work. For tomorrow my plan is the same. I need to make laps with the engine, and I also need to try the tyres, and then we will see. Even if it rains, we need to go out and try the newer stuff. For sure, we are comparing the old and new items back-to-back. The positive point is that I felt good with both bikes today, so we have two good choices, which is even better. I feel we can create a lot of potential with the new engine."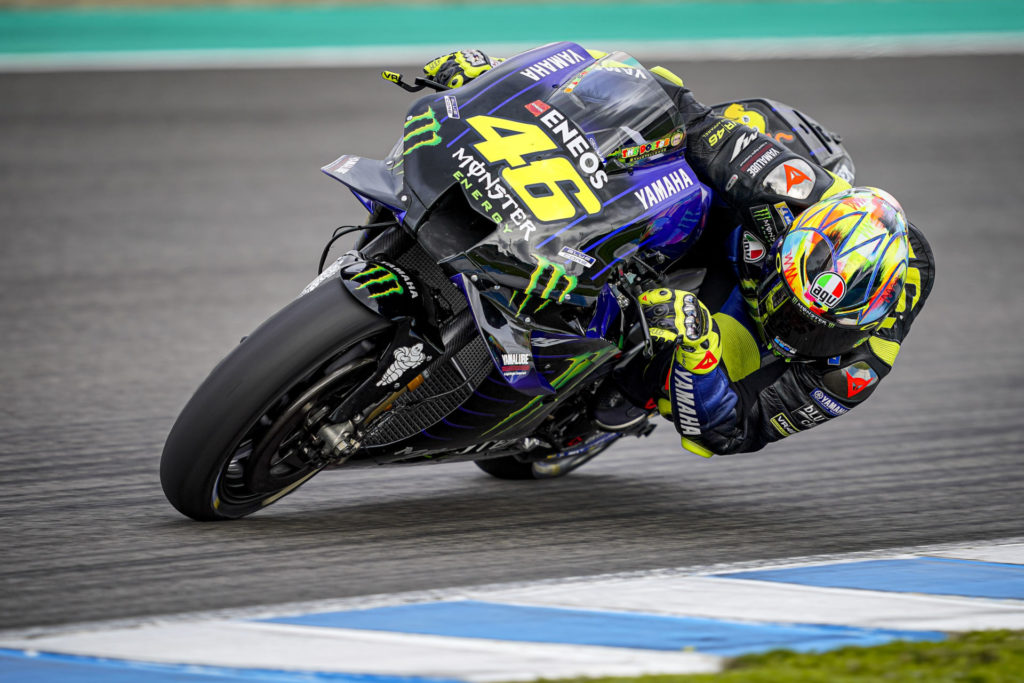 VALENTINO ROSSI 
"We worked a lot today, even though the weather conditions weren't fantastic. Every now and then we had some rain, we had to stop and start like this, but the track conditions were quite good anyway. We worked a lot on the new bike and made another comparison with the old one, and the feeling isn't too bad. Some things were better, and we also have some areas where we need to work."
More, from a press release issued by Ducati:
Day 1 of MotoGP testing concludes at Jerez with Petrucci ninth and Dovizioso tenth
The first day of MotoGP testing at the Jerez de la Frontera circuit in Spain came to an end this afternoon at 17h00. The Ducati Team riders went out on track for the first time late in the morning to continue development work on the 2020 version of the Desmosedici GP bikes and they were able to lap continuously until the early afternoon, when intermittent light rain hampered the activities of all the teams present at the Andalusian track.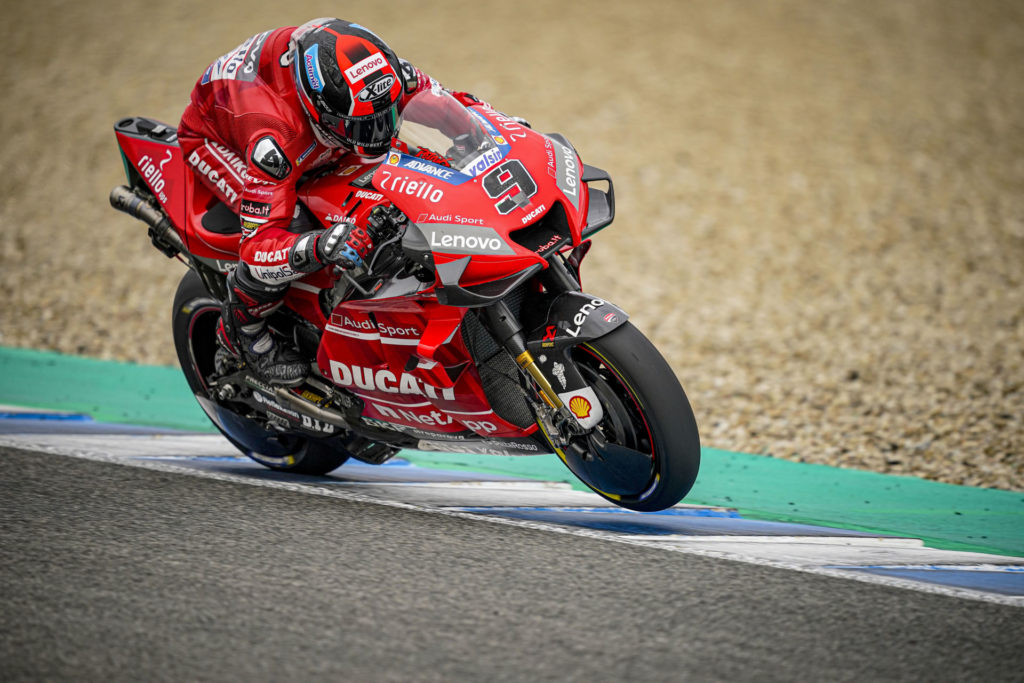 Danilo Petrucci (#9 Ducati Team) – 1'38.358 (9th) – 48 laps
"It was quite a challenging day for me, because I still wasn't entirely sure about my physical condition. My left shoulder, which was hurting me a lot at Valencia, gave me a bit of bother this morning: in the afternoon however I was better and we were able to carry out some back-to-back tests, without aiming for fast times. We mainly focussed on getting a better understanding of the new solutions present on the bike, and we certainly managed to obtain some useful indications for the future".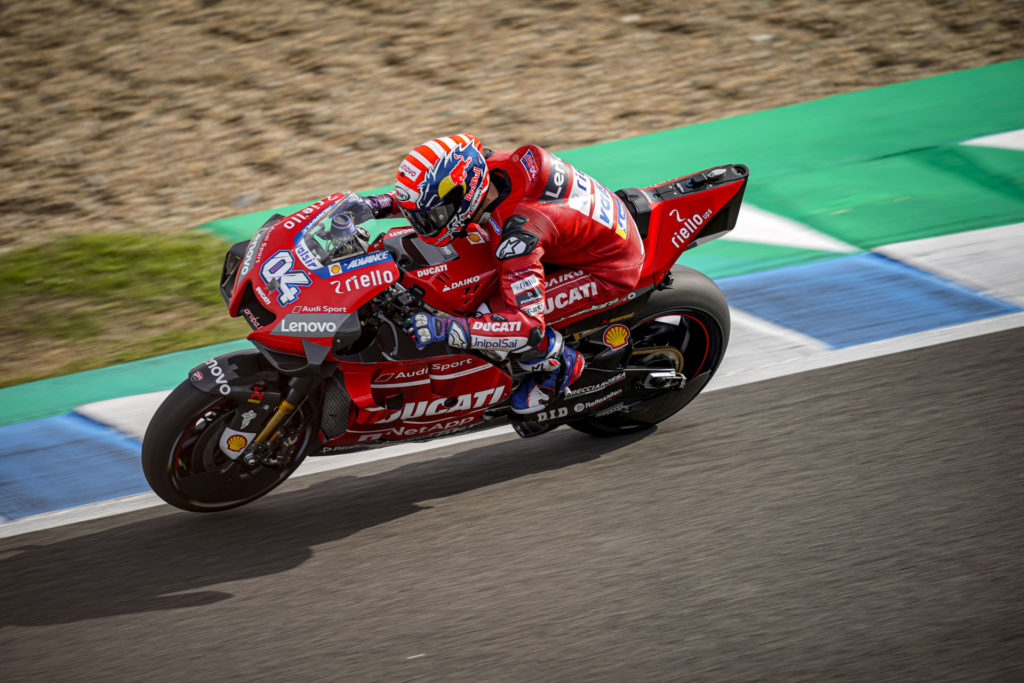 Andrea Dovizioso (#04 Ducati Team) – 1'38.474 (10th) – 45 laps
"Today we were able to carry out the back-to-back comparison between the two bikes, in a much better way than at Valencia, and this was important because Jerez is a track with very different characteristics. The feedback was certainly positive, but we will have to take a closer more detailed look at all the information we accumulated and make a major effort to understand which direction to take for the next development stage".
The Ducati Team will be back on track again tomorrow at the Jerez circuit for the second and final testing day of the year.
More, from a press release issued by Team Suzuki ECSTAR:
TEAM SUZUKI ECSTAR CONTINUES WORK TOWARDS 2020 IN JEREZ
Joan Mir: 3rd – 1:38.012 (+ 0.881)
Alex Rins: 4th – 1:38.089 (+ 0.958)
Sylvain Guintoli: 16th – 1:39.148 (+ 2.017)
Team SUZUKI ECSTAR headed down south and took to the track again less than a week after the Valencia Test, this time at the circuit of Jerez.
Alex Rins and Joan Mir were joined by Sylvain Guintoli and the rest of the test team as they continued their preparations for the 2020 season. The majority of the track action was spent as a continuation of the Valencia Test; comparing the 2019 and 2020 engine specifications. They also worked on electronics and general set-up, with a view to building up the package ahead of the Sepang Test in February. Guintoli also spent some time with a new swing arm and adjusting other aspects of the chassis.
Mir finished the session in 3rd place, having done 56 laps, while Rins was just behind in 4th, completing 69 laps. Sylvain Guintoli closed the session 16th with a total of 63 laps.
Davide Brivio:
"Today has been good. It's very important to use this test to check our 2020 engine spec. at a different circuit, and we were able to try some different settings too. The riders gave us positive feedback, and we were able to confirm the initial feelings from Valencia. We tried to get all of the most important things done today incase tomorrow is too wet."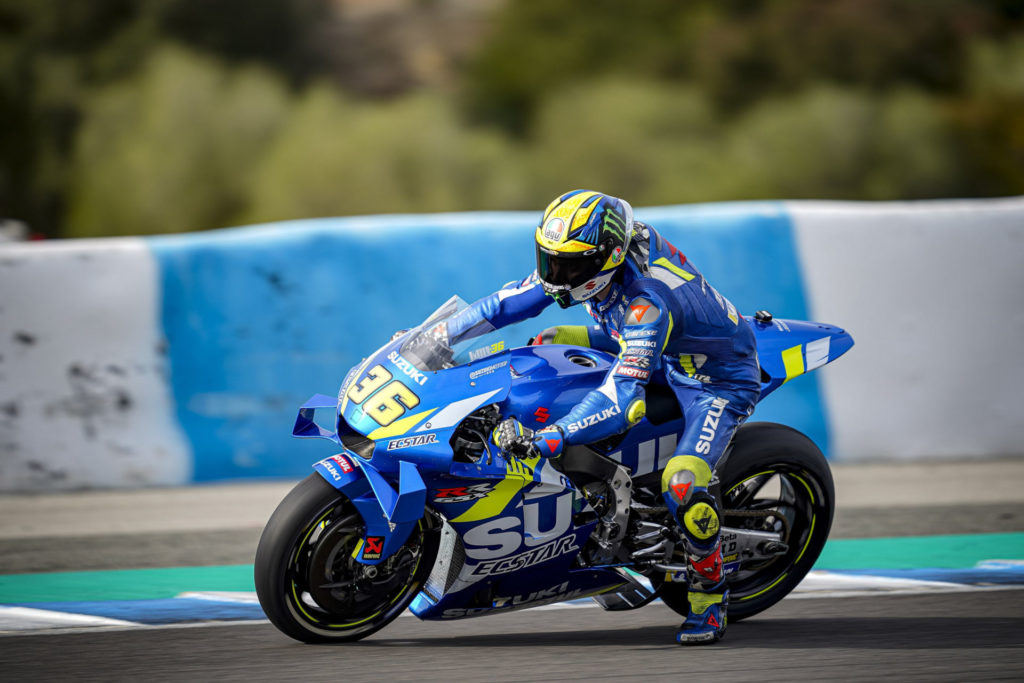 Joan Mir:
"I'm really happy because I felt we made some improvements today. We focused on the engine and also on electronics; I also tried some new parts which helped my feel even more. I'm feeling comfortable and happy with the bike. Let's hope the weather will be OK tomorrow so we can continue this good work."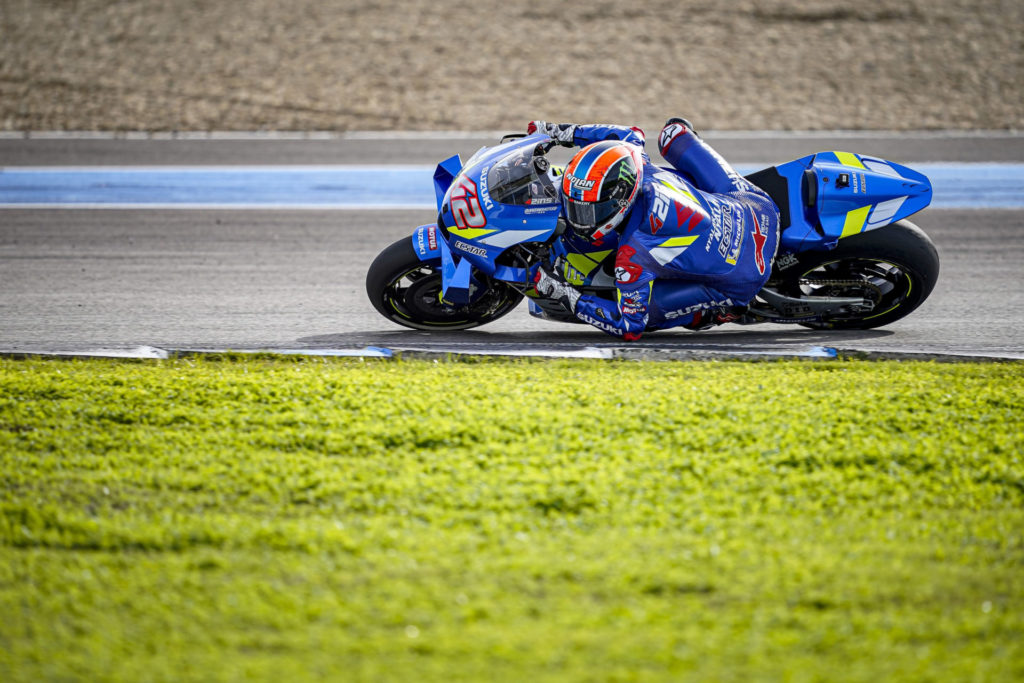 Alex Rins:
"Today's test session went quite well. We tried the same things as in Valencia, like the 2020 engine spec., and we confirmed our initial findings. Tomorrow we'll try a few more things regarding the set-up. We had some more plans for today, such as trying a fast lap with the new tyre, but unfortunately the rain arrived this afternoon and that hampered our progress."
Sylvain Guintoli:
"Today we worked on next year's engine, as well as some chassis work such as the swing arm. I also did some long runs and tried the new spec. Michelin rear tyre, which I found to be very good. My lap times were strong today, I did my best lap of Jerez today. Looking forward to tomorrow, fingers crossed conditions are OK."