Best Race Lap Record: 1:31.171, Jorge Lorenzo, 2016
All Time Lap Record: 1:29.401, Jorge Lorenzo, 2016
FIM MotoGP World Championship
Circuit De La Comunitat Valenciana Ricardo Tormo
Valencia, Spain
November 19, 2019
Day One Test Results (all on Michelin tires):
Fabio Quartararo, France (Yamaha), 1:30.163
Maverick Vinales, Spain (Yamaha), 1:30.327
Franco Morbidelli, Italy (Yamaha), 1:30.650
Andrea Dovizioso, Italy (Ducati), 1:30.665
Marc Marquez, Spain (Honda), 1:30.698
Joan Mir, Spain (Suzuki), 1:30.811
Alex Rins, Spain (Suzuki), 1:30.958
Pol Espargaro, Spain (KTM), 1:30.974
Valentino Rossi, Italy (Yamaha), 1:31.012
Jack Miller, Australia (Ducati), 1:31.130
Cal Crutchlow, UK (Honda), 1:31.183
Danilo Petrucci, Italy (Ducati), 1:31.433
Iker Lecuona, Spain (KTM), 1:31.645
Andrea Iannone, Italy (Aprilia), 1:31.674
Tito Rabat, Spain (Ducati), 1:31.775
Aleix Espargaro, Spain (Aprilia), 1:31.815
Dani Pedrosa, Spain (KTM), 1:31.863*
Michele Pirro, Italy (Ducati), 1:32.016*
Karel Abraham, Czech Republic (Ducati), 1:32.034
Bradley Smith, UK (Aprilia), 1:32.090*
Brad Binder, South Africa (KTM), 1:32.645
Stefan Bradl, Germany (Honda), 1:32.833*
Alex Marquez, Spain (Honda), 1:32.873
Mika Kallio, Finland (KTM), no time recorded*
*test rider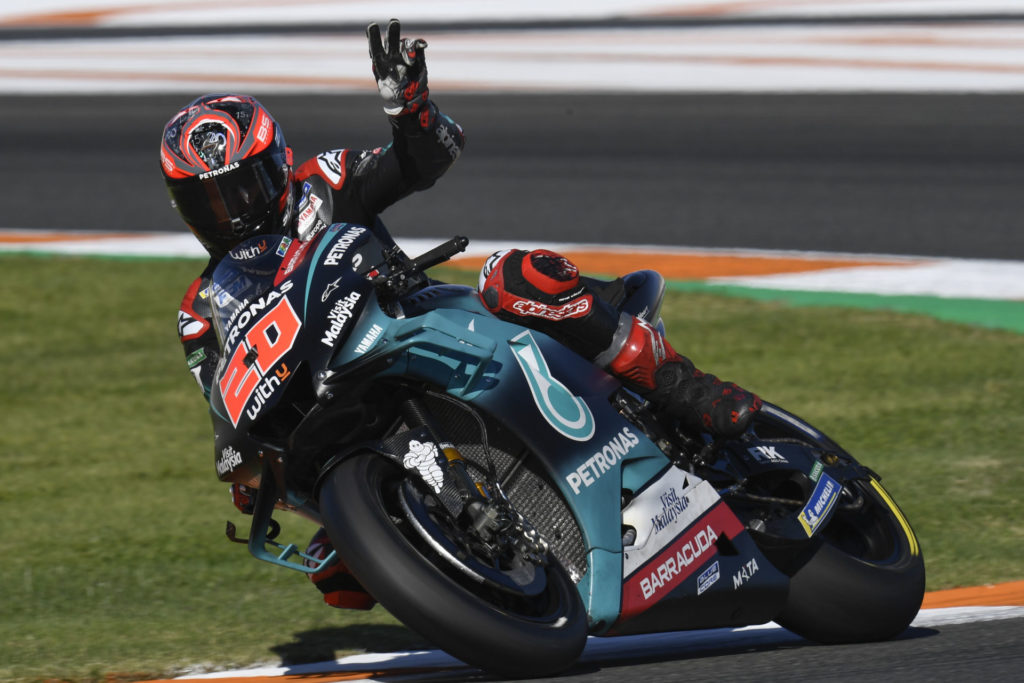 More, from a press release issued by Dorna:
Quartararo a cut above on Day 1 of 2020
The Frenchman opens his account for next season on top, ahead of Viñales and Morbidelli
Tuesday, 19 November 2019
It was a Yamaha 1-2-3 on Day 1 of the Valencia Test at the Circuit Ricardo Tormo, but one man was ahead of the rest: Fabio Quartararo (Petronas Yamaha SRT). The Frenchman ended the day top of the pile after 82 laps, the fastest of which was two tenths off his pole: a 1:30.163. Maverick Viñales (Monster Energy Yamaha MotoGP) was second and 0.164 off after 66 laps, with Franco Morbidelli (Petronas Yamaha SRT) completing the top three but a few more tenths in arrears.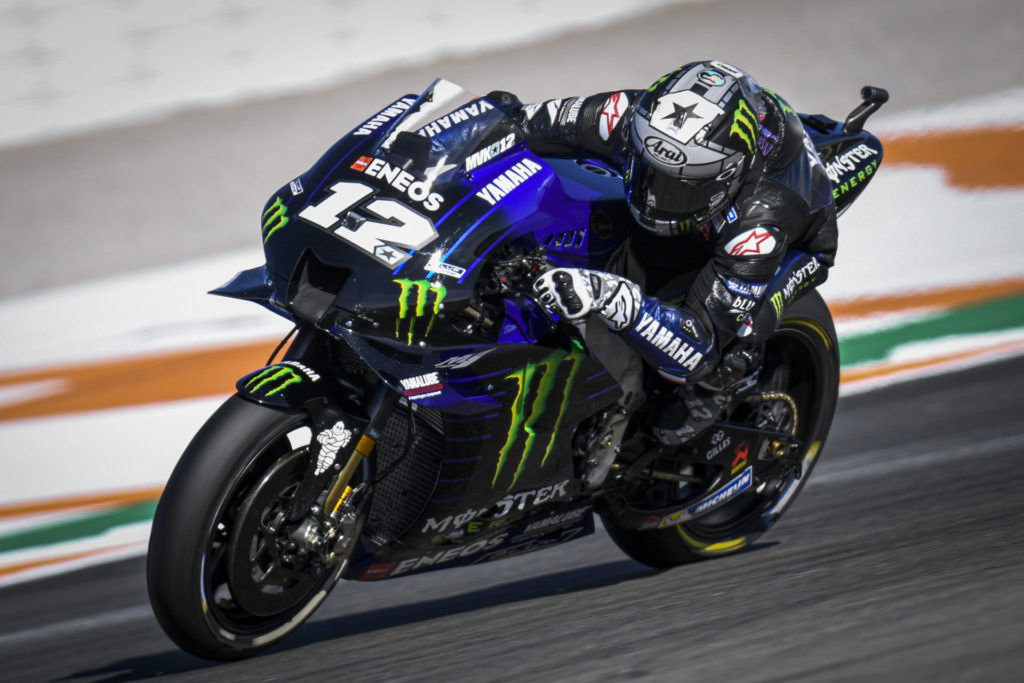 At Yamaha, 2020 therefore began with a bang. Monster Energy Yamaha MotoGP riders Viñales and Valentino Rossi – who was ninth – had a new chassis, engine and notably different air intake. Rossi's new Crew Chief, David Muñoz, was on hand as well as the team enjoyed an addition of a slightly different sort. Petronas Yamaha SRT's Quartararo and Morbidelli, meanwhile, tried the carbon swingarm, and Quartararo tried some aero new to him, but not to Yamaha.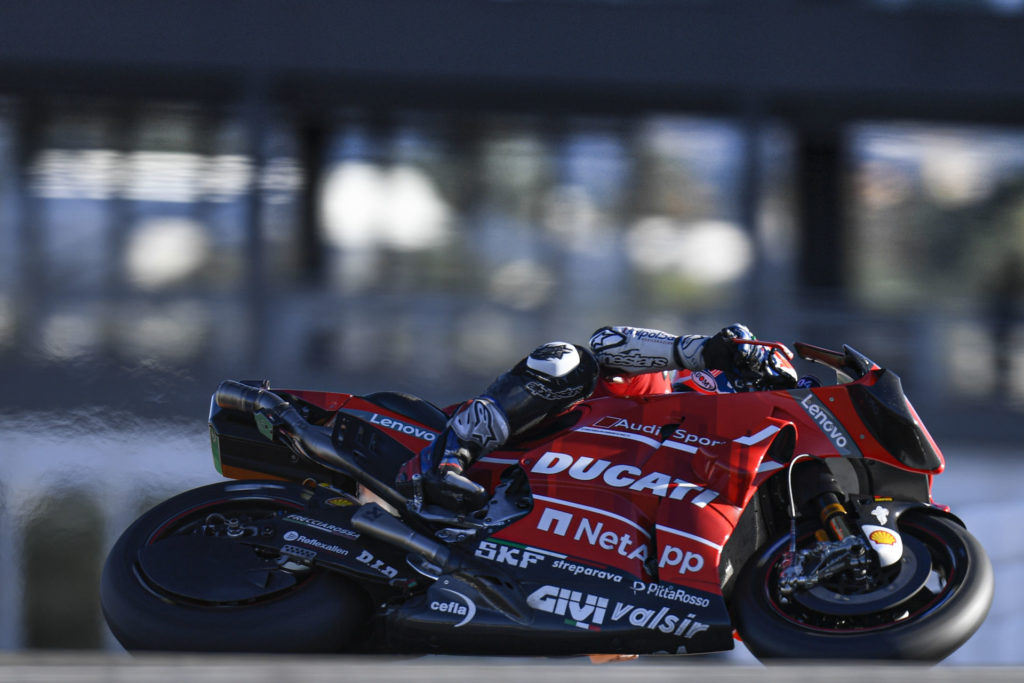 Andrea Dovizioso (Ducati Team) was fourth quickest and only 0.015 off Morbidelli after 58 laps, with the biggest headline from the Borgo Panigale factory proving a new chassis. Danilo Petrucci also stole some limelight for tougher reasons, with the Italian only putting in 10 laps due to pain in his shoulder exacerbated by his crash during the Grand Prix. Nevertheless, he was 12th overall. Jack Miller (Pramac Racing) was tenth after an apt 43 laps, trying some new parts but the full package is expected by the Jerez test. Ducati test rider Michele Pirro was on the other side of the Pramac garage, with Francesco Bagnaia remaining sidelined following his crash during the GP weekend.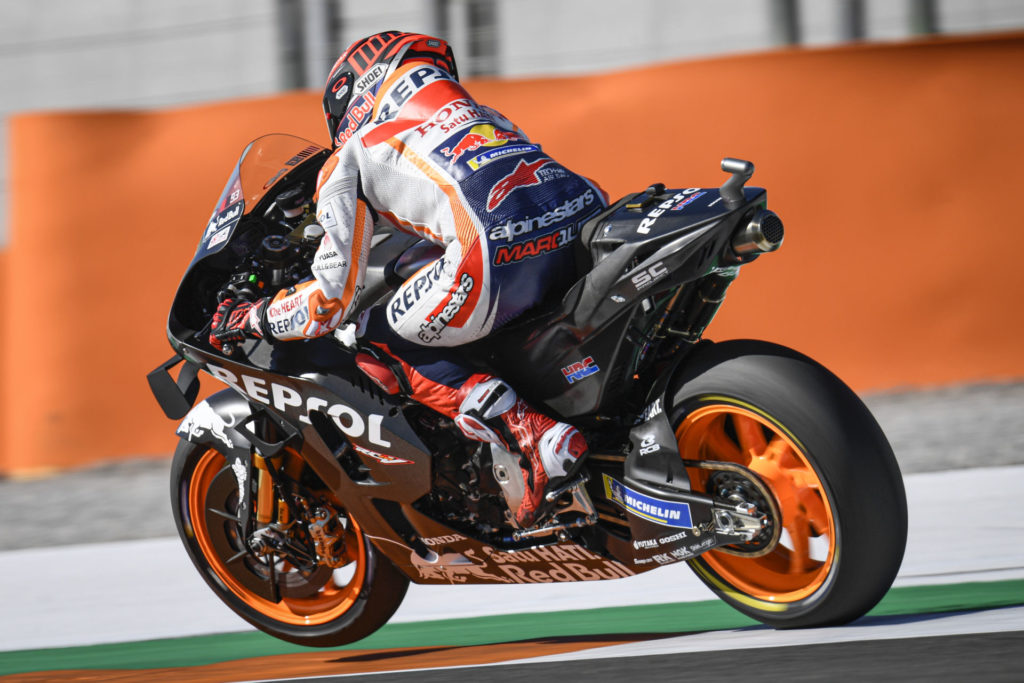 Honda, meanwhile, were fifth with reigning Champion Marc Marquez (Repsol Honda Team). He put in 60 laps although one was cut short as the number 93 crashed, scattering a few parts through the gravel. The biggest news at Honda was a new chassis though, as well, of course, as the arrival of Alex Marquez. The number 73 was at LCR Honda and had an early crash later replicated by test rider Stefan Bradl at Turn 10, although Alex completed 53 laps by the end of the day. Cal Crutchlow (LCR Honda Castrol) was 11th and did 69 laps working towards 2020.
Suzuki locked out sixth and seventh on Day 1 with Joan Mir (Team Suzuki Ecstar) leading teammate Alex Rins. The former did 63 laps and the latter 76. The Hamamatsu factory had a new engine previously tested by test rider Sylvain Guintoli, and that's what Alex Rins set his fastest lap with.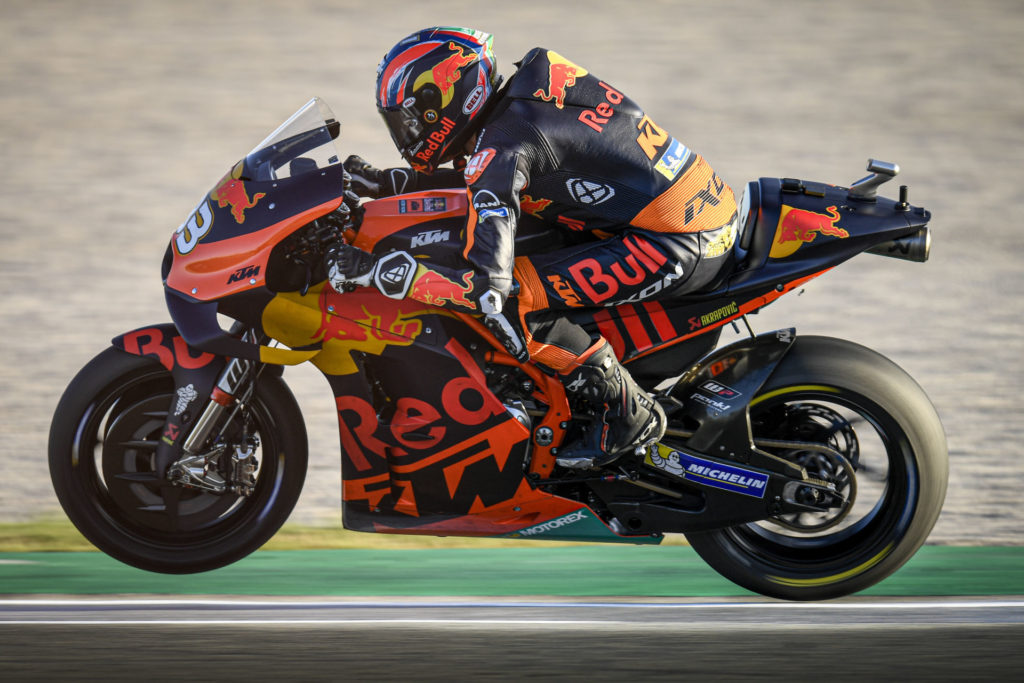 KTM were all hands on deck: a new chassis, different engine spec, a new steering damper and work focusing on electronics, fairing, winglets, seats kept them busy. The new chassis – still a tubular steel frame – is aimed at improved adaptability. Pol Espargaro (Red Bull KTM Factory Racing) was tenth and did 58 laps. New teammate Brad Binder was also a big addition for the Austrian factory and he put in 70 laps as a new era in his career begins.
Red Bull KTM Tech 3 also had a new kid on the block, although he's taken part in his first Grand Prix: Iker Lecuona. The Spaniard was impressive once again, despite a crash, and ended the day in 13th after 57 laps. Dani Pedrosa was on track for KTM too, putting in 52 laps and based in the Tech 3 garage as Miguel Oliveira remains absent through injury.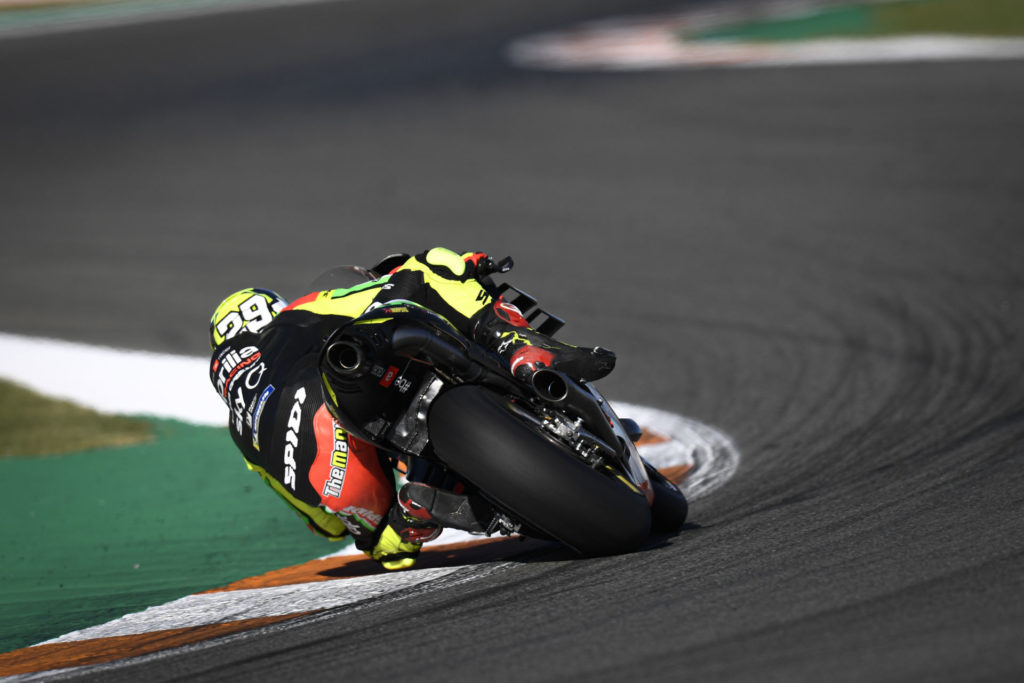 At Aprilia Racing Team Gresini, there was nothing new as yet, with work focused on improving electronics and engine braking. Andrea Iannone did 54 laps and was 14th, Aleix Espargaro did 45 laps and was 16th. Test rider Bradley Smith was also on track and caused a Red Flag with a crash, rider ok, but he did complete 50 laps for the Noale factory.
That's it from Day 1 but they'll be back at it on Wednesday so check out motogp.com for coverage, interviews and more.
More, from a press release issued by Red Bull KTM Tech3:
Lecuona kicks off 2020 season with Red Bull KTM Tech3 in Valencia
Less than 48 hours after his MotoGP debut at the Circuit Ricardo Tormo in Valencia, Iker Lecuona switched sides inside the Red Bull KTM Tech3 garage to properly start his premier class adventure with the French squad today. Over the course of the day, the Spaniard did 57 laps with many significant improvements. He concluded day one with a lap time, that was already 0.013 seconds faster than his fastest lap in Qualifying on Saturday.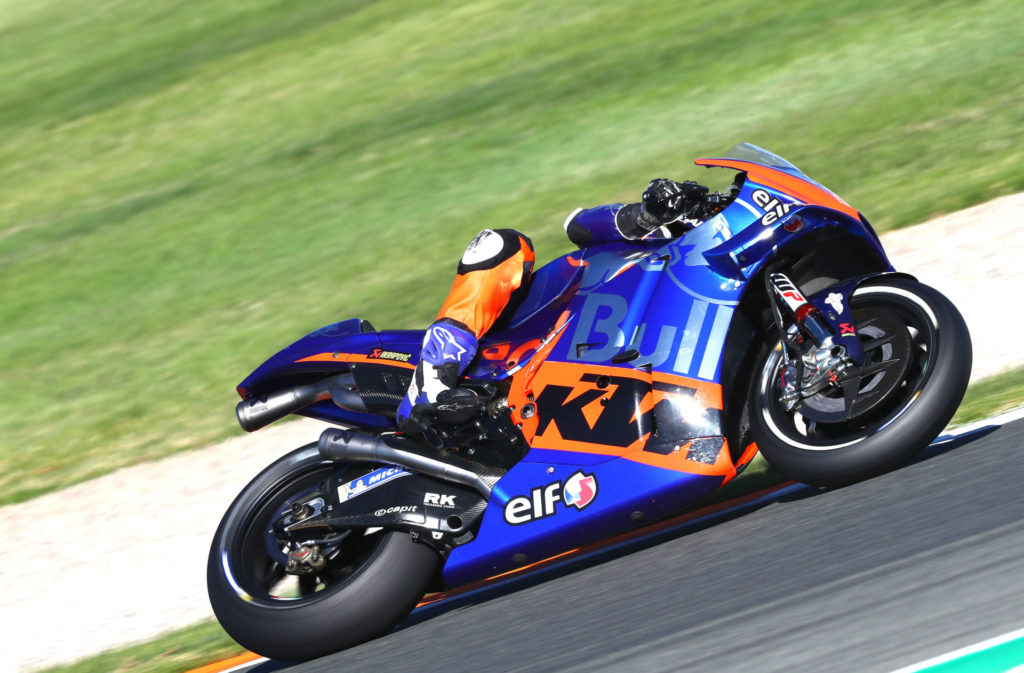 Iker Lecuona
Position: 13th
Time: 1:31.645
Laps: 57
"Today was my first official day in this team as a MotoGP rider and I'm very happy. I didn't change the bike, but I was just working on myself and my riding style. For sure, I need to continue to improve, but I'm quite satisfied to finish this first day in 13th position, just 1.482 seconds to the top. I did very consistent laps and decent lap times, so it's truly ok. Tomorrow I can't wait to continue to work with my new team and improve myself, I need to ride more and we will see."
Hervé Poncharal
Team Manager
"It's the end of day one testing for Iker Lecuona at Red Bull KTM Tech3. We are very happy. We don't have too much to test on the bike, but a lot with the rider. Iker just moved from Guy Coulon's to Nicolas Goyon's crew, so he had to relearn new guys and new methods of working, although they are quite similar and it was very interesting to start working with him without the pressure of a Grand Prix, with more time than a 45 minutes session. What he did today, was very impressive, to be honest, because we have been testing different settings, different tyres and he reacts quite well. You could see that run after run, his riding style is improving, he's getting more efficient for the MotoGP bike and I would like to say, that tonight we are a happy team. We are very proud and lucky to have Iker with us, so just wait for tomorrow, don't be carried away, but it was a good first day for the 2020 season. On the other side of the garage, we don't have too much to say, but we have the honor of Dani Pedrosa using our garage. We have a lot of very exciting technical things under our eyes, we have a very clever and skillful rider there, so this was a very emotional day one for the 2020 season. Thanks Dani, thanks Iker and more tomorrow!"
More, from a press release issued by PETRONAS Yamaha Sepang Racing Team:
Quartararo ends opening day of 2020 pre-season on top
PETRONAS Yamaha SRT duo Fabio Quartararo and Franco Morbidelli end opening day of Valencia test action first and third
Valencia Test – 19 November 2019
Fabio Quartararo and Franco Morbidelli have made a flying start to the 2020 MotoGP World Championship, finishing day one of pre-season action for PETRONAS Yamaha Sepang Racing Team in first and third at the Circuit Ricardo Tormo.
Making a late start due to cool track temperature at the Spanish venue this morning, Quartararo soon took control of the timesheets, going P1 before lunch and spending most of the rest of the day fastest. The victim of a fall at turn ten in the final hour of action, he was able to return to the track afterwards and his time of 1min 30.163secs (less than 0.2 secs from his pole position qualifying time on Saturday) means he ends the day fastest.
Team-mate Morbidelli was also in no rush to head out on track this morning, but was quickly able to get into the swing of things as temperatures increased. Testing a selection of chassis components for the 2020 season, his time of 1min 30.665secs left him sitting third in the timing order, 0.487secs behind his teammate.
The two-day Valencia test concludes tomorrow, with track action at the Circuit Ricardo Tormo underway from 1000-1700 local time (1700-0000 Malaysian time).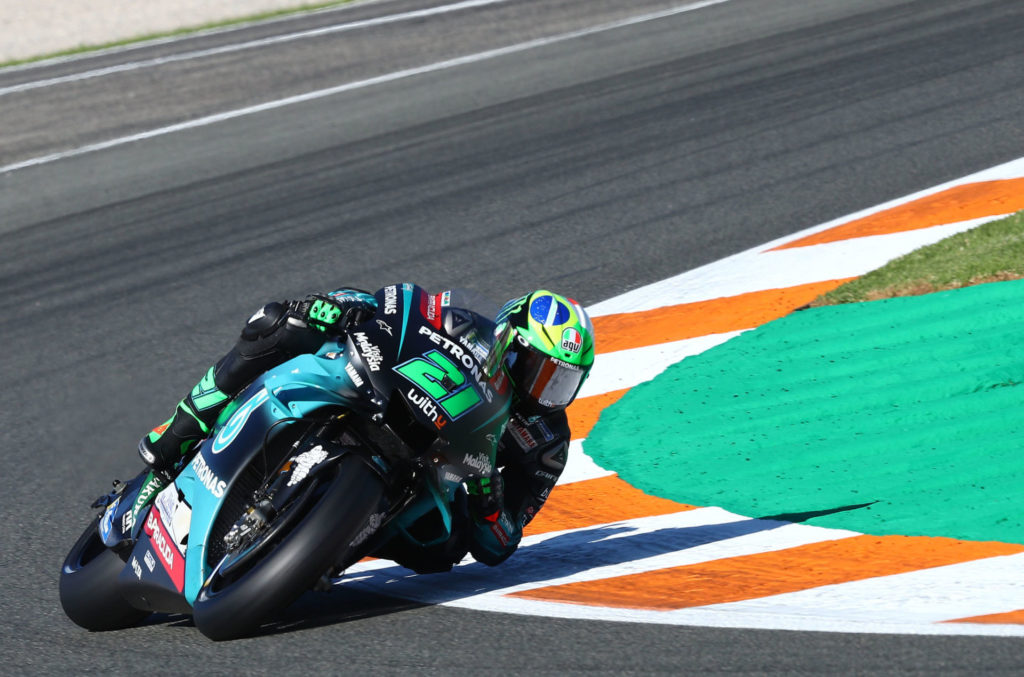 Franco Morbidelli
3rd (1'30.650)
"It was a positive day for us because we were able to try a couple of things like new aerodynamics, some chassis components and the carbon fibre swing-arm and try and increase the performance of the bike. Some things were good and some weren't quite as good, of course, but in the end it was a productive day for us. We were fast as well, which is nice, and it'll be a case of trying to improve a little bit more and understand the new parts a little better tomorrow. The most important job for tomorrow will be to reconfirm what we tried today and maybe to try some more new parts as well."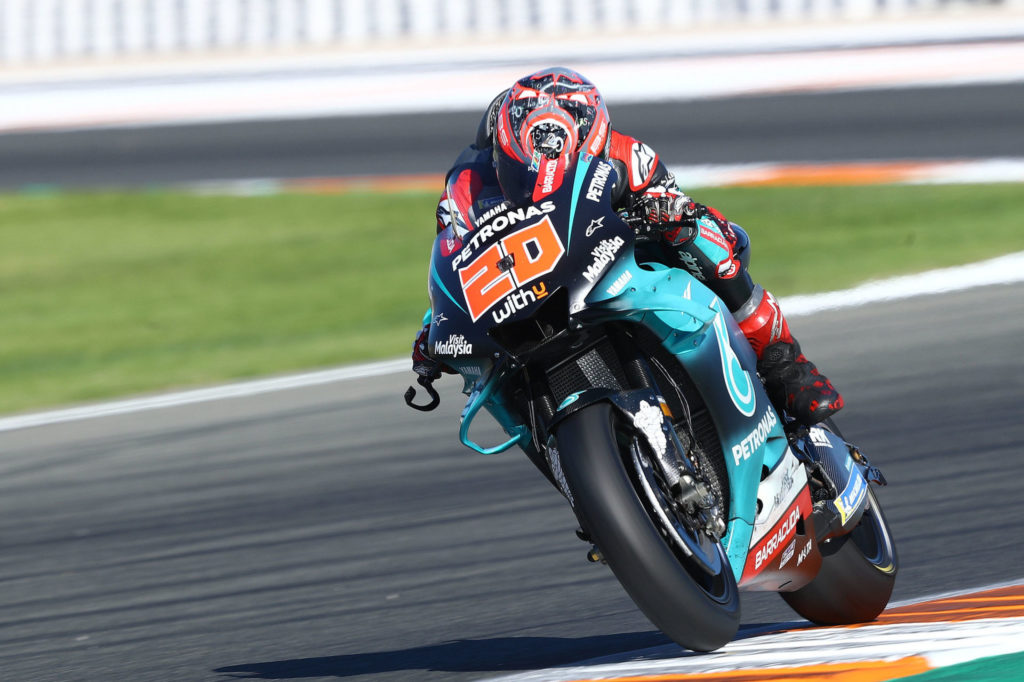 Fabio Quartararo
1st (1'30.163)
"We tested many things including new wings and a carbon fibre swing-arm, and spent a lot of time doing back-to-back comparisons between the old and new parts. It means that we've already got an idea of all the positives and negatives of what we tried, and a plan for tomorrow on where we need to concentrate. I've had good confidence and feedback from the bike all day, and it'll be useful to work on some areas tomorrow to improve the all-round package. When I crashed I was on a time attack lap but with a front tyre that was a bit used and I just braked a little too much – but we were able to make four more laps after the crash to check everything was fine."
More, from a press release issued by LCR Honda Castrol:
POSITIVE OPENING DAY FOR CRUTCHLOW AT VALENCIA TEST
LCR Honda CASTROL rider Cal Crutchlow was back out on the track at Valencia on Tuesday as preparations for the 2020 season started in earnest. The Briton was trying out Honda's RC213V prototype for next year on the opening day of an official two-day test at the Circuit Ricardo Tormo.
Crutchlow was pleased with his initial outing on the new machine as he completed a total of 69 laps during a busy schedule. He finished in 11th position on the timesheets – less than half a second behind world champion and Honda colleague Marc Marquez – but was particularly encouraged by the improved braking performance of the bike.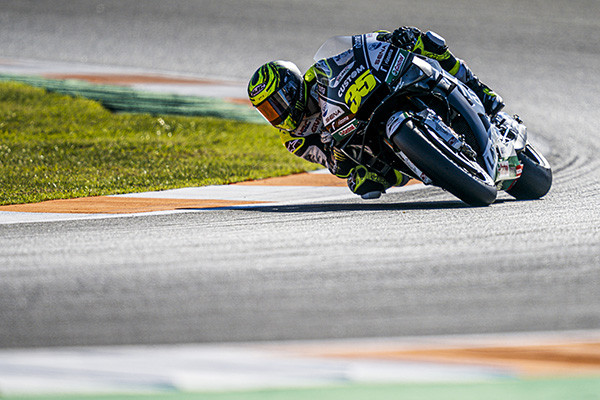 Cal Crutchlow – 11th
(1'31.183 – lap 63 of 69)
"We had a positive day. First of all, we tried the 2020 prototype bike and, as with everything, you have to set the bike up and make sure it runs properly first of all. I think we did that quite well today. It's only the first steps towards making sure the bike is working in the correct way, we'll try some more stuff after having a look at the data tonight. But overall, we're quite pleased so far. It's different in quite a lot of areas, although all the bikes in MotoGP have the same DNA so it's not a massive difference. But what we're always looking for is small advantages and I feel it's a little bit stronger in the braking zone at the moment, which is what we were looking for compared to this year's bike. So that for me is a positive."
More, from a press release issued by Ducati:
2020 MotoGP season officially gets underway at Valencia: Dovizioso ends first day of testing at the Ricardo Tormo Circuit in fourth place. Twelfth for Petrucci who has to stop because of shoulder pain. Pirro also out on track
The 2020 MotoGP season officially got underway today with the first of two days of scheduled testing at the Ricardo Tormo Circuit in Cheste. In sunny but rather cold conditions, the riders had seven hours of track time available from 10.00 to 17.00 and after the first day of action, Andrea Dovizioso finished the session in fourth place on the 2020 version of his factory Desmosedici GP, with a lap time of 1'30.665.
Unfortunately pain in Danilo Petrucci's left shoulder, which he injured when he crashed in the race on Sunday, affected the Italian's test session, and he was only able to complete a total of ten laps – the best of which in 1'31.433 – finishing the day in twelfth place overall.
After having some checks with the doctors of the Clinica Mobile, Petrucci decided not to continue today and will decide tomorrow if he can go out on track again or if it will be better to wait until the next test at Jerez, scheduled for the 25/26 November.
The team's third rider Michele Pirro was also out on track today, testing a number of new solutions on his bike, and he wrapped up the day in eighteenth place with a time of 1'32.016.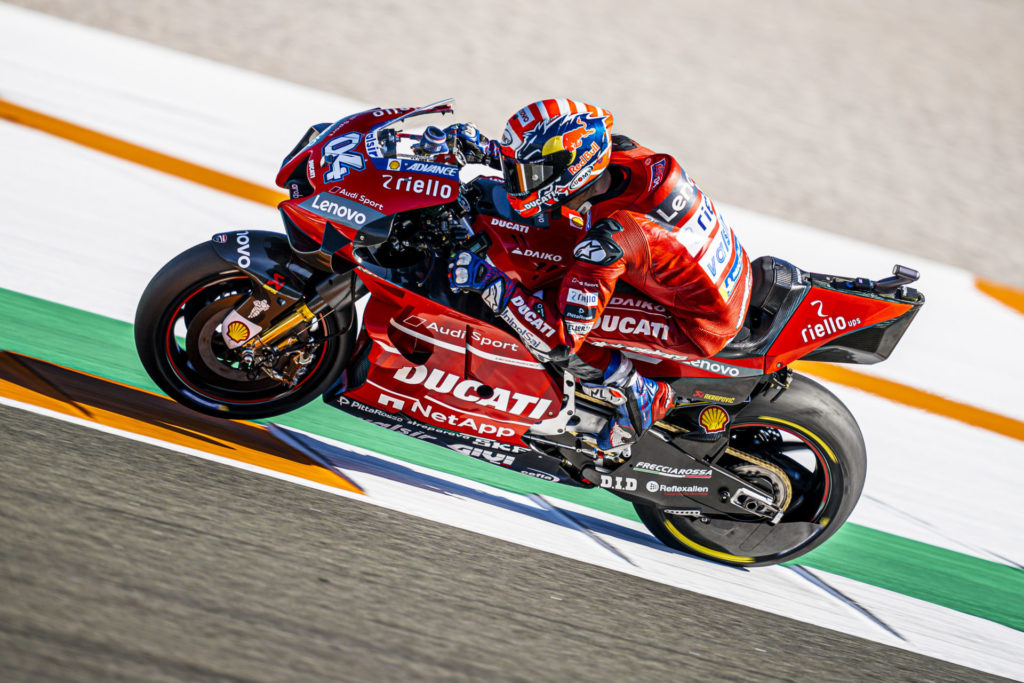 Andrea Dovizioso (#04 Ducati Team) – 1'30.665 (4th) – 58 laps
"I'm pleased because we tested some new stuff and it's very interesting. Of course we'll have to do some more tests with everything and also get some feedback on another track, to confirm the positive feeling we had today and then work on the details to try and make more improvements. In any case today went very well and I'm really satisfied".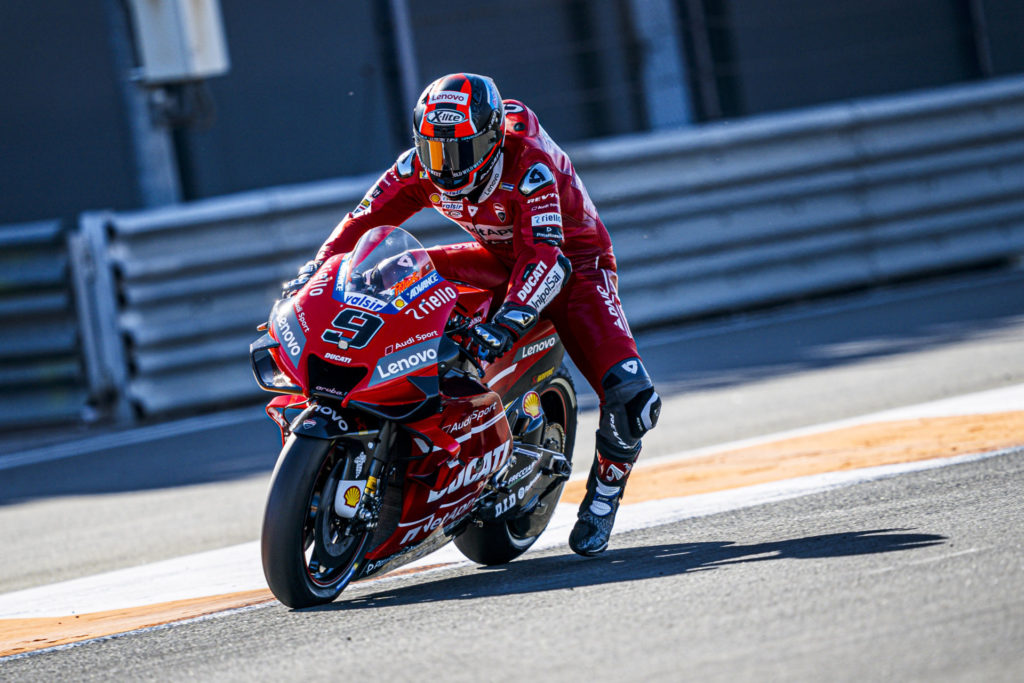 Danilo Petrucci (#9 Ducati Team) – 1'31.433 (12th) – 10 laps
"Unfortunately I was only able to do a few laps today because my left shoulder, which was already giving me a few problems, was injured a bit more in my crash on Sunday. Even though I tried to rest on Monday, when I got back on the bike today I didn't have any strength in it so I preferred to stop and see if I can do a few laps tomorrow or if it will be better to postpone everything to next week at Jerez. Despite the fact I only did a few laps, my first impressions of the 2020 bike are certainly positive".
The Ducati Team will be back on track tomorrow for the second and final day of testing scheduled at Valencia.
More, from a press release issued by Team Suzuki ECSTAR:
2020 MotoGP SEASON BEGINS WITH DAY ONE OF THE VALENCIA TEST
Joan Mir: 6th – 1:30.811 (+ 0.648)
Alex Rins: 7th – 1:30.958 (+ 0.795)
The 2020 MotoGP™ season began at Ricardo Tormo circuit today with the opening day of testing where Team SUZUKI ECSTAR used the time to focus mainly on the 2020 specification engine, as well as trying some electronics settings and general set-up tweaks.
Joan Mir and Alex Rins both left the box between 11:00 and 12:00 once the Valencian circuit had got up to temperature. Putting in long stints, both riders found the day useful, taking the opportunity to run comparisons between the 2019 and the 2020 spec engines. Rins completed a total of 76 laps, while Mir did 63.
There will be another day of testing on track tomorrow.
Davide Brivio:
"As always, it's very good when you have a full day of testing to go through everything. Today the main focus was to check the 2020 engine specification, and the feedback so far has been positive. Now we have to fine tune all the settings, in terms of electronics and the bike in general. We're interested to compare it again tomorrow, and also to try it on a different circuit, like Jerez next week. Tomorrow we'll go through a few more things, comparing parts as well as the engine, trying to get some more information and confirm some feelings."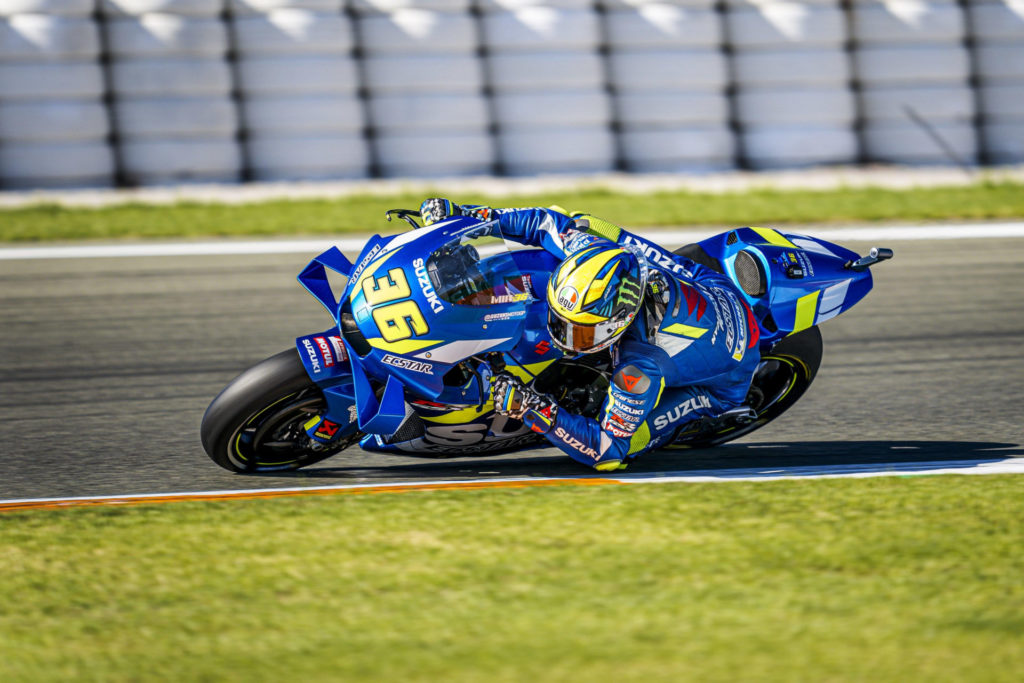 Joan Mir:
"I'm quite happy with how today has gone. We worked on the bike and tried the new engine specification; my first impression is good. Tomorrow we'll make some adjusts and continue to see what we think. The plan for me is to continue trying the engine and then also some settings such as electronics."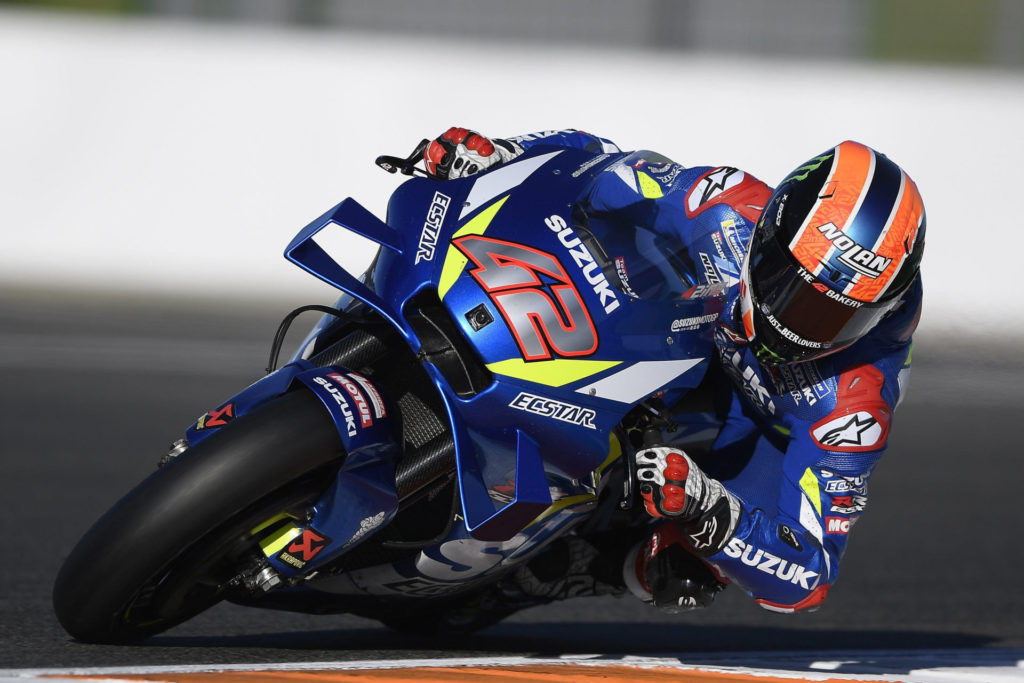 Alex Rins:
"We're feeling good today. We tried the 2020 specification engine in the morning and then did some comparisons. My initial thought is that the new spec is better in the areas of top speed and traction; at the end these are the aspects we had in our target, but we'll continue with set-up, settings and comparisons tomorrow and see what we think ahead of Jerez next week."
More, from a press release issued by Repsol Honda:
2020 begins in Valencia
Action resumed at the Circuit Ricardo Tormo as 2020 began in earnest with the traditional post-season test with the Repsol Honda Team's 2020 riders.
Marc Marquez began his 2020 title defense two days after clinching a sensational 12th win of 2019. Starting early, Marc began to work through a busy day in Valencia. Just after 1PM Local Time he suffered a fall at Turn 13 but was unharmed and returned to running just after lunch. Completing a total of 60 laps, the reigning World Champion enjoyed a productive day and finished fifth fastest with a 1'30.698.
The opening day of testing saw Moto2 World Champion Alex Marquez try the new RC213V for the first time. Alex was victim to a harmless crash at Turn 10 on lap eight of the morning. Able to return to track just before lunch, Alex completed 53 laps on his debut as an HRC rider with a fastest time of 1'32.873 on his penultimate lap.
One more day of running awaits the riders at the Valencia circuit before transferring to Jerez for the final laps of calendar 2019.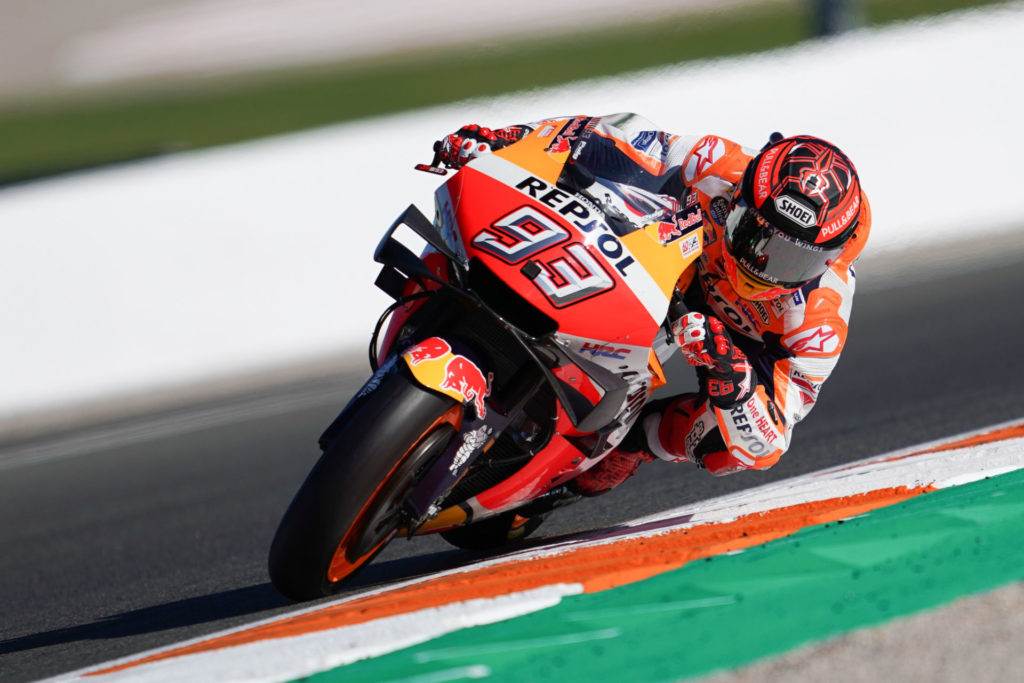 Marc Marquez
5TH  1'30.698
"I'm happy with how today went overall, we had our first contact with the 2020 bike and started to understand it. I had a strange crash on my out lap from the box but there weren't any issues on the bike. Tomorrow we will concentrate on some other areas to understand some more things. It will be another busy day but I am looking forward to continuing our work so the team can work on our feedback over winter."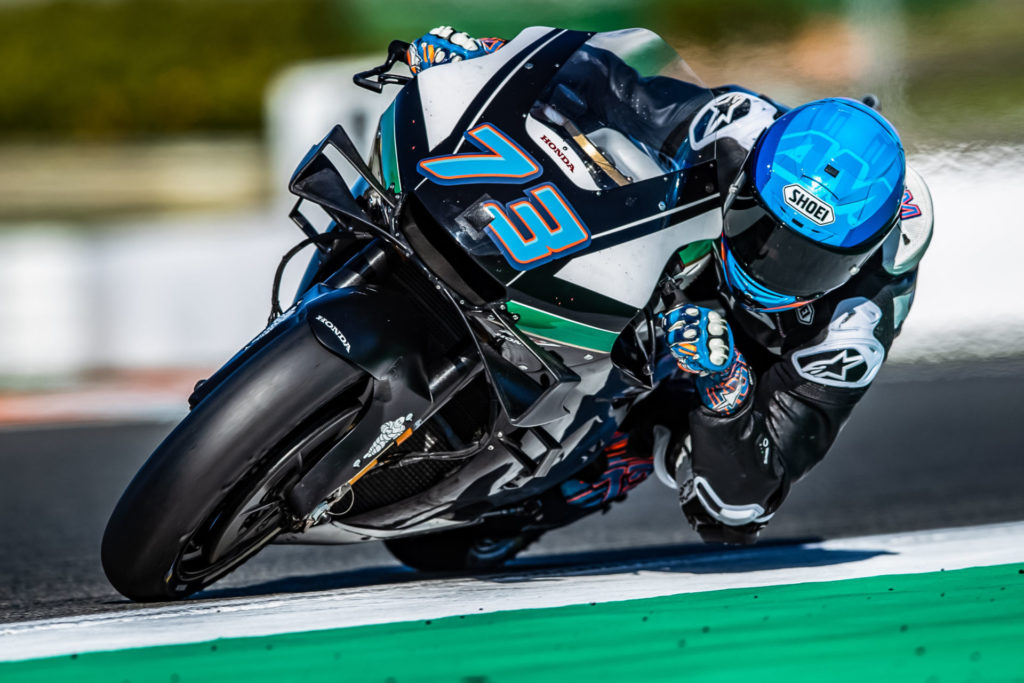 Alex Marquez
23RD  1'32.873
"First I want to say thank you to Honda for this opportunity to join them as the Moto2 World Champion. Each lap we were able to improve which is important and I was able to enjoy my time on the bike. I'm very happy, it has been a positive day for me apart from the rookie mistake I made in the first run. My rhythm was quite good, and I know where I need to improve and focus on for tomorrow. The plan for tomorrow is to just make more laps so I can understand the bike better, learn how to manage it more."
More, form a press release issued by Monster Energy Yamaha:
MONSTER ENERGY YAMAHA START 2020 CAMPAIGN WITH VALENCIA TEST
Valencia (Spain), 19th November 2019
Monster Energy Yamaha MotoGP's Maverick Viñales and Valentino Rossi returned to the Circuito de la Comunitat Valenciana – Ricardo Tormo today to tick off the first items on their Valencia MotoGP Official Testing programme. They took second and ninth place respectively in today's final results
2nd MAVERICK VIÑALES 1'30.327 / 66 LAPS
9th VALENTINO ROSSI 1'31.012 / 73 LAPS
After a one-day break, the Monster Energy Yamaha MotoGP Team 'celebrated' the start of a new racing season at the Circuito de la Comunitat Valenciana – Ricardo Tormo, kicking off the 2020 pre-season with new prototype Yamahas. Maverick Viñales and Valentino Rossi concluded the first day of the Valencia MotoGP Official Test in second and ninth place respectively.
Maverick Viñales has already shared with the media to be fully motivated at the start of the testing season. He entered the track a little after 11 o'clock, leaving him, in theory, with six further hours before the session's end. The Spaniard used this opportunity to work on tyre consumption, his riding style, his rhythm, and to take the new prototype YZR-M1 out for a spin, with very competitive results. Three hours later he was in provisional first place with a 1'30.593s. He kept working on his pace rather than putting in a time-attack, but did manage to improve his time to a 1'30.327 on his penultimate run. The only rider that could beat this lap was Fabio Quartararo, putting Viñales in second place, with a 0.164s margin, having completed 66 laps in total.
Valentino Rossi also returned to the scene of the Valencia Grand Prix, the Ricardo Tormo circuit, in the morning, to welcome his new Crew Chief David Muñoz. Though vastly experienced, the former Moto2 Sky VR46 Racing Team Chief Mechanic is new to the premier class, so this first day of 2020 MotoGP testing was an important step to get the new partnership going. The Doctor commenced his testing after 11 o'clock. The Italian used the available testing time to try to compare and contrast the new bike items and specs, giving positive feedback. Like his team-mate his main goal was prolonging tyre life. He posted a best time of 1'31.012s on lap 57/73, which put him in ninth position, 0.849s from the top.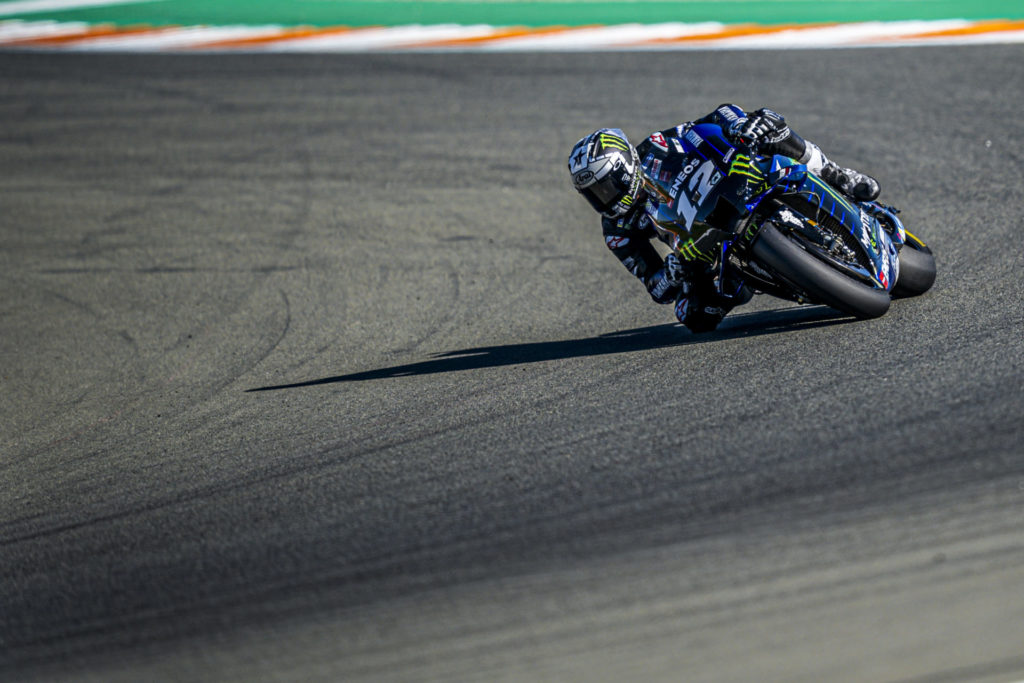 MAVERICK VIÑALES
"For me it has been a really good test so far, because I worked a lot on my riding style and on my rhythm, and it seems like we improved. Today the grip level was quite good, so maybe we need to keep in mind that we still need to work on this when there's lower grip, but I was feeling really good on the bike today. We were especially working on reducing rear tyre degradation and we worked really well. I had a great rhythm on the last laps of a race distance on one tyre and that's key and also important for our work tomorrow. The prototypes are good. I'm very happy. We are riding the bike in a good way and that's the most important. We are trying to save some tyres for tomorrow, because then we will try to create a better set-up. Today we just rode with the hard tyre and I felt great. Tomorrow we know more."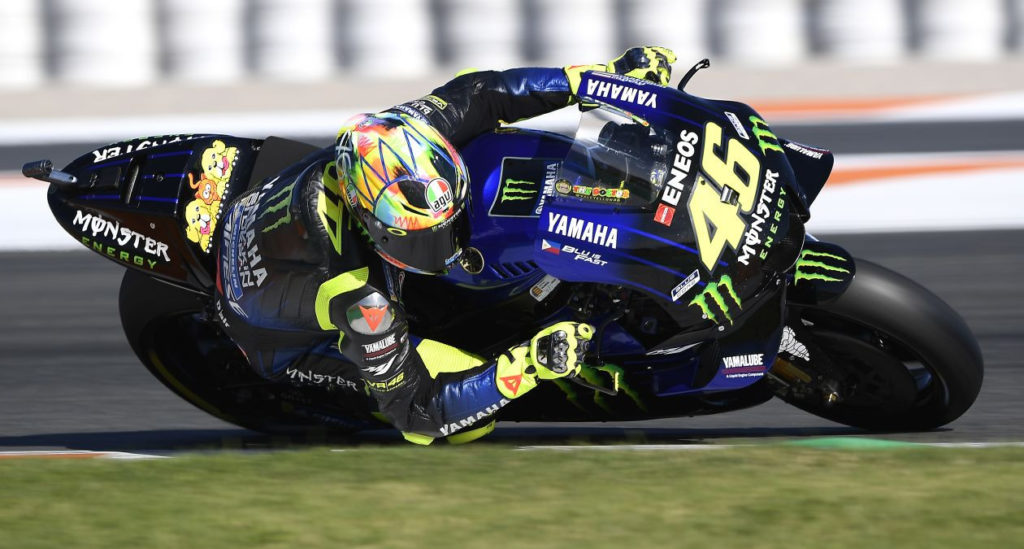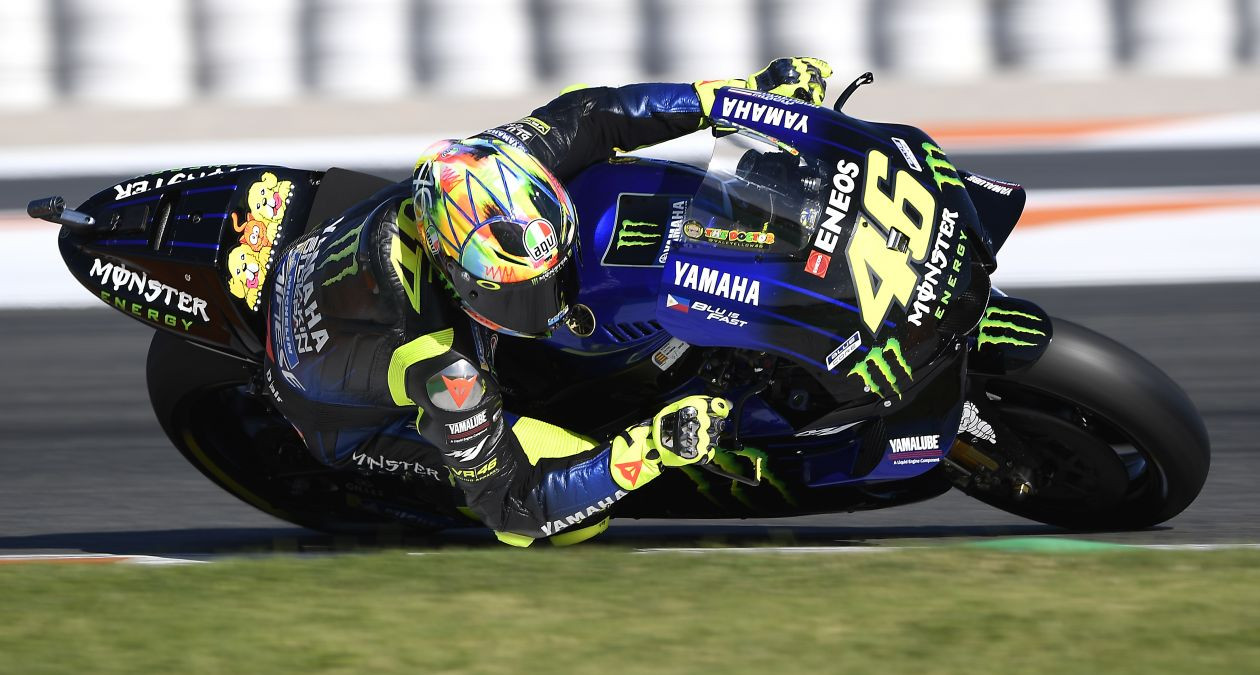 VALENTINO ROSSI 
"Today was not so bad. We continue to work on the prototype of the 2020 bike that is a bit different, and the feeling is positive. We also worked a bit on the tyres and the setting, and at the end we found something good. It became better and better towards the end of the day, and I had quite a good pace, so we will try to continue like this tomorrow."