TIME TO ROLL OUT THE 'RED' CARPET: GASGAS FACTORY RACING PRIMED FOR MOTOGP™ 2023
As the clock ticks down and the revs climb towards the launch of 2023 MotoGP, GASGAS Factory Racing Tech3 have whipped away the covers from the GASGAS RC16 race bikes to face this year's landmark FIM World Championship.
The GASGAS Factory Racing Tech3 team shredded slicks for the first time at the Valencia test in Spain last November and then several weeks ago at Sepang in Malaysia. Ahead of the final two days of pre-season prep work at the Algarve International Circuit in Portugal on March 11-12 (followed by the opening round of the 21-Grand Prix series at the same venue on the last weekend on the month), the team had the MotoGP paddock talking with their official presentation at the new Spanish GASGAS factory complex just outside of Barcelona.
The party saw Pol Espargaro (31 years old, Moto2™ World Champion in 2013, 52 GP podium finishes and 15 wins in two classes) and Augusto Fernandez (25, reigning Moto2 World Champion, 20 rostrums and 7 victories in Moto2) star with the crimson GASGAS RC16 and a gathering of guests, media and GASGAS fans as the crew popped the corks on their maiden MotoGP tilt.
Espargaro enters his tenth year of MotoGP having sprayed premier class podium Prosecco at least once in four of the last five seasons. He brings experience of having raced for two other manufacturers. He made his MotoGP debut with the Tech3 squad from 2014-2016. Fernandez is the sole rookie in the division but is floating on confidence after his '22 Moto2 title success and has shown excellent signs of adaptation to the faster and more complicated MotoGP technology in the test outings so far.
GASGAS is the most exciting and dynamic new brand in the 74-year-old championship and promises to lay thick rubber on the 21 circuits that makes-up a '23 campaign with the fresh Saturday 'Sprints' format to be introduced. GASGAS achieved international recognition and distinction as a manufacturer of title-winning Trial machinery. The marque then quickly shook the establishment in AMA Supercross, MXGP, Enduro and the DAKAR rally in the last three seasons and blitzed the 2021 and 2022 Moto3™ series – thanks to the dominant Aspar Racing Team – with a total of 14 victories and the world title last autumn pocketed by rising star Izan Guevara.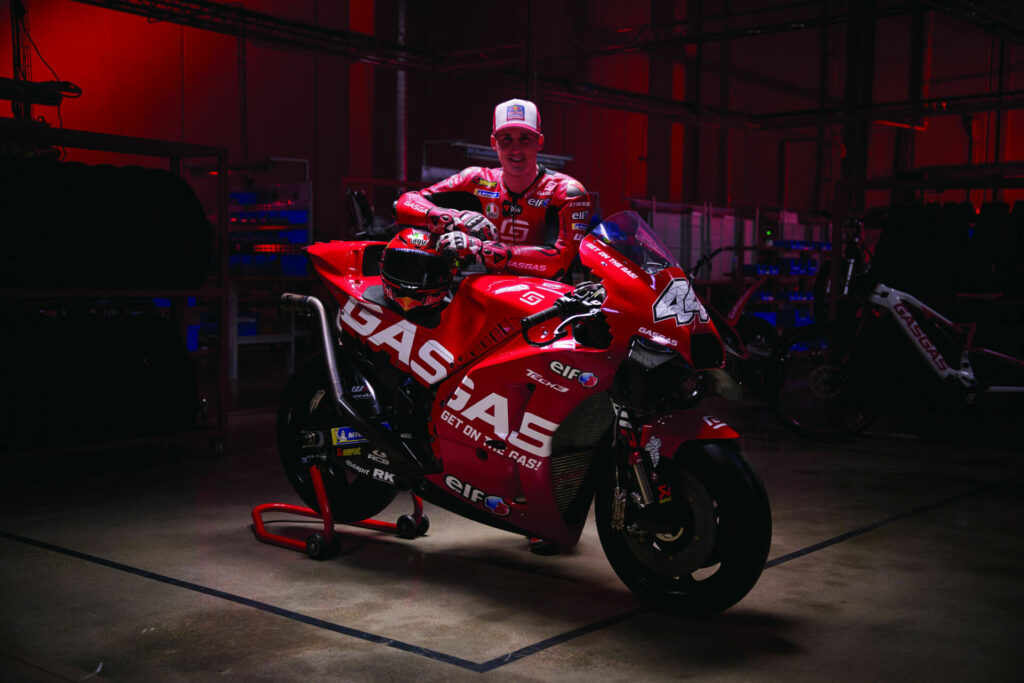 Pol Espargaro:
"I feel like I am coming back to my roots. With Tech3 and the new brand we have a GASGAS 'mood': friendly, close to people and we're really hard workers, so I believe that if we fight and push together as a team we will be there. We will be right at the top. I think the potential is high on this bike. For sure we have a lot of work to do because the level in MotoGP right now is super-high but I think we can reach it. In Valencia for the first test I felt the DNA of the bike and when it matches your own DNA it makes you feel so good! The bike is almost ready to fight for something really great this year."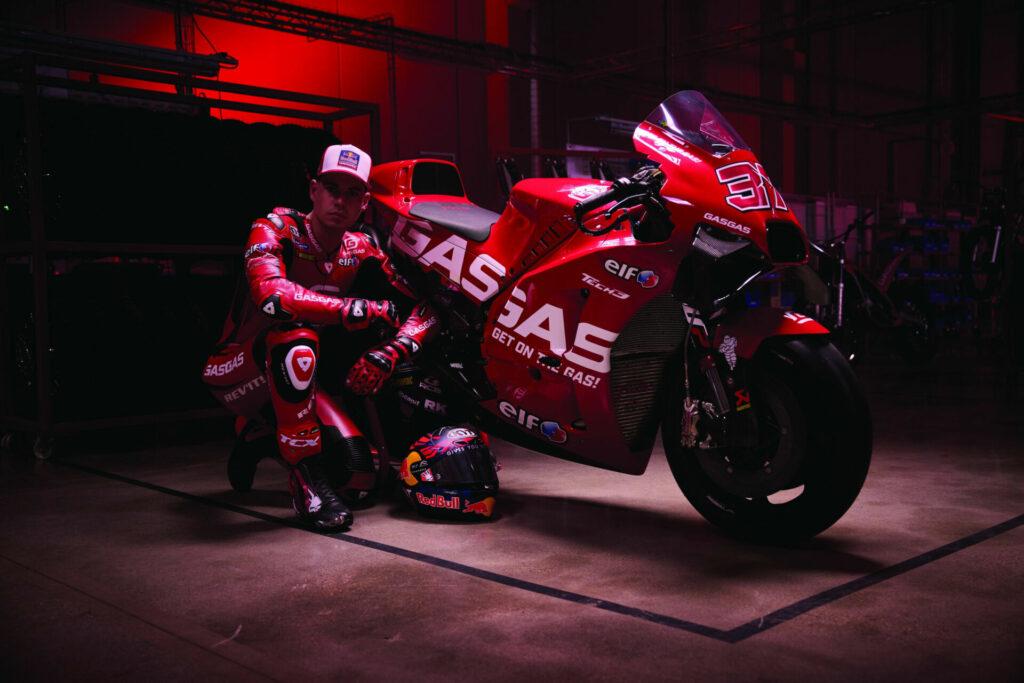 Augusto Fernandez:
"Well, I'm jumping into MotoGP with this confidence of being world champion and it's good but honestly I don't know what to expect in terms of positions. I'm looking forward to being competitive soon and trying to be in the battle with my teammate. I think I am facing the most important year of my career but I know I need to be patient. I am discovering everything that it means to be a MotoGP rider, a factory rider. But it's good to see how many people you have behind you and not just your team; the whole factory that is waiting for you and your results. Portugal is coming soon and I'm really looking forward to it and it's a dream come true: my debut in MotoGP. I honestly can't wait."
Herve Poncharal, Team Principal:
"I have been in MotoGP for quite a while and I've experienced quite a few seasons and every new season is always a very exciting moment. To do it with GASGAS means a lot for me because I have been following this brand since it started in Trial – I love the name – and I'm excited. We always believe that experience and youth is a good mix. I am pretty sure that Pol is happy to be back and having Augusto with us is something very exciting because it is always perfect to receive the rookie rider as a Moto2 world champion. I am very happy, very proud and we are looking forward to creating positive vibes. Red vibes!"
Pit Beirer, GASGAS Motorsports Director:
"When we first put that Moto3 GASGAS bike on the grid – with our fantastic partner in the Aspar Racing Team – nobody was even dreaming of a MotoGP team two years later but here we are with our new baby and our new brand. I feel we have a strong combination. You have Augusto, the young one who is world champion and is hungry, looking up to the big boys but then you have a guy like Pol coming back to the family who is a fighter and who motivates the whole team and who, of course, brings some really good MotoGP experience. I feel it is a super-strong team. It is a new direction for our friends Tech3, and in terms of the structure we combined the best of the best. We enjoy these kinds of partnerships because in the long-term they make you very successful. I feel it is an exciting time, and with these two riders and this new brand; I feel we are ready to go."
Hubert Trunkenpolz, Member of the Executive Board:
"If you want to create awareness for a motorcycle brand then MotoGP is the right platform. It's where you reach the most people globally and where we can make GASGAS known and make the GASGAS brand more popular. If we also look to the GASGAS brand values then its young and vibrant and it's clear that MotoGP with its demographics is also the right platform or us. Having two Spanish riders with our old friend Pol and with a rookie – Augusto – I think it is a perfect fit. In the future the GASGAS range will be enlarged and expanded with street motorcycles and MotoGP is preparing the ground for these products that will come year-by-year."