Editorial Note: Scroll down the results PDF to see combined results for all three days, average top speeds on Day Three, and more.
More, from a press release issued by Dorna:
Ducati vs Aprilia on Day 3: the timesheets tighten at Sepang
Marini top, Bagnaia second, Viñales third as Ducati & Aprilia shine on Sunday – with Marquez leading the resistance
Sunday, 12 February 2023
Slow start, hectic middle, steady end. That was the story of the third and final day of the Official MotoGP™ Sepang Test as we saw times tumble in between a couple of small rain showers that hampered the start and end of testing. Coming out on top of the timesheets was Luca Marini (Mooney VR46 Racing Team) thanks to a blistering 1:57.889, as reigning World Champion Francesco Bagnaia (Ducati Lenovo Team) also broke the 1:58 barrier. Maverick Viñales (Aprilia Racing) rounded out the top three, the Spaniard 0.147s off Marini's table-topping effort at the close of play.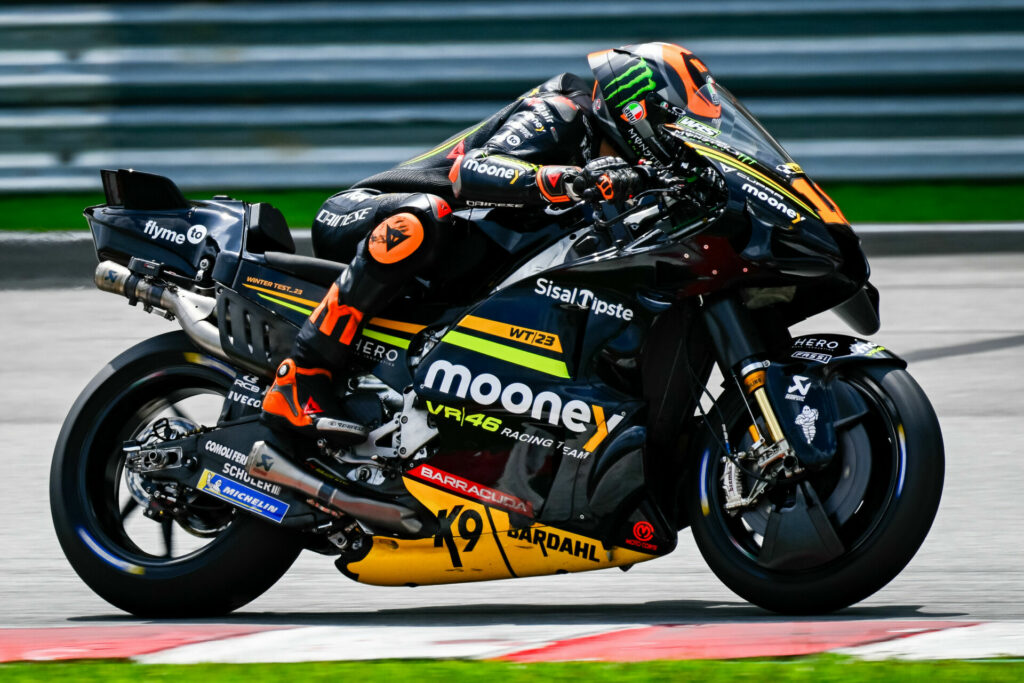 With not too many more tech updates to discuss that we haven't delved into already over the past couple of days, Sunday was also about having a closer look at the timing screens. Only two riders didn't manage to improve their best times from Friday and Saturday, they were Miguel Oliveira (RNF MotoGP™ Team) and 2021 World Champion Fabio Quartararo (Monster Energy Yamaha MotoGP™), as most of the full-time premier class stars did a few time attack laps.
Here's a rundown and first… ain't it good to see bikes on track (and some sunny skies!)?
DUCATI
Reigning Champion Bagnaia was so close to the top, and he had the new aero on both bikes but had the downwash ducts instead of the "ground-effect" side fairings, reportedly preferring them. Teammate Enea Bastianini had the new aero on both bikes but one with the downwash ducts and one with the "ground-effect" lower side fairings. The Beast was fourth overall and at the end of the day said they were still only at 70-75% of the potential of the new bike…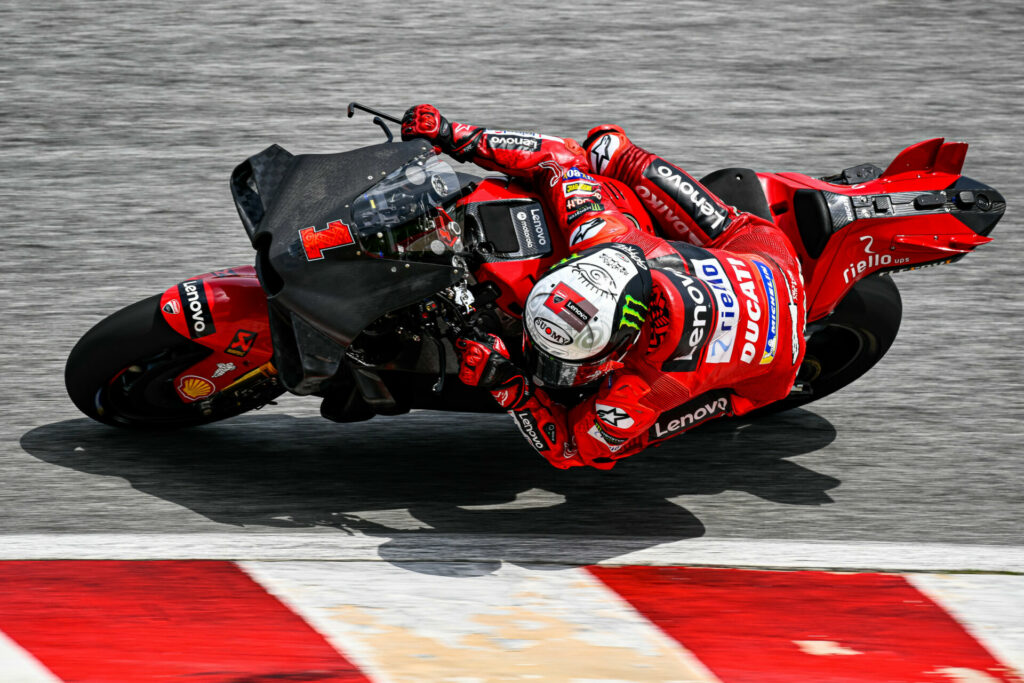 Ducati Lenovo Team Manager Davide Tardozzi was also pleased overall, but he did also stress that the details of the whole new bike will be decided in Portimão. He also reported that Bagnaia said there were good points to the '23 machine, but still "one weak point" compared to the GP22, so that will be one to ask about.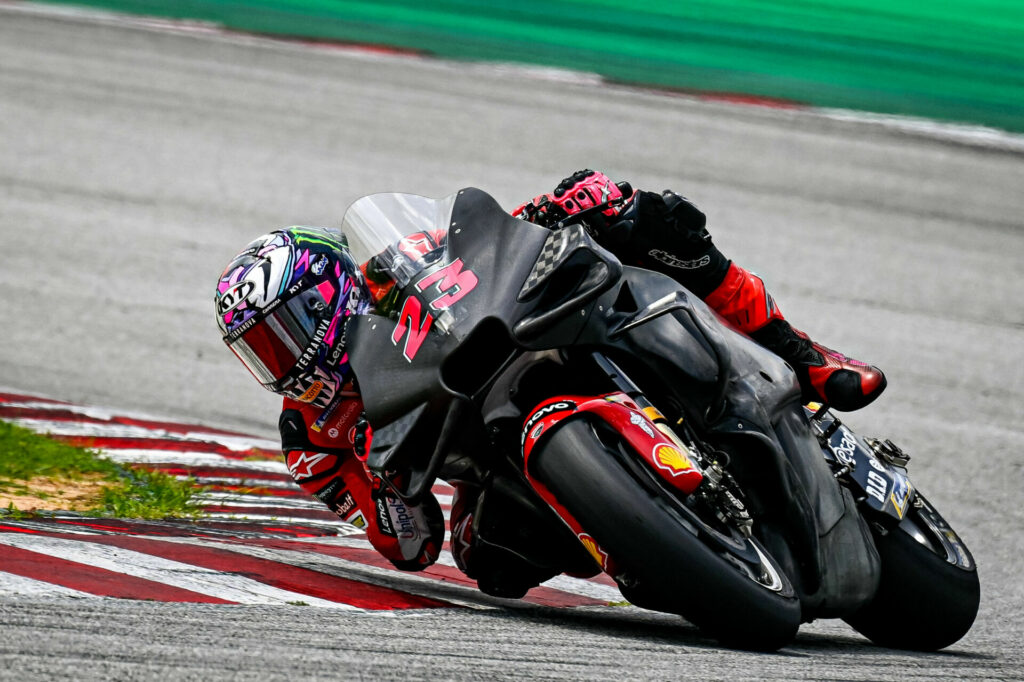 At Prima Pramac Racing, Jorge Martin was especially vocal about the step forward with the 2023 engine, and he was fifth at the end of play. Teammate Johann Zarco was also spending time on the ground effect lower side fairings, and he finishes the test in P16.
With Marini on top enjoying the still very much sublime GP22, Mooney VR46 Racing Team make it two days of three they've stolen some headlines at Sepang after teammate Marco Bezzecchi was also quickest on Day 1. Bezzecchi was eighth on Sunday, just 0.019 behind Fabio Di Giannantonio (Gresini Racing MotoGP™) on another GP22. New Ducati rider Alex Marquez was just behind Bezzecchi, and by just we mean 0.022s.
APRILIA
Both of the Aprilia Racing stars – Aleix Espargaro and Viñales – had 2023 aero packages on them on the final day, and both bikes in each of their boxes were the 2023 machines. It looks like Aprilia have made a promising step with their new package, as both riders improved their overall lap times ahead of lunch time on Sunday.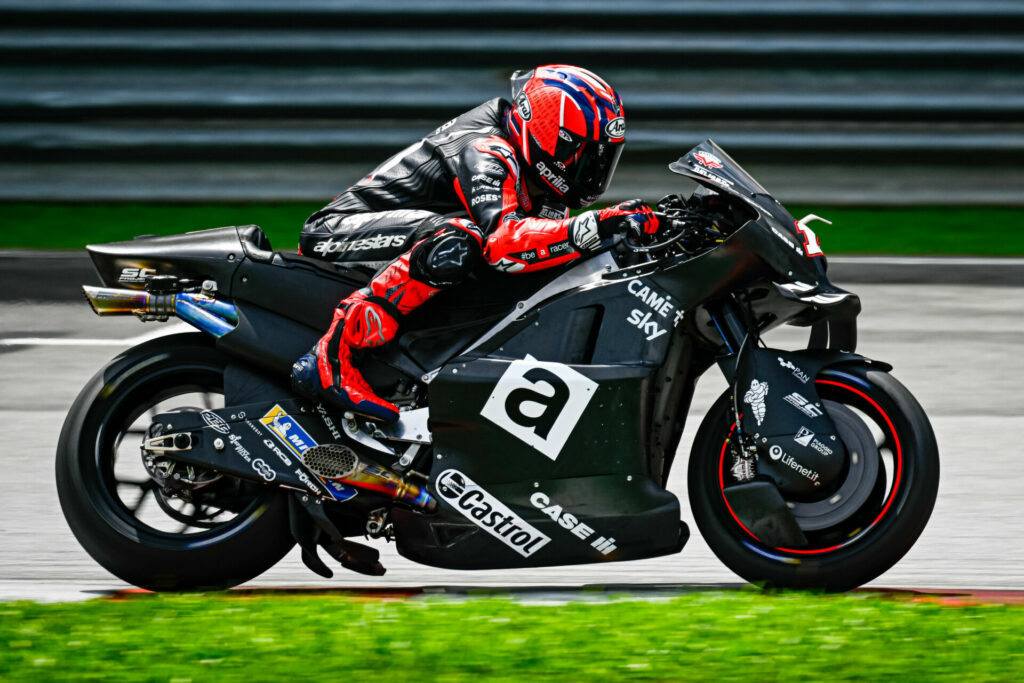 Viñales was the busier of the two riders in terms of laps. Top Gun clocked 56 laps in total and had an enjoyable afternoon, as we saw the number 12 sling himself to the top of the timesheets. His 1:58.036 was at some stage the third fastest lap we've ever seen at the Sepang International Circuit, before Marini slammed in his 1:57.889 and Pecco joined his VR46 Academy counterpart in the 1:57s.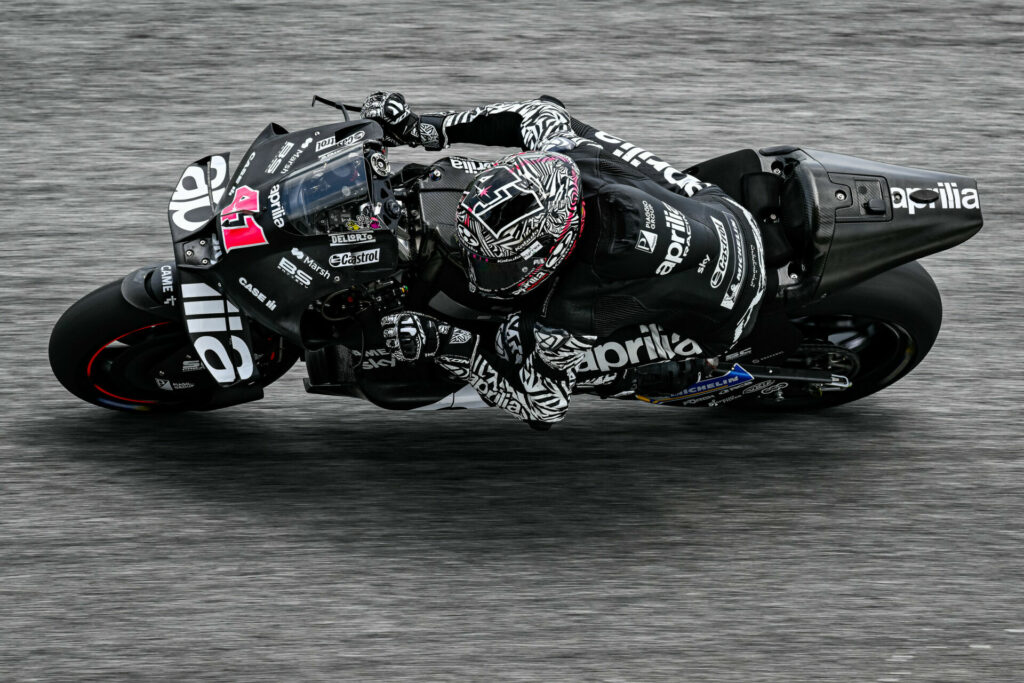 Espargaro set 32 laps on the final day and eventually ended the three-day outing in sixth place, 0.4s from top spot, but the Spaniard was happy with how Aprilia's Test has gone. It's "too early" to properly evaluate the 2023 package, but it's so far, so good for the Naole factory. There's also a newer engine spec and a few more things expected for the next test, too.
Positivity was seemingly running through the RNF MotoGP™ Team box as premier class sophomore Raul Fernandez climbed to P7 overall, but as others also improved, Fernandez eventually finished P11. His 1:58.710 was over a second quicker than he managed in qualifying at the 2022 Malaysian GP, while teammate Miguel Oliveira continued to show impressive pace on the RS-GP. The Portuguese star ended the Test in P15, his best time coming in at a 1:58.839, and said a lot of focus was on the rear of the bike and setting it up so he felt more comfortable.
HONDA
In the Honda camp, Marc Marquez (Repsol Honda Team) managed to better his overall best laptime ahead of lunch time and sat comfortably in the top 10 for a while. After having four bikes in his box for the first two days, there were only three on his side of the factory HRC garage on Sunday – and one of them had a cover on it. The two bikes the eight-time World Champion was out on were the 2023 development bikes, they each have a different chassis, but look very similar from the outside. It seems notable that Marquez and Honda concentrated mainly on the 2023 development bikes on the final day, not on the experimental bike that he was seen out on a few times this weekend.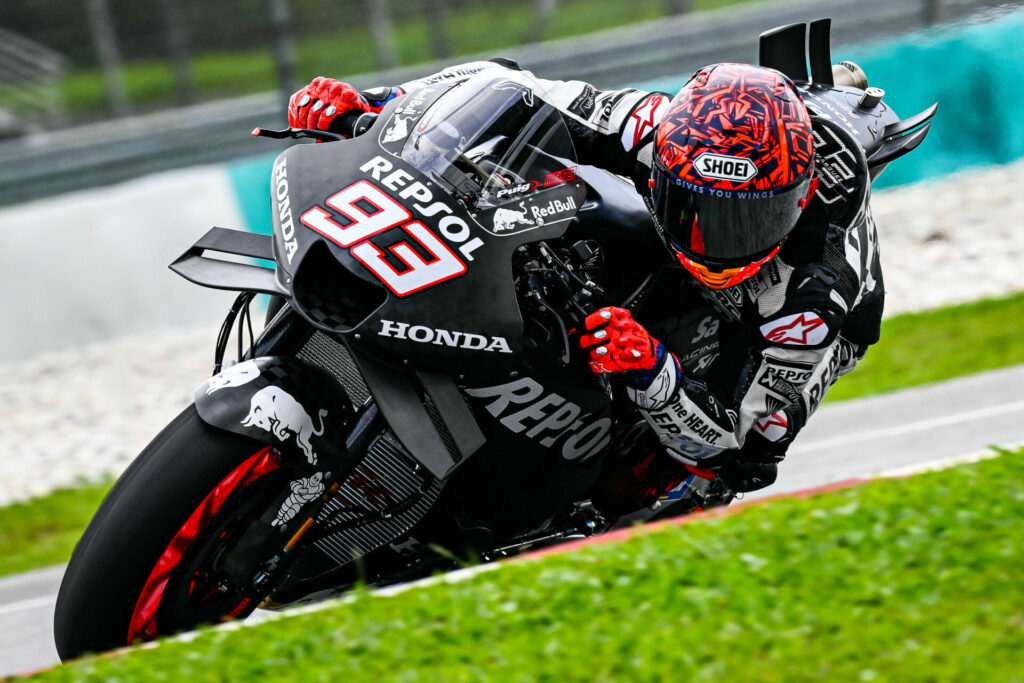 At the end of the three days, the number 93 was P10 on the timesheets having completed a further 55 laps on the final day. Marquez was 0.777s off Marini's pace, with teammate Joan Mir a solid P12 – just over a tenth of Marquez's effort. Mir got another valuable 45 laps under his belt as he continues his adaptation to the RC213V.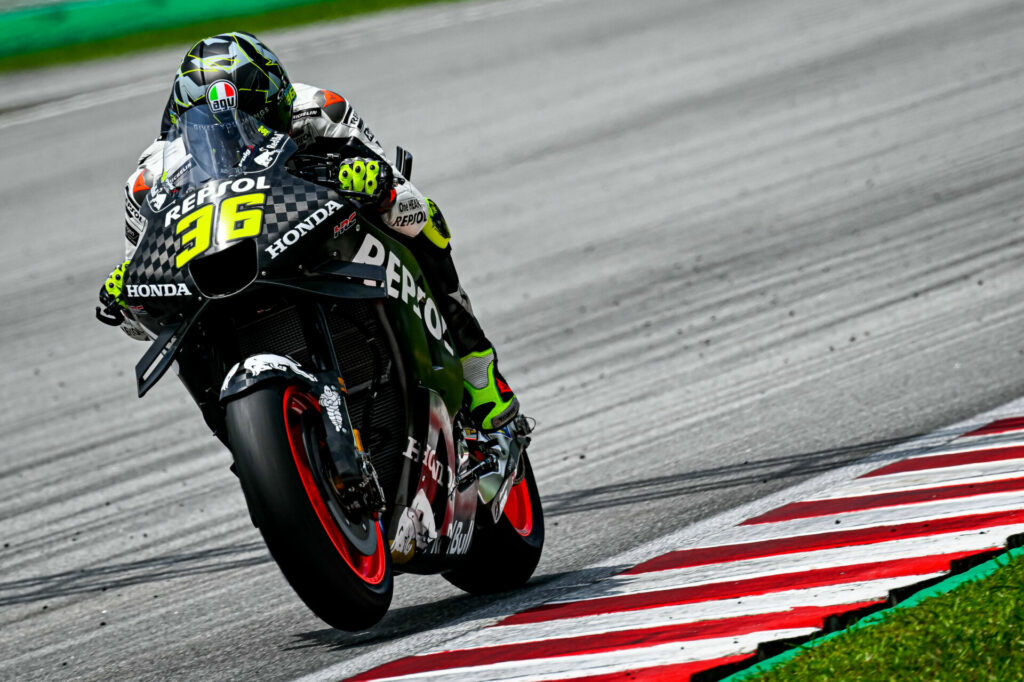 Repsol Honda Team Manager Alberto Puig admitted Honda are "clearly" not where they want to be yet, but commented how positive Marquez's physical condition is. Puig was also full of praise of Mir's progress, with Mir also pleased that he's feeling better on the bike "everyday". Marquez on Marquez, meanwhile, was full of positives. The number 93 said the most important thing to him in the test was to assess his physical condition and he was very happy with the outcome, saying there was some tiredness in the arm on the final day but it was completely normal. Rivals, beware…
Elsewhere at Honda, Alex Rins' (LCR Honda Castrol) best time of the test was a 1:58.932, placing him P19, with Takaaki Nakagami (LCR Honda Idemitsu) 1.6s off top spot in P21 as he continued his testing duties for the Japanese factory.
GASGAS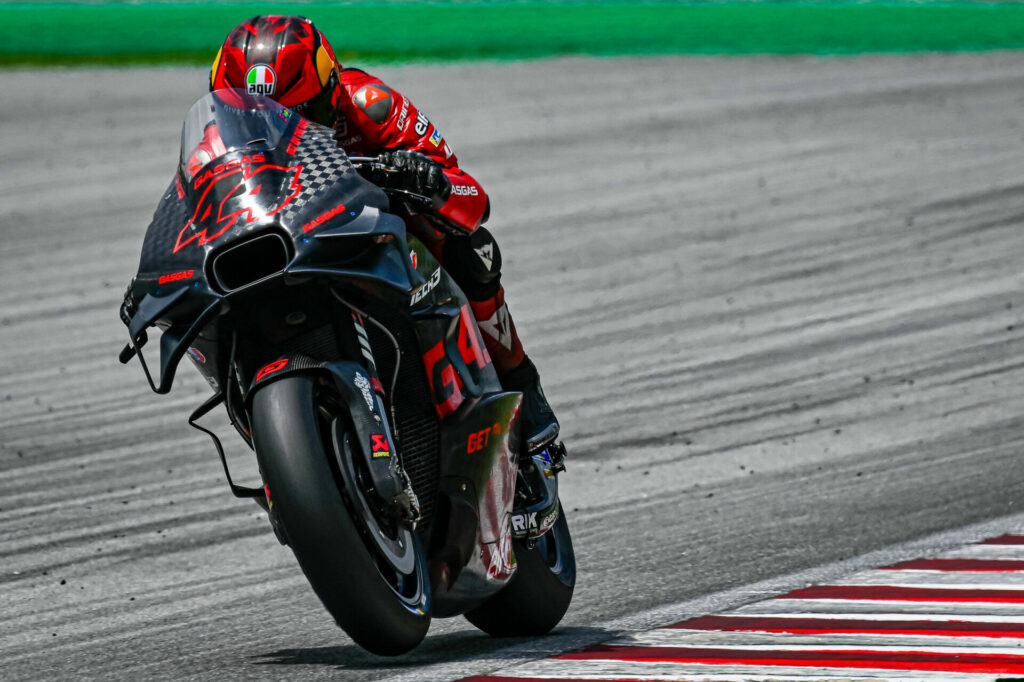 That different engine noise overheard from Red Bull KTM Factory Racing earlier in the test was overheard from Pol Espargaro's GASGAS RC16 on Sunday. He was P13 overall too, just thousandths ahead of Brad Binder (Red Bull KTM Factory Racing). Rookie Augusto Fernandez seemed to be out testing one of the newer chassis, taking on a few more parts too.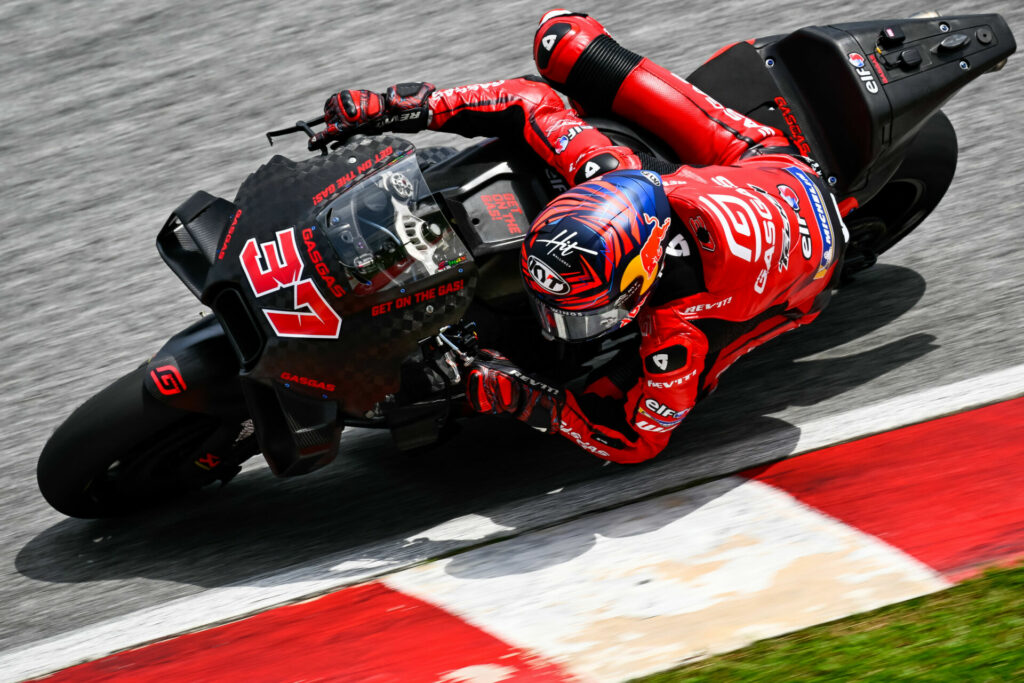 KTM
At KTM, Binder was back out testing the aero update that broke cover at the Shakedown, and the engine questions roll on. The South African was 0.015s behind Pol Espargaro in a GASGAS-KTM RC16 sandwich, in P14 after another half century of laps.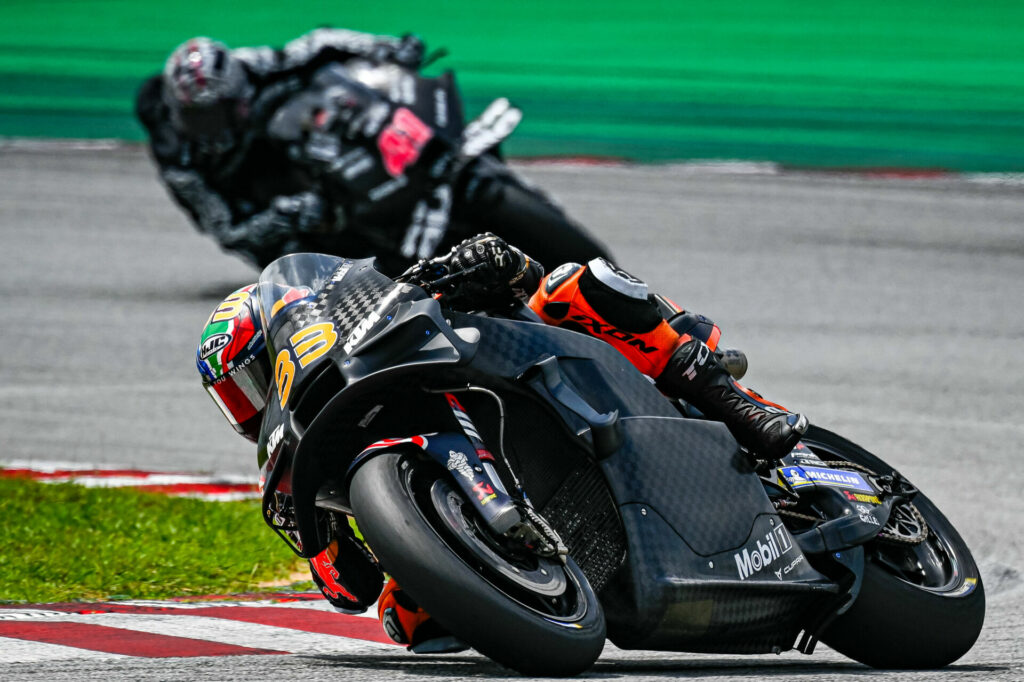 On Jack Miller's side of the Red Bull KTM garage, both bikes looked the same as they have over the previous two days – with the Valencia aero update. He was back on the "old" engine on Sunday, and ended the day P18 after another 54 laps of settling in. He says that's his focus, playing with geometry and finding his feet with the RC16. He also crashed at Turn 1, rider ok.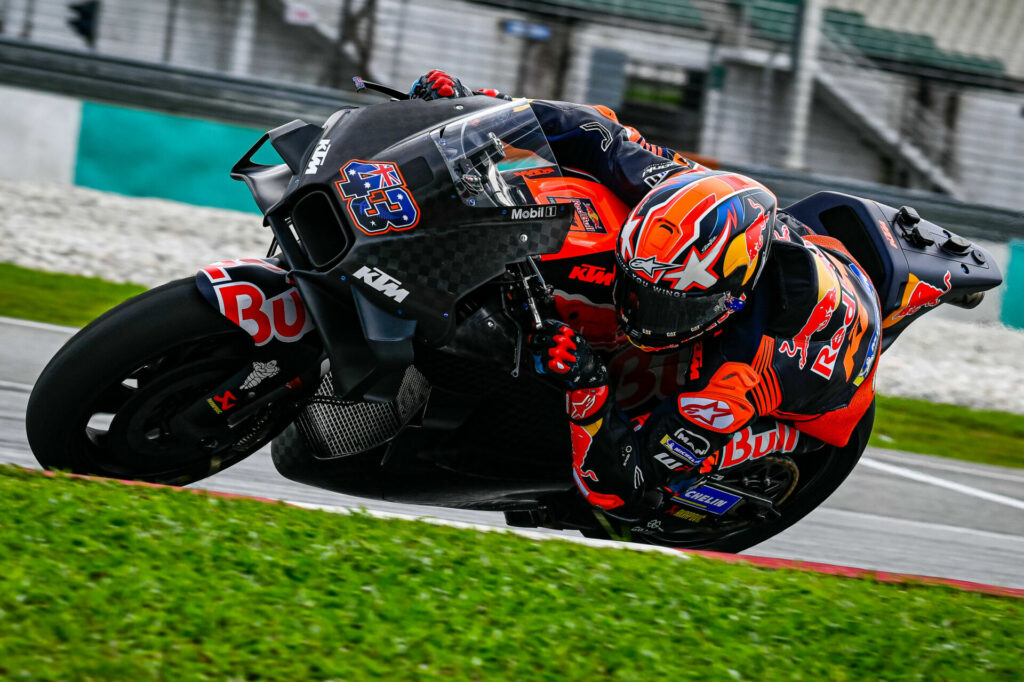 YAMAHA
In terms of tech, there wasn't much more to report from the Iwata factory on Day 3 that hasn't already been discussed over the past couple of days. Franco Morbidelli (Monster Energy Yamaha MotoGP™) was seen testing a bigger version of Yamaha's new aero that we saw his teammate Fabio Quartararo trying in Valencia, but the latter hasn't lapped with it in Sepang.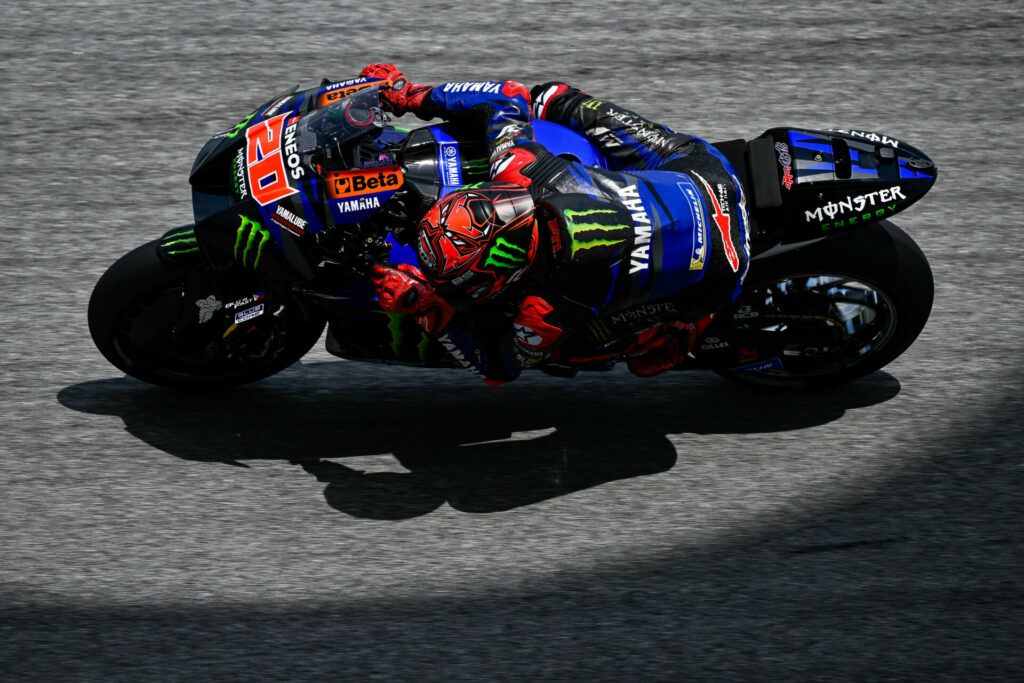 The timesheets didn't make pretty reading for Yamaha, but Team Manager Maio Meregalli confirmed that both Quartararo and Morbidelli like and agree on what 2023 engine was best for the upcoming season. That's a huge positive. The rain meant Yamaha couldn't get through all their items that "need to be evaluated" before the season, according to Meregalli, so expect the Iwata factory to be busy with chassis and swingarm testing in Portimao.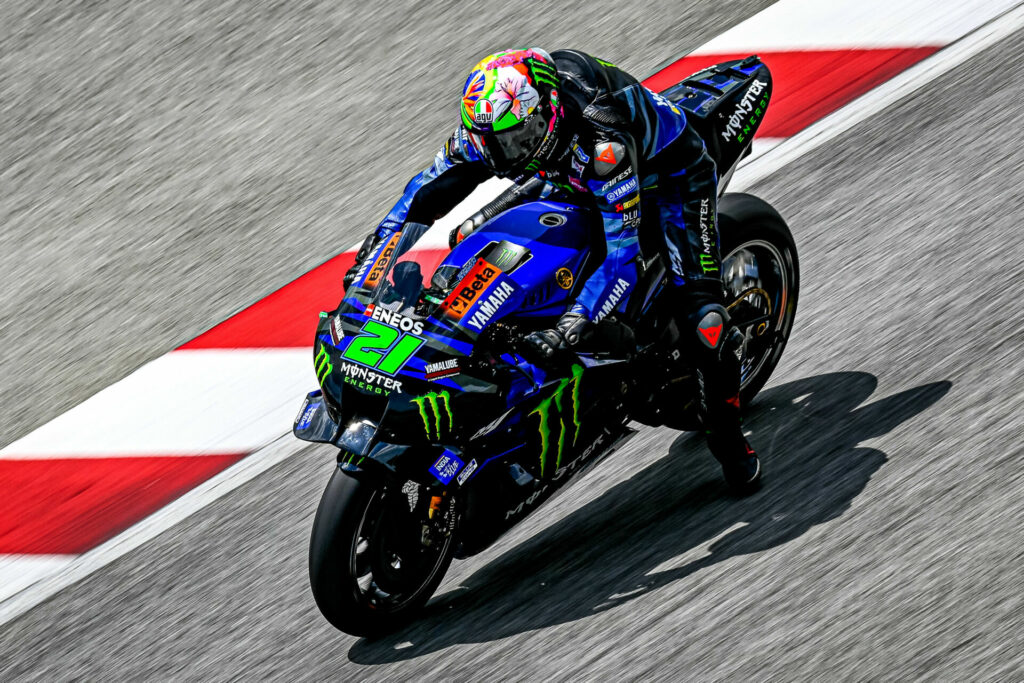 At the end of the three-day Test, Quartararo was P17 and Morbidelli was P20. Don't read too much into that at this stage, but improvements will be sought after at the two-day Portimao Test – especially on new tyres. Quartararo branded their pace a "disaster" on new tyres, and a "complete reset" will be needed heading to Portugal in that particular area so they can get qualifying and Sprint ready.
That's a wrap on Sepang and we're now officially more than half-way through pre-season! We've learned a fair bit so far but there's plenty more to be revealed as the countdown to the first Grand Prix continues. Check out motogp.com for a host of content from the test and get ready for more in Portugal as the clock continues ticking down!
More, from a press release issued by Gresini Racing:
FIRST OFFICIAL TEST OF 2023 DRAWS TO A CLOSE FOR TEAM GRESINI MOTOGP
The three-day test at the Sepang International Circuit, the first of 2023, was a successful one for Team Gresini MotoGP. Alex Marquez and Fabio Di Giannantonio were able to continue – but more likely begin – the on-track work aboard the Desmosedici GP22 machines they first tried for a few laps more than three months ago at Valencia.
Despite a not-too-productive day two due to adverse weather, in which the riders #49 and #73 were still able to try their Ducati motorcycles in wet conditions, the final day allowed both riders to work on set-up and electronics, with an eye on engine braking.
With the crates ready for the return to Europe, the following test will take place at Portimao on March 10-11 with the final test of the 2023 preseason.
7th – FABIO DI GIANNANTONIO #49 (Best lap overall – 1'58.344s) 
"The step forward compared to last year is there and it is quite noticeable. The bike is less on the limit compared to the previous version and there is bigger margin for improvement, especially on corner exit where you can work to perfect the traction side of things. We worked well with the team and we focused on the race pace: not only to prepare for the race itself but also to understand how the bike behaves and how I behave with used tyres. We're still haven't hit our full potential, but it was a good start nonetheless."
9th – ALEX MARQUEZ #73 (Best lap overall – 1'58.385s) 
"We working quite a lot on the bike and the set-up and we also did a time attack. It was important to understand which direction to take set-up wise especially considering my riding style: we're still missing something, but generally speaking it was a very productive and constructive day. We understood a lot in these three days and at Portimao we'll try to fine-tune some details in order to be ready for the first race."
More, from a press release issued by GASGAS Factory Racing Tech3:
GASGAS Factory Racing Tech3 riders Espargaro and Fernandez Complete Sepang Test with Success
After a tricky Saturday in Malaysia which saw the testing being disrupted by the rain, the sun was back in full force on Sunday for the third and final day of the MotoGP™ Sepang Test. However, having rained overnight, the track was still in its drying process at 10:00 (GMT+8), meaning that none of the GASGAS Factory Racing Tech3 riders Pol Espargaro and Augusto Fernandez were able to go on track within the first two hours. Spanish rookie Fernandez was the first in the pit box to head out on track, just before midday, followed shortly by his teammate Espargaro.
Having made significant progress on Saturday following the trial of a new chassis and a new aero on the GASGAS RC16, Tech3's number 44 started the day with a new set of tyres on a dry Sepang circuit, after a warm up run in used tyres. Quickly the lap times went down and his thirteenth lap of the day in 1'58.797 placed him fourth with five hours to go. After lunch break, he returned to work under some rather threatening clouds. The focus was on doing a couple of time-attack laps to confirm the settings developed over the last two days, before ending the day with the trial of a different fork. After thirty-seven laps, the Spaniard finished thirteenth in the timesheets, 0.908 seconds from the fastest man of the day, Luca Marini.
After three days of Shakedown Test and another two days of Official test, a sixth and final day was awaiting Augusto Fernandez in Sepang. In the need of as much dry time as possible, the rookie had a busy day to conclude his February testing programme. Within the first hour, he managed to go under the bar of the 2', registering a fast lap in 1'59.883. As he continued his adaptation and preferences of settings emerged, he was able to improve again in the afternoon to 1'59.660. Step by step. He also tested aero parts and chassis, like his teammate. The MotoGP™ rookie concludes his final day of the test in Sepang twenty-seconds in the timesheets, 1,771 seconds from the top.
That's a wrap for the preseason tests in Sepang for Pol Espargaro and Augusto Fernandez. Important information was gathered by the GASGAS Factory Racing Tech3 squad over the last couple of days. One month of analysis and work awaits the team until the next and last official preseason test, to be held in Portimao on March 11-12. By then, you will have discovered our new livery. Keep an eye on our team's presentation, on March 4, 2023.
Pol Espargaro
Position: 13rd
Time: 1'58.797
Laps: 37
"Today was the best day for us. We tried various key things such as engines, some important parameters, aerodynamics, and all of them worked very well. I would like to congratulate the Pierer Mobility Group because the improvements made over the last few years are incredible. We have a bike working well, and I am happy. Of course today we ended up P13 because lap times exploded within the last hour, but we were in the top 5 all day. What matters anyway will be lap times in Portimao GP, not during the tests. It is very easy to make a fast lap after three days of testing, but it does not really mean much. Last year, I was amongst the fastest here with one the best rhythms. Same in Mandalika, and 2022 was still a disaster. Anyway, I am happy with the homework done in Sepang, and I can't wait to head to Portimao in one month to make the final adjustments before going racing."
Augusto Fernandez
Position: 22nd
Time: 1'59.660
Laps: 46
"I am going home with a positive feeling. Over the last three days, we made a lot of progress, including the base, the feeling on the bike, and we did good lap times. I really needed dry track time so I was happy about the weather today. We did as much as we could until the rain arrived. I managed to go under 2', but I still have a lot to work on. Every little step matters, and I have learned so much every day. I feel more confident on the bike and I am starting to feel like a MotoGP rider! I will check carefully all the data, mine, but also the ones from the other riders. Next we will go testing in Portimao, and it will not be easy with a MotoGP machine. We will continue working, try to be patient and do things smartly."
Nicolas Goyon
Team Manager
"It was nice seeing our two riders back to school after the winter. Sepang holds the traditional preseason test, and I have to say that it has been a very intense one for the GASGAS Factory Racing Tech3 team. We saw big efforts from the Pierer Mobility Group staff during the winter. There were a lot of items to test and we did almost all our homework, so the riders did a great job. Pol Espargaro had a lot of different items to test: engines, aero parts, chassis parts, and he went through all of them, which gives us a better idea of the bike we will have for the season. Augusto Fernandez needed to learn the bike, get to speed, and he also had aero and chassis items to test, which were positive for him. He improved his lap time today, although he ended up being caught by the rain towards the end of the day. Thank you to both of them for their work over the last three days. I would like to finish with saying thank you to the crew because they worked incredibly hard over the last week, with late night shifts and not much sleep, just so we can be ready each day. It has been one of the most difficult tests, but we did it, and we head home with a lot of positive comments. Thank you to all the team."
More, from a press release issued by KTM Factory Racing:
SEPANG SPEED GETS 2023 MOTOGP™ OFF TO A FLYER
2023 MotoGP Sepang test
Red Bull KTM Factory Racing once again convened at the Sepang International Circuit and in the hot and sweaty Malaysian climate to increase the intensity of their preparation work for 2023 MotoGP. After the three-day official test, Brad Binder rested 14th fastest while new recruit Jack Miller was 18th as the team diligently threaded through an analysis program of setup for the '23 KTM RC16.
The two-and-a-half month MotoGP winter break ended with engines refired in the sweltering pitlane of Sepang; host of the nineteenth round of 21 on the 2023 schedule. Although the threat of rain showers was typical for this time of year in Malaysia Red Bull KTM were able to give racers Brad Binder and Jack Miller plenty of work and food for thought as the crew waded through configuration options for the KTM RC16 and before the homologation window closes for the season.
The KTM Factory Racing test squad had already been busy for three days in the 'shakedown' test prior to the arrival of the Grand Prix race teams but both Binder and Miller had many options and evaluations to make through Friday, Saturday and Sunday where they accrued over 300 laps of the varied circuit.
The South African ended the overall session 14th fastest and less than a second from the top spot, while Miller continued his adaptation to the KTM RC16 and was close behind, only a few tenths from his new teammate.
KTM and the rest of the factories will now have one month to fabricate the second round of components and possible solutions for the 2023 settings. The final test of the MotoGP pre-season will take place at the Algarve International Circuit in Portimao, Portugal on March 11-12.
Brad Binder: "We got through a lot of different of things, a lot of different parts and on the last day we had something new every time we left the pitlane. So, we accumulated a lot of information going forward and data for the engineers to go through. I think we narrowed down our options quite a bit and we are getting closer to our package that we'll start the season with. My goal in Portimao is to continue that process and I want to start the first Grand Prix with the best possible combination from all the new material we've tried so far. The boys worked hard here to get as much done as we can. We had good track time and so far, so good."
Jack Miller: "By the last day we were at a point with the bike where we were making good steps with the setup and we were looking how I could get more comfortable. We continued to tweak the geometry and the last adjustment allowed me to feel decent with used tires. I was very happy with the new engine and I'm getting much more understanding of the bike and what I need from it. That's the process. We'll continue with that in Portimao and I think we ticked as many boxes as we could here in Malaysia."
Francesco Guidotti, Red Bull KTM Factory Racing Team Manager: "We did a massive amount of work here and everybody involved made an incredible effort. We collected all the information we could and we need to continue working as hard as we can in the next weeks to find the next step for the second test in Portugal. We'd like to find a few more tenths of a second. We had enough tires here to work on bike setup but not so much on bike development as we were restricted to quite short runs and the weather didn't help so much, especially on the second day. Anyway, we are full gas to give our riders the best possible package, so we are happy but we know we can still do more."
Sebastian Risse, Red Bull KTM Technical Manager MotoGP: "A very productive test here where we had many new ideas, new riders and new staff! Overall, I think we did a really good job. The bike has made a step forward and we have a clear idea of where to go now. We now need to check how the package works on what will be quite a different track and in quite different conditions in Portugal. We have more work to do in the next month but we'll be ready for the first race."
Sepang Official Test final combined times
1. Luca Marini (ITA) Ducati 1:57.889
2. Francesco Bagnaia (ITA) Ducati +0.080
3. Maverick Viñales (ESP) Aprilia +0.147
4. Enea Bastianini (ITA) Ducati +0.260
5. Jorge Martin (ESP) Ducati +0.315
14. Brad Binder (RSA) Red Bull KTM Factory Racing +0.923
18. Jack Miller (AUS) Red Bull KTM Factory Racing +1.012
More, from a press release issued by RNF MotoGP Team:
Adaption work is coming to fruition for Fernandez and Oliveira
RNF MotoGP Team's Raul Fernandez made another step today, while Miguel Oliveira focused on adjusting himself and his Aprilia RS-GP.
The third and final day of testing at the Sepang International Circuit in Malaysia saw an early end of track action when rain set in with less than one hour to go. Yet, the RNF MotoGP Team managed to use a fair amount of time on a dry track, but also wet conditions on Saturday in order to prepare for the upcoming MotoGP World Championship season. Raul Fernandez and Miguel Oliveira both leave Malaysia with a decent feeling.
After a total of 136 laps on board his new Aprilia RS-GP during the three days of testing at the Sepang International Circuit, Fernandez feels clearly at ease, which was obvious in a further improvement of lap time today. The Spanish youngster went 0.402 seconds quicker than on Saturday, concluding the test in a fine 11th position overall. He's flying back home with some good sensations, missing out on the top of the timesheets by just 0.821 seconds.
Meanwhile Oliveira was working further on adapting himself to his Aprilia RS-GP, and starting to adjust more and more. The Portuguese did a total of 154 laps throughout the three days of testing with a fastest lap of 1:58.839 minutes on Saturday, which see him finishing in P15 overall. Now, the local hero can't wait to return home, where the premier class will have a second pre-season test in 2023 at the Autodromo Internacional do Algarve in March ahead of the first race of the season.
MIGUEL OLIVEIRA
"I expected more from myself today to be honest, but when it came to putting it all together during the time attacks, we just couldn't do it. There is still a bit of work to be done in the adaptation of this bike as it is truly different to ride. But we know exactly what we need to do, we will make a plan for the test in Portimao as we have another two days of testing before we get ready to start the race season. In general, today was good, I had a decent pace and worked on a few things on the bike and managed to understand it a bit more."
RAUL FERNANDEZ
"I'm really happy to come back on the bike during the testing these three days, the team and Aprilia did a fantastic job and I'm happy with the opportunity I had with this amazing team and the manufacturer. The test was really positive, I focused on trying to understand the bike clearly, and I think we did really well this week and I definitely enjoyed riding the bike."
Razlan Razali, Founder and Team Principal RNF MotoGP Team
"So, we come towards the end of the third day of Sepang Official Test. It has been a positive three days for both our riders Miguel and Raul and we're happy with what they have done. Of course, with the typical Malaysian climate, we finished off the test with a slight drizzle towards the end of day three. However, we have a lot of data for us to study and prepare for the second test in Portimao which will in a couple of week's time. It will be an exciting test in Portimao and after that the first round of the 2023 season race at Miguel Oliveira's home Grand Prix."
Wilco Zeelenberg, Team Manager RNF MotoGP Team
"An important and very fruitful test is finished, unfortunately it ended in rainy conditions, which was not preferred since we would have wanted to try many different things on dry surface. But overall, it's still a positive test, of course you always want more which is in our DNA, but having both boys doing 1'58s is already very positive. Yesterday Miguel felt very good but he was feeling a bit less today since we're missing a little bit of grip. Unluckily, at the last moment we couldn't use the new tyre because of the rain, but overall, we've been testing what we wanted to. So far, we're very happy with the laps we've had and managed to finish the test on a positive note."
More, from a press release issued by Mooney VR46 Racing:
LUCA MARINI IS THE FASTEST AT SEPANG
Concrete test for the riders of the Mooney VR46 Racing Team in Malaysia: Luca Marini is first, while Marco Bezzecchi eighth, in the combined standings
Sepang (Malaysia), February 12th 2023 – A more than constructive first approach to the Ducati Desmosedici GP for the duo of the Mooney VR46 Racing Team: Luca Marini leaves behind the first official test of the 2023 season with the absolute best lap time (he was the fastest also in Valencia last November). Three demanding days and uncertain weather with Marco Bezzecchi in P8.
In the slipstream of the strongest guys after the Day1 and very fast under the rain yesterday, Luca is the protagonist of a last and significant step forward today. At the end of the day, after dedicating himself to a positive sprint race simulation, he scores an excellent 1.57.889.
Leader after the first two days thanks to the lap signed on Friday (1'58.470), Marco closes in crescendo, satisfied with the progress made during the test and managing to improve his best up to 1.58.363.
For both, the next appointment, in three weeks, is in Portimao for the last MotoGP test before the first race, also in Portugal, on March 26th.
Luca Marini
A good start and a fantastic test: we followed the program and we fully done it. We made some good steps forward in terms of engine brake, traction and front feeling. If I had to describe it, but not only for the lap time, the perfect test! I also kept a good pace in the sprint race, low 59, and I also attempted some overtaking simulations. We needed to better understand how to deal with this type of distance because it will be a demanding race. The standings amazed me, there are 20 riders in 1 second of gap. The level is very high, anyone can win, but the important thing is to stay there.
Marco Bezzecchi
I'm really happy with how much work we were able to do over the three days. Yesterday the rain changed our plans a bit, but today we were able to try many things on the bike. I have gathered important and meaningful information and I am happy. I found a good setup base and then I just made a few modifications to understand the sensations that came from the bike and that I could also exploit in other tracks. I didn't do the simulation, it was scheduled, but in the end we preferred to avoid it.
Pablo Nieto, Team Manager
I'm very satisfied with this test: we worked hard and were fast in all conditions. The whole team and Ducati supported Luca and Marco in the best possible way. Luca, in particular, immediately refund the sensations of Valencia and finished in a crescendo with the absolute best lap time. He made a step forward in terms of settings, tried new solutions and used the three days to attempt a race simulation. Marco also did very well, he was the strongest guy on Friday, and capable of improving his best again today. Let's go home, let's concentrate fully on these three weeks to then face the busy test and the race in Portugal. We can't wait!
More, from a press release issued by Repsol Honda:
Busy end to the Sepang Test for focused Repsol Honda Team
With a total of 283 laps between them, Marc Marquez and Joan Mir completed a productive three days in Malaysia and set the tenth and 12th fastest times respectively.
The final day of testing at the Sepang International Circuit saw a later start to proceedings as the field waited for the track to dry. A shower of rain in the closing hour of action reduced running by only a marginal amount.
A third day of riding produced 55 laps for Marc Marquez as he gathered yet more data for Honda HRC ahead of the Portimao Test. Continuing to experiment with a number of setups and technical pieces, the #93 helped to define a clear direction of work for the coming weeks. A fruitful test, Marquez ended the event as the tenth fastest rider thanks to a 1'58.666 set on the final day – 0.777s behind Luca Marini, quickest at the Sepang Test.
On the other side of the Repsol Honda Team garage, Joan Mir completed his fourth day on the Honda RC213V. A time of 1'59.832 from the first day improved to a best time of 1'58.784 on Sunday, over a second faster. Mir and his team are aware that there is still work to be done in the coming test and across the opening races, but the double-World Champion is content with the progress made in three days of running in Malaysia. Mir leaves Sepang as the 12th fastest rider.
The engineers now return back to Honda HRC's base in Japan to continue development and progressing through the pre-season plan. The Repsol Honda Team will next be on track at the Portimao Test, March 11 – 12, for the final test before the season begins.
Marc Marquez
10TH  1'58.666
"It was a more positive day today, it was the first day where I was able to start working in the smaller areas. This is when I was able to start getting faster, step by step. But we still had to continue on the schedule and keep trying new items and new things. I want to say thanks to the team for organising everything well and working well all weekend. Today was a big day for testing concepts as well. We did everything that we needed to and the feeling did improve, but we still need to make a step."
Joan Mir
12TH  1'58.784
"I'm happy with how we have progressed at this test and I have felt strong every day on the bike. The bike feels more like my bike and I am able to ride in a better way than yesterday – this is what is important. My Repsol Honda Team has worked really well across all these three days. For sure we need to make progress, but every day we are making steps forward and getting closer and more comfortable. I am adapting more to the Honda style and I am enjoying riding like this, I've learned a lot across these three days."
More, from a press release issued by Monster Energy Yamaha:
MONSTER ENERGY YAMAHA MOTOGP CONCLUDE SEPANG TEST WITH FULL-ON DAY 3
Sepang (Malaysia), 12th February 2023
SEPANG MOTOGP OFFICIAL TEST
Monster Energy Yamaha MotoGP wrapped up the first official IRTA test of the 2023 season today at the Sepang International Circuit in Malaysia. Fabio Quartararo and Franco Morbidelli ended the outing with an intense final day of testing. They finished 17th and 20th respectively in the overall standings.
17th FABIO QUARTARARO 1'58.897 / 58+34+63 LAPS
20th FRANCO MORBIDELLI 1'58.986 / 59+44+44 LAPS
Monster Energy Yamaha MotoGP Team's Fabio Quartararo and Franco Morbidelli put in loads of effort on the third and final day of the Sepang MotoGP Official Test. It was all hands on deck today to make up for lost time on Day 2 due to rainy conditions. The third consecutive eight-hour practice session was crucial to collect some final data in preparation for the 2023 season. They ultimately took 17th and 20th place respectively in the overall test results.
Quartararo showed his typical determination and dedication today. He completed 63 laps in total on Day 3, more than any other rider, in an effort to gather as much data as possible on the final testing day in Sepang. His best time, a 1'58.943s, set on lap 48 put him in 19th position in today's timesheets, 1.054s from first. His faster Day-2 time, a 1'58.897s, saw him finish the test in 17th place overall, 1.008s from the top.
Similar to his teammate, Morbidelli used the final day in Malaysia to work on completing his testing programme as much as possible to help the Yamaha engineers gain further insights about the updated items. His fastest lap was a 1'58.986s, set on lap 38/44, that had him end the day in 20th place in both the Day-3 rankings and the combined results, 1.097s off the fastest time.
The team will now return to Europe whilst the Yamaha engineers in Japan process the testing data. The Monster Energy Yamaha MotoGP Team will regroup in Portugal from 11-12 March for the Portimão MotoGP Official Test.
MASSIMO MEREGALLI
TEAM DIRECTOR
This test was very important for us. We had a lot of items to evaluate over the last three days. It was a shame that rain cut into our track time over the course of the Sepang Test. We worked as much as we could and gathered a good amount of data, but it has not been easy to evaluate all those items in a really short time. Fortunately, we could decide on the most important items that we needed to assess during this test. For other items, like some parts of the aero package and chassis, we were not able to decide on them here, and we will have to try them again in Portimão. We are happy with the improvement we have made in terms of top speed. But unfortunately we couldn't finish the entire testing plan. The list of items to test was so long, and the dry track time was so short, that we weren't able to get the job done entirely. We will now go over all the data that we couldn't analyse here to prepare for the last and very important test in Portimão in March.
FABIO QUARTARARO
I'm very happy with the top speed. This is something I asked for for a long time. We had many things to try, and I'm happy about that too, because we asked for this as well. Overall, the pace on used tyres is good, I'm feeling super happy, but we need to improve on riding with new tyres. Today, the feeling wasn't great during the time attack. We will have a look at all the data and then have a think on how to 'reset' for Portimão. Let's see if we can make a big step.
FRANCO MORBIDELLI
So, finally, we ran through the aero options. We really needed to do that, and we found some interesting stuff that we will need to confirm in Portimão. We back-to-backed some other things that we needed to test consecutively. Finally, we also did a time attack, but that wasn't so positive. So, we need to dig deeper on that side. We will work on that and arrive more prepared in Portimão.
More, from a press release issued by Aprilia:
APRILIA DOES WELL STRAIGHT AWAY IN SEPANG
FIRST TESTS FOR ALEIX, MAVERICK, AND THE NEW RS-GP: APRILIA'S WORK OVER THE WINTER BREAK PASSES WITH FLYING COLOURS
One of the most highly anticipated events of the year came to a close today with the chequered flag over the first of the 2023 MotoGP tests. Three days that riders and techs exploited to test and analyse the new technical solutions developed over the winter break.
All exams were passed in the Aprilia camp. Both Aleix and Maverick approved the new RS-GP, considering it a positive step in all the major areas. From the most visible aerodynamics – the feather in the Italian racing department's cap – to equally fundamental details such as the engine, the chassis and the electronics package.
The information gathered during the six days of testing (if we also consider the three shakedown sessions done by tester Lorenzo Savadori), will be analysed and assessed ahead of the Portimão tests. Four weeks of intense work to introduce more new features and to confirm the technical package for the season start.
Aleix Espargaró
"I can consider myself satisfied with this first test, despite the weather costing us time yesterday. The new RS-GP is definitely faster than the previous version. It has improved a bit in every area and if we add up many small improvements, the end result is good. This doesn't change the fact that it's still too early to form a definitive opinion. The engineers will have a month before the next test in Portimão and much can still change."
Maverick Viñales
"I'm pleased. Aprilia did a lot of work over the winter and I already feel much more comfortable on the RS-GP. There are clearly still things to improve, also because in these first tests we tried a lot of different components without going in depth into the setting details. But overall, I think we have higher technical potential than we did at the end of last season and that is an outstanding sensation to have for the first test."
More, from a press release issued by Ducati:
Positive feelings for Bagnaia and Bastianini in the first official 2023 MotoGP test at Sepang (Malaysia)
Luca Marini (VR46 Racing Team) ends the Sepang test on top
Francesco Bagnaia and Enea Bastianini concluded the first pre-season test of 2023 at the Sepang International Circuit this afternoon. During the three days at the Malaysian track, the two Ducati Lenovo Team riders could continue the development work on the 2023 version of the Desmosedici GP, which had already begun with official test rider Michele Pirro in the shakedown earlier in the week.
Despite the scorching temperatures and less-than-optimal track conditions, both Bagnaia and Bastianini covered numerous kilometres. On Friday, the only day in which the track was consistently dry, the two Ducati factory riders first completed a few runs with the bikes in 2022 configuration before moving on to test the new items developed by the Ducati Corse engineers over the winter, which, in addition to an evolution of last year's engine, also included two new aerodynamic packages.
After initial positive feedback in the dry, Bagnaia and Bastianini confirmed their sensations in the wet on Saturday afternoon. At the same time, the rain that fell during the night between Friday and Saturday, and then between Saturday and Sunday, did not allow them to take full advantage of the morning of the last two days. At the end of Sunday's final session, Pecco closed the test in second position (1:57.969) with a total of 136 laps completed, while Enea, 4th in 1:58.149, completed 128 laps over the three days.
Francesco Bagnaia (#1, Ducati Lenovo Team) – 1:57.969 (2nd)
"I'm happy and proud of the work completed in this test. After the lunch break today, we made a modification to the new bike that allowed us to bring it up to the same level as last year's. That was my goal, so we can only be satisfied. Of course, we have to continue working to improve other aspects of it and make it more rideable, but we still have two more days of testing in Portugal to do that. In Portimão, it will also be important to try the two aerodynamic solutions tested here again. I already have a preference, but I also want to try them on a different track. In Portimão, we will definitely focus on developing the GP23, and we will also have to try to simulate a Sprint Race, so the last two days of testing will be very important."
Enea Bastianini (#23, Ducati Lenovo Team) – 1:58.149 (4th)
"It was a very demanding three days of work, but also very productive, and I am satisfied with the work completed over these three days. In the beginning, I struggled to adapt to the new bike, but this afternoon, we understood what needed improvement, allowing me to be fast on the time attack and the race pace. Pecco had the same feeling as me, making it easier to compare data and speak with the engineers. We still haven't decided which fairing we will use this year from the ones we tried here at Sepang, and we will try them again at Portimão. It will be the last test before the opening race of the season so it will be crucial. We have yet to reach 100 per cent of our potential, but we're very close to it".
The Ducati Lenovo Team riders will have two more days of testing from 11th- 12th March at the Autodromo Internacional do Algarve in Portimão before tackling the first GP of the season at the same track from 24th-26th March.
More, from a press release issued by LCR Honda Idemitsu:
LCR Honda IDEMITSU rider Takaaki Nakagami concludes the first 2023 official test 
12 February 2023 | Sepang Test
Three intense testing days have ended at the Sepang International Circuit, where the LCR Honda IDEMITSU rider Takaaki Nakagami has carried out the first of the two official tests scheduled before the start of the 2023 season. On the combined standings of the Sepang Test, Nakagami occupies the 21st position.
The Japanese rider is still recovering from the severe injury he suffered on his right hand at Aragon last year. After completing the three days, Takaaki admits the hand is reacting positively to the stress of the riding.
An amount of 100 exact laps have contributed to the understanding that the 2023 bike's potential is superior to last year's specification. Takaaki has been testing, assessing, and comparing several elements on the bike to provide HRC with valuable information to improve to find the appropriate setup.
The outcome of the test and the final assessments have helped determine that traction, grip, and braking stability are the areas to strengthen.
Takaaki will now have a month to keep recovering until the next test, scheduled for the 11th and 12th of March in Portimao.
Takaaki Nakagami – 21st
(1'59.535) 
"It's been a very busy test; we've tried many parts and gathered many important data. We still have work to do, but I'm happy because my physical condition has improved, and I feel good with my hand. Let's keep working, we'll have many things to try in Portimao. I want to thank my team for working as hard as always in this first test".
More, from a press release issued by LCR Honda Castrol:
Alex Rins completes his first 2023 official test with LCR Honda CASTROL 
12 February 2023 | Sepang Test
Three intense testing days have ended at the Sepang International Circuit. LCR Honda CASTROL rider Alex Rins has completed the first of the two official tests scheduled before the start of the 2023 season.
Alex Rins has finished 19th on the combined standings of the Sepang Test after trying different parts of his Honda specification while getting used to his new machine and crew. To underline that the second day, Rins and the Honda proved their potential together: he finished 8th, less than half a second far from the first on the timesheets. Following his impressions and the comments from the crew, the 2023 specification seems superior to last year's. Besides, Alex admits to noticing significant changes compared to the touchdown in Valencia (last November).
There is room for improvement: the days in Sepang and 149 laps have helped to provide HRC with valuable information to find the best path to follow. The final assessments have determined that traction, edge grip, and braking stability are the areas to strengthen.
Ahead of the 2023 season-opening round, the next test will take place in Portimao on the 11th and 12th of March.
Alex Rins – 19th
(1'58.932)
"I'm pleased with our work; the rain has jeopardized our plans, but overall I'm satisfied. We've been testing some parts and even a race simulation, and being the third time with this bike; we've found interesting things. The bike's base isn't clear yet, but we are working hard. From what I've heard, the four Honda riders have similar opinions, so let's hope to try different things in Portimao".