Gran Premio Motul De La Comunitat Valenciana
FIM MotoE World Cup
Circuit De La Comunitat Valenciana Ricardo Tormo
Valencia, Spain
November 17, 2019
Race Two Results (all riding Energica Ego Corsa electric motorcycles on Michelin tires):
Eric Granado, Brazil, Race Distance 7 laps, 28.035 km, Total Race Time 11:52.860
Bradley Smith, UK, -0.458 second
Hector Garzo, Spain, -4.124 seconds
Alex De Angelis, San Marino, -7.003
Matteo Ferrari, Italy, -7.405
Mike Di Meglio, France, -9.475
Sete Gibernau, Spain, -9.513
Mattia Casadei, Italy, -10.503
Nicolas Terol, Spain, -14.613
Jesko Raffin, Switzerland, -14.711
Randy De Puniet, France, -15.202
Maria Herrera, Spain, -17.166
Lorenzo Savadori, Italy, -19.552
Kenny Foray, France, -29.432
Xavier Simeon, Belgium, -7 laps, DNF, crash
Niccolo Canepa, Italy, -7 laps, DNF, crash
Josh Hook, Australia, -7 laps, DNF, crash
World Cup Point Standings (after 6 of 6 races):
Ferrari, 99 points
Smith, 88
Granado, 71
Garzo, 69
Di Meglio, 63
Simeon, 58
De Angelis, 47
Raffin, 47
Canepa, 46
Casadei, 39
Gibernau, 38
Terol, 33
Hook, 28
Herrera, 27
Niki Tuuli, 26
Savadori, 24
De Puniet, 21
Foray, 11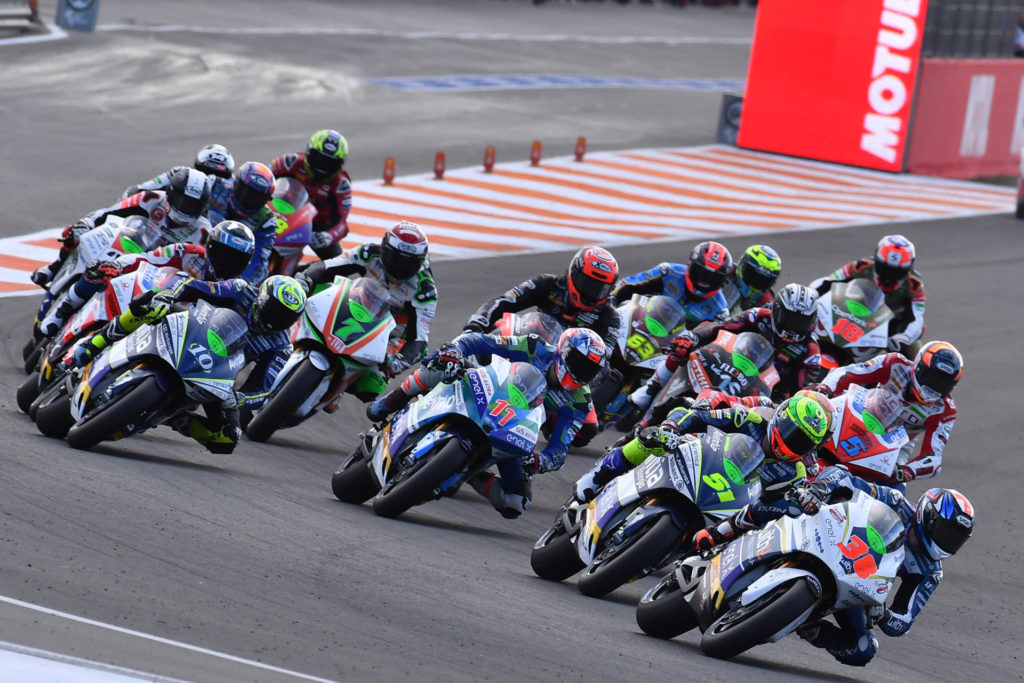 More, from a press release issued by Dorna:
Ferrari wins the Cup as Granado vs Smith thrills to the last
The inaugural FIM Enel MotoE™ World Cup winner is decided after a duel to remember
After an incredible first season in the FIM Enel MotoE™ World Cup, we have our inaugural Cup winner: Matteo Ferrari (Trentino Gresini MotoE). After taking P5 in Race 2 at the Circuit Ricardo Tormo, the Italian lifted the crown with an 11-point advantage over Bradley Smith (One Energy Racing), bringing an impressive season to a close with two wins out of six. In the race on the day, Eric Granado (Avintia Esponsorama Racing) came out on top after a duel with the very same Smith, with Hector Garzo (Tech 3 E-Racing) completing the podium.
Smith took the holeshot from the front row once again, and again shot off into the distance as he put the hammer down to immediately pull away from the chasing pack. Ferrari was sitting P3 after the opening lap, with Granado in second and Garzo then making his way up to P3 past Ferrari and Alex de Angelis (Octo Pramac MotoE).
By three laps to go, the Brazilian had caught the Brit and Smith and Granado were locked together, the pairing nearly four seconds clear of Garzo in third. Smith was doing all he could to try and claim the MotoE™ title, but Ferrari was also doing enough – the Italian sitting P5, more than enough to ensure the title went his way.
Without a win this season, however, Smith was determined as ever to grab 25-points. Heading onto the last lap it was Smith vs Granado this time around and down the back straight, the Brazilian was clinging onto Smith's coattails. He made a move stick at Turn 8 but the number 38 then immediately bit back at Turn 11, making a daring pass up the inside. On the exit though, Granado bullied his way back to P1. Last corner time, was Smith going to try snatch victory? Of course. The One Energy Racing man lunged underneath Granado but he was wide, allowing the Avintia Esponsorama rider to get the switchback. And across the line Granado went, making it two wins this year and moving himself up to third overall.
Smith was forced to settle for second in the race and second overall, with Garzo finishing the season in fourth following his penalty in Race 1 and a tougher Race 2. De Angelis took fourth, just about able to escape the clutches of Ferrari. The Italian's solid ride under pressure and his now-trademark consistency makes him the Cup winner, although he did dice with the Sammarinese rider early on.
Mike Di Meglio (EG 0,0 Marc VDS) was sixth won an almighty spectacular of a duel with the legendary Sete Gibernau (Join Contract Pons 40), with the two exchanging a pass every corner for a good while, with Mattia Casadei (Ongetta SIC58 Squadra Corse), Nico Terol (OpenBank Angel Nieto Team) and Jesko Raffin (Dynavolt Intact GP) completing the top ten.
Xavier Simeon (Avintia Esponsorama Racing) crashed out from the mid top ten, Josh Hook (Octo Pramac MotoE) going with him, and Niccolo Canepa (LCR E-Team) was another faller.
That's it from a spectacular rollercoaster of a first season for MotoE™. Tune in for more in 2020 as Ferrari aims to defend the crown and new venues – such as the TT Circuit Assen – lie in wait.
Eric Granado: "I have no words to describe the feeling I have now, I'm very happy. After a difficult season we did a perfect job here, we won two races from pole, fighting with a former MotoGP rider to the last corner is amazing. I'm very happy. I want to thank my team, sponsors, my family, everyone who supports me in Brazil and around the world. The level here is very high and I'm very happy to take the win."