Gran Premio Motul De La Comunitat Valenciana
FIM MotoE World Cup
Circuit De La Comunitat Valenciana Ricardo Tormo
Valencia, Spain
November 16, 2019
Race One Results (all riding Energica Ego Corsa electric motorcycles on Michelin tires):
Eric Granado, Brazil, Race Distance 7 laps, Total Race Time 11 minutes, 49.900 seconds
Hector Garzo, Spain, -0.576 second, Race Fastest Lap 1:40.012
Bradley Smith, UK, -0.706
Matteo Ferrari, Italy, -3.213 seconds
Xavier Simeon, Belgium, -6.310
Alex De Angelis, San Marino, -7.383
Niccolo Canepa, Italy, -7.732
Jesko Raffin, Switzerland, -8.888
Josh Hook, Australia, -9.634
Mattia Casadei, Italy, -10.676
Mike Di Meglio, France, -10.923
Sete Gibernau, Spain, -12.177
Randy De Puniet, France, -15.569
Nicolas Terol, Spain, -15.783
Maria Herrera, Spain, -15.821
Lorenzo Savadori, Italy, -16.165
Kenny Foray, France, -21.668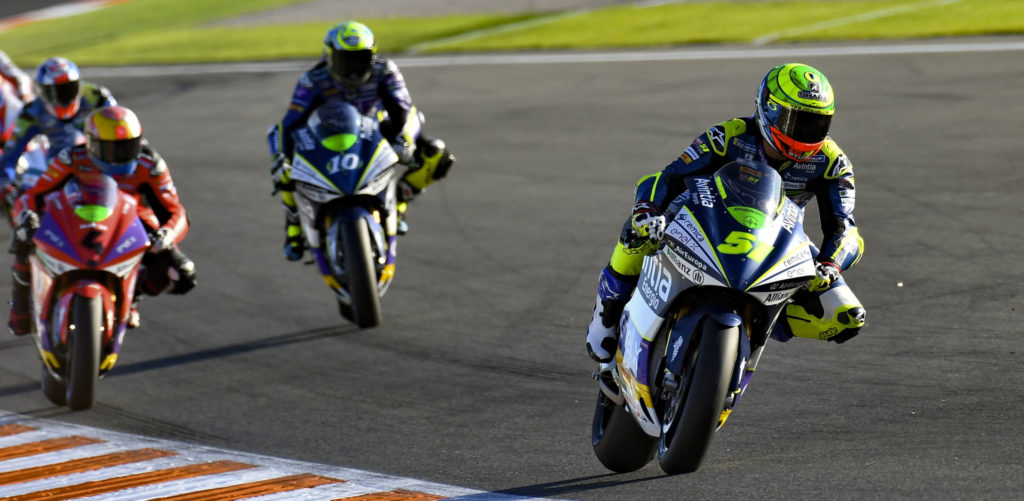 More, from a press release issued by Dorna:
Granado wins, Garzo vs Smith takes MotoE™ down to the wire at Valencia
The Brazilian takes his first win of the season as an incredible battle to complete the podium rages behind
Eric Granado (Avintia Esponsorama Racing) converted pole position into his first victory of the year in Race 1 at the Gran Premio Motul de la Comunitat Valenciana, the Brazilian coming out on top in a three-way scrap for the win which saw Hector Garzo (Tech 3 E-Racing) get the better of One Energy Racing's Bradley Smith on the final lap – at the final corner. The overall Cup winner, therefore, goes down to the final race of the year.
Smith got the initial getaway with a classic fast start, and the Brit was pushing to open a gap from the off. That worked a dream and he was pushing clear, with Granado slotting into second and on the chase. Behind it was a squabble between points leader Matteo Ferrari (Trentino Gresini MotoE), Garzo and Xavier Simeon (Avintia Esponsorama Racing), which the Spaniard eventually emerged from to start his chase of the leading duo. Granado was catching Smith and Garzo was in seriously hot pursuit.
A few laps faster than pole – by a margin – got the home hero onto the tail of the leading duo, and Granado took the race lead too. As always in MotoE™, it was down to the final lap – and what a final lap.
Granado remained ahead as it began, and the Brazilian stayed cool under pressure to pull away as the battle behind got seriously hot. Garzo was heading towards the final corner ahead as Smith suffered a huge wobble, but the Brit wasn't going to back out of it and slammed up the inside. Would he make it? Briefly, as the Spaniard then cut back inside and it was all about the drag to the line. Centimeters in it, Garzo just took second.
Ferrari was able to take fourth and keep himself with a healthy points lead, pulling away from Simeon, who completed the top five.
Alex De Angelis (Octo Pramac MotoE), Niccolo Canepa (LCR E-Team), Jesko Raffin (Dynavolt Intact GP), Josh Hook (Octo Pramac MotoE) and Mattia Casadei (Ongetta SIC58 Squadra Corse) locked out the top ten.
How will it shuffle on Sunday? Will Granado do the double? How will Ferarri handle the pressure? Find out when the lights got out for Race 2 at the UPDATED TIME of 15:30 (GMT +1) and the Cup winner is decided.
Eric Granado: "It feels amazing, it's very nice, I think being on the top step and feeling all this energy is something I was dreaming of since I was a child! I had a great race although not a great start, Bradley opened a gap and I made a mistake on the first lap. But then after I got a good rhythm, Garzo was catching me as well so I needed to hurry up. Finally I caught Bradley and I had the first opportunity and overtook him at the first corner, then I pushed at the maximum until the end. I'm very happy with this win! Tomorrow I'll try to do the same! It's not easy, the riders fighting for the title will put in the maximum as well."
More, from a press release issued by Energica Motor Company:
GRANADO WINS, FERRARI STILL IN THE LEAD ON GARZO AND SMITH AFTER RACE ONE AT VALENCIA
The battle for the title in the 2019 FIM Enel MotoE World Cup – powered by Energica – is not over yet! The penultimate race of the season was another thrilling exhibition of excellent racing, which was only decided right at the finish line. E-pole winner Eric Granado (Avintia Esponsorama) came out on top ahead of Hector Garzo (Tech 3 E-Racing) and Bradley Smith (One Energy Racing), the last two battling up to the very last corner for the runner-up spot.
After exchanging positions several times throughout the final lap, Smith made one last attempt at the final turn by diving on the inside of his Spanish rival, but was unable to keep the position as Garzo made the undercut.
Championship leader Matteo Ferrari (Team Trentino Gresini MotoE) crossed the line a lonely fourth after a slow start to his race, but he did well in keeping composure and maintaining a still-solid 12-point margin over Garzo, while Smith now trails him by 21 points. These riders are the only ones left in contention for the ultimate prize.
Fifth place went to Xavier Simeon (Avintia Esponsorama) ahead of Italy's Alex De Angelis (OCTO Pramac MotoE) and Niccolò Canepa (LCR E-Team), with Jesko Raffin (Dynavolt IntactGP), Joshua Hook (OCTO Pramac MotoE) and Mattia Casadei (Ongetta Sic58 Squadra Corse) completing the top-ten.
The final race of the 2019 FIM Enel MotoE World Cup will get underway – due to a revised schedule – at 15:30 local time (GMT +1).