Thrashed Bike Racing launch 2020 R1 at Road America round 2
Following the first MotoAmerica championship round at Road America last month Thrashed Bike Racing pushed hard to ensure its 2020 Yamaha R1 was ready to take to the track.
It has been very challenging; the new bike has not had its full power released yet but the team needed some track time to start its development. The full braking system was changed as well as the front forks and rear swinging arm just before the  bike was ready for Q1, some significant engine brake mapping had to be applied during the session but rider Max still managed to get the bike around the track 6 minutes before the end of the session and  quick enough to qualify top 9 and get into Super ole. The team could see that the trap speed was low but the torque and new electronic throttle made up for the lower horsepower.
Q2 saw a change in the weather and some teams sat out the drizzle whilst Max had to get some more date to keep improving the bike. Changes were made particularly to the braking system and Max was at the top of the board for most of the session. Some more changes were made prior to Superpole and the team were very happy to see Max put the bike into the 2:15 time bracket, his fastest time ever around Road America.
Race one, Max tried out the factory launch control which was disappointing and he had to fight his way back up to 11th place for the finish flag. Race two saw a better start using a 'tradition' launch and Max soon started running a strong race pace, pushing hard in the corners and trying to make up for the lower trap speed. The pace was stronger in race two and the team were happy to see Max catch and take 10th place on the last lap whilst running his fastest time on worn tires at 2:16.
Team Owner Tim Ivanoff was very satisfied with the progress and the strong finish to the weekend, "I was delighted that Max could jump on the new Bike and take it into Super pole and then race at the pace that he did as we had done no testing. We know some improvements that can be made and feel very confident for the future rounds, it was also exciting for the Thrashed bike team to welcome Walt Sipp back into the paddock racing the Thrashed bike super stock bike, hopefully Walt will be joining the team for a few more selected  rounds throughout the season."
Rider Max Flinders commented that "It was great to see the crowd back at the races as they always give me a lift! Also, the new bike is showing good potential, once we squeeze a little more horse power and improve the braking I know I can make it fly. I think I'm sitting 10th in the championship and the aim is to improve through the season. Thanks to all the team for the hard work they have put into getting the bike on the grid and the new sponsors who have jumped on board"
About Thrashed Bike Racing
Thrashed Bike Racing is a Louisiana-based superbike team competing in the MotoAmerica national series. We are committed to showcasing the best young talent at the highest level of US motorcycle sport. We know the challenges are difficult and the cost of running a season at this level is high but our resolve is firm and we will continue to be one of the smallest, friendliest and most consistent teams in the paddock.
Thanks to – Arrow Aviation, Liqui Moly, Friendly Powersports, Arai Helmets, Used Bikes Direct, Moto-D, Moto-tech, FAO Global, Superbike unlimited, Bonamici, Spark exhausts, Rides and Drives and the army of fans. SEE YOU AT THE RACES!
More, from a press release issued by Ben Gloddy Racing:
Holding on to Third in the Championship Points, Gloddy finds some serious speed in the second round of the MotoAmerica Junior Cup Series
Race one of the MotoAmerica Liqui Moly Junior Cup class looked like a simple third place repeat for Ben Gloddy of Quarterley Racing On Track Development. Even without an opportunity to complete any testing between rounds, he found some serious speed, dropping over a second and a half a lap and closing the gap with the leaders from 27 to down to 11.4 seconds. The second race of the weekend did not disappoint with an incredible high side save by Gloddy on lap one resulting in him going off track only to power on to an impressive recovery resulting in a fourth-place finish .179 seconds behind third place. As predicted after last round, the fans are definitely in for an exciting 2020 race season from the MotoAmerica Liqui Moly Junior Cup Riders. Gloddy closed out round one at Road America in third place for the championship season points.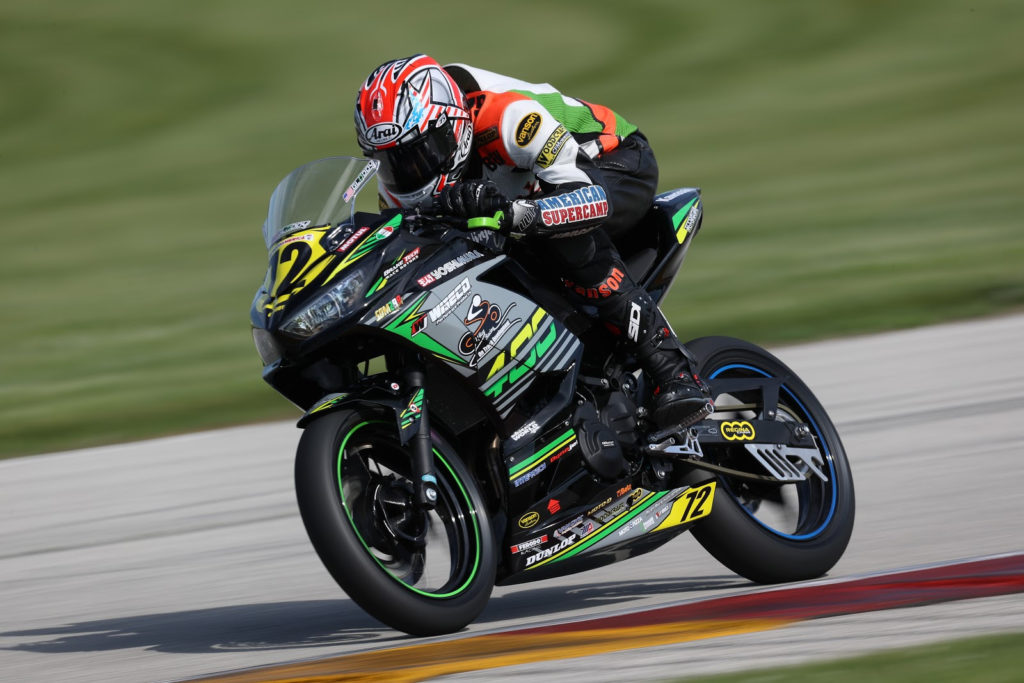 Ben Gloddy:
As a rookie rider in the Junior Cup series, Gloddy takes aim at improving every time he's on the track. Gloddy said, "Being able to race at Road America again for the second time in a month definitely helps". Taking a second and a half off his lap time, Gloddy says "Observing more experienced riders like Doyle and Landers really helped me put the bike where it needs to be in order to go faster." Gloddy acknowledges having experts like Dale Quarterley and Eric Wood aid in his understanding of what it takes to be a professional rider, has certainly helped.
Continuing to work on rider and team communications, Gloddy and the Quarterley Racing On Track Development Team were able to make adjustments to the bike between races in an effort to make the bike work even better for Gloddy.
"I learned a lot after round one last month and I knew I could do better this weekend and continue to drop my times to move forward," Gloddy stated. " I was pretty happy  when I learned that I was now within 11 seconds of the leaders, whereas last round I was 27 seconds behind them
With a comfortable lead on the fourth and fifth place guys in the first lap of race one, Gloddy was able to maintain his third place position the entire race. "I was able to break away and put a little space between myself and the other riders," said Gloddy. "I was able to stay close to the two leaders for a few laps until I made a mistake in turn 5 which allowed the leaders to pull a gap on me. Fortunately, I recovered pretty quickly and the guys behind me weren't able to close the gap too much."
In race two, Gloddy was able to get a good start and was in third going into turn one. Feeling like he was going to be able to at a minimum replay the previous day's result, things changed quickly when on the first lap going into turn 11, he grabbed a little too much brake but was able to save himself from a potentially disastrous high-side. This error caused him to run off course for a few seconds, but he was able to quickly pull himself together and safely rejoined the race.
"Despite my mistake going into turn 11, I wasn't quitting," said Gloddy. "I knew what had happened caused me to lose time, but I pushed on determined to try and earn the last podium position, unfortunately, I missed out by a fraction of a second."
"I can't thank all of my personal and team sponsors enough for all of the support. Every time I get on that bike, I know you are all along for the ride with me and I cannot express my appreciation enough for you all. I also want to add that it was awesome to see so many fans out there this weekend, thank you all for coming out to support us and the MotoAmerica Series"
Quarterley Racing On Track Development sponsors for 2020 include: Inter-Tech Supplies, Fast By Ferracci, Inc, Yoshimura Research & Development of America, Inc., Wiseco Powersports, Motul USA., Regina Chain, BrakeTech USA, Inc., Ferodo Racing, Matt & Jesse, Inc., Woodcraft Technologies, Fast Bike Industries, Nitron Racing Systems Ltd., Dynojet Research Inc., Beta Tools of Italy – USA, N2 Track Days, RoadracingWorld.com, MOTO-D Racing, VAN DYK Recycling Solutions, Earl's Racing Team, Barnett Clutches & Cables and Kiwi Classic Moto.
Some of Gloddy's personal sponsors for 2020 include: SDM298 Racing, D'Andrea Foods, Penguin Racing School, Woodcraft Technologies, Moto Pizza, First Trax Sports Shop, American Supercamp, REB Graphics, Innovative Motorsports, JC Tinting, Roche Realty Group, Stump Racing Kids, Arai Helmets, Moto Liberty, Vanson Leathers, Dunlop Tires, and Freedom Cycle NH.
More, from a press release issued by KWR Ducati:
Kyle Wyman earns two podium results for KATO Fastening/KWR Ducati Team in Wisconsin!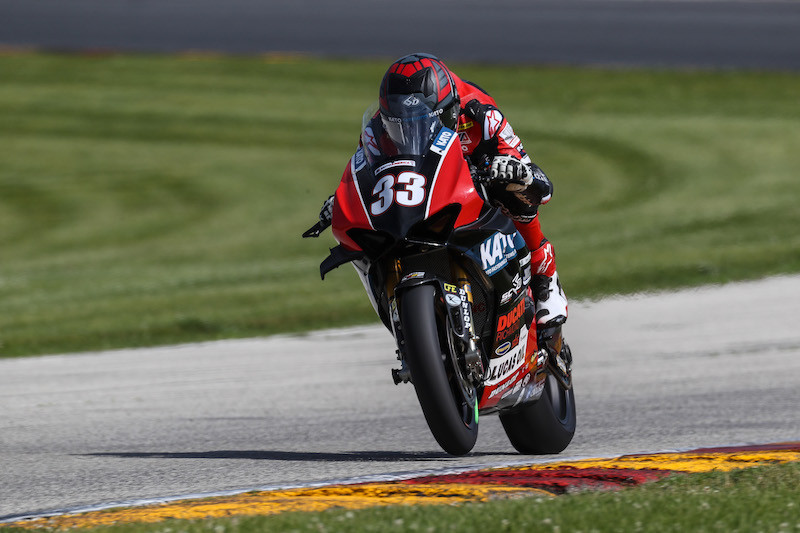 EKLHART LAKE, Wis. — Kyle Wyman earned two podium results this past weekend at Road America, for round two of the MotoAmerica Superbike series. Wyman placed 3rd in both Superbike races aboard his KATO Fastening Systems/KWR Ducati Panigale V4 R.
The KWR team went into the weekend with a fresh start, new settings on the bike and a promising outlook for a return to the Wisconsin circuit. Wyman, however, started the weekend on the wrong foot by crashing his Ducati Superbike in turn 6, and missing out on an entire valuable session of data gathering and tasking the KWR crew with a full rebuild. The team made only 6 total laps on Friday.
"I still don't really know what happened," Wyman said. "I had done my first flying lap, and was just working into the new tires and getting up to speed, and I just tucked the front. It was such a small mistake, but the bike took a weird bounce when it hit the grass and just exploded parts everywhere. I couldn't believe it."
The KWR crew was able to get the bike back out in the afternoon, but mostly as a shakedown. The team and Wyman started fresh on Saturday morning, for 'take two' on the weekend. With new settings to try that came in with help from Ducati Corse and their WorldSBK team, the morning free practice laps were crucial for Kyle to get a feel for the bike in its latest form. He would end up 6th fastest in that session but with valuable data and feedback for the crew. In Superpole, Wyman put together a good lap and finally broke into the "12's" by posting a time of 2:12.863 which was good enough for 6th position, and a second-row start on the grid.
Race One
Wyman got off to a tremendous start in race one, and found himself passing 4 riders before turn one, tipping into the first corner in 2nd place. He lost two positions in the opening laps and settled into 4th position, right behind 2017 champion Toni Elias. Wyman was able to build a gap to the riders behind and settle into a race-long battle with Elias, stalking him until a last lap move.
Wyman dove up the inside of Elias in the chicane area, passing the Spanish rider for the final spot on the podium. Elias was able to make a counter move into 'Canada Corner' just moments later, and would hold the position through the final sector to put Wyman fourth across the line.
Toni's pass, however, was in a corner where at the time there was a yellow flag condition, due to another rider crashing on the previous lap. With MotoAmerica rules prohibiting a pass during a waving yellow flag, Elias was docked a position, promoting Wyman to his first podium placing since the 2017 season. Wyman waited 1,022 days between his first MotoAmerica Superbike podium and his second.
"It feels amazing to finally get this podium and put the Ducati Panigale V4 R up front where it belongs," Wyman said. "I had a great race going, and Toni was riding well, I'm just glad I was able to put a move on him in the last lap and force him in a position to have to pass me back. I'll take this podium–I feel I've earned it and I'm happy to pay back the KATO Fastening Systems, KWR crew with a result."
Wyman would not have to wait another 1,022 days for a third Superbike podium.
Race Two
In race two, Wyman got off to another strong start and was in 6th place early on, but had to fight his way through the pack in the first few laps to gain positions back. Wyman passed fellow competitor Mathew Scholtz on lap one, and followed it up on lap three with a brave move into Canada Corner on Toni Elias once again. Wyman found himself in 4th position with the top-three up the road, and Elias and Scholtz trailing close behind.
Shortly after, disaster struck for race leader and championship points leader Cameron Beaubier, who crashed in turn one and promoted everyone else in the field up one spot, putting Wyman back in 3rd place.
Wyman would hold off the duo of Elias and Scholtz for the entirety of the race, but not without drama behind him and a close fight to the end. Scholtz made an aggressive pass on Elias mid-way through the race that caused Elias to crash, and Wyman was able to pull just enough of a gap to run the second half of the race unchallenged. Wyman beat out Scholtz for the final step on the podium by a gap of 1.552 seconds.
"I really wanted to duplicate my start from race one, but that was going to be a tall order," Wyman said. "Fortunately I still gained a couple spots before turn one and was able to put myself in the lead fight early on. I got past Mat and Toni pretty quickly and just put my head down and tried not to make any mistakes. I was able to stay consistent and stay just far enough ahead where neither of them could make a move, and I guess the two of them got together at some point. I just kept my head down and focused through to the end for another podium. I couldn't be happier."
Wyman now sits 4th in series standings, after scoring 5th, 4th, 3rd and 3rd in the first four races of 2020. Wyman is only two points out of 3rd place and 19 points out of the championship lead.
"We came into this season with expectations of fighting for the podium sometime mid season, and grabbing a couple when the opportunity presented itself," Wyman added. "This weekend was a massive step in all aspects of my team. My riding took a big step, as well as my confidence to race with these guys. My crew worked tremendously hard and the bike has improved significantly since the first round already. From where we were on Friday, with the crash and making so few laps, it really shows the strength of the crew I have around me in 2020."
"It bodes well for the rest of the season, but mostly I need to enjoy this now knowing I rewarded the team and our sponsor KATO Fastening Systems with a couple of podiums. I'm going to remember this weekend for a very long time."
Visit www.katofastening.com for more information on their products.
Visit www.kylewyman.com for more information on KWR as well as news and updates.
More, from a press release issued by ForzaGP Snipers Junior Team:
Rossi Moor #92 Goes Unbeaten for Round One of the MotoAmerica MiniCup by Motul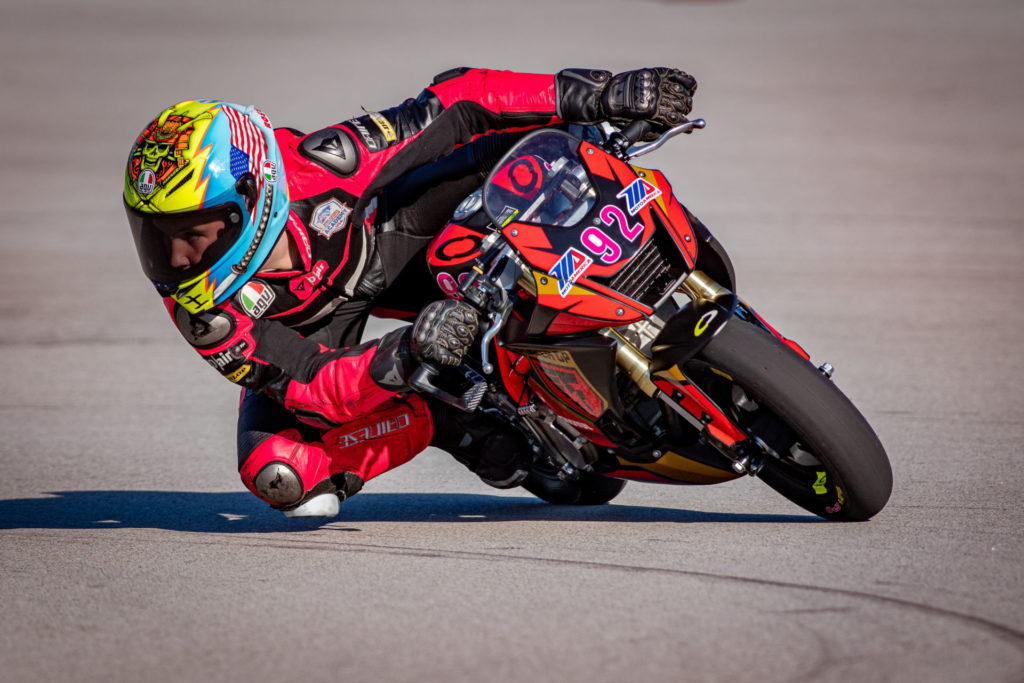 The ForzaGP Snipers Junior Team rider scored pole position and topped all heat and main races in the 160cc and 190cc classes.
Seattle, Washington– Rossi Moor (Portland, OR) put on a masterful performance in the opening round of the MotoAmerica MiniCup by Motul series at Road America. The twelve-year old ForzaGP Snipers Junior Team rider displayed his natural talent by setting the fastest lap in official practice, securing pole position for the 160cc and 190cc heat races, and winning heat races and mains in both the 160cc class (by a 5.6 second margin) and the 190cc class (by a 6.1 second margin)—effectively ending the weekend unbeaten.
Struggling with initial setup during practice, Rossi found his pace early on and consistently lowered his lap times. The track's elevation changes created gearing challenges and some of the competitors were pushing hard and putting on the pressure. Rossi and the ForzaGP Snipers Junior Team focused on finding the right setup and adjusted the strategy accordingly.
For the 190cc heat race, Rossi was penalized for entering the grid late due to a faulty tire pressure gauge and had to start in the back after qualifying on pole. Rossi got an excellent start off the line and regained six spots. With only nine laps to move through the pack, Rossi fought hard and regained the lead on the last lap to secure the win.
"It was a difficult weekend for me," said Moor. "We had a problem setting up the bikes throughout the weekend, but I was able to drop my lap times every time I went out in practice and qualifying. I love the track layout. It had amazing elevation changes.
"Thank you to everybody who helped me throughout the weekend. Thanks to my managers, Nathan Fitzgerald with ForzaGP and Stefano Favaro with Snipers Junior Team. Thank you to Renzo Ferriera for the coaching, Tim and Jessica Banish, Brandon Cretu and Ohvale USA for the support, and to all the techs who helped get me out there. I can't wait for Pittsburgh!"
Team manager and ForzaGP founder, Nathan Fitzgerald commented on Rossi's round one performance; "I'm constantly blown away by Rossi's talent. Seeing him come from the back of the grid and win in the 190cc heat race was one of the most impressive motorsport performances I've witnessed—and from a twelve-year old kid. He pushed the bike to the ragged edge. I won't forget it for as long as I live. The competition is tough this year and it's only going to get tougher. I know these kids are hungry. We'll keep our head down and get back to work for round two.
I am very grateful to MotoAmerica, Lance Bryson and Brandon Cretu for putting this series together. They have a vision for the future of American road racing, and I'm all in!"
Round two of the MotoAmerica MiniCup by Motul will take place at Pittsburgh International Race Complex kart track, Wampum, PA on August 7-8 during round four of the MotoAmerica Superbike series.
Founded in 2018, ForzaGP and its subsidiary, ForzaSBK, operate one of the largest Ohvale GP-0 fleets in the U.S. ForzaGP supports local racers and offers opportunities to train or race using fleet bikes, while ForzaSBK is the Pacific Northwest's official Ohvale dealer and custom bike builder and tuner.
More, from a press release issued by American Racing Team:
American Racing Academy Riders Find Success at Road America at the MotoAmerica series 
Calabasas, CA (July 1, 2020) — The American Racing Academy riders found success often during Round 2 of the MotoAmerica series and the opening round of the MotoAmerica Mini Cup by Motul.
The second round of the MotoAmerica series featured the debut of the MotoAmerica Mini Cup by Motul Championships. The Academy Project "The American Racing Ohvale Team" supplied 4 riders to the championship series with Jesse James Shedden and Travis Horn in the 160cc race Started P3 and P18 (After a crash in the heat race) with Shedden finishing P4 and Travis Horn, in a superb race, finishing P5.
The 190cc class saw podium finishes by Academy riders Julian Correa and Jesse James Shedden, with Correa finishing P2 and Shedden finishing P3. Academy rider Kayla Yaakov finished in 5th spot after a hard-fought race.
In the Liqui Moly Junior Cup, defending champion Rocco Landers had an impressive weekend as well, finishing second in race one with 0.006 sec from the 1st place and taking top spot in race two after an impressive over take at the final straight away right before the finish line. Landers once again pulled double duty, participating in the Twins Cup as well. Similar to his efforts in the Liqui Moly Junior Cup, Landers took the 1st place for the first Twins Cup classification victory of his career.
This round featured the return of the fans and the weekend saw a large crowd taking in the racing action. Fans were treated to great racing and provided some extra atmosphere, which was missing in round one.
The focus of the American Racing Academy is to support and provide the youngest generation of American riders a chance to learn and grow and provide a structured path to a career at the highest levels of road racing.
About the American Racing Team
The American Racing Team competes in the MotoGP World Championship. The team currently fields 2 riders in the Moto2 class: American Joe Roberts (#16) and Spaniard Marcos Ramirez (#42). The team is the only team in the MotoGP series owned by an American and featuring an American Rider. The team has grown under the guidance of team owner Eitan Butbul and is a respected part of the MotoGP world championship paddock.
More, from a press release issued by Altus Motorsports:
MotoAmerica: Mixed Results at Round 2 for the Altus Motorsports Tucker Hagerty Rangeline Team
(Elkhart Lake, WI)  While some of the team struggled with their new rides, others saw great success at the MotoAmerica Round 2 at Road America. Altus Motorsports scored their first win of the season in Stock 1000 with Cam Petersen. "Cam's talent continues to impress everyone at Altus. And, when others are having a rough weekend, he's the perfect personality to have in the pit," said team-owner, George Nassaney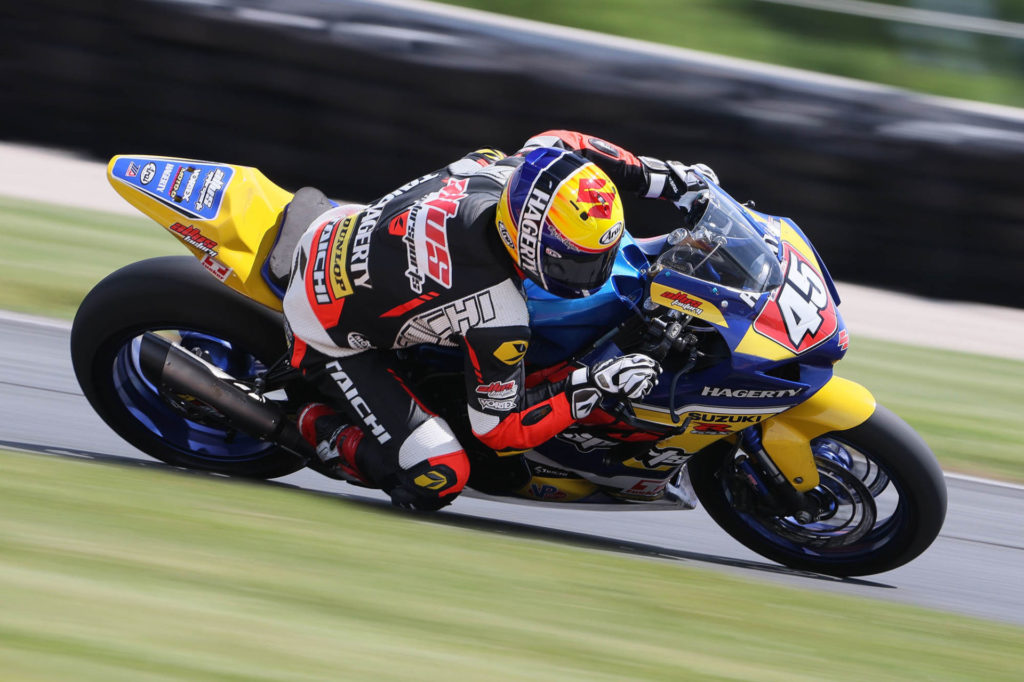 Honos Superbike & Stock 1000: In Round 2, Cameron Petersen built on his strong finish at Round 1. Once again, he rode the Stock 1000-legal Altus Motorsports Suzuki GSX-R1000 in both Superbike and Stock 1000. On Saturday in Race 1 of the premier class, he crossed the line 10th and, on Sunday, he bettered his position to 8th in the second race.
The Stock 1000 class only had a single race during the Round 2 weekend. After solid practices and continuous improvement in each session, Petersen started from pole and never looked back. He had a great launch and led from flag to flag to finish 6 seconds ahead of the closest competitor.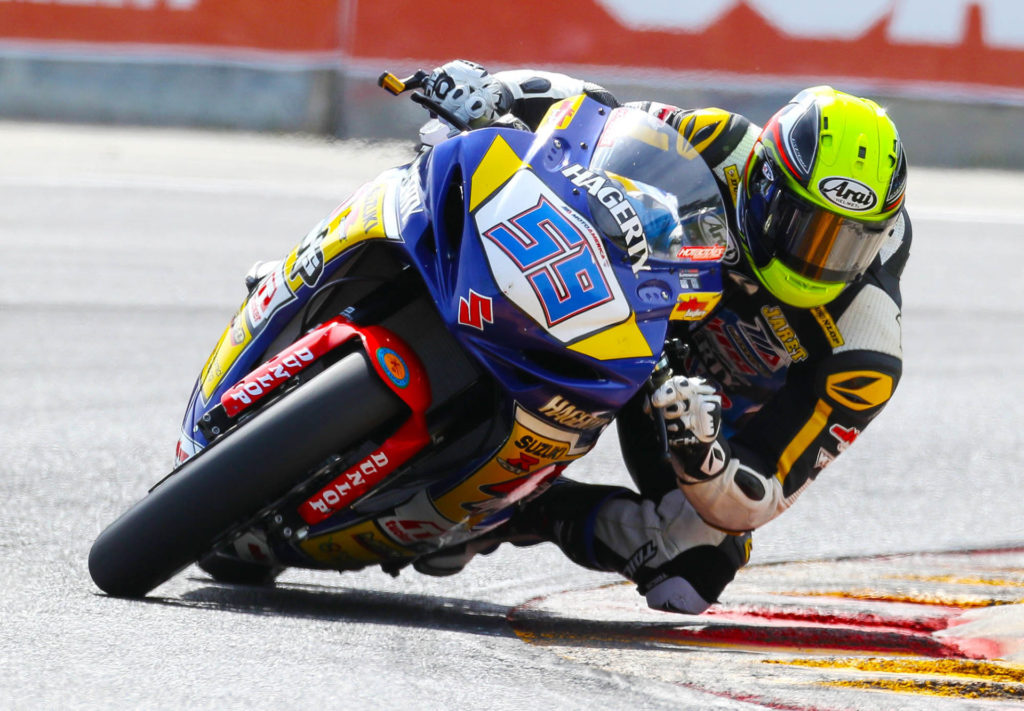 Supersport 600: After a good season opener, Jaret Nassaney came into this round with high hopes. He did not expect to struggle in finding a good setup on his freshly built GSX-R 600. In the first qualifying session, he went into turn seven slightly off line, hit a bump and then struck the ground at over 100 mph. The team put the bike back together and Nassaney was able to complete the entire second qualifying session but was not able to gel with the bike or better his lap time. For the first Supersport 600 race of the weekend Jaret finished in 11th place. In the second race on Sunday, he bettered his lap time and finished in 15th, in spite of a small tip over.
"This past weekend we rode the struggle bus. We couldn't get up to pace and then, unfortunately, had a big get off in turn seven at 101 mph. We didn't finish the races anywhere close to where we wanted. We are going back to the drawing board these next couple weeks and get rolling in the right direction. We walked away this weekend unscathed so we learn from everything and move forward," said Jaret Nassaney.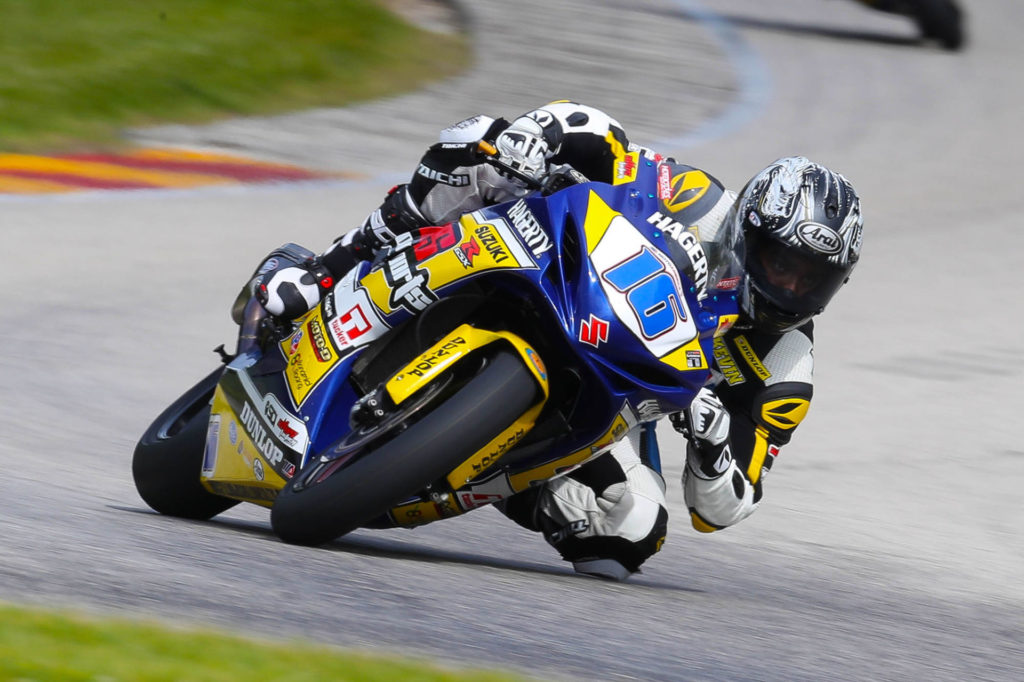 Kevin Olmedo showed up at Wisconsin riding an amazing high. First round he showed how quickly he was adapting to the 600 with a podium finish. Unfortunately, his second visit to Road American proved to be just the opposite. It started good enough – Olmedo was fourth fastest in the first practice session and seventh fastest in the first qualifying. Then Kevin had a massive highside at the beginning of Qualifying 2. The crew rebuilt the bike in time for the first race but a crash on the out lap kept him from starting. Stiff and sore, Olmedo and the team decided it was best to sit out the second race. After some healing, Kevin is going to do some hard training and head to Atlanta ready to recapture his Round 1 momentum.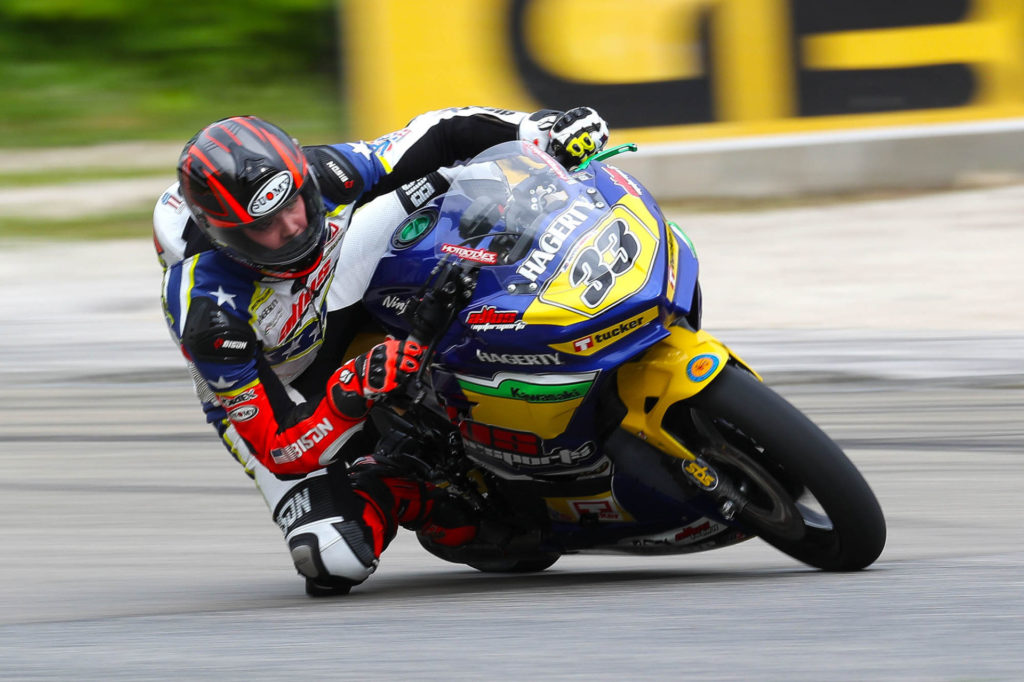 Liqui Moly Junior Cup: Daniel Kinard's goal for the first few rounds of the 2020 season is 'learning and experience.' Kinard made minor improvements during the practice and qualifying sessions but then, during Race 1, he dropped 4 seconds off his lap time to finish in 13th. Race 2 did not go as well. Daniel had a fall early in the race. he will spend the next month healing in an effort to grid up for Road Atlanta at the end of July.
George Nassaney had one final comment on the weekend: "Our thoughts are with PJ Jacobsen for a speedy recovery. We revel in competition and sincerely hope he will be on the grid in Atlanta. It will be great to get to a new track and fight for a win."
Altus is proud to welcome our newest sponsor: The Rangeline Group. They provide Wet Tapping, Hot Tapping, Line Stopping, Valve Inserting and Specialty Concrete Pipeline Services. "It's great to have a company outside of our industry take interest in Altus and the sport of road racing. We are privileged to have their support," said George Nassaney.
The Altus Motorsports team is supported by our great family of sponsors: Altus Motorsports, Tucker Powersports, Hagerty, Suzuki, The Rangeline Group, VP Lubricants, RS Taichi, Arai, Moto D, Bonamici, Hotbodies Racing, SBS Brakes, Vortex, Motion Pro, Law Tigers Oklahoma, M4 Exhaust, Arata Exhaust, Dunlop, Team Hammer, and Altus Factory Racing