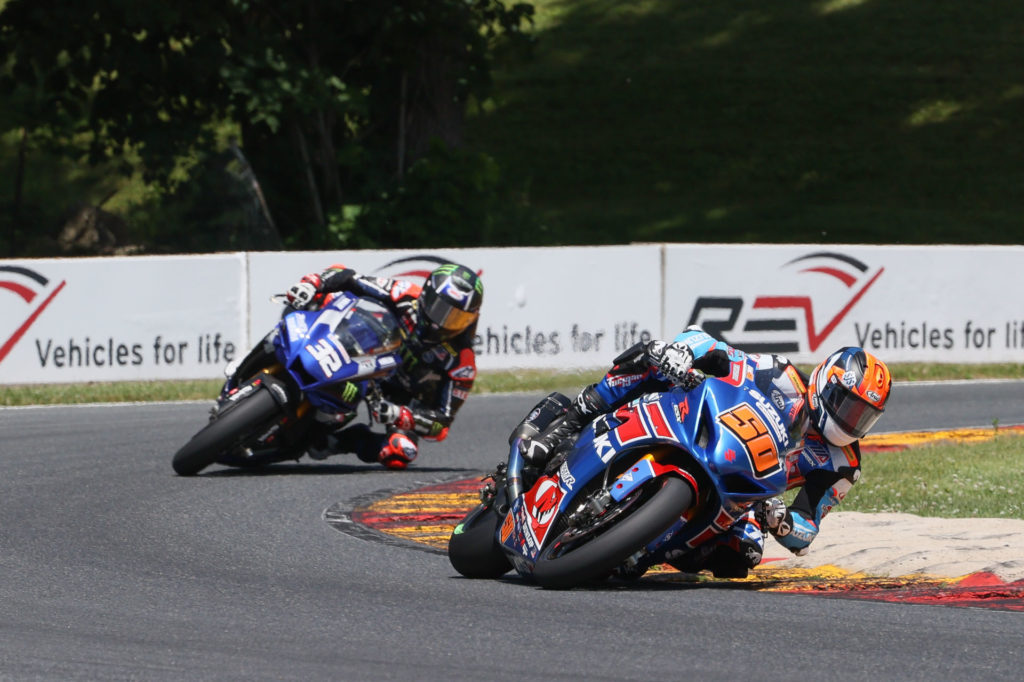 More, from a press release issued by MotoAmerica:
Fong Gets His First Superbike Win At Road America
Beaubier Crashes Out And The Rest Take Advantage
ELKHART LAKE, WI (June 28, 2020) – M4 ECSTAR Suzuki's Bobby Fong won the first HONOS Superbike race of his career today, the Californian taking full advantage of Cameron Beaubier's only miscue of the young season to become the 59th rider in history to win an AMA Superbike National.
Fong was in second, a few seconds adrift of Beaubier, when the previously unbeaten Beaubier hit a bump in turn one, lost the front end and crashed. Fong took over at the front but soon had Beaubier's Monster Energy Attack Performance Yamaha's teammate Jake Gagne nipping at his heels. For whichever one of those two who won, it would be a career first, and both of them rode like it. Fong, however, was able to withstand the pressure in the closing laps and led Gagne across the finish line by .509 of a second.
"I saw Cameron (Beaubier) go down and I knew immediately that there was going to be pressure on me," Fong said. "I knew that (Jake) Gagne had extra motivation, near a race win. I didn't know who was behind me. I just saw plus one on my board, and then I was looking at the big screen down the straightaway to see who it was. Just depending on who it was, I knew how aggressive they were and how defensive I needed to ride. I knew it was Gagne and he rides pretty well. He takes risks, takes risks to get that win. I just tried to keep a steady pace in the middle of the race and not push too hard and at least not try to put it all out there in the middle of the race. I knew he was going to be there at the end of the race. I just put the hammer down. Thankfully we got the win, but we have some work to do to actually beat Cameron. But we're making big steps and I'm proud of the work we did this weekend."
Gagne finished second, as he continues his solid start to the season that was briefly interrupted by a problem with his brakes that limited him to a sixth-place finish on Saturday at Road America.
"Yeah. No doubt," Gagne said when asked if he saw an opportunity to win an HONOS Superbike race when he saw Beaubier crash. "That's definitely what we were thinking. It was a bummer to see Cameron go down. Obviously, he's been pushing the pace all year long. It just shows how well these things are doing. Hats off to Bobby (Fong). He really rode his heart out. I could tell. I was seeing those tires and it was greasy out there. It was tough out there. I feel like I'm happy to bring it home in second. Obviously, we know we were fighting for a win, so that's extra motivation to get it up there. It was a fun race. There were some sections, the first section and last section, where I could close in and then there was some sections in the middle where Bobby really pulled away. So, we were kind of teeter-tottering and that makes it real tough to even try to find a place to stick it in. Bobby is really strong on the brakes in some of the sections where I wanted to make passes. I'm happy. We brought it home. Like Bobby said, it was a slick, greasy race out there. So hats off to the team, Monster Energy Attack Performance Yamaha. These guys are working really hard. Obviously, we still got to go catch Cam when we get to Road Atlanta. See if we can do some work on him. But it's been fun battling these guys. It was a good race."
KATO Fastening/KWR Ducati's Kyle Wyman waited 1022 days between podiums, ending his drought in yesterday's HONOS Superbike race. Then he only waited a day to do it all gain, the New Yorker getting his second podium in a row after holding off the ever-persistent Mathew Scholtz on the Westby Racing Yamaha.
"It feels great," Wyman said. "I saw Cam go down and inherited… Actually, I don't even know if I was in third at that point. I had to pass Toni (Elias) into Canada Corner I think on lap three or so. He was really strong in the first few laps. I think our only weakness really at this point, I think the middle of the race these guys, every time they tipped into turn eight was the same time every lap from lap four to lap eight or nine, so we need to get our first laps' pace down and try to get closer there. Mathew (Scholtz) put on a really good fight. He was plus .6 for four laps in a row, and then plus .9 for the last three laps. It was tough to just stay focused and not make any mistakes. But Ducati's on the podium."
Scholtz, meanwhile, had an eventful race and was in a battle with Wyman and M4 ECSTAR Suzuki's Toni Elias when he clashed with Elias in the chicane, causing the luckless Spaniard to crash. Elias was able to remount to finish seventh.
Fifth place went to Scheibe BMW's Josh Herrin, the Georgian some three seconds ahead of FLY Racing ADR Motorsports' David Anthony, the Australian continuing his consistent start to the season. With Elias seventh, Altus Motorsports' Cameron Petersen raced to eighth, well clear of RideHVMC's Corey Alexander. Thrashed Bike Racing LLC's Max Flinders rounded out the top 10.
Beaubier now leads the championship by just nine points over Gagne, 75-66, with Fong jumping up to third with 58 points, just two points ahead of Wyman's 56. Herrin rounds out the top five in the series with 46 points.
Superbike Race 2
Bobby Fong (Suzuki)
Jake Gagne (Yamaha)
Kyle Wyman (Ducati)
Mathew Scholtz (Yamaha)
Josh Herrin (BMW)
David Anthony (Suzuki)
Toni Elias (Suzuki)
Cameron Petersen (Suzuki)
Corey Alexander (Kawasaki)
Max Flinders (Yamaha)
More, from a press release issued by Yamaha Racing:
Gagne Returns to the Podium at Road America
Monster Energy Attack Performance Yamaha Racing's Jake Gagne bounced back from a tough race yesterday to finish second in race two at Road America on Sunday, June 28, in Elkhart Lake, Wisconsin. Unfortunately for Cameron Beaubier, a crash in Turn 1 ended his race early.
Gagne was fifth at the start but quickly moved into fourth and then made the pass for third in Turn 8 on the first lap. With Beaubier well up front, the 27-year-old was trying to chase down second. By lap four he was able to close the two-second gap and advanced to second after his teammate's error. Gagne stayed on the competition for the rest of the race but was unable to make the pass and crossed the line second for his third podium of the season. He leaves Road America second in the championship standings, trailing his teammate by nine points.
It was looking like another repeat performance for Beaubier who grabbed the holeshot and started to build a gap on the competition. On the third lap he set the fastest lap of the race with a 2'11.436 and was looking to keep expanding his lead when he went over the infamous bump in turn one and tucked the front. The four-time Superbike champ tried to rejoin the race, but ultimately had to pull in to the pits with the bike not 100% after the crash.
Next up for the Monster Energy Attack Performance Yamaha Racing team is Round 3 of the MotoAmerica Superbike Championship at Road Atlanta, July 31 – August 2, in Braselton, Georgia.
Richard Stanboli – Monster Energy Attack Performance Yamaha Racing Team Manager
"Jake rode well to earn that second-place finish. The team made some good steps forward and Jake continues to build his confidence. I think he will be a strong challenger for the top spot as soon as the next event. Cameron has been in a class of his own and his 2020 R1 continues to give him the confidence he needs. Unfortunately the notorious turn one bump caught him out just as it has done to many riders in the past. Even with a DNF we leave Road America with a comfortable first- and second-place in the championship. We look forward to racing and seeing our fans at Road Atlanta."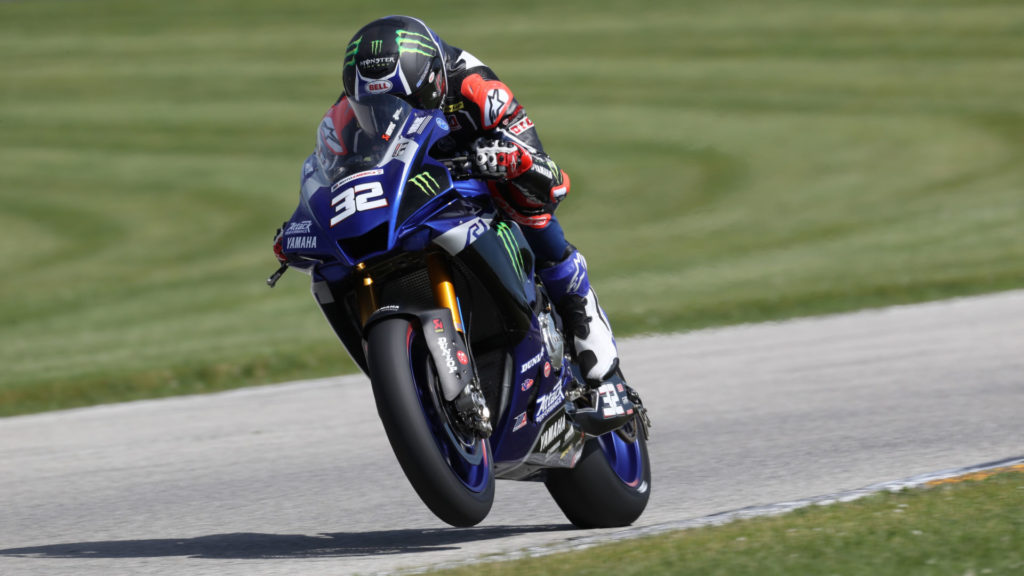 Jake Gagne – Monster Energy Attack Performance Yamaha Racing
"We made some good progress with the bike in warm up this morning and I figured a few things out. My start was much better today and I was running behind Bobby (Fong) and Cam. Unfortunately Cam went down in Turn 1 trying to make a break. From then on I just tried to keep close to Fong. There were some sections of track he was really pulling me, then I'd pull time back in others. It was close there at the end, but I just wasn't close enough and brought it home in second. I'm really glad to get the R1 back on the podium and I'm pumped to get to Road Atlanta!"
Cameron Beaubier – Monster Energy Attack Performance Yamaha Racing
"The race today started with a good jump off the line and I was feeling good like yesterday, but unfortunately I tucked the front over the bumps in Turn 1. Other than that, I feel great on my bike. We will put it behind us and get going at Road Atlanta."
More, from a press release issued by Westby Racing:
Sunday At Road America Nets A Fourth-Place Result For Mathew Scholtz And A Ninth For Cody Wyman
Elkhart Lake, WI – June 28, 2020 – In motorcycle road racing, riders feel more comfortable at certain racetracks, and motorcycles perform better at certain racetracks. Such is the case with the riders and motorcycles of Westby Racing.
Superbike rider Mathew Scholtz will be the first to tell you that, while he loves most everything about Road America—especially the fans—it is a track that has vexed him ever since he started racing in America in 2016. He's had some very good results, like his second-place finish in Superbike race one last month. He's also had his share of tipovers at Road America. On Sunday, Mathew finished fourth, one position better than the fifth he recorded on Saturday, to complete a decent weekend at "America's National Park of Speed." But, for him and the team, they hoped for better results.
Starting from fourth on the grid, Mathew battled with Kyle Wyman and Toni Elias. While going through Road America's chicane on lap eight, Mathew saw an opportunity to pass Elias on the inside, and he made his move. The slight opening closed quickly, however, and Mathew's and Toni's bikes touched, which caused Toni to crash. Mathew continued on while Toni got back aboard his bike and re-joined the race.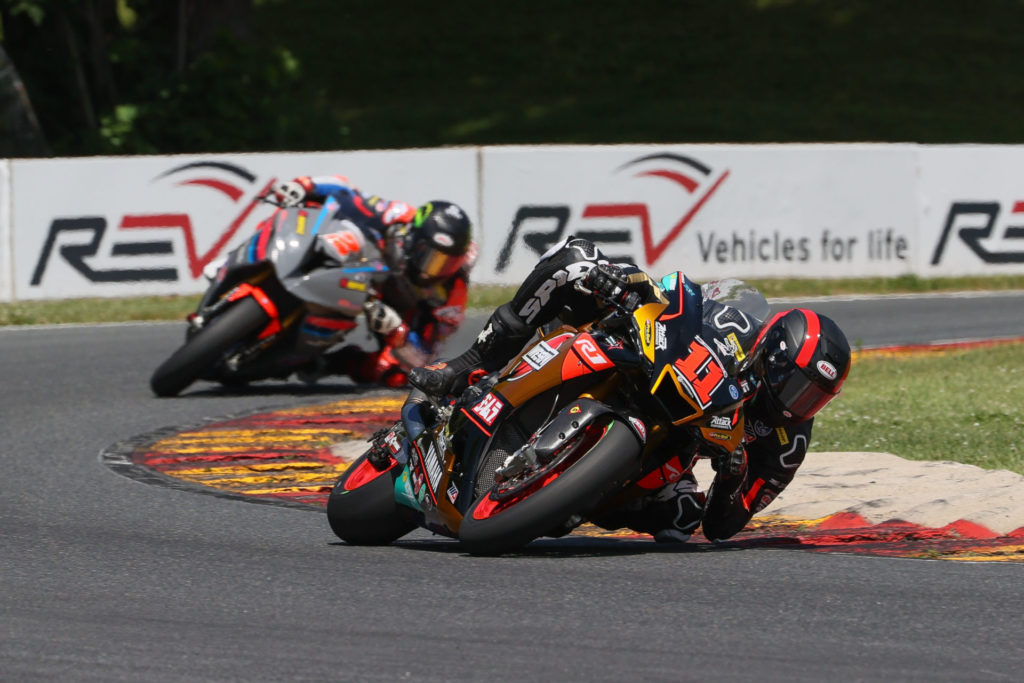 Mathew said, "For Sunday's race, we put in the old motor that we had from the previous round because the new motor wasn't pulling as well out of the corners, and it was making the engine-braking a little bit worse, so we went back to what we knew worked well for us. Sunday morning warmup was pretty difficult because we only had 15 minutes with used tires, but the motor change definitely felt better to me. In the race, I didn't get the best start, but it was alright. I got in behind Toni and Kyle and, even though I made one or two mistakes in the first couple of laps, I closed the gap to them. Toni's and Kyle's bikes are a little bit quicker than mine, but I made a move on Toni in the chicane. It was unfortunately one of those things. He was committed, and I had already committed to the pass. We touched and he crashed, which I obviously didn't mean to happen. I tried to catch Kyle with a couple of laps to go, but there just wasn't enough time for me. I think what happened to Toni was a racing incident, and I apologize for that. I didn't want to touch him. The team knows where we went wrong with the other engine and where we need to focus on making the bike better. We're just really looking forward to racing at Road Atlanta in a month's time. With me being a bigger guy, it really suits my riding style a lot better. The team has been working really hard, and it's just very unfortunate how this weekend went because we were expecting better things. The next couple of tracks, for us, should be pretty good."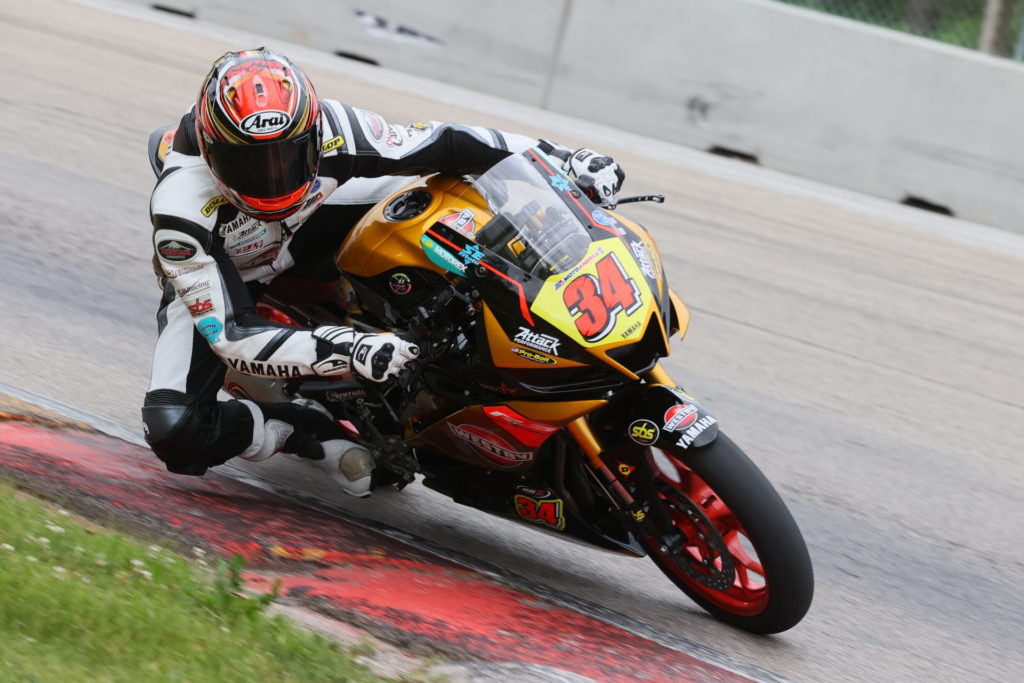 Junior Cup rider Cody Wyman finished seventh in Saturday's race one, and he had high hopes for a better result in race two on Sunday. Unfortunately, the characteristics of the Yamaha YZF-R3 are not as suited to Road America's 4.048-mile, 14-turn course as most of the other bikes in the class. The long straightaways are daunting, so Cody has to rely on corner speed to maintain his momentum.
On Sunday, he raced hard with a group of riders a little further back in the pack just as he did on Saturday, but he wasn't able to gain an advantage over them and he finished ninth.
"It was a tough weekend for us," Cody lamented. "I really wanted to finish in the top five and get out of Road America with strong finishes. Unfortunately, my qualifying position didn't give me a very good starting position. The leaders got away early, and I got stuck in a battle for sixth. A couple of riders in the group got away from me on the run to the finish line, and I ended the weekend with a ninth to follow up my seventh on Saturday. It's not what I wanted, but I'm glad to move on to round three and a racetrack that I really like. Big thanks to my team, family, and sponsors for helping me get me through these first two rounds. I'm looking forward to competing again under the Westby Racing Yamaha banner."
Next up for Westby Racing is round three of the MotoAmerica Championship, which will take place at Michelin Raceway Road Atlanta in Braselton, Georgia, on July 31 through August 2.
MotoAmerica Superbike Standings
Cameron Beaubier – Yamaha – 75
Jake Gagne – Yamaha – 66
Bobby Fong – Suzuki – 58
Mathew Scholtz – Yamaha – 44
MotoAmerica Junior Cup Standings
Dominic Doyle – Kawasaki – 95
Rocco Landers – Kawasaki – 85
Benjamin Gloddy – Kawasaki – 56
Cody Wyman – Yamaha – 38
For more updates about Westby Racing, including news, photos, and videos, visit http://www.WestbyRacing.com
Also, follow "Westby Racing" on your favorite social media sites.