Ducati Panigale V4 R Takes First Podium at Road America MotoAmerica Superbike Round
MotoAmerica Superbike Rider Kyle Wyman #33 (KWR/Kato Fastenings Ducati) podium finishes in Race 1 and Race 2
Ducati Panigale V4 R sets fastest top speed at 184.275 mph
Celtic HSBK Racing, P.J. Jacobson #99 wins Race 1 Superbike Cup
Mountain View, Calif., June 29, 2020 – The second round of the MotoAmerica race series took place at Road America in Wisconsin this past weekend as Kyle Wyman #33 took the Ducati Panigale V4 R to its first Superbike podium while P.J. Jacobson set the fastest lap during Stock 1000 practice and won the Race 1 Superbike Cup class.
On Friday, Kyle Wyman #33 completed the final qualifying practice session as the second quickest rider, just .325 seconds off from the leader and finishing the final practice in sixth overall with a 2:14.125" lap time. Later, he set a Superpole lap of 2:12.863" placing him sixth on the starting grid.
In Race 1, starting from the second row (P6) after a crash during Friday's practice, Kyle had a jump on the start to stay with the top four riders for all twelve laps before being involved in a last-lap battle with the T. Elias (Suzuki). During the battle, the Suzuki rider made an illegal pass on a waving yellow flag giving up the third place podium to Kyle Wyman #33, who also recorded the highest top speed over the weekend at 184.275 mph. This is Kyle's first podium finish since 2017 and his first on his KWR Ducati Panigale V4 R. During Race 2, Kyle raced with the leaders in P3 from lap 4 and walked away with another third-place trophy.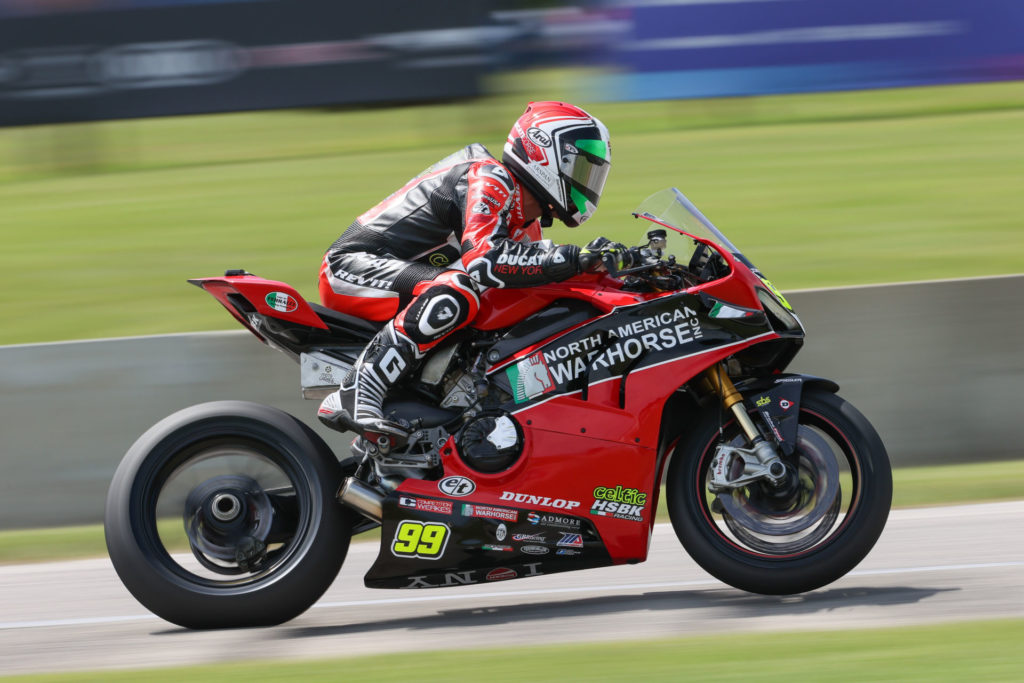 Celtic HSBK Racing P.J. Jacobson #99, set the quickest Stock 1000 practice lap at 2:15.279" and tied the class top speed of 174.081 mph. P.J. finished Saturday in ninth place in the Superbike class but missed Sunday's races from a warm-up lap crash incident. Additionally, Stock 1000 riders are able to enter their bike in Superbike races to allow them more practice and experience, which also puts Stock 1000 class racers in the Superbike classes in a unique "Superbike Cup" class. With Jacobson having the first place Stock 1000 bike in the Superbike race, he therefore was also named the winner of the Race 1 Superbike Cup class.
Both Ducati riders ended the weekend in the top 10 rankings for the championship standings, with Kyle Wyman #33 in fourth overall with 56 points, trailing only 2 points from third place, and P.J. Jacobson in eighth place with 27 points.
"What a great weekend. I think we were due for a breakthrough result, and after missing a bunch of time on Friday it was a tall order but the KWR crew gave me a great bike to go fight for the podium," said Kyle Wyman. "Double podiums on the weekend feels amazing, and I'm grateful to give the Ducati Panigale V4 R the results it deserves. We've come a long way from last year in the development of the bike and we are finally seeing the reward! I'm looking forward to Atlanta and keeping the momentum rolling."
Fastest Speed Race 1
Kyle Wyman #33 – Ducati Panigale V4 R – 184.275 mph
Fastest Speed Race 2
Kyle Wyman #33 – Ducati Panigale V4 R – 181.415 mph
Race 1 Results
P 1 – C. Beaubier (Yamaha)
P 2 – B. Fong (Suzuki) +6.325
P 3 – K. Wyman (Ducati) +9.78
Race 2 Results
P 1 – B. Fong (Suzuki)
P 2 – Jake Gagne (Yamaha) +.509
P 3 – Kyle Wyman (Ducat i) +10.348
More, from a press release issued by Jason Aguilar Racing:
Jason Aguilar Rockets To Fifth In Supersport Points After Double Fourth At Road America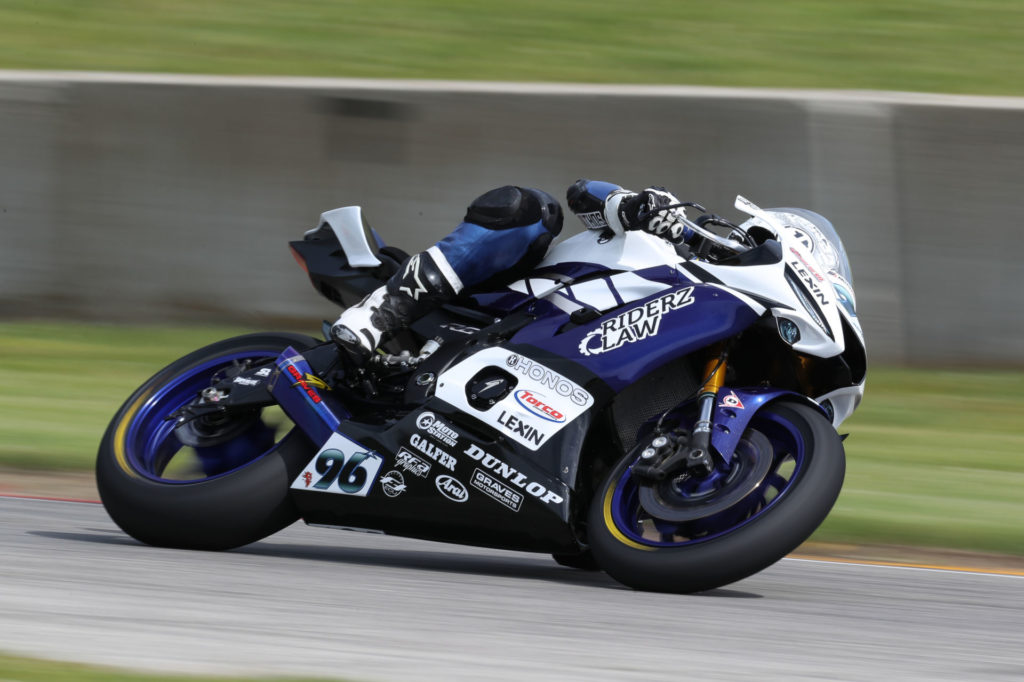 Jason Aguilar picked up his first double points finish of the 2020 MotoAmerica Supersport season at Road America this past weekend, converting fourth on the grid to a double fourth position finish in the latest round of the championship.
Starting strongly and moving into third at the start of the restarted Race 1 on Saturday, Jason was in podium contention until he overshot at Turn 5 on lap two. Able to recover, he regained his composure and was quickly back into P4, able to stretch a comfortable gap over his pursuers. With the podium out of reach he rode a sensible final third of the race, finishing fourth at the flag.
Sunday's race ran the full eleven lap duration. Another great start saw the #96 hit the front on the opening lap, the first time he had led a MotoAmerica Supersport race, before keeping with the leading trio in the early stages.
His pace was such that he opened a significant gap over the fifth and sixth place riders and with the podium in sight throughout, he had plenty to focus on. The leading three slowly eased away but not by much meaning Jason crossed the line to take a well earned second fourth position finish of the weekend and elevate himself to fifth overall in the standings ahead of Round 3 of the series at Road Atlanta next month.
Jason Aguilar: "The opening session of the weekend we were trying something new but unfortunately the chain came off. In qualifying one I was hard on the brakes and I felt something snap. I thought we had blown another motor but thankfully after an inspection back at the pit it wasn't. The team did a great job to overcome the electrical issues and we had no issues at all during Q2 which was nice, and it meant that I could finally have a full day on track after the problems on Friday. I got stuck with some traffic in final qualifying, so I came in and changed tyres, albeit a bit earlier than I had wanted to. I was able to move momentarily onto the front row but just dropped back at the very end. It wasn't the end of the world starting from the second row, I knew what I had to do. I actually made a good start when it came to the race which was a first for me. I was in the mix for third and then they red flagged it which I was a little bummed about. I was finally with the lead guys and now I had to do it all over again. I regrouped and made another great start on the restart. I got around Richie (Escalante) initially and third into the first corner. I was with the lead group but ran into turn five a bit too hot on lap two and dropped to fifth after surviving a big stoppie. I was able to get back into fourth relatively quickly and just got my head down. I put in a few good laps but realised that I wasn't going to catch the top three, so I put it on cruise control and rode it in for an easy fourth place finish at the flag. I knew I had the pace, but I made a mistake and it is what it is. The main thing is that I showed I can run with the lead group, so the plan was to not change anything and push again in Race 2. I am usually really bad at starts but I was able to get another good one and had the fastest first lap of the race of anyone! I was second into Turn 1 and was able to draft SDK for the lead into Turn 5. He got me back right away which kind of messed up my drive a little and then Richie (Escalante) came past which messed me up again so Paasch (Brandon) also got by me. It sucked to get shuffled back like that but once I settled down my pace was good, and I was able to run with them for a little bit. I made a couple of mistakes but was able to close them back down. I was within 1-2 seconds of the podium for almost the whole race, but I had a few slides and although I really wanted the podium, I knew we needed the points so I backed it off a little. I feel we made some good progress and I was a lot more competitive. We are doing some great things here with the bike and the team is really working well. We go to Atlanta giving everything we've got and trying to win some races. Thanks to everyone for the support especially those that are now following me on Twitter!"
More, from a press release issued by Bradley Ward Racing:
Bradley Ward Digs Deep To Secure Two Solid Superbike Finishes At Road America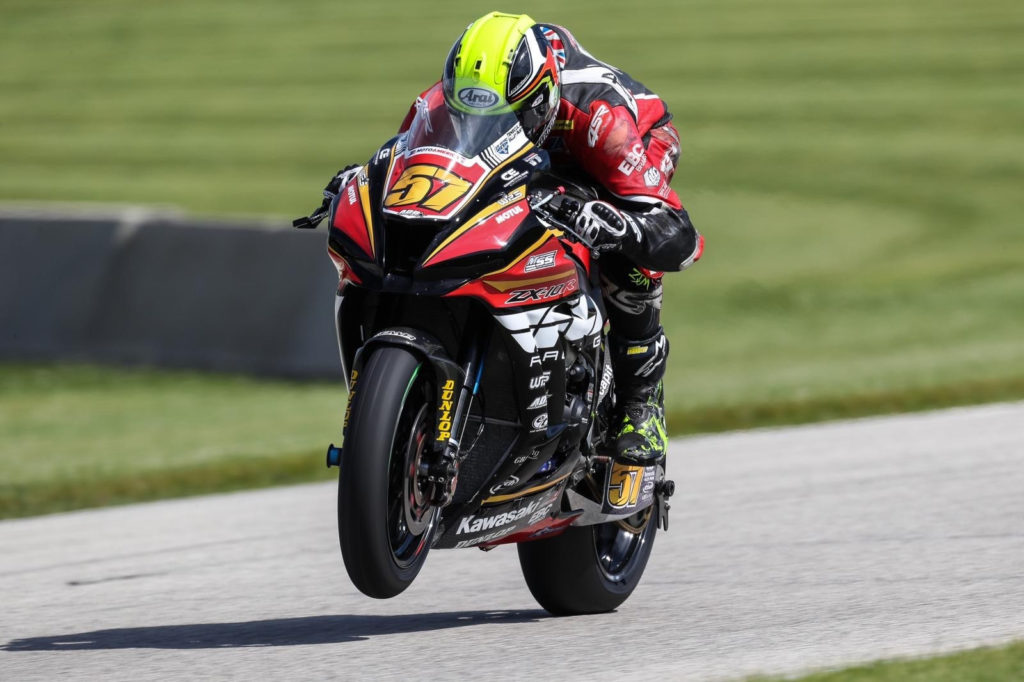 Bradley Ward leaves MotoAmerica's second visit in a month to Road America in Wisconsin thirteenth position overall in the 2020 MotoAmerica Superbike standings after finishing fourteenth and twelfth in the weekend's two twelve lap races.
In contention for the top ten in the opening encounter, the #57 suffered a shredded rear sprocket after clipping the outside kerb at Canada Corner. Despite a valiant effort to nurse his FLY Racing ADR Motorsports Kawasaki ZX-10R home, the British rider was forced to pull in with a lap to go, the vibrations making it impossible for him to continue. He was classified P14 under the regulations so bagged two points for his efforts.
Sadly, in Sunday's second race Bradley was unable to show his true potential after an off-track excursion in the opening laps saw him plummet backwards through the pack. Working his way steadily back into contention, he crossed the line twelfth adding another four points to his season tally.
Bradley Ward: "The opening day didn't go to plan. Conditions were perfect but I was only able to complete two and a half laps and coming out of Turn 2, I changed from second to third gear and the bike locked up. I ran straight on and was able to keep it upright through the gravel. Initially I thought the chain had come off, so I pulled the clutch in managed to get it stopped. The chain was still there and there was no noise from the motor, but it was clear after further inspection that we needed to swap engines. Then the rain came so we just did three laps to make sure everything was ok and parked it. FP3 went a lot better. We had a new motor and new tyres and improved my lap time considerably considering I had lost most of day one and had little track time. Race 1 was at the back of the grid because they took the times from Q1 which is when the motor let go which meant I was second to last! I made a reasonable start and was dicing with Michael Gilbert, Corey Alexander, Max Flinders and Wyman (Travis). I was in eleventh, holding my own and feeling pretty good to be fair when coming out of Canada Corner I clipped a kerb after the bike slid sideways and the chain jumped the sprocket which completely wrecked it. All of the teeth started dropping off. I had to nurse the bike home, but it became unrideable, so I pulled in with a lap to go. Luckily, I was still classified as a finisher so scored a couple of points, but it wasn't the best way to end the first race. A good sleep and I was raring to go for Race 2. I had to start at the back again, but I made a good start and was running tenth or eleventh and lining up to pass Max Flinders down into Turn 5. I was going 5-6mph faster than I would usually as I was in the slipstream and ran out of road on the brakes. I was dead last but managed to pick my way back through the pack to twelfth. Not a great weekend overall, it was pretty tough. We learned a lot and I went quicker than I had before so it's steps in the right direction even though it's not where we should be. I'm taking the positives and already looking forward to the next round in Atlanta."