MotoAmerica: Results from New Jersey Motorsports Park for the Altus Motorsports WPS FLY Racing Team
(Millville, NJ) The NJMP round of 2022  MotoAmerica season was another successful weekend for the Altus Motorsports team.  Brandon Paasch's progression on the 1000 continued and he took home another trophy in the Stock 1000 class.  Jaret Nassaney posted his best results of the season and Kayla Yaakov dominated Sunday for another win in the Junior Cup.
Superbike Cup & Stock 1000
Brandon Paasch is coming on strong as the season comes to a close. For the singular Stock 1000 race at the New Jersey MotoAmerica round, he started from fifth and battled most of the race to take third.  He now has four podiums in a row heading into the final round of the season in Alabama.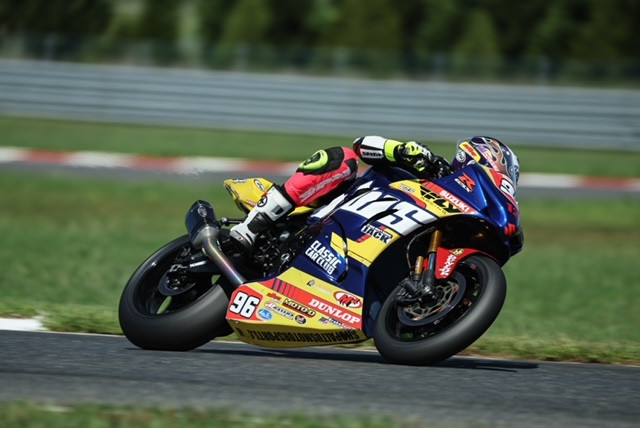 "It was a great weekend!  We struggled quite a bit up until Q2. Then Mike at Ohlins helped us out a ton!  I had a much better feeling with the bike in the morning warm up on Sunday, and was a lot more confident for the race.  When the lights go out the elbows always come up; I went to work in the race and ended in third!  That's a fourth podium in a row.  It was great to keep our podium streak alive and to do it in front of the home crowd.  I'm super excited with how the second half of our season is going, and can't wait to finish strong at Barber," said Brandon Paasch.
In the Superbike Races, Brandon started both from 14th. In the Saturday race, he finished in 14th and as the third place Superbike Cup racer. On Sunday, he crossed the line in 10th and as the second Superbike Cup competitor.  He heads to Barber just 11 points out of the lead in the Superbike Cup championship.
Supersport
Jaret Nassaney qualified 10th for both Supersport races.  In the first race, he fought his way forward to take a sixth place finish.  On Sunday, he bettered that by one spot. Jaret had fought his way up to sixth before it started to rain, but that didn't slow him down.  He continued to ride with confidence and crossed the line to take a top-five result.  This is his second top-five this season.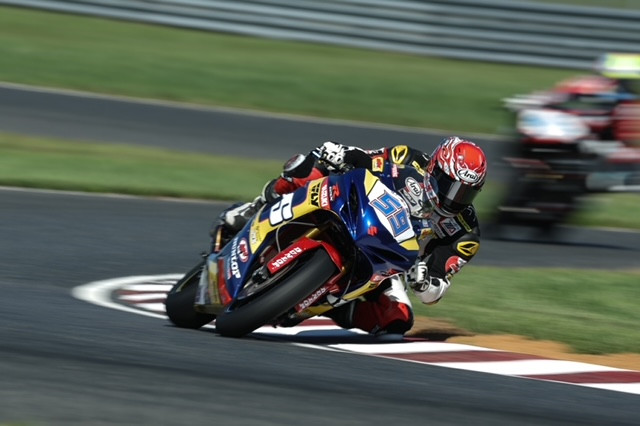 "I put in a good time in qualifying, but it was only good enough for 10th on the grid.  Once the races started, I put my head down and fought through the pack.  Overall I am very happy with the weekend," said Jaret Nassaney.
Junior Cup
Kayla Yaakov was the second-fastest Junior Cup rider across the two qualifying sessions putting her in the middle of the first row for both race starts.  After a race-long battle for the win in the first Junior Cup race of the weekend, Kayla crossed the line in fifth. She was just a few tenths out of first. Sunday brought rain, but Kayla is extremely comfortable in the wet.  She took the lead from the start and checked out to take her third win of the season.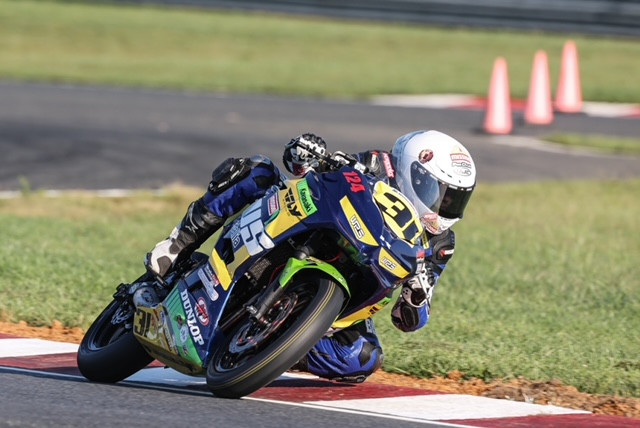 "This past weekend at New Jersey Motorsports Park, we made a good step in the right direction as we head into the final round of the 2022 season.  From FP1 to the races, my entire Altus Motorsports crew (including my father) got my bike dialed-in and feeling amazing.  Since I don't have a lot of time at NJMP, I was very happy to achieve a front row start.  We knew the races would be difficult since so many riders were within a few seconds.  In the first race, I got hit by two riders on the final lap, which ultimately cost me the podium. Going into the second race, I knew that I wanted to do something great. We went out for our second wet race of the season, and I was able to win by over 2.5 seconds in a shortened race!  I am pleased with my results this weekend and happy to add another win to my championship chase.  We were also able to close the gap to the leaders in the championship.  The bike has not felt this good since the round at The Ridge.  I'm super happy that we have made this huge step forward going into the final round.  We are ready for Barber Motorsports Park!" said Kayla Yaakov.
"Altus Motorsports had a great weekend. Sunday was a difficult day weather-wise, not knowing if it was going to be dry or wet during the races.  Our mechanics worked hard and had bikes set up and ready for whatever the New Jersey skies threw our way.  Everyone rode well on Saturday, but Sunday they really showed their talent and skills.  I'm really excited to see how they take this confidence with them into our final MotoAmerica round in two weeks," said team owner, Janette Nassaney.
The Altus Motorsports team is supported by our great family of sponsors: Altus Motorsports, FLY Racing WPS, Suzuki Motor Corporation, Moto-D Racing, Bonamici, Hot Bodies Racing, M4 Exhausts, Vortex EK, Motion Pro, Barnett, Maxima Racing Oils, SBS Brakes, BrakeTech USA, Inc., Ohlins, K-Tech, RS Taichi, Arai, Law Tigers Oklahoma, and Altus Factory Racing.
More, from a press release issued by Rodio Racing:
Rodio Racing Has Mixed Results at NJMP
Gus Rodio and Anthony Mazzioto Maintain 2nd Place in Their Championships
Gus Rodio put on a dominating performance at the MotoAmerica SportbikeTrackGear.com Junior Cup event at his home track at New Jersey Motorsports Park and in the process chipped away at his championship point deficit, setting the scene for an exciting finale in two weeks. Gus was fastest in the Free Practice session, leading by over a half second. He continued his onslaught in Q1, stretching his advantage over the competition by 0.614 second, securing the provisional pole position. In Q2 Gus maintained his dominance, claiming the pole with a best time of 1:29.995, the only competitor to run in the 29's. Race One provided some of the best racing of the season, with Gus leading much of the race he executed an incredible last-lap, last-turn pass after slipping to fourth to win the race by 0.016 second. In a wet and restarted Race Two Gus rode a conservative race on a wet setup to finish second and gain valuable championship points, setting the fastest race lap time on the last lap.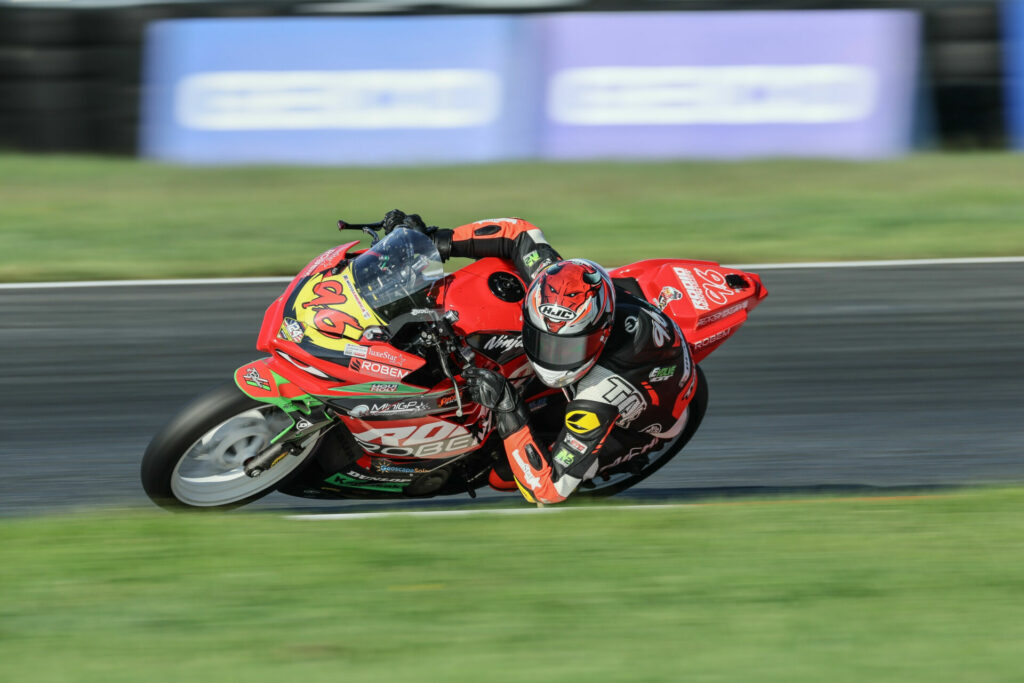 Gus Rodio: "What a weekend in front of the home crowd! I look forward to every weekend at the track, but this one's always special. When all your people come together and support what you love it just hits different! A solid weekend leading every session but Race Two, where I finished P2. This was my first MotoAmerica podium in the rain with the fastest lap of the race. I was even able to get into the 29's in the dry which has been a goal of mine for a long time. We're now only 20 points out of the championship, after starting with 50 going into NJMP. Excited to attack Barber Motorsports Park!"
Gus heads to the season finale at Barber Motorsports Park in two weeks in second place in the championship, 20 points behind the leader with 50 points available.
Anthony Mazziotto struggled early in Free Practice, but rebounded to fourth place in Q1, 0.673 second behind the fastest time. In Q2 Anthony shaved a bit of time but dropped to sixth place, 0.676 second behind. After setup changes, Mazziotto ran as high as third place in the single REV'IT! Twins Cup race of the event, matching the fastest time of the race winner, but finished fifth after an encounter with a backmarker.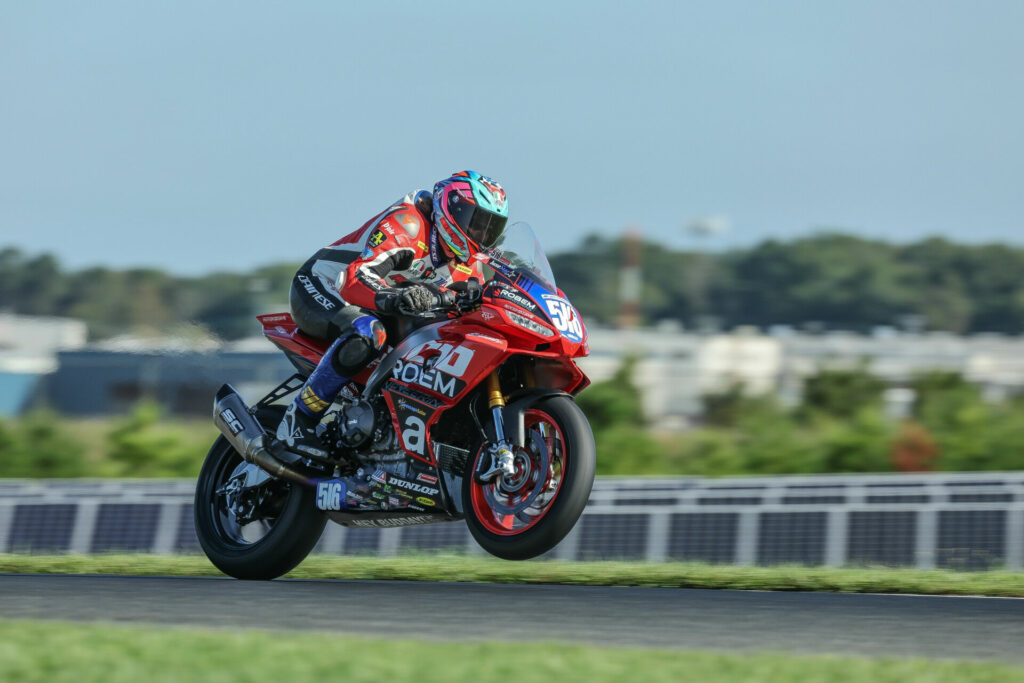 Anthony Mazziotto: "After problems at PittRace the team is turning things around and I feel like we're on the right track. We lost a little ground in the championship but I'm still in second place, I'm looking forward to Barber to have a last run at winning the title, it's definitely not out of reach."
Mazziotto will have a final attempt at winning the class championship at Barber Motorsports Park in 2nd place 15 points behind with 25 championship points up for grabs.
More, from a press release issued by Indian Motorcycle:
TYLER O'HARA CAPTURES 2022 MOTOAMERICA MISSION KING OF THE BAGGERS CHAMPIONSHIP FOR INDIAN MOTORCYCLE RACING AND S&S CYCLE
Riding the Mission® Foods S&S® Indian Challenger, O'Hara's Consistency Through the Seven-Round MotoAmerica Series Carries Indian Motorcycle Over Rival Harley-Davidson to Reclaim Coveted Crown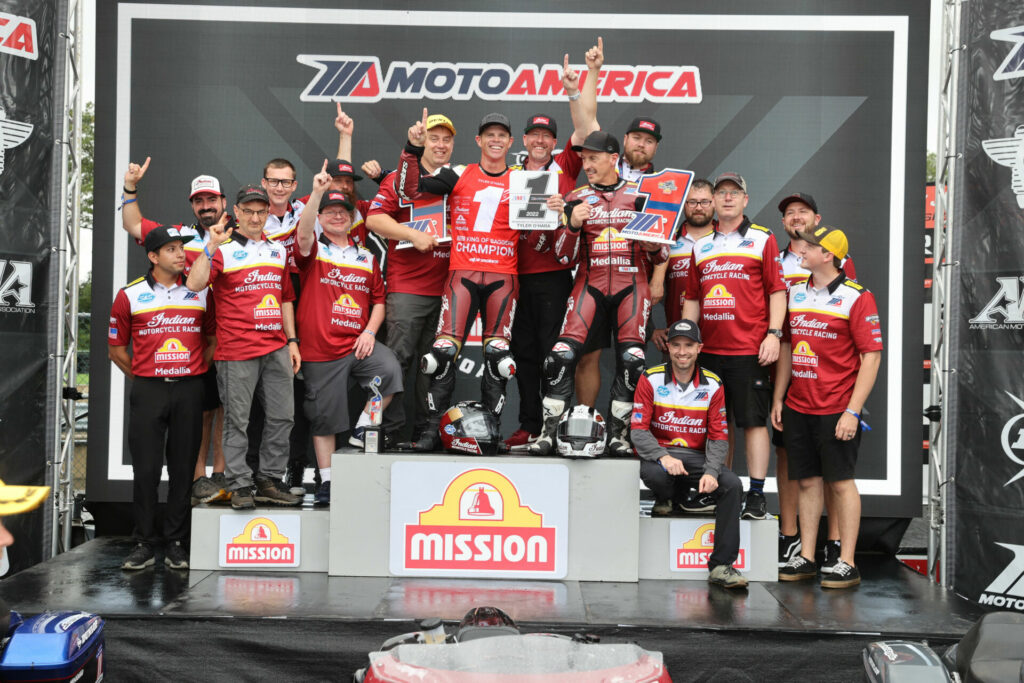 Minneapolis, MN. (September 14, 2022) – This past weekend at New Jersey Motorsports Park, Tyler O'Hara battled through rain-soaked conditions to finish second in the Main Event, earning the necessary points to capture the 2022 Mission King of the Baggers (KOTB) Championship for Indian Motorcycle Racing and S&S® Cycle.  This is the second KOTB Championship in three years for O'Hara and the Indian Motorcycle Racing-S&S team in the increasingly popular MotoAmerican bagger-racing class.
O'Hara's 2022 Championship run was a picture of consistency throughout the seven-round series. The Petaluma, Calif. native captured five podium finishes over seven rounds; including a victory at the Daytona Speedway season opener, along with two fourth-place finishes aboard his ever-reliable Mission® Foods S&S® Indian Challenger. This year's Championship came at the expense of Harley-Davidson Screamin' Eagle rider Travis Wyman, who entered the series' final round with a three-point lead in the Championship point race, only to see his hopes literally slip away when he crashed midway through the second lap while frantically chasing O'Hara through the rain soaked circuit in New Jersey.
It was an afternoon rainstorm that spoiled the best-laid plans for points leader Wyman and served up a golden opportunity for O'Hara and teammate Jeremy McWilliams, who both thrive in wet conditions. Starting from the fourth and fifth positions respectively, O'Hara and McWilliams jumped out to a fast start, overtaking Wyman and Vance-Hines Harley-Davidson rider James Rispoli and moving into second and third position respectively coming out of turn one. This allowed McWilliams to slow the pace for the field behind him, including Wyman, and create breathing room for O'Hara who consistently maintained pace behind race leader Kyle Wyman. With an added level of urgency thanks to McWilliams' stifling efforts, the younger Wyman made an aggressive outside pass on McWilliams and immediately began aggressively pushing to close the gap with O'Hara, ultimately low-siding and sliding into the infield late into the second lap. Although he was able to get back on his bike and continue the race, Wyman fell to the back of the pack, while O'Hara stayed close behind the older Wyman brother, holding his second-place position to the finish and capturing his second KOTB Championship.
"Even though it's one rider that earns the Championship, this was a situation where the support from Jeremy and our ability to work together made all the difference, and I could not be more grateful for his support and the tireless work of my entire Indian Motorcycle-S&S team," said O'Hara. "Every member of this team sacrificed so much of themselves over this past year and to stand on that podium and celebrate this Championship with them is a testament to our commitment and nothing short of a dream come true. I'm so proud to reclaim the crown and the number-one plate for such an incredible and talented group of guys who put their hearts and souls into this season."
McWilliams, a veteran road racer of MotoGP fame, joined the Indian Motorcycle-S&S factory team at the start of the 2022 season. Along with a virtually unmatched level of experience and skill that resulted in a Round Two victory at Daytona and fourth-place finish overall, McWilliams brought an invaluable wealth of knowledge to the team. His technical input and collaboration with Indian Motorcycle-S&S engineers and mechanics throughout the season allowed the team to continually evolve, refine and improve the Indian Challenger, optimizing set ups specific to track conditions at each and every round.
"Jeremy's expertise and experience, combined with Tyler's skill and competitive fire is something truly special," said Gary Gray, Vice President Racing, Service and Technology for Indian Motorcycle. "When you back those two guys up with the expertise, commitment and heart of this entire Indian Motorcycle-S&S crew, you come away with a Championship. On behalf of everyone at Indian Motorcycle, I could not be prouder of our team and what we've accomplished this season."
Ultimately, it's the commitment of the entire team, including the engineers and mechanics behind the riders, that makes the difference between winning or losing a championship. This was no better evidenced then by the consistency of O'Hara and his Mission® Foods S&S® Indian Challenger throughout the entire season. Not only did O'Hara's #29 bike finish every race during the season without fail, it never finished lower than fourth place.
"This Championship is the result of the sacrifices and commitment made by each and every member of our team – so many days on the road away from their families and sleepless nights working to ensure our bikes were dialed-in for Tyler and Jeremy," said Jeff Bailey, S&S Cycle Crew Chief. "Every member of our crew played a critical role, making unique sacrifices and sharing in the highs and lows we experienced together throughout the season, and that's truly what makes this Championship so gratifying. I could not be prouder of this group of incredible individuals."
Sponsors for Indian Motorcycle Racing's King of the Bagger efforts include Mission® Foods, S&S®, Medallia, Drag Specialties and Parts Unlimited.
To learn more about each race team, visit SSCycle.com, RolandSands.com, Saddlemen.com and LloydzGarage.com. For information about Indian Motorcycle, visit IndianMotorcycle.com, or follow along on Facebook, Twitter and Instagram.
ABOUT INDIAN MOTORCYCLE®
Indian Motorcycle is America's First Motorcycle Company®. Founded in 1901, Indian Motorcycle has won the hearts of motorcyclists around the world and earned distinction as one of America's most legendary and iconic brands through unrivaled racing dominance, engineering prowess and countless innovations and industry firsts. Today that heritage and passion is reignited under new brand stewardship. To learn more, please visit www.indianmotorcycle.com.
ABOUT S&S® CYCLE
S&S® Cycle was born from a passion for racing and has spent over six decades building performance for the powersports market. Their unwavering focus on quality, reliability and top shelf power has made S&S® Cycle the absolute leader in high performance on the street and track.
ABOUT MISSION® FOODS:
MISSION®, owned by GRUMA, S.A.B. de C.V., is the world's leading brand for tortillas and wraps.  MISSION® is also globally renowned for flatbreads, dips, salsas and Mexican food products. With presence in over 112 countries MISSION® products are suited to the lifestyles and the local tastes of each country. With innovation and customer needs in mind, MISSION® focuses on the highest quality, authentic flavors, and providing healthy options that families and friends can enjoy together.  For more information, please visit www.missionfoods.com