Martinez Triumphs At New Jersey BUILD. TRAIN. RACE.
Breakthrough Royal Enfield BTR Road Racing victory for Crystal Martinez at New Jersey Motorsports Park
Milwaukee, WI (Tuesday, September 13, 2022) – It might have taken until the penultimate round of the 2022 Royal Enfield BUILD. TRAIN. RACE. Road Racing season, but a new face has emerged at the top of the BTR podium. The New Jersey Motorsports Park round of MotoAmerica was the site of Crystal Martinez' breakthrough victory, where she claimed pole position and Saturday's BTR main race win, halting the impressive win streak of Kayleigh Buyck. Martinez was joined on the overall podium by Chloe Peterson and Jenny Chancellor in an epic battle that came down to the final corner.
After setting the fast lap in qualifying, Martinez was primed for her first victory of the season, but a wheelie off the start left her on the back foot. Buyck and Peterson got out to a good start while Martinez quickly regrouped to keep herself with the lead pack. The battle for the lead was an intense one throughout the race, with Peterson heading the field and Martinez nipping at her heels–at one point quite literally as the two clipped wheels, nearly causing Martinez to lose her front end. "It shook me up for a split second, but I didn't give up," said Martinez. "I kept pushing and battling with Chloe until the very last turn."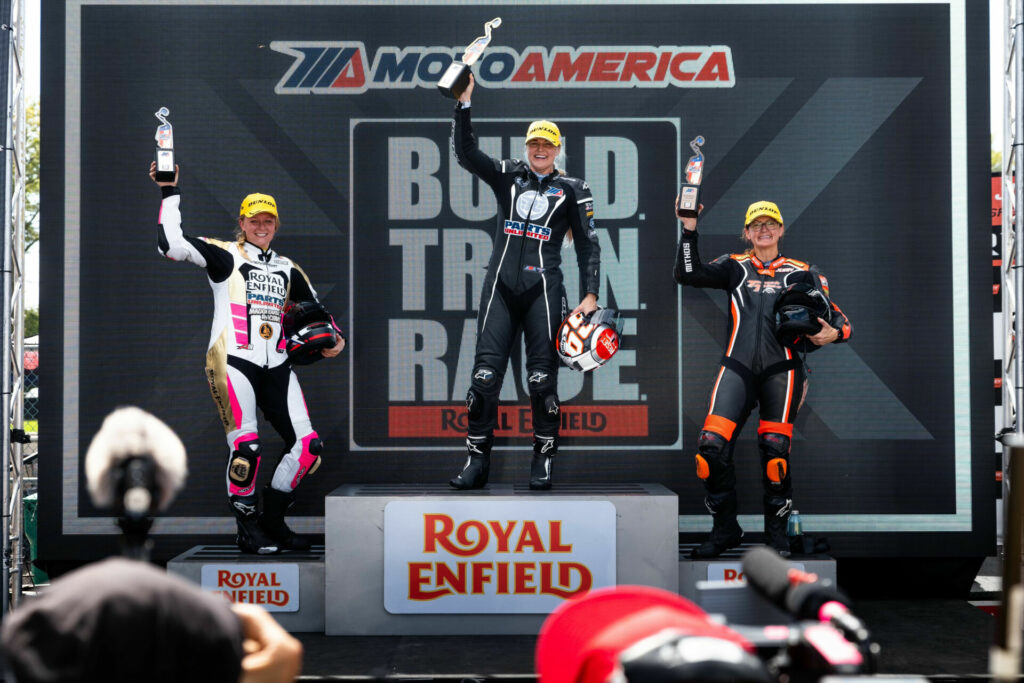 It was the final turn where a slight miscalculation by Peterson changed the tide. A missed shift caused her to lose her momentum, and allowed Martinez to draft past and nab the win. "What an epic race!" Peterson exclaimed. "I was a quarter-second off first. That was the hardest, most aggressive I have ever ridden. I did things during the race I never thought I would be capable of at the beginning of the season. I'm bummed, but I'm also focused on the positives, that I really grew my comfort zone and leveled up my race craft."
"Mad respect to her for pushing until the very end," said Martinez. "It's my first win of the season and I have a lot of emotions. Now I want to focus on what I can do better for our last round at Barber. I'm second in the championship and it's still up for the taking."
The sixth and final round of the Royal Enfield BTR Road Race season will take place September 23 at Barber Motorsports Park in Birmingham, Alabama, where the 2022 champion will be crowned. With four out five wins to her credit, Kayleigh Buyck holds the advantage, but a fourth-place finish in New Jersey has tightened up the points, and the crown is still very much up for the taking.
"New Jersey was an exciting round, and a good shake-up in the season," said Breeann Poland, Marketing and Communications Lead – Royal Enfield Americas. "Watching the skill and race craft of all the BTR women evolve throughout the season has been incredible. The way they push each other and learn from each other is what's raising the competition level with each round. After all this group has been through this season, the highs and lows, we're sad to see it coming to a close, but we're also looking forward to a hell of a final showdown at Barber."
Royal Enfield BUILD. TRAIN. RACE. Road Race
New Jersey Results
1. Crystal Martinez (#25)
2. Chloe Peterson (#55)
3. Jennifer Chancellor (#19)
4. Kayleigh Buyck (#16)
5. Ash Truxal (#31)
6. Jessica Martin (#23)
7. Michaela Trumbull (#27)
8. Bridgette LeBer (#21)
9. Cora Tennyson (#95)
10. Hannah Stockton (#62)
About Royal Enfield
The oldest motorcycle company in continuous production in the world, Royal Enfield made its first motorcycle in 1901. A division of Eicher Motors Limited, Royal Enfield has created the midsize motorcycle segment in India with its unique and distinctive modern classic motorcycles. With its manufacturing base in Chennai, India, Royal Enfield has been able to grow its production rapidly against a surge in demand for its motorcycles. Royal Enfield is a leading player in the global middleweight motorcycle market.
Royal Enfield North America (RENA) is headquartered in Milwaukee, Wisconsin, and is developing a growing network of more than 150 dealers in North America, including the contiguous U.S. and Canada. RENA currently offers the all-new Scram 411, Classic 350, Meteor 350, Himalayan and the 650 Twins (INT650 and Continental GT 650) motorcycles, along with a range of Genuine Motorcycle Accessories and apparel.
For more information on Royal Enfield North America, visit www.RoyalEnfield.com/us/en/, www.Instagram.com/RoyalEnfield_NA, www.Facebook.com/RoyalEnfieldNorthAmerica.
More, from a press release issued by N2 Racing:
N2/BobbleHeadMoto Racing's Blake Davis Wins at New Jersey Motorsports Park!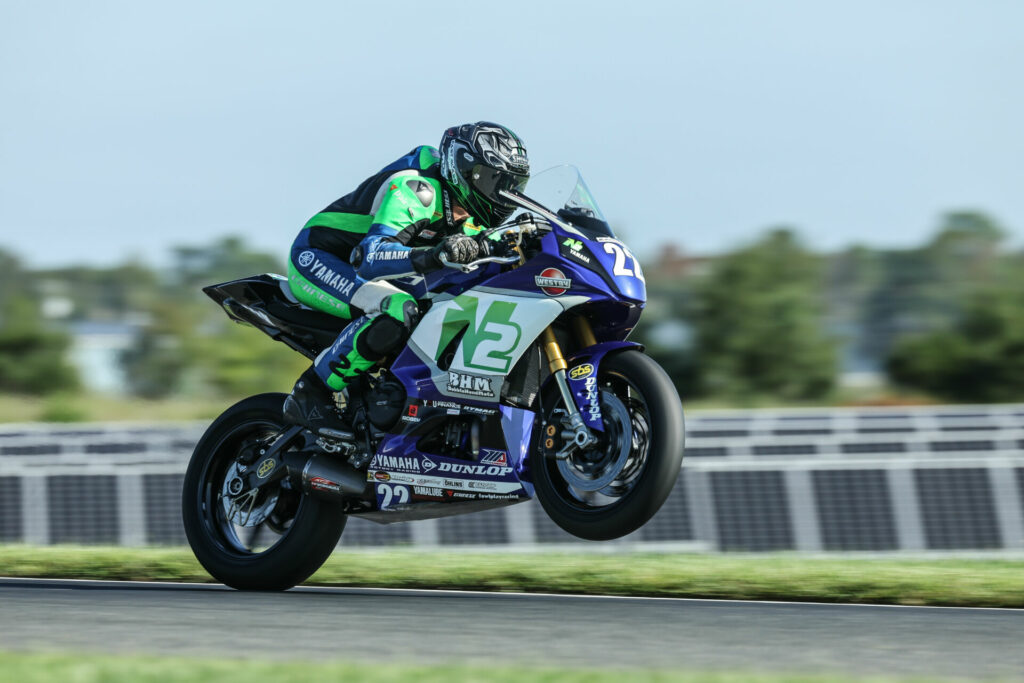 Media, PA – September 2022 – N2/BobbleHeadMoto Racing's Blake Davis scored a dominant flag-to-flag victory in the MotoAmerica Twins Cup Race at New Jersey Motorsports Park. The win allowed Davis to extend his points lead to 15 points over Anthony Mazziotto for the Championship going into the last round at Barber Motorsports Park. BobbleHeadMoto owner, mechanic, N2 control rider, YCRS Instructor, N2 Racing crew member, and generally great guy Emerson Amaya filled in for Kevin Olmedo to finish 12th in Supersport Race One and 13th in Supersport Race Two.
Blake Davis has been on an incredible run since mid-summer with podium finishes or victories at every round. This has allowed Blake to quietly take the Twins Cup point lead after PittRace with two rounds to go. Blake was fast from the first practice with only championship competitor Jody Barry able to run comparable times. Blake qualified in second position behind Barry with a time of 1:24.796.
Blake was never challenged during the Twins Cup Race taking the lead in the first turn and never letting it go. Davis ran relentless, consistent, dominant laps allowing him to finish 3.105 ahead of second place Ben Gloddy. Championship competitors Jody Barry and Anthony Mazziotto finished fourth and fifth, respectively, allowing Blake to extend his lead to 15 points in the championship going into the last round at Barber Motorsports Park. If Mazziotto wins, then Blake needs to finish sixth or better to be the 2022 Twins Cup Champion.
Supersport was a family affair this week at New Jersey Motorsports Park with Emerson Amaya subbing for Kevin Olmedo who is recovering from Guillain-Barre Syndrome at home in El Salvador. Emerson is at the heart and soul of the N2/BobbleHeadMoto Race Team and it was a natural fit for Emerson to fill in for Kevin. The goal was fast, consistent laps with no drama and that goal was met. Emerson finished 12th in Race One and 13th in Race Two, which was held in mixed conditions.
The N2/BobbleHeadMoto Race Team has only two events left for the 2022 race season and is in the championship hunt for both. The team will be at Barber Motorsports Park on September 23 – 25 to fight for victory in MotoAmerica Twins Cup and Supersport. The N2/BobbleHeadMoto Race Team is also competing for a championship in the N2/WERA National Endurance Series by Dunlop on a Yamaha YZF-R1. The final round is also at Barber Motorsports Park on October 21, 2022.
Blake Davis – "We are just trying to be consistent and put in the work every week. The team is doing an amazing job and the Yamaha YZF-R7 is a dream to ride. The race was pretty drama-free. I didn't know how far the pack was behind me so I just kept my head down and tried to be consistent. I'm excited to have extended the points lead going into the final round."
Emerson Amaya – "I can't thank Kris Smith, Shiloh Salopek, and the whole N2 family enough for the opportunity. Not having ridden a 600 in over three years I was certainly a little out of practice on the R6 but managed to meet the goals the team and I set for ourselves. Looking to keep the momentum from this weekend into the Barber round in a couple of weeks."
Shiloh Salopek (Crew Chief) – "We had a plan going into the weekend and we executed that plan. Mike, Dustin, Emerson, Kris, Jim, and Steve were flawless. Blake is a pleasure to work with and his riding over the last few months has been nothing short of remarkable. We are now 100% focused on Barber."
About N2: N2 – Ride, Race, Learn.
Founded in 2014, N2's mission is to build a sustainable motorcycle community through safe, structured motorcycle track days, advanced rider training programs based on Yamaha Champions Riding School teaching methods, with a strong affinity for motorcycle road racing. N2 successfully resurrected Motorcycle Endurance Racing in America partnering with WERA Roadracing and creating the N2/WERA National Endurance Series by Dunlop. N2 is a premier participant in the MotoAmerica Pro Racing Series with a multi-rider team competing in several classes. N2 is also a major contributor to the Roadracing World Action Fund through fundraising efforts and support from its large member base.
N2 Racing is proudly sponsored by: Dunlop Motorcycle Tire, Yamaha Motor Corporation USA, Dainese, BobbleHeadMoto, Karnes Performance, Trading Paint, GB Racing, Westby Racing, Attack Performance, Robem Engineering, Puig, Eazi Grip, ProBolt, SBS Brakes and Yamaha Champions Riding School.
For More Information: www.n2td.org
More, from a press release issued by Joseph LiMandri's publicist:
LiMandri on the Box in Front of Home Crowd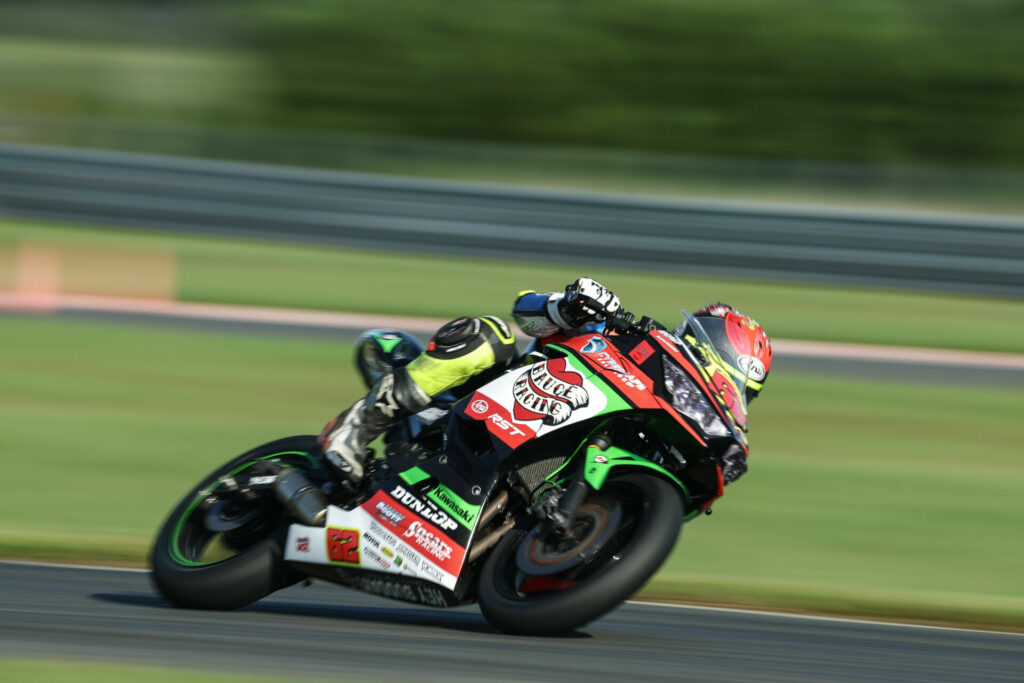 Joseph LiMandri Jr. scored an epic second-place finish in last weekend's MotoAmerica Junior Cup, missing the top spot by just .016 of a second.
"Finally, we broke the streak of bad races!" LiMandri said. "I'm thankful for this result because the Bauce Racing and CyberSafe Solutions team deserves it for all the hard work they put in this weekend."
The podium was a bit of a historic occasion as the top three riders all grew their roots with the New Jersey MiniGP program.
"Seeing our kids up there all season long is awesome, but seeing the entire podium filled with our kids is just simply incredible," Nathan Granoff, owner of NJMiniGP said on his way to a locals-infested podium celebration.
LiMandri backed that result up with a strong, but drama-laden fourth place in Race Two.
"That was a crazy race!  I had to start from pitlane as I tipped over in the wet warmup, but a red flag after the start helped us out a bit," he said. "Maybe one more lap and I would have been battling for a podium spot, but we'll take the points and head to Barber.  It's going to be difficult but the championship isn't decided yet."
It takes a whole support system to even get to the grid, much less the podium.  The team recently onboarded SpaceJammit, a file storage/sharing application with a unique space themed interface.  SpaceJammit (with photo credits going to Brian J. Nelson) have hosted a selection of high resolution images from the weekend for fans of "Bazooka Joe" here:   https://api.app.spacejammit.com/api/v1/space/6320db7f5df29067d83b8d34/view Further, anyone who signs up for the service with the code "LiMandri" will have a portion of their fees donated to support the team's continued racing efforts.
As always, the entire JL62 race crew would like to thank: Bauce Racing, CyberSafe Solutions, Bob Robbins, Space Jammit, EvolveGT Trackdays, Spears Racing, RST Moto, Arai Americas, Coach Chapluk, JP43 Training, Vortex, Dunlop Tires, Orient Express, K-Tech Suspension, Driven Racing, Trackside Parts Club, Woodcraft Technologies, Braketech USA,
Ferodo Racing, Chickenhawk Racing, N2 Trackdays, Precision Autoworks NY, Metric Devil Moto, Scott Powersports, Gazebo Contracting, GO! Racing.