N2 Racing Achieves Top 10 Results During Eventful Weekend at Barber Motorsports Park.
Media PA, – September 2020 – N2 Racing's Xavier Zayat and Nate Minster each scored top ten finishes at round 7 of the MotoAmerica Supersport Championship. Nate Minster made some significant breakthroughs in set-up, achieving his best result of 6th with N2 Racing. Xavier had pace to run with the leaders all weekend, but bad luck in both races kept him out of the fight for the podium. Zayat did finish in 8th in Race 1 despite starting from the back of the grid.
Xavier was fast straight off the truck and in qualifying was able to put the SBS Brakes sponsored Yamaha YZF-R6 into 5th position, only .7 off the front row. This was Nate's first trip to Barber Motorsports Park on a 600. Despite a lack of experience around the beautiful North Alabama track, Minster was able to qualify in 8th position on the outside of row two.
MotoAmerica Supersport Race 1 had a hectic start for both riders. The team was struggling to sort a last-minute complication and got to the grid late. Nate Minster was able to take his grid spot on the second row, but Xavier had to start from last on the grid. Both riders quickly put the error behind them and set about the business of going to the front. Minster immediately engaged into a battle with Ben Smith, Nolan Lamkin and Lucas Silva in which he finished 7th. Xavier had a much more difficult challenge starting dead last, but a mixture of pure speed and patience served him well. Xavier worked his way all the way up to 13th on lap one! Zayat kept his head down and his nose clean was able to finish right behind his teammate in 8th place.
MotoAmerica Supersport Race 2 was an opportunity for redemption and some seriously good results. Minster and Zayat both learned a lot during race one and crew chief Shiloh Salopek was able to use their feedback to make some significant improvements to the Renthal sponsored Yamaha's. Nate and Xavier both got an excellent start with Xavier latching on to the battle for the podium straight away. Unfortunately, on lap two Xavier was taken out by another rider while battling for 4th. Nate Minster was able to avoid the drama and run his quickest laps of the weekend to finish in 6th position. This was Nate's best finish with the N2 team and represents significant improvement by both Minster and the BobbleheadMoto sponsored team.
Nate Minster – "We had a great weekend at Barber Motorsports Park. We achieved two solid results and made great progress with the bike and team" said Minster. "Shiloh and Emerson from BobbleheadMoto have done an amazing job and I can't thank everybody on the N2 Racing Team for their support."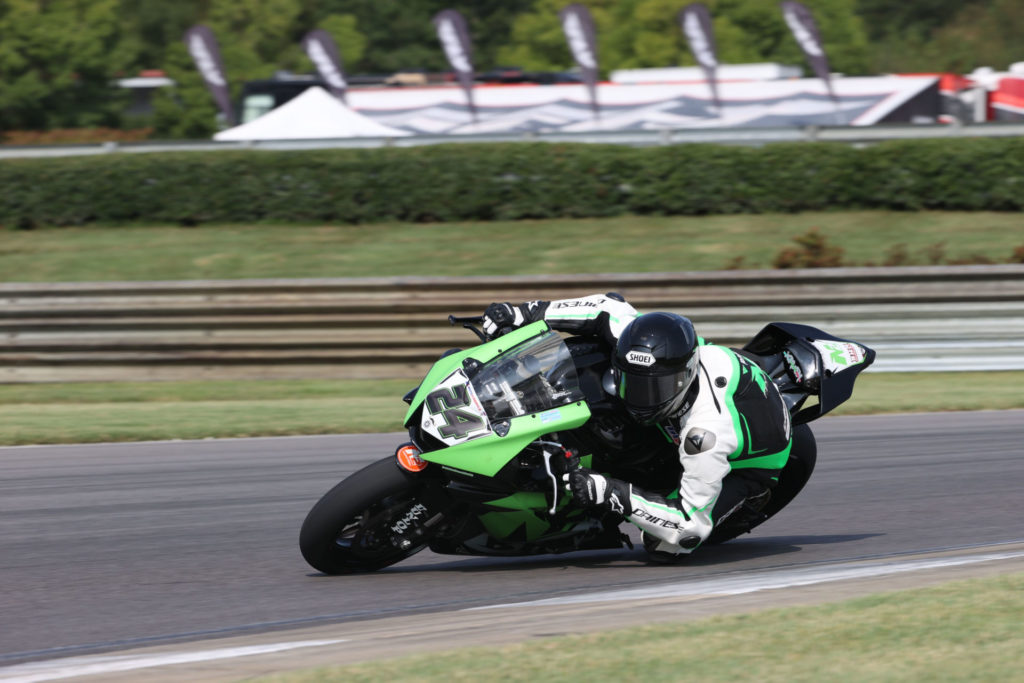 Xavier Zayat – "Our results don't show our speed or potential this weekend. The Motorex sponsored Yamaha R6 is fantastic and we are improving in speed every weekend" said Xavier. "We had to start at the back of the grid in Race 1 and still got a decent finish. We got taken out in Race 2 and we truly believe we could have been in the fight for the podium. I would want to thank all the sponsors for their support, and I cannot wait to get to Indianapolis in a few weeks."
Shiloh Salopek (Crew Chief) – "Xavier had a tough weekend. He had speed to run up front, but had issues in both races, none his fault. This prevented him from achieving the result he was capable of" said Shiloh. "Nate on the other hand had a great weekend with two solid results and fantastic progress in terms of riding and setup. We are looking forward to Indy in a few weeks, as I think the track will suit both riders strengths well."
About N2 Track Days:
N2 provides a structured riding environment for sport-bike riders of all levels promoting motorcycle safety through instruction on a closed course racetrack. Our instructors and coaching staff are comprised of club-racers, pro racers, and experienced track day riders who are articulate and passionate about all aspects of this sport. N2 strives to provide an enjoyable riding experience in an environment where members can hone their skills and inspire confidence in their riding ability. Riding with N2 means you and your sportbike gain access to a structured environment without the hazards, limitations, distractions and obstacles that you'll find on the street.
N2 Track Days is proudly sponsored by:
Yamaha Motor Corporation USA,  AGV / Dainese, Armour Bodies, Chicken Hawk Racing, Impact SafeT Armor, Pirelli Moto Tires, Renthal, Trackside Tires, Woodcraft, Ohlins, Motorex, SBS Brakes, BobbleHeadMoto and Yamaha Champions Riding School.
More, from a press release issued by Travis Wyman Racing:
Travis Wyman endures more mechanical troubles, scores more top-five, top-10 finishes at MotoAmerica Superbikes at Alabama
BMW rider remains fourth in Stock 1000 points standings, second in Superbike Cup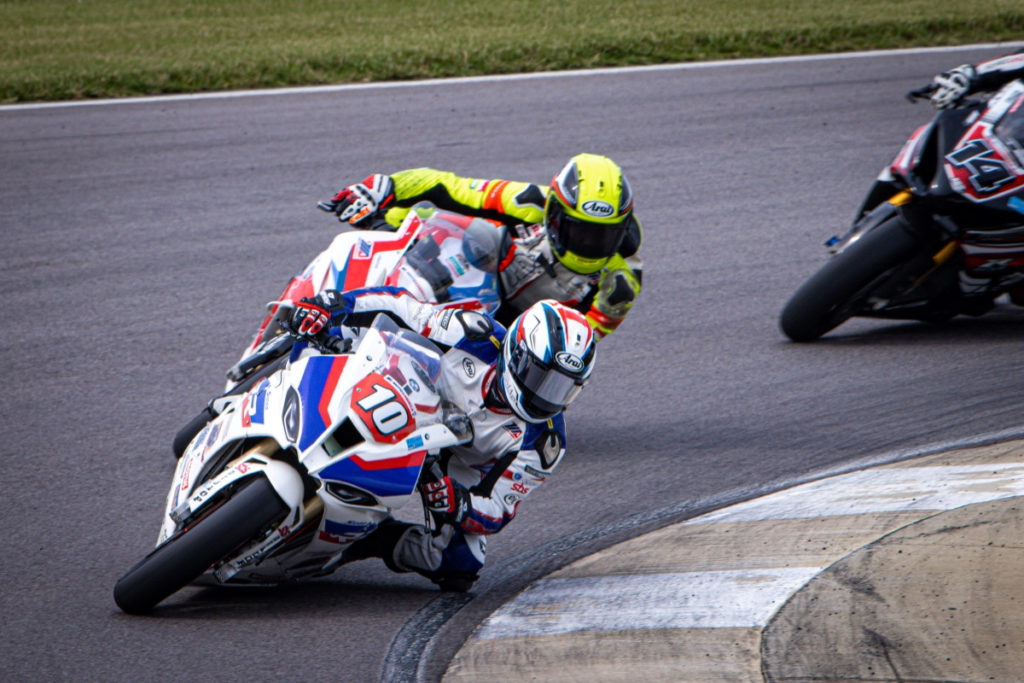 BIRMINGHAM, Ala. — The Travis Wyman Racing team worked until the early hours of Friday morning to get its BMW S 1000 RR ready to race at the Sept. 18-20 MotoAmerica Superbikes at Alabama event, and rider Travis Wyman rewarded the team with positive results even while enduring more mechanical gremlins.
Though the tight, twisty 2.38-mile Barber Motorsports Park track had proven to be a set-up challenge to the team in past years, Wyman put in his best-ever qualifying performance at Barber on Friday. He also scored his sixth top-five finish of 2020 in Stock 1000, as well as his sixth and seventh top 10s in Superbike this year despite clutch slippage problems on Saturday and Sunday. Wyman's results allowed him to hold onto second place in the Superbike Cup standings and fourth place in the Stock 1000 Class championship points.
Though the team had hoped to complete repairs to its bike's original engine and transmission before shoving off for Birmingham, additional parts were needed that the team could not obtain until late Thursday afternoon. Steve Weir, crew chief, and Alex Torres, team mechanic, were up until about 3 a.m. Friday completing the repairs and swapping the engine into the team's 2020 BMW S 1000 RR. The results paid off on Friday, as Wyman finished Stock 1000 qualifying in second place.
On Saturday, Wyman began experiencing clutch slipping issues early in the Stock 1000 race, which curtailed his ability to get good drive out of Barber's 17 turns. Despite a mediocre start, Wyman was able to salvage a fifth-place finish. Later on Saturday, Wyman was forced to started from the back of the Superbike grid, as the team did not get the bike out on track on time due to its making minor repairs to the clutch system. Though still down on drive out of corners, Wyman stormed through the back of the field, working his way up to ninth place in seven laps. Wyman spent the rest of the race battling for ninth place and missed out of finishing ninth by 0.003 seconds.
On Sunday, the team's BMW S 1000 RR had more clutch issues, which caused Wyman to get a poor start in the Stock 1000 race, as well as have trouble getting off the line in that race's restart. Wyman finished the re-started race in sixth place but ended the day on a high note when he finished ninth in the Sunday Superbike race.
The team has a two-week break before the penultimate round of the 2020 MotoAmerica season, which takes place Oct. 9-11 at the famed Indianapolis Motor Speedway in Indianapolis, Ind. The team hopes to have its S 1000 RR back to top form for the Brickyard's road course, a track Wyman has raced on several times.
Travis Wyman / No. 10
"I can't thank my team enough for their tireless work that made this weekend happen for us. Steve and Alex were on their A-game from the time we rolled into Birmingham, and I wouldn't have been on track at all this weekend if it wasn't for their efforts on Thursday. Barber had not been a good track for us in the past, so getting second place in qualifying I think really shows what our BMW is capable of. I've never felt this comfortable on a motorcycle at this track as I did this weekend, and our results here give us a lot of confidence for next year. In the last two weekends, we've found great set-ups at tracks that we used to struggle at."
More, from a press release issued by Quarterley Racing On Track Development:
Double podium repeat for Gloddy at Barber Motorsports Park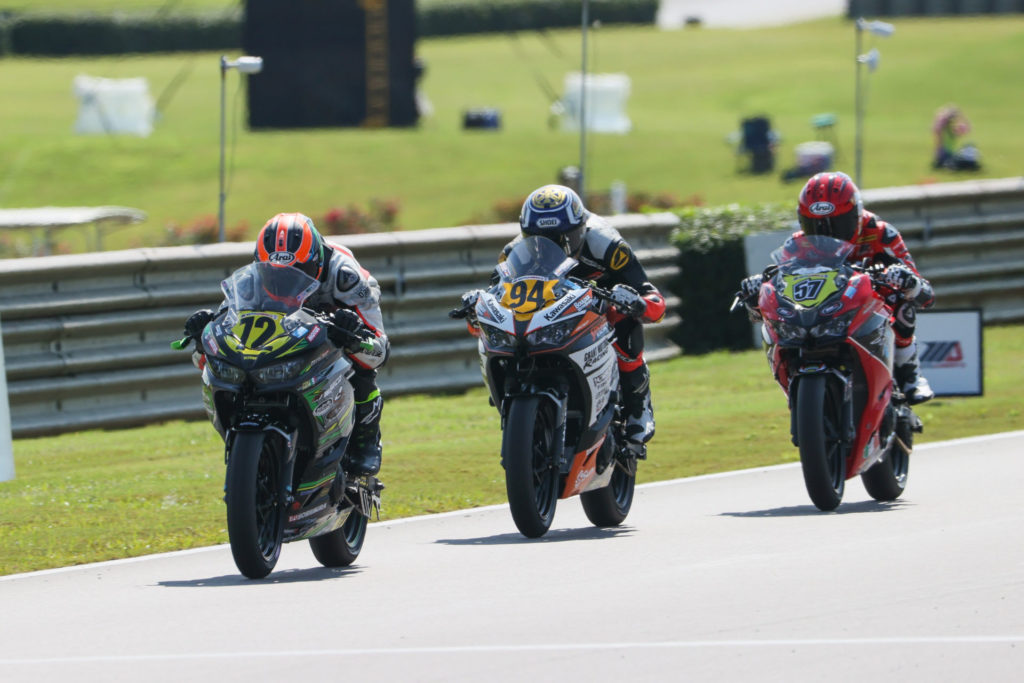 Ben Gloddy:
"I was really excited coming into the weekend at Barber. It is my favorite track in the series and the last round at Jersey had me feeling good about how I could place this weekend. Friday morning practice was going great until I clipped the curb in 14 which resulted in me crashing. I tweaked my wrist a little but nothing that was going to keep me off the track. I pulled into hot pit and Dale, Alex and Keith were able to get my bike fixed up and ready so that I could get in a couple more practice laps. I can't thank Quarterley Racing and the guys enough for working hard and quickly to get me back out."
In race one, Gloddy had a decent start and was able to quickly latch onto two front runners. The battle for second and third continued the entire race with multiple position changes, it was anyone's race. With less than two laps to go, one of the riders went down and the battle for second and third intensified. Gloddy was able to make a couple strong drives leading the final lap, but in the end, he was caught by a draft move and finished in third by .24 seconds.
"Obviously coming into the weekend, I wanted to get back on the podium, but my goal was to really push myself and stay with the leaders. I was able to do that so I was pretty happy about that, but getting drafted at the line again in race one had me a little frustrated."
Race two also proved to be a nail biter, where once again Gloddy was able to get a good start and not only run with the front runners but lead much of the first lap. With the pack on his tail, riders were able to draft and double draft to catch Gloddy entering turn one on lap two. The fight for the podium continued the entire race, again with multiple position changes. With less than a lap to go and a three-rider battle for third getting intense, a red flag came out ending the race. With the final podium position up for grabs between Gloddy and two other riders, Gloddy came out on top with another third-place finish.
Gloddy closes out round seven at Barber Motorsports Park in fourth place in the championship points standings. 20 points behind third and 29 points behind second.
For Sponsorship Opportunities please contact:
Dale Quarterley – [email protected] Phone: 413-218-6464
Rider Connection:
Ben Gloddy – [email protected]
bengloddyracing.com
Some of Ben's personal sponsors include: The Big S, SDM298 Racing, D'Andrea Foods, Penguin Racing School, Moto-Pizza, Woodcraft Technologies, First Trax Sports Shop, American Supercamp, Roche Realty Group, Stump Racing Kids, Arai Helmets, Freedom Cycle NH, C. Allaert, Tink's Customs, Looney Bin, CFO Speed Shop, JC Tinting, REB Graphics, Innovative Motorsports, A&B Lock, Finn's Garage, MotoLiberty, Inter-tech, Fast Bike Industries, Yoshimura and Fast By Ferracci