PETERSEN, KELLY, FONG, AND LANDERS SHINE FOR SUZUKI IN ALABAMA
Brea, CA (September 21, 2020) – Suzuki Motor of America, Inc., and Team Hammer racked up multiple wins and numerous podium finishes in yet another spectacular MotoAmerica AMA/FIM North American Road Racing weekend at Barber Motorsports Park. M4 ECSTAR Suzuki's Sean Dylan Kelly put together another standout showing, racking up his 12th and 13th MotoAmerica Supersport podium result in succession on the weekend while adding to his season's highlight film with more eye-opening outbraking maneuvers.
Twice the young Floridan battled hard for the lead aboard his M4 ECSTAR Suzuki GSX-R600 en route to runner-up finishes.
Kelly said, "We did what we could today, and I'm really happy with the progress we made all weekend long. We started off at a good spot and built from there. I'm satisfied with the work we did and we all gave our absolute best. This is the fastest I've ever been here and our pace was good the whole race.
"We need to keep on working and keep on fighting. The championship is still open. There are still points on the line and there are still four races to go. A huge thank you to my M4 ECSTAR Suzuki crew for all their hard work."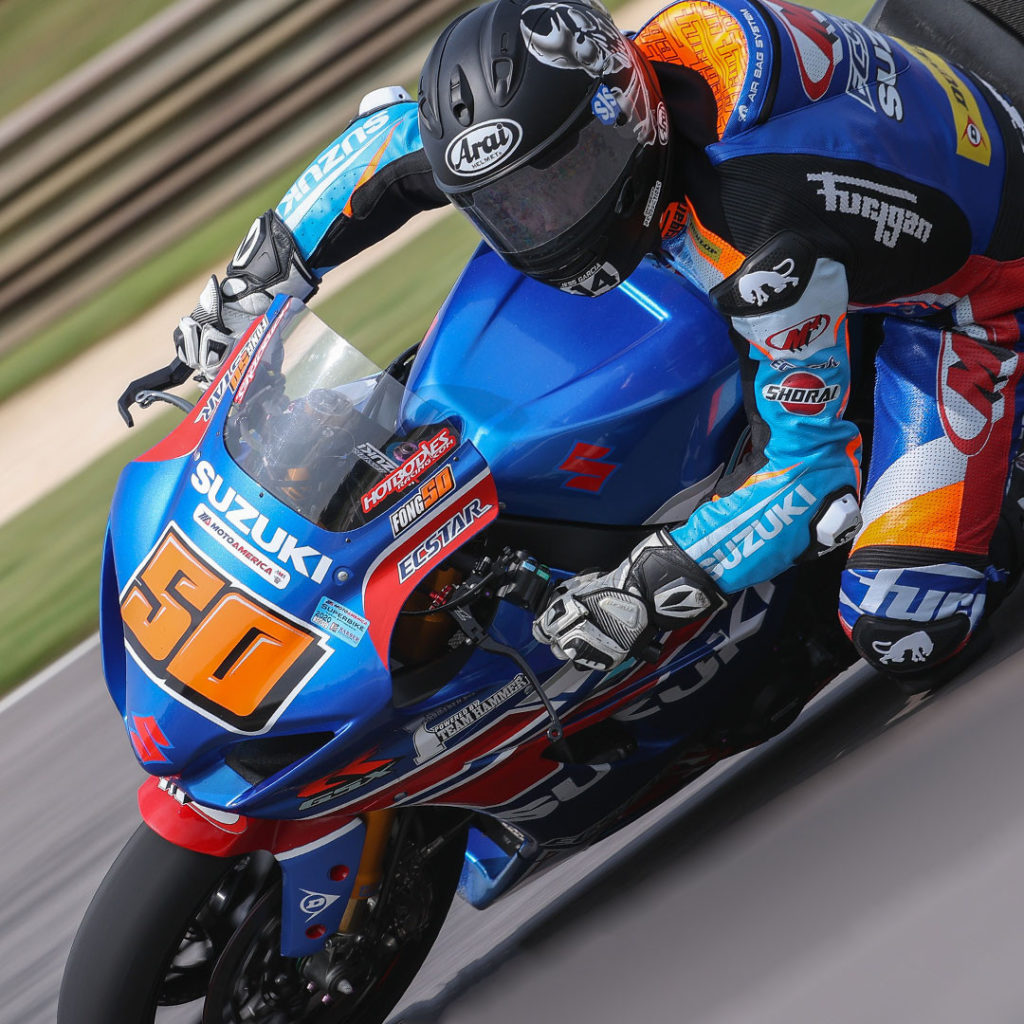 M4 ECSTAR Suzuki Superbike teammates Bobby Fong and Toni Elias combined for another strong outing in premier-class action. 2017 MotoAmerica Superbike champ Elias successfully built upon his first podium of '20 at the prior round by pulling in a pair of fourth-place finishes in Alabama.
Fong, meanwhile, rebounded from a sixth-place run on Saturday with a podium performance on Sunday. The Californian made a late-race push to close to within one second a runner-up result on his way to third.
"It was a combination of everything," Fong said of his overnight improvement. "My M4 ECSTAR Suzuki GSX-R1000 certainly runs strong at the end of a race. We're going to go into Indianapolis with a little better of a game plan and hopefully be there to take advantage of our late speed in a race for the win. We're going to give it our all next round."
The round proved to be a historic one for Suzuki's official team in MotoAmerica competition. When he crossed the line to claim the checkered flag in Sunday's Stock 1000 race aboard his Team Hammer-built GSX-R1000, Altus Motorsports Suzuki's Cam Petersen registered the 100th all-time AMA Pro/MotoAmerica National race victory for racebikes fielded or built by Team Hammer.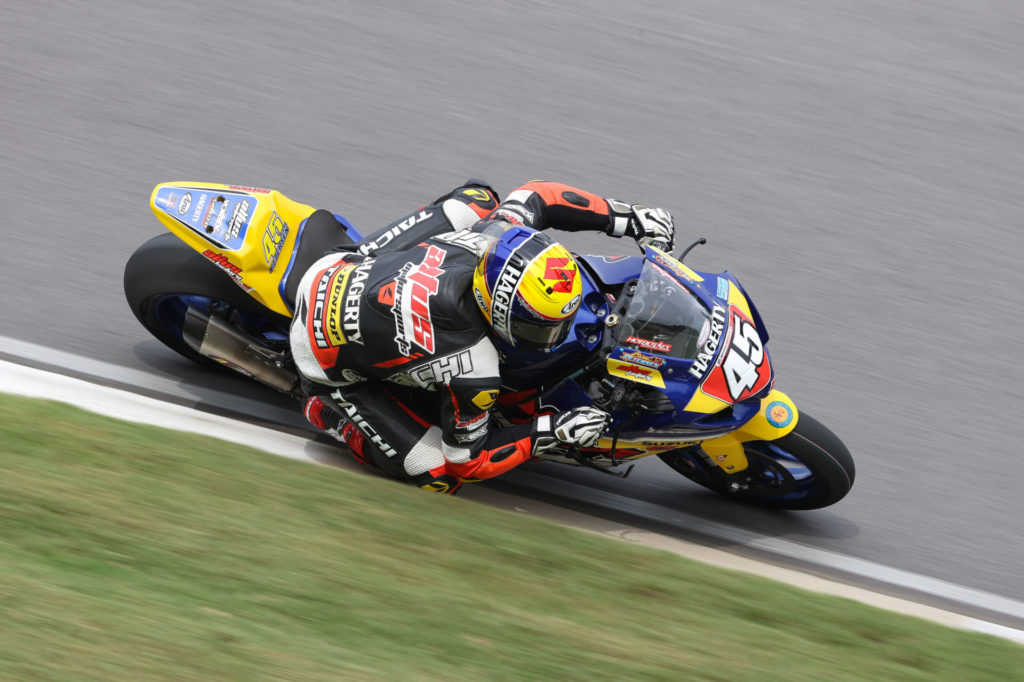 South African Petersen did so in an appropriately dominant fashion, storming away with his sixth consecutive class victory. He later admitted that it wasn't quite as easy as it looked. "Two laps in a row, I completely washed the front in Turn 5, but luckily I saved it on my elbow.
"It was another fun race and another great day. I can't thank the Altus Motorsports team enough. They've given me such a machine and it seems like every weekend we keep getting better and better. My whole family is here other than my mom, who is back home watching. This one is pretty sweet."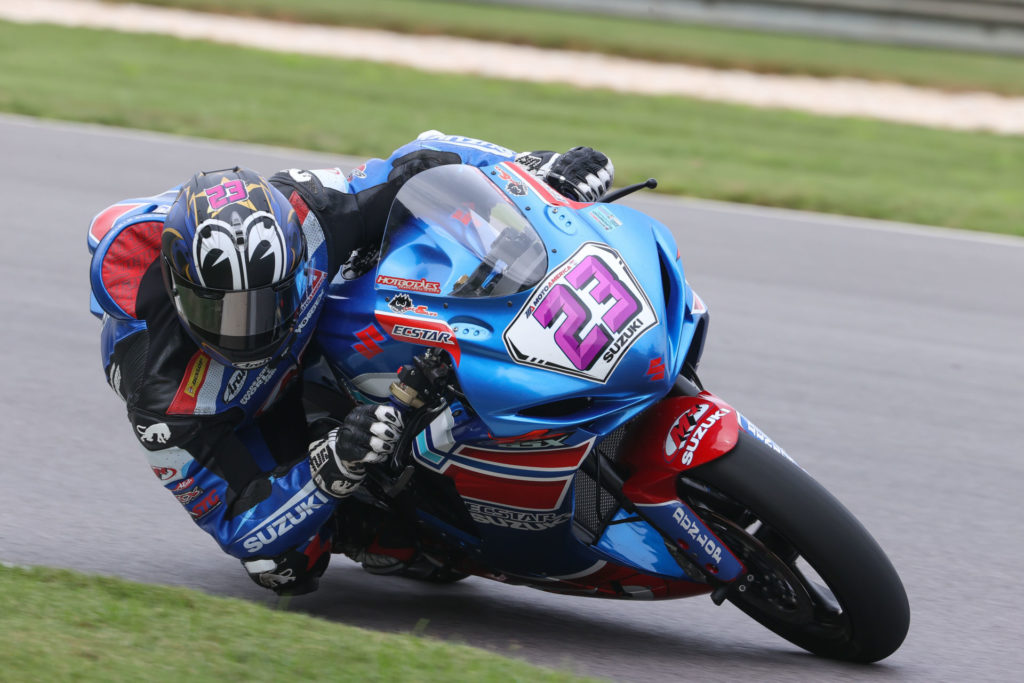 M4 ECSTAR Suzuki's Lucas Silva kept his season's long run of Supersport top tens alive, despite fate attempting to intervene. Silva backed up his Saturday 10th with an eighth on Sunday — an eighth that only came after being run off track in a multi-rider incident that dropped him down to 15th position.
Silva spent the remainder of his race slashing his way up through the field, not making his final pass for position until the very final lap.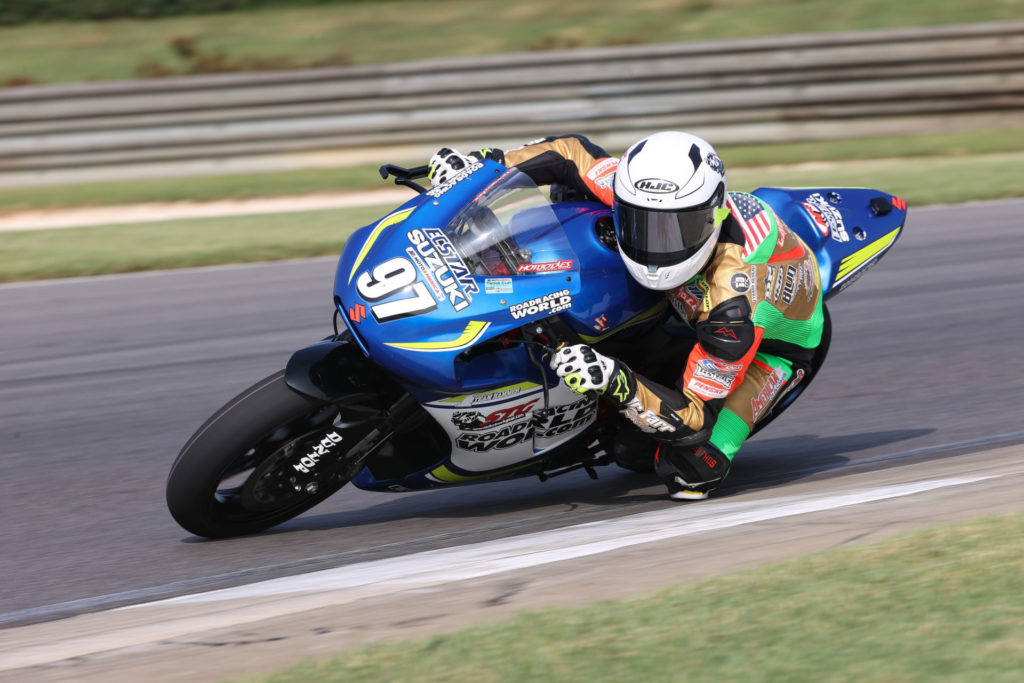 Finally, SportbikeTrackGear.com Suzuki's Rocco Landers — who gave Team Hammer its 99th win on Saturday — rounded out the weekend by earning its 101st on Sunday.
Landers continued his crushing Twins Cup form all weekend long. He escaped to a pair of lopsided victories to up his victory streak aboard his Suzuki SV650 to six.
He said, "I just tried to get as good of a start as possible and open up a big gap on the first lap. I'm so stoked. I've got to give the biggest shout out to SportbikeTrackGear.com and to John Ulrich and Chris Ulrich with Roadracingworld.com. They've helped me out so much this year, and it's an honor to work with them."
The 2020 MotoAmerica season will resume for its penultimate round at Indianapolis Motor Speedway on October 9-11.
More, from a press release issued by Jason Aguilar Racing:
Third Supersport podium of the season for Jason Aguilar at Barber Motorsports Park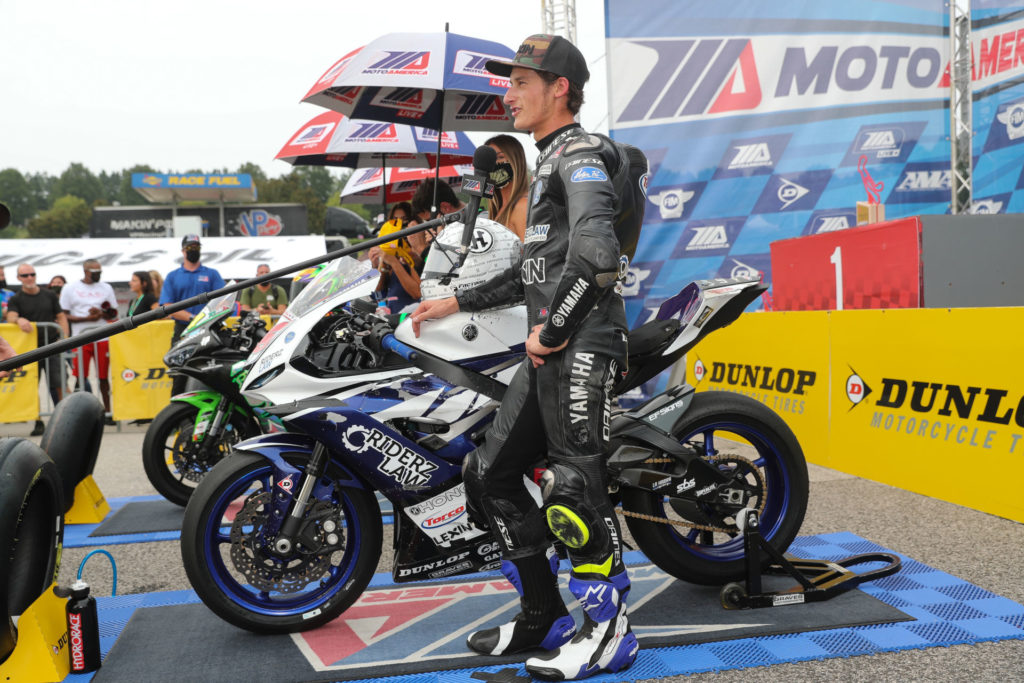 Jason Aguilar put the disappointment of the previous round of the 2020 MotoAmerica Supersport series behind him, bouncing back at Barber Motorsports Park in Birmingham, Alabama with a superb third and fourth place finish on Saturday and Sunday.
Front running from the off, Aguilar qualified a solid fourth, before racing to his third podium finish of the season in the weekend's opening encounter. He rounded off the event, that saw him return to form, with a hard fought fourth yesterday to consolidate his P4 in the overall championship standings with just two rounds, Indianapolis, and Laguna Seca, remaining.
Jason Aguilar: "The opening Qualifying session went well. I was sitting P1/P2 for most of it, but I just got pipped by Richie and Sean at the end, so I ended third. We were making good progress every time we went out, not really changing much on the bike and I was feeling really comfortable. The bike has been great all year, it's been a lack of seat time, so this weekend the plan was to let me ride and do my thing. It seemed to work. I felt that we had pace and I was looking forward to final qualifying and the two races. Qualifying 2 didn't really go my way. I didn't execute our planned strategy correctly and it definitely hurt us. Fortunately, our time from Q1 stood to put me 4th but we lost our front row start which I was really pissed about. I just worked to channel that energy into the race later in the day though. Race 1 went pretty well for us. I got off to a good start but made a mistake in Turn 2 and let another rider get around me. I made my way back around him at the end of the first lap and had my sights set on Brandon (Paasch). I was able to pass him in the last corner on lap 6 and slowly pulled a gap on him. I was pushing really hard to see if I could catch Sean (Dylan Kelly) but on lap 13 I really felt my rear tyre starting to go off. It was getting really sketchy out there, but I saw I had a good gap to Brandon behind me, so I eased the pace and brought it home in third. Race 2 was disappointing to say the least. We just didn't have some things go our way, but that's racing. I got a great start but wasn't aggressive enough at the start and got shuffled back early on. Once I made my way into 4th it was too late to catch anyone for the podium. Definitely not how I wanted race 2 but we just gotta keep on working and we'll get there. I'm happy to be up on podium again but I want more. See you all at Indianapolis."
More, from a press release issued by Kyle Wyman Racing:
Wyman scores top-ten finishes in trying weekend at Barber Motorsports Park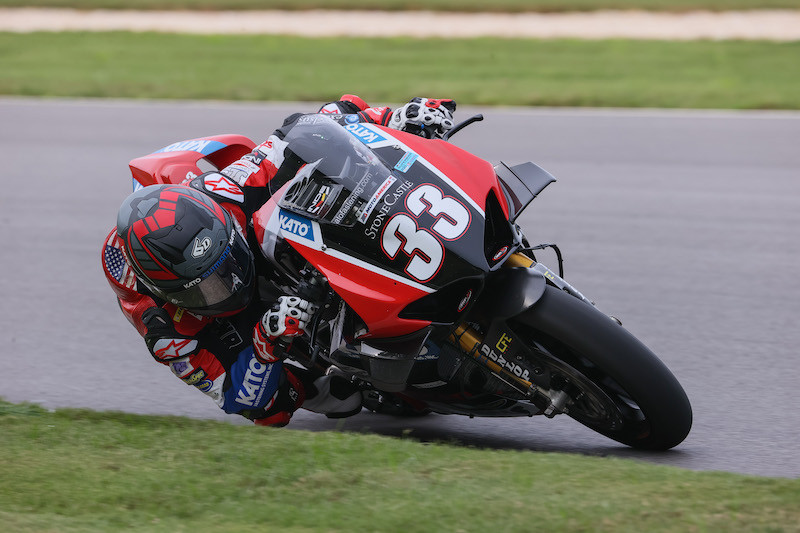 LEEDS, Ala. (Sept. 21) — Kyle Wyman came home with two top-ten finishes this past weekend at Barber Motorsports Park in a trying weekend, posting 7th and 10th places in races one and two, respectively. The KATO Fastening/KWR Ducati Team maintained 6th in series standings with points scoring finishes in both Superbike races.
The weekend started off strong with the KWR team adapting to a new bike setup during a welcomed full dry day on the Alabama circuit. Wyman posted the 6th fastest time overall on Friday with a 1:25.121, locking him solidly in place for Superpole on Saturday morning, and only .431 seconds off of 3rd place.
"It's been good, we've made some steady progress today," Wyman said after Friday's action. "It's really tight to third place, so we're right there. The bike's coming along nicely, but what we're after is to settle the back down a little, just to make it a little more compliant. And I'm working on my consistency. We're close to being in it. It's not baking hot, so it's nicer than riding here in July."
Wyman continued his form for 6th place in Superpole qualifying, with a 1:24.572 and his fastest lap to date around the Barber circuit, earning a second-row start for both races Saturday and Sunday.
Race one was a battle of tire conservation, and one that Wyman lost. With a strong start and running in 5th spot early on, the Ducati rider was looking to be in good position until a drastic drop in rear grip caused him to fall off the pace and settle for a 7th place result.
"Race one in the opening laps the bike was feeling better than it had most of the weekend," Wyman said. "I felt like we were going to have the pace to fight with some of the boys and on lap 8 or 9 the rear tire just completely gave up on me. The bike became so hard to ride, and I dropped from doing 25.0's to high 26's in the lap times, and I felt like I was still pushing just as hard. I just had no grip, we really missed the mark."
With plenty of data and feedback to analyze from race one, the KATO Fastening/KWR team went back to work and made changes to the rear shock to make progress on the Panigale V4 R with tire conservation. Wyman made a forward step in Sunday's morning warmup and then got prepared for another fight in race two.
Wyman got another good start in race two and fought up to 5th place once again. The rear end of the bike was working better than on Saturday, but developed a chatter issue in the front end that inhibited Wyman from maximizing the potential of the bike. A weekend best lap time (on a non-Superpole tire) came on lap 3, a 1:24.682, which was nearly as fast as he qualified on Saturday.
On lap 15, Wyman overcooked the corner entry into turn 5, also known as "Charlottes Web," ran off the track, and could not stop the bike in time for the wall, and nosed into the foam barrier at slow speed, but enough to crash the bike. He was able to remount the bike as it was only mildly damaged, and got back on the race track in 14th position. With 5 laps remaining, Wyman was able to fight back to 10th with a last lap pass for another top 10. Lap 15 was a 2:04.747, losing only 40 seconds with a run-off and crash.
"We were a little bit quicker in the beginning of the race than yesterday and I felt like we were in a good spot, a bit faster than yesterday in the first laps, but then we ran into some chatter issues," Wyman said after race two. "We were running fifth but I ended up running off the track at the Charlotte's Web hairpin. I actually crashed. I got in the wall as I couldn't slow it down enough in the gravel, so I ended up doing the rest of the race with a busted windscreen. But I came back on in 14th and worked back up to 10th, which I was happy about.
"We made some headway with the rear as that's been a problem for us, but it created a problem with the front. We just need to be a little closer to the front. More than anything, we need to test. At this point, we're testing during the races, so we need to get some private laps down to throw some different settings at the bike and see what works."
The series heads to the Racing Capital of the World, Indianapolis Motor Speedway, October 9-11, 2020 for the 8th round of the MotoAmerica Championship.
"Indianapolis should be a great track for our bike. It's got some long straights so we'll be able to really let it stretch its legs, so I'm really looking forward to it."
Visit www.kylewyman.com for more news and updates.
More, from a press release issued by Altus Motorsports:
MotoAmerica: Round 6 Results from Barber Motorsports Park for the Altus Motorsports Tucker Hagerty Rangeline Team
(Birmingham, AL)  Round 7 at Barber Motorsports Park came only a week after the previous event. All of the Altus riders have experience at the Alabama track and most of them rank it among their favorites. With that enthusiasm, and coming off a very successful weekend in New Jersey, the Altus crew showed up in Birmingham with high hopes.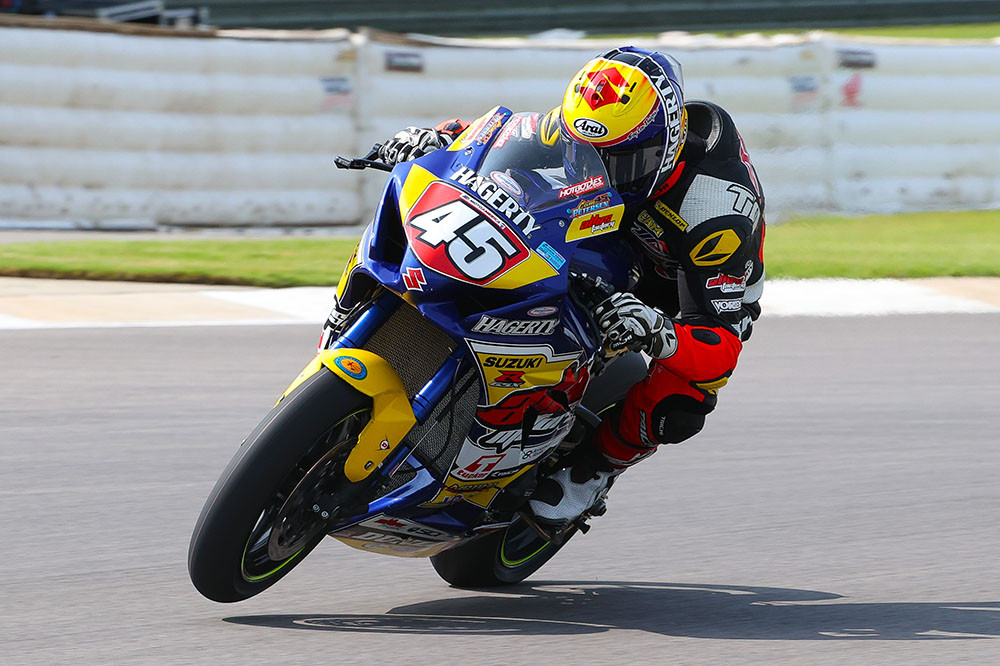 Honos Superbike & Stock 1000: At Round 7 in Alabama, Cameron Petersen demonstrated why Barber Motorsports Park is one of his favorite tracks. Every race weekend he is getting more comfortable with the Altus Motorsports Suzuki GSX-R 1000 and it shows. He is dominating the Stock 1000 class. Petersen topped the charts in every session, broke the lap record for the class and then broke it again.
He started both Stock 1000 races from pole and never looked back. Cam won the Saturday race almost 7 seconds ahead of his nearest competitor. The Sunday race was shortened due to a red flag, but he still managed to take the checker with a gap of more than 5 seconds.
The Superbike Class is where Petersen was really impressive this weekend. Starting from 10th on the grid, he pulled off an amazing 5th place finish in Race 1. An incredible launch and amazing pace for the first few laps in Race 2 had Cameron battling for a podium position. Unfortunately, while setting up a pass to move into 3rd on lap 7, he lost the front trying to avoid an impact with another rider and was unable to finish the race.
"I love this place and I knew that the nature of the track would give me a great opportunity to take it to some of the Superbikes," said Cameron Petersen. "I am thrilled with the Stock 1000 wins and the lap record but leaving here with a Superbike podium would have been fantastic."
Supersport 600: Kevin Olmedo spent the Friday and Saturday practice and qualifying sessions learning how to navigate the very technical Barber Motorsports track on his 600. Friday he suffered a high side but by the end of the second qualifier, he was the fifth fastest middleweight bike.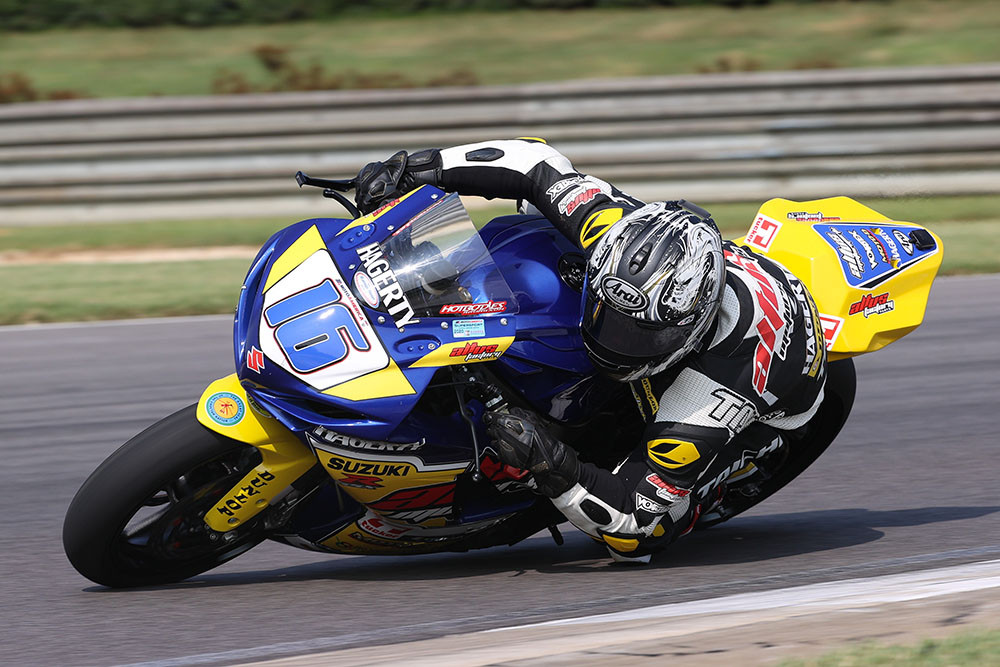 In Race 1, Olmedo spent the entire race fighting for 5th. A battle he eventually won. Sunday morning, he awoke with severe pain in his back. In spite of the injury, Kevin went faster and was fighting for 4th place in the second race. He matched his Saturday result by bringing his Suzuki GSX-R600 across the line in 5th.
A huge crash on Friday did not slow Jaret Nassaney down. He qualified an impressive eighth fastest and, in both races, ran as high as 6th place. Jaret made some big improvements and was battling for 6th in Race 1. Unfortunately, he lost the rear and crashed. On Sunday, while in a battle for 6th, tough luck struck again; the bike began to cut out and lose power. As a result, he wasn't able to maintain the same pace and had to bring the bike home in the best position possible – 11th.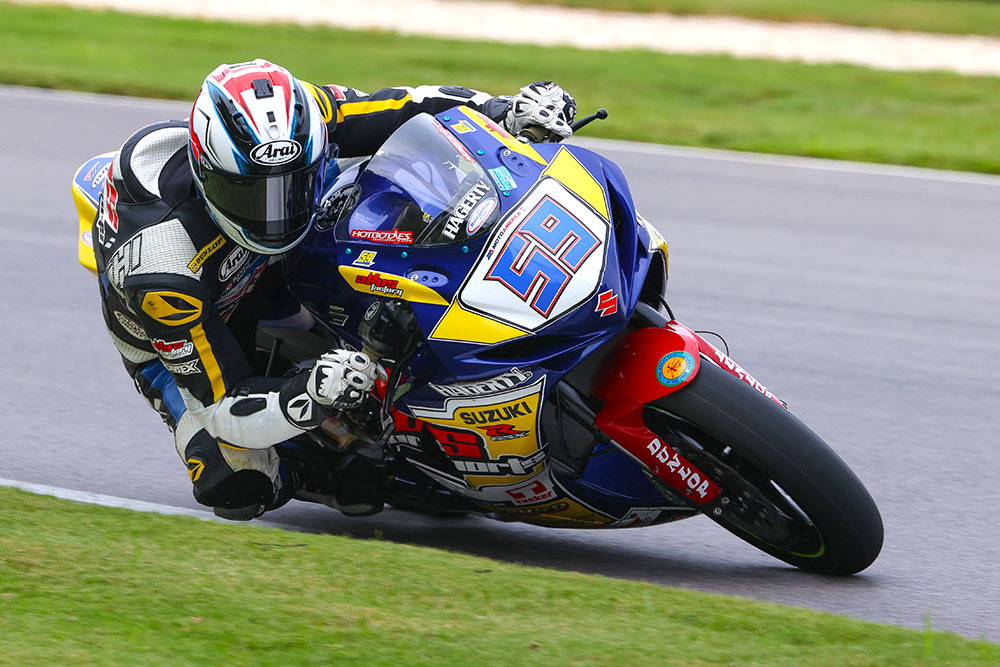 "I really feel like I made a huge step forward this weekend. The bike feels great. I was really comfortable and was able to be competitive at a higher level," said Jaret Nassaney. "Unfortunately, we had a mechanical and I wasn't able to see it through to the end. I'm looking forward to getting to Indy to see if I can pick up where we left off."
Liqui Moly Junior Cup: Altus Motorsports' Ninja 400 rider, Daniel Kinard, crashed on the out lap of the Saturday Junior Cup race. The injuries he suffered sidelined him for the remainder of the weekend. His return for Round 8 at Indianapolis is doubtful. The team is hopeful he will be back before the end of the season.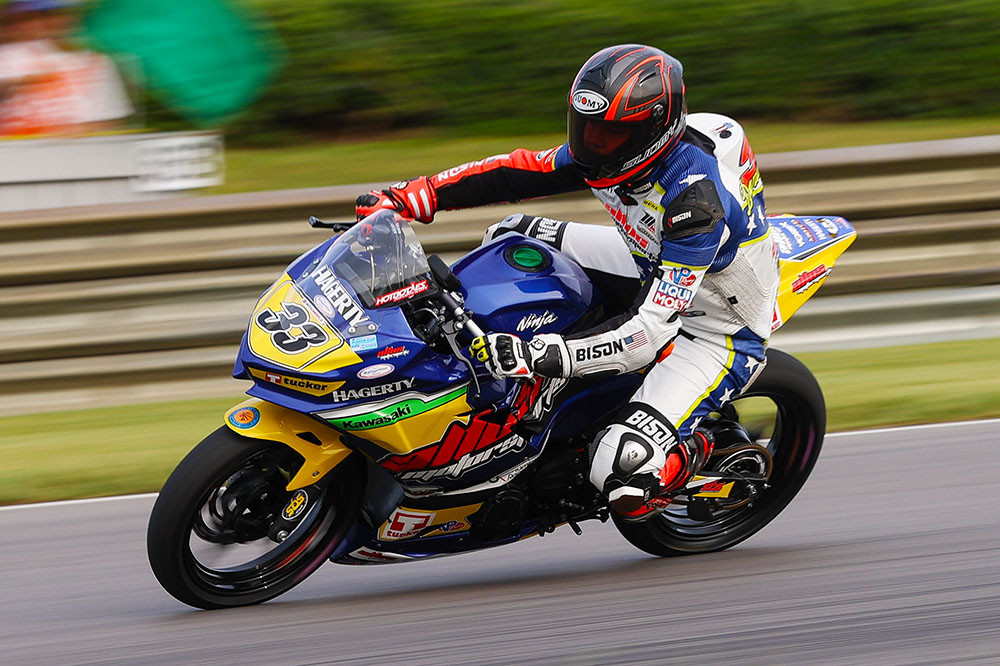 "I am extremely proud of our entire team this weekend. Our riders rode well and our mechanics worked their butts off. I also want a send a huge 'thank you' to Team Hammer. They have always supported us but this weekend they went above and beyond. They have their own bikes to handle but they made time to help us identify issues and then they sourced some pretty hard to find parts for our GSX-R600s and GSX-R1000. We literally could not have done it without their assistance," said Crew Chief, Eric Gray.