Shortly after Danilo Petrucci crashed at the end of MotoAmerica Medallia Superbike Race Two May 22 at VIRginia International Raceway, he posted on his social media feed about his experience and his displeasure with how MotoAmerica handled the situation.
Journalists from Europe, who were not at the track and some who clearly didn't even watch a video replay of the incident, took Petrucci's account as absolute fact and without getting information from any other sources wrote articles that painted MotoAmerica's safety standards and the series as a whole in a negative light.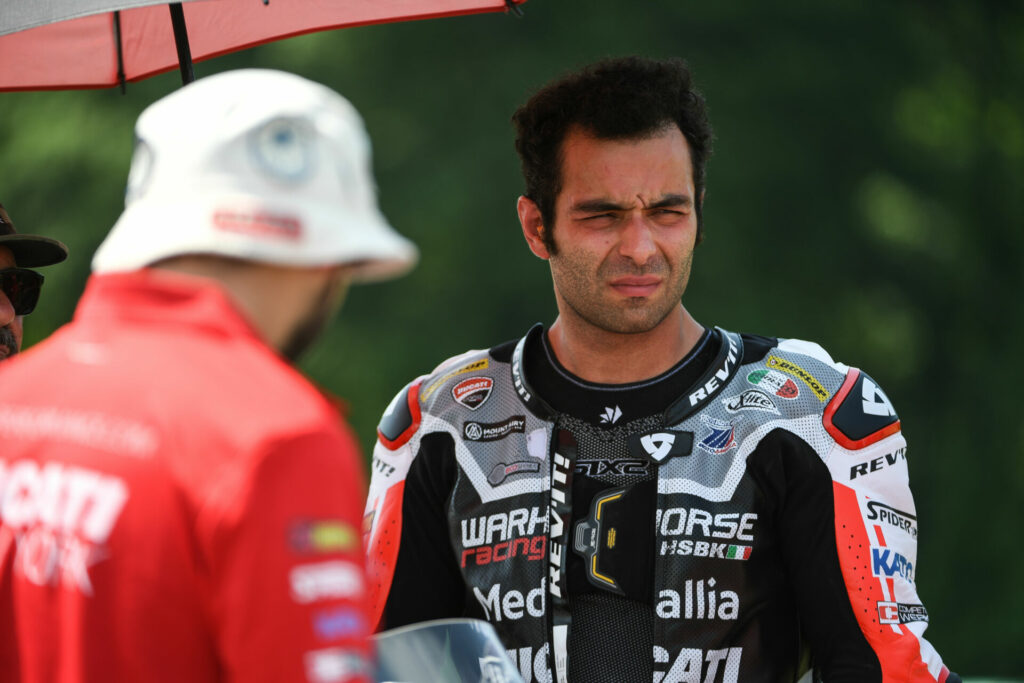 Unfortunately, Petrucci's account of events is not exactly accurate and could arguably be called exaggerated.
Petrucci claimed he "hit three sponsor signs with my body," when in fact he slid through one sponsor sign made of lightweight material because it is intended to be placed near the track without being a hazard to riders.
Petrucci claimed he was a lying down for "over two minutes with no assistance," but video from the live race broadcast filmed him walking around and not showing any signs of distress 56 seconds after he took the checkered flag. MotoAmerica officials said they saw Petrucci with direct line of sight sitting up within 30 seconds of him crossing the finish line.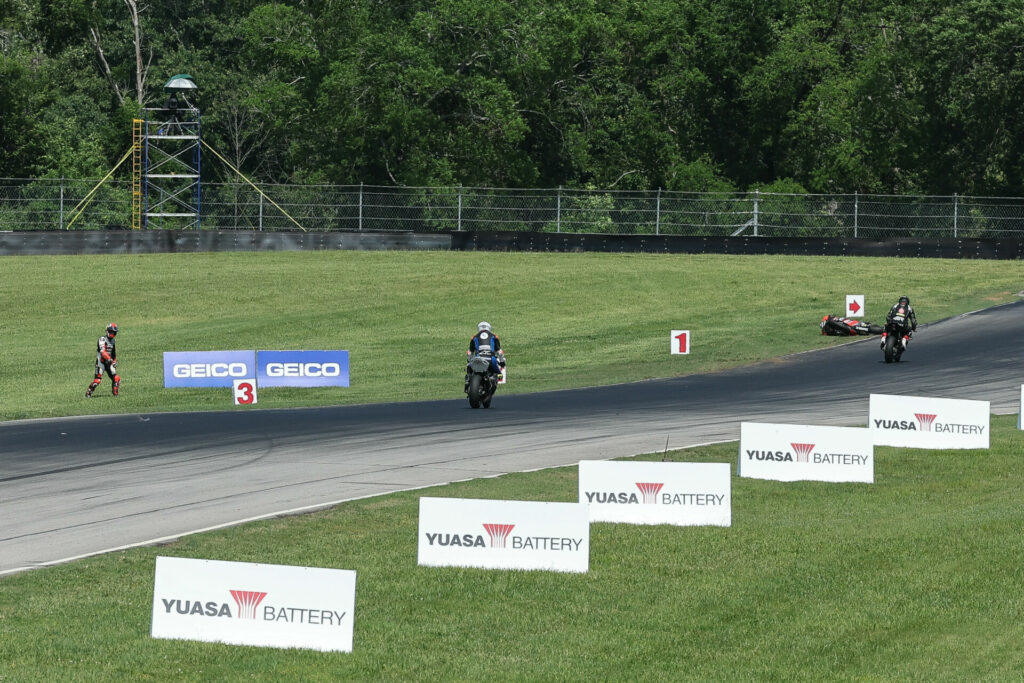 Within three minutes of crashing Petrucci was in the medical center at VIR receiving care from a well-staffed and trauma-trained medical team, and afterward Petrucci's injuries did not even warrant him being transported to a hospital in an ambulance. Instead, he flew home to Italy to see doctors there.
But after spending the last 10 years racing in the MotoGP World Championship, where the tracks are staffed by hundreds of cornerworkers; several physicians, nurses, and physical therapists; with medi-vac helicopters always on standby, Petrucci was apparently angry about the level of care he received. And instead of talking about it with officials, the Italian  decided to vent on social media, which led to MotoAmerica being portrayed poorly in the International media and the eyes of fans.
Petrucci has yet to respond to requests from Roadracingworld.com seeking to speak to him, but other MotoAmerica racers, past and present, with International racing experience say they are comfortable with the level of safety at MotoAmerica events and that they take exception to Petrucci's comments before and after VIR.
"I think it's [safety in MotoAmerica] been awesome," said defending MotoAmerica Superbike Champion Jake Gagne, who raced in the Red Bull MotoGP Rookies Cup, the Moto2 World Championship, the British Supersport Championship, and in a full season of the FIM Superbike World Championship. "I don't know exactly what happened in the incident on Sunday. I guess [Petrucci] was upset that nobody was there to care for him right away. They didn't really show it on TV, so I don't really know what happened. But in all of my years in MotoAmerica and after my year in World Superbike, MotoAmerica has really been on it in terms of safety.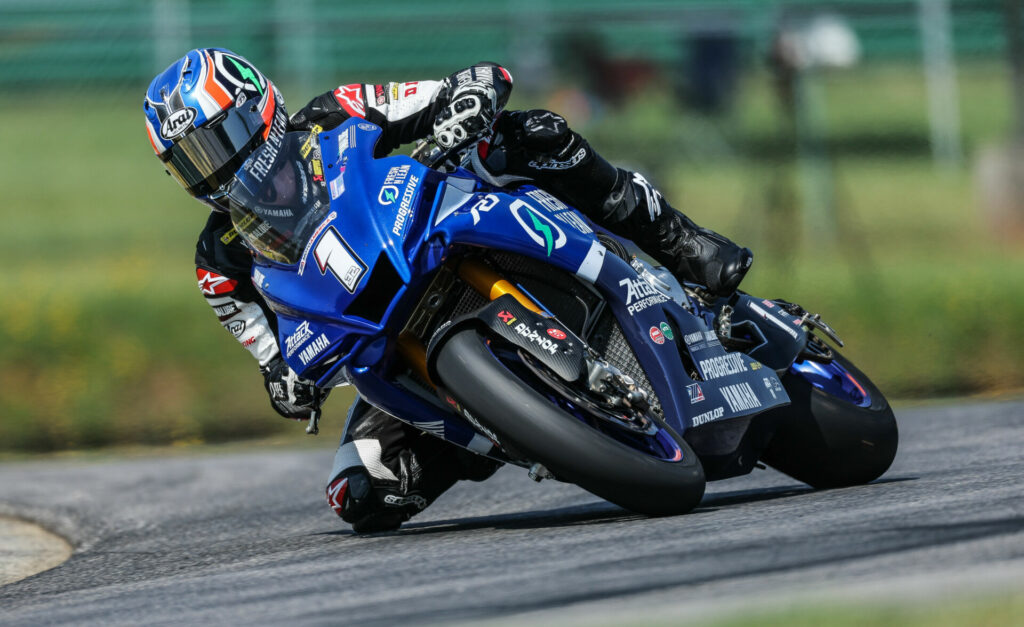 "That's a really weird place to crash. At VIR, there's no wall out there with cornerworkers and paramedics waiting to jump over the wall. I'm not really sure what he's complaining about. When they showed him on camera he was walking away and getting ready to walk across the track. Is he mad that they didn't come pick him up or something?"
Asked about the negative coverage MotoAmerica has received following Petrucci's comments, Gagne said, "That's the unfortunate part. I haven't talked to him since COTA, but all I've heard from him since then is him bagging on everyone at MotoAmerica for different reasons, not just this weekend."
"It's a really difficult situation," said Josh Hayes, who in addition to winning Supersport Race One at VIR this past weekend has won 83 other MotoAmerica/AMA Pro races, four AMA Superbike Championships, and has raced in the FIM MotoGP, Supersport, and Endurance World Championships. "I've been such a fan of Petrucci and I'm really disappointed for him to come here and just be sh*tting on us in the first three races.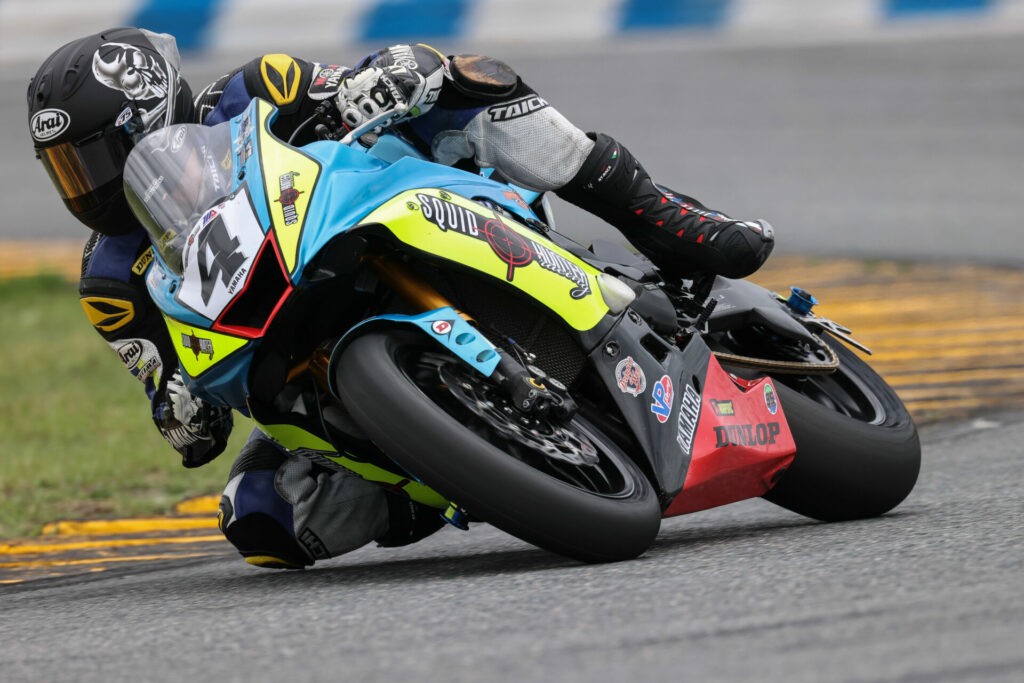 "He doubles at the first one and MotoAmerica's great. He does good at the next one, but it doesn't go entirely the way he wants [and] we're sh*t. He gets to the next track (VIR), he rides good, it doesn't go the way he wants, and we're sh*t again. Who isn't bummed by all of that?
"The racetrack situation isn't a very easy one to answer. I remember watching Neil Hodgson run off at the checkered flag at that spot, him riding it out, and how far he went out there in the grass. And not being able to turn a road bike in the grass, if you put a corner station out there you just might kill somebody.
"The fact is the cornerworkers have to be on the inside of the track. It's the only safe place for them to go. So, no matter what, there were still motorcycles [on] the racetrack in front of the cornerworkers. It's not easy for them to get there. When the last person takes the checkered flag and clears they can get to him as fast as they can run to him. It's just the location and the way the track is laid out.
"So, I understand coming from the speed he was and the time dilation. And he's Italian, so he's dramatic. I do think it's a bit hot-headed and unfair in one way, but I'm understanding of his plight in the same breath.
"I don't know if he's ever raced outside of GP, so I'm not sure he understands the [different] standards. I would imagine there are a few places in BSB and the French Championship and every domestic Championship in this world where you would have similar issues."
"For me I think MotoGP is a very different Championship," said Hector Barbera, who spent 17 seasons racing in the World Championship and also raced in the British Superbike Championship. "It's impossible to compare to the Spanish Championships or the British or to MotoAmerica because [MotoGP] is racing at the most safe tracks around the world. And every year they are working to make the tracks more safe. This is different.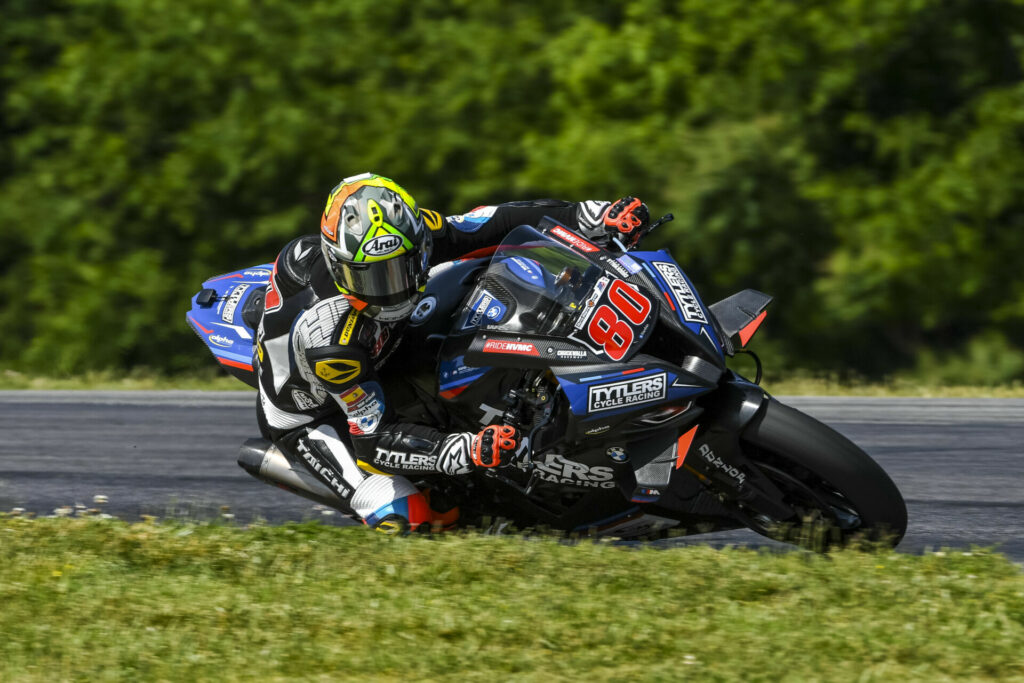 "If I rate the Championships from one to 10, MotoGP is maybe 10 and [MotoAmerica] is about seven. It's not bad. Sure, in some place can you move some bad place in the corners and make it less dangerous. But even in the Spanish Championships the tracks are not only Barcelona and Jerez and Valencia. We also have Albacete. Albacete is more dangerous. We have Almeria, is more dangerous. Monte Blanco is more dangerous.
"In British Superbike it is dangerous. You ride Superbikes with no electronics and many times with wet conditions. The bikes and the tires are similar, but that Championship is hard. The tracks are small tracks and sometimes the bikes fly (laughs).
"For me, I know when I come ride here the tracks are special tracks. Some tracks are bigger and have more safety, and some tracks are small ones and you need to ride with more attention. But this is a Championship that is nice."
"Obviously, safety has gotten a lot better since MotoAmerica's taken over in a lot of different aspects," said Roger Hayden, a former MotoAmerica Superbike race winner and AMA Pro Supersport Champion who has raced in the MotoGP and Superbike World Championships. Hayden currently works for MotoAmerica as a commentator on the MotoAmericaLive+ streaming service. "If you remember back to the way it used to be, one time it was pouring rain in a Superbike race at Road America and we were on slicks. There's no way in the world MotoAmerica would let that happen. They've actually held up races because rain was coming in.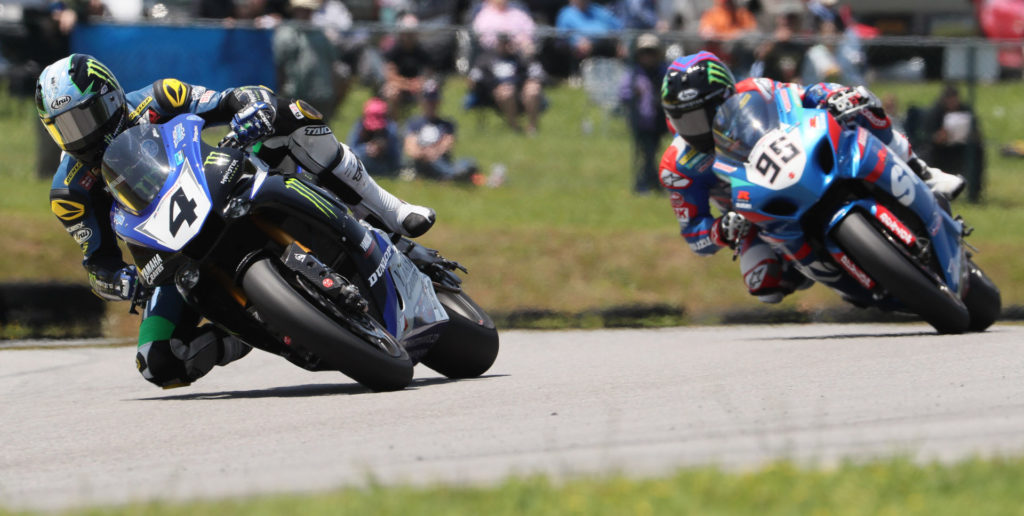 "One thing is we don't have a ton of tracks built for [motorcycle] racing, and I think that is the difference from the European tracks. They are built with motorcycles in mind. Most of the tracks we go to are built for cars. So, either we race there or we don't have a series.
"I'm not saying they're all dangerous either, and there's been plenty of guys who came over from other International series and they didn't complain. The tracks in America are definitely different. They're a little bit smaller and tighter, and it makes it look a little bit worse than it is the first time you go out there. Could some things improve? I'm sure it could, but it improves every year.
"I don't think MotoAmerica ever said they were perfect. They try to improve every year, and they listen. And that's another big difference from MotoAmerica and who ran it before. When you had concerns before there was nobody to go talk to. You couldn't talk to nobody. Now, when you have a problem, even when I was racing, I could go find Wayne [Rainey, MotoAmerica President] or Chuck [Aksland, MotoAmerica COO] or Richard [Varner, MotoAmerica CFO] and they would listen, and you would get an answer. And that's all you can ask for.
"It's come a long way, not only in track safety but now we have a medical team that comes to all the races. We have a series doctor who knows the riders' histories. And I think that's something we've never had before, and it's really big.
"I see a lot of people talking bad about MotoAmerica right now and I wish I could just take them back and have them live through 2013 and 2014. You think it's bad now? You should have raced then when you didn't even know if there would be a series the next year. One year we only had six races. So, it's come a long, long way in a short amount of time."