MotoAmerica Series: Pittsburgh Here We Come!
Round Four Of The Championship Is This Weekend At PittRace

IRVINE, CA (August 6, 2020) – With a new track comes new hope for those trying to stop the Cameron Beaubier runaway freight train that is the 2020 MotoAmerica Superbike Series with Pittsburgh International Race Complex set to host round four of the championship this coming weekend, August 7-9.
Six HONOS Superbike races have been held thus far in 2020 and Beaubier and his Monster Energy Attack Performance Yamaha YZF-R1 have won five of them. And he was leading when he crashed out of the only race he didn't win.
"I really couldn't ask for anything more than how this season has started," Beaubier said. "I made a mistake at Road America 2, but we were able to bounce back from that at Road Atlanta. The team is working well together, and we are on a good roll. I've never been this comfortable on a motorcycle and everything is really gelling. We're looking forward to getting to Pittsburgh and keeping this going. It's a track I like, and the bike will work well there."
With his 43rd career AMA Superbike win on Sunday at Michelin Raceway Road Atlanta, Beaubier now has a 19-point lead on his teammate Jake Gagne, the Californian scoring two second-place finishes over the course of the two races in Georgia. Gagne has been a model of consistency with five podiums in six races.
M4 ECSTAR Suzuki's Bobby Fong bounced back from a morning practice crash on Saturday to finish fifth and fourth at Road Atlanta and although it kept him third in the championship, he lost serious points to Westby Racing's Mathew Scholtz. Scholtz is now just six points behind Fong after finishing third in both Road Atlanta races.
KWR Ducati's Kyle Wyman dropped from fourth in the title chase to fifth after a rough weekend in Georgia. Wyman failed to finish Saturday's race after damaging his radiator, which turned into a blown head gasket. For Sunday's race, the team had to put in a spare motor and Wyman soldiered on to a sixth-place finish. He is now 10 points behind Scholtz and 16 points behind third-placed Fong.
Josh Herrin had a similar weekend to Wyman with a mechanical putting him out of Saturday's race on his Scheibe Racing BMW. On Sunday, Herrin finished a spot behind Wyman in seventh.
FLY Racing ADR's David Anthony finds himself just one point behind Herrin after sixth and eighth-place finishes at Road Atlanta and he's now just eight clear of M4 ECSTAR Suzuki's Toni Elias, the Spaniard having his best weekend in an otherwise miserable season thus far. Elias ended up fourth and fifth in the two races at Road Atlanta.
Thrashed Bike Racing's Max Flinders and Altus Motorsports' Max Flinders and Cameron Petersen are ninth and 10th, respectively, as we head to round four in Pittsburgh.
The pair of HONOS Superbike races at PittRace will air live on FS2 on Saturday and Sunday.
Pitt Race Superbike Notes…
The Pittsburgh International Race Complex was constructed in 2002 and MotoAmerica was the first National-level motorcycle race held at the facility in 2017. The track is 2.8 miles long and features 19 corners.
Garrett Gerloff and Toni Elias split the two Superbike race wins last year at PittRace. Gerloff beat his then-teammate Cameron Beaubier by just .326 of a second in race one and Elias topped Beaubier by .340 of a second in race two. That translates to Beaubier losing both races by a combined .666 of a second.
What a difference a year makes. Last year when Elias won race two at PittRace it was his seventh win of the season and he left with a 35-point lead in the championship. Thus far in 2020, Elias has yet to stand on the podium and trails Beaubier by 53 points.
Beaubier earned pole position for last year's two Superbike races at PittRace, the Yamaha rider lapping at a best of 1:39.472 to beat out Gerloff by .164 of a second. Jake Lewis had his best qualifying effort of the year and started on the front row on the MR ECSTAR Suzuki. Beaubier's 1:39.472 is the Superbike lap record at Pittsburgh International Race Complex.
Parity has been the name of the game in HONOS Superbike racing at PittRace. Five different riders have won the six MotoAmerica Superbike races held at the track in Beaver County: Toni Elias (2), Cameron Beaubier (1), Roger Hayden (1), Josh Herrin (1) and Garrett Gerloff (1).
With his 43 career AMA Superbike wins, Cameron Beaubier is third on the all-time Superbike win list – 18 wins behind his former teammate Josh Hayes, who is second to the all-time leader Mat Mladin on the list.
Beaubier has already won five races this season in just three rounds. The most wins the four-time series champion has had in a season is eight and he's done that three times (2015, 2016 and 2018). Beaubier won the title each of those three years. Last year, en route to his fourth title, Beaubier only won five times – a mark he has already matched in 2020.
More, from another press release issued by MotoAmerica:
MotoAmerica PittRace Preview: No One Is Perfect, But Escalante Is Close
How The Support Classes Stack Up Heading To Pittsburgh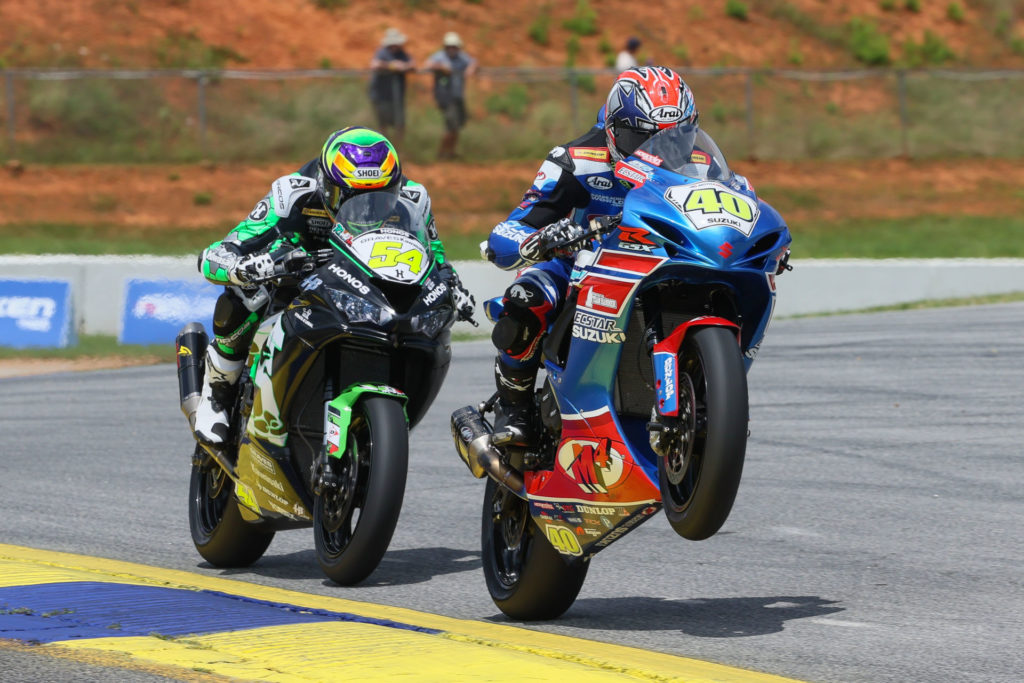 IRVINE, CA (August 6, 2020) – Richie Escalante and Cameron Beaubier now have two things in common: Neither are perfect, but both are in control.
Just like Beaubier in the HONOS Superbike class, Escalante has won five of the six Supersport races held in the 2020 MotoAmerica Series. And while Beaubier controls the Superbike title chase with a 19-point lead and in seemingly unbeatable form, Escalante holds a massive 40-point lead over Sean Dylan Kelly in the Supersport Championship. The difference between the two: Beaubier crashed while leading the second HONOS Superbike race at Road America 2 with Escalante actually beaten in a straight fight by Kelly in race one at Road Atlanta last weekend.
HONOS-backed Escalante, however, finished second to Kelly in his only loss and that's why he came into Road Atlanta with a 40-point lead – and left with the same lead, despite his lone loss on the season.
Other than his opening race crash at Road America, Kelly has been nothing but consistent. The youngster from Florida had finished second to Escalante three times before finally beating him last Saturday, but Escalante responded by giving the class a whooping on Sunday.
While M4 ECSTAR Suzuki's Kelly and Escalante have battled in the majority of the races, Brandon Paasch has watched – unfortunately, from a distance. But at Road Atlanta Paasch was in the mix on his Celtic HSBK Racing Yamaha YZF-R6, even leading for a few laps in Sunday's race. The New Jersian has finished third four times in a row and has been on the podium five times out of six races with his second-place finish in race one at Road America.
Many expected Rocco Landers to show up and dominate the Liqui Moly Junior Cup class in 2020. And why not? The youngster and his Norton Motorsports/Ninja400R/Dr. Farr/Wonder CBD-backed Kawasaki won 14 races in the series last year en route to the title. But it's been different this year, thanks to BARTCON Racing's Dominic Doyle, the South African who won the opening three races in straight fights over Landers. Landers, however, has had the hot hand of late, winning the last three races to finally take over the championship points lead, albeit by just four points over Doyle.
Celtic HSBK Racing's Sam Lochoff has been third best thus far with the second South African in the top three holding down third by virtue of his four podiums in six races.
Corey Alexander had yet to win a MotoAmerica race when he showed up to Road Atlanta last week, but he went out and won Saturday's Stock 1000 race over Altus Motorsports' Cameron Petersen and M4 ECSTAR Suzuki's Alex Dumas, in his first-ever Stock 1000 podium in his rookie season in the class. Turns out Alexander liked winning so much he went out and did it again. In the process, he took over the championship lead from Petersen who was forced out of the points by mechanical gremlins. Dumas followed up his Saturday performance and went one better with a second-place finish on Sunday.
Alexander leads Petersen by just 11 points heading to Pittsburgh with Dumas just seven more points behind the Ride HVMC Racing-backed Alexander.
Like Beaubier and Escalante, 1-833-CJKNOWS Accident & Injury Law's Kaleb De Keyrel has only lost once thus far in the Twins Cup class – and that loss came in race two at Road America 2 when he was beaten by SportbikeTrackGear.com Roadracingworld.com Suzuki's Rocco Landers. De Keyrel, however, bounced back from his only loss of the season to win the lone Twins Cup race at Road Atlanta last weekend and he leads Landers by 18 points heading to PittRace this weekend.
Hayden Schultz Racing's Hayden Schultz moved into a tie for third in the title chase with Jason Madama after finishing second in Saturday's race in Georgia.
PittRace Support Class Notes…
PittRace was where Sean Dylan Kelly came of age in 2019, the M4 ECSTAR Suzuki rider winning both of the Supersport races for the first two wins of his young career. Kelly beat PJ Jacobsen and Hayden Gillim to earn his first win and then topped his teammate Bobby Fong and Jacobsen to win his second. Kelly comes into PittRace this year after winning his first race of the year at Michelin Raceway Road Atlanta last weekend.
In Liqui Moly Junior Cup action from last year, Kevin Olmedo won the first of the two races over Dominic Doyle and Dallas Daniels. In race two, Rocco Landers bounced back from a non-finish in race one to beat Olmedo and Jackson Blackmon in race two.
The lone Stock 1000 last year at PittRace was won by Andrew Lee over Ashton Yates and Corey Alexander. In the Twins Cup class, Alex Dumas did the double, topping Draik Beauchamp and Michael Barnes in both races.
The second round of the three-round Mini Cup by Motul will take place on the karting track at PittRace. The series finale for the debut class will be held at the Ridge Motorsports Park in Washington state.
More, from a press release issued by Westby Racing:
Westby Racing's Two-Rider Team Is In Action For The Second Weekend In A Row, This Time At PittRace
Tulsa, OK – August 6, 2020 – Round four of the 2020 MotoAmerica AMA/FIM North American Road Racing Championship starts this Friday at Pittsburgh International Race Complex (PittRace) in Wampum, Pennsylvania, and riders Mathew Scholtz and Cody Wyman, along with the entire Westby Racing team, are looking to build on the success they had last weekend at Michelin Raceway Road Atlanta.
Mathew, who is team's Superbike rider, put his #11 Westby Racing Yamaha YZF-R1 on the podium twice last weekend with two strong third-place finishes. At PittRace, he's looking to close the gap on the two Yamaha Superbikes in front of him and capture one of the two higher steps on the podium.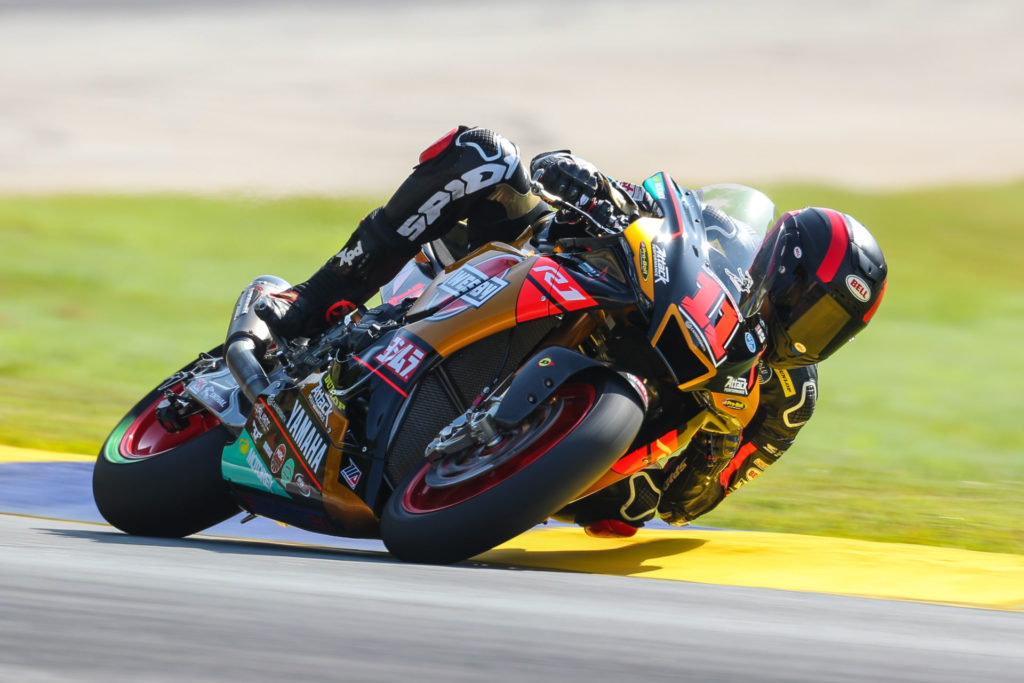 "I'm looking forward to Pittsburgh and to racing again on back-to-back weekends," Mathew said. "Last weekend at (Michelin Raceway) Road Atlanta was really positive for us, and we want to keep the streak going. Pittsburgh has been good to me in the past, and with the improvements that we made to the bike last weekend, we have a few areas where we can carry on and keep on improving. We'll be trying these changes out, and hopefully, they'll help us close the gap even more. We improved a lot from Saturday to Sunday at Road Atlanta, so hopefully at Pittsburgh, the changes work in our favor. I can't wait to get back aboard my Westby Racing Yamaha R1. I'm having a lot of fun riding, and I'm looking forward to doing a few skids and wheelies for the fans."
Superbike Superpole is on Saturday at 11:15 AM Eastern, Superbike race one will go green on Saturday at 3:00 PM Eastern, and Superbike Race 2 is on Sunday also at 3:00 PM Eastern. Both races will be broadcast on FOX Sports 1 (FS1) and Eurosport, as well as streamed on MotoAmerica Live+.
Westby Racing's MotoAmerica Junior Cup rider Cody grew up in Western New York, and PittRace is the closest track to his hometown. And, even though the youngest of the three racing Wyman Brothers now lives in Las Vegas, he's excited to race the #34 Yamaha YZF-R3 in front of friends and family who will be in attendance from back home.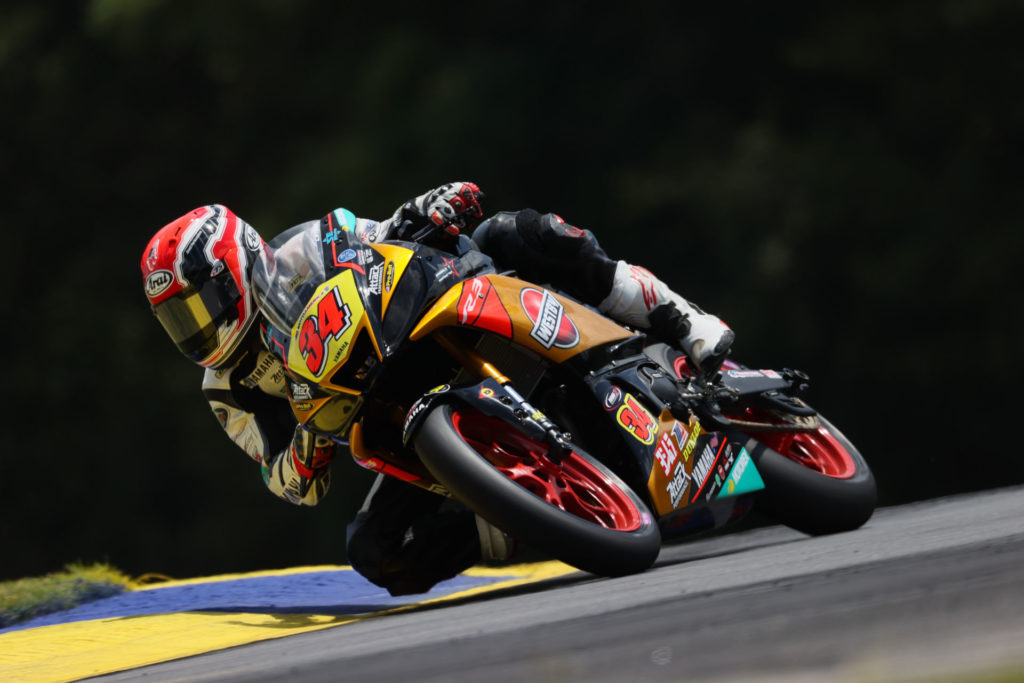 Cody commented, "I'm really excited to get to PittRace fresh off racing in Atlanta last weekend. It is a great racetrack, and I really like the layout. It's pretty busy, which I think will suit my riding style on this Yamaha. I did get the chance to race at Pittsburgh last year, and even though it was on a different bike, I feel good knowing that I raced there last year. I really want to be closer to the front this weekend, and I believe we can make a lot of progress."
Junior Cup race one starts on Saturday at 4:00 PM Eastern, and Junior Cup race two is on Sunday at 2:00 PM Eastern. Both races will be broadcast via tape-delay on FOX Sports 2 (FS2). Check your local listings for FS2 airtimes. In addition, both Junior Cup races will be streamed on MotoAmerica Live+.
Watch Great Racing While Maintaining Your Social Distance
MotoAmerica and PittRace have put together an event plan to protect you, the riders and teams, MotoAmerica staff, and track personnel. If you're attending PittRace, please review the Plan Ahead Guide at https://pittrace.com/plan-ahead-guide/ so you'll know what to expect and what is required this weekend. There is plenty of room for you, your family and/or your entire crew to enjoy professional motorcycle road racing at one of the country's best racetracks.
Pick Up Some FREE Westby Racing Autograph Cards
Westby Racing has produced some limited-edition, autographed cards of Mathew and Cody, and they'll be available next to the team transporter throughout the weekend, so swing by and pick one up while maintaining proper social distancing.
Check Out Westby Racing Team Sponsor CarbonSmith In Action
Ryan Shaun Smith from team sponsor CarbonSmith will be in attendance, and he'll have one of his innovative 3D printers on display, as well as samples of the carbon fiber parts that he produces for the Westby Racing motorcycles and other bikes. It's definitely something you'll want to see in person and from a safe social distance.
For more updates about Westby Racing, including news, photos, and videos, visit https://www.WestbyRacing.com
Also, follow "Westby Racing" on your favorite social media sites.