Good points haul for One Cure/KWR Ducati Team after trying weekend in Georgia
BRASELTON, Ga. — Kyle Wyman (OneCure/KWR Ducati Team) salvaged 10 vital championship points in race two after a tough weekend at Michelin Raceway Road Atlanta for the third round of the 2020 MotoAmerica Superbike Championship.
In a weekend that saw heavy rains play havoc with the race program on Friday and a crash in Superpole on Saturday, Wyman's race one didn't get past lap four. In stifling humidity and while lying an impressive third behind the Yamaha duo of Jake Gagne and Cameron Beaubier, Wyman pulled into the pits with a mechanical issue on his OneCure/KWR Ducati Team Ducati Panigale V4 R, necessitating an overnight engine swap for Sunday's race two as Yamaha's Cameron Beaubier took the race one win.
The second race was a two-part affair after BMW's Danilo Lewis crashed out early, causing a red flag while Wyman was lying fourth. A restart followed and Wyman, starting fifth, lost out early off the line to be sixth by turn one. After getting caught up in the melee with BMW's Josh Herrin which allowed the top five to escape, Wyman had to settle for sixth place in race two, with Beaubier doubling up for another race win.
Although disappointed with race one's result, Wyman was upbeat about his Sunday showing and feels round four of the series, to be held August 7-9 at the Pittsburgh International Race Complex, will suit his Ducati Panigale V4 R.
MotoAmerica Superbike Standing – Top 5
P1 – C. Beaubier (Yamaha) 125
P2 – J. Gagne (Yamaha) 106
P3 – B. Fong (Suzuki) 82
P4 – M. Scholtz (76)
P5 – K. Wyman (OneCure/KWR Ducati Team) 66
Kyle Wyman (OneCure/KWR Ducati Team – Ducati #33) 
"It's been a tough weekend, but we're happy to get out of Atlanta with some good points in race two," said Wyman. "I wasn't happy about Saturday as we were in a good position (third) when I had to pull in. We unknowingly broke a radiator on Friday and ended up blowing a head gasket on that engine.
"Last night we put a spare motor in for race two. I did 1:25's on it this morning in warm up, so I knew I could do the lap time. I got a good start and got in front of both Suzuki boys. I had good pace, then the red flag came out. The second time around, I got a bad start, and got hooked up with (Josh) Herrin, which slowed me up. By the time I shook him off, the top five were up the road. In all, we could have had two DNF's, so I'm pretty happy.
"Pittsburgh will be good. It was the first track we tested at with the Marelli electronics last Spring and raced there in August, so this will be the most time we've had at any particular track that we're about to race at. I'm looking forward to it."
More, from a press release issued by Hayden Schultz Racing:
Hayden Schultz Racing Back on the Podium with a Double Top 10 Finish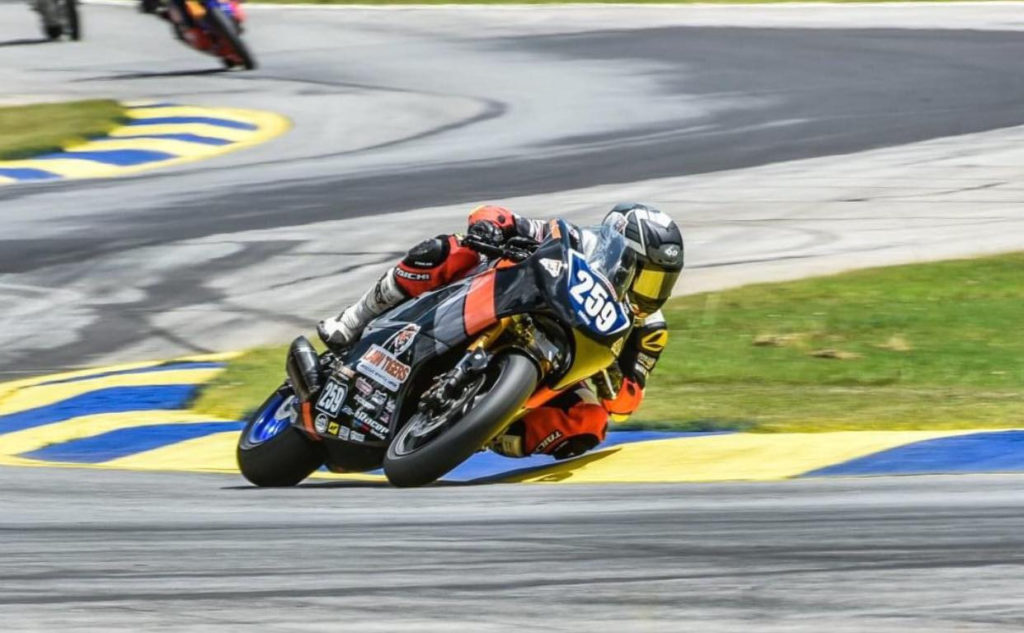 The Georgia heat was fierce but that did not stop team riders Hayden Schultz and Dante Witter from achieving their best results to date in the Twins Cup race. Team rider / owner Hayden Schultz progressed from his previous round results to secure his best finish of the year with a 2nd.
"I'm really happy with the progress we've made so far this year. The team did a great job giving me a competitive bike," said Hayden Schultz. "It felt great to be there with the front runners during the race for the first time this year. I knew coming into this race that we could be closer to the front at a more technical track. Right away I felt good and knew if we could get the bike handling well it would give us a shot to podium or fight for the win. I know there are still places I can improve in my riding and more progress to be made with the bike. Hats off to Gene Burcham, Gary Jeffries, Ron "Dink" Glidden, Mick Burcham, Kae Chang from aRacer USA, and John and Mike from Ohlins for all their effort to give me this opportunity. We've got one more step left on the podium and I know we can get there."
The team was joined by a Dante Witter this weekend, making it a two-rider effort. Dante was making his pro debut at his home track and had high expectations. Without previous track time on the Yamaha FZ-07, Witter was able to adapt quickly and found himself close to the top 10 in qualifying. With his goal in sight, he managed to put his head down and finish his debut with a 9th, posting his best time of the weekend on the final lap.
"This has been a highlight of my racing career! I have learned so much over this past weekend on and off the track in such little time," Witter said. "I am grateful for the rental program giving me this opportunity and more than happy with the results. It was a pleasure riding with the Hayden Schultz Racing Team and I am hoping I can do this is again sometime soon! Huge thanks to my dad, Hayden, his family, and the team for all their help and support! Truly a surreal experience."
The team thanks its 2020 sponsors for their support: Law Tigers, Brittenum Construction, aRacer USA, Ohlins, Glidden Racing, 6D Helmets, RS Taichi USA, Moto Liberty, Blud Lubricants, Wossner Pistons, Robem Engineering, Dreyer Motorsports, Full Spectrum Power, Vance and Hines, Woodcraft Technologies, Shundi Self Storage.
More, from a press release issued by Travis Wyman Racing:
Travis Wyman battles through injury, overcomes mechanical woes to score top-five, top-10 finishes at MotoAmerica Superbikes at Atlanta
BMW rider leaves Road Atlanta round second in Superbike Cup points standings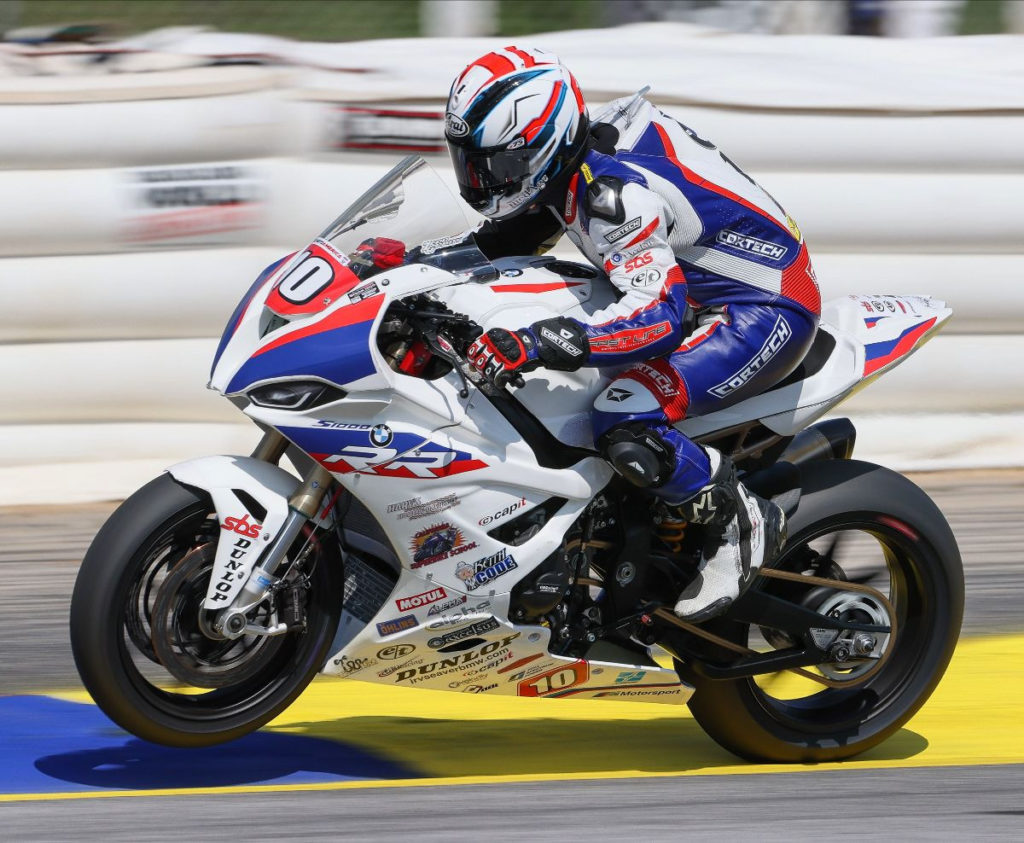 BRASELTON, Ga. — The results sheets from Round 3 of the 2020 MotoAmerica season at Road Atlanta don't convey how challenging the event was for Travis Wyman.
Still on the mend from surgery to reattach a piece of bone in his left elbow, the BMW rider — who has cut back on physical training due to his injury — scored fifth place and seventh place finishes in the July 31-Aug. 2 event's Stock 1000 Class races in brutally hot conditions while competing aboard an ailing motorcycle. He also finished the weekend's Superbike races in 11th and 12th place and now sits second in the Superbike Cup standings and fifth in the Stock 1000 championship.
Wyman has recorded two of his five career pro road racing victories at Road Atlanta, and that experience helped him salvage good results despite the challenges he faced. While battling through pain in his left elbow every time he went out on track, Wyman also had to manage several mechanical issues with his BMW throughout the weekend.
The team will make a stop at its East Coast base of operations in Macedon, New York, before it heads to next weekend's round at Pittsburgh International Race Complex in Wampum, Pennsylvania. Thanks to BMW of North America Marketing Communications Manager Mark Buche, the team has been supplied with the parts it needs to fully repair its 2020 S 1000 RR and expects to be competing with a mechanically sound motorcycle at the Pittsburgh round.
Travis Wyman / #10
"This was one of the most challenging weekends of my racing career. It was tough racing in the hot and humid conditions with not having done any of my usual physical training since the end of June. My elbow was probably about 80 percent recovered from the surgery, and I had to be very careful about how hard I was pushing my BMW. I'm delighted to be leaving Atlanta in a better position in both class standings than where we started the weekend. My team of mechanic Alex Torres and crew chief Steve Weir were at their best this weekend, and I wouldn't have gotten the results I did without their hard work. Though we were dealing with some mechanical issues with our BMW S 1000 RR, I think our ability to get good finishes with a motorcycle and rider that are less than 100 percent really speaks to how strong the 2020 BMW package is. I want to thank Mark Buche for working so quickly to get the team what it needs to repair our bike, and I'm looking forward to racing in front of my friends and family from upstate New York, as Pittsburgh is the closest event to my hometown of Rochester, New York."
More, from a press release issued by RideHVMC:
Alexander and RideHVMC Racing Sweep Stock 1000cc at Road Atlanta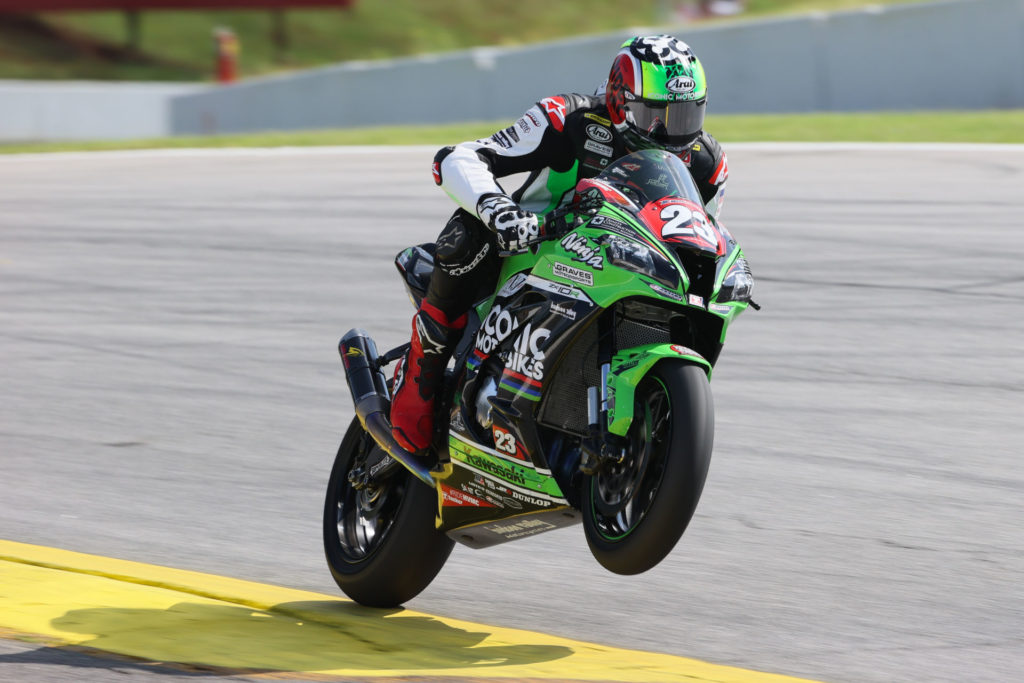 Braselton, GA ( August 4th, 2020 ) Corey Alexander and RideHVMC racing rebounded from a tough round at Road America with two wins during the third round of the MotoAmerica Stock 1000cc championship at Road Atlanta this past weekend. This would mark his first win since 2014 and second & third podium visits of the 2020 season!
Corey started off the weekend showing speed right away despite having not ridden at Road Atlanta since 2015 on a smaller 600cc machine. The #23 Iconic Motorbike Auctions backed Kawasaki Ninja ZX-10R qualified onto the front row with a third place grid position for each of the two Stock 1000cc races of the weekend.
Race 1 saw Corey off to a great start taking the hole shot and continuing to lead for the first few laps. After fending off the pole-sitter for first position midway through the race, Corey eventually rode his way to his first MotoAmerica Stock 1000cc win with a margin of nearly 4 seconds. The RideHVMC racing team and crew chief Chris Lessing made the decision to sit out Saturday's Honos Superbike race one to better prepare for the second Stock 1000cc race of the weekend.
Sunday's Stock 1000cc race two didn't start off quite as good for Corey and he had to patiently work his way up to the lead from 4th position after a bad launch off the line. After battling through his fellow competitors to the front of the field, Corey put his head down notching his personal best time of the weekend, a 1:27.46. This allowed for a comfortable gap on Corey's way to his second win of the weekend though by a smaller margin just over 1 second.
The back to back victories secured Corey an 11 point lead in the 2020 Stock 1000cc points race going into the fourth round of the season.
After a successful weekend in the Stock 1000cc class, the team decided it would be worthwhile to test some new settings during Honos Superbike Race 2. Braving the heat, Corey was able to secure another top ten finish with a tenth place finish despite being very physically worn. The team is now 4th in the Superbike Cup points race despite missing two of the races.
Corey exclaimed, "I could not be more happy with how our weekend went. We were able to come up with a new foot peg setup thanks to Evol Technologies that resolved our shifting issues which we struggled with during the first two rounds. I was hoping for a good weekend but two wins and the championship points lead is beyond my expectations. I'm excited to keep this momentum going into next weekends doubleheader at Pittsburgh. I'm really happy with how our bike is working and thankful for my guys hard work to get my comfy on my ZX-10R".
RideHVMC Racing heads to Pittsburgh this coming weekend for round four of the MotoAmerica Honos Superbike and Stock 1000 championships. You can stay up to date with Corey and the team on social media via: @corey23alexander or @ridehvmc. If you're interested in partnering with the RideHVMC Racing team please email [email protected] for more information.
About Hudson Valley Motorcycles
Hudson Valley Motorcycles is a family owned and operated motorcycle dealership that has been serving New York's Hudson Valley and Westchester County as well as Connecticut, Massachusetts, New Jersey, and New England region. HVMC has offered Kawasaki, Ducati, Scrambler Ducati, Suzuki, Energica and ATV, motorcycle or UTV Sales, Parts, and Service for over 50 years. For more info visit hudsonvalleymotorcycles.com, call (914)-762-2722 or follow @hvmotorcycles on social media.
About Iconic Motorbikes Auctions
Iconic Motorbike Auctions is the world's fastest growing auctioneer for motorcycles, parts, and memorabilia offering a more unique and personalized experience to the auctioning process. Iconic Motorbikes located in Marina Del Rey, California also offers a variety of white glove services such as motorcycle repair, restoration, transportation, and authentication. Visit iconicmotorbikes.com online or on instagram via @iconicmotorbikes to learn more about auctioning or buying a motorcycle.
The 2020 season would not be possible without the following team and technical partners: Hudson Valley Motorcycles, Iconic Motorbikes Auctions, New Rage Cycles, MJRS Freeman Racing, JJD Corporation, Trinity Construction Services, Graves Motorsports, Kawasaki USA, Maxima Racing Oils, Superlite Sprockets, Tucker, Moto-D Racing, Accossato Racing, Galfer Brakes, Carbonin, Samco Sport, From The Ashes Embroidery, Impact Canopies, Arai Helmets, Alpinestars, Gemini Racing, Robothink Westchester, Red Mist Racing, Flex Racing, Prestige Service Group, JP43 Training, MotoAnatomy, and Team Four3 Performance Lab.
More, from a press release issued by Altus Motorsports:
MotoAmerica: Round 3 Results for the Altus Motorsports Tucker Hagerty Rangeline Team
(Atlanta, GA)  Based on the practice and qualifying results on Friday, Round 3 had the potential to be the best weekend of the 2020 season for the team.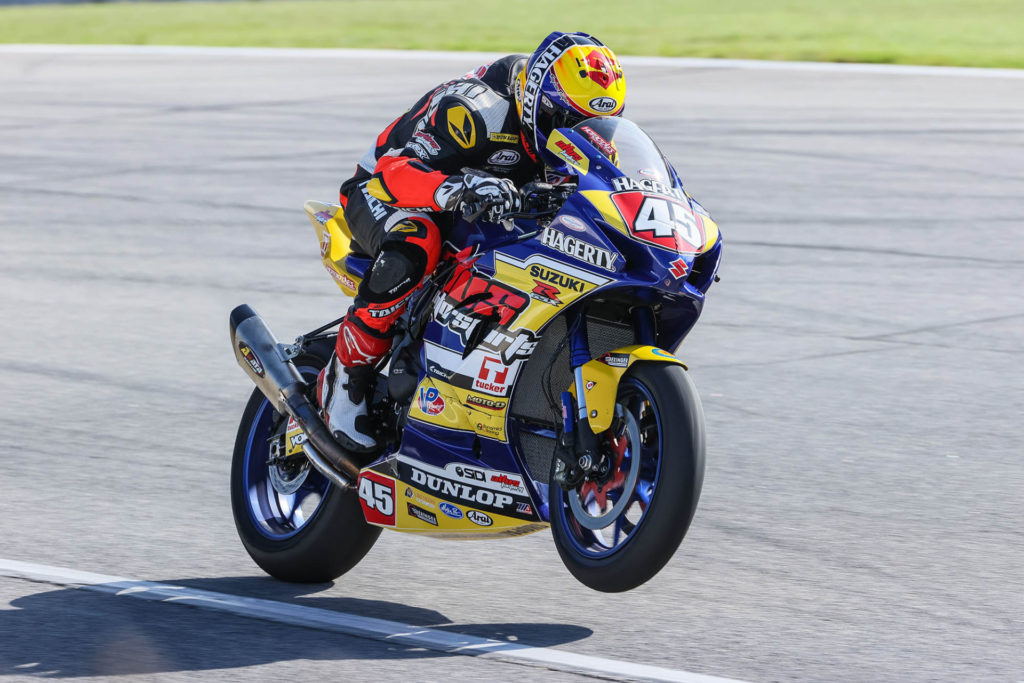 Honos Superbike & Stock 1000: In spite of continuing to battle brake issues, Cameron Petersen topped the Stock 1000 timesheets in both Friday sessions. No one could match his pace. He went on to set a new Stock 1000 lap record and secured the pole position. Unfortunately, he was unable to capitalize on the great grid spot. Brake issues in the first race caused him to settle for 2nd place. As Round 3 was a doubleheader for the Stock 1000 class, the team had a second shot at a win on Sunday. In Race 2, Petersen had tire pressure issues on Lap 1 and had to roll into the pits for an adjustment. He returned and completed the race in 18th place, a disappointing finish.
In the first race of the Superbike class, Cameron got a flying start and ran as high as 6th place. An issue with a rear set caused him to fall back to 16th. In the Sunday race, he managed a 9th place finish.
"Rough weekend to say the least! We were really confident coming into Round 3 knowing that we have the speed to be fighting for victories every weekend, but unfortunately we had technical gremlins that haunted us. Even though I wasn't able to score points in the second Stock race, which caused us to lose the lead in the championship, we need to focus on the positives, like us walking away with the lap record! I know the team will go back to work and we will arrive in Pittsburgh ready to make those points back up!" said Cameron Petersen
"We know our bike is competitive and we know Cam has the talent to win Stock 1000 if we can conquer this brake fade issue," said team-owner George Nassaney, "We only have a few days to find a solution and roll into Pitt ready to race. And we will."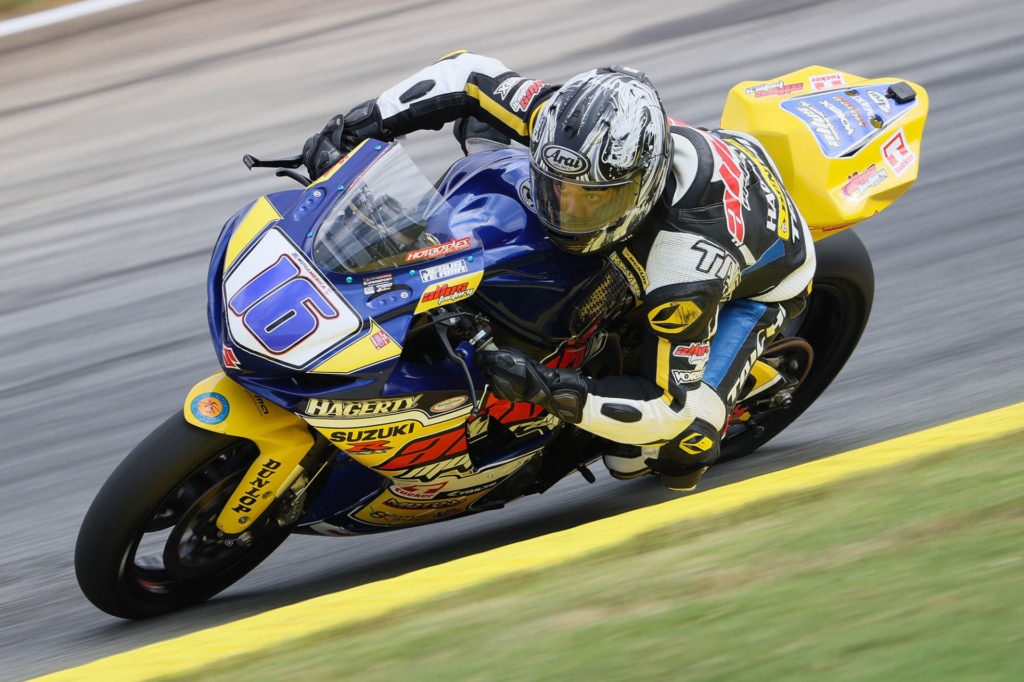 Supersport 600: Road Atlanta has not been one of Jaret Nassaney's favorite tracks. His goal was to come in, improve on past performances, and get a top-10 finish. On Saturday, he did exactly that. He qualified 13th and finished 9th. In Sunday's race, he finished 11th.
"We hit our target on Saturday with a top-10 finish in Race 1, but Sunday the heat and humidity got to me. In the middle of the race, I was in the battle for 8th and made a mistake that dropped me back to 11th. I am looking forward to getting to Pittsburgh – that's a track I like and I think I can get some good results," said Jaret Nassaney.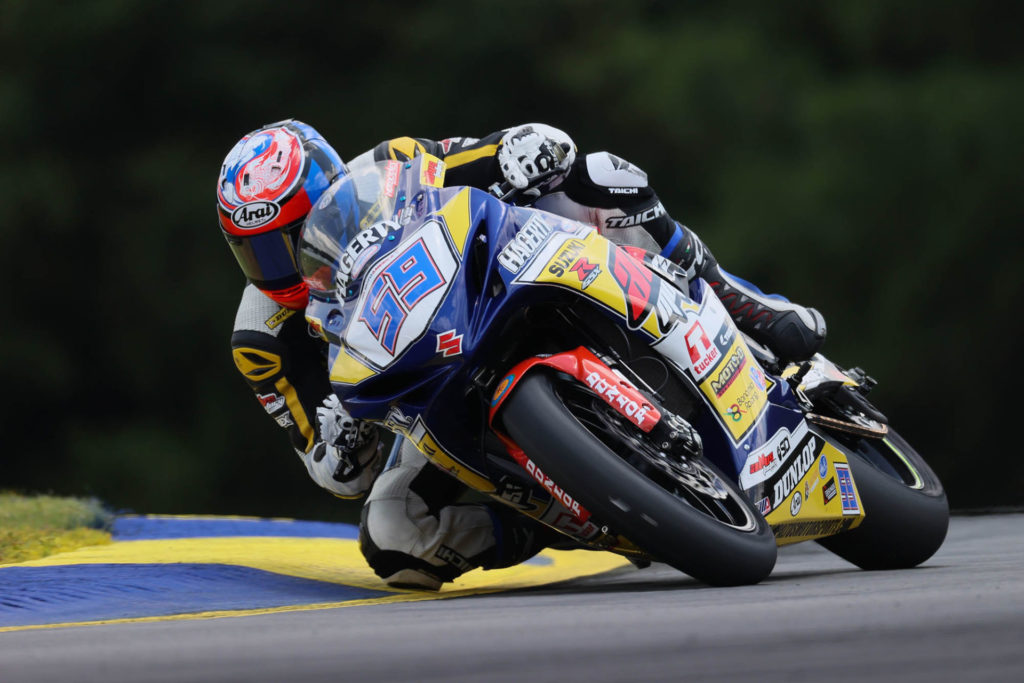 The fact that Kevin Olmedo is still adapting to the 600 makes his Friday results that much more impressive. Olmedo was 3rd in both Practice 1 and Qualifying 1. He ended up qualifying 4th and great starts in each race put him in the lead battle. In Race 1, he stayed with the lead three racers for the first few laps and then ended up in a battle for 4th. He made a last-lap pass to hold onto the position at the checkered flag. A swift start and an aggressive pass in Race 2 put him briefly in 3rd. Again he stayed with the lead group for a few laps before finishing in 5th.
"I am still recovering from the crashes last round and my ribs are a bit sore but I am liking the 600 more and more. The team worked very hard to get the bike ready and improve the feeling on the track. I am still learning how to ride the 600. With some more time on the bike and a few more changes, I think we can continue to improve and be fighting with the first group," said Kevin Olmedo.
Liqui Moly Junior Cup: Daniel Kinard came to Atlanta hindered by a broken wrist as a result of his crash at Road America. He hasn't been able to log any seat time since Wisconsin. Though he was managing his pain and struggled to get up to speed, Kinard still made the most of the weekend by starting and finishing both races. Unfortunately, he and four other riders were disqualified in Race 1 due to an infraction of a new rule. In Race 2 he finished 16th.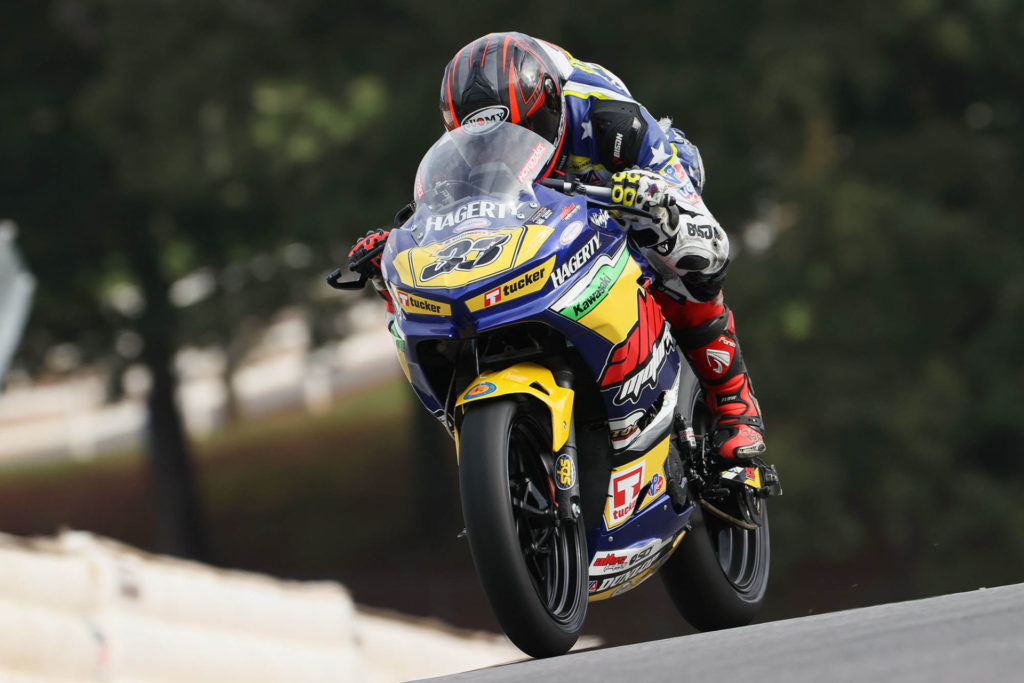 "My wrist is still healing and I just couldn't find my groove this weekend, but I had a lot of fun and I am looking forward to [the] Pitt Race," said Danny Kinard.
Although the weekend did not go as well as he might have wanted, team-owner George Nassaney looks forward to the upcoming Pittsburgh event.
"It's great to see the progress that Kevin is making in Supersport. It's frustrating that we didn't capitalize on our strength in Stock 1000 and Superbike this weekend. You can't dwell on the past. We have to learn and get better every weekend. We go to Pittsburgh in less than a week and we are making some mechanical and process changes and we will be better. Jaret likes that track and we expect him to post solid results in Supersport. Hopefully, with one more week of healing, Danny's wrist won't be a limitation for his forward progress on the 400," said Nassaney.
The Altus Motorsports team is supported by our great family of sponsors: Altus Motorsports, Tucker Powersports, Hagerty, Suzuki, The Rangeline Group, VP Lubricants, RS Taichi, Arai, Moto D, Bonamici, Hotbodies Racing, SBS Brakes, Vortex, Motion Pro, Law Tigers Oklahoma, Arata Exhaust, Dunlop, Team Hammer, and Altus Factory Racing