In addition to other injuries, Warhorse HSBK Racing Ducati NYC rider Danilo Petrucci said he broke his right fibula in his 174 mph crash at the end of MotoAmerica Medallia Superbike Race Two at VIRginia International Raceway.
Petrucci reported the previously unknown injury in a statement he issued Thursday via Twitter. (See his most recent Tweets below.)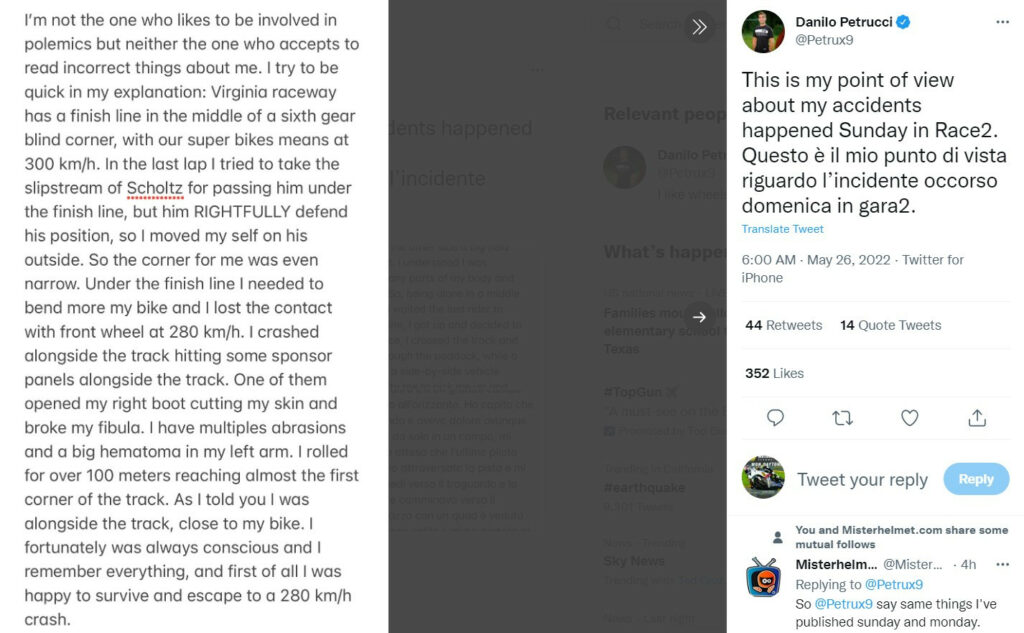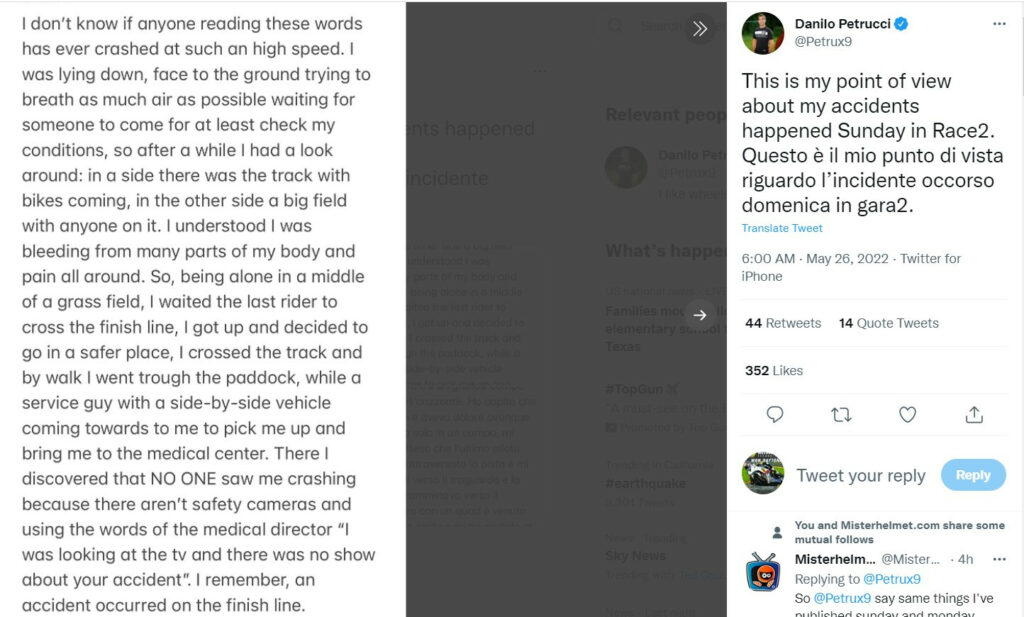 Petrucci did not mention anything about the possibility of picking his Ducati up and riding off track where he could have taken advantage of the expansive run-off area. That's what former Superbike World Champion Neil Hodgson did when he and his Corona Honda CBR1000RR Superbike got blown off line at VIR's kink in 2009. Hodgson left the track at 165 mph and managed to slow down in the grassy run-off area without injury. "Thank God it's a safe track," Hodgson said at the time. "Thank God. Because if there were anything like a wall or anything I wouldn't be talking about it now, I'd be dead."
There was at least one eyewitness to Petrucci's incident, and that was Steve Scheibe, owner of the Aftercare Hayes Scheibe Racing Team.
"I was standing right there against the rail," Scheibe wrote to Roadracingworld.com in a text message, "and seeing how hard he [Petrucci] tried to pass Mat [Scholtz] the lap before and knowing that he hadn't passed him yet I thought he would make one more chance and probably on the outside, which is virtually impossible there. I saw them come into sight and I could see that he went about halfway around Mat and his trajectory wasn't favorable for his outcome. And then there's a pretty good size cloud of smoke and slowly he fell over to the inside and went into the grass."
Later, Scheibe went out on the front straightaway, found a black tire skid mark that looked like it matched Petrucci's position on the course, and took the photo seen below.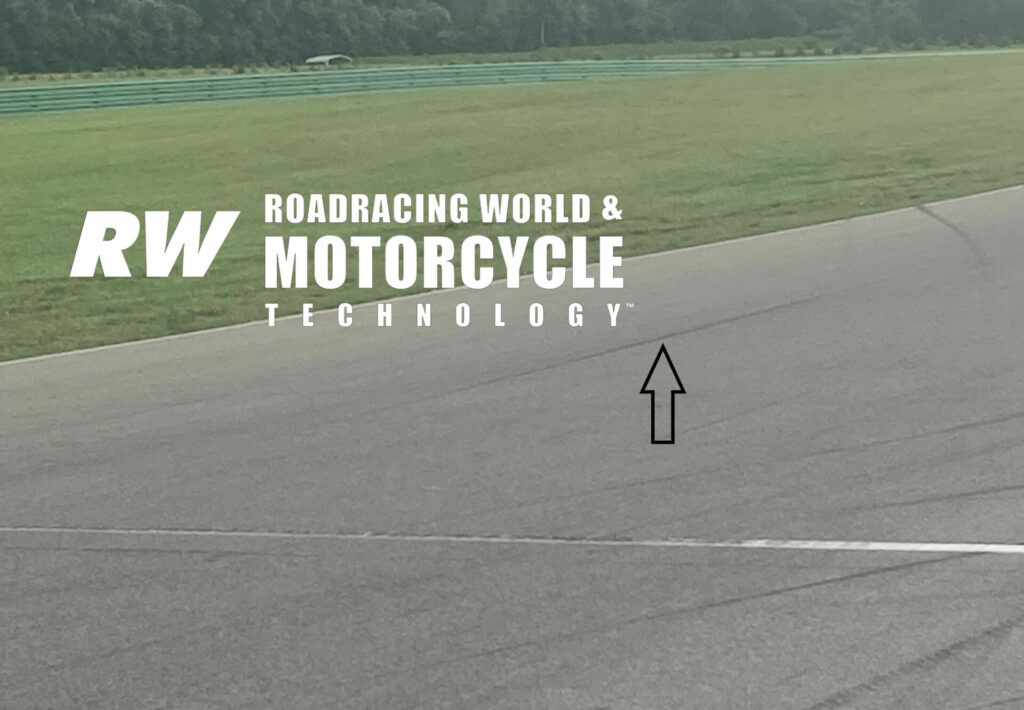 Scheibe didn't want to speculate what Petrucci may have or have not done to produce the smoke he saw and mark he photographed, but he knows that his own rider, Ashton Yates, was in a very similar situation in exactly the same spot at the end of Superbike Race One. In that instance, Yates touched his front brake and lost the front, but luckily, Yates did not crash.
"On the last lap [of Superbike Race One] I was right there behind PJ [Jacobsen] and Hector [Barbera]," said Yates. "I think they kind of rolled off right there. There's a dip right there at the finish line, and they kind of rolled off.
"When I saw that I pulled in the front brake a little bit because it spooked me, and I tucked the front for a half-second or second. I saved it, but it was pretty scary. I didn't realize what had happened until like a few seconds later because it happened so fast."
Asked if he thinks Petrucci used his front brake, causing him to lose the front, Yates said, "People are saying [Petrucci] was around the outside of Mathew [Scholtz], so he probably had more lean angle than I did and he was going wide open. I don't know. It's a sketchy spot. When you're around the outside of somebody right there you're kind of leaning on them and you kind of have to go where they go and you're running out of track sometimes. So, if Mathew had sat up at all, then he would have responded maybe by touching the brake. I don't know."
Petrucci's latest comments indicate surprise that his crash was not recorded on "safety cameras." Some venues used by MotoAmerica, including Road America and Barber Motorsports Park, have state-of-the-art surveillance camera systems covering the entire track. But at some venues MotoAmerica Race Direction relies on radioed cornerworker reports and the TV broadcast cameras to get information about incidents on the course.
The prognosis for Petrucci's broken leg is not known; the next MotoAmerica event is scheduled for June 3-5 at Road America.