SUZUKI PILOTS KELLY, PETERSEN, AND LEWIS EARN IMPRESSIVE WINS AT BARBER MOTORSPORTS PARK
Brea, CA (September 20, 2021) – Suzuki Motor USA, LLC and Team Hammer completed its 2021 trophy haul tour in regal fashion with another spectacular performance in this weekend's MotoAmerica AMA/FIM North American Road Racing season finale at Barber Motorsports Park.
After the final checkered flag of the year, Team Hammer-backed Suzuki entries accounted for a stunning 20 victories, 40 podiums, the MotoAmerica Supersport title, the MotoAmerica Stock 1000 title, and the MotoAmerica Superbike Cup.
The weekend's inclement weather increased an already sky-high level of difficulty with both day's races held in a range of wet conditions, from a tricky drying track to a torrential downpour. Despite that unpredictability, Suzuki's aces focused and competed at their best.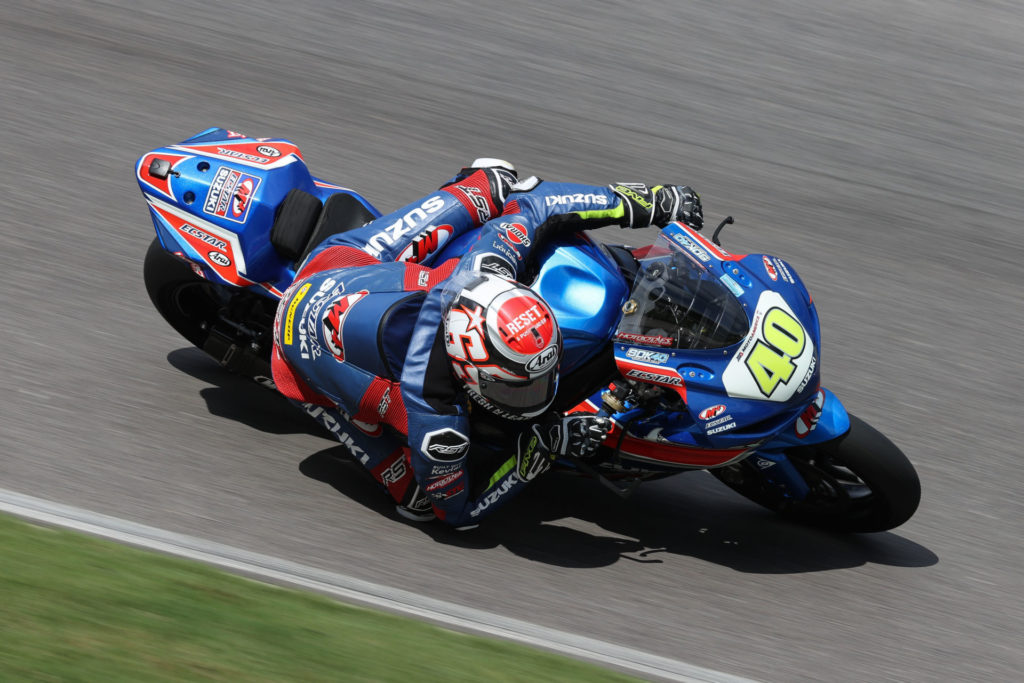 M4 ECSTAR Sean Dylan Kelly put the finishing touches on one of the all-time great MotoAmerica Supersport campaigns with another epic last-lap win on Saturday, followed by an impressive ride to second on Sunday in more challenging conditions.
While the Moto2-bound Kelly's title-winning season was largely defined by his 12 victories, the last of his 17 podiums came after crashing in the wet moments after attempting a daring pass to steal back the lead in the late stages of the race. Never one to give in — and even after already being crowned champion — 'SDK' jumped back on his GSX-R600 and rode it to a runner-up finish to score the final 20 points of his record-breaking season's tally of 410.
"I'm really grateful for this entire season," Kelly said. "It's been absolutely incredible working with the M4 ECSTAR Suzuki team and everyone involved with Team Hammer these last three seasons. I'm very grateful for the opportunity John and Chris Ulrich gave me to race in this championship.
"To be the 2021 MotoAmerica Supersport champion is something I've dreamed about, and I'm very proud to be in this position. I'm also very proud that I'll be representing MotoAmerica in Moto2 next year with one of the best teams possible. This was a season that I think people will remember."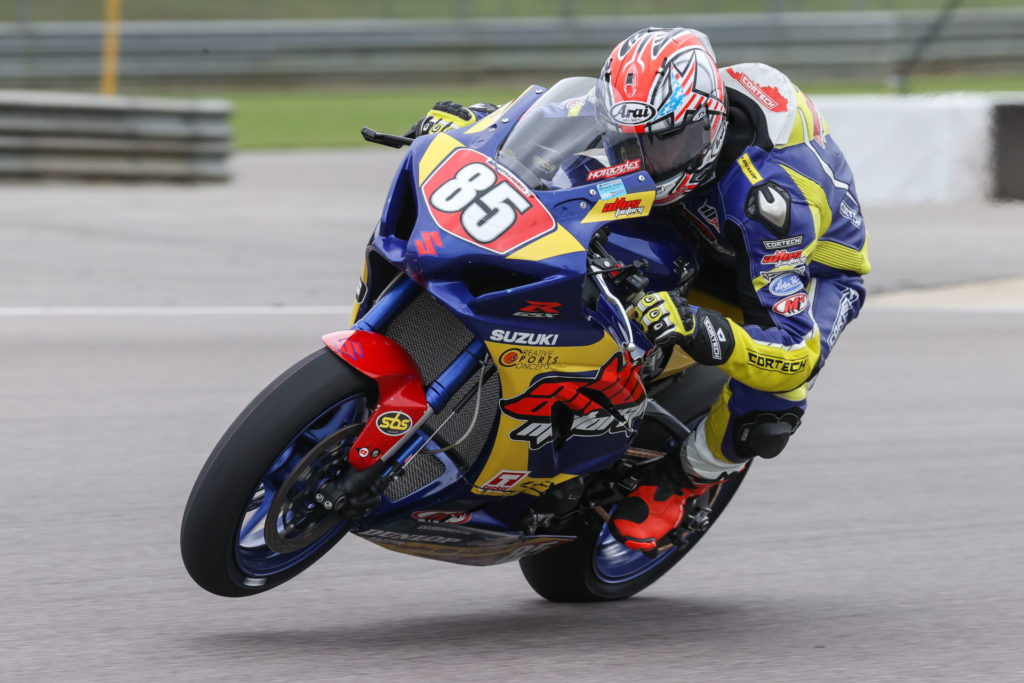 Newly crowned Stock 1000 champion Jake Lewis went out in a similarly impressive fashion. Having also locked up his Championship title a weekend early, the Altus Motorsports Suzuki ace didn't lack motivation.
Even in difficult drying conditions, Lewis skillfully guided his Team Hammer-built GSX-R1000R to a sixth win of the season — including the last four in succession.
Lewis, who also secured the 2021 Superbike Cup, said, "The team gave me a great bike and I built up my confidence and fitness as the year continued. We've won the last four races so to close out the season like this is great. There was just the one (Stock 1000) race this weekend, so I figured I'd show 'em why I was the champ. I didn't want to go out second or third. It feels good."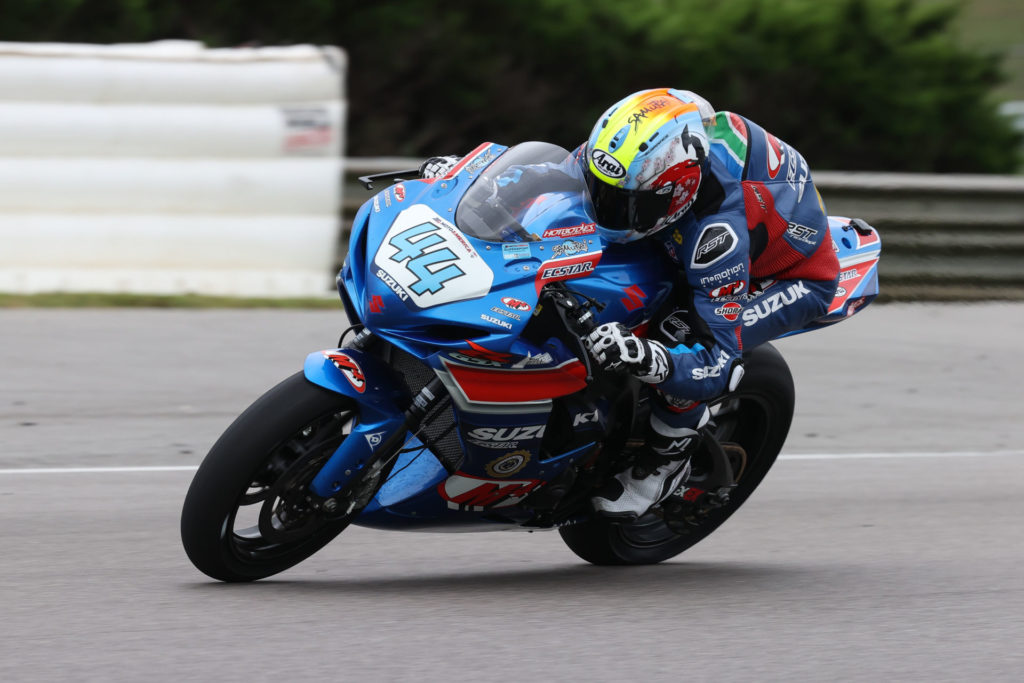 M4 ECSTAR Suzuki's Sam Lochoff carried his late-season momentum right through the final checkered flag as well. The South African teenager came home fourth on Saturday and then scooped up his fifth podium of the season with a Sunday third.
Lochoff, who earned his maiden MotoAmerica Supersport victory a week ago, finished his rookie season in the hotly contested class ranked third.
He said, "There's been a lot of ups and downs this rookie season, but mostly ups. I want to thank the team because they made this all possible. I also want to congratulate Sean for his season and wish him the best going to Moto2."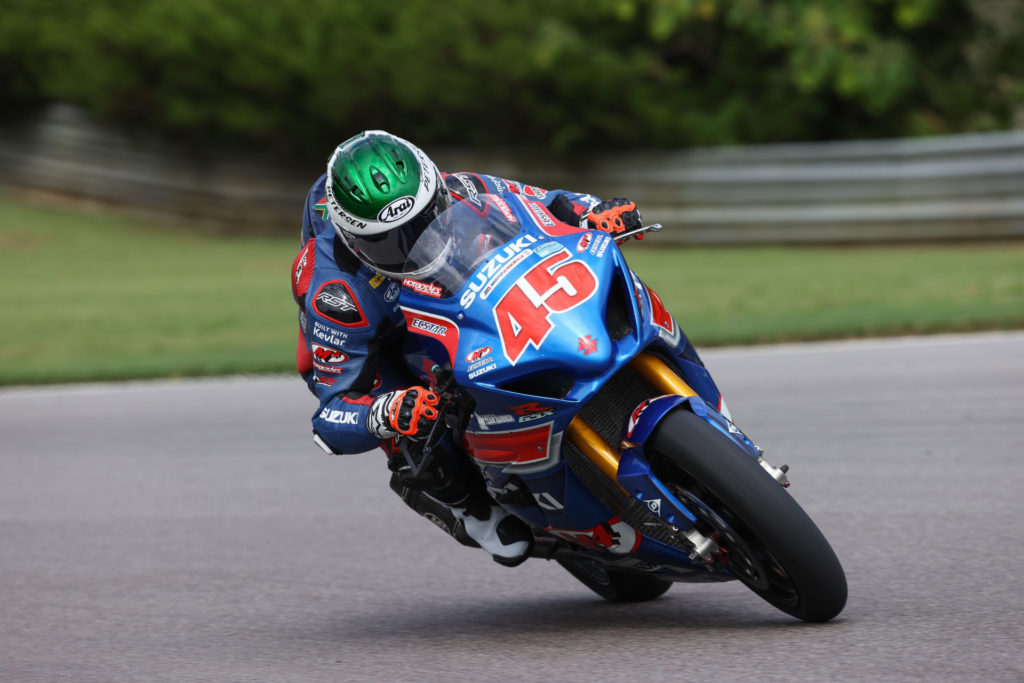 Meanwhile, M4 ECSTAR Suzuki's Cameron Petersen broke through on Saturday to claim his first-career MotoAmerica Superbike victory in improbable fashion after crashing and remounting his Suzuki GSX-R1000R in torrential rain conditions. He backed that up on Sunday with a fourth and a fifth in Sunday's two races to end the season ranked third in the premier-class standings.
After claiming that breakthrough maiden win, the South African said, "Honestly, I don't think it's really hit me yet. It's been a long road to get to this point. I had this weekend circled from the start of the season — it's my favorite track in the world — and I knew the Suzuki goes really well around here. I came into Barber with a little bit of confidence and that really shaped my weekend."
"On the cool down lap, I was so emotional. My family has sacrificed so much for me to get to this point, so to finally get a Superbike win, it feels like it's paid off. I couldn't be happier. Thank you to everyone who has supported me and been in my corner."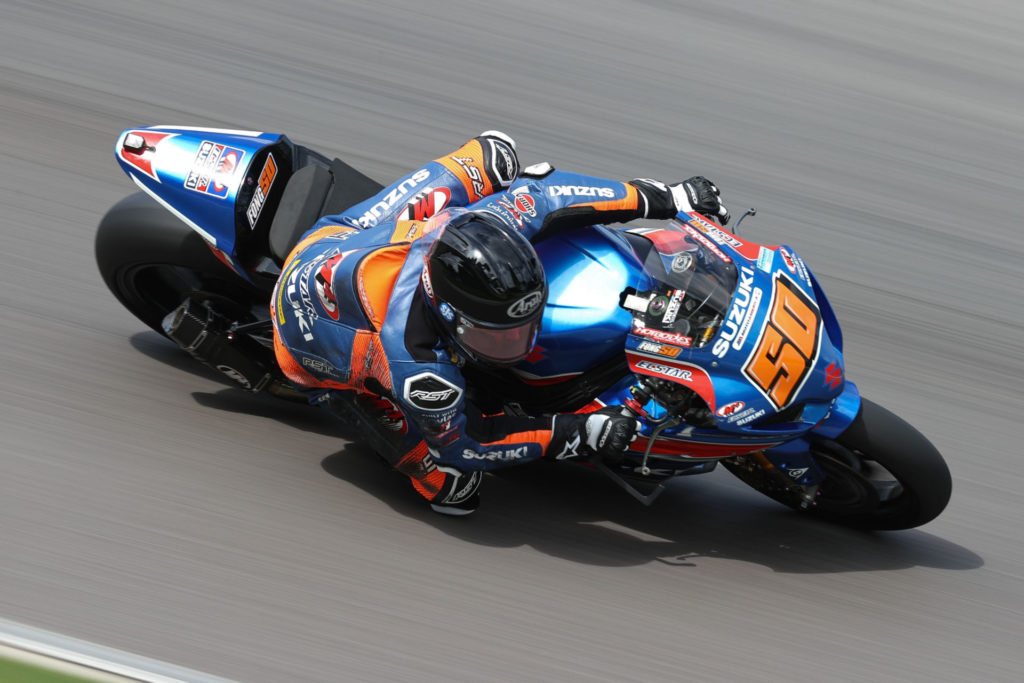 Superbike teammate Bobby Fong tallied up finishes of eighth, ninth, and tenth on the weekend to move up to fifth in the final points order.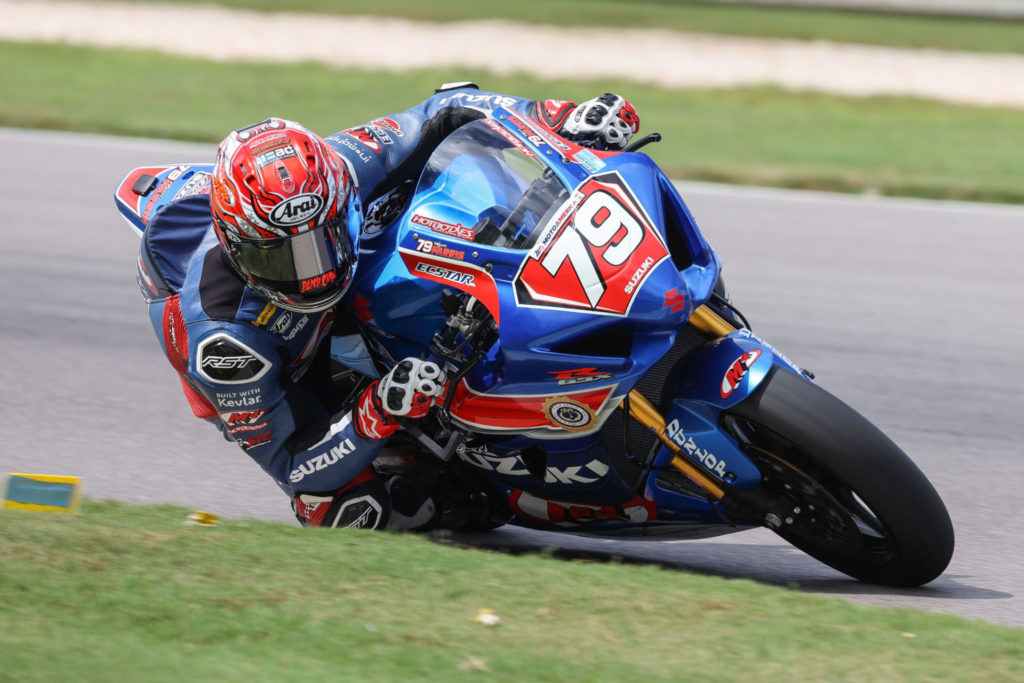 And finally, M4 ECSTAR Suzuki's Wyatt Farris concluded the Stock 1000 season ninth in the points on the strength of eight top-ten finishes.
More, from a press release issued by Kyle Wyman Racing (KWR):
KWR Ducati Team wraps up 2021 with wet and wild weekend in Alabama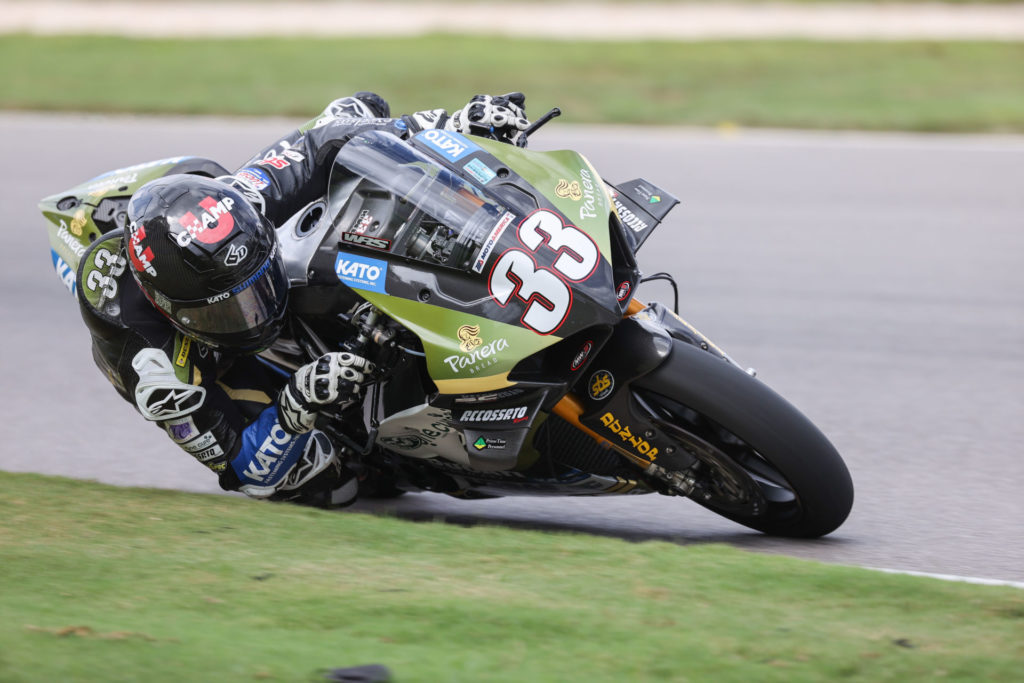 BIRMINGHAM, Ala. (Sept. 20) –– The One Cure Ducati finished 2021 the season at Barber Motorsports Park this past weekend, in their final weekend with the Ducati platform. Rider Kyle Wyman finished DNF-7th-6th in the three Superbike races, all three of them in full wet conditions.
Wyman was 7th overall on Friday's dry practice and qualifying sessions, but with wet weather in the forecast the true work for making the weekend a success did not start until Saturday morning's wet QP2 session.
"Friday was a positive day, and now what was our final dry laps on the Panigale V4 R. I just tried to enjoy myself as much as possible and we continuously improved throughout the day."
Saturday morning proved wet as riders prepared for rain conditions. Wyman was 5th fastest in the morning rain session and with a 7th place grid spot, was primed for a successful run up to the front in the afternoon's race one.
Wyman got off to a strong start in 6th place and worked his way through the pack to pass riders, and also inherit places throughout the race as other riders crashed. With 6 laps to go, Wyman was in 3rd place with a 4 second gap to the rider behind. Conditions worsened with each lap and eventually caught out Wyman in the final corner, crashing out of 3rd place and a potential podium spot.
"For me, Saturday's end result was a disaster," Wyman said. "Those type of opportunities don't come around that often, and for me to be in the podium spot with only a handful of laps remaining and throw the bike down the road is a terrible feeling. As the rain came down harder there was a ton of standing water on the track, and my visibility was dwindling. I ran over the paint line on the inside of the last corner and just lost all grip."
The One Cure Ducati team went to work to fix the bike and prepare for Sunday's races, both of which would also take place in wet conditions. Wyman would be starting from 17th on the grid due to his finishing position in race one.
The 10am race two started on a wet-but-drying track, with Wyman working his way from the fifth row of the starting grid all the way up to 7th place. The race was then red-flagged due to deer being present near the race track, and the results were final.
"Race two was a tricky one, because there were some areas of the track that were completely dry, but standing water was still present on a lot of the straightaways," Wyman said. "In the dryer areas I was struggling for grip more than the wet, it seemed the wetter the corner was the more feedback I would get from the Dunlop rain tires. I knew if I could get a decent result it would give me a much better grid spot for race three, so that was one of my goals for sure."
Wyman started race three from 7th on the grid and got off to a steady start, running 8th place at first and then working his way up to 4th. He would drop to 6th place in the waning laps as he lost a spot and ultimately missed out on the elusive top-5 position for his final race on the Ducati Panigale V4 R.
"After everything we've been through this year, it's been a pleasure to work with the team and sponsors I've had this season," Wyman said. "Our 2021 campaign is over and also our three year adventure with the Ducati brand has come to an end. It has been a meaningful journey to KWR and we have seen tremendous growth in this program since I first took on the project in 2019. I plan to tell our story in great detail, but in this moment I want to thank some specific people who stepped in to help build this team.
"Dave Hopkinson, our master bike builder and technician, you brought us through the 2021 season without a single mechanical DNF and you've build the most beautiful motorcycle in the MotoAmerica paddock. That is something that KWR is very proud of.
"Scott Rybarik, or team manager, who is the glue to our team and the guy who keeps it real 100% of the time. Thank you for all you do for us.
"Paul St Clair, thanks for moving into our program this year and making swift work of our electronics system, you are a world-class engineer and we are lucky to have you.
"Joel Martens, our mechanic who joined our team mid-way through the season, thank you for jumping in the deep end and being quick on your feet, we couldn't have done it without you.
"Scotty Ryan from Ohlins USA, you've acted as much more than a suspension technician and have become such an integral part of this program along with our work with Harley-Davidson, thank you.
"Ducati Richmond, our dealership partner from Canada – we love you guys so much and are so sorry we couldn't be together more during this pandemic. You've been such a great support system and help over these last three seasons.
"Paolo Ciabatti and Ducati Corse, thanks for working with a true privateer and allowing me to pursue this crazy idea, and piece together superbikes one piece at a time. What we arrived at was pretty great and I appreciate the flexibility and athleticism in working with a team such as mine.
"Ducati North America, it has been a pleasure being a part of the events and promotions we have done together both at and away from the track, and KWR appreciates the support you were able to bring to us at times when we needed it. Thank you.
"David & Maxine Pierce, your generosity is unmatched and your love for the sport is incredible. What you are doing to help move One Cure CSU forward and create a better world within and beyond motorcycle racing is admirable. I'm proud to call you my friends.
"Panera Bread (Bluegrass Restaurant Holdings) thank you for believing in KWR and creating what I believe is an iconic Superbike branding combination that has been a lot of fun to be a part of and to create.
"Excelsus Solutions, our print supplier who has created the visual representation of this team from top to bottom, whether it was truck wraps, banners, posters or custom backdrops – you have been the backbone of our branding capabilities and I speak on behalf of all KWR sponsors when I thank you for your contribution to the team.
"SC-Project USA/Motovation USA, you guys have been with KWR long before Ducati and you've carried us through the new project by providing custom exhaust systems for whatever we are going to race, and it's always appreciated. We hope to be back to COTA in the future to race in your hometown in 2021.
"Lucas Oil, the best lubricants and cleaning products, greases, you name it. I am proud to carry the Lucas Oil flag in the sport bike segment.
"KATO Fastening, you have been a tremendous technical partner and sponsor of this Ducati program since its early stages. Your products are top level and have not only helped us stay on track but have been there as a lifeline when other teams encountered dead ends with their threads.
"Alpinestars and 6D Helmets, you guys are always there with top quality safety equipment to keep me on track in the best condition possible, I appreciate what you do."
While the KWR story is long from over, we close this chapter and will start fresh in 2022. Stay tuned.
More, from a press release issued by Robem Engineering:
De Keyrel wraps up championship-winning season with victory Sunday in MotoAmerica Twins Cup race at Barber Motorsports Park
Marcon claims second Twins Cup pole position in as many races for Robem Engineering Aprilia
 
BIRMINGHAM, Ala. — With the 2021 MotoAmerica Twins Cup title already clinched, Kaleb De Keyrel didn't have to take part in Sunday's wet MotoAmerica Twins Cup race at Barber Motorsports Park. Nevertheless, the Robem Engineering Aprilia rider negotiated challenging track conditions to finish the season the same way he started it — with a victory.
The Minnesotan piloted his Aprilia RS 660 to his fifth win of the year and capped off his title-winning season by finishing 68 points ahead of the runner-up in the Twins Cup points standings.
The Robem Engineering team had three other rides take part in the Barber round, including Aprilia test rider Tomasso Marcon. The Italian claimed his second Twins Cup pole position in as many races. Also riding for Robem Engineering were 15-year-old Max Toth – in his third outing with the team – and team manager Carl Price.
Two of the team's riders were near the top of the time sheets when on-track activities got underway Friday. Marcon and De Keyrel finished Friday practice in second and fourth place, respectively. Toth found himself in 13th place as he was learning the tight, technical Barber circuit, and Price finished practice in 29th. In Friday's Qualifying 1 session, Marcon posted the fastest lap time – which was almost two seconds faster than his best practice time. De Keyrel posted the third best time of the session. Toth was 14th-fastest and improved his best lap time by about half a second but suffered a crash, and Price qualified 26th.
Wet conditions in Saturday's Qualifying 2 session didn't allow riders to better their lap times from Friday's Qualifying 1, which handed Marcon his second-consecutive MotoAmerica Twins Cup pole position. The team used Qualifying 2 to perfect its wet weather setup for all four riders' Aprilia RS 660s, though Toth endured another crash during the session.
In the lone Twins Cup race of the weekend, Marcon grabbed the holeshot as he and De Keyrel held onto their qualifying positions through the first two corners. The race came to an end for Marcon at Turn 3 though, as his motorcycle suffered a technical problem and stopped running. De Keyrel picked up where Marcon had left off at the front of the field, as he made a move for the lead at the Museum corner. Though De Keyrel dropped to second place later in Lap 1, he re-assumed the lead when the race leader crashed out at Turn 2 on Lap 2. The race was stopped a short time later and was restarted as a five-lap contest.
Marcon and his bike were brought back to the paddock when the race was stopped, but the Italian's Aprilia experienced another problem before the restart that kept him out of the race. De Keyrel got a good restart and was in second when the field made its way through the first turn. Later in the first lap, De Keyrel was running in second when he rode around the outside of the race leader in Turns 15 and 16, regained the lead and was the first to cross start/finish on Lap 1. Toth and Price completed Lap 1 in 16th and 17th, respectively.
Though De Keyrel briefly relinquished the lead on Lap 2, he made an aggressive move at Turns 12 and 13 to retake the lead. De Keyrel went on to claim victory in the final Twins Cup race of 2021 by 1.688 seconds. Price finished in 11th place — missing out on a top 10 by less than a tenth of a second despite making an error at the Museum corner late in the race — and Toth brought his Aprilia home in 14th place.
The Barber round marks the conclusion of the 2021 MotoAmerica season, and the Robem Engineering team will announce its plans for 2022 in the near future. The team thanks Aprilia and its many other technical partners for a successful 2021 campaign.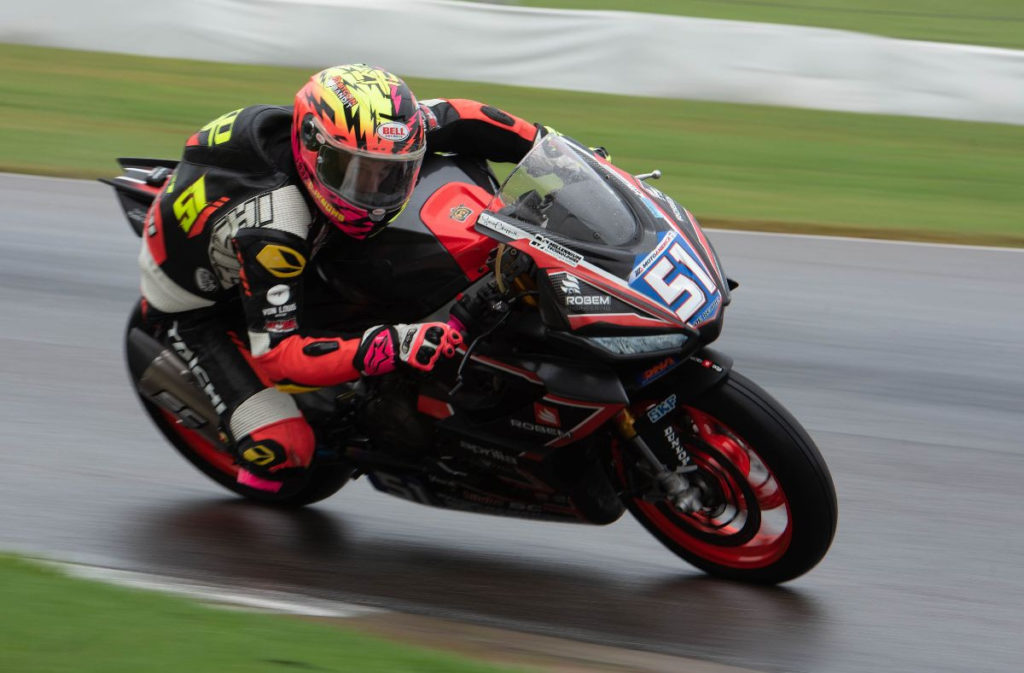 Kaleb De Keyrel / No. 51 
"The forecast was calling for rain all weekend, but it was dry on Friday surprisingly. I was happy to end up third in Friday qualifying, but I was unable to put in the best lap time I was capable of due to getting held up and the session getting cut short. I felt really confident in Saturday qualifying and posted the best time of the session. I knew I just needed to not throw it away in the race, but it was a pretty stressful race. I had another rider pass me then crash right in front of me. When the red flag came out, I was kind of bummed because I had a good lead going. But it is what it is, and my Aprilia RS 660 was working great all day long. Our technical partner, Velocity Calibrations, had the rain settings dialed in for me. It means a lot to get this win to cap off the year on a good note. A huge thank you to Robem Engineering for giving me a great bike all year, as the RS 660 was working phenomenally all year rain or shine."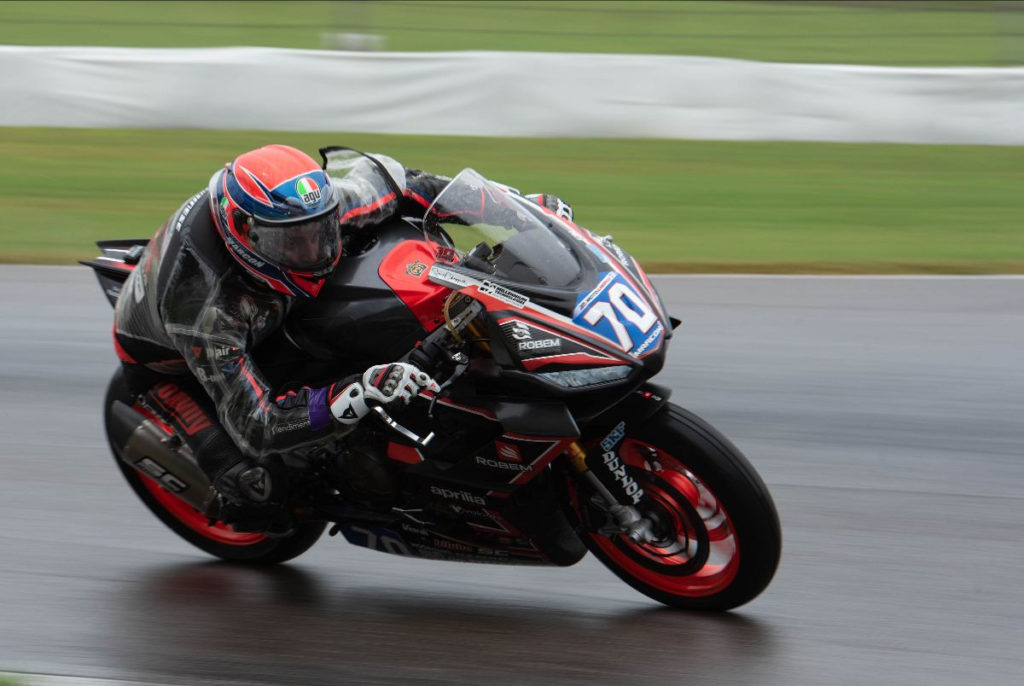 Tommaso Marcon / No. 70 
"I enjoyed this track from the very first lap. It is amazing here: this facility is just incredible. I think this track would be amazing in Europe, as we do not have something like it over there. I was happy to get the pole position because this is a new track for me, but I think with more time on this track I could go a lot faster than I did. It takes time to find the best lines and reference points. There isn't much to say about Sunday. I got a good start but the bike experienced an electrical problem in Turn 3. You can't always anticipate this kind of issue, and I hope to win many races in MotoAmerica in the future. I want to thank Robem Engineering, Aprilia, the team's sponsors and Matt Spicer and Carl Price for making my racing here in MotoAmerica happen."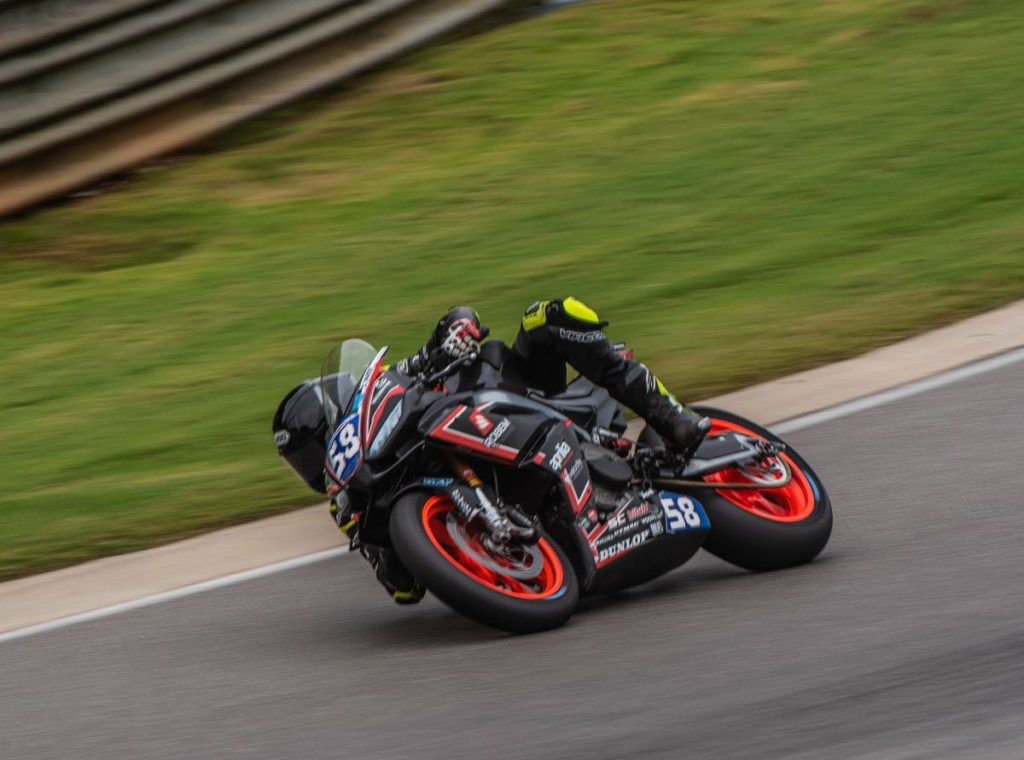 Max Toth / No. 58 
"Honestly, this track is very different from New Jersey. It was tough trying to learn the track in the early part of the weekend. When the rain hit, things got even more difficult from there. I had two high-side crashes in the rain sessions, which set my confidence back a bit. The goal I set for myself for the race was just to bring the bike home unscathed, which I did. The result wasn't what I wanted, and it's not the way I wanted to end the season."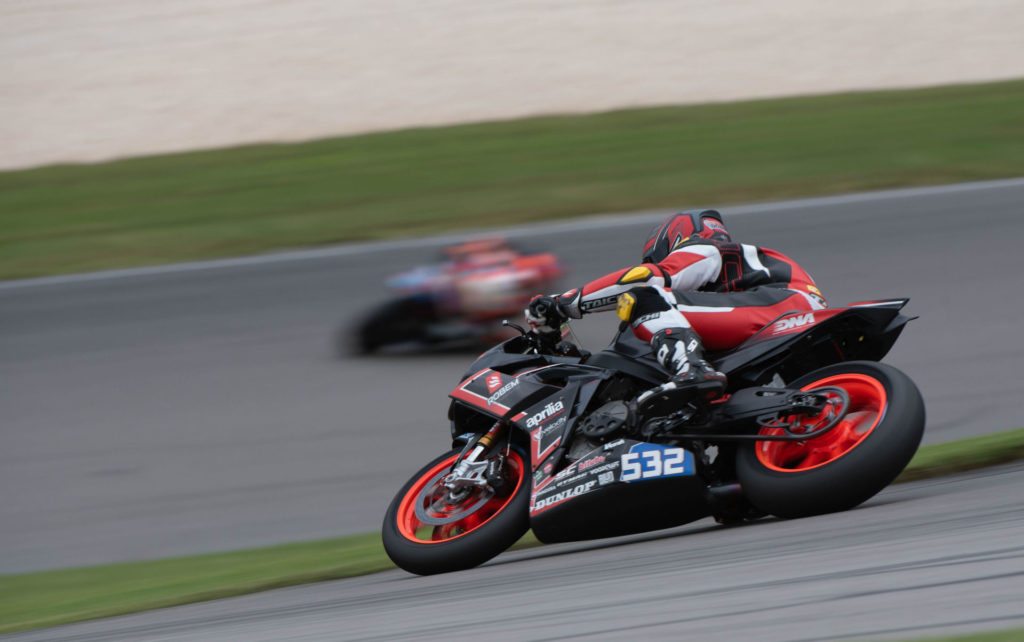 Carl Price / No. 532 
"Qualifying 1 getting red flagged set me back a little bit, as I usually build up my pace as a qualifying session goes on. I really wish I'd started farther up the grid, because I truly love riding in the rain. I had a little bit of a technical issues due to rider error yesterday, but I was feeling great today. I was reeling in the riders in front of me on the last laps but crashed at the Museum corner. I got back up and was able to finish 11th, but I really wanted that seventh place finish. These bikes do amazing in the rain, and the Aprilia RS 660 is a great racing platform."
Robem Engineering's technical partners for 2021 include Aprilia Racing, Piaggio Group Americas, The Center for Plastic Surgery, Velocity Calibrations, Bitubo Suspension, Dunlop, Woodcraft Technologies, Dymag, Vesrah, DNA Filters, Magura USA, Sara Chappell Photos, NGK/NTK, Blud Lubricants, Millennium Technologies Suter Racing and SC-Project.
More, from a press release issued by Pure Attitude Racing:
Austin Miller rises to the occasion in rain hit Supersport finale, whilst Trevor Standish & Liam MacDonald show podium pace
The 2021 MotoAmerica season ended at Barber Motorsports Park yesterday with Pure Attitude Racing once again showing their front running pace.
The highlight of the weekend was a maiden top ten in Supersport for Austin Miller who rode superbly in the pouring rain to finish P11 on Saturday before splashing his way to ninth on Sunday, matching the times of those ahead of him for much of the race.
Nate Minster was back on track after missing the last round in New Jersey because of school commitments. He retired from Saturday's race, electing not to ride on Sunday.
In Twins Cup both Liam MacDonald and Trevor Standish revelled in the wet conditions. Qualifying on the third and fourth rows of the grid respectively, they quickly moved forward when the lights went out Standish in contention for the podium before sliding out of the race in spectacular fashion. Running just behind Standish, MacDonald was promoted to fourth after running fifth before he too crashed with just a couple of laps to go.
Pure Attitude Racing wishes to take this opportunity to thank its riders, crew members, sponsors, and everyone at MotoAmerica for an amazing year. They will be announcing their full 2022 program, including their rider line up for next season shortly.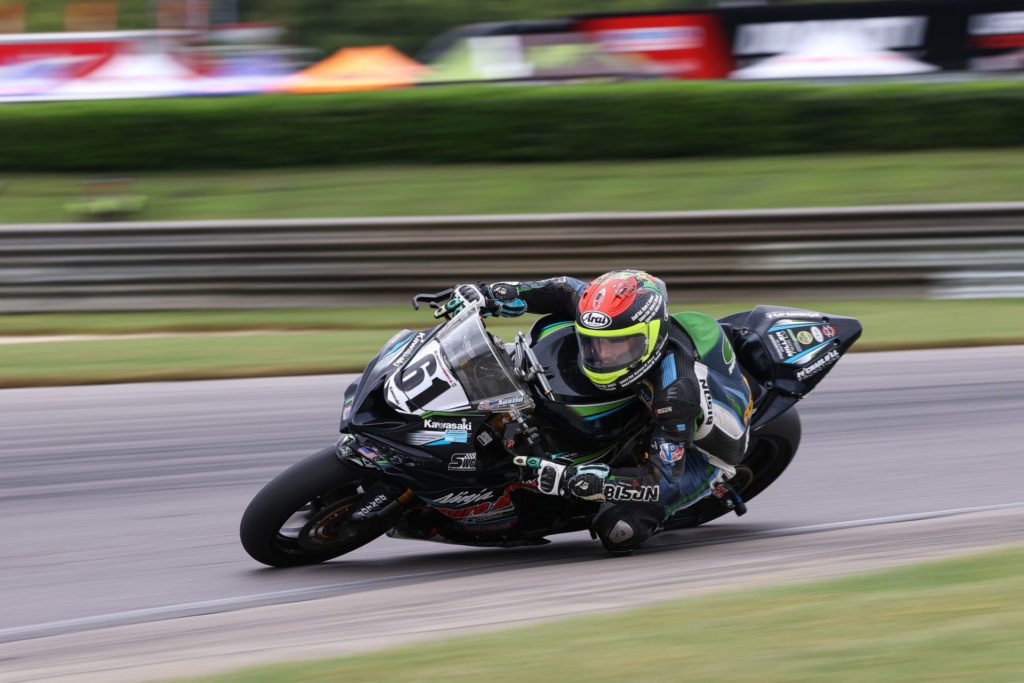 Austin Miller – 9th: "I finally finished in the top ten. After being so close again on Saturday I was determined to make it happen in the final race of the season. The conditions were worse, but I made a good start but then fell back a bit. Once I settled down, I was able to go faster and me and Dominic (Doyle) worked together, and we passed the bunch of guys ahead of us. It was a great race, and I am so happy to finally make the top ten with a career best finish."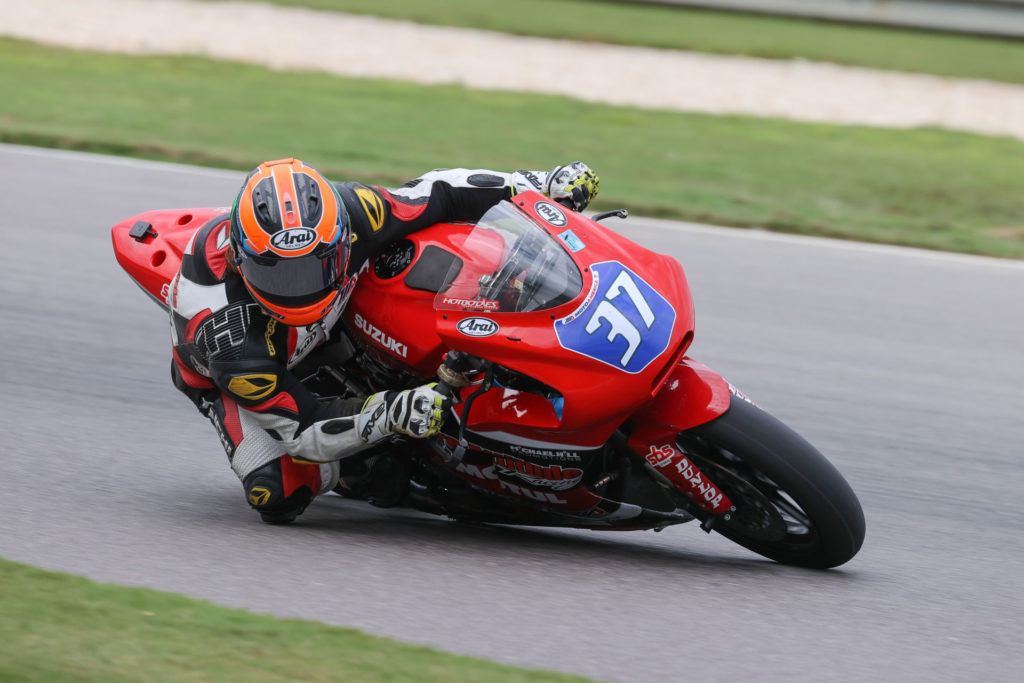 Liam MacDonald – DNF: "I was feeling really good this weekend and really enjoyed riding in the rain. They red flagged the race and because of the rain falling heavier the track conditions were different when we restarted. I had a couple of moments and took my time to find my rhythm and made some real progress. I was running fifth and then when Trevor went down that moved me into P4 but then I went down too. It sucks to be honest because once again I wasn't able to bring it home in the position that we deserved but that's racing, and I am excited to learn from this year and come back stronger with Pure Attitude Racing next year."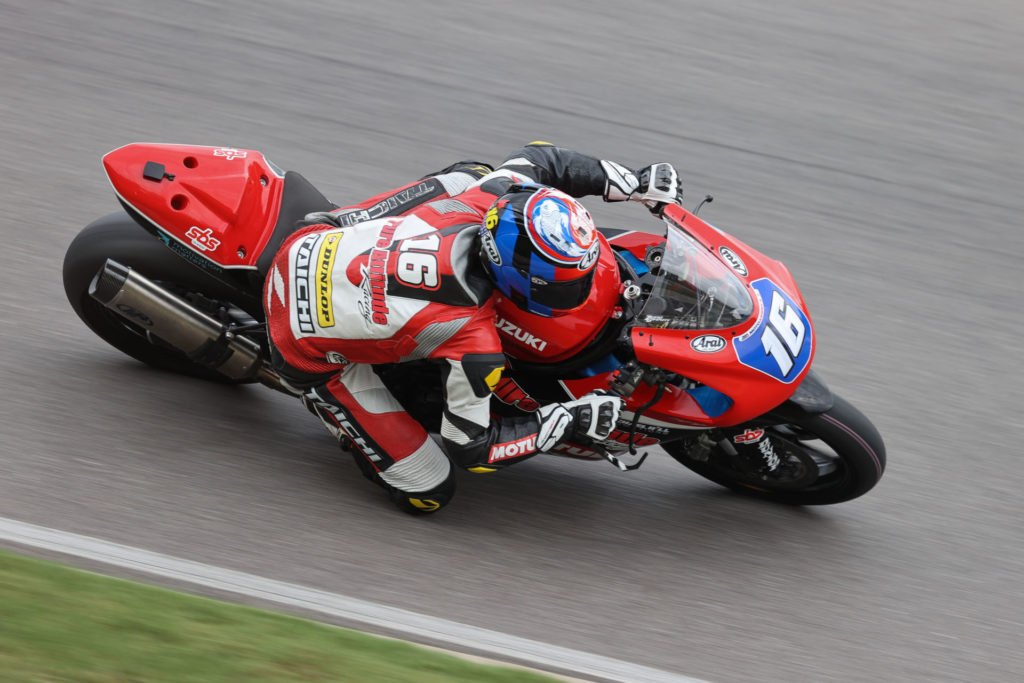 Trevor Standish – DNF: "The race started well, and I made a good launch off the line, but the bike didn't feel right. I don't know if it was running on one cylinder in the beginning, but something wasn't right. The race was red flagged and we were able to find a solution and then in the restart I made another good start and was a lot more aggressive. I worked my way up to fourth and fighting for the podium but then I had an issue. I don't know if I hit a false neutral and the RPM skyrocketed, and I went down. There was nothing I could do. It's a bummer as we showed again that we had pace and it makes me even more hungry to get the job done next year"
Nate Minster – DNF/DNS: "On the warm up lap it started to rain pretty heavy, so everyone ran wet tyres. I was doing ok, not super-fast but ok but I wasn't feeling the setting of the bike and had no confidence, so I pulled in rather than risk a crash. On Sunday I decided not to ride based on the weather being the same and how I was feeling. I want to thank the team for all they have done this year and for supporting my decision not to ride."