This weekend's results are brought to you by 6D Helmets.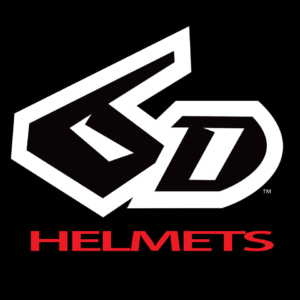 Editorial Note: The race was run in very wet conditions.
MotoAmerica SportbikeTrackGear.com Junior Cup Championship Point Standings (after 18 of 18 races):
Scott, 390 points, clinched Championship
Gloddy, 346
Rodio, 218
Kohlstaedt, 212
Cody Wyman, 186
Davis, 135
VanDenBrouck, 133
Yaakov, 117
Max Toth, 109
LiMandri, 99
More, from a press release issued by KTM Factory Racing:
RISING STAR TYLER SCOTT IS CROWNED 2021 MOTOAMERICA JUNIOR CUP CHAMPION
 
Round 9 – MotoAmerica Junior Cup Championship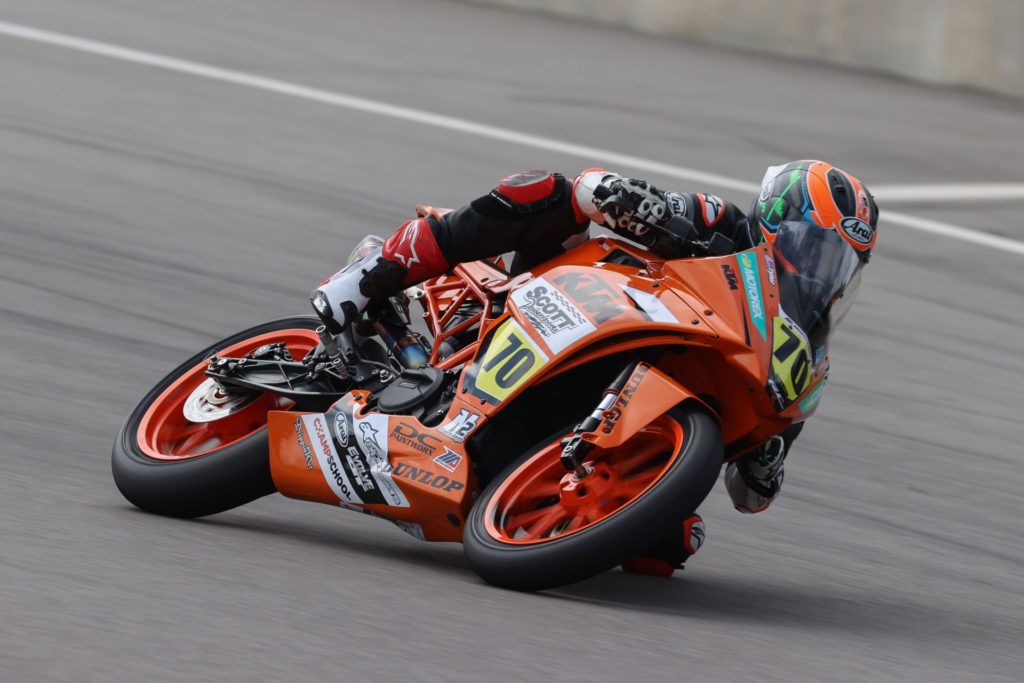 BIRMINGHAM, Ala. – Fifteen-year-old Tyler Scott wrapped up the 2021 MotoAmerica Junior Cup Championship over the weekend together with an impressive 1-1 sweep at the Barber Motorsports Park season finale. The KTM Supported rider was officially crowned on Saturday following a title-clinching victory aboard his Scott Powersports KTM RC 390 R, and he didn't stop there as he charged his way to another dominant performance at the final race on Sunday.
Entering the weekend with a 30-point lead in the Junior Cup Championship, Scott knew he only needed to finish race one within five points of the second-place rider and the title was his. The Pennsylvanian did just that, earning a championship-winning victory with one race to spare in the series. On Sunday, the newly crowned champion went to battle once again with his closest championship competitor and he came away with another close victory to round out the season with a positive 1-1 sweep in Alabama.
After spending the past two seasons primarily in Europe where he competed in the Red Bull MotoGP Rookies Cup and then the European Talent Cup in Spain, Scott has had an incredible rookie season in the MotoAmerica Series earning 11 career victories, as well as four podium finishes, in 18 total races.
Tyler Scott: "It feels really great to win the championship in my first year in the Junior Cup. We've been pretty consistent with our finishes this season; we have 11 race-wins and definitely very consistent throughout the whole season. I felt really good on the bike and it handled great all season, I think it's an amazing bike for the series."
Chris Fillmore, Racing Manager: "We're super happy for Tyler and his team. For him to take his experiences learned in Red Bull Rookies Cup and bring it over to MotoAmerica, hop on the KTM RC 390 R and win 11 races this year is something really special and it's definitely deserving of a championship. I just want to thank Tyler, his dad and his team for doing such a great job representing. He for sure has a bright future in racing."
For more information on the MotoAmerica Series and to view full results and championship standings, visit their website at www.motoamerica.com.
Junior Cup Results – Race 1
 
1. Tyler Scott, KTM, 13:35.048
2. Kayla Yaakov, KAW, +0.646
3. Benjamin Gloddy, KAW, +0.691

Junior Cup Results – Race 2
 
1. Tyler Scott, KTM, 14:10.152
2. Benjamin Gloddy, KAW, +0.500
3. David Kohlstaedt, KAW, +0.635
Junior Cup Championship Standings – 2021
1. Tyler Scott, 390 points
2. Benjamin Gloddy, 346
3. Gus Rodio, 218