The KW Army Fan Program Returns for the 2020 MotoAmerica Season!
TUCSON, Ariz. (Feb. 11) — Kyle Wyman Racing (KWR) has announced the continuation of the KW ARMY fan program for 2020, now revamped with multiple level tiers, added features and benefits.
Fans of Kyle Wyman and KWR can now join the KW Army, or renew their membership for the 2020 season, with three different membership levels available to everyone. Pre-order is now open until February 28th to receive your pack in time for the season-opening round at Circuit of the Americas.
Probably the most popular feature of the KW Army was the ability have your name on the tail section of the Ducati Superbike for the season, which is available in all three membership tiers. The Junior Membership also includes the official KW Army lanyard and hospitality pass to join the KWR team in the paddock, a signed photo from Kyle, as well as entry into prizes and giveaways throughout the 2020 season.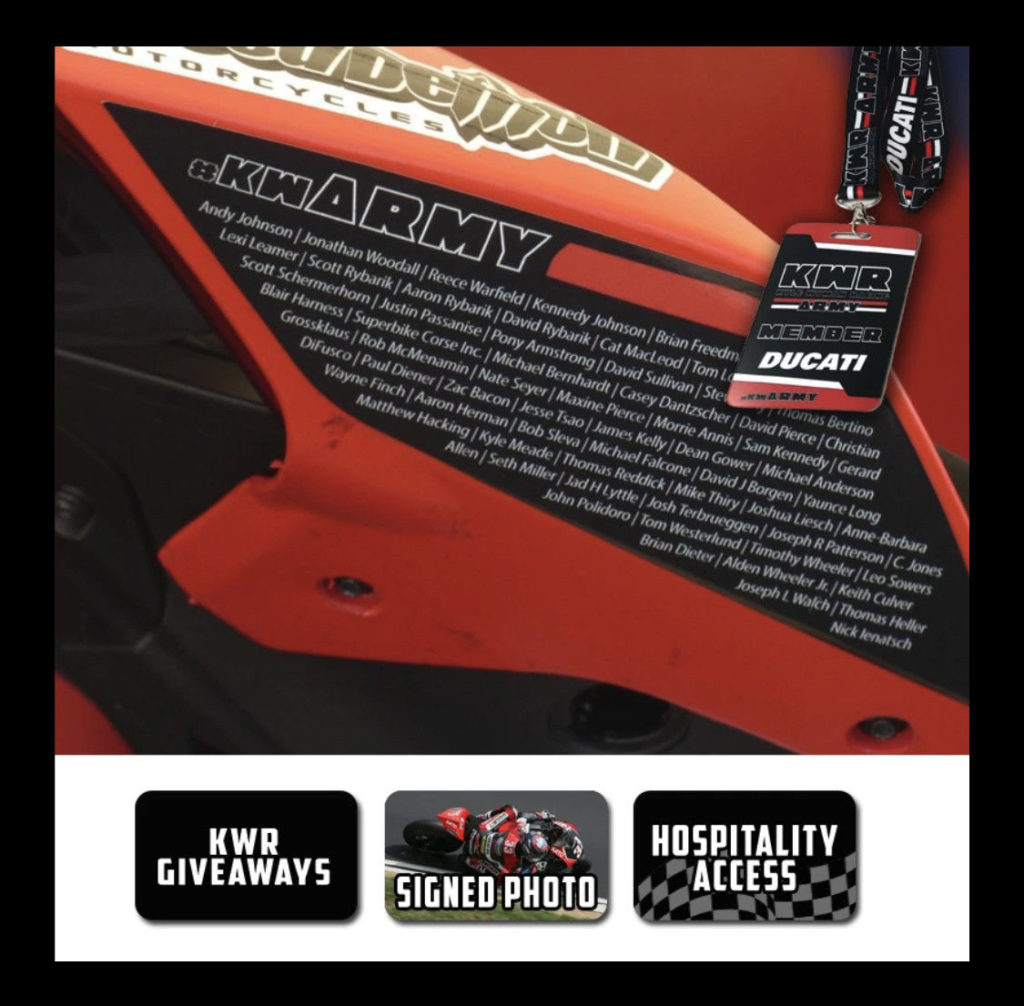 The Traditional Membership is much like last year's Army program. All of the Junior Membership perks are included, plus you'll also receive the official 2020 KW Army hat and t-shirt, a custom KWR Water bottle by Giant Bicycles, a KWR sticker kit provided by Excelsus Solutions, and even a set of the KW Army tail decals you see pictured,  for all who pre-order.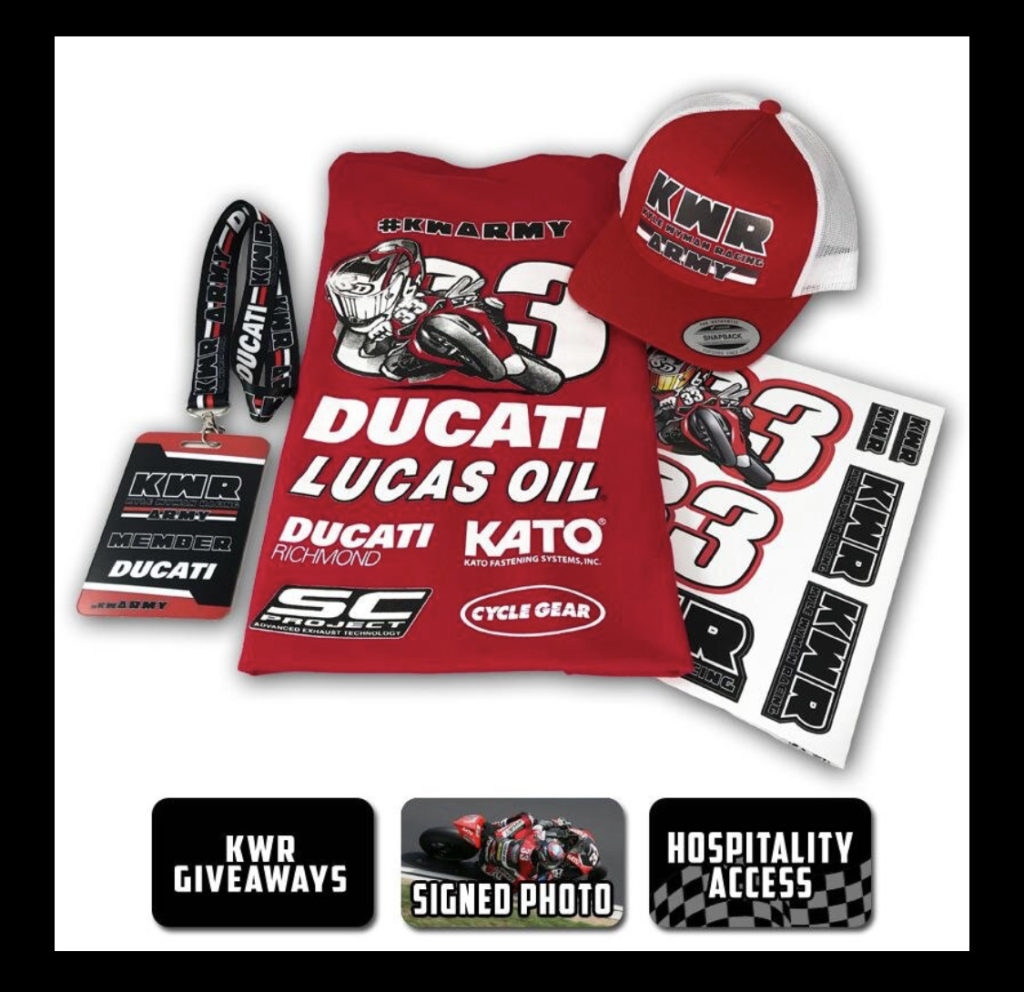 For the most dedicated fans, there is now a Premium Membership in the KW Army. This is how you max out your KWR fandom and receive even more benefits. The Premium pack includes all of the previous perks, plus a full-season subscription to the MotoAmerica Live+ Streaming Service, a private 1-on-1 online video coaching session with Kyle, paddock pass to a race of your choice, and the official 2020 KWR Team Hoodie. Limited quantities are available.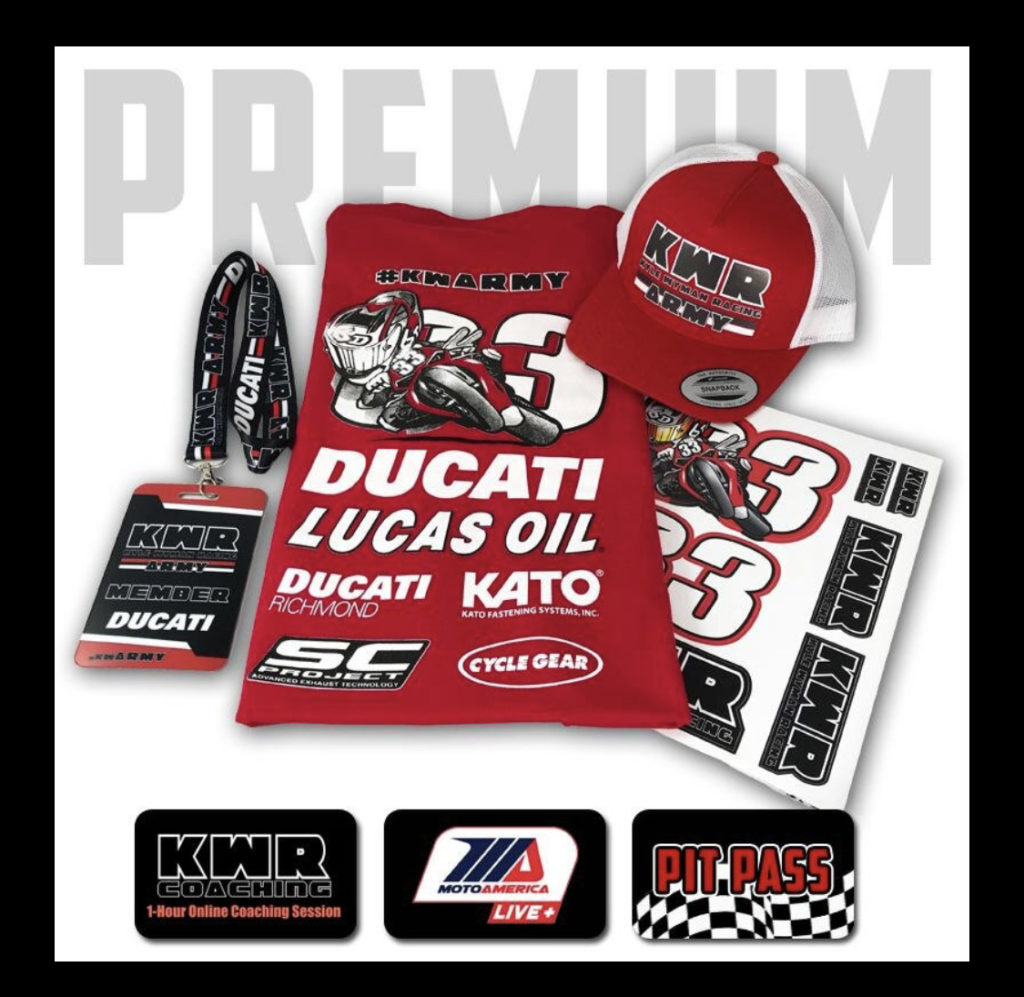 With new benefits and options, now every KWR fan has an opportunity to be a part of the team, at the level of their choosing. Pre-order deadline is February 28th to renew 2019 memberships. All Army packs will ship on March 20, 2020
Order now to ensure your bundle arrives before the first round at Circuit of the Americas – April 3-5, 2020.
Enlist now at www.kwarmy.com!