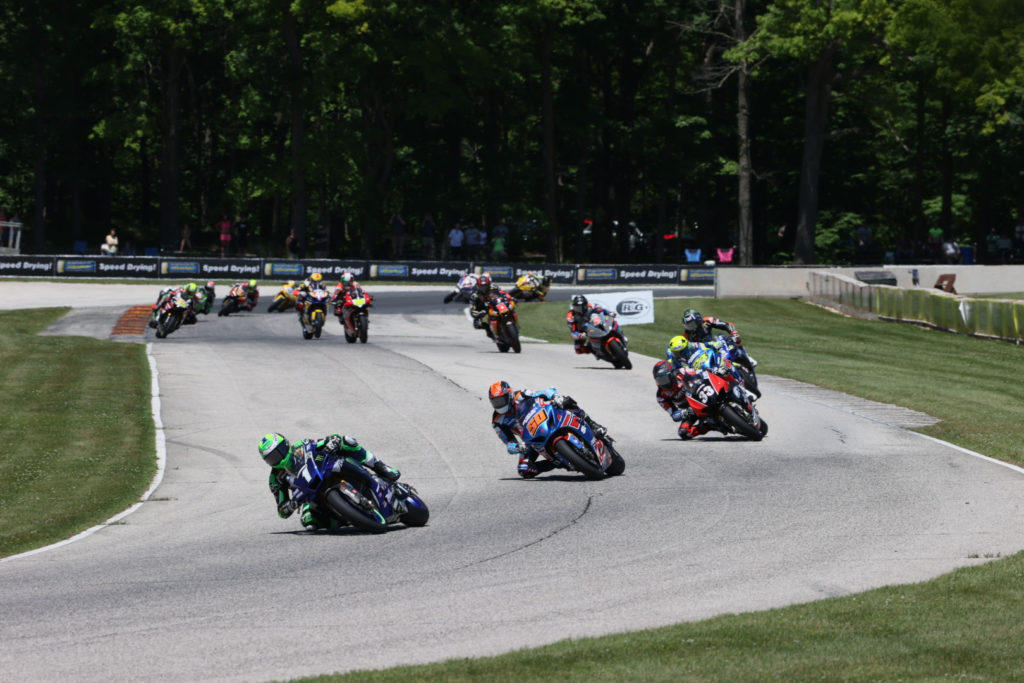 More, from a press release issued by MotoAmerica:
Beaubier Wins Again In Race One At Road America 2
Three In A Row For Defending HONOS Superbike Champion
ELKHART LAKE, WI (June 27, 2020) – Stop rubbing your eyes, you have seen this before. Monster Energy Attack Performance Yamaha's Cameron Beaubier won his third successive race of the 2020 season on a sunny Saturday at Road America, the four-time defending MotoAmerica Superbike Champion winning his third straight race in Wisconsin as he continued his mastery of the HONOS Superbike class.
Beaubier led this one flag-to-flag, beating M4 ECSTAR Suzuki's Bobby Fong by 6.325 seconds, which was less that his previous wins here three weeks ago when he won by 7.8 and 14.3 seconds, respectively. In winning today's race, Beaubier became the all-time winningest rider at Road America with his 10th Superbike victory. It was also the 41st win of Beaubier's Superbike career.
"To be honest, those first couple laps when I was trying to hang it out and open a gap, it wasn't comfortable," Beaubier said after winning in front of large crowd. "I didn't have nearly the amount of grip up front and in the rear that we have yesterday morning and also this morning. I think the track temperature was just pretty high and it got pretty greasy out there. So, I wasn't really able to roll the corners exactly like I wanted to. Once I saw that the gap started opening, I just tried to hit my marks and ride consistent. Hats off to both these guys. Bob (Fong) really upped the pace this morning and got me a little worried going into the race. I had obviously a pretty comfortable gap yesterday, but today wasn't that case. We're going to go try to improve what we can improve on our bike. Regardless, my R1 is just working so good right now. I'm really comfortable on it. Just hope to keep it going."
The runner-up spot was Fong's best finish of the season after his fourth and DNF from round one.
"We did a lot of homework," Fong said. "We definitely improved the bike. The lap times didn't show it today compared to last round, but we definitely improved the bike quite a bit. I'm okay in the first sector, the second and the middle, but I'm losing maybe four tenths, three tenths a lap just in the last sector. We're messing with the electronics a lot. We don't know exactly where to go with the electronics on the last sector. Just figuring it out. It's just a puzzle. We're putting it together piece by piece. I am working on trying to ride a little bit differently. Last round it seemed like I was charging stuff a little too hard. So, I'm backing off a little bit. Hopefully, we can find something today and bring it tomorrow."
Third place today went KATO Fastening/KWR Ducati's Kyle Wyman, the New Yorker in a battle for most of the race for the position. The war went to the final lap with Wyman making a pass in the chicane before Elias retaliated. Elias beat Wyman to the line, but it was determined that he'd passed under a standing yellow flag at the marshal post and was docked two seconds. That bumped Elias back to fourth, which took him off the podium but still gave him his first championship points of the season after his dismal opener in Road America 1.
"When you've been off the pace for a while you go into the race wondering if you have the pace," Wyman said. "What are you going to have? So, I just got as good a start as I could. I was second. I was alongside Cameron (Beaubier) going into turn one. I was just so upset with myself last month, not being able to tag onto the front guys right away, not even for two or three laps. I was really determined to get the thing up there. It turns out I got into a really, really long, long battle with Toni (Elias). I just kind followed him and figured out where he was stronger or weaker. I could make a lunge into the chicane if I stayed close enough to him through the carousel, so that's what I set up. Honestly, that's what got me to the podium even though he passed me back. If I wasn't able to make that move, there would have been no passes probably at all, because I wasn't strong enough to get into Canada Corner. So to get in there in front of him, to get out of the chicane is what got us here. He rode awesome. I'm happy me just being up here. It's a long road, but we're back to the podium after three years."
Westby Racing's Mathew Scholtz finished fifth, the South African getting a bad start and never really recovering. Beaubier's teammate Jake Gagne was next, the Californian battling for third early on before having a mechanical issue that forced him to slow and then recover for sixth.
Scheibe Racing BMWs' Josh Herrin was seventh with FLY Racing ADR Motorsports' David Anthony barely besting Celtic HSBK Racing's PJ Jacobsen for eighth. Altus Motorsports' Cameron Petersen rounded out the top 10 on his Suzuki GSX-R1000.
After three races, Beaubier leads the title chase with a perfect 75 points. Gagne retains second with 46 points, six more than Wyman's 40 points. Herrin is fourth with 35 points with Fong moving to fifth with 33 points.
Superbike Race 1
Cameron Beaubier (Yamaha)
Bobby Fong (Suzuki)
Kyle Wyman (Ducati)
Ton Elias (Suzuki)
Mathew Scholtz (Yamaha)
Jake Gagne (Yamaha)
Josh Herrin (BMW)
David Anthony (Suzuki)
PJ Jacobsen (Ducati)
Cameron Petersen (Suzuki)
More, from a press release issued by Westby Racing:
Westby Racing's Scholtz Finishes Fifth In Superbike and Wyman Is Seventh In Junior Cup At Road America
Elkhart Lake, WI – June 27, 2020 – On Saturday at Road America, MotoAmerica's first race day of the 2020 season with spectators, Westby Racing's Superbike rider Mathew Scholtz finished fifth and, in Junior Cup, Cody Wyman was seventh. The results weren't what either rider had hoped for, but Mathew, Cody, and the team gained valuable information that should help them improve on their results in Sunday's races.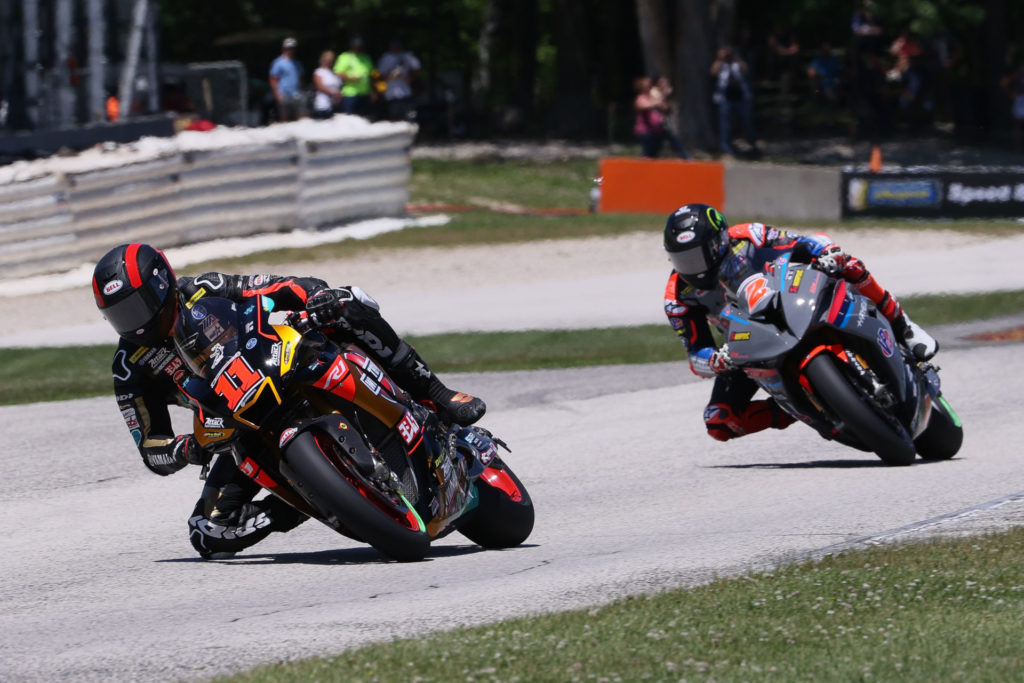 At the start of the Superbike race, Mathew struggled to get a clean launch off the line, and that setback put him at a deficit from the beginning. He had an exciting battle with Josh Herrin and was able to finish ahead of him, but the time spent in that battle enabled the frontrunners to pull away, and Mathew was just not able to catch them. A technical issue also cropped up with the bike, but the team fixed the problem and they are ready to go for tomorrow.
"My starts are just not helping me," Mathew said. "Today, it put me too far back in the pack, and I had to fight my way to the front. And, then, I had to contend with (Josh) Herrin for a few laps. Also, we had a small problem with the bike, which the crew were able to find and fix. Tomorrow should be a better day for us."
Cody, who is racing the only Yamaha against virtually an entire grid of Kawasaki's with engines of larger displacement, knows that he has his work cut out for him at tracks like Road America that place a premium on top speed. He has to fully exploit the corner speed of his bike in order to counter the straight-line speed advantage of the other bikes on track.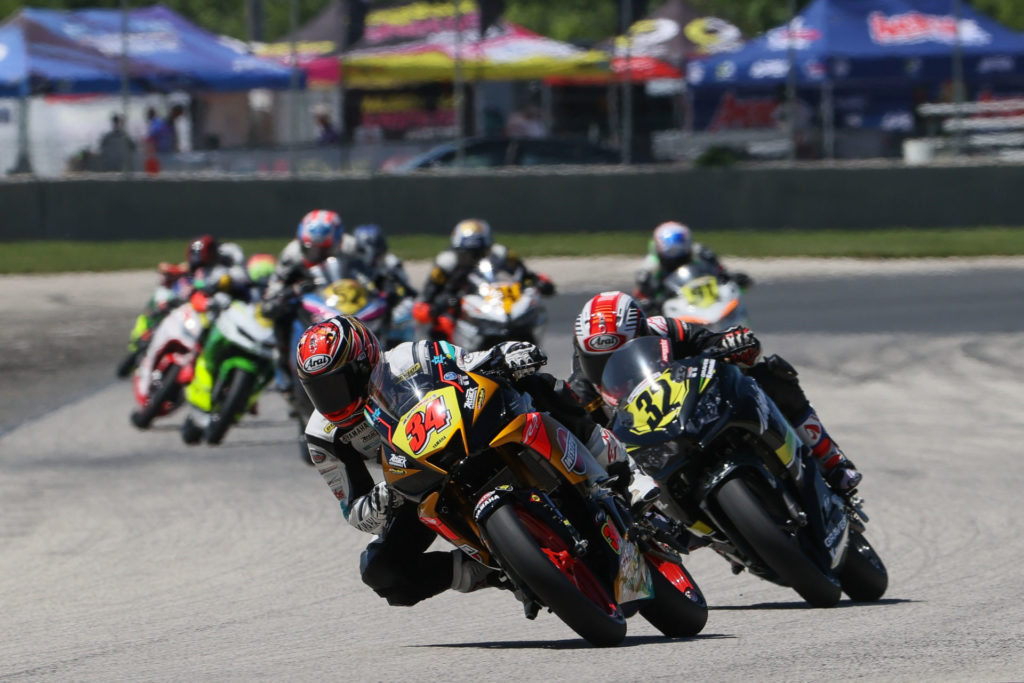 For Cody, it's a challenge that he absolutely does not shy away from, but on Saturday, finishing seventh was the reality of the situation.
"It was a decent day at Road America, and it was awesome to see the turnout and the number of fans at the track," commented Cody. "In the race, it was tough coming from the fourth row, but I did my best to ride through the field and put myself in the best spot for a solid result. I knew in the opening laps, when I was getting held up, that it would be a big ask to challenge for a top-five finish. So, I settled in with our group and strategized to win that battle. It worked out to plan, and I ended up winning the battle and finishing seventh. It's not where I want to be, but we'll get another shot at it tomorrow."
Sunday's Superbike Race 2 is at 1:30 PM Central and will be broadcast live on FOX Sports 1 (FS1) and Eurosport, as well as streamed on MotoAmerica Live+.
Junior Cup Race 2 is at 2:30 PM Central and will be broadcast via tape-delay on FS2 (check your local listings for FS2 airtimes), in addition to being live-streamed on MotoAmerica Live+.
For more updates about Westby Racing, including news, photos, and videos, visit http://www.WestbyRacing.com
Also, follow "Westby Racing" on your favorite social media sites.
More, from a press release issued by Team Hammer:
STRONG SECONDS FOR FONG, KELLY, AND M4 ECSTAR SUZUKI AT ROAD AMERICA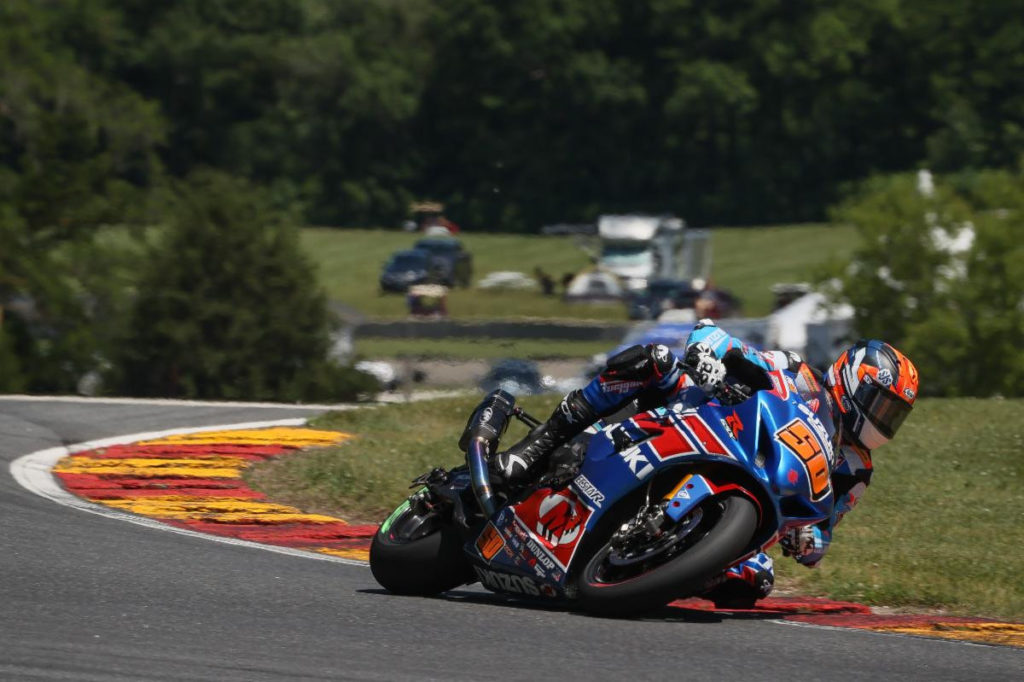 A highly motivated M4 ECSTAR Suzuki squad returned to Road America for Round 2 of the MotoAmerica AMA/FIM North American Road Racing season and finished Saturday with a pair of trophies and two pole positions for its efforts.
Eager to set things right after a difficult opener at the same venue one month ago, Bobby Fong and Toni Elias showcased podium form in Saturday's MotoAmerica Superbike Race 1. Fong in particular was impressive, the 2019 Supersport Champion continuing to rapidly adapt to the fire-breathing M4 ECSTAR Suzuki GSX-R1000R Superbike and qualifying second in Superpole.
Fong got a good start and put himself in second place on the opening lap of the premier-class contest. Lap-after-lap, the Californian skillfully hustled his machine down the long straights and through the varied corners of the four-mile-long circuit to hold his position and ultimately score an unchallenged runner-up finish.
The podium result signals many more in the future as Fong expects to get stronger with more experience on the bike. "It was definitely greasy out there today," Fong said. "It wasn't the same as the last time we were here when the conditions were more ideal. But still, we did the best we could and I'm happy with second. We're chipping away and getting closer to a race-winning pace.
"My team has been doing a lot of homework, and I've been adapting to the motorcycle. I'm really looking forward to tomorrow's race and hoping to close the gap even more."
Elias, the 2017 MotoAmerica Superbike champion, engaged in a spirited battle for third a few seconds back. An adversary slipped underneath the Spaniard on the race's final lap, but Elias immediately responded with a superior drive off the corner heading down the back straightaway. Elias successfully retook third position and held the spot to the checkered flag.
However, he was later assessed to have completed the pass under yellow-flag conditions and was given a 2-second penalty, relegating him to fourth in the official results.
Meanwhile, Sean Dylan Kelly, popularly known as "SDK," backed up Fong's result with a second-place finish of his own in Supersport Race 1.
SDK twice leapt out from pole position to grab an early lead on his M4 ECSTAR Suzuki GSX-R600 in the red-flagged and restarted affair, setting the stage for a back-and-forth dogfight over the race's first half.
The 18-year-old eventually settled into a clear second and scored his second consecutive runner-up finish of the season.
"It was definitely a nice race," Kelly said. "It's good to get 20 points, although as a rider, you always want the win, right? But we take the positives, and we gave a better fight today compared with the two races here during the opener.
"I'm just happy we showed a little more potential. And earlier today, I got my first pole position in MotoAmerica, so that's also something positive. We took a step forward today. We still have some more things to work on, so I'm looking forward to tomorrow."
Teammate Lucas Silva added a solid seventh-place finish in the Supersport race.
Young Rocco Landers will start Sunday morning's Twins Cup race from pole after topping qualifying with a new class record lap of 2:27.452 aboard the Roadracing World Young Guns/Sportbiketrackgear.com Suzuki SV650 built by Team Hammer. Landers is out for revenge this weekend after missing out on two victories at the opener by a combined 0.084-second
Alex Dumas, who raced another Team Hammer-built SV650 to the MotoAmerica Twins Cup title last season, continued to flash major-league talent with an impressive performance in Stock 1000 qualifying. After qualifying and finishing seventh in his class debut on the Team M4 ECSTAR Suzuki GSX-R1000, Dumas qualified fourth on Saturday with a lap nearly two seconds quicker than his qualifying best from the opener.
Team Hammer will round out the Road America weekend on Sunday, looking to continue the momentum.
About Team Hammer
The 2020 season marks Team Hammer's 40th consecutive year of operating as a professional road racing team. Racebikes built and fielded by Team Hammer have won 83 AMA Pro and MotoAmerica National races, have finished on AMA Pro and MotoAmerica National podiums 239 times and have won seven AMA Pro and MotoAmerica National Championships, as well as two FIM South American Championships (in Superbike and Supersport). The team has also won 137 endurance races overall (including seven 24-hour races) and 13 Overall WERA National Endurance Championships with Suzuki motorcycles, and holds the U.S. record for mileage covered in a 24-hour race. The team also competed in the televised 1990s Formula USA National Championship, famously running "Methanol Monster" GSX-R1100 Superbikes fueled by methanol, and won four F-USA Championships.
About Suzuki
Suzuki Motor of America, Inc. (SMAI) distributes Motorcycles, ATVs, Scooters, Outboard Motors and Automotive Parts and Accessories via an extensive dealer network throughout 49 states. Suzuki Motor Corporation (SMC), based in Hamamatsu, Japan, is a diversified worldwide manufacturer of Motorcycles, ATVs, Scooters, Automobiles, Outboard Motors and related products. Founded in 1909 and incorporated in 1920, SMC has business relations with 201 countries/regions. For more information, visit www.suzuki.com.
More, from a press release issued by Yamaha Racing:
Beaubier Stays Perfect with Another Win at Road America
Cameron Beaubier continued to dominate the MotoAmerica Superbike field aboard his Monster Energy Attack Performance Yamaha Racing R1 with another stellar victory in race one at Road America 2 on Saturday, June 27. His teammate Jake Gagne finished sixth.
Once again, Beaubier was the man to raise the bar at the four-mile circuit in Elkhart Lake, Wisconsin. The four-time Superbike Champion broke the lap record that he set at the previous outing, not once but twice, first in Friday's QP1 and then again today in Superpole with a 2'10.623. When the lights went out, Beaubier rocketed down the straight to take the holeshot and never looked back. He crossed the line over six-seconds ahead of the competition to take his ninth-career victory at Road America and his third on the trot this season.
Gagne qualified third to join his teammate on the front row, but dropped to fifth at the start and found himself locked in a three-way battle for that final podium spot. He made a move for fourth in the final corner of the first lap, but was passed back on the front straight. On lap three, the Californian was right on the heels of his competitor and looking to make the pass for fourth but then had a technical issue. He had to blow the chicane to avoid making contact with the other rider and was dropped back to seventh. A few laps later, Gagne was able to put his head down and close the gap on sixth. With two laps to go, he made the pass going into Turn 5 and held onto it all the way to the finish. Although not what he was hoping for, it was an important top-10 finish at this early stage of the championship.
The Monster Energy Attack Performance Yamaha Racing team now gears up for Sunday's race two at Road America.
Richard Stanboli – Monster Energy Attack Performance Yamaha Racing Team Manager
"The team is happy to add another victory to our winning streak. Cameron has been riding great and his Yamaha R1 performed flawlessly. Jake was also riding well until a technical issue caused him to run straight through the chicane. We will have him on rails tomorrow and our goal is another double podium"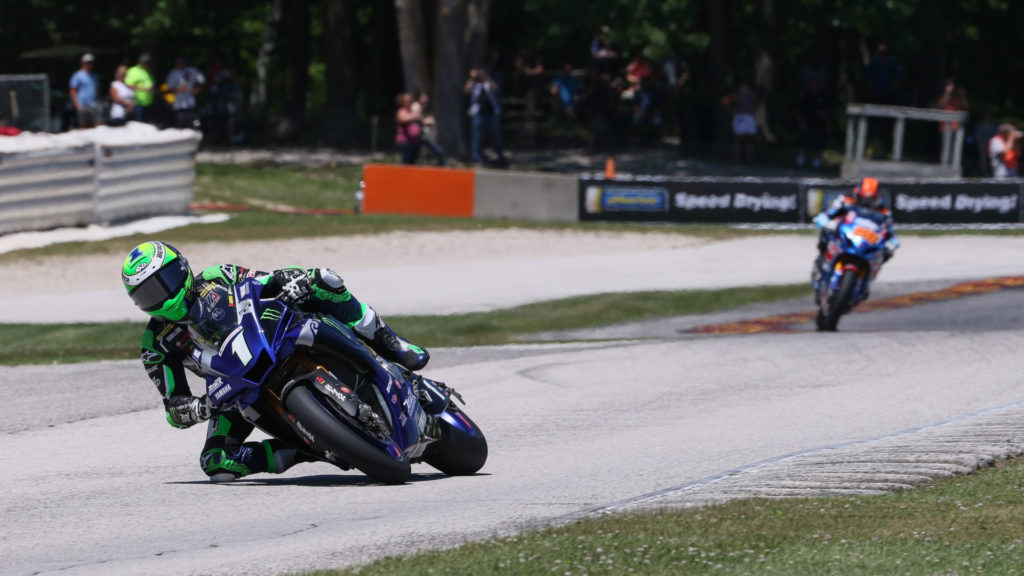 Cameron Beaubier – Monster Energy Attack Performance Yamaha Racing
"We were able to pick up where we left off at the first round and come out with a win today. The conditions were a lot hotter which made the track pretty greasy but everything went to plan. It felt really good racing in front of a big crowd today and I'm looking forward to tomorrow!"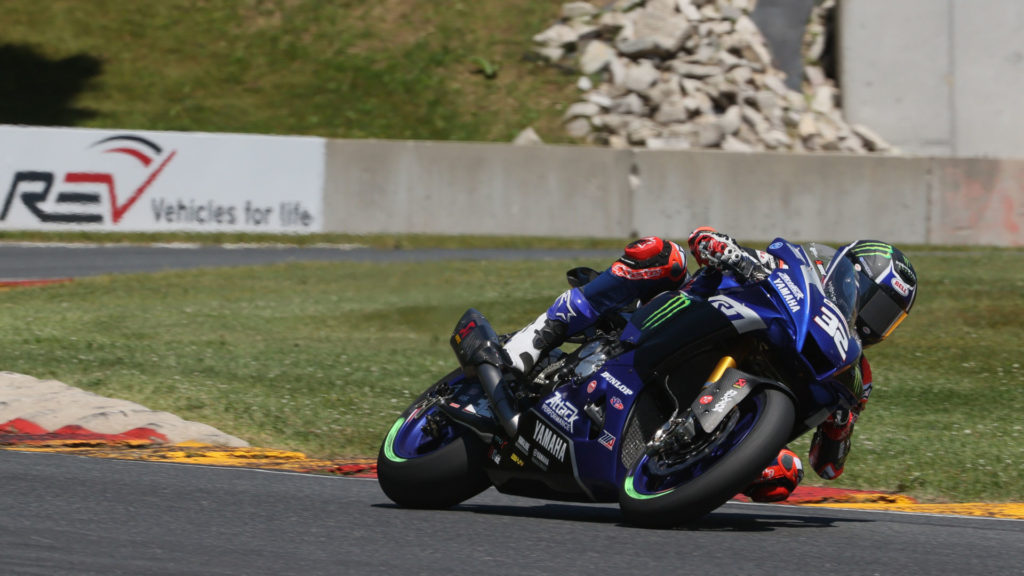 Jake Gagne – Monster Energy Attack Performance Yamaha Racing
"We had a good Superpole and made some nice progress from yesterday. My start was really bad though and I was fighting with the guys behind Cam. I had a little issue a few laps in and it took us a couple laps to get things back on track. We still managed to learn a lot from race one and I'm sure we can step up the pace for tomorrow. It's going to be an exciting race two!"