The eighth round for the 2020 MotoAmerica season proved to be both rewarding and troublesome for Quarterley Racing On Track Development's rider, Ben Gloddy. Despite an unfortunate track incident during the second qualifying session on Saturday morning, Gloddy was able to secure a front row start for both races at Indy.
Ben Gloddy:
"Knowing how iconic Indianapolis Motor Speedway is, I was excited to race here. Race one started off with a red flag, resulting in a restart which I think helped me a little because I had made mistakes in the pack in turn two. I had a decent restart, but wasn't able to pull away and ended up battling the whole race with four other riders. When we came across the line, it was so close that I wasn't even sure what my place was. Fortunately, I was able to pull off 3rd place by 23 thousandths of a second."
After a bar banging start to race two, Gloddy looked like he was going to be in another podium battle. Pushing through as best he could with a couple of issues, Gloddy began to fall back, ultimately finishing in 12th place. This ended his five-race podium streak.
"Race two was really disappointing for me even though I feel like I pushed as hard as I could. All I can do is move forward, learn from this race and stay positive. Laguna is in a couple weeks and I will be back stronger."
Gloddy remains in fourth place in the championship points standings heading into the final MotoAmerica Junior Cup Round at Laguna Seca the weekend of October 23rd – 25th.
For Sponsorship Opportunities please contact:
Dale Quarterley – [email protected]
Phone: 413-218-6464
Rider Connection:
Ben Gloddy – [email protected]
bengloddyracing.com
Some of Gloddy's personal sponsors for 2020 include: The Big S, SDM298 Racing, D'Andrea Foods, Penguin Racing School, Moto-Pizza, Woodcraft Technologies, First Trax Sports Shop, American Supercamp, Roche Realty Group, Stump Racing Kids, Arai Helmets, Freedom Cycle NH, C. Allaert, Sportbiketrackgear.com, Tink's Customs, Looney Bin, CFO Speed Shop, JC Tinting, REB Graphics, Innovative Motorsports, A&B Lock, Finn's Garage, MotoLiberty, Inter-tech, Fast Bike Industries, Yoshimura and Fast By Ferracci
Quarterley Racing On Track Development sponsors for 2020 include: Inter-Tech Supplies, Fast By Ferracci, Inc, Yoshimura Research & Development of America, Inc., Wiseco Powersports, Motul USA., Regina Chain, BrakeTech USA, Inc., Ferodo Racing, Matt & Jesse, Inc., Woodcraft Technologies, Fast Bike Industries, Nitron Racing Systems Ltd., Dynojet Research Inc., Beta Tools of Italy – USA, N2 Track Days, RoadracingWorld.com, MOTO-D Racing, VAN DYK Recycling Solutions, Earl's Racing Team, Barnett Clutches & Cables and Kiwi Classic Moto.
More, from a press release issued by Team Hammer:
FONG WINS BIG FOR TEAM HAMMER AT THE BRICKYARD
Brea, CA – Suzuki Motor of America, Inc., and Team Hammer reaped the rewards of a season's worth of hard work with a highlight weekend of the 2020 MotoAmerica AMA/FIM North American Road Racing season to date at Indianapolis Motor Speedway. By the time the final checkered flag at the Brickyard had waved, the pairing had gained two national championships, three race victories, four pole positions, and six podiums.
The rider who grabbed that final checkered flag was M4 ECSTAR Suzuki's Bobby Fong, who enjoyed perhaps the finest weekend of his decorated professional career. On a historic MotoAmerica Superbike tripleheader weekend, Fong took a narrow victory in the Saturday's race aboard his Suzuki GSX-R1000, backed it up with a close second in Sunday's first race, and then pulled off a dominant, runaway win in the day's concluding contest.
"It's great to be back up here," Fong said after his Sunday triumph. "It's been a long season and my M4 ECSTAR Suzuki is finally coming into its own. I didn't really have a gameplan coming into the final race, but my coach, Josh Hayes, said I just had to be relentless out there. I just plugged away and put in my laps."
Fong consistently performed his best despite a large number of obstacles, including several red flags as well as competitors crashing near him. Fong avoided trouble throughout yet ran a strong race pace that was tough to match. The Californian now has three Superbike victories this season to go with the Supersport crown he won last year while mounted on a Suzuki GSX-R.
"The bike was awesome," he added. "Big kudos to everyone on the team. They've been supporting me all year long, and I can't thank them enough for all they've done."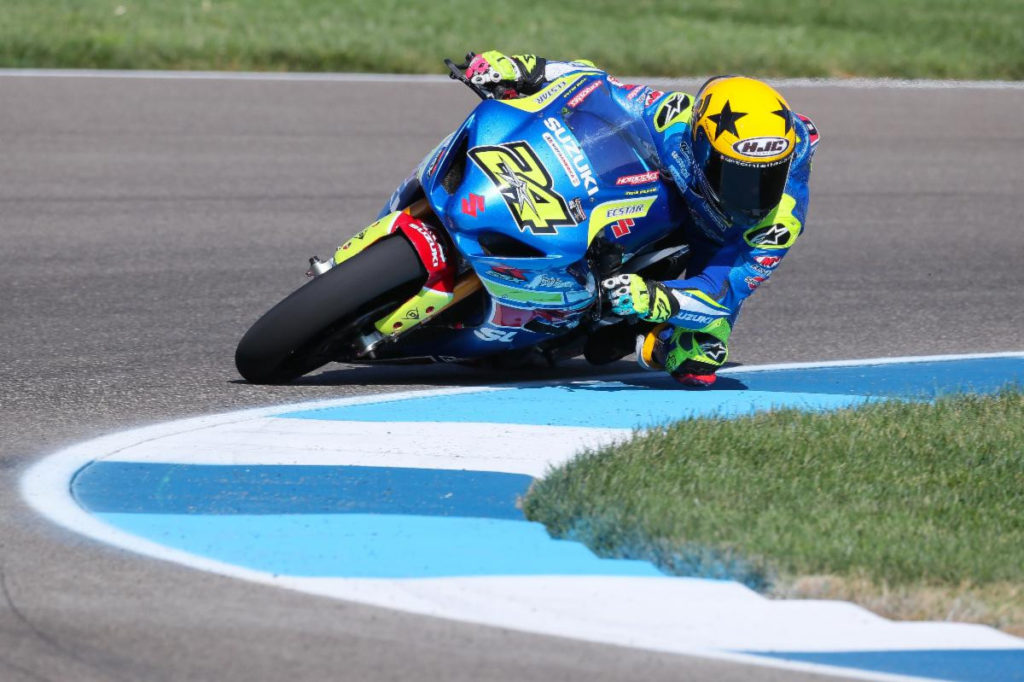 His premier-class teammate, Toni Elias, was in outstanding form in Indy as well, powering to pole position aboard his M4 ECSTAR Suzuki GSX-R1000. Elias' results were dampened by some misfortune — a red flag was shown while he was running second on Saturday and he crashed out of the lead as he and Fong were pulling clear early in Sunday's second race – but he still managed to net a pair of top fives (fourth and fifth) on the weekend.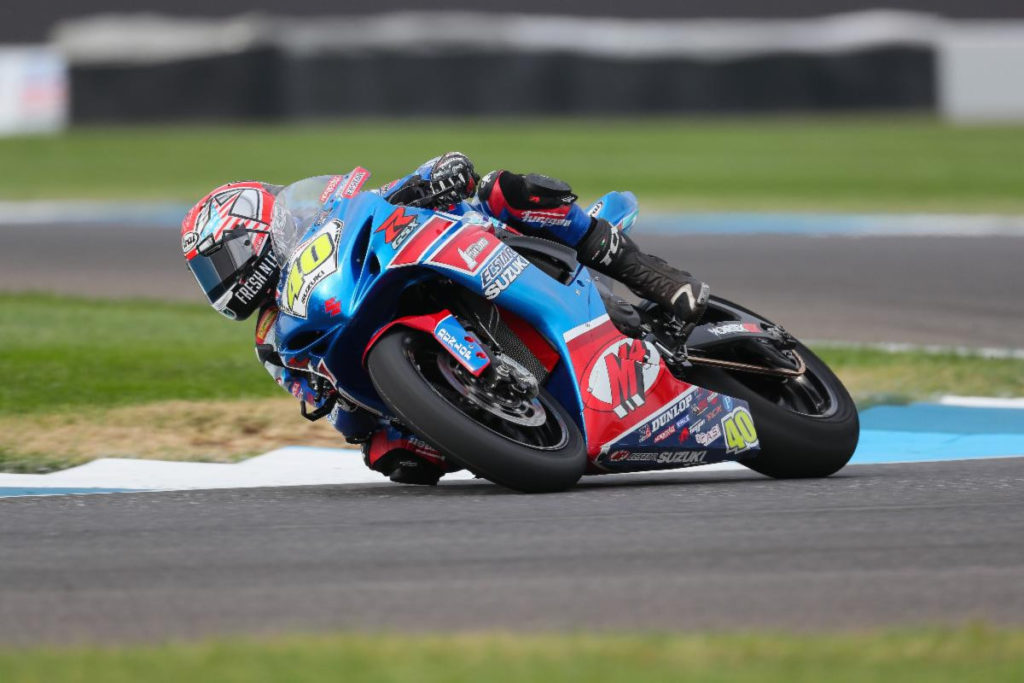 Meanwhile, M4 ECSTAR Suzuki's MotoAmerica Supersport duo of Sean Dylan Kelly and Lucas Silva showcased their skills as well. Kelly earned the pole aboard his GSX-R600, but made a small mistake on Saturday while leading in a 'must win' effort to keep his title hopes alive. He bounced back from the fall to finish as the Supersport runner-up on Sunday.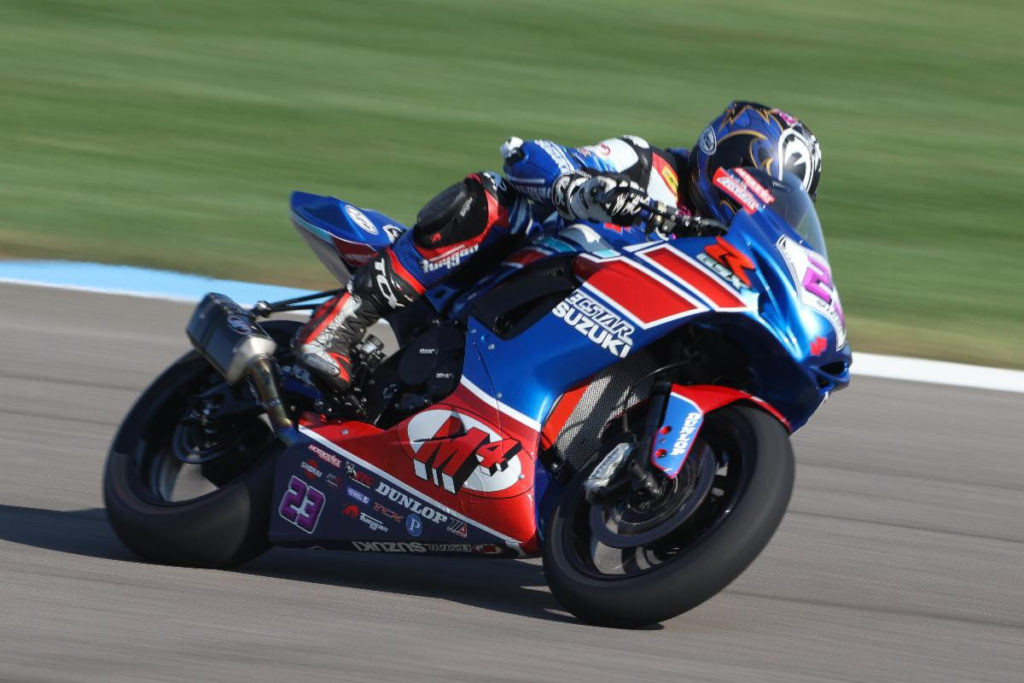 Silva, meanwhile, battled for the podium on Saturday, running in second position until he was pushed wide on the final lap and ultimately came home in fourth. He followed that up with a sixth on Sunday to keep his season-long run of top tens alive.
Team Hammer will look to continue its hot form and close out the 2020 season in a flourish at the 2020 MotoAmerica season finale, which will take place at WeatherTech Raceway Laguna Seca in Monterey, California, on October 23-25.
About Team Hammer: The 2020 season marks Team Hammer's 40th consecutive year of operating as a professional road racing team. Racebikes built and fielded by Team Hammer have won 104 AMA Pro and MotoAmerica National races, have finished on AMA Pro and MotoAmerica National podiums 284 times and have won nine AMA Pro and MotoAmerica National Championships, as well as two FIM South American Championships. The team has also won 137 endurance races overall (including seven 24-hour races) and 13 Overall WERA National Endurance Championships with Suzuki motorcycles, and holds the U.S. record for mileage covered in a 24-hour race. The team also competed in the televised 1990s Formula USA National Championship, famously running "Methanol Monster" GSX-R1100 Superbikes fueled by methanol, and won four F-USA. Championships.